This website uses cookies to ensure you get the best experience while browsing it. By clicking 'Got It' you're accepting these terms.


The best of EcoWatch, right in your inbox. Sign up for our email newsletter!
A Kentucky law that goes into effect Saturday could make it more difficult for miners suffering from black lung to claim federal benefits, Vice News reports.
The law mandates that only five of Kentucky's 11 pulmonologists, or lung experts, may examine miners' X-rays in benefit claims.
X-ray tech explains a chest x-ray to a coal miner in Harlan County, KY. National Institute for Occupational Safety and Health
Eight former coal company officials were indicted in a Kentucky court Wednesday on charges that they lied to federal regulators about the levels of breathable dust in their mines, increasing their miners' risk of exposure to the conditions that can cause black lung disease.
EcoWatch Daily Newsletter
In a study released this month by the National Institute for Occupational Safety and Health (NIOSH), federal researchers identified more than 400 cases of complicated black lung in three clinics in southwestern Virginia between 2013 and 2017—the largest cluster ever reported.
However, the actual number of cases is likely much, much higher as the government analysis relied on self-reporting. An ongoing investigation from NPR has counted nearly 2,000 cases diagnosed since 2010 across Appalachia.
Appalachians learn beekeeping skills. John Farrell
By Marlene Cimons
Mark Lilly, 59, grew up and still lives in West Virginia. He spent three decades as an insurance adjuster, often talking to people struggling through the decline of coal. At the end of some very long days, he would escape to his bee hives. "It was therapeutic," he said. Life in coal country may no longer be what it once was, but "the bees haven't changed," he said.
Lilly has since retired from the insurance business, but he still tends to his honeybees. He now is using what he learned from these insects to help out-of-work miners and others hurt by coal's demise. He's turning them into beekeepers.
Closed coal mine in Boone County, West Virginia.
WVPB/ Janet Kunicki
It was supposed to be all about jobs. When the president announced his intent to abandon the Clean Power Plan this spring and then withdraw from the Paris agreement this summer, one of the biggest reasons cited was to protect the coal jobs sustaining communities in places like Appalachia.
There's just one problem. Whatever the White House says, coal jobs are in a terminal decline and whatever cynics claim, it's not some cabal of heartless environmentalists to blame. It's the power industry itself, driven by advances in technology and simple market forces.
www.youtube.com
By Katie O'Reilly
Two years ago—long before coal became one of the most dominant and controversial symbols of the 2016 presidential election—Bloomberg Philanthropies approached production company RadicalMedia with the idea of creating a documentary exploring the U.S. coal mining industry. Last spring, they brought on Emmy-nominated director Michael Bonfiglio, tasked with forging a compelling story out of the multitudes of facts, statistics and narratives underlying the declining industry.
Vaida Lilionyte-Manthos holds a B.A. in History and Anthropology from Vilnius University and Master's degree in Political Science from West Virginia University (WVU). Originally from Vilnius, Lithuania, she lives in Shepherdstown, West Virginia with her husband David. Mrs. Manthos is pursuing her doctorate in political science, also from WVU.
Growing up in Lithuania I had the impression that environmental problems do not exist in the U.S., or at least they were not as severe as they are in countries like mine that were once occupied by the mighty Soviet Union. I became interested in environmental problems around 1998 when the Lithuanian statesman Valdas Adamkus returned to Lithuania to run for president. Adamkus had worked for U.S. Environmental Protection Agency in the U.S. for many years, and upon coming back to Lithuania he made caring for the environment one of his priorities.
As a teenager I truly believed that America is the perfect country where everyone cares for their environment and uses all their natural resources wisely. However, my opinion changed radically when I came to Western Maryland and then West Virginia to study. I could not understand why some of the streams are so suspiciously orange and without any fish or aquatic plants; but soon I learned that this "suspicious color" comes from the acidic drainage of old coal mines.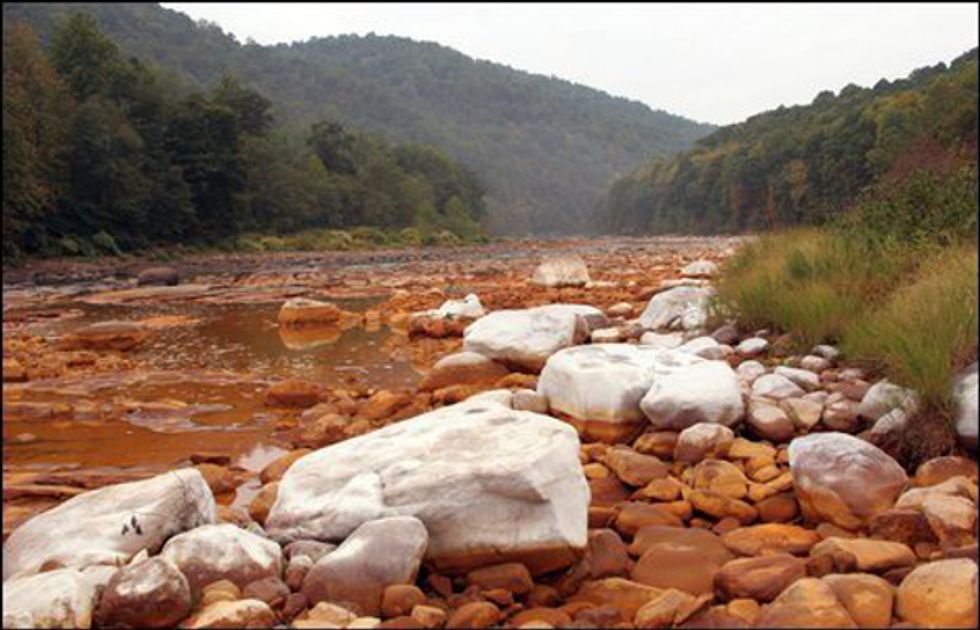 The Cheat River in North Central WV, though significantly improved now, ran rust-red for years after a mine blowout in the 1990s.
I was surprised to learn Appalachia was plagued by a wide range of environmental issues and problems which have never been properly addressed. Failing to learn from history, the region loses its iconic ridges to mountaintop removal strip mining and suffers from a resurgence of black lung disease while disasters keep repeating year after year: from the Upper Big Branch Mine disaster that claimed 29 lives in 2010 to the Elk River chemical spill in 2014 that poisoned the water supply of 300,000 people in nine counties.
I study Political Science at West Virginia University and once I moved to West Virginia I realized how important the coal industry had been to this state, at least in the peoples' mind and their rhetoric. It seems that any anti-coal speech in WV equates to political suicide. Natalie Tennant, the Democratic nominee for U.S. Senate understands this, and in a recent TV ad, she defends the coal industry by threatening to figuratively cut off power to the White House and accusing Obama of not supporting hard working coal miners. This West Virginia Democrat's accusation is strange because President Obama, who is pushing for stronger coal-fired power plant regulations, is also a Democrat.
Recent numbers show that the coal industry only employs about 87,000 people, while clean energy industries employ about 360,000 nationwide (Nesbit, US News; June 3, 2014). Additionally, coal only accounted for 18.1 percent of the total domestic power supply in 2013 (US Energy Information Administration; June 2, 2014), meaning that coal is no longer the main energy source in the U.S., and it has cleaner and safer alternatives.
The question arises why people in coal-producing states are so supportive of this industry despite the fact that coal does not create as many jobs as it claims? As a political scientist I could suggest that this support of the coal industry is related with the strong legacy of natural resource extraction or big industries lobbying influential politicians. However, I believe that the tendency to hold onto the past is much stronger than the actual legacy of natural resource extraction.
I was born and raised under the Soviet Union and I remember what quality of life we had then: empty stores, scarcity of necessary goods, only four car models to choose from, and you had to get permission from the local government to buy one! People did not have the right to free speech, were not allowed to travel abroad, nor could they proclaim religion without consequences. Buying a simple one-room (literally, one room; not just one bedroom!) apartment could be a great challenge, and my list could go on and on. Surprisingly, despite all the hardships under Communist rule, some people in Lithuania and other post-communist countries wish the Soviet Union would come back.
Their explanation is simple: under Soviet rule everyone had a job, regardless the pay, quality or necessity of these jobs. The government controlled every aspect of life. People lived in their little low quality apartment and fought for better food in the stores, but their lives were stable. However, the situation changed once Lithuania became an independent country. Many people were not able to adjust to a changing world, learn new skills or adapt to the free market, so they refuse to accept the collapse of the Soviet Union.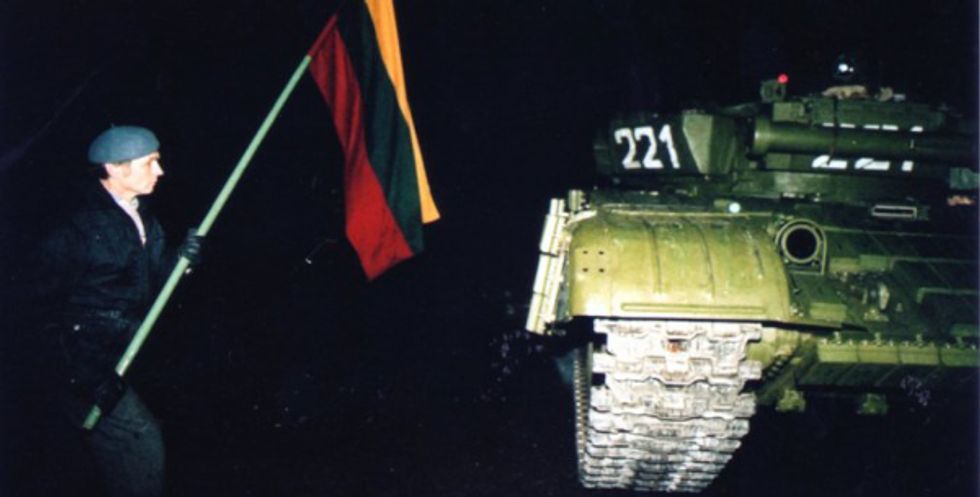 Lithuanian protestor in front of a Soviet tank in the final days of our struggle for independence. But not everyone agrees this was progress. Image: Wikipedia
In a similar way, I think people in coal-producing states hold on to the memories of the great industries that coal supported and the days when jobs were bountiful. Notwithstanding the lives lost in the coal mines, lungs turned black from coal dust and the air and water polluted by the mines and power plants; coal provided stable jobs and a way of life. And just as many believe that coal made America great, there are still people who believe that the Soviet era was Lithuania's "Golden Age."
I believe that just because coal or the Soviet Union did some "good" in the past does not mean that we can ignore the harm. It was only after the fall of the Soviet Union that we understood the harm which had been done by the Communist regime. In a similar way, thanks to science, new technologies, research and environmental organizations, we have a better understanding of the consequences of mining and burning coal, for streams, rivers, for public health and for the climate. We should look forward for new ideas and technologies, which brings real progress, instead of pining for the past.
You Might Also Like
5 Things You Need to Know About Obama's Clean Power Plant Rule
Another Coal Chemical Spill Pollutes Public Waterway, This Time in Kentucky
Supreme Court Rejects Coal Industry Lawsuit, Defends EPA Veto of Mountaintop Removal Mine
By Brian Sewell
In April, millions of Americans who oppose mountaintop removal celebrated two major court rulings that dealt "major blows" to the coal industry's use of the destructive practice. But a grim reminder of the work ahead came a week ago, when residents of West Virginia's Coal River Valley received a letter from Alex Energy, Inc., saying that they're not done yet.
Shared on Facebook by Coal River Mountain Watch, the terse letter is a soulless script, and very matter-of-factly makes residents aware of the scheduled daily detonations that will likely rattle homes and coat buildings with coal dust. For the next year, residents of Naoma, WV, will be reminded of the true cost of our energy policy by air horn blasts and explosions, courtesy of Alex Energy.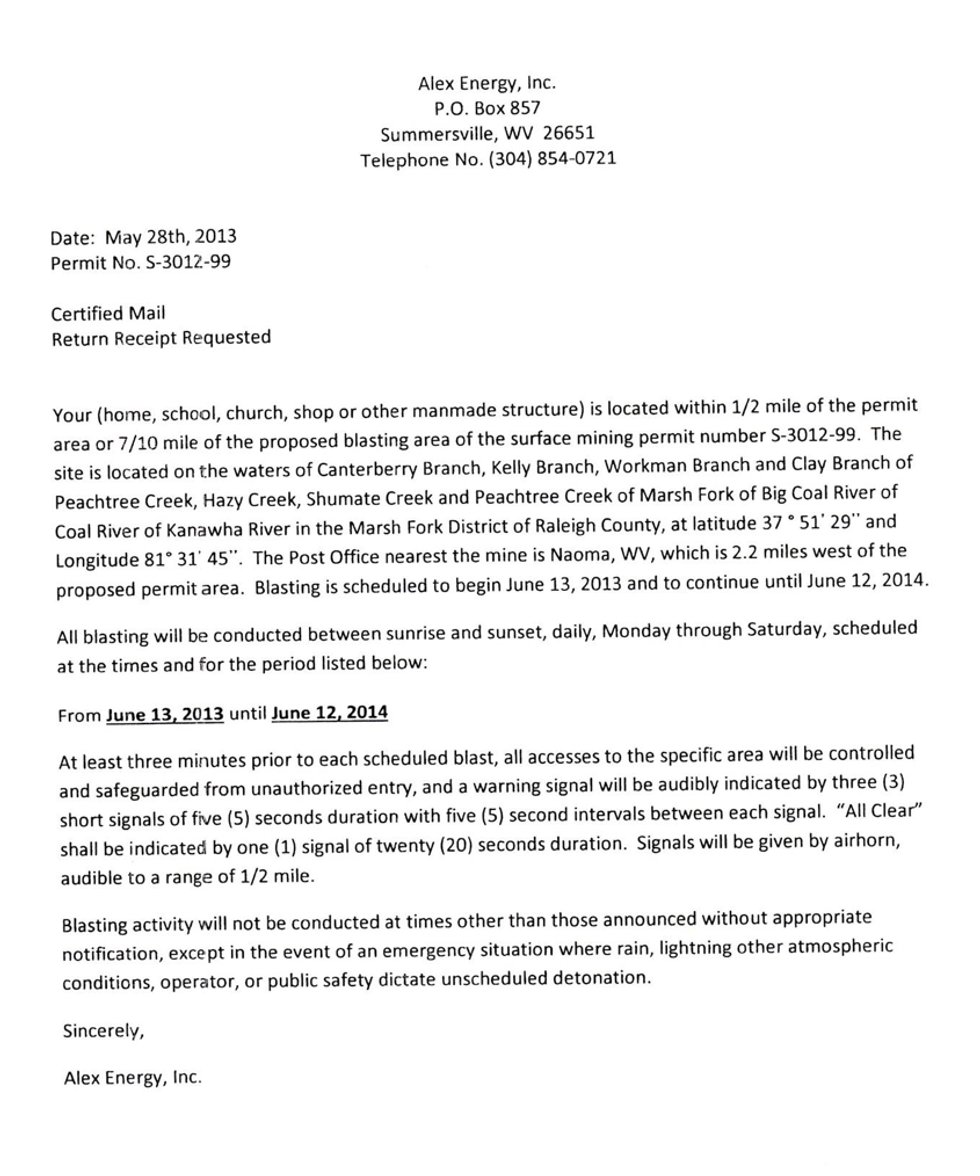 Meanwhile, a U.S. Circuit Court of Appeals last month upheld a permit for Alpha Natural Resources' Highland Reylas mountaintop removal mine in Logan County, WV, despite the fact that it will destroy two and a half miles of streams. In its ruling, the panel of judges wrote that "with the inability to demonstrate that the [U.S. Army Corps of Engineers] failed to take a 'hard look,' the [plaintiff's] arguments are reduced to no more than a substantive disagreement with the Corps."
While headlines in major news outlets claim "Coal is Dead," residents of Appalachia rightfully have their doubts. With little recourse available, they are still being asked to accept the systematic destruction of their homeland and heritage as the cost of doing business. Despite recent victories over the coal industry's use of mountaintop removal, coal is not dead and neither is the most destructive method used to mine it.
In Central Appalachia, proud, self-reliant people have been recast as dependent on the coal industry for shelter, food and meaning. Entire communities have been backed into the absolutely disheartening and hopeless position that, even as the coal production and demand declines, mining will forever be the one opportunity they have to make a living. But recently, it has become clear that even the coal industry cannot keep its promises to miners and their families.
Last week, a federal judge in St. Louis, MO, ruled in favor of the bankrupt Patriot Coal in the company's attempt to gut health care and pension benefits of thousands of workers and retirees. In response, leaders of the United Mine Workers of America are organizing protests and rallies in St. Louis and throughout Central Appalachia. Union members and observers argue that Patriot was intentionally saddled with unsustainable pension and long-term health care obligations when Peabody Coal formed it as a separate company in 2007.
"The outcome will be less health care for the retirees, a poorer future for those retirees, who will likely die earlier than they would have otherwise died due to poor health care," Kentucky State Rep. Brent Yonts told the Associated Press. Rep. Yonts described the ruling as "the day big business struck down the little guy."
For decades, coal companies have destroyed forests, brought down more than 500 mountains, poisoned water and fragmented communities. They've extracted billions of dollars from the region but cannot meet their obligations to the workforce that allowed them to do so. And yet, the industry is still willing to portray itself as the savior of Appalachia.
After hard-won battles, mountaintop removal and the long list of environmental and health concerns that come with it continue. Somehow policymakers and citizens remain willing to accept the coal industry's assurance that it will get better, that they're just not done yet.
Visit EcoWatch's MOUNTAINTOP REMOVAL and COAL pages for more related news on this topic.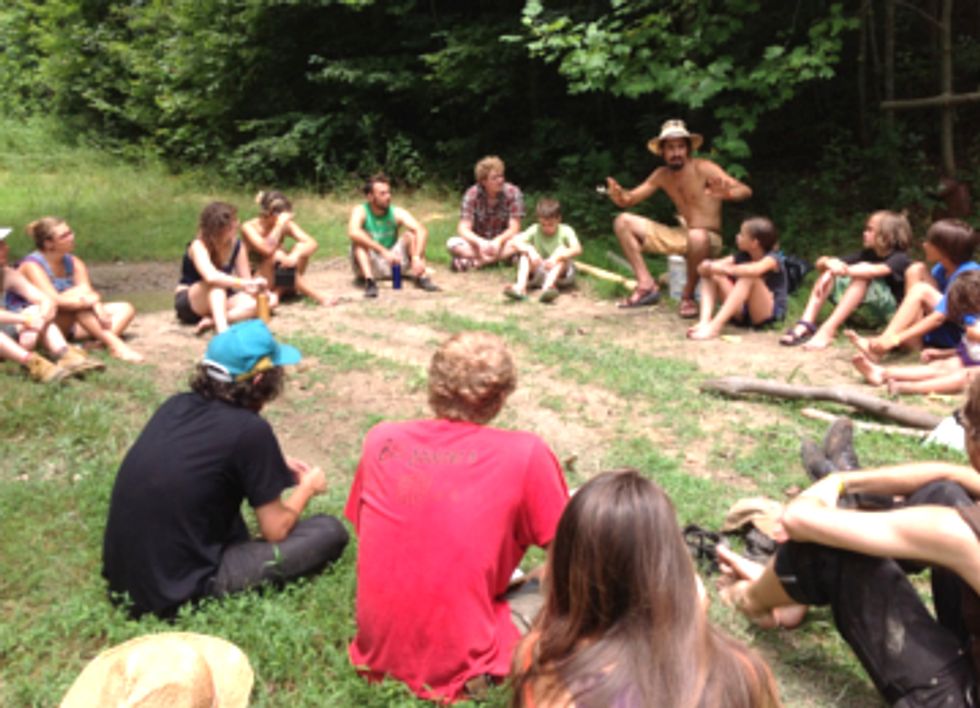 Are you worried about how peak oil and climate change will affect your life? Do you want to live a healthier, happier, more sustainable lifestyle? Do you want to spend less time stuck in traffic and more time stuck in the garden?
The Whippoorwill Festival, July 11-14, is a four day festival near Berea, KY (just south of Lexington off Interstate 75) that seeks to build community and promote sustainable living by sharing earth-friendly living skills in a positive, healthy, family-friendly atmosphere.
The Whippoorwill Festival celebrates Kentucky's Appalachian heritage while helping prepare our minds and bodies for a future world of climate change and a diminished supply of fossil fuels. The festival is a low-cost event with over 75 workshops. The ticket includes tent camping; healthy, home-cooked meals; guest speakers; plus Bluegrass, Americana, mountain music and dancing in the evenings.
Many Whippoorwill workshops are led by experts with years of knowledge and skills in fields such as forest ecology and wild mushroom identification. In order to encourage leadership development in Appalachia, other workshops are led by young people and relative novices. Small discussion groups allow festival participants to share their thoughts and experiences with each other in an informal atmosphere.
Berea has a long and strong tradition of Appalachian craftsmanship that is well known in Kentucky, but the Whippoorwill Festival broadens the market for these craftspeople by attracting attendees from Tennessee, North Carolina, Virginia, Ohio and West Virginia.
In the spirit of the book Last Child in the Woods, the Whippoorwill Festival encourages kids at the festival to play outdoors. The festival offers free admission to children 16 and under. Unstructured activities for children are encouraged. The facility for the festival, HomeGrown HideAways, has a nice clean creek with woods and trails on the property. There is also a lake nearby.
Berea's The New Coon Creek Girls will play Bluegrass on Friday night. Other bands include Cincinnati's terrific trio The Tillers; The New Old Cavalry from Bloomington, IN; old-time mountain ballads with Saro; Possum Riot from Knoxville and contra dancing with Berea caller Joe Wilkie.
Visit EcoWatch's CLIMATE CHANGE page for more related news on this topic.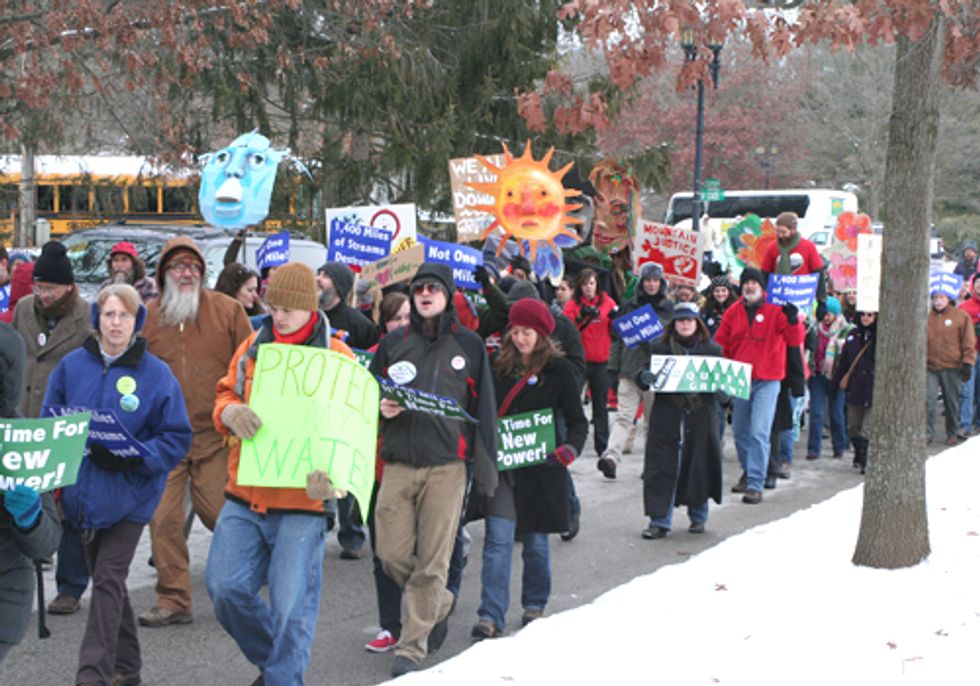 More than 1,000 people are gathering in Frankfort, Ky. on Feb. 14 to celebrate I Love Mountains Day and call for an end to mountaintop removal coal mining—a destructive practice that has shortened lifespans and caused illnesses in Central Appalachia for decades.
The iLoveMountains.org team has just launched an innovative new web tool to illustrate the overwhelming amount of data that shows the high human cost of coal mining, and we invite you to check it out. See it live now by clicking here.
The Human Cost of Coal page maps national data including poverty rates from the 2010 U.S. Census, birth defect rates from the Center for Disease Control, the Gallup-Healthways Well-Being Index, and life expectancy and population numbers from the Institute for Health Metrics and Evaluation. The site also includes summaries for twenty-one peer-reviewed studies that show human health problems such as heart, respiratory and kidney diseases, cancer, low birth weight and serious birth defects are significantly higher in communities near mountaintop removal mine sites.
Ada Smith, a resident of Letcher County Kentucky explains the significance of The Human Cost of Coal:
"Though many of the (health) studies state the obvious for those of us living in these communities, the scientific facts give us much-needed evidence to make sure our laws are truly enforced for the health of our land and people. If we choose to not pay attention to these recent studies we are deciding to make Appalachia a sacrifice zone. What we do to the land, we do to the people."
Share this important new web tool with your friends and family, and follow the action live at I Love Mountains Day or follow #lovemountains on Twitter.
For more information, click here.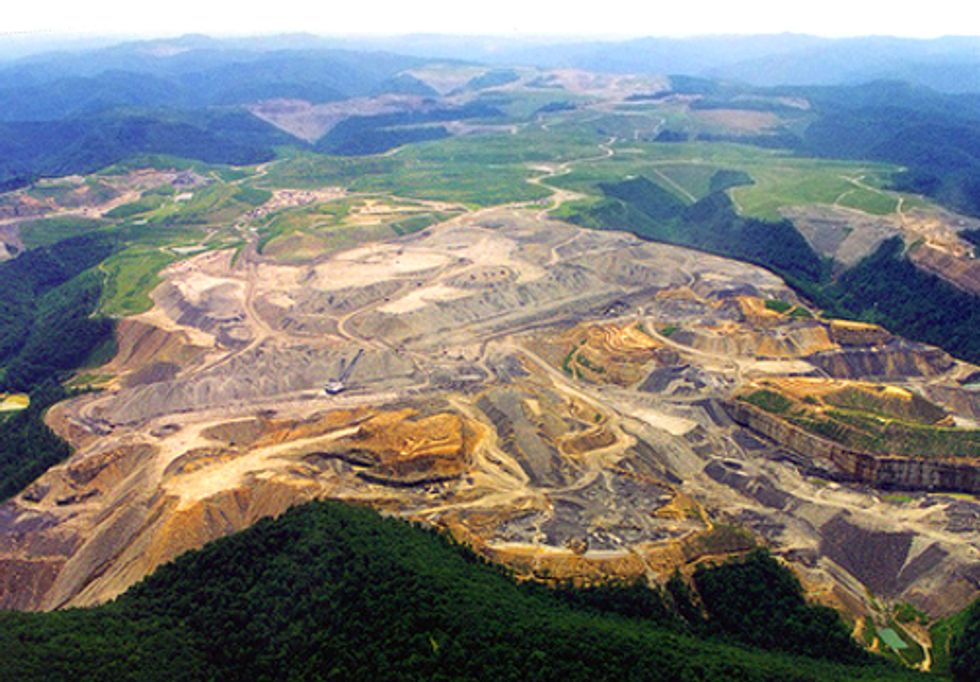 Mountaintop removal coal mining is destroying the mountains and threatening the health and lives of communities across Appalachia. But people in Appalachia are standing up and today they need your support.
Residents of Blair, W.V. have noticed increased activity from mining company Arch Coal around Blair Mountain—the site of the largest labor uprising in American history. Residents are becoming increasingly concerned about Arch's activities and fear they will move forward with plans to mine the historic location.
Just minutes ago, this multi-billion dollar company announced record profits for the fourth quarter of last year. Arch Coal has four planned operations on Blair Mountain, some of which intrude onto the battlefield.
Folks in Appalachia won't stand for Arch Coal's plan to destroy their community and our nation's history just so they can increase their profit margin, and we shouldn't either.
Call Arch CEO Steven Leer today and tell him that Appalachian communities should not fall victim to pad his profit margin.
To allow Arch Coal to destroy Blair Mountain would be to tear out a crucial page of American labor history and burn it. But even more important than the history are the lives of the people living at the foot of this mountain.
Take action today and tell Arch Coal to save Blair Mountain.
For more information, click here.