This website uses cookies to ensure you get the best experience while browsing it. By clicking 'Got It' you're accepting these terms.
Mountaintop Removal Coal Mining Continues to Destroy Appalachia
Jun. 10, 2013 10:26AM EST
Energy
By Brian Sewell
In April, millions of Americans who oppose mountaintop removal celebrated two major court rulings that dealt "major blows" to the coal industry's use of the destructive practice. But a grim reminder of the work ahead came a week ago, when residents of West Virginia's Coal River Valley received a letter from Alex Energy, Inc., saying that they're not done yet.
Shared on Facebook by Coal River Mountain Watch, the terse letter is a soulless script, and very matter-of-factly makes residents aware of the scheduled daily detonations that will likely rattle homes and coat buildings with coal dust. For the next year, residents of Naoma, WV, will be reminded of the true cost of our energy policy by air horn blasts and explosions, courtesy of Alex Energy.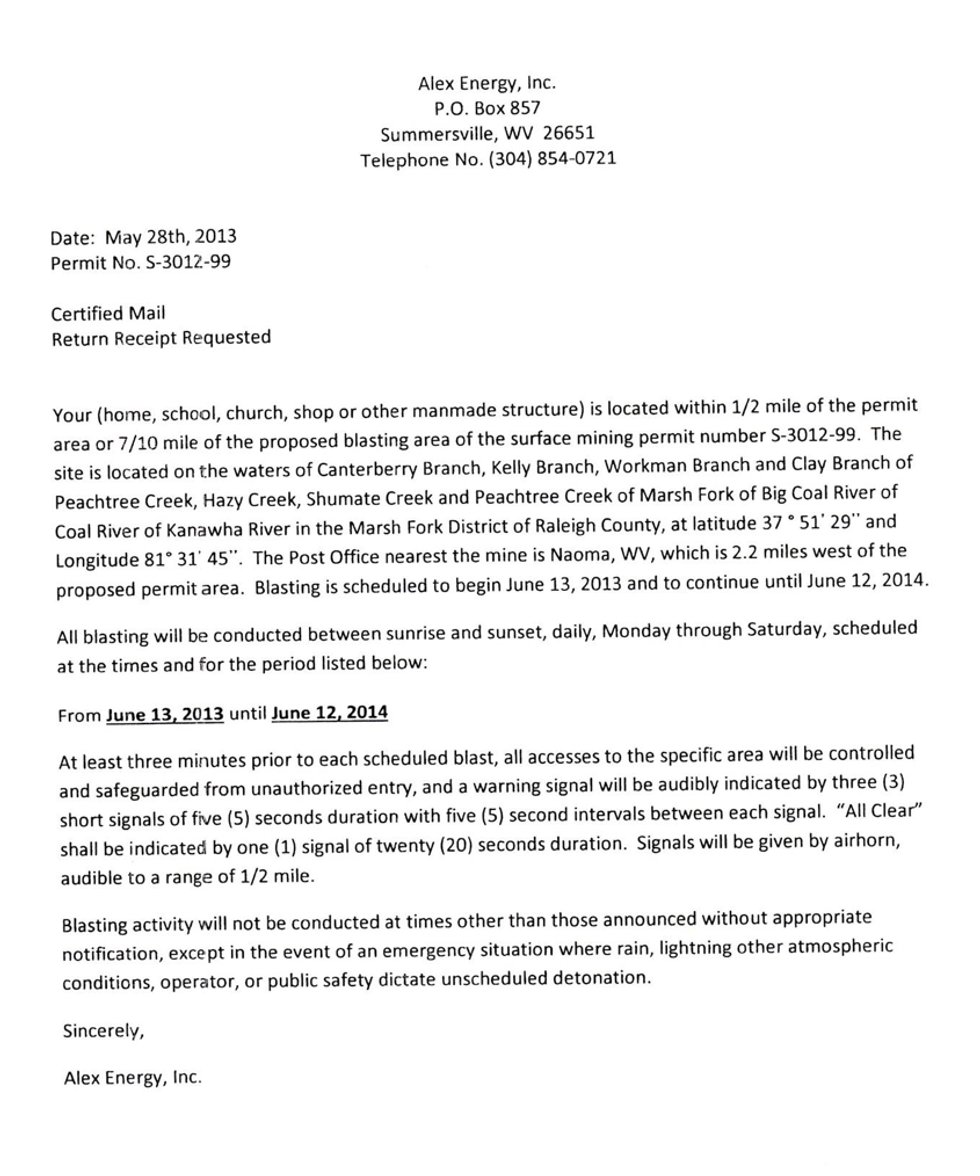 Meanwhile, a U.S. Circuit Court of Appeals last month upheld a permit for Alpha Natural Resources' Highland Reylas mountaintop removal mine in Logan County, WV, despite the fact that it will destroy two and a half miles of streams. In its ruling, the panel of judges wrote that "with the inability to demonstrate that the [U.S. Army Corps of Engineers] failed to take a 'hard look,' the [plaintiff's] arguments are reduced to no more than a substantive disagreement with the Corps."
While headlines in major news outlets claim "Coal is Dead," residents of Appalachia rightfully have their doubts. With little recourse available, they are still being asked to accept the systematic destruction of their homeland and heritage as the cost of doing business. Despite recent victories over the coal industry's use of mountaintop removal, coal is not dead and neither is the most destructive method used to mine it.
In Central Appalachia, proud, self-reliant people have been recast as dependent on the coal industry for shelter, food and meaning. Entire communities have been backed into the absolutely disheartening and hopeless position that, even as the coal production and demand declines, mining will forever be the one opportunity they have to make a living. But recently, it has become clear that even the coal industry cannot keep its promises to miners and their families.
Last week, a federal judge in St. Louis, MO, ruled in favor of the bankrupt Patriot Coal in the company's attempt to gut health care and pension benefits of thousands of workers and retirees. In response, leaders of the United Mine Workers of America are organizing protests and rallies in St. Louis and throughout Central Appalachia. Union members and observers argue that Patriot was intentionally saddled with unsustainable pension and long-term health care obligations when Peabody Coal formed it as a separate company in 2007.
"The outcome will be less health care for the retirees, a poorer future for those retirees, who will likely die earlier than they would have otherwise died due to poor health care," Kentucky State Rep. Brent Yonts told the Associated Press. Rep. Yonts described the ruling as "the day big business struck down the little guy."
For decades, coal companies have destroyed forests, brought down more than 500 mountains, poisoned water and fragmented communities. They've extracted billions of dollars from the region but cannot meet their obligations to the workforce that allowed them to do so. And yet, the industry is still willing to portray itself as the savior of Appalachia.
After hard-won battles, mountaintop removal and the long list of environmental and health concerns that come with it continue. Somehow policymakers and citizens remain willing to accept the coal industry's assurance that it will get better, that they're just not done yet.
Visit EcoWatch's MOUNTAINTOP REMOVAL and COAL pages for more related news on this topic.

EcoWatch Daily Newsletter
We need our government to do everything it can to stop PFAS contamination and exposure from wreaking havoc in communities across the country. LuAnn Hun /
Unsplash
By Genna Reed
The EPA announced last week that it is issuing a preliminary regulatory determination for public comment to set an enforceable drinking water standard to two of the most common and well-studied PFAS, PFOA and PFOS.
This decision is based on three criteria:
PFOA and PFOS have an adverse effect on public health
PFOA and PFOS occur in drinking water often enough and at levels of public health concern;
regulation of PFOA and PFOS is a meaningful opportunity for reducing the health risk to those served by public water systems.
Charging EVs in Stockholm: But where does a dead battery go? Ranjithsiji / Wikimedia Commons
By Kieran Cooke
Driving an electric-powered vehicle (EV) rather than one reliant on fossil fuels is a key way to tackle climate change and improve air quality — but it does leave the old batteries behind as a nasty residue.
U.S. Secretary of the Treasure Steven Mnuchin arrives for a welcome dinner at the Murabba Palace in Riyadh, Saudi Arabia on Feb. 22, 2020 during the G20 finance ministers and central bank governors meeting. FAYEZ NURELDINE / AFP via Getty Images
Finance ministers from the 20 largest economies agreed to add a scant mention of the climate crisis in its final communiqué in Riyadh, Saudi Arabia on Sunday, but they stopped short of calling it a major economic risk, as Reuters reported. It was the first time the G20 has mentioned the climate crisis in its final communiqué since Donald Trump became president in 2017.
Aerial view of Parque da Cachoeira, which suffered the January 2019 dam collapse, in Brumadinho, state of Minas Gerais, Brazil — one of the country's worst industrial accidents that left 270 people dead. Millions of tons of toxic mining waste engulfed houses, farms and waterways, devastating the mineral-rich region. DOUGLAS MAGNO / AFP / Getty Images
Participants of the climate demonstration Fridays for Future walk through Hamburg, Germany on Feb. 21, 2020. Axel Heimken / picture alliance via Getty Images