Will 3D Printing Be the Next Big Thing for Sustainable Food?
Feb. 27, 2015 12:47PM EST
Food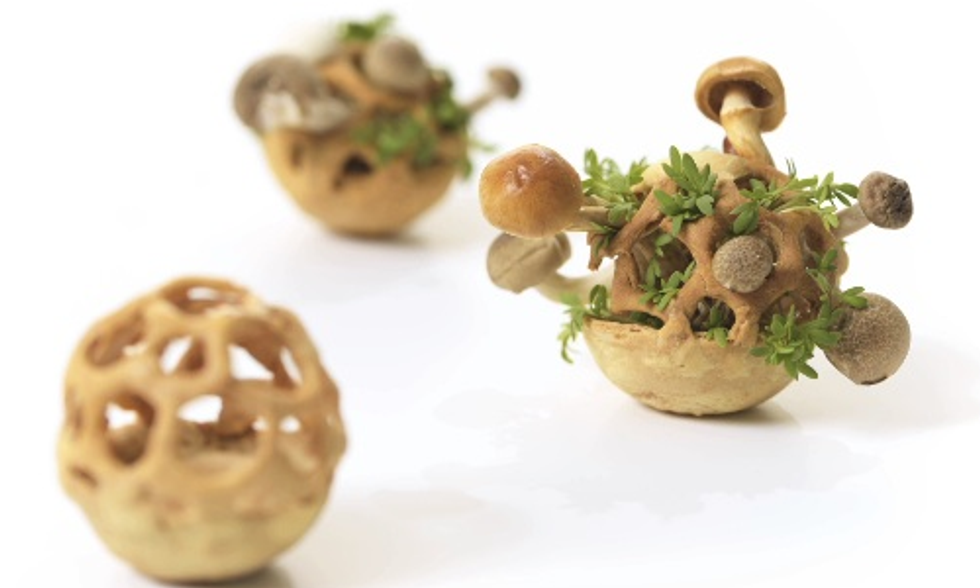 People are using 3D printing for many purposes, from custom-printed Oreos to tackling plastic waste. But a food and concept designer is using this emerging technology to create something that's innovative and nutritious at the same time.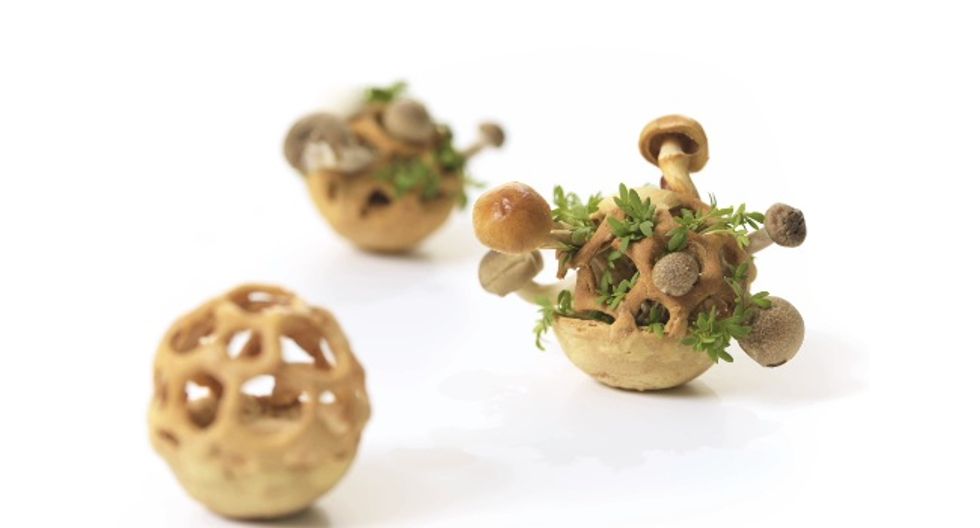 Chloé Rutzerveld′s Edible Growth project attempts to change the way food is produced and consumed. "My aim was to use this new food technology in a useful way to create natural, healthy, sustainable and nutrient rich food that can not be made with traditional production methods and contributes to our and the environment's well-being," she wrote on her website.
Rutzerveld pointed out that it takes a lot of resources for food to end up on your plate, and hopes that her project will eliminate many of these steps. "With Edible Growth a lot of unnecessary stages of the food chain disappear with as result a reduction of food waste, food miles and CO2 emission," she wrote.
These pastry-like snacks contain seeds, spores, yeast and an edible agar center that allows the plants inside to sprout within three to five days. "The product's intensifying structure, scent and taste are reflected in its changing appearance," Rutzerveld wrote. "Depending on the preferred intensity, the consumer decides when to harvest and enjoy the delicious, fresh and nutrient-rich edible."
It'll take awhile before the pod is available at a grocery store near you. The Edible Growth project is still in the research and development phase and Rutzerveld admits that it will take 8-10 years before the concept is fully marketable.
She told Vice the prototypes shown here were made by hand, adding that "3D printing with food is not very simple, which is why only sugar and pastes are successfully printed at this point. All elements (file, 3D printer, thickness and structure of the material) must be perfectly matched to get the desired result. 3D printing in general, but specifically with food, requires a lot of patience in the first trials. It's about trying, experimenting, adjusting parameters one at a time, and repeating the steps."
Rutzerveld conceived the edible 3D printing concept while she was a student at Eindhoven University of Technology in the Netherlands. In the video below, filmed at Dutch Design Week 2014, she describes how 3D printing "could transform the food industry."
YOU MIGHT ALSO LIKE
Charge Your Smart Phone With 3D-Printed Solar Tree
Is 3D Printing the Answer to Plastic Waste?
Reducing Food Waste Is Good for Economy and Climate, Report Says
EcoWatch Daily Newsletter
Related Articles from EcoWatch