Wind farm with solar panels in southern California. 4kodiak / E+ / Getty Images
By Jeff Deyette
Despite the Trump administration's ongoing attempts to prop up coal and undermine renewables—at FERC, EPA and through tariffs and the budget process—2018 should instead be remembered for the surge in momentum toward a clean energy economy. Here are nine storylines that caught my attention this past year and help illustrate the unstoppable advancement of renewable energy and other modern grid technologies.
1. California Goes All-In for Carbon-Free Electricity
In late August, California—the world's 5th largest economy—committed to the target of fully decarbonizing its power sector by 2045. The landmark legislation also strengthens the state's renewable portfolio standard (also known as a renewable energy standard, or RES) from 50 to 60 percent by 2030. What's more, at the bill signing, Governor Jerry Brown signed an executive order that establishes a goal of achieving carbon-neutrality across all sectors of California's sprawling economy by 2045, cementing the state's place as a global leader in climate action.
2. Several States Strengthen Their RES Requirements
State-level renewable electricity standards continued to be a primary driver of new renewable energy development in 2018. In addition to California, legislatures in New Jersey (50 percent by 2030), Connecticut (40 percent by 2030) and Massachusetts (35 percent by 2030) all adopted stronger targets for renewable energy, accelerating their states' transitions away from fossil fuels. In addition, voters in Nevada overwhelmingly approved a measure to increase their state's RES to 50 percent by 2030 (the measure must be approved again in 2020 to officially become law).
3. Clean Energy Champions Win Gubernatorial Races
One of the bright spots in November's election results was the number newly elected governors who campaigned on aggressive clean energy and climate change agendas. Newly elected governors in at least 10 states, including California, Colorado, Connecticut, Illinois, Maine, Michigan, Minnesota, Nevada, New Mexico and Wisconsin, have pledged to accelerate clean energy and carbon reductions in their states by supporting U.S. commitments to the Paris agreement, joining the U.S. Climate Alliance and/or calling for renewable energy targets of 80 to 100 percent. These election results demonstrate the widespread support for greater investments in renewable energy and signal the push for even stronger clean energy policies in the coming year.
4. Record Low Prices for Renewables
Innovation, growing economies of scale and attractive financing continued to drive the costs down for renewables in 2018. Power purchase agreements for wind and solar projects in states like Arizona, Nevada, Colorado, Kansas, New Mexico, Oklahoma and Texas have reportedly ranged between $20 to $30 per megawatt-hour, well below the cost of natural gas generation—and the technologies are positioned for further cost reductions to continue to be low-cost options even as federal tax incentives change. What's even more exciting is that the many of these low-priced projects also include energy storage components, increasing their value to the grid.
5. Major Utilities Commit to Low-Carbon Portfolios
Earlier this month, Xcel Energy became the first major utility to commit to a completely carbon-free electricity supply across the eight states it operates in. In doing so, it joins a growing number of utilities that are committing to phasing out their use of coal and transitioning to substantially lower carbon energy portfolios. Also this year, both Consumers Energy in Michigan and NIPSCO in northern Indiana announced plans to phase out coal generation and utility giant American Electric Power announced a goal of reducing its carbon emissions 80 percent by 2050. What's especially exciting about these utility actions is that they are driven primarily by economics, clearly demonstrating the competitiveness of clean energy technologies.
6. Corporate Renewable Energy Purchases Keep Growing
Low renewable energy prices continue to attract major corporations looking to save money and achieve ambitious sustainability goals. As a result, direct corporate purchases of renewable energy have become a major driver of renewable energy deployment. In 2018, the Rocky Mountain Institute reports, corporate renewable energy purchases—led by companies like Facebook, Walmart, ATT and Microsoft—reached more than 6.4 gigawatts (GW). The number of corporations investing in renewables expanded at a record pace this year as well, with nearly two-thirds of Fortune 100 and nearly half of Fortune 500 companies now having set ambitious renewable energy goals.
7. Offshore Wind Moves Forward
Kim Hansen / Wikimedia Commons
While no new offshore wind projects came online in the U.S. this year (the next project—off the Virginia coast—is scheduled for 2020), the industry did take some big leaps toward becoming a major player in the nation's power supply. For example, the winning bid for Massachusetts' first request for offshore wind proposals to help meet the state's offshore wind requirements passed in 2016 went to an 800-megawatt project from Vineyard Wind at a shockingly low price of about 6.5 cents per kilowatt-hour. In addition, the latest U.S. Bureau of Ocean Energy Management auction for leasing parcels of water for future projects resulted in 11 bidders and $405.1 million in winning bids, both smashing previous records. And strong state policies, including new offshore wind requirements in New Jersey and elsewhere, mean that there's a lot more action to come.
8. Storage Steps Into the Spotlight
Lithium-ion batteries for advanced energy storageArgonne National Laboratory / Flickr
Once a fringe player in the electric power sector, the energy storage industry is quickly emerging as a game changer in the transition to a clean energy economy as a tool for integrating much higher levels of renewable energy. In 2018, the pipeline for new storage projects doubled to nearly 33 GW as more utilities are investing in the technology thanks largely rapidly falling prices and growing support from state policies. While California has led the nation in storage deployment to date, New York recently established the strongest storage requirement in the country at 3,000 MW by 2030. Earlier this year, New Jersey set an ambitious storage target of 2,000 MW by 2030 and Massachusetts significantly increased its storage requirement to 1,000 megawatt-hours by 2025. At the federal level, the Federal Energy Regulatory Commission issued Order 841, which directs regional grid operators to set market rules that allow energy storage to participate on a level playing field in the wholesale energy, capacity and ancillary services markets.
9. PG&E Turns Down the Gas With Storage and Renewables
In one particular sign of what's to come in 2019 and beyond in terms of how these technologies fit together to displace fossil fuels, one of the most exciting regulatory decisions I saw this year was the California Public Utility Commission's approval of PG&E's plan to use energy storage to replace retiring gas generators. One of the key barriers to fully transitioning to a carbon-free economy is replacing natural gas generation and the ancillary services they provide to the power grid. This decision, which marks the first time a utility will directly replace power plants with battery storage, should spur many more similar projects to move forward in California and across the country and open the door for integrating much higher levels of renewable energy onto the power grid.
These nine stories are just a sampling of what occurred in 2018 to further the clean energy transition. As the year comes to a close, UCS will continue to work hard to keep up the clean energy momentum in 2019.
All Renewables Will Be Cost Competitive With Fossil Fuels by 2020 https://t.co/QectZLGqOF #renewables @350… https://t.co/9rc89HJlCz

— EcoWatch (@EcoWatch)1516026187.0
Jeff Deyette is the director of state policy and analysis at the Union of Concerned Scientists.

From Your Site Articles
Related Articles Around the Web
EcoWatch Daily Newsletter
A powerful explosion at Husky Energy's oil refinery in Superior, Wisconsin sparked a massive fire and injured multiple people on Thursday.
The blast sent thick, dark smoke across the city and prompted the evacuation of thousands of residents 10 miles downwind of the refinery, 2 miles to the north, and 3 miles east and west. All Superior schools closed Friday due to the fire.
Roughly 15 people were injured, Reuters reported.
Husky Energy, a Canadian company based in Alberta, said all the refinery's workers have been accounted for and no fatalities have been reported. Several people have been hospitalized and are reported to be in stable condition, the company said.
MPR reported that the refinery gets heavy crude from Alberta's tar sands and lighter crude from North Dakota's Bakken region. It processes around 50,000 barrels per day and has a storage capacity of 3.6 million barrels. It produces asphalt, gasoline, diesel and heavy fuel oils.
According to the Associated Press, a tank of crude oil or asphalt exploded about 10 a.m. Thursday at the refinery. The fire was put out about 11:20 a.m., but it reignited. Firefighters successfully extinguished the fires around 6:45 p.m., after burning for about eight hours.
Second explosion sends thick black smoke into air at Husky Energy Refinery in Superior, WI. More small popping blas… https://t.co/Zc3aT7w0TZ

— Chris Hrapsky (@Chris Hrapsky)1524765767.0
"All indications are that the refinery site is safe and stable and the air quality is clean and normal," Superior Mayor Jim Paine wrote in a 5:38 a.m. Facebook post on Friday.
"I am lifting the evacuation order at 6 am this morning ... " he wrote. "Welcome home."
The Minnesota Red Cross supported evacuation and shelter operations, and provided food and hydration to first responders.
The American Red Cross is helping those affected by the Husky Refinery Explosion and Fire in #Superior, WI by suppo… https://t.co/QFNFzFyLCE

— Minnesota Red Cross #GiveWithMeaning (@Minnesota Red Cross #GiveWithMeaning)1524790883.0
Governor Scott Walker tweeted about his visit to evacuees in a shelter on Friday.
"Certainly there will be plenty of research done to figure out what ultimately brought about this in the first place, but to see the kind of response as much as you don't want to have this in any community. To me, any time you don't have a fatality after an explosion, that in itself is a remarkable success story," Walker said.
In Superior and Duluth to thank all the first responders and volunteers and other staff. Visited folks at the shelt… https://t.co/0BXGTyFWIQ

— Scott Walker (@Scott Walker)1524795537.0
The U.S. Chemical Safety and Hazard Investigation Board has sent a four-person team to investigate the incident.
"The emergency situation at the refinery is now over, and our focus in the days ahead will turn to the investigation and understanding the root cause of the incident," Husky Energy CEO Rob Peabody said in a statement. "Our thoughts are with those who were injured, and their families."
"Our deepest thanks to the emergency responders and members of the community who stepped forward with assistance. We also appreciate the support of businesses, and city and county authorities."
One Dead, Three Injured in Anadarko Oil Tank Explosion https://t.co/H64UR24IO0 @yokoono @MarkRuffalo

— EcoWatch (@EcoWatch)1495847704.0
From Your Site Articles
Related Articles Around the Web
waterlust.com / @tulasendlesssummer_sierra .
Each product featured here has been independently selected by the writer. If you make a purchase using the links included, we may earn commission.
The bright patterns and recognizable designs of Waterlust's activewear aren't just for show. In fact, they're meant to promote the conversation around sustainability and give back to the ocean science and conservation community.
Each design is paired with a research lab, nonprofit, or education organization that has high intellectual merit and the potential to move the needle in its respective field. For each product sold, Waterlust donates 10% of profits to these conservation partners.
Eye-Catching Designs Made from Recycled Plastic Bottles
waterlust.com / @abamabam
The company sells a range of eco-friendly items like leggings, rash guards, and board shorts that are made using recycled post-consumer plastic bottles. There are currently 16 causes represented by distinct marine-life patterns, from whale shark research and invasive lionfish removal to sockeye salmon monitoring and abalone restoration.

One such organization is Get Inspired, a nonprofit that specializes in ocean restoration and environmental education. Get Inspired founder, marine biologist Nancy Caruso, says supporting on-the-ground efforts is one thing that sets Waterlust apart, like their apparel line that supports Get Inspired abalone restoration programs.
"All of us [conservation partners] are doing something," Caruso said. "We're not putting up exhibits and talking about it — although that is important — we're in the field."
Waterlust not only helps its conservation partners financially so they can continue their important work. It also helps them get the word out about what they're doing, whether that's through social media spotlights, photo and video projects, or the informative note card that comes with each piece of apparel.
"They're doing their part for sure, pushing the information out across all of their channels, and I think that's what makes them so interesting," Caruso said.
And then there are the clothes, which speak for themselves.
Advocate Apparel to Start Conversations About Conservation
waterlust.com / @oceanraysphotography
Waterlust's concept of "advocate apparel" encourages people to see getting dressed every day as an opportunity to not only express their individuality and style, but also to advance the conversation around marine science. By infusing science into clothing, people can visually represent species and ecosystems in need of advocacy — something that, more often than not, leads to a teaching moment.

"When people wear Waterlust gear, it's just a matter of time before somebody asks them about the bright, funky designs," said Waterlust's CEO, Patrick Rynne. "That moment is incredibly special, because it creates an intimate opportunity for the wearer to share what they've learned with another."
The idea for the company came to Rynne when he was a Ph.D. student in marine science.
"I was surrounded by incredible people that were discovering fascinating things but noticed that often their work wasn't reaching the general public in creative and engaging ways," he said. "That seemed like a missed opportunity with big implications."
Waterlust initially focused on conventional media, like film and photography, to promote ocean science, but the team quickly realized engagement on social media didn't translate to action or even knowledge sharing offscreen.
Rynne also saw the "in one ear, out the other" issue in the classroom — if students didn't repeatedly engage with the topics they learned, they'd quickly forget them.
"We decided that if we truly wanted to achieve our goal of bringing science into people's lives and have it stick, it would need to be through a process that is frequently repeated, fun, and functional," Rynne said. "That's when we thought about clothing."
Support Marine Research and Sustainability in Style
To date, Waterlust has sold tens of thousands of pieces of apparel in over 100 countries, and the interactions its products have sparked have had clear implications for furthering science communication.
For Caruso alone, it's led to opportunities to share her abalone restoration methods with communities far and wide.
"It moves my small little world of what I'm doing here in Orange County, California, across the entire globe," she said. "That's one of the beautiful things about our partnership."
Check out all of the different eco-conscious apparel options available from Waterlust to help promote ocean conservation.
Melissa Smith is an avid writer, scuba diver, backpacker, and all-around outdoor enthusiast. She graduated from the University of Florida with degrees in journalism and sustainable studies. Before joining EcoWatch, Melissa worked as the managing editor of Scuba Diving magazine and the communications manager of The Ocean Agency, a non-profit that's featured in the Emmy award-winning documentary Chasing Coral.
Wisconsin State Capitol. Joseph / Flickr
The bill, which has a federal equivalent in Congress, has long been seen as the crown jewel of the Koch network. It essentially gives legislative bodies full veto power over regulations, including proposed environmental safeguards, which have been proposed by executive agencies—even when those regulations are mandated by laws legislatures have passed.
WILL's November 20 lawsuit, if successful, would be the first time the REINS Act is used to halt a proposed regulation. WILL is funded almost entirely by the conservative Milwaukee, Wisconsin-based Bradley Foundation, which has offices located next door. Wisconsin's Republican Governor Scott Walker, who is up for re-election in 2018, became the first state chief executive to sign the state equivalent of REINS into law.
Walker has long maintained close ties with the Koch network and has received millions of dollars in campaign contributions from the juggernaut.
The federal version of the REINS Act, first introduced early in Barack Obama's presidency, was again proposed during the 2017 congressional session. The bill passed early in the year in the House, but not in the Senate, where it currently has 38 co-sponsors.
Rep. Steve Haugaard, a Republican in the South Dakota legislature, recently told the Heartland Institute that he too is in the process of bringing a version of the REINS Act to his state. The American Legislative Exchange Council (ALEC), a corporate-funded group which brings lobbyists and generally Republican Party state legislators together to vote on model bills at its annual meetings, has a resolution in support of the REINS Act as one of its pieces of model legislation.
Wisconsin Supreme Court, WILL Tie
WILL has brought the lawsuit directly to the Wisconsin Supreme Court. It argues that Evers, a Democratic Party gubernatorial candidate, has promulgated proposed regulations without sending a detailed "scoping statement" to the state's Department of Administration. That office functions, in essence, as an extension of the governor's office.
Such a statement would have laid out the costs for stakeholders to comply with the proposed rules. The lack of this statement was discovered via an open records request filed by WILL, according to the complaint and exhibits from the case. The Wisconsin version of REINS requires that this type of scoping document be published, mandating that if the costs of regulatory compliance rise above $10 million, the bill or regulation either be rewritten or discarded.
"State Superintendent Evers is blatantly violating newly enacted state law," Rick Esenberg, WILL president and general counsel, said in a press release. "The legislature passed the REINS Act to make all agencies, including the Department of Public Instruction, more accountable to the elected-state legislature and open to the people of Wisconsin. No one, including Superintendent Evers, is above the rule of law in Wisconsin."
As the Associated Press noted, Gov. Walker recently appointed Dan Kelly, who formerly sat on WILL's litigation advisory board, to the Supreme Court in July 2016. Upon the appointment, WILL issued a statement in support of Kelly.
"I've known Dan a long time and enjoyed our personal and professional relationship. He is a very bright, capable attorney who believes in a judiciary that interprets the law objectively, fairly, and follows where the law might lead," WILL's Esenberg said in a press release. "His experience unquestioningly qualifies him for the Supreme Court where reason and sophisticated legal analysis guides public policy affecting nearly six million Wisconsinites."
The Wisconsin Manufacturers and Commerce—the Wisconsin state-level equivalent of the U.S. Chamber of Commerce—has inserted itself into the case by filing an amicus, or friend of the court, brief in support of WILL's lawsuit.
Legal Representation Issues
Beyond the lawsuit itself, Evers is actually having problems related to legal representation for the nascent case because he does not want to be represented by counsel from the office of Wisconsin Attorney General Brad Schimel. Schimel has come out in agreement with REINS and its implementation.
Pointing to this set of circumstances, Evers wrote a letter on Nov. 28 and then held a subsequent press conference on Nov. 29 laying out why he would like to use his own team of lawyers, including Department of Public Instruction in-house counsel, for the case.
"I believe that your office is neither willing nor ethically able to provide representation in this matter," wrote Evers. "[Wisconsin Supreme Court's Rules of Professional Conduct] require all attorneys, including those at the Department of Justice, to advocate for their clients, abide by a client's decisions concerning the objectives of representation, and avoid conflicts of interest."
Evers and the rest of the Walker-run bureaucracy are at odds to begin with because, in Wisconsin, the state superintendent of public instruction, an office Evers also holds, is an elected post. Further complicating things: Evers, if he wins the Democratic Party gubernatorial primary in August, would be Walker's opponent in the general election.
"In perhaps the most outrageous Republican attempt to consolidate all political power in the hands of Gov. Scott Walker, Attorney General Brad Schimel, echoing French king Louis XIV, has effectively declared that he is the state (l'état, c'est moi)," wrote Wisconsin attorney Lester Pines of the development. "Schimel's expression of absolute authority arose in the latest effort by Walker to gain control of the only other executive officer created by the Wisconsin Constitution who has vested executive power, the superintendent of public instruction."
Dairy State Crucible
As previously reported by DeSmog, Schimel was also a co-plaintiff for the lawsuits spearheaded by then-Oklahoma Attorney General and current U.S. Environmental Protection Agency Administrator Scott Pruitt against the Clean Power Plan. The Clean Power Plan would have regulated carbon emissions from coal-fired power plants. Pruitt—a climate change denier, as is President Donald Trump—has repealed the Clean Power Plan and now mulls its required replacement.
A spokesperson for Schimel's office, Johnny Koremenos, told WisPolitics.com that the Office of the Attorney General is his legal counsel whether "Evers likes it or not."
"Whether Superintendent Evers likes it or not, the State of Wisconsin is the actual defendant in this lawsuit, and his personal opinions as to what the law is or should be will have no bearing on the attorney general's power or ethical duty to represent the state," said Koremenos.
Beyond the legal representation quagmire, Evers' Department of Public Instruction has also called for the lawsuit to be dismissed on its face. Agency spokesperson Tom McCarthy told the Milwaukee Journal-Sentinel, "The case has no merit, period. The only people that don't understand this is WILL."
What happens in the days and months ahead with the WILL lawsuit, though, will likely have big implications for environmental regulations not only in Wisconsin but likely far beyond, with the Dairy State once again serving as a test case and battleground for the implementation of the Koch agenda.
Reposted with permission from our media associate DeSmogBlog.
From Your Site Articles
Related Articles Around the Web
By Steve Horn
A bill with the potential to hobble government agencies' ability to propose regulations, known as the REINS (Regulations from the Executive in Need of Scrutiny) Act, has passed in both chambers of the Wisconsin Legislature and Republican Gov. Scott Walker's office has told DeSmog he intends to sign it into law.
REINS has been pushed for years at the federal level by Americans for Prosperity (AFP), the conservative advocacy group funded and founded with money from Koch Industries, and a federal version of it currently awaits a U.S. Senate vote. The House bill, H.R. 26, passed on Jan. 5 as one of the current Congress's first actions.
[email protected]

: The Most Dangerous Bill You've Never Heard of Just Passed the House https://t.co/qkLlm15pih @RobertKennedyJr @MikeBloomberg @350

— EcoWatch (@EcoWatch)1484083251.0
Wisconsin's version mandates that if a proposed regulation causes "$10 million or more in implementation and compliance costs" over a two year period, that rule must either be rewritten or go by the wayside. Known as Senate Bill 15, the Wisconsin bill passed the state Senate on a party-line vote, 62-34 and would be the first state-level REINS bill on the books in the country.
"Governor Walker has thanked the Legislature for sharing his commitment to bold regulatory reform and looks forward to signing the bill into law," Jack Jablonski, a spokesperson for Gov. Walker, said in a statement provided to DeSmog. Jablonski did not provide a timeline as to when Walker plans to sign the bill.
Walker has a storied history of close ties to the petrochemical billionaire brothers David and Charles Koch, including getting punked into taking a phone call with a David Koch impersonator back in 2011, who was actually a reporter with the Buffalo Beast, an alt-weekly newspaper in New York. Walker has taken tens of thousands of dollars in campaign contributions from Koch Industries, both during his three successful gubernatorial elections and during his short-lived run for president during the 2016 election cycle, which saw Walker ascend as the Koch brothers' chosen candidate.
Wisconsin-based Koch businesses which release air and water pollutants could benefit financially from the bill if it becomes law. Koch Industries owns subsidiaries including Georgia-Pacific, Flint Hills Resources and Koch Minerals, which in turn own assets such as paper production mills, pipelines and oil and gas storage facilities within Wisconsin.
AFP's Wisconsin chapter, which launched an advertising and lobbying campaign in support of the legislation, celebrated the bill's passage in a press release disseminated through Facebook.
Another group which has received Koch funding, Americans for Tax Reform, also praised the bill's passage. Americans for Tax Reform, run by its president and founder Grover Norquist, also successfully advocated for President Donald Trump to have the U.S. withdraw from the United Nations Paris climate agreement.
"The REINS Act—blocked by special interests in Washington—can be enacted in Wisconsin to reduce the costs and delays of overregulation," Norquist said in a statement provided to another Koch-funded group, the McIver Institute, which is a member of the Koch-funded State Policy Network. "By becoming the first state to pass a state version of the REINS Act, Wisconsin will further solidify its reputation as one of the nation's top government reforming states."
Lobbyists' 'Nefarious Role'
Wisconsin Rep. Dianne Hesselbein, the Assembly Assistant Minority Leader who serves on the Committee on Natural Resources and Sporting Heritage, attempted to introduce several amendments to the bill, according to legislative drafting files obtained by DeSmog.
But those amendments, which would have essentially rolled back the key anti-regulatory language found within REINS, never received a vote. One of the amendments banned firms which have employed lobbyists within the past five years from performing the economic impact statement, while another called for the economic impact statement to calculate benefits from keeping regulatory safeguards in place. Yet another of Hesselbein's amendments called for the limit to be raised to $20 million for the law to apply to regulations proposed by the Wisconsin Department of Natural Resources.
Wisconsin Legislative Reference Bureau
"It's unfortunate the amendments weren't even considered during debate on the bill," Hesselbein told DeSmog. "We were sincere in our efforts to work with the bill authors to improve the legislation and ensure the enactment of important agency rules aren't derailed by outside interests at the eleventh hour."

On the Assembly floor, Republican bill sponsor Rep. Adam Neylon said he was willing to work with Democratic colleagues to address the potential for a contracted lobbyist or lobbying group to write the economic impact statement dictated under the REINS Act. Neylon, who received a $1,000 campaign contribution from AFP for his successful 2016 electoral run, said having a lobbyist involved in the process would be "nefarious" (see video beginning at about 3:38:08) and is willing to work with Democrats on a follow-up bill.
"I'm troubled by the author of this legislation openly acknowledging the nefarious role industry lobbyists and political insiders could play in undermining the enactment of rules that are meant to protect our health and our environment," Hesselbein said in response to Neylon's statements.
Hesselbein, who represents a district just west of the state capitol city of Madison, sees the bill in general as a giveaway to industry lobbyists and corporate interests.
"The so-called REINS Act will undoubtedly move Wisconsin towards a rule-making process that will become marred by industry lobbyists with political agendas working to undermine the enactment of legislation aimed at protecting the public good," said Hesselbein.
Reposted with permission from our media associate DeSmogBlog.
Wisconsin's Republican-controlled government may be moving to control state-produced scientific research and tamp down emphasis on climate, according to a new report.
The Wisconsin State Journal reports that Gov. Scott Walker's budget proposal contains an item that would dissolve the science services bureau within the Department of Natural Resources and transfer the scientists to other programs.
The move would give the state's business-friendly DNR chief more control over research priorities and output. The Journal reports that this proposal is the latest in a long line of moves by the Walker administration to suppress climate science and related priorities.
"This is just part of the continued effort to discourage the use of science or evidence in this administration's decision-making," Sen. Jon Erpenbach, a Middleton Democrat on the budget committee, told the Wisconsin State Journal.
"Gov. Walker and legislative Republicans don't want science to get in the way of their politics."
For a deeper dive:
For more climate change and clean energy news, you can follow Climate Nexus on Twitter and Facebook, and sign up for daily Hot News.
Rooftop solar installation at Vivint Smart Home Arena in Salt Lake City, Utah. Photo credit: Laura Seitz, Deseret News
Madison, Wisconsin and Abita Springs, Louisiana are transitioning to 100 percent renewable energy following respective city council votes on Tuesday.
Madison and Abita Springs are the first cities in Wisconsin and Louisiana to make this commitment. They join 23 other cities across the United States—from large ones like San Diego, California and Salt Lake City, Utah to smaller ones like Georgetown, Texas and Greensburg, Kansas—that have declared similar goals.
Madison is the biggest city in the Midwest to establish 100 percent renewable energy and net-zero carbon emissions. The Madison Common Council unanimously approved a resolution to allocate $250,000 to develop a plan by January 18, 2018 that includes target dates for reaching these goals, interim milestones, budget estimates and estimated financial impacts.
Madison Common Council Alder Zach Wood said that his city is determined to "lead the way in moving beyond fossil fuels that threaten our health and environment."

After a unanimous vote, Abita Springs is aiming to derive 100 percent of the town's electricity from renewable energy sources by December 31, 2030.
Here's why a 100% clean energy economy is much closer than you think: https://t.co/Fk4iEfilVe #ReadyFor100 https://t.co/toeAOKlura

— Sierra Club (@Sierra Club)1465736407.0
The Sierra Club noted that Tuesday's votes from the politically polar municipalities reflect the growing bipartisan support for alternative energy development. To illustrate, during the November election, more than 70 percent of Madison voters supported Hillary Clinton versus the 75 percent of voters in St. Tammany Parish, where Abita Springs is located, who supported Donald Trump.But as Abita Springs' Republican mayor Greg Lemons said, "Transitioning to 100 percent renewable energy is a practical decision we're making for our environment, our economy and for what our constituents want in Abita Springs."
"Politics has nothing to do with it for me. Clean energy just makes good economic sense," Lemons added.
LeAnn Pinniger Magee, chair of Abita Committee for Energy Sustainability, had similar remarks.
"In a state dominated by oil interests, Abita Springs is a unique community that can be a leader on the path to renewable energy," she said. "Our town already boasts the solar-powered Abita Brewery and we can see first-hand how clean energy benefits our businesses and our entire community. By transitioning to 100 percent renewable energy, we will save money on our utility bills and protect our legendary water and clean air in the process."

Last year's Gallup poll indicated for the first time that a majority of Republicans and Republican-leaning independents prefer an alternative energy strategy. Fifty-one percent of Republicans favor alternative energy, up from the previous high of 46 percent in 2011.
"Whether you're Republican or a Democrat, from a liberal college city or a rural Louisiana town, clean energy is putting America back to work and benefiting communities across the country," Jodie Van Horn, director of the Sierra Club's Ready for 100 campaign, said. "That's why Madison, Wisconsin and Abita Springs, Louisiana, today join the ranks of 23 other cities and towns across the United States that are going all-in on clean, renewable energy."
Van Horn noted that local leaders and governments will be increasingly tasked to curb President Trump's pro-fossil fuel policies and gutting of environmental regulations.
"As the Trump Administration turns its back on clean air and clean water, cities and local leaders will continue to step up to lead the transition towards healthy communities and a more vibrant economy powered by renewable energy," she said.
This city just banned fossil fuel extraction in light of Trump presidency. https://t.co/7XfXctadAr

— EDF (@EDF)1479759906.0
The Solutions Project, which aims to make clean energy accessible and affordable for all, is advocating for towns, cities, states and even the whole country to convert its energy infrastructure to renewables.
The Solutions Project team published a study and roadmap that illustrates how each U.S. state can replace fossil fuels by tapping into the renewable resources they have available, such as wind, solar, geothermal, hydroelectric, as well as small amounts of tidal and wave power.
The authors found that converting the nation's energy infrastructure into renewables is ideal because it helps fight climate change, saves lives by eliminating air pollution, creates jobs in the rapidly booming renewable energy sector and also stabilizes energy prices.
Whoever is managing Wisconsin's Department of Natural Resources website must be wearing out the delete key. The word "climate" has been quietly stripped from the department's webpage dedicated to explaining the state's response to climate change, Raw Story reported.
In total, 13 original appearances of the word "climate" have been kiboshed. The only place you'll see the word now is in the "climatechange.html" URL and a tiny footnote link. Not only that, any reference to humanity's contribution to global warming has been deleted.

The text that appears on the webpage now inserts classic climate skeptic arguments, in which Earth's "changes" are being "debated." This is the text on the website as of today:
The Great Lakes and a changing world
As it has done throughout the centuries, the earth is going through a change. The reasons for this change at this particular time in the earth's long history are being debated and researched by academic entities outside the Wisconsin Department of Natural Resources. The effects of such a change are also being debated but whatever the causes and effects, the DNR's responsibility is to manage our state's natural resources through whatever event presents itself; flood, drought, tornadoes, ice/snow or severe heat. The DNR staff stands ready to adapt our management strategies in an effort to protect our lakes, waterways, plants, wildlife and people who depend on them. For more information on the research conducted by the University of Wisconsin-Madison.
In a post for Urban Milwaukee, political writer James Rowen reported that the original text actually acknowledged that "[h]uman activities that increase heat–trapping ('green house') gases are the main cause [of global warming.] Earth's average temperature has increased 1.4 °F since 1850 and the eight warmest years on record have occurred since 1998."
In fact, Rowen has detailed the quiet scrubbing of climate change from the entire DNR website for several years, changes that he describes as "Orwellian" and "propagandistic."

This news should not surprise anyone who has followed the career of Wisconsin's notorious climate-change-denying Governor, Scott Walker. Ever since he took office in 2011, Walker has used his powers to "reduce the role of science in environmental policymaking and to silence discussion of controversial subjects, including climate change, by state employees," as Scientific American observed.
'Koch Brothers' Puppet' Scott Walker Announces Presidential Run​ http://t.co/QNYIV2T9es @politicususa @LCVoters http://t.co/GIAYtieKBT

— EcoWatch (@EcoWatch)1436803833.0
And let's not forget that in April 2015, state officials banned employees of a state agency from talking about climate change, conducting any work on it or even responding to emails about it.
In the image below, Rowen shows the exact edits that have been made on the DNR webpage in question. Deletions are crossed out with the black line and a version of the highlighted text is what appears now on the page.
How is mining related to fracking? 
Well, the process of hydraulic fracturing forces fluid into the rock at extremely high pressure. This pries open natural pre-existing cracks (fractures) in the bedrock, and also causes new cracks (induced fractures) to form. This network of enhanced and induced fractures is what allows gas and oil to flow out of the rock and into the well. To keep these fractures from snapping shut when the fracking operation is completed and the pressure is eased, you need to prop them open with something. That's why fracking fluid—a highly engineered fluid that is mostly water by volume, but can contain dozens of different chemicals—always includes a "proppant." The drilling industry has developed manufactured proppants, but often the proppant of choice is a clean, consistent, well-rounded, tough, fine-grained sand. A typical fracking operation in the Eagle Ford Shale in Texas, for example, can use 4 million pounds or more of sand.
Where is all the sand coming from? As you might expect, Texas is one place where sand-mining is booming. But surprisingly, most of this sand comes from a place more famously associated with beer and brauts: Wisconsin. The rapid proliferation of sand-mining operations is getting a lot of attention there and raising concerns about public health and safety, property values, quality of life and environmental impacts.
Responding to these concerns, the Wisconsin Department of Natural Resources (DNR) just published an interactive map showing the locations of all the facilities, active and inactive, involved in the mining and processing of sand in that state. Their map doesn't have imagery, so you can't actually "see" any of these mining operations. But when we asked, the DNR promptly gave us the facilities data (updated as of May 1, 2014), so we could make our own map using Google Maps Engine: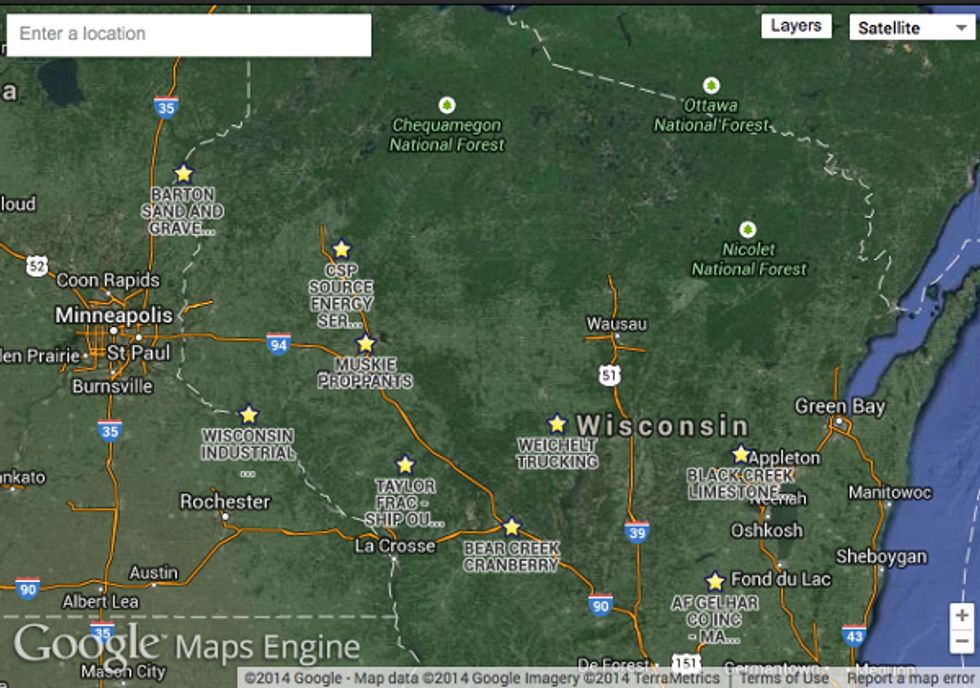 Voila! Here is our map of the Wisconsin frac-sand operations. We decided to only include "active" facilities on this map. Now you can explore and zoom in on any facility, and see the latest high-resolution imagery available through Google (July 2011 in the example shown below).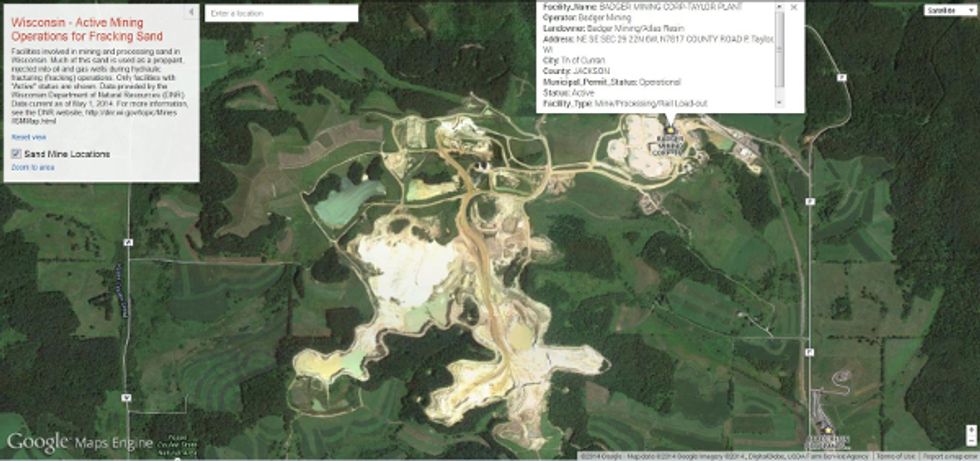 You Might Also Like
SkyTruth Tracks Fracking From the Edge of Space
SkyTruth's Satellite Surveillance Keeps Close Watch on Polluters
Groups Call for Ban on Frac-Sand Mining in Wisconsin
The slogan on Wisconsin's license plate—"America's Dairyland"—celebrates the state's number one agricultural activity and iconic status as a milk and cheese producer. What it doesn't reveal is how dramatically the dairy industry in Wisconsin and in other parts of the U.S. has been changing, or the environmental concerns those changes pose. 
While milk carton imagery pictures bucolic, small farms, more than 50 percent of U.S. milk is now produced by just three percent of the country's dairies—those with more than 1,000 cows, according to the U.S. Department of Agriculture (USDA). The very largest U.S. dairies now have 15,000 or more cows.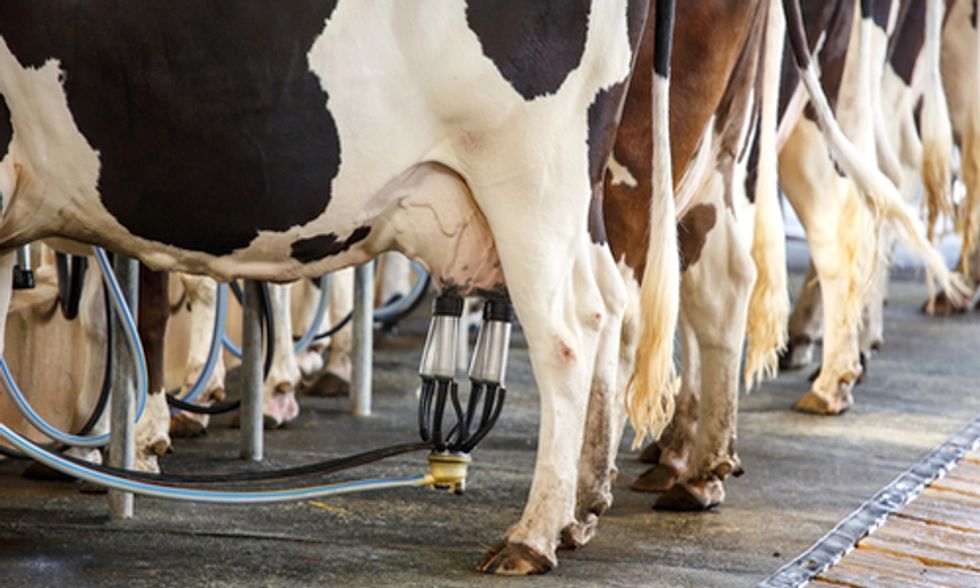 Photo courtesy of Shutterstock
With this increased concentration of milking cows comes a corresponding concentration of manure production. And what happens to this manure is at the heart of the pollution issues surrounding the dairy industry. 
In Wisconsin, several dairy operations are now facing opposition to plans to expand their herds. Porous karst soils in the parts of Wisconsin where a significant portion of dairy expansion is occurring present some unique environmental issues. Run-off from dairy farms and other agricultural activities has seeped into aquifers and elevated levels of nitrogen, in some instances to unsafe concentrations; in one recent case, the Wisconsin Department of Justice levied a $65,000 fine against a dairy operation for contaminating groundwater. 
Neighbors of Kinnard Farms dairy, located in the Kewaunee County town of Lincoln—an area of karst soils—are now in court challenging the state's approval of a permit that would allow the dairy to expand its herd from 4,000 to more than 6,000 milking cows. About 50 percent of the town's private wells currently have water that exceeds bacteria or nitrate safety standards. Residents opposing the State Department of Natural Resources (DNR) permit contend that it lacks sufficient information about how the dairy will manage the tens of millions of gallons of liquid manure its cows will produce. 
U.S. farm consolidation is nothing new, but recent changes in the dairy industry are transforming the business in ways that are increasingly worrisome to regulators, residents and environmental groups. Wisconsin embodies this consolidation trend. DNR figures show the number of Wisconsin dairy farms with more than 500 cows grew by about 150 percent in the past decade. At the same time, the overall number of dairy farms dropped by about one-third, just as they have nationwide. The number of U.S. dairy operations with 2,000 or more cows has grown faster than those of any other size as milk production has increased about 20 percent. 
According to the U.S. Environmental Protection Agency (EPA) a 2,000-cow dairy generates more than 240,000 pounds of manure daily or nearly 90 million pounds a year. The USDA estimates that the manure from 200 milking cows produces as much nitrogen as sewage from a community of 5,000 to 10,000 people. 
This year and last, Wisconsin has fined several dairy operations for manure spills and manure runoff. According to an analysis by the Milwaukie Journal Sentinel, in 2013 a record number of manure spills—more than 1 million gallons worth—were recorded in Wisconsin. The newspaper reported that from 2007 to 2013, the state experienced an average of 15 manure spills annually from dairy farms. Roughly one-third of those spills came from large Concentrated Animal Feeding Operations (CAFO). 
"Wisconsin," says Clean Wisconsin staff attorney Elizabeth Wheeler, "has a nitrate problem." 
Wisconsin is hardly alone in grappling with this problem. Similar pollution issues—primarily from spills related to manure storage—have been cropping up across the country. Some recent cases include: 
In February, in Michigan's Allegan County, a stormwater system failure at a dairy with a 1-million-gallon manure lagoon spilled manure into nearby waterways, creating a visible plume five miles long. 
In Yakima, WA, the Community Association for Restoration of the Environment and the Center for Food Safety allege in an ongoing lawsuit now in federal court that manure spreading by five large dairies has caused nitrate and other contamination of groundwater and violates the federal Resource Conservation and Recovery Act (RCRA). The plaintiffs contend that the way the manure is being applied is the equivalent of dumping solid waste, an activity covered by RCRA that has not previously been applied to manure spreading. The dairies filed a motion this month to dismiss the charges.
 In Canton, MN, a wall on an above-ground manure storage tank broke last April, spilling roughly 1 million gallons of manure.
In one of the larger cases of manure pollution in recent years, an estimated 15 million gallons of manure, water, and other matter spilled in 2010 into a slough that drains into the Snohomish River in Washington state, when a berm on a dairy farm's manure lagoon failed. 
Erin Fitzgerald, senior vice president for sustainability at the Innovation Center for U.S. Dairy, a trade group, says a dairy's size does not determine how well its environmental impacts are managed. William Matthews, Oregon Department of Agriculture CAFO program manager, concurs. "There are stellar operators of all sizes," he says. 
Fitzgerald's organization stresses the need for nutrient and water quality management plans tailored for each operation, and says dairy is "one of the most regulated and inspected industries in agriculture." She also touts the industry's voluntary commitment to "best practices" and improving its environmental footprint, including its 2008 commitment to reduce greenhouse gas emissions 25 percent. 
Milking cows, explains the EPA, produce more manure than beef cattle and the Holsteins that dominate the U.S. dairy industry produce almost twice as much manure as Jerseys. Cows that give more milk per cow also produce more manure and per-cow milk production has almost doubled since the 1970s. 
Historically, dairies dealt with manure by applying it to fields as fertilizer, as many do today. But as dairy herds have grown, a single farm often has more manure than it can use at any one time. Excess is typically stored in lagoons. "When it comes to the environmental impacts of concentrated dairy operations, it all comes down to manure management," says Kendra Kimbirauskas, board director of Friends of Family Farmers. 
Questions about manure management have prompted opposition to a number of Wisconsin dairy operations' plans for large or expanded herds. One of these farms is Burr Oak Heifers, located in Wisconsin's Central Sands region, an area known for its porous souls. Burr Oak Heifers is seeking a Wisconsin DNR permit to house 3,100 cows, which are expected to produce an estimated 3.32 million gallons of liquid manure and 45,900 tons of solid manure annually. In 2013, the farm, operating under a different business name, was fined $65,000 by the state for contaminating groundwater, including private well water. The permit now up for approval would grant the farm an exception to Wisconsin's groundwater nitrate concentration limit of 10 parts per million (ppm) and permit its nitrate discharge at 28 ppm. 
Clean Wisconsin's Wheeler calls the proposed nitrate discharge exemption "unprecedented." The DNR explains that the exemption is based on background levels of nitrate present in groundwater coming onto the site from other sources, and that the permit will require groundwater monitoring and a "nutrient management plan" designed to control manure storage and how and when manure is spread on fields. The goal of such plans include preventing application of more nutrients than a farm's soil can absorb and making sure it's applied when it won't easily run off, as in winter when the ground is frozen. 
Wheeler notes that dairies have typically spread manure on their own fields to fertilize forage and other crops or contracted with other farms to do so. On small farms, the ratio of cows to pasture land generally allows for a sustainable nitrogen balance. But the majority of U.S. dairy herds are confined to barns throughout their entire lives and shuttle between stalls and milking parlors in enclosed corrals and corridors and eat silage and grain grown elsewhere. "We've kind of taken Mother Nature out of the picture," says John Haarsma, manager of Rickreall Dairy, an Oregon operation with 3,500 cows. 
In excess, manure's nutrients—largely nitrogen and phosphorus—can create problems. Too much in surface water can create algae blooms that result in hypoxic or oxygen-deprived dead zones. According to the EPA, excess nutrients from agriculture, including chemical fertilizers and dairy manure, are a major source of water pollution across the U.S. 
In Wisconsin, explains DNR hydrogeologist Bill Phelps, about 10 percent of all private wells exceed the state's nitrate water quality standard. In areas of high agricultural activity where fertilizer use is high, this percentage rises to about 30 percent, said Phelps. 
Manure also contains pathogens that may include E.coli and other fecal coliforms. In addition, manure often contains pharmaceuticals—antibacterials and hormones—given to many dairy cows to fight disease and promote growth. Some of Kewaunee County's wells have tested positively for estrogenic, endocrine disrupting compounds. The source has not been pinpointed, but numerous studies suggest that CAFOs, through their use of pesticides and hormones, are a source of some estrogenic compounds that enter U.S. drinking water. 
In New York, now the country's third-largest milk producing state, dairy expansion has also become an environmental issue. An ongoing lawsuit is challenging a 2013 regulation change that would increase the size of dairies allowed to operate without a nutrient management plan from 199 to 299 cows. Environmental advocates say the New York Department of Environmental Conservation failed to consider environmental impacts. "It was made for economic reasons," to support the state's booming Greek yogurt industry, says Rivekeeper staff attorney Michael Dulong. 
Lack of measures to prevent catastrophic manure spills is among the reasons Environmental Advocates of New York policy director Katherine Nadeau gives for her organization's opposition to this regulation change. She cites a 2005 incident in which 3 million gallons of manure spilled from a New York dairy into a nearby river, killing thousands of fish. 
One day this winter, I visited one of the dwindling number of smaller U.S. dairies—Double J Jerseys, a 200-cow dairy operation in Oregon's Willamette Valley. As I arrived cows munched clover in the barnyard, near the Bansens' front door. Jon Bansen, a third-generation dairy farmer who produces milk for the Organic Valley co-op, said that the ratio of cows to pasture on smaller farms leads to a sustainable nitrogen balance. The steady rise of large-scale dairy operations, he said, has been "fueled by cheap fuel and cheap feed," adding, "more is not always better."
--------
YOU MIGHT ALSO LIKE
What the Dairy Industry Isn't Telling You
Too Big to Fail Organic? Horizon Factory Farm Accused of Skirting Laws
Alternatives to Factory Farmed Milk
-------- 
Yesterday, the U.S. Department of Agriculture (USDA) Secretary Tom Vilsack announced more than seven million dollars in funding to support research on the profitability of small and medium-sized family farms, including their potential role in building local and regional systems. This announcement came amidst a flurry of other USDA news and program announcements in support of small farmers.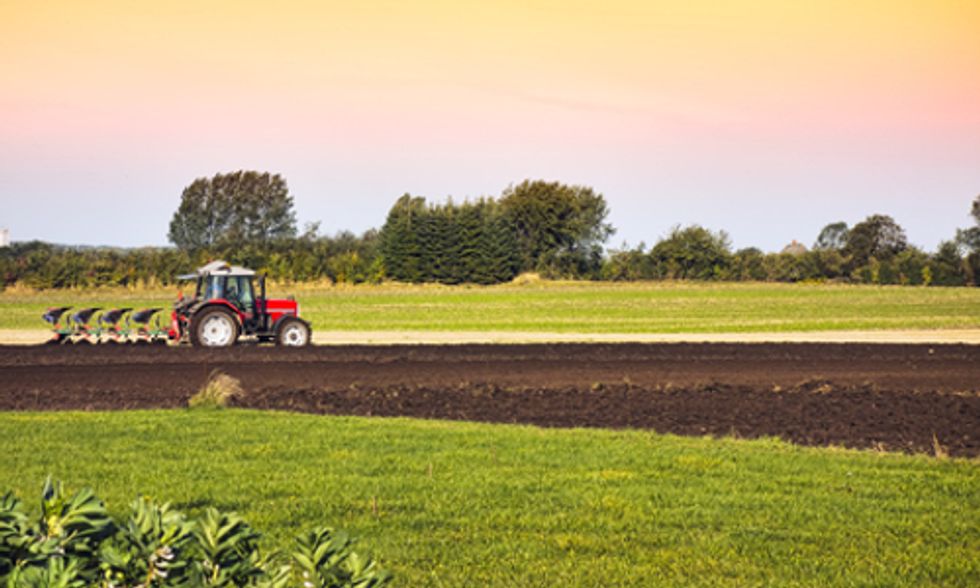 Oklahoma State University will evaluate the role of small and mid-size farms and their impact in local and regional food systems. Photo courtesy of Shutterstock
These grants were awarded through the Agriculture and Food Research Initiative (AFRI), which is administered by the National Institute of Food and Agriculture (NIFA)—USDA's intramural grant-making agency related to agricultural research, education and extension. The small and medium-sized family farm subprogram within AFRI was added over a decade ago following a campaign by National Sustainable Agriculture Coalition (NSAC) backed by a variety of members of Congress.
AFRI is USDA's largest competitive research grants program, with an annual budget of $274 million in Fiscal Year (FY) 2013 and $316 million for FY14. And while the awards announced this week are a small portion of AFRI's total program funding levels, the research funded by these grants will nonetheless have significant impact on our understanding of how small and medium-sized farms can remain economically viable amidst the changes in our current agricultural landscape.
For 2013, AFRI's Small and Medium-Sized Farm program focuses on research, education and extension projects that develop new ideas on how to increase the viability and competitiveness of small and medium-sized dairy, poultry, livestock, crop and commodity operations. This includes developing strategies to increase market access; developing efficient local and regional food systems; and assessing the impacts of changes in input costs, markets and credit on farm entry, transition and the economic viability of small farms.
In total, 10 research grants were awarded for FY13, including several grants that focus on how small and mid-scale farms can contribute to local and regional food systems and increase profitability through more environmentally sustainable production systems. Some projects funded in these areas include:
Michigan State University's Center for Regional Food Systems (an NSAC member) will lead a project focusing on the development of profitable Michigan-based meat and livestock value chains supplying local and regional markets. This research will expand the Center's Livestock Work Group, as will another research project funded on the production and supply side strategies for a local, Michigan grass-finished beef production system. Another MSU grant will examine business networks for food hubs in Michigan and Missouri and is tied to the Center's Michigan Food Hub Network.
In Idaho, researchers at the University of Idaho will investigate ways to overcome constraints in serving local and regional markets in the Intermountain West, given its vast geography and often large distances between producers and consumers. Research will focus on identifying strategies for aggregation, storage, processing and distribution for small and medium-sized farmers to access local and regional vegetable and livestock markets.
Researchers at the University of Illinois in Urbana-Champaign will support research, education and outreach for designing and implementing more sustainable agroecosystems in the Upper Sangamon River Watershed (a typical region of the Midwest primarily dominated by corn and soybeans) by focusing on local food and biomass production for small farmers in the region.
Oklahoma State University will evaluate the role of small and mid-size farms and their impact in local and regional food systems. Specifically, this project will assess the economic development benefits that can be derived from more localized food systems.
Researchers at the University of Wisconsin will work with small and mid-sized diversified vegetable farms in Wisconsin who are selling into multiple local and regional food markets in order to develop strategies to help them identify better balances between diversification and specialization in the crops grown on their farms.
In Vermont, researchers at the University of Vermont will assist decision-making by rural farm families to increase the sustainability and competitiveness of small and medium-sized farms, to strengthen the local economy with sustainable food production through the adoption of innovative and environmentally sustainable farming practices.
Kentucky State University researchers and extension agents will work with small, limited resources, socially disadvantaged, beginner and women farmers through workshops, meetings, one-on-one education and Extension Agent training in order to increase the efficiency and utilization of these farmers across the state.
Applications for the next round of funding for FY 2014 were due earlier this week, and awards are not expected to be announced until later this year.
To see a list of complete projects for 2013, click here.
——–
YOU MIGHT ALSO LIKE
5 Dangerous Substances Big Ag Pumps Into Your Meat
Saving the World One Farm at a Time
How Buying Local Food Grows Local Economies
——–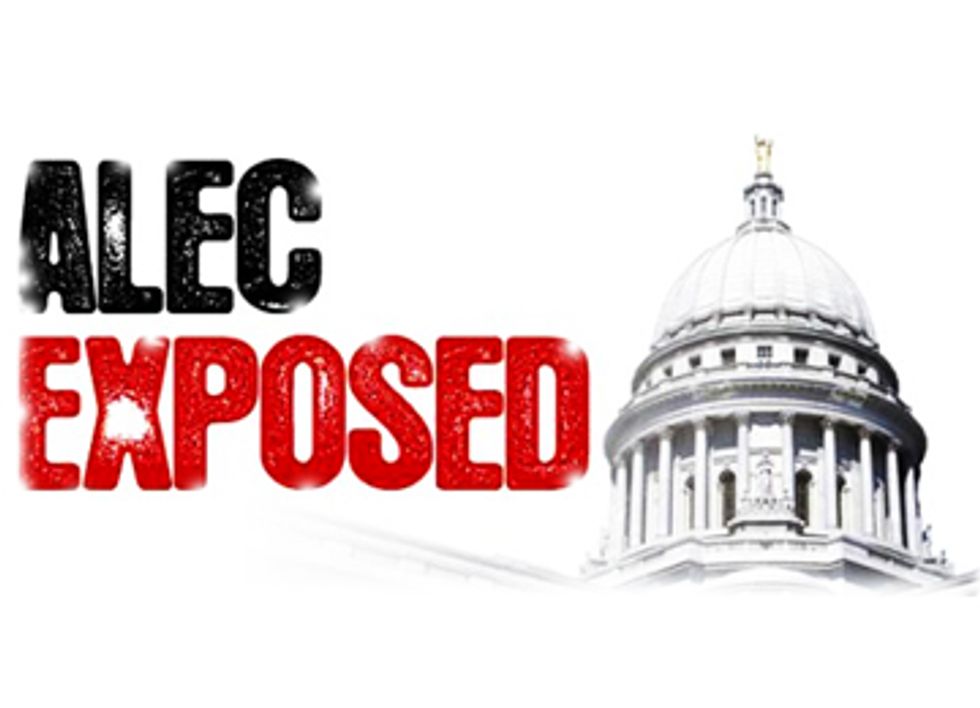 The same law that contributed to George Zimmerman walking free out of a Florida courtroom last weekend after taking the life of 17-year-old Trayvon Martin was primarily written by the same super lobbying group behind legislation protecting natural gas companies from disclosing chemicals used in fracking.
The American Legislative Exchange Council, or ALEC, is a unique kind of lobbying front group responsible for pushing legislation designed to enhance the bottom line of their corporate funders. Corporations like Koch Industries, ExxonMobil and Duke Energy, along with industry trade associations and large corporate foundations provide more than 98 percent of ALEC's funding, whose members, which includes elected officials and corporations, write and pass laws that will benefit those corporations.
Via the laws ALEC pushes through state legislatures, the lobbying group impacts Americans nationwide from voting right laws to environmental regulations (or lack thereof) to guns like Stand Your Ground. We've collected the most significant ALEC laws that could be coming to a state legislature near you, if they aren't there already.
This act prevents states from requiring their energy companies to increase electricity production from renewable energy sources, killing a key government incentives for clean energy projects. ALEC falsely claims that any renewable energy mandate sacrifices economic growth and American competitiveness, a dead horse they have continued to beat for decades.
Because of the economic benefits of renewable energy standards in states like North Carolina and Kansas and in spite of support from ALEC's other Koch-funded friends in the State Policy Network, ALEC's most heated attacks on Renewable Portfolio Standards (RPS) were shot down by Democrats and Republicans alike. Quieter ALEC-supported attempts to repeal or weaken RPS laws also failed in Ohio, Minnesota, West Virginia, Wisconsin, Missouri, Pennsylvania, Connecticut, Maine and Oregon—not a good start for ALEC's top energy-related priority this year.
Greenpeace has initiated an action to demand that the nation's largest utility company, Duke Energy, cut ties between ALEC, a relationship that is polluting Americans and democracy.
6. Resolution in Support of the Keystone XL Pipeline
ALEC is trying to use state resolutions to add pressure to the federal government to approve TransCanada's Keystone XL tar sands pipeline. In fact, ALEC took its member legislators on a Big Oil-funded trip to Alberta, Canada, to promote tar sands, courtesy of lobbyists from TransCanada, Shell, Devon Energy and other oil and gas interests. ALEC's conferences have featured seminars on the controversial pipeline, featuring speakers from oil companies and the Canadian government alike. The Center for Media and Democracy, which runs ALECexposed.org, has filed an ethics complaint in Nebraska for a legislator's failure to disclose the trip and its sponsors. Keep in mind that ALEC is a tax-exempt organization, and their lobbying doesn't count as lobbying to the IRS.
While ALEC has its own model resolution, its state legislator members introduced resolutions straight out of a TransCanada press release, coordinating across state borders to get an apparent jump in support for Keystone XL in Missouri, Michigan, Minnesota and Mississippi all at once.
5. Voter ID Act
These laws prohibit about 11 percent of citizens from voting by requiring a government-issued ID to vote at the polls.
This 11 percent overwhelmingly consists of elderly people, low-income and minority voters and students. Thirty-three states now have voter id laws and four states now have strict photo id requirements in effect. With the Supreme Court's recent gutting of the Voting Rights Act, we can expect this number to increase with ALEC's full support.
4. Arizona's SB 1070 Immigration Law: "No Sanctuary for Illegal Immigrants Act" 
In short, this bill was ALEC's way of making private prison companies rich by rounding up brown people without documentation and tossing them in jail. Although most of this law was struck down in Arizona, the "papers please" provision survives requiring law enforcement to check a person's status if they are stopped, detained or arrested. State legislators and prison and bail industry lobbyists met at an ALEC meeting to write the law which originally stated that law enforcement had to check a person's status only after "contact." The Arizona legislature changed narrowed the law to the current language.
3. Disclosure of Hydraulic Fracturing Fluid Composition Act
The title of this bill is a lie–ALEC's flagship fracking bill prevents oil and gas companies from having to disclose the chemicals in frack fluids that qualify as "trade secrets." Who took the idea to ALEC? ExxonMobil. Bloomberg reports that the ALEC bill has been introduced in at least eight states, although there appear to be more. Exxon's bill became Ohio law with ALEC's help, and a particularly controversial fracking law sponsorship by ALEC legislators passed in North Carolina last year without anyone reporting ALEC's fingerprints. DeSmogBlog has documented attempts in Florida, Illinois and several other states.
ALEC previously drafted a state resolution that puts the regulating authority into the hands of state agencies, which are woefully understaffed, underfunded and ineffective at regulating the powerful gas and oil industry, creating a one-two punch that leaves fracked communities in the dark on chemical disclosure and at the mercy of insufficient and often captured regulatory agencies for protection from fracking pollution.
2. Intrastate Coal and Use Act
This act serves to prevent the U.S. Environmental Protection Agency (EPA) from regulating the coal industry. Specifically, the act prevents the EPA from overruling state permits for coal mining and producing dirty coal products (like liquid coal for fuel) if all the coal operations are conducted within the borders of a single state. This act relies on the "Commerce Clause" claiming that the federal government can only regulate commerce that goes beyond state lines, flying in the face of settled Supreme Court interpretation of the "dormant" Commerce Clause. The first version of this bill was passed in West Virginia in 2011, a state with 273 operating coal mines as of 2011.
Considering the recent national tragedy of the Trayvon Martin ruling and the violence "Stand Your Ground" releases, this law should be repealed immediately in the states it's active. In strong conjunction with the National Rifle Association (NRA), ALEC has managed to push versions of this law in over two dozen states. It allows any killer to claim immunity if they felt a reasonable fear of bodily harm. The Florida version of this law passed in 2005 and was written by a NRA lobbyist.
ALEC is behind loads of more dangerous laws or proposed resolutions that must be exposed, blocked or repealed if active. Please let us know other significant ones we missed in the comments below. 
Visit EcoWatch's ENERGY page for more related news on this topic.
——–

New research concludes that exposure to a combination of both arsenic and estrogen, at levels the U.S. Environmental Protection Agency (EPA) considers "safe" for humans, can cause cancer in prostate cells. Texas Tech University researchers revealed that humans exposed to a combination of both toxicants were almost twice as likely to develop cancerous cells in their prostate. The study is published in the peer-reviewed journal The Prostate.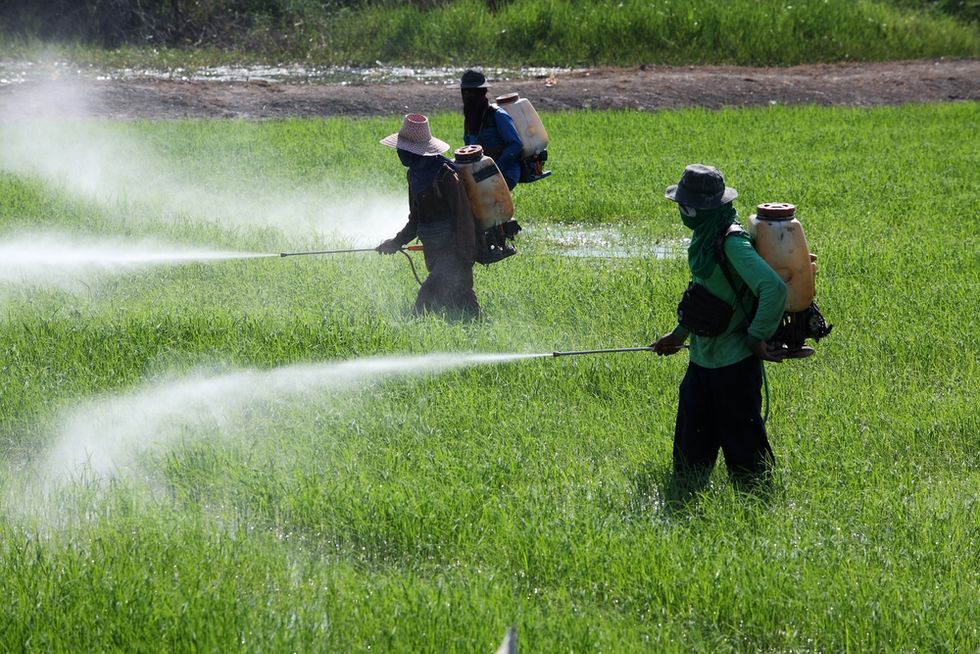 Photo courtesy of Shutterstock
While it is established that both arsenic and estrogen can cause cancer, the research raises concerns about the dangers of chemicals in combination, and the efficacy of regulations that are established by testing one chemical at a time. Kamaleshwar Singh, PhD, is an assistant professor at The Institute of Environmental and Human Health at Texas Tech. "The majority of cancers are caused by environmental influences," Dr. Singh remarked to Texas Tech Today, "Only about 5 to 10 percent of cancers are due to genetic predisposition. Science has looked at these chemicals, such as arsenic, and tested them in a lab to find the amounts that may cause cancer. But that's just a single chemical in a single test. In the real world, we are getting exposed to many chemicals at once."
The study contributes to the growing body of research on the interactive effects of pesticides on human health and the environment. For example, Tyrone Hayes, Ph.D., professor of integrative biology at University of California, Berkeley, conducted research on the interactive effects of atrazine and other pesticides in a study on frogs. His study compared the impact of exposure to realistic combinations of small concentrations of corn pesticides on on frog metamorphosis, concluding that frog tadpoles exposed to mixtures of pesticides took longer to metamorphose to adults and were smaller at metamorphosis than those exposed to single pesticides, with consequences for frog survival. The study revealed that "estimating ecological risk and the impact of pesticides on amphibians using studies that examine only single pesticides at high concentrations may lead to gross underestimations of the role of pesticides in amphibian declines."
Pesticide products available for sale are often chemical mixtures of active ingredients that create a cocktail of toxins, even though studies on pesticide combinations have demonstrated neurological, endocrine and immune effects at low doses. For example, research conducted by Warren Porter, Ph.D., professor of zoology and environmental toxicology at the University of Wisconsin, Madison, examined the effect of fetal exposures to a mixture of 2,4-D, mecoprop and dicamba exposure—frequently used together in lawn products like Weed B Gone Max or and Trillion—on the mother's ability to succesfully bring young to birth and weaning. Researchers began by testing pesticide concentrations diluted to levels that are considered "safe" by the EPA. The results were striking: Dr. Porter found that "this common lawn pesticide mixture is capable of inducing abortions and resorptions of fetuses at very low parts per billion. The greatest effect was at the lowest dose." Dr. Porter's work, Facing Scientific Realities, Debunking the 'Dose Makes the Poison' Myth, published in Pesticides and You, provides more information.

The new study by Texas Tech researchers on arsenic and estrogen confirms that co-exposures have a greater impact on human health, particularly for the development of prostate cancer. Researchers treated human prostate cells with arsenic, estrogen and a combination of the two once a week for six months to determine changes in prostate cells. The results have major implications because estrogen mimics are ubiquitous, such as bisphenol A (BPA) used as a liner in food cans. Similarly, while most arsenate pesticides were banned for use in agriculture in the U.S. in the 1980s, monosodium methanearsonate (MSMA), may still be used legally on cotton crops. Copper sulfate fertilizers have been found to be contaminated with arsenic with implications for human health and the environment. Other sources of exposure to arsenic include rice, an arsenic accumulator, and non-organically produced chicken.
Residues of arsenic pesticides once used to fight cotton boll weevil are still found in soils and are present in foods like rice. Indeed, researchers at the Dartmouth College Toxic Metals Superfund Research Program have found that rice pulls arsenic from the soil in the same way it absorbs the chemically similar silicon, calling it a natural arsenic accumulator. While most of the accumulation is sourced from arsenic that naturally occurs in soil and water, and some from fertilizer (such as chicken manure), some is caused by residual contamination from arsenate pesticides used on cotton.
With exposure to both arsenic and estrogen together showing synergistic impacts on human health, the research also highlights the deficiencies of the EPA's risk assessment process, which fail to look at chemical mixtures, synergistic effects, as well as certain health endpoints such as endocrine disruption. These deficiencies contribute to its severe limitations in defining real world poisoning.
Beyond Pesticides advocates for an alternatives assessment approach which rejects uses and exposures deemed acceptable under risk assessment calculations, but are unnecessary because of the availability of safer alternatives. For example, in agriculture, where data shows clear links between pesticide use and cancer, it would no longer be possible to use hazardous pesticides, as it is with risk assessment-based policy, when there are clearly effective organic systems with competitive yields that, in fact, outperform chemical-intensive agriculture in drought years. Regulatory restrictions that account for synergies and that begin to moves chemicals off the market are necessary for the protection of human health and the environment.
Visit EcoWatch's HEALTH page for more related news on this topic.
——–
SHARE YOUR THOUGHTS BELOW: Should cancer-causing pesticides be banned?
——–