This website uses cookies to ensure you get the best experience while browsing it. By clicking 'Got It' you're accepting these terms.
How America's Dairyland Is Polluted by Factory Farms
May. 27, 2014 08:46AM EST
The slogan on Wisconsin's license plate—"America's Dairyland"—celebrates the state's number one agricultural activity and iconic status as a milk and cheese producer. What it doesn't reveal is how dramatically the dairy industry in Wisconsin and in other parts of the U.S. has been changing, or the environmental concerns those changes pose. 
While milk carton imagery pictures bucolic, small farms, more than 50 percent of U.S. milk is now produced by just three percent of the country's dairies—those with more than 1,000 cows, according to the U.S. Department of Agriculture (USDA). The very largest U.S. dairies now have 15,000 or more cows.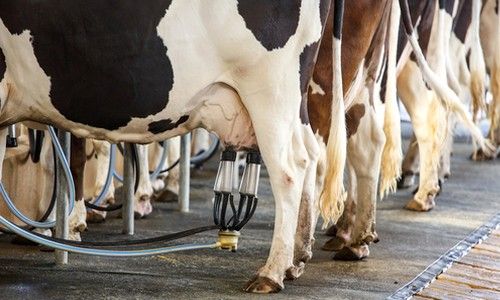 Photo courtesy of Shutterstock
With this increased concentration of milking cows comes a corresponding concentration of manure production. And what happens to this manure is at the heart of the pollution issues surrounding the dairy industry. 
In Wisconsin, several dairy operations are now facing opposition to plans to expand their herds. Porous karst soils in the parts of Wisconsin where a significant portion of dairy expansion is occurring present some unique environmental issues. Run-off from dairy farms and other agricultural activities has seeped into aquifers and elevated levels of nitrogen, in some instances to unsafe concentrations; in one recent case, the Wisconsin Department of Justice levied a $65,000 fine against a dairy operation for contaminating groundwater. 
Neighbors of Kinnard Farms dairy, located in the Kewaunee County town of Lincoln—an area of karst soils—are now in court challenging the state's approval of a permit that would allow the dairy to expand its herd from 4,000 to more than 6,000 milking cows. About 50 percent of the town's private wells currently have water that exceeds bacteria or nitrate safety standards. Residents opposing the State Department of Natural Resources (DNR) permit contend that it lacks sufficient information about how the dairy will manage the tens of millions of gallons of liquid manure its cows will produce. 
U.S. farm consolidation is nothing new, but recent changes in the dairy industry are transforming the business in ways that are increasingly worrisome to regulators, residents and environmental groups. Wisconsin embodies this consolidation trend. DNR figures show the number of Wisconsin dairy farms with more than 500 cows grew by about 150 percent in the past decade. At the same time, the overall number of dairy farms dropped by about one-third, just as they have nationwide. The number of U.S. dairy operations with 2,000 or more cows has grown faster than those of any other size as milk production has increased about 20 percent. 
According to the U.S. Environmental Protection Agency (EPA) a 2,000-cow dairy generates more than 240,000 pounds of manure daily or nearly 90 million pounds a year. The USDA estimates that the manure from 200 milking cows produces as much nitrogen as sewage from a community of 5,000 to 10,000 people. 
This year and last, Wisconsin has fined several dairy operations for manure spills and manure runoff. According to an analysis by the Milwaukie Journal Sentinel, in 2013 a record number of manure spills—more than 1 million gallons worth—were recorded in Wisconsin. The newspaper reported that from 2007 to 2013, the state experienced an average of 15 manure spills annually from dairy farms. Roughly one-third of those spills came from large Concentrated Animal Feeding Operations (CAFO). 
"Wisconsin," says Clean Wisconsin staff attorney Elizabeth Wheeler, "has a nitrate problem." 
Wisconsin is hardly alone in grappling with this problem. Similar pollution issues—primarily from spills related to manure storage—have been cropping up across the country. Some recent cases include: 
In February, in Michigan's Allegan County, a stormwater system failure at a dairy with a 1-million-gallon manure lagoon spilled manure into nearby waterways, creating a visible plume five miles long. 
In Yakima, WA, the Community Association for Restoration of the Environment and the Center for Food Safety allege in an ongoing lawsuit now in federal court that manure spreading by five large dairies has caused nitrate and other contamination of groundwater and violates the federal Resource Conservation and Recovery Act (RCRA). The plaintiffs contend that the way the manure is being applied is the equivalent of dumping solid waste, an activity covered by RCRA that has not previously been applied to manure spreading. The dairies filed a motion this month to dismiss the charges.
 In Canton, MN, a wall on an above-ground manure storage tank broke last April, spilling roughly 1 million gallons of manure.
In one of the larger cases of manure pollution in recent years, an estimated 15 million gallons of manure, water, and other matter spilled in 2010 into a slough that drains into the Snohomish River in Washington state, when a berm on a dairy farm's manure lagoon failed. 
Erin Fitzgerald, senior vice president for sustainability at the Innovation Center for U.S. Dairy, a trade group, says a dairy's size does not determine how well its environmental impacts are managed. William Matthews, Oregon Department of Agriculture CAFO program manager, concurs. "There are stellar operators of all sizes," he says. 
Fitzgerald's organization stresses the need for nutrient and water quality management plans tailored for each operation, and says dairy is "one of the most regulated and inspected industries in agriculture." She also touts the industry's voluntary commitment to "best practices" and improving its environmental footprint, including its 2008 commitment to reduce greenhouse gas emissions 25 percent. 
Milking cows, explains the EPA, produce more manure than beef cattle and the Holsteins that dominate the U.S. dairy industry produce almost twice as much manure as Jerseys. Cows that give more milk per cow also produce more manure and per-cow milk production has almost doubled since the 1970s. 
Historically, dairies dealt with manure by applying it to fields as fertilizer, as many do today. But as dairy herds have grown, a single farm often has more manure than it can use at any one time. Excess is typically stored in lagoons. "When it comes to the environmental impacts of concentrated dairy operations, it all comes down to manure management," says Kendra Kimbirauskas, board director of Friends of Family Farmers. 
Questions about manure management have prompted opposition to a number of Wisconsin dairy operations' plans for large or expanded herds. One of these farms is Burr Oak Heifers, located in Wisconsin's Central Sands region, an area known for its porous souls. Burr Oak Heifers is seeking a Wisconsin DNR permit to house 3,100 cows, which are expected to produce an estimated 3.32 million gallons of liquid manure and 45,900 tons of solid manure annually. In 2013, the farm, operating under a different business name, was fined $65,000 by the state for contaminating groundwater, including private well water. The permit now up for approval would grant the farm an exception to Wisconsin's groundwater nitrate concentration limit of 10 parts per million (ppm) and permit its nitrate discharge at 28 ppm. 
Clean Wisconsin's Wheeler calls the proposed nitrate discharge exemption "unprecedented." The DNR explains that the exemption is based on background levels of nitrate present in groundwater coming onto the site from other sources, and that the permit will require groundwater monitoring and a "nutrient management plan" designed to control manure storage and how and when manure is spread on fields. The goal of such plans include preventing application of more nutrients than a farm's soil can absorb and making sure it's applied when it won't easily run off, as in winter when the ground is frozen. 
Wheeler notes that dairies have typically spread manure on their own fields to fertilize forage and other crops or contracted with other farms to do so. On small farms, the ratio of cows to pasture land generally allows for a sustainable nitrogen balance. But the majority of U.S. dairy herds are confined to barns throughout their entire lives and shuttle between stalls and milking parlors in enclosed corrals and corridors and eat silage and grain grown elsewhere. "We've kind of taken Mother Nature out of the picture," says John Haarsma, manager of Rickreall Dairy, an Oregon operation with 3,500 cows. 
In excess, manure's nutrients—largely nitrogen and phosphorus—can create problems. Too much in surface water can create algae blooms that result in hypoxic or oxygen-deprived dead zones. According to the EPA, excess nutrients from agriculture, including chemical fertilizers and dairy manure, are a major source of water pollution across the U.S. 
In Wisconsin, explains DNR hydrogeologist Bill Phelps, about 10 percent of all private wells exceed the state's nitrate water quality standard. In areas of high agricultural activity where fertilizer use is high, this percentage rises to about 30 percent, said Phelps. 
Manure also contains pathogens that may include E.coli and other fecal coliforms. In addition, manure often contains pharmaceuticals—antibacterials and hormones—given to many dairy cows to fight disease and promote growth. Some of Kewaunee County's wells have tested positively for estrogenic, endocrine disrupting compounds. The source has not been pinpointed, but numerous studies suggest that CAFOs, through their use of pesticides and hormones, are a source of some estrogenic compounds that enter U.S. drinking water. 
In New York, now the country's third-largest milk producing state, dairy expansion has also become an environmental issue. An ongoing lawsuit is challenging a 2013 regulation change that would increase the size of dairies allowed to operate without a nutrient management plan from 199 to 299 cows. Environmental advocates say the New York Department of Environmental Conservation failed to consider environmental impacts. "It was made for economic reasons," to support the state's booming Greek yogurt industry, says Rivekeeper staff attorney Michael Dulong. 
Lack of measures to prevent catastrophic manure spills is among the reasons Environmental Advocates of New York policy director Katherine Nadeau gives for her organization's opposition to this regulation change. She cites a 2005 incident in which 3 million gallons of manure spilled from a New York dairy into a nearby river, killing thousands of fish. 
One day this winter, I visited one of the dwindling number of smaller U.S. dairies—Double J Jerseys, a 200-cow dairy operation in Oregon's Willamette Valley. As I arrived cows munched clover in the barnyard, near the Bansens' front door. Jon Bansen, a third-generation dairy farmer who produces milk for the Organic Valley co-op, said that the ratio of cows to pasture on smaller farms leads to a sustainable nitrogen balance. The steady rise of large-scale dairy operations, he said, has been "fueled by cheap fuel and cheap feed," adding, "more is not always better."
--------
YOU MIGHT ALSO LIKE
What the Dairy Industry Isn't Telling You
Too Big to Fail Organic? Horizon Factory Farm Accused of Skirting Laws
Alternatives to Factory Farmed Milk
-------- 
EcoWatch Daily Newsletter
Farms with just one or a handful of different crops encourage fewer species of pollinating and pest-controlling insects to linger, ultimately winnowing away crop yields, according to a new study.
Up to half of the detrimental impacts of the "landscape simplification" that monocropping entails come as a result of a diminished mix of ecosystem service-providing insects, a team of scientists reported Oct. 16 in the journal Science Advances.
Monocrop palm oil plantation Honduras.
​SHARE Foundation / Flickr / CC BY-NC 2.0​
"Our study shows that biodiversity is essential to ensure the provision of ecosystem services and to maintain a high and stable agricultural production," Matteo Dainese, the study's lead author and a biologist at Eurac Research in Bolzano, Italy, said in a statement.

It stands to reason that, with declines in the sheer numbers of insects that ferry pollen from plant to plant and keep crop-eating pests under control, these services will wane as well. But until now, it hasn't been clear how monocultures affect the number and mix of these species or how crop yields might change as a result.
Aiming to solve these questions, Dainese and his colleagues pulled together data from 89 studies cutting across a variety of landscapes, from the tropics of Asia and Africa to the higher latitudes of northern Europe. They tabulated the number of pollinating and pest-controlling insects at these sites — both the absolute number of individuals and the number of species — along with an assessment of the ecosystem services the insects provided.
In almost all of the studies they looked at, the team found that a more diverse pool of these species translated into more pollination and greater pest control. They also showed that simplified landscapes supported fewer species of service-providing insects, which ultimately led to lower crop yields.
The researchers also looked at a third measure of the makeup of insect populations — what they called "evenness." In natural ecosystems, a handful of dominant species with many more individuals typically live alongside a higher number of rarer species. The team found as landscapes became less diverse, dominant species numbers dwindled and rare species gained ground. This resulting, more equitable mix led to less pollination (though it didn't end up affecting pest control).
"Our study provides strong empirical support for the potential benefits of new pathways to sustainable agriculture that aim to reconcile the protection of biodiversity and the production of food for increasing human populations," Ingolf Steffan-Dewenter, one of the study's authors and an animal ecologist at the University of Würzburg in Germany, said in the statement.
The scientists figure that the richness of pollinator species explains around a third of the harmful impacts of less diverse landscapes, while the richness of pest-controlling species accounts for about half of the same measure. In their view, the results of their research point to the need to protect biodiversity on and around crops in an uncertain future.
"Under future conditions with ongoing global change and more frequent extreme climate events, the value of farmland biodiversity ensuring resilience against environmental disturbances will become even more important," Steffan-Dewenter said.
Reposted with permission from our media associate Mongabay.
From Your Site Articles
Related Articles Around the Web
View of an Ivorian cleared forest at the edge of the 35.000 hectares Peko Mont National Park on Oct. 8, 2016. The Mont Péko National Park is located in the west of Ivory Coast where the forest officers fight with illegal immigrants to protect an exceptional flora and fauna, espacially dwarf elephants. SIA KAMBOU / AFP / Getty Images
Ivory Coast's rainforests have been decimated by cocoa production and what is left is put in peril by a new law that will remove legal protections for thousands of square miles of forests, according to The Guardian.
The Apusiaajik Glacier, as seen from Kulusuk village in East Greenland. Like most glaciers in Greenland, it's retreating rapidly, changing the local landscape year by year. Photo credit: Karin Kirk
By Karin Kirk
Greenland had quite the summer. It rose from peaceful obscurity to global headliner as ice melted so swiftly and massively that many were left grasping for adjectives. Then, Greenland's profile was further boosted, albeit not to its delight, when President Trump expressed interest in buying it, only to be summarily dismissed by the Danish prime minister.
During that time I happened to be in East Greenland, both as an observer of the stark effects of climate change and as a witness to local dialogue about presidential real estate aspirations, polar bear migrations and Greenland's sudden emergence as a trending topic.

Heavy metals that may damage a developing brain are present in 95 percent of baby foods on the market. Cirou Frederic / PhotoAlto Agency RF Collections / Getty Images
Heavy metals that may damage a developing brain are present in 95 percent of baby foods on the market, according to new research from the advocacy organization Healthy Babies Bright Futures (HBBF), which bills itself as an alliance of scientists, nonprofit organizations and donors trying to reduce exposures to neurotoxic chemicals during the first three years of development.
Chicago skyline on July 22 as high winds continue to push the waters of Lake Michigan over the top of the pedestrian and bike trail along the lakefront in Chicago. Raymond Boyd / Michael Ochs Archives / Getty Images
Every fall, I take my environmental studies class camping at Sleeping Bear Dunes National Lakeshore on Lake Michigan. Some years the beach extends more than three meters to the water. This year, in many spots, there was no beach at all.
Insects like bees, butterflies and even certain species of beetle and ant incidentally pollinate our crops when they collect protein-rich pollen and sugary nectar.
Rolf Dietrich Brecher
/ CC BY 2.0
By Kerstin Palme
Creepy-crawlies are among the oldest life forms on this planet. Before dinosaurs ever walked the earth, insects were certainly already there. Some estimates date their origins to 400 million years ago. They're also extremely successful. Of the 7 to 8 million species documented on Earth, around three quarters are likely bugs.
But several insect species could disappear for good in the next few decades and that would have serious consequences for humans.
Swedish automaker Volvo unveils its first electric vehicle the XC40 Recgarge EV, during an event in Los Angeles on Oct. 16. Frederic J. BROWN / AFP / Getty Images
Volvo introduced its first-ever all-electric vehicle this week, kicking off an ambitious plan to slash emissions and phase out solely gas-powered vehicles starting this year.
Cars are queued in Turin, Italy in August. Particulate matter levels were the highest in Italy, Poland and the Balkans countries. Nicolò Campo / LightRocket / Getty Images