This website uses cookies to ensure you get the best experience while browsing it. By clicking 'Got It' you're accepting these terms.


The best of EcoWatch, right in your inbox. Sign up for our email newsletter!
Sam and Gary Bencheghib in Newtown Creek, Dec. 2. Marco Vitale
Environmental activists and filmmakers Gary Bencheghib and Sam Bencheghib stand up paddled the Newtown Creek and the Gowanus Canal Dec. 2 to show the global scope of the pollution crisis and the importance of acting now to clean our waterways.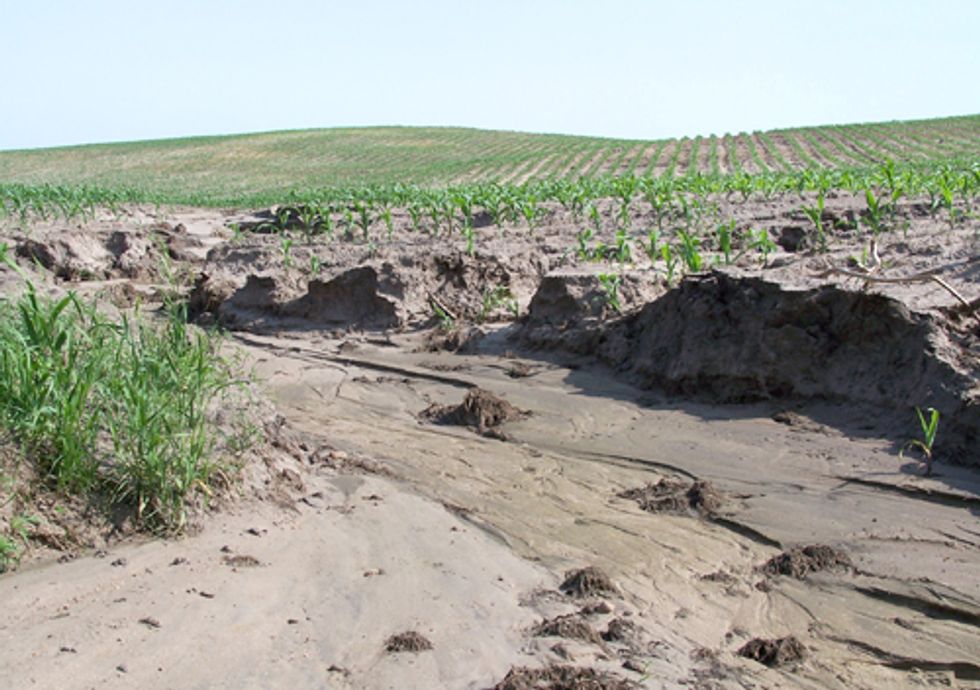 A new research paper finds that most farmers support the long-standing conservation compact that has helped protect the rich soil and clean water that sustain food, farming and public health.
Conservation Compliance: A Retrospective…and Look Ahead by conservationist Max Schnepf concludes through a comprehensive review of public opinion polls that the farming community has consistently supported the historic deal between taxpayers and farmers that was struck in the 1985 farm bill. Under it, growers agreed to keep soil from washing away and chemicals out of waterways in return for generous taxpayer support.
Seven polls taken in the last 30 years show that a solid majority of farmers believe that bargain is a fair one.
"The conservation compact was a godsend for agricultural and conservation groups and farmers," Schnepf writes. "In the 10 years following the 1985 farm bill, farmers did more to curb soil erosion than at any time since the infamous Dust Bowl years of the 1930s."
Schnepf notes that Environmental Working Group's (EWG) 2011 report, Losing Ground, found that high prices, intense competition for farmland leases and ethanol mandates have put unprecedented pressure on land and water. As a result, the historic gains in soil conservation the compact achieved are being lost.
"Conservation is once again being pushed to the back seat—the very situation that led to the compact in the first place," said EWG Senior Vice President Craig Cox. "We need to reinvigorate the compact just to keep things from getting worse, let alone make long-overdue progress on pollution problems that have gone unchecked for decades."
In the negotiations over a 2012 farm bill, agribusiness lobbyists are pushing their allies in Congress to gut the conservation compact entirely, with dire consequences for the environment and public health.
To raise awareness of the disastrous situation, EWG released a series of web-based ads and Schnepf's paper ahead of the Feb. 28 scheduled hearing of the Senate Agriculture, Nutrition and Forestry, which will focus on "Strengthening Conservation Through the 2012 Farm Bill."
Funding for agricultural conservation programs has been cut every year since 2002 and is currently $4 billion below the amount authorized in previous farm bills. Meanwhile, the taxpayers' tab for guaranteeing farm business income through so-called risk management programs has increased almost five-fold—from $1.5 billion in 2002 to $7.4 billion in 2011. There are no conservation strings attached because Congress ended those requirements in 1996.
"Congress must not break the 25-year old conservation compact between farmers and taxpayers under the guise of farm policy reform," said Cox. "Farmers need a safety net, but so do fertile soil and clean water."
EWG recommends that Congress reconfirm and reinvigorate the conservation compact by:
Bringing risk management programs back under the conservation compact umbrella.
Updating decades-old conservation plans to reflect modern technology and current weather patterns.
Requiring landowners to control highly damaging gully erosion on all annually tilled cropland.
Dedicating funding for conservation planning and enforcement.
For more information, click here.
EcoWatch Daily Newsletter
Residents are suing to halt tree-cutting along the route of a controversial gas pipeline through the Endless Mountains region of Northeast Pennsylvania. Represented by the nonprofit environmental law firm Earthjustice, members of Pennsylvania Chapter of the Sierra Club, Damascus Citizens for Sustainability, and the Coalition for Responsible Growth and Resource Conservation filed an emergency motion this week challenging a decision by the Federal Energy Regulatory Commission (FERC). FERC denied an earlier motion for rehearing by the groups, prompting this week's legal action. Feb. 16 is the deadline for FERC to respond to the groups' motion.
FERC authorized Central New York Oil and Gas Company (CNYOG) to begin cutting trees before the company had fulfilled all necessary pre-construction requirements.
The U.S. Environmental Protection Agency (EPA) has estimated the project would result in the destruction of more than 200,000 mature trees. The 39-mile industrial gas pipeline, which would tear up 600 acres of land and cross more than 100 waterways, has drawn criticism from EPA officials, 35 state representatives, and more than 22,000 members of the public.
The pipeline project cuts through land owned by more than 100 property owners. FERC granted CNYOG the power to seize private property for the pipeline on Nov. 14. Within a matter of days, the company began condemnation proceedings against nearly half of the property owners along the pipeline's route. View a map of the proposed pipeline route by clicking here.
The following is a statement from Earthjustice attorney Deborah Goldberg:
"We are seeing a very troubling pattern at work. At every turn, the Central New York Oil & Gas Company has pressured FERC regulators to fast-track this project. FERC is bowing to this pressure, even to the point of bending its own rules.
"We've been watching and we've seen property owners mistreated. We've seen the failure to disclose how dangerously close this pipeline runs to an elementary school. What we have not seen is the thorough review of this project's environmental and public health impacts that the law clearly requires. This is why we are taking legal action. To remind regulators of their duty—to watch out for the people and places that will be impacted by this project.
"Furthermore, given the gas industry's current financial woes, now is not the time to be rushing a project in a previously undeveloped area. A hastily approved and constructed pipeline is the last thing this region needs."
For more information, click here.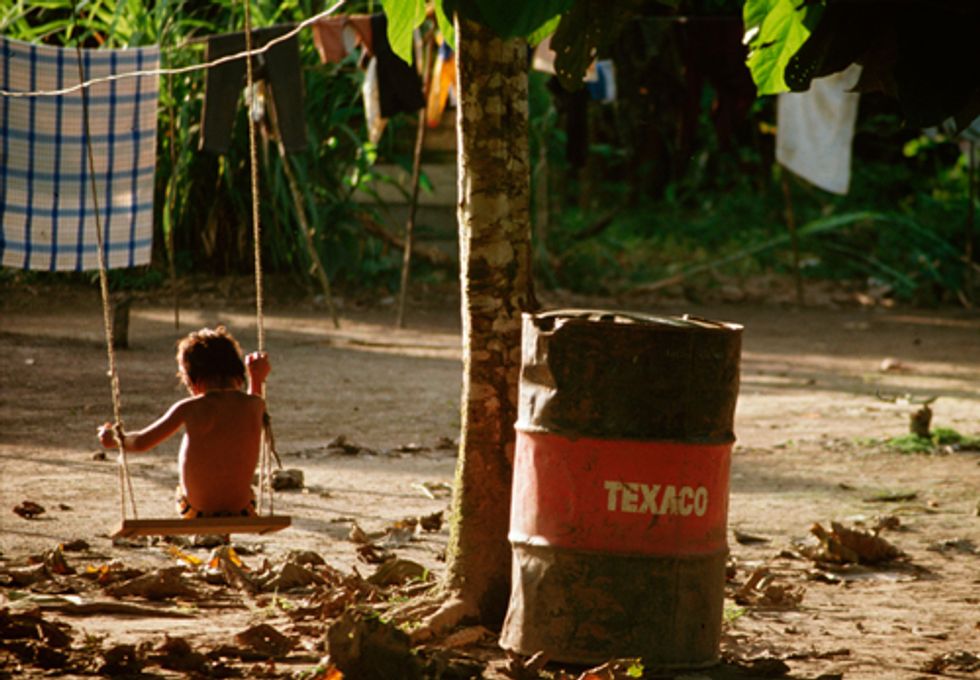 A distinguished international law jurist from Latin America has issued a letter to United Nations Secretary General Ban Ki-moon, asking for a review of Chevron's "egregious misuse" of an investor treaty to evade its $18 billion liability in Ecuador for creating one of the world's worst oil-related disasters in the Amazon rainforest, according to a letter released to thousands of arbitration specialists around the globe.
Jose Daniel Amado, a leading law scholar in Peru and a specialist in international arbitration, told the Secretary General that Chevron's latest attempt to deny the legal claims of the rainforest communities to be decided by an arbitration panel that meets in secret "stands in direct violation of international law" and would "quash" the fundamental human rights of the 30,000 citizens who initially brought suit against Chevron in the U.S. in 1993.
Chevron shifted that lawsuit to Ecuador in 2002 after praising the country's judicial system and promising to abide by any judgment there, subject only to narrow enforcement defenses that did not include international arbitration.
"Chevron has constructed what appears to be a calculated plan to manipulate a commercial investment dispute system to evade the outcome of a private litigation," wrote Amado, who has served as a consultant to the Ecuadorian plaintiffs. 
Amado asked the Secretary General to conduct a review of the matter "to ensure that the Bilateral Investment Treaty (BIT) arbitration system is not used by Chevron to undo international law protections guaranteeing access to justice." 
In January, after a nine-year legal proceeding, a three-judge panel of the Ecuador appellate court confirmed an $18 billion award against Chevron for the deliberate dumping of billions of gallons of toxic waste into Amazon waterways that local inhabitants relied on for drinking water. The Ecuador trial court found evidence that Chevron's contamination decimated indigenous groups and caused an outbreak of cancer and other oil-related diseases. For more information, click here and here.
The trial in Ecuador produced 220,000 pages of evidence and more than 64,000 chemical sampling results from independent laboratories which proved that dozens of Chevron oil production facilities suffer from extensive levels of life-threatening heavy metals and toxins, according to the findings of the Ecuador court.
On Jan. 4, the day after the Ecuador appellate court decision, Chevron petitioned a private arbitration panel convened under the U.S.-Ecuador BIT to order Ecuador's executive branch to interfere in its independent judiciary and block the ability of the Ecuadorian citizens to enforce their judgment in countries around the world.  Chevron had stripped its assets from Ecuador to avoid paying the judgment.
Lawyers for the Ecuadorians say the arbitration panel does not have such authority, and that in any event Ecuador's government is obligated to ignore its orders given its own binding legal obligations under the Ecuador Constitution and various international treaties protecting the human rights of its citizens. See the letter from Ecuadorian lawyer Pablo Fajardo by clicking here.
The arbitration panel prohibits the Ecuadorians from appearing before it and takes no steps to inform them (or the public) of the status of its proceedings or when or where it is meeting. Nor does it release its decisions in a system that clearly lacks due process of law, said Aaron Page, who represents the Ecuadorians and who has represented governments in the arbitral proceedings.
Some commentators have likened the secret arbitration panel to a "kangaroo court" rife with conflicts of interest and imbued with a pro-business culture. See this article by clicking here.
The arbitrators are private sector lawyers who generally rule in favor of investors and against sovereign governments—a fact which in recent years has led several countries to withdraw or threaten to withdraw in recent years from the arbitral system, said Page.
"Chevron's radical request for relief in this case potentially undermines the credibility of the entire investor arbitral regime," Page said.
In the letter to Ban Ki-moon, Amado noted that a recent "interim" order by the arbitration panel asking Ecuador's government to freeze the environmental case "makes a travesty of the bilateral commercial treaty system" and represents an "illegal expansion of arbitral powers with wide-ranging implications for well-settled principles of international law, including fundamental human rights and state sovereignty."
"Such a result is simply untenable under international law—BIT arbitral panels cannot be called on by investors to set aside countries' constitutional systems and sovereignty, which are essential components of modern democracies," he added.
Concern over Chevron's latest stratagem, Amado pointed out, is shared by a U.S. federal appellate court which ruled last year that the longstanding legal claims of the Ecuadorians "cannot be settled" through the BIT arbitration given that they are not a party to those proceedings.
"The international legal community was shocked by this [interim] Order, which Chevron interpreted to force the Ecuadorian executive branch affirmatively to interfere in a judicial process and limit Ecuador's sovereignty vis-a-vis a case that has been in the courts for 18 years," he said.
The Amado letter was emailed to 7,000 arbitrators around the world by the Peruvian Arbitration Institute, which said it considered the letter "of high interest" to the international arbitration community.
Amado is a graduate of Harvard Law School and the founding partner of Miranda & Amado, one of Peru's leading law firms. He has published numerous articles on international law topics, has lectured in various countries, and has represented both private investors and governments before BIT arbitration panels.
Amado is also a member of the American Chamber of Commerce in Peru and is president of the Energy Legal Committee of Peru's National Mining, Oil and Energy Society.
The three arbitrators hearing the Chevron claims—all private lawyers who represent investors before other arbitration panels in the same treaty system—stand to personally reap millions of dollars in fees if they grant jurisdiction over the case, which in itself is a hotly contested issue given that Chevron left Ecuador five years before the U.S.-Ecuador BIT took effect in 1997, Page said.
R. Doak Bishop, an American from the firm King & Spalding who is Chevron's lead lawyer in the Ecuador matter, has served as an arbitrator in numerous cases convened under the BIT process while he simultaneously represents private clients in the same system. Ecuador's American lawyers are only putting up a nominal defense, essentially leaving the Ecuador plaintiffs without representation before the panel, said Karen Hinton, the U.S. spokesperson for the plaintiffs.
In any event, it is clear that any "award" from the panel will lack legitimacy in countries that observe the rule of law and will not be an obstacle to enforcement of the Ecuador judgment, said Amado.
"This is a far-fetched strategy by Chevron that has little chance of working," said Amado. "But it is our duty as international lawyers to prevent it from causing collateral damage to the international legal order that protects the human rights of all peoples worldwide."
Chevron operated in Ecuador under the Texaco brand from 1964 to 1992. 
A background document on Chevron's arbitration stratagem is available by clicking here.
For more information, click here.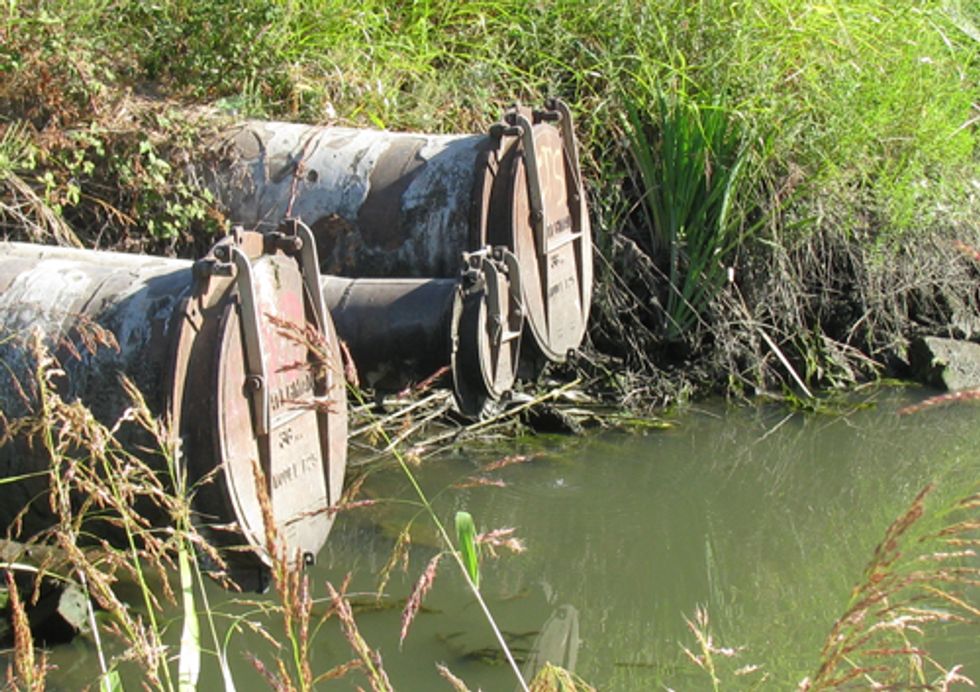 The U.S. Environmental Protection Agency (EPA) announced the release of a new tool that provides the public with important information about pollutants that are released into local waterways. Developed under President Obama's transparency initiative, the Discharge Monitoring Report (DMR) Pollutant Loading Tool brings together millions of records and allows for easy searching and mapping of water pollution by local area, watershed, company, industry sector, and pollutant. Americans can use this new tool to protect their health and the health of their communities.
"Transparency leads to greater accountability and better information about pollution in our nation's communities," said Cynthia Giles, assistant administrator for EPA's Office of Enforcement and Compliance Assurance. "By making the data we collect available in easy to use tools, we are keeping Americans informed about the health of the environment in their neighborhoods."
Searches using the DMR Pollutant Loading Tool result in "top ten" lists to help users easily identify facilities and industries that are discharging the most pollution and impacted waterbodies. When discharges are above permitted levels, users can view the violations and link to details about enforcement actions that EPA and states have taken to address these violations.
Facilities releasing water pollution directly into our nation's waterways, such as wastewater treatment plants or industrial manufacturers, must receive a permit to discharge under the Clean Water Act. Each permit sets specific limits for how much can be discharged. It also requires the permittee to frequently sample their wastewater discharges and report the data to their state or EPA permitting authority.
A link to the new tool can be found on EPA's Enforcement and Compliance History Online (ECHO) website, which provides information about inspections, facility compliance, and state and federal enforcement actions. EPA has also released several new ECHO features, including a search for criminal enforcement cases and web developer tools that make it easy to tap into ECHO reports and maps.
Information about the webinar:
What: A webinar to demonstrate how to use the new Discharge Monitoring Report (DMR) Pollutant Loading Tool.
Who: Members of the media, non-profit organizations, industry, business, and citizens interested in learning how to use the tool are encouraged to participate.
When: Thursday, Jan. 26, 2012, 10 a.m., Eastern Time
How: To participate, please use the following dial-in numbers.
Audio Contact Instruction:
(1) Dial the toll-free dial-in number: (866) 358 1366
(2) At the recorded prompt, enter the Conference Code (2025661014) and the "#" sign, using the telephone keypad.
(3) Wait for the Leader to join and the conference to begin.
(4) To disconnect, hang up the telephone.
To access the Webinar use the GoToWebinar link by clicking here.
*** You Must Register in Advance to Access the Webinar***
Access the DMR Pollutant Loading Tool by clicking here.
Visit ECHO by clicking here.
For more information, click here.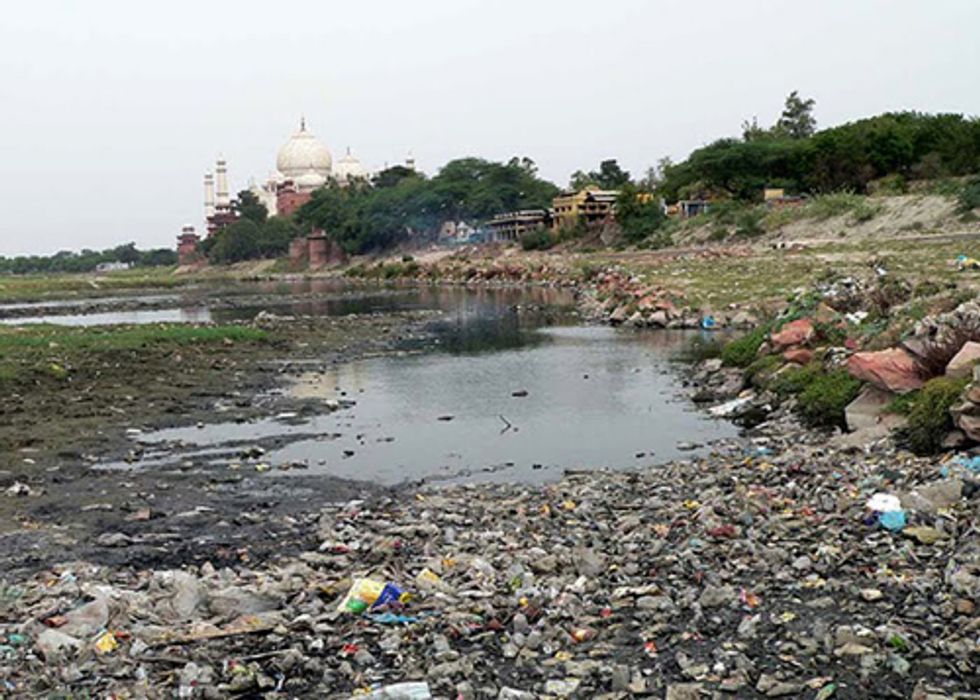 By Sunita Narain
In India, water is life and sewage tells its life story. This is the subject of the Citizens' Seventh Report on the State of India's Environment—Excreta Matters: How urban India is soaking up water, polluting rivers and drowning in its own excreta. It has a seemingly simple plot—it asks where Indian cities get their water and seeks to discover where the waste goes. But this isn't just a question or answer about water, pollution and waste. It's about the way Indian cities (and perhaps other parts of the world that are similarly placed) will develop. It's about a paradigm of growth that's sustainable and affordable.
Urbanisation in India, relentless as it is, will only continue to grow. How should the country manage its water needs so that it doesn't drown in its own excreta? This is what the Centre for Science and Environment (CSE) has asked and tried to answer in the book. What has amazed us is the lack of data, research and understanding surrounding this issue in India. People consume water, discharge waste and see their rivers die. But they often don't make the connection between flushing toilets and dying rivers. It's as if they don't want to know.
Is this a reflection of the caste system of Indian society, where removing waste is somebody else's business? Or is it a reflection of current governance systems, where water and waste are government's business, and within that the business of a seemingly lowly water and sanitation bureaucracy? Or is it a reflection of Indian society's extreme arrogance—that is, the notion that India will somehow be able to solve its water and sewage problems at its own convenience because the current problem isn't pressing enough.
It's clear Indians know little about the water they use and the waste they discharge. We at CSE had to collect data the hard way—city by city, ferreting out the material from government offices, which are rarely visited by researchers. The second volume—71 cities: water-excreta survey—of the seventh citizens' report puts together individual city profiles. Each city is mapped to know more about its past, current and future water footprint. Each city is mapped to know more about where the waste generated from such use of water goes. It's a geography lesson that's essential to learn.
It was back in the late 1990s that environmentalist Anil Agarwal, who conceived and crafted the state of India's environment reports, had said one needs to understand the political economy of defecation, where the rich are subsidised to excrete in convenience.
When we researched for this report, which explains the political economy of defecation, we were struck by one fact that should make us all angry. We found countless instances where a city's drain, called nullah, was actually a river. Delhi residents are familiar with Najafgarh drain, which discharges the city's waste into the Yamuna River. But most of them don't know that this drain has its source in the Lake Sahibi. Now Sahibi is gone, and what has replaced it is a drain carrying only filth—not water. Worse, New Gurgaon—the second largest city in the Indian state of Haryana—is now dumping its sewage into the same lake.
Buddha Nullah—a seasonal water stream—in Ludhiana is referred to as a drain because today, it's full of stench and filth. But not so long ago Buddha Nullah was a clean freshwater stream. One generation has changed its form and name.
The Mithi River is Mumbai's shame. When floods drowned Mumbai in 2005, it learned it had a clogged drain called Mithi, marred by encroachments. It did not realise that the Mithi had not shamed the city, the city had shamed the Mithi. This drain, which originates near the city, is really a river. It was recognised as a river. It flowed like one. But today even official environmental status reports call this living river a storm water drain. One more city has lost its river. These lost rivers are our collective shame.
But should Indians be surprised? Today they take water from their rivers—for irrigation, drinking and hydro-electric plants—and give back waste. Water no longer flows in its rivers. Instead, they flow with the load of excreta and industrial effluent.
Indians should be angry over the loss of our rivers. More worryingly, if they don't change their ways they'll lose their remaining rivers, lakes and other water bodies. This generation won't just be pitied for losing its rivers, but accused of committing deliberate hydrocide. Coming generations will forget that the Yamuna, Cauvery and the Damodar were rivers. They'll get to know them only as what they've become—drains.
For more information, click here.