This website uses cookies to ensure you get the best experience while browsing it. By clicking 'Got It' you're accepting these terms.


The best of EcoWatch, right in your inbox. Sign up for our email newsletter!
Pexels
With one foot out the Brexit door, the UK is secretly trying to weaken EU commitments to the Paris agreement in a move branded "rude" by one member of European parliament (MEP), The Guardian reported Wednesday.
In a historic move, more than 40 UK companies have signed up to fight plastic pollution as part of the UK Plastics Pact, The Independent reported Wednesday.
The pact, which officially launches today, is a groundbreaking alliance of companies, non-governmental organizations and governments working to transform packaging in the UK by 2025.
EcoWatch Daily Newsletter
Scroby Sands Wind Farm. Martin Pettitt / Flickr
Coal, which was once king in Great Britain, has continued its evident decline.
Absolutely zero coal was used to generate energy in UK power stations between 10:25 p.m. on Monday until 5:10 a.m. on Thursday, according to data compiled by Bloomberg. That's a history-making run of 55 hours.
Mine opponents said the project would cause environmental destruction in Druridge Bay. John Robert McNally / Flickr
In an unprecedented move, the British government rejected plans for a new open-pit coal mine in Northumberland county in northeast England, citing concerns over climate change as a reason.
Northumberland County Council had approved in 2016 a plan from developer Banks Mining to extract three million metric tons of coal, sandstone and fireclay from a site near Druridge Bay. While supporters said the mine would create at least 100 jobs and bring economic investment in the region, opponents said the mine would hurt wildlife, harm tourism and continue the UK's dependence on the polluting fossil fuel.
Drone photograph of the Cuadrilla site at Preston New Road, taken Feb. 25. Residents Action on Fylde Fracking
Cuadrilla Resources—a UK-based energy company set to horizontally frack Britain for the first time after two earthquakes halted its initial drilling attempt in 2011—is giving cash payments to residents living near its shale gas exploration site at Preston New Road in Lancashire.
Cuadrilla said that households within one kilometer of the site will each receive approximately £2,070 ($2,700) and those within one to 1.5 kilometers will receive approximately £150 ($197) as part of its £100,000 community benefit payment for the well it is drilling.
The decommissioned coal-fired Battersea Power Station near London.
Loco Steve
/flickr
The United Kingdom's grid operator just announced an incredible prediction—April 21 is probably going to be the country's first coal-free day since the Industrial Revolution.
By the ton, methane from fracking has about 20 times the global warming effect of carbon dioxide. Researchers at a college in the United Kingdom believe they have found a tiny way to mitigate the greenhouse gas before it spreads into the atmosphere.
Methylocella silvestris, a single bacterial strain found in soil and other environments around the world, is capable of growing on methane and propane, according to research by a team at the University of East Anglia that was published in Nature, a weekly, international publication.
"The findings could help mitigate the effects of the release of greenhouse gases to the atmosphere from both natural gas seeps in the environment and those arising from man-made activity such as fracking and oil spills," according to a statement from the university.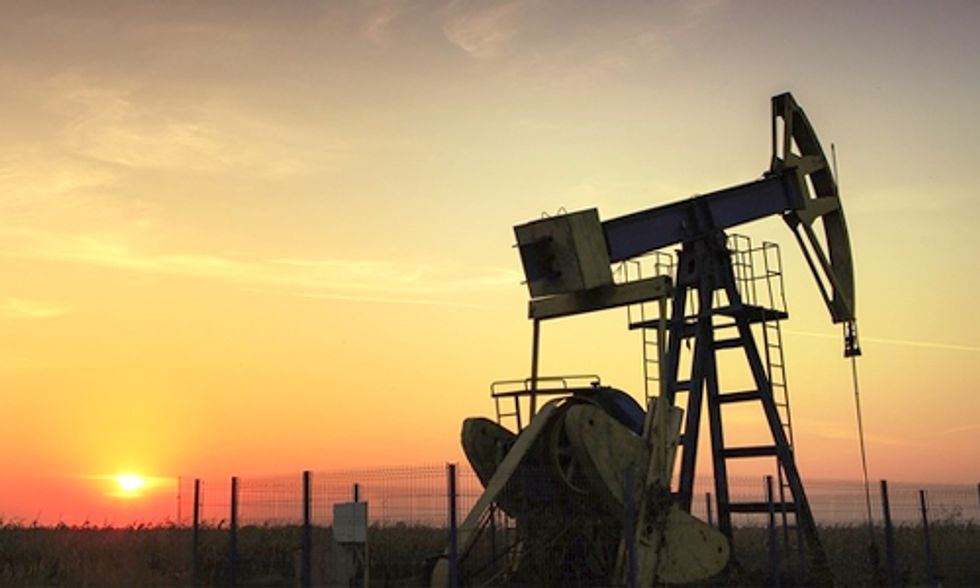 While some previously believed that different groupings of bacteria could metabolize methane and propane, researchers say their recent findings mean that just one bacteria could "mop up" natural gas components to reduce pollution.
"This is very important for environments exposed to natural gas, either naturally or through human activity," said Colin Murrell, the lead researcher and a professor from UEA's school of Environmental Sciences. "These microbes may play an important role in mitigating the effects of methane and other gases before they have a chance to escape into the atmosphere."
Methylocella is found in peat, tundra and other forest soils in Northern Europe. Murrell and his team envision the researching aiding land-use management decisions for areas near fracking wells or where methane and propane could be released.
"We have shown that one microbe can grow on both methane and propane at a similar rate," Murrell said. "This is because it contains two fascinating enzyme systems which it uses to harness both gases at once."
The Natural Environment Research Council and the Norwich Research Park's Earth and Life Systems Alliance provided funding for the research.
——–
YOU ALSO MIGHT LIKE
Obama's Methane Emissions Plan Puts Oil, Coal and Gas Industries on Notice
What Happens If We Exceed the Carbon Budget?
Purdue and Cornell Researchers Find Up to 1,000 Times More Methane Emissions Than Estimated in Drilling Phase
——–
The United Kingdom's plans to build heavily subsidized nuclear power stations have come under withering attack from a coalition of members of Parliament, academics, energy industry experts and environmental groups.
Evidence has poured into the European Commission, which is investigating whether the deal with the giant French nuclear company EDF breaks EU competition rules. The evidence from many objectors, whose submissions had to be made by today, claims that if the contract goes through it will wreck Europe's chance of building up renewable energies to avert the worst impacts of climate change.
They say renewables will have to compete in an unfair market where one generator, nuclear, is guaranteed to be able to sell all its electricity at a stable price and with a built-in profit until 2058.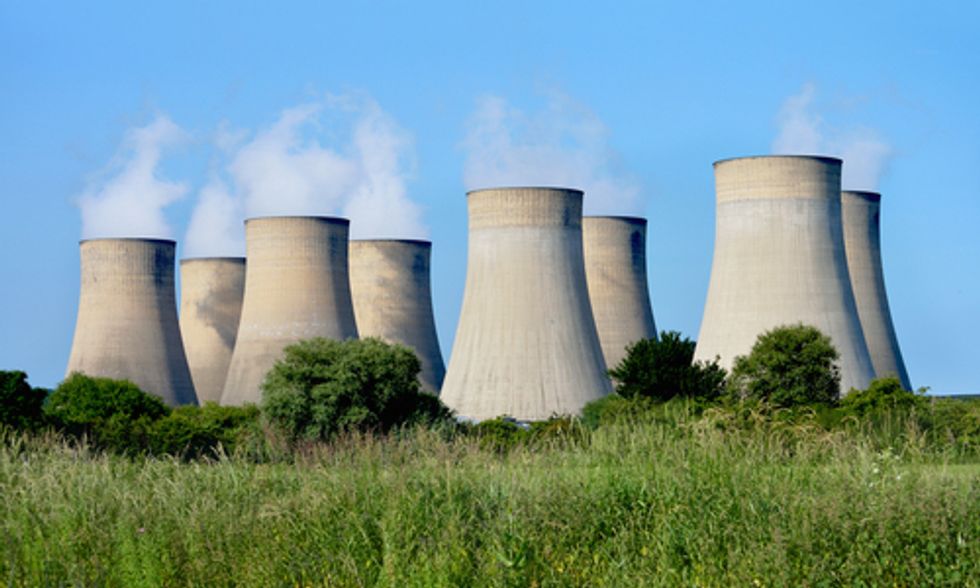 Photo courtesy of Shutterstock
The UK government has agreed to a minimum price equivalent to $153 a megawatt hour from a new nuclear power station at Hinkley Point in the west of England from 2023—roughly double the existing price of electricity in Britain. The price will rise with inflation and runs for 35 years, a deal unprecedented in the energy sector, and not available to renewable energies like wind and solar. The guarantee will continue for all future nuclear stations too.
The government has gone further, guaranteeing loans for construction and providing insurance and compensation payments if policies change for any reason. It claims that the deal will save about $124.3675 a year on the average consumer's bill if electricity prices rise by 2023, as it forecasts. If they do not, then consumers will be paying far more for their electricity than they would otherwise.
EU test case
No-one involved in the investigation into whether the deal constitutes unfair state aid doubts that climate change is a severe threat and needs to be tackled. The argument is about which is the best set of technologies to help deal with the problem.
There are 12 states in Europe interested in nuclear power generation, slightly under half the EU's members. All see the UK subsidies investigation as a test case into whether they also will be able to give state aid to nuclear stations.
One of the submissions, from the Nuclear Consulting Group (NCG), with more than 100 signatures from members of Parliament from six parties in the UK and European Parliaments, plus engineers, academics and energy experts, says the proposed aid to guarantee nuclear's profitability is incompatible with EU State Aid rules. The NCG says it unfairly discriminates in favour of nuclear and will damage renewable energies with far greater potential.
Given that this level of support is unavailable to other low carbon technologies, it is certain to significantly distort competition and strongly affect trade between member states.
"The development of sustainable and affordable low carbon energy remains a growing economic sector with huge potential for job creation. To seek to delimit this diversity through particular state aid support of nuclear power at the expense of other, potentially more flexible, safe, productive, cost-effective and affordable technologies seems, at the very least, unwise," says the submission.
It says the British government has also not been completely honest about the prospects for existing nuclear power stations. In its announcement about subsidies the government claimed that all but one of the eight existing nuclear power stations were due to close about the time the new Hinkley Point plant is finished in 2023.
In fact EDF, which owns the plants, and is also building the new one, intends to keep them open until 2030 or even longer if safety conditions allow. If the government's current power station-building plans succeed, then more than 50 percent of Britain's electricity would be generated by subsidized nuclear stations, effectively cutting out renewables.
Delays and cost over-runs
One big problem for the UK's plans, apart from the European Commission inquiry, is that the building schedule for the European pressurised water reactors (EPRs) planned for Hinkley Point, and for Sizewell in eastern England, is in doubt.
The first two prototypes, under construction in Finland and France, are subject to severe construction delays and cost over-runs. The Finnish Olkiluto 3 EPR was due to be completed in 2009 at a fixed price of the U.S. equivalent of $4.1 billion, but the cost has now escalated to nearly $11.7 billion and completion has been put back to 2018. The French new build by EDF at Flamanville is already four years behind schedule and the cost has more than doubled to $11.7 billion.
Other groups objecting to the UK subsidy plan also say that rather than promoting a diversity of supply, as ministers claim, the decision to back nuclear will reduce the scope for other technologies.
Bad value
Friends of the Earth (FoE) says that currently there are seven to ten viable renewable energies being developed in the UK, among them wind, on and offshore, solar, biogas, wave, under-sea turbines, small-scale hydro, biomass and hot rocks, all of which could contribute to the energy mix if nuclear had no guaranteed unfair advantage.
These were all comparatively new technologies, where the price of generation was coming down all the time. In contrast, FoE says nuclear has been operating for 60 years and still requires a 35-year price guarantee.
By the time Hinkley is in operation, solar and on-shore wind will be far cheaper, with costs falling fast, and it is likely that offshore wind will be in a similar position. The nuclear subsidy "represents extremely bad value for money for UK citizens," the submission concludes.
——–
YOU ALSO MIGHT LIKE
UK Wind Industry Says 'Game On' for Competing With Fossil Fuels
Half a Million Solar Systems Now on UK Buildings
How Wind Energy Can Conserve Europe's Water and Save Billions
——– 
Once a sleepy village in West Sussex, last summer Balcombe became synonymous with the UK's fight against fracking as the residents found themselves host to riot police, protesters and TV crews.
Now the residents of Balcombe are going a step further, with the aim of putting the village on the map for all the right reasons as they quit fossil fuels for solar energy.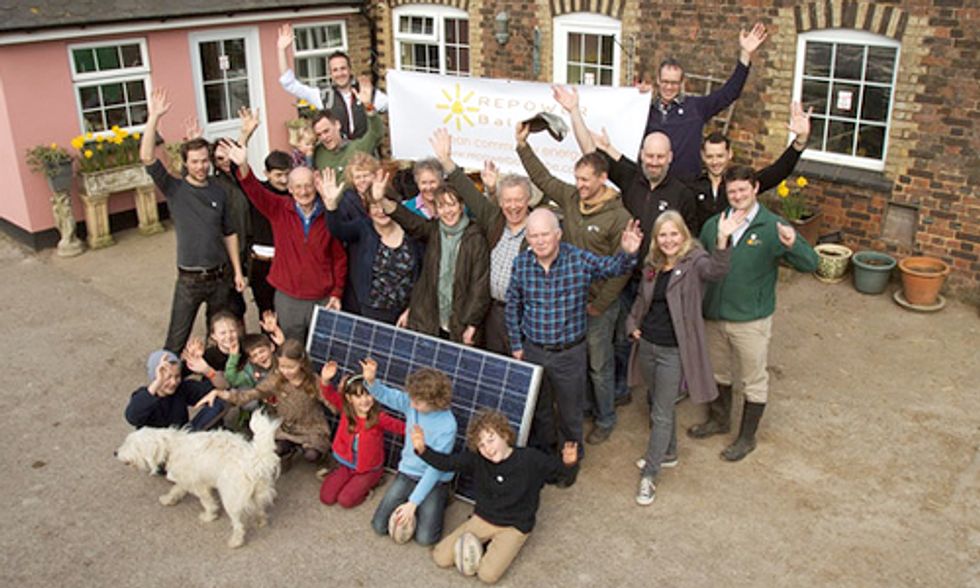 Back Balcombe
Once at the centre of the UK's wave of new oil and gas drilling, the residents are now turning away from dirty energy as they form their own renewable power co-operative, REPOWERBalcombe.
The goal: produce enough clean, homegrown electricity to match the needs of every home in the village.
"We all need energy, but buying dirty fossil power from giant utilities is no longer the only option," said Joe Nixon from REPOWERBalcombe. "Advances in renewable technology mean that communities like ours can now generate the energy we need ourselves, locally, in a way that benefits us directly instead of big power companies, and helps the environment instead of harming it."
This is win-win for Balcombe and for the planet.
For the first phase of the project, the group aims to install around £300,000 worth of solar panels on the rooftops of local buildings this spring with the aim of producing 7.5 percent of the village's needs.
Celebrating the launch of the project, the group signed a lease to host 19kW of solar panels on the roof of a cow-shed at nearby family-run Grange Farm. In exchange for hosting the panels, the farm will receive 33 percent discounted electricity for the next 25 years.
Talks are also underway for another five sites in and around Balcombe.
Each project is expected to deliver at least five percent return to investors during the 20-year lifetime of the scheme, while any profits will be ploughed into a community benefit fund.
The project has been welcomed by environmental groups, who are keen to support this infamous village take back control over their energy supply.
"People don't need to accept risky fracking on their doorsteps," Brenda Pollack, campaigner at Friends of the Earth. "It's great to see community energy initiatives like this that enable local residents to produce their own clean and safe power, and earn themselves an income too."
10:10 are also helping to support this "bold" and "brilliant" plan, launching a national project supporting people to "Back Balcombe."
"People don't want fracking, but they are being told there is no alternative if we want to keep the lights on and have secure power supplies," Leo Murray, community energy campaigner at 10:10. "Well there is—Balcombe is sending a clear message that whereas fracking has to be forced on communities, they chose clean renewable power."
The project aims to give a megaphone for their plans and providing people across the UK with a chance to invest in them, and help them meet their ambitious plan of being powered fossil free.
Related Content:
1,000 March at Largest Fracking Protest in UK History
UK Proposes to Frack One-Half of Great Britain 
Protestors Block Fracking Site With Giant Wind Turbine Blade
By Robin Webster
Public opposition to shale gas could be rising, despite the government's attempts to promote the fuel, according to recent UK polls. The closer the industry gets to reality—and to people's homes—the more worried the public gets. 
Politicians are waxing enthusiastic about the prospect of a new UK shale gas industry. But protesters are worried about the environmental impacts of fracking for shale gas, and what it will mean for the health of local communities. 
Media outlets and industry lobby groups have commissioned a welter of polls to find out what the public thinks. We take a closer look. 
Approval for Shale Gas Extraction Falling 
People's support for shale gas is wavering, according to a long-running tracker poll commissioned by the University of Nottingham.Pollsters YouGov first asked respondents: "Should shale gas extraction be allowed in the UK?" just under two years ago. In March 2012, 52.6 percent of those surveyed answered yes. By July 2013 this had risen to 58.3 percent.
But in subsequent surveys the value went down again, falling to 52.2 percent in January 2014: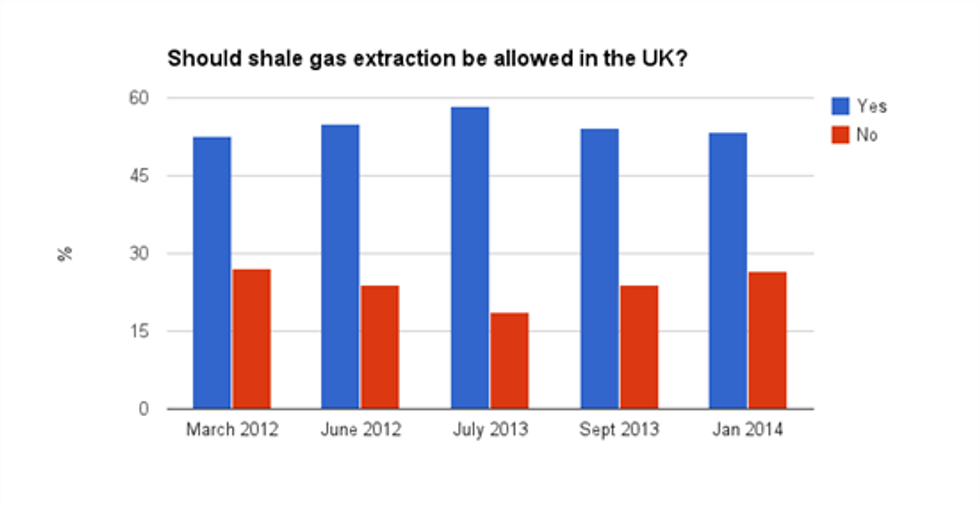 Anti-fracking protests erupted in the village of Balcombe, East Sussex, last August, attracting a great deal of media coverage. It seems possible that the protests, and the environmental and health concerns raised by the protestors, prompted a slide in approval. 
Nottingham university's poll also suggests higher levels of support for shale gas than other surveys. Three other studies commissioned last August from ICM, You Gov and Opinium asked respondents whether they support fracking for shale gas, shale gas extraction, and shale gas production respectively.  
They all indicated lower levels of support than the Nottingham university poll, with about 30-40 percent of people saying they are in favor:
Two of these surveys (Opinium/ Carbon Brief and You Gov/ Sunday Times) gave respondents a "don't know" option. The other two didn't, which may help explain why support was higher.
Lower Support for Shale Gas Production in the Local Area 
Famously, the public is less keen on new energy infrastructure when it's located in the local area—the so-called NIMBY (Not In My Backyard) effect. 
A few polls asked whether the public would support fracking if it took place nearby. In some, respondents were asked whether they would support shale gas extraction specifically, if it took place in the local area. In others they were asked how they would feel about a wide range of technologies, if they were placed nearby. 
So the questions aren't directly comparable. But on the whole, they appear to suggest that about 20 to 30 percent of people would support fracking in their area: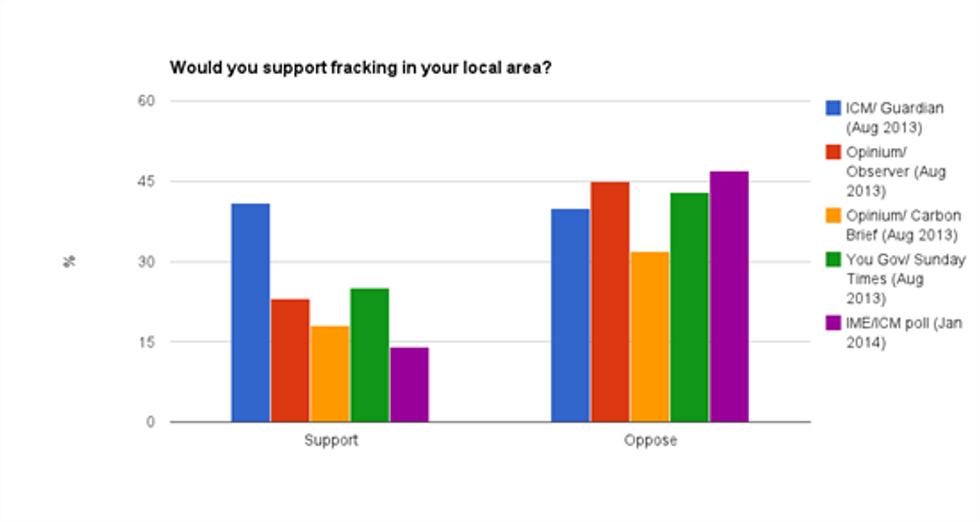 A Sunday Times/ You Gov survey carried out last December explored this effect in more detail. It asked respondents if they would support fracking in their local area if it was within a mile of their home, a few miles of their home, or somewhere in the same county. 
The poll found that the further away the fracking is, the more likely the public is to support it:  
Concern Rising with Prospect of a Shale Gas Industry 
The public also appears to be getting more worried as the prospect of a shale gas industry moves closer to reality.  
The most recent poll, commissioned by the Institute of Mechanical Engineers a few weeks ago, shows the least positive response to the question of whether respondents would support fracking in the local area. Just 14 percent of people said they would be "happy" if a gas well site using fracking opened up within 10 miles of their home. 
As the examples above show, the phrasing of the question may have produced a particularly low level of approval. Or it may be bad news for the government's pro-shale gas campaign. 
Environment minister Owen Paterson argued last week that concern will abate when a few fracking wells have successfully got going, and the public sees it operating without any problems. Paterson may be right, but only time will tell. The polls are likely to keep changing as the industry develops. 
Polls we looked at:   
This article originally appeared on The Carbon Brief.
Visit EcoWatch's FRACKING page for more related news on this topic.

Today the Environmental Justice Foundation (EJF), in collaboration with ByPost and with the support of Dame Vivienne Westwood and Gillian Anderson, is launching an innovative postcards campaign to achieve urgently needed recognition and protection for climate change refugees worldwide.
In 2012, 31.7 million people were forced from their homes due to weather related events, the equivalent of more than half the UK population displaced in one year. Although climate refugees are far greater in number than those fleeing conflict, they are not recognized by any international law. EJF is working to change this.
Postcards from the Frontlines takes the pictures and stories of climate witnesses and their supporters straight from their phones and desktops to the world's only truly global organization, the United Nations (UN), the foremost forum to address issues that transcend national boundaries. The postcards reaching UN Secretary-General Ban Ki-Moon are symbolic of a global call to recognize, protect and assist those on the frontlines of climate change.
Supporters are asked to send a picture of the home they would hate to be forced from with a short message about what it means to them, whilst climate witnesses are encouraged to share their experiences on the frontlines of climate change, whether they have lost their loved ones to the heaviest ever monsoon rains in Uttarakhand, their livelihoods to desertification in Somalia or homes to extreme flooding in Canada and Europe.
The postcards will be delivered as real paper postcards free of charge by supporting partner ByPost to the UN headquarters in New York, calling for the introduction of a UN Special Rapporteur on climate change and human rights.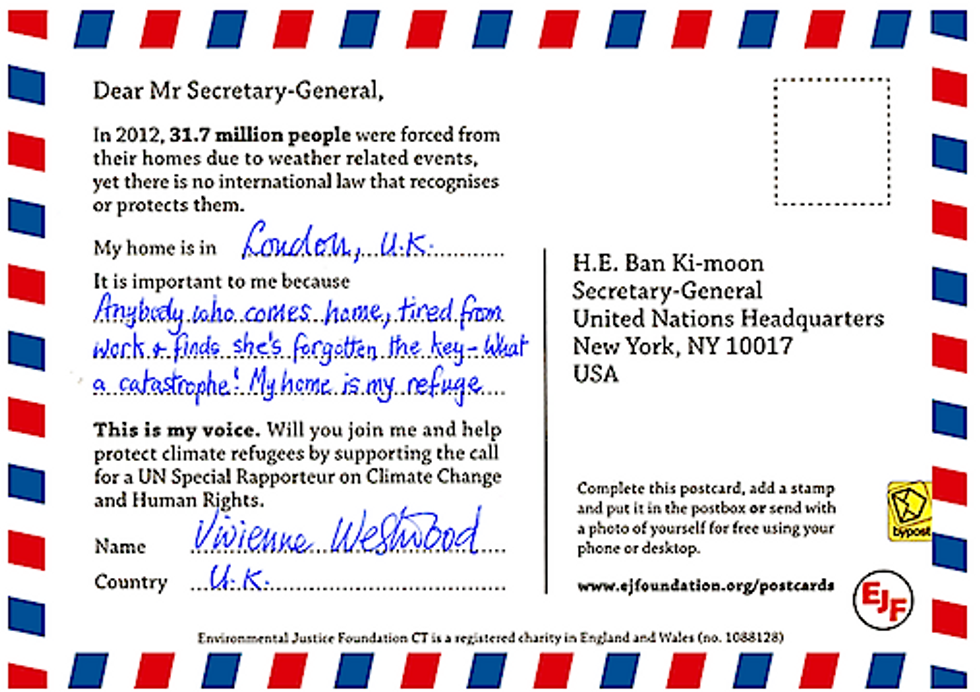 EJF aims to inspire more than 100,000 people worldwide to send a postcard by Human Rights Day on Dec. 10, to demonstrate the range and scale of climate impacts globally and the urgent need for action.
"Postcards from the Frontlines personalizes climate change by showing the range and extent of the impacts that climate change is having on individuals around the world," said Steve Trent, executive director of EJF. "EJF has been working to secure recognition and protection for climate refugees since 2009 and we are proud to have the support of a wide range of global and grassroots organizations as well as individuals such as Vivienne Westwood and Gillian Anderson, to make this a truly international project."
We are grateful for the support of our 20 project partners: ByPost, Climate Revolution, Climate Week NYC, Concern Universal, Connect 4 Climate, Cool Earth, Hay Festival, Inter-Cultural Youth Exchange UK (ICYE UK), iMatter, National Poetry Day, Nigerian Youth Climate Coalition (NYCC), Photo Voice, Rural Environment and Development Organisation (REDO), Restless Development, Rural Education and Development Programme (REDEP), RYOT News, Shohratgarh Environmental Society (SES), Soil Association, World Association of Girl Guides and Girl Scouts (WAGGGS) and World Council of Churches.
Visit EcoWatch's CLIMATE CHANGE page for more related news on this topic.
———