Senate Finance Committee Chairman Ron Wyden has officially begun consideration of legislation to reinstate a suite of tax credits that big polluters and their allies succeeded in getting Congress to let expire, including vital, commonsense policies that promote clean energy. 
These tax credits grow the economy by cutting pollution and their absence in the committee's initial bill draft belies the broad, bipartisan support renewable and energy efficiency continue to attract.  As final legislation takes shape, Congress should remain clear just what is at stake: clean energy is central to meeting our obligation to defend the next generation from the dangerous pollution that threatens our climate, health, and economy. The nation's tax code is an important tool and it should be used to promote progress, not turn back the clock on our children's future.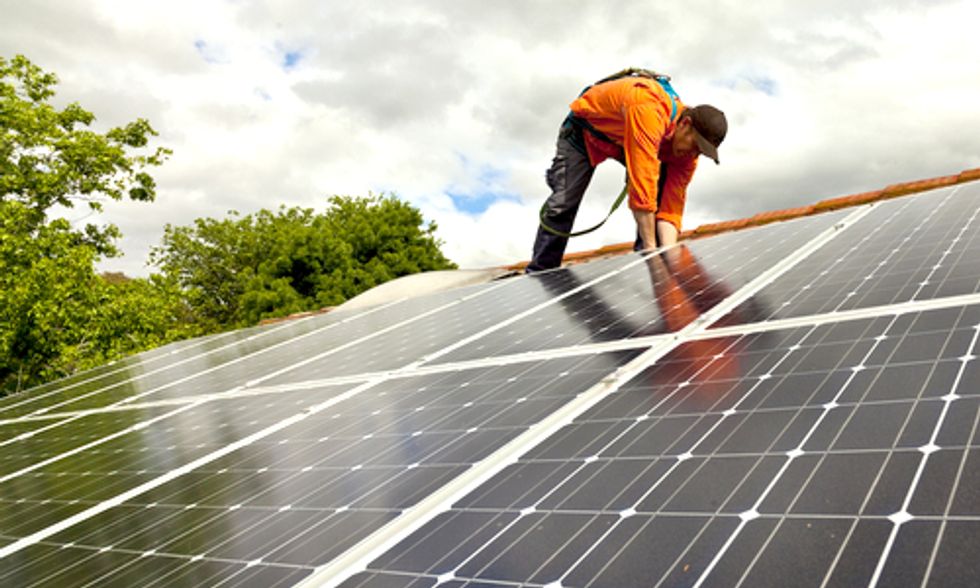 Photo courtesy of Shutterstock
Continued support of America's critical renewable and energy efficient tax policies – and for a period longer than what unfortunately has been traditionally limited to a one-year extension-- also will provide the market signals  and stability necessary for significant job creation and technological advances to further advance a clean energy future. It's time to stop permanently subsidizing big polluters and instead double down on using our tax code to support clean energy.
Below is a list of the clean energy credits that Congress must ensure are included in any final package:
 Support for wind and other renewable energy:
The Renewable Electricity Production Tax Credit (PTC) offers a per-kilowatt-hour tax credit for electricity generated by qualified energy resources, including wind and geothermal. It has played a valuable role in advancing wind power and nurturing an industry that now provides jobs to more than 80,000 Americans. In 2012 alone, the tax credit helped the wind industry catalyze $25 billion in private investment in our economy. More than 70 percent of U.S. congressional districts have either a wind project or wind-related manufacturing facility, bringing local economic development to the region.
The Business Energy Investment Tax Credit (ITC) is a crucial strategy to launch the U.S. offshore wind industry, although it also applies to other resources like solar and geothermal. Considering that the Atlantic coast in particular has strong winds with an estimated potential of more than 1,300 gigawatts of energy generation, harnessing just 52 gigawatts offshore could power about 14 million U.S. homes and create more than $200 billion in new economic activity along the coast. Solar projects and other technologies supported through the ITC should also be eligible if they begin construction prior to the end of the credit period.
The Deduction for Commercial Buildings (179D) allows private building owners and public building designers who cut energy use by 50 percent, compared with what would be consumed if the building were constructed under the 2001 building code, to take a tax deduction of up to $1.80 per square foot. The savings are accomplished through changes in the lighting, heating, cooling, and ventilation systems, or in the building envelope—insulation, external windows and doors and/or roofing material. With more than 4.8 million commercial and other nonresidential buildings in the United States, the energy-saving potential is huge.
The Credit for the Construction of Energy Efficient Homes (45L) provides a $2,000 tax credit to builders who achieve a 50 percent reduction in heating and cooling energy use compared with a home built to the 2006 code. Studies since the 1980s have shown energy efficiency can increase a home's value by roughly 9 percent.
The Credit for Residential Energy Efficiency Improvements (25C) offers homeowners a tax credit for 10 percent of the cost of energy efficient building envelope improvements and replacement equipment that meet certain criteria, with a $500 maximum over the life of the credit.
Credit for the Manufacture of Energy Efficient Appliances (45M) offers a per-unit credit to builders of high-efficiency dishwashers, refrigerators, and clothes washers, according to energy savings. Enacted with industry support, this incentive boosts U.S. manufacturing as well as energy efficiency. The Association of Home Appliance Manufacturers says 40,000 jobs are affected by this incentive: at least 17,000 direct manufacturing jobs and 23,000 support jobs.  
Incentives to help grow the alternative-fuels sector:
The Second-Generation Biofuel Producer Credit (Section 40) provides a $1.01 tax credit per gallon of cellulosic or algal biofuel production. Although it could benefit from several changes, the credit is the bedrock tax incentive for potentially sustainable alternatives to petroleum.
The Alternative Fuel Infrastructure Tax Credit (Section 30C) helps individuals and businesses invest in recharging infrastructure that supports electric vehicles. Ideally, a multi-year extension would provide the necessary certainty to reinforce private investment across the electric and fuel cell vehicle markets.
The Incentive for Fuel Cell Vehicles (26 USC 30B), which expires this year,provides a substantial tax credit to defray the cost of new fuel cell vehicles. Because it is performance-based, it provides a greater incentive for light duty fuel cell vehicles that achieve greater mileage performance. These vehicles represent an opportunity to shift the transportation sector from petroleum to hydrogen.
Commuter Transit and Parking Benefits
Monthly commuting costs are reduced by excluding them from federal taxation. Drivers benefit from this provision via cheaper parking at their sites of employment. Providing this benefit for transit and vanpool users as well puts them on par with drivers and delivers an effective incentive for choosing these cleaner and more energy-efficient means of transportation, benefiting communities and the environment as well as workers.
In short, we need every wind turbine, solar panel, electric vehicle, and energy-efficient heater if we're going to cut the carbon pollution driving climate change and to move the U.S. closer to a more stable and prosperous future. Both chambers of Congress should follow Chairman Wyden's lead and waste no time reinstating the full suite of clean energy credits.
——–
YOU ALSO MIGHT LIKE
Obama's 2015 Budget Proposes Billions in Clean Energy Funding
50,000 Wind Energy Supporters Call on Incoming Senate Committee Leader to Extend Tax Credit
Congressman Declares Wind Tax Credit 'Dead'
——– 
EcoWatch Daily Newsletter
With hydropower accounting for 69 percent of generating capacity, Washington State has one of the nation's cleanest energy profiles.
Still, 14 percent of the state's grid is powered by coal and that portion accounts for 81 percent of the state's climate pollution from electricity. The majority of the electricity comes from a coal plant in Colsrip, MT.
The state is searching for clean and local solutions and could find them in two reports from the Sierra Club—Washington State's Next Big Step to Clean Electricity, Climate Protection and 21st Century Jobs and Employment Effects of Investing in Select Electricity Resources in Washington State.
"These two reports together create a roadmap for the Governor, the legislature, and utilities for replacing coal," said Doug Howell, Washington State campaign director for the Sierra Club's Beyond Coal campaign. "Done right, our businesses, communities and working families can benefit from hundreds of millions of dollars of investments into energy efficiency upgrades, solar, and wind generation."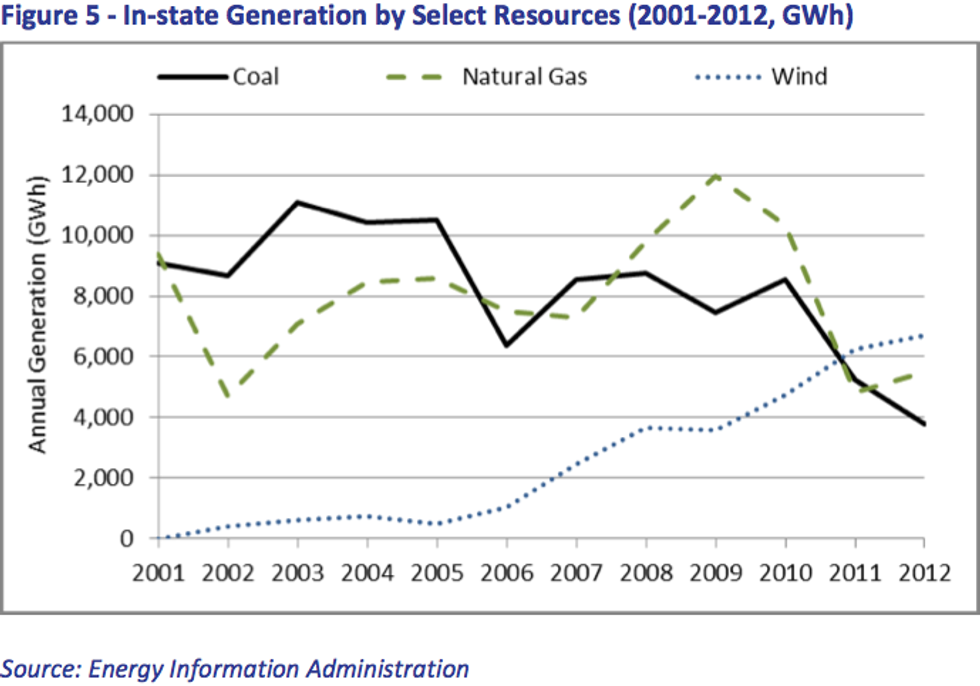 Washington is already the sixth-largest producer of wind energy  in the nation, and that source has the greatest growth potential in the state, the "Employment Effects" study says. Citing the National Renewable Energy Laboratory, the study estimates that Washington could produce 55,550 gigawatt (GW) hours from 18,000 megawatts (MW) of potential capacity. That amount excludes 70 percent of windy land that was unavailable for development.
"Our analysis find that replacing out-of-state coal generation with cleaner, local resources will bear significant fruit in terms of jobs in the state," said Tyler Coming of Synapse Energy Economics. "And for every unit of generation that is replaced—new solar PV, wind and energy efficiency would each create more jobs than new natural gas could create in the state."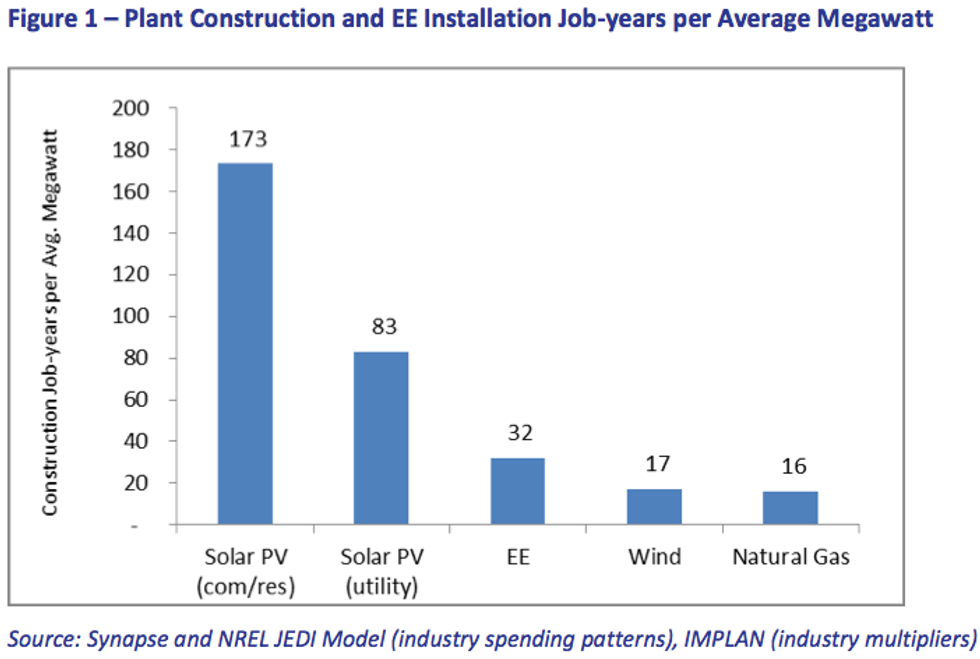 One of the studies examines the job impact of capital investments, operations and maintenance of renewable energy projects. Measured by job years per MW, solar photovoltaic (PV) has the largest impact, with 173 job years for commercial and residential projects.
Both studies point to policy as the best way to achieve even more clean energy resources in Washington. Gov. Jay Inslee and a bipartisan legislative workgroup kicked off a set of hearings regarding carbon reduction goals and clean energy investment for Washington. The Climate Legislative Executive Workgroup will meet again this week.
"This study confirms that as we work to achieve our greenhouse gas reduction goals and a clean energy future, Washington workers and families will be winners, as well as the environment," said State Rep. Joe Fitzgibbon (D-24). "Our state has innovative programs and has invested in energy efficiency for more than 25 years. Now is the time to act."

CBD, one of the many compounds found in the cannabis plant, has been getting a lot of attention recently. Some of it good and some of it bad. Increasingly, people in the UK are turning to CBD oils for help in relieving pain, anxiety, sleep and a host of other health issues.
<p>While CBD is gaining in popularity, and more products are becoming available on the high street and online, there is little scientific research to back the claims made by CBD product manufacturers. That's why if you're going to buy CBD oil it is important to understand what you're purchasing and to choose products from brands that lab test their products and make the results available to customers.</p><p>To help you find the best CBD oil available in the UK, we've done all the hard work and created a list of the best CBD oil brands and products that are available online for you to choose from.</p><p>To create this list of CBD oil producers and sellers, we've:</p><ul class="ee-ul"><li>Spoken with over 100 different producers</li><li>Tested over 50 products for potency, quality and accuracy of labelling</li><li>Tried every product on the list</li></ul><p>It is important to note that the details for the products listed here are not intended for diagnosing, treating, curing or preventing any particular disease. If you take prescription medicines you should speak to your GP or other healthcare professional before you take CBD oil about possible drug on drug interactions.</p><p>In this buyer's guide to CBD oils in the U.K., you'll find:</p><ul class="ee-ul"> <li>A list of the brands we trust most</li><li>A price comparison chart to help you find the best value CBD oil</li><li>The potential benefits that you can derive from CBD oil</li><li>CBD dosage recommendations.</li><li>How to pick the best CBD oil for your needs</li></ul><p>CBD oil works differently for everyone and just because something works well for a friend or colleague doesn't necessarily mean it'll be as effective for you. Fortunately, there are many options out there to choose from. The CBD market is growing fast, however, quality can vary between brands, which is why we have conducted our own research to compile a list of CBD products that we think are the best.</p><p>We've tested CBD oils for taste, consistency, cannabinoid profile, value, and accuracy of lab test results to compile our list of the best CBD oils available online today.</p><p>We update our list each month as we test more brands and find new products our readers may like. Our readers also provide feedback on the brands they've tried and like or don't rate so much. We take our readers' feedback into consideration when we make our Buyer's Guides.</p><p>We also work directly with many of the leading CBD brands to bring you their latest offers and discounts, so it's worth checking back to see how you can continue to get the best value CBD oils for your money.</p><h2>The Best CBD Oils in the U.K.</h2>