This website uses cookies to ensure you get the best experience while browsing it. By clicking 'Got It' you're accepting these terms.


The best of EcoWatch, right in your inbox. Sign up for our email newsletter!
Photo taken at the Muree hill station in Pakistan.
Najafali05
Imran Khan, who's set to become Pakistan's next prime minister, has a goal of planting 10 billion trees across the country in five years, Climate Change News reported.
The former cricket star's political party, Pakistan Tehreek-e-Insaf (PTI), won last week's elections and campaigned on several environmental initiatives.
About 20,000 schools in the province of Punjab in Pakistan will convert to solar power, according to government officials.
EcoWatch Daily Newsletter
I received an email from Sarah Khan, a 15-year-old working to raise awareness about environmental issues affecting girls in Pakistan. She asked me if I could help promote the film she recently submitted to the Girls Impact the World Film Festival.
Having never heard of the Girls Impact the World (GITW) Film Festival, I quickly hopped online to learn more. The GITW is a film festival and scholarship program in which high school and undergraduate college students submit 3-5 minute short films that focus on a variety of global women's issues, including maternal health, microfinance, child-marriage, sex-trafficking, poverty alleviation and more. The purpose of the films are to raise awareness about current issues affecting women and girls around the world and/or propose solutions to current challenges faced by women.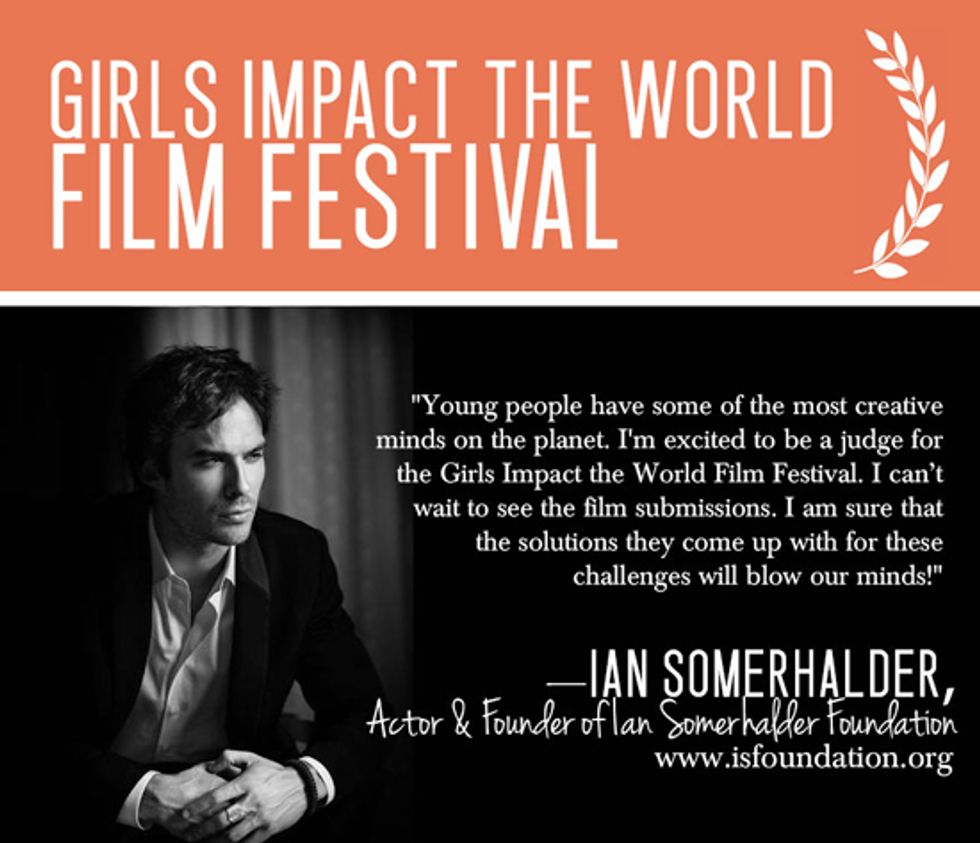 The GITW is presented by the Harvard College Social Innovation Collaborative and Connecther. This year the Ian Somerhalder (IS) Foundation and GITW have partnered to present the inaugural GITW/Green IS Award.
"Young people have some of the most creative minds on the planet. I'm excited to be a judge for the Girls Impact the World Film Festival. I can't wait to see the film submissions. I am sure that the solutions they come up with for these challenges will blow our minds," said Ian Somerhalder, actor and founder of IS Foundation.
An official screening and red carpet event will take place at the Harvard University campus in Cambridge, MA on Feb. 22. Winners will receive a monetary prize, film distribution channels via SIC, Connecther and Creative Visions networks, as well as an internship opportunity at Creative Visions in Los Angeles. Confirmed judges include Ian somerhalder, Christy Turlington Burns (founder of Every Mother Counts), Jeff Skoll (founder of Participant Media), Jean Oelwang (CEO of Virgin Unite) and Zainab Salbi (Founder of Women for Women International).
Thanks to Sarah Khan for sharing her film and making me aware of this inspiring film festival. Six films are in the final round to receive the GITW/Green IS Award. We'll be featuring the other five films throughout the week.
Khan's short film, Harvesting Hope, highlights the implications of chemical pesticides on women in the cotton fields.
"I made this film to raise the voices of the women and girls I met in the cotton fields, and raise awareness about this issue which has not received the attention it requires," said Khan.
Visit EcoWatch's HEALTH page for more related news on this topic.

By John Light
Climate change is already hurting the world's most vulnerable populations. Those who live in areas hit hard by drought, severe storms or rising seas and can't relocate because of economic or social factors bear the brunt of our planet's increasing volatility.
One way the changing climate has already made itself known is through a devastating drought—and ensuing food shortage—in Syria; it created a powder keg, and played a significant role in sparking the country's civil war. We can expect to see similar scenarios unfold in the future.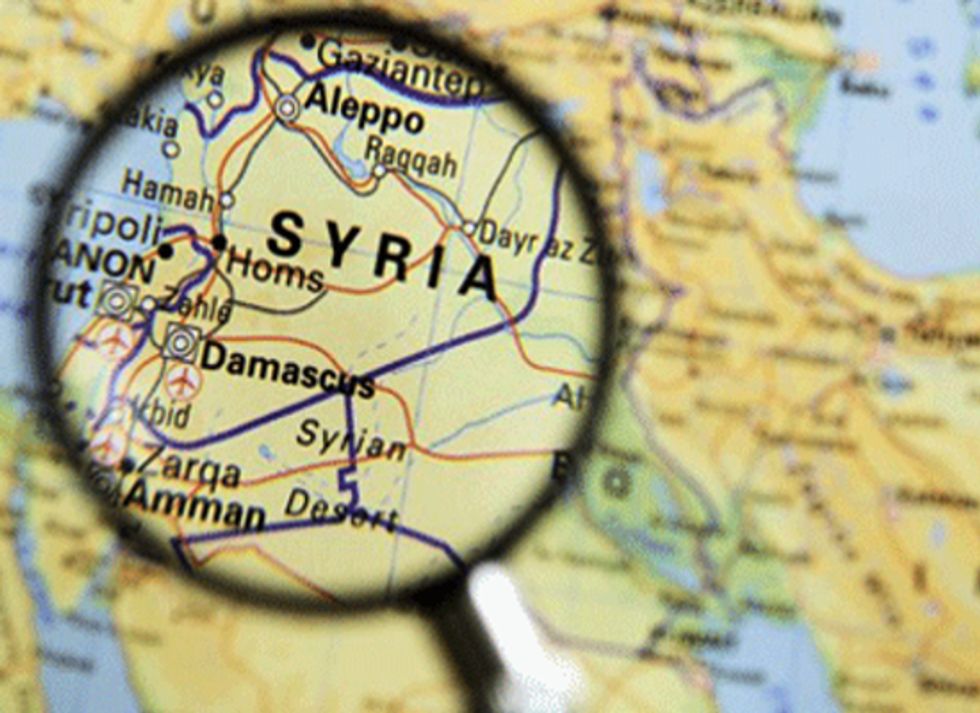 Moyers & Company's John Light spoke with Francesco Femia, co-founder of the Center for Climate and Security—a think tank with an advisory board consisting of retired military commanders and international affairs experts—about how climate change serves as a "threat multiplier" in volatile regions such as Syria, Egypt and Pakistan, and what America's role should be in a world in which climate change increasingly exacerbates—and cause—international crises:

Light: What's been going on with Syria's water resources over the past several years?
Femia: Essentially, a massive, five-and-a-half-year drought. From 2006 to 2011, 60 percent of Syria's land experienced, in the words of one expert, the worst long-term drought and most severe set of crop failures since agricultural civilizations began in the Fertile Crescent many millennia ago. That, on top of natural resource mismanagement by the Assad regime—subsidizing water-intensive wheat and cotton farming and unsustainable irrigation techniques—led to a large amount of devastation.
There are some quite frightening numbers. Herders and farmers in the north and south had to pick up and move. Nearly 75 percent of farmers in the northeast suffered total crop failure. Herders in the northeast lost around 85 percent of their livestock, which affected about 1.3 million people. That was happening before the civil war in Syria broke out.
Many international security analysts were saying, right up to the day before protest broke out in the small rural town of Daraa, that Syria was immune to the Arab Spring and to the grievances that other Arab publics had brought to bear on their leaders. And that clearly wasn't the case.
There was quite a bit of displacement happening; millions were trekking into urban areas. Those urban areas were experiencing quite a bit of economic insecurity. Some of that was also coming from poverty and competition from other influxes of people—for example, Iraqi refugees who had been flowing into Syria since 2003, and also Palestinian refugees. These were cities that were already hard-pressed economically.
There wasn't a lot of information on this until quite recently. The Assad regime wasn't allowing journalists access to these farmers and herders who were moving into the cities. The military would often accompany the migrants to make sure that journalists had no access. But under the surface of what seemed to be a stable country, there was a large-scale environmental and human disaster happening.
Light: How would you explain to a security analyst that this is related to climate change?
Femia: Part of the picture that was missing when we started looking into this issue were the climate dynamics. A National Oceanic and Atmospheric Administration study published in October 2011 showed that there was strong evidence that the recent prolonged period of drought in the Mediterranean littoral area, including the Middle East, is linked to climate change. It was one of the first studies linking climate to observable changes as opposed to just looking out at projected changes.
And then a recent model of climate impact for the future conducted by the International Food Policy Research Institute projected that if current rates of greenhouse gas emissions continue, yields of rain-fed crops in Syria will likely decline between 29 and 57 percent from 2010 to 2050. That's a huge number.
And when you look at the effects of the drought on people within Syria, we can see that displacement has put strains on urban areas and could have contributed to the spread of unrest in Syria.
Of course the conflict is ongoing, and it's very difficult to study anything that's happening in Syria at this point. We still have yet to disentangle the line from climate and drought, to displacement, to conflict. We're not making any causal claims about climate change causing conflict, but it certainly is what the security community calls a "threat multiplier." It makes other threats to human security worse, and in this case we see it fast at hand.
If security analysts had been incorporating environmental security variables, including climate, into their assessments of how stable Syria was, they may have been able to make a different assessment of Syria's stability and warned policymakers.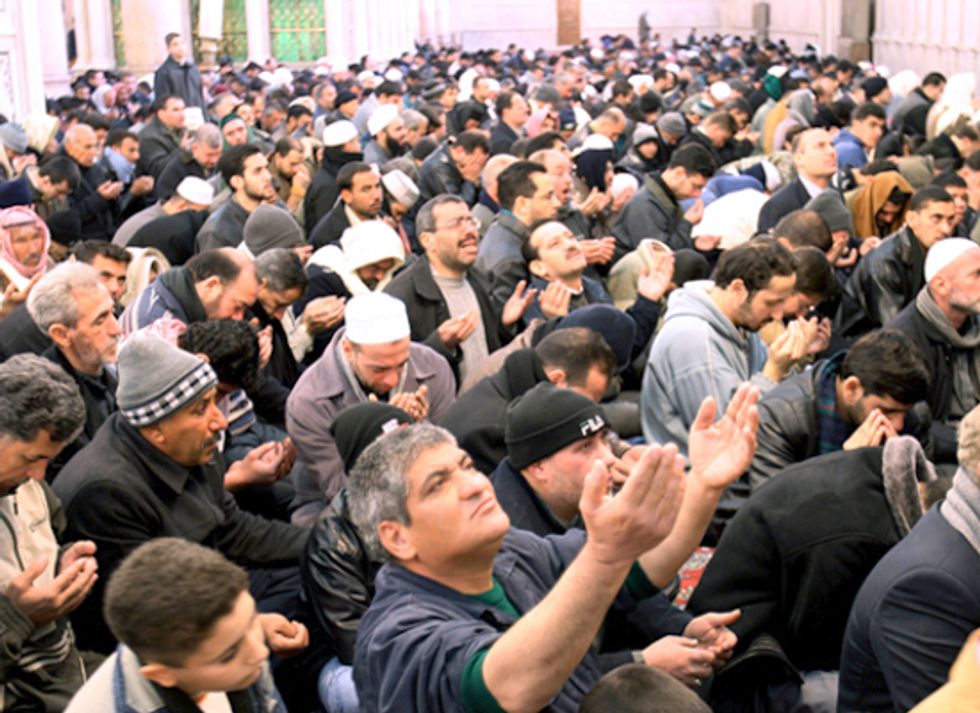 Light: What are some other effects of climate change that you can see exacerbating tensions in already-tense areas?
Femia: Climate change primarily manifests itself through water. But it varies; different kinds of water, different ways. It can lead to more extreme weather events: either a drought or a major storm or an amount of rainfall that's unusual and leads to flooding. It's not just scarcity, it's too much, too little and unpredictably. For example, it's already difficult to predict how the monsoon season will change from year to year. It's the same with droughts in the Sahel behaving differently.
And then with salt water you have the problem of sea level rise and ocean acidification. Sea level rise is likely to devastate infrastructure along the coastlines, but it will also have a significant impact on freshwater and the economies that are tied to coastal infrastructure, which go far inland in many countries. It's not divorced from fresh water: sea level rise can penetrate aquifers that are close to the coast and then you have salt water intrusion, which makes that fresh water useless. Egypt is going to be facing a pretty significant problem in the future as a result of this, a problem that it doesn't need, as its coastal aquifers—there are many, there's a lot of water there— have sea water intrude. A significant part of Egypt's economy is based on that area of the Nile delta in and around the coastline, and a lot of the country's population is there.
Light: How do these climate change-related conflicts—what we see now in Syria, or what we will see elsewhere in the future—affect U.S. security interests? How should we be thinking about these conflicts strategically?
Femia: The U.S. has started to define its security not just in terms of potential conflicts between nations but also in terms of how failed and fragile states might contribute to transnational security problems. These states can pose any number of problematic security risks, whether it's a sharp increase in cross-border refugee movement creating refugee crises, whether it's the implosion of a state that leads to the proliferation of non-state actors—terrorist organizations that might feed on such a situation—or the proliferation of weapons. It can also lead to significant food insecurity, which can have global implications.
For example, Pakistan is a very worrying place, not just because you have a number of terrorist organizations that operate in Pakistan, but also because they have a lot of nuclear material, fissile material and weapons floating around in that country. At the same time, Pakistan is quite vulnerable to the effects of glacial melting, which provides a lot of its water. We saw the impacts of flooding in Pakistan not that long ago, which displaced millions of people. So you don't want to place this climate strain on a country that's already so fragile and vulnerable. There are a lot of security problems associated with the situation on the ground in places like Pakistan, places like East Africa, etc.
We also need to look at the issue in a broader sense. Obviously, arctic melt is going to affect the movement of goods. Climate change may be affecting the movement of fisheries in, for example, places like the South China Sea. It's a main shipping lane for the U.S. The South China Sea is very important for both the U.S. and China, and global trade, and is sort of a sticking point, with many disputes over who can operate in what part of the sea. Climate change is going to have security implications across the globe and conflict is just one area of concern.
Light: How would you recommend America address the increasing number of conflicts exacerbated by climate change?
Femia: What the U.S. should do in this context is, first, focus on integrating climate change and environmental security variables into how it analyzes intelligence and how it looks at the conflict potential of a region or nation. What that means is that the analysts—not just in the intelligence community but also in places like U.S. Agency for International Development (USAID) and the State Department—who look at parts of the world and try to anticipate what might go wrong in these areas, they really need to look at the climate and environmental security variables that impact people's lives and also look out 10, 15, 20 years at potential conflicts down the line.
Secondly, the U.S. has to do the same sort of thing in its broader national security planning. The Department of Defense has actually been leading the charge in this area. For example, in 2010, it included climate change in its quadrennial defense review. The Navy has a task force on climate change looking at the impacts of sea level rise, not just on the Navy itself, but on how that might influence national security.
Thirdly, based on those assessments, put some resources into the issue. We put a lot of money—oftentimes with bipartisan support—into counterterrorism. We put a lot of money into nonproliferation. But we don't see that level of resources going into combating climate change. I'd say the U.S., by elevating this issue in its national security thinking, should prioritize devoting resources to both adapting to climate change itself and to helping countries that are vulnerable adapt to climate impacts. It should be a bipartisan issue. It is a national security issue. There's nothing ideological about the problem. Climate change is happening and we should do something about it. There are differences in how to go about addressing the issue, but in general this is something that there should be widespread agreement on. When you look at it in the context of security, it's obvious that this has nothing to do with party divisions and we should be putting the necessary resources into it.
Part of the problem is some analysts will say, "well, we don't want, for example, the military doing much about climate change, that's not what they do." Well, that's true. But if you let this problem get out of hand you're going to have a number of situations in the future, whether they're major disasters or conflicts, that our security forces may have to respond to. It will cost us a lot more in the long term if we do nothing now.
Visit EcoWatch's CLIMATE CHANGE page for more related news on this topic.
——–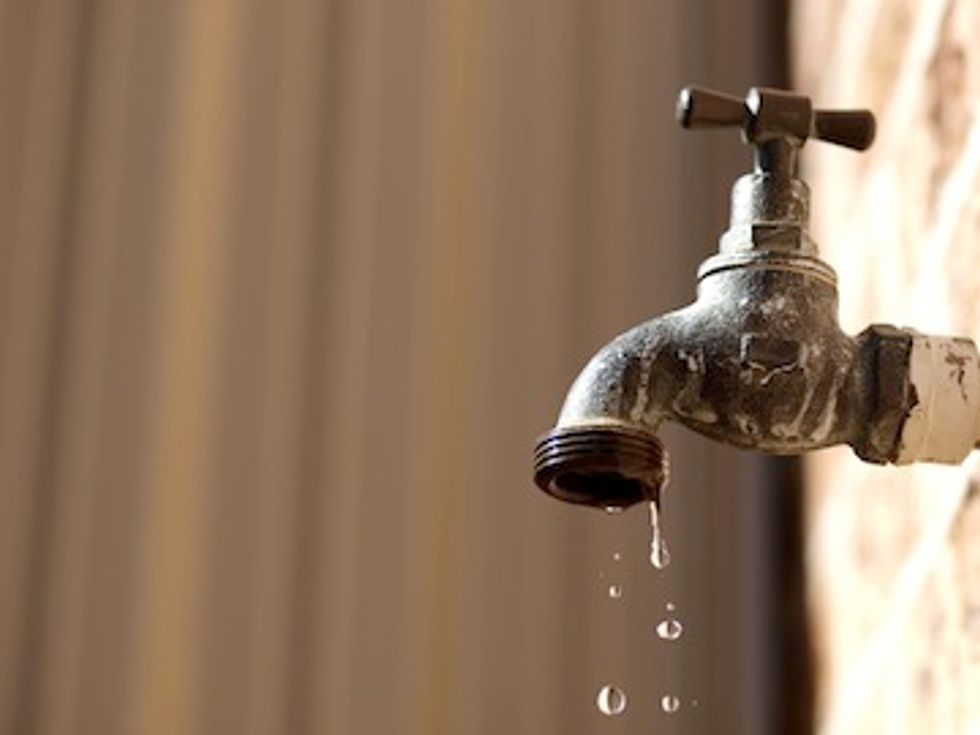 Photo courtesy of Shutterstock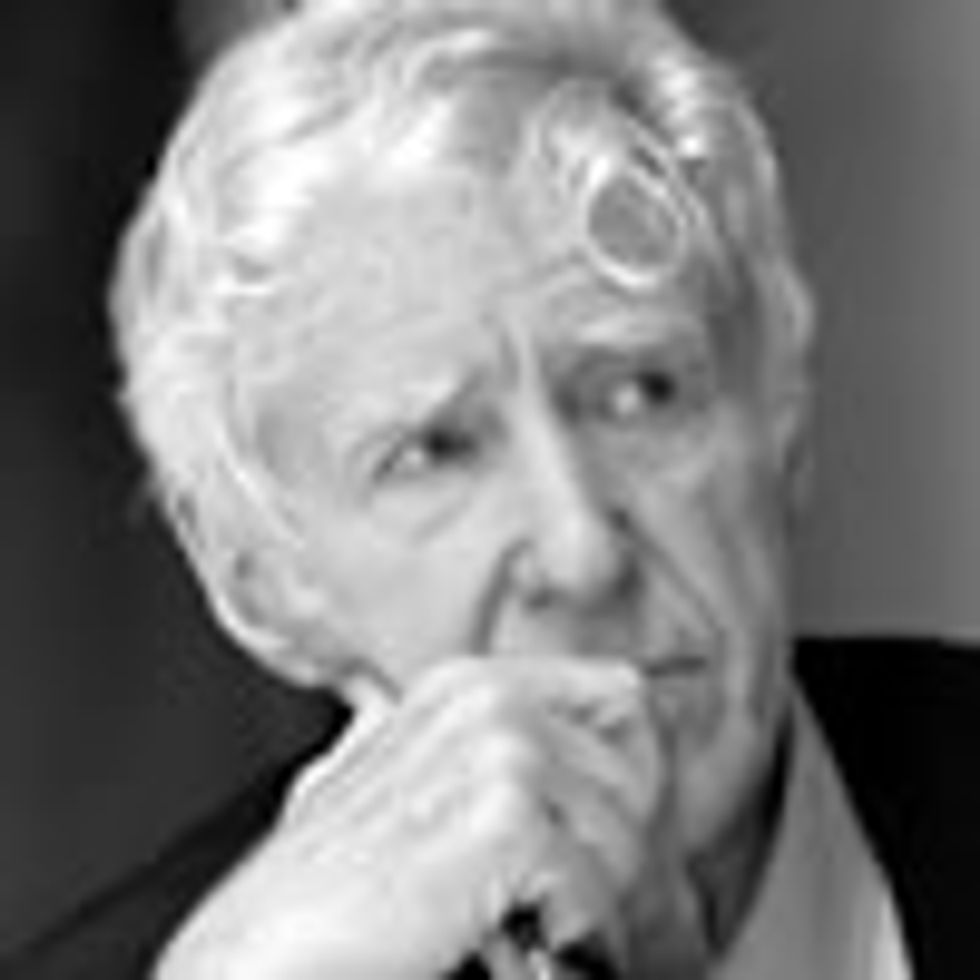 Peak oil has generated headlines in recent years, but the real threat to our future is peak water. There are substitutes for oil, but not for water. We can produce food without oil, but not without water.
We drink on average four liters of water per day, in one form or another, but the food we eat each day requires 2,000 liters of water to produce, or 500 times as much. Getting enough water to drink is relatively easy, but finding enough to produce the ever-growing quantities of grain the world consumes is another matter.
Grain consumed directly supplies nearly half of our calories. That consumed indirectly as meat, milk and eggs supplies a large part of the remainder. Today, roughly 40 percent of the world grain harvest comes from irrigated land. It thus comes as no surprise that irrigation expansion has played a central role in tripling the world grain harvest over the last six decades.
During the last half of the twentieth century, the world's irrigated area expanded from close to 250 million acres (100 million hectares) in 1950 to roughly 700 million in 2000. This near tripling of world irrigation within 50 years was historically unique. But since then the growth in irrigation has come to a near standstill, expanding only 10 percent between 2000 and 2010.
In looking at water and our future, we face many questions and few answers. Could the world be facing peak water? Or has it already peaked?
Farmers get their irrigation water either from rivers or from underground aquifers. Historically, beginning with the Sumerians some 6,000 years ago, irrigation water came from building dams across rivers, creating reservoirs that then enabled them to divert the water onto the land through a network of gravity-fed canals. This method of irrigation prevailed until the second half of the twentieth century, where with few sites remaining for building dams, the prospects for expanding surface irrigation faded. Farmers then turned to drilling wells to tap underground water resources.
In doing so, they learned that there are two types of aquifers: those that are replenishable through rainfall, which are in the majority, and those that consist of water laid down eons ago, and thus do not recharge. The latter, known as fossil aquifers, include two strategically important ones, the deep aquifer under the North China Plain and the Ogallala aquifer under the U.S. Great Plains.
Tapping underground water resources helped expand world food production, but as the demand for grain continued climbing, so too did the amount of water pumped. Eventually the extraction of water began to exceed the recharge of aquifers from precipitation, and water tables began to fall. And then wells begin to go dry. In effect, overpumping creates a water-based food bubble, one that will burst when the aquifer is depleted and the rate of pumping is necessarily reduced to the rate of recharge.
Today some 18 countries, containing half the world's people, are overpumping their aquifers. Among these are the big three grain producers—China, India and the U.S.—and several other populous countries, including Iran, Pakistan and Mexico.
During the last couple of decades, several of these countries have overpumped to the point that aquifers are being depleted and wells are going dry. They have passed not only peak water, but also peak grain production. Among the countries whose use of water has peaked and begun to decline are Saudi Arabia, Syria, Iraq and Yemen. In these countries peak grain has followed peak water.
Nowhere are falling water tables and the shrinkage of irrigated agriculture more dramatic than in Saudi Arabia, a country as water-poor as it is oil-rich. After the Arab oil export embargo in 1973, the Saudis realized they were vulnerable to a counter-embargo on grain. To become self-sufficient in wheat, they developed a heavily subsidized irrigated agriculture based heavily on pumping water from fossil aquifers.
After being self-sufficient in wheat for over 20 years, the Saudis announced in early 2008 that, with their aquifers largely depleted, they would reduce wheat planting by one eighth each year until 2016, when production would end. By then Saudi Arabia projects it will be importing some 15 million tons of wheat, rice, corn and barley to feed its 30 million people. It is the first country to publicly project how aquifer depletion will shrink its grain harvest.
Syria, a country of 22 million people riddled by civil war, is also overpumping its underground water. Its grain production peaked in 2001 and during the years since has dropped 32 percent. It, too, is becoming heavily dependent on imported grain.
In neighboring Iraq, grain production has plateaued over the last decade. In 2012 it was dependent on the world market for two thirds of its consumption. In addition to aquifer depletion, both Syria and Iraq are also suffering from a reduced flow in the Tigris and Euphrates rivers as upstream Turkey claims more water for its own use.
In Yemen, a nation of 24 million people that shares a long border with Saudi Arabia, the water table is falling by roughly six feet a year as water use outstrips aquifer recharge. With one of the world's fastest-growing populations and with water tables falling throughout the country, Yemen is fast becoming a hydrological basket case. Grain production has fallen by nearly half over the last 40 years. By 2015, irrigated fields will be a rarity and the country will be importing virtually all of its grain. Living on borrowed water and borrowed time, Yemen could disintegrate into a group of tribal fiefdoms warring over water.
Thus in the Arab Middle East the world is seeing the collision between population growth and water supply at the regional level. For the first time in history, grain production is dropping in a geographic region with nothing in sight to arrest the decline. Because of the failure of governments in the region to mesh population and water policies, each day now brings 9,000 more people to feed and less irrigation water with which to feed them.
Other countries with much larger populations  are also near or beyond peak water. In Iran, a country with 77 million people, grain production dropped 10 percent between 2007 and 2012 as irrigation wells started to go dry. One-quarter of its current grain harvest is based on overpumping. With its population growing by a million people per year, it, too, faces a day of reckoning.
Pakistan, with a population of 182 million that is growing by 3 million per year, is also mining its underground water. Most of its irrigation water comes from the Indus river system, but in the Pakistani part of the fertile Punjab plain, the drop in water tables appears to be similar to the better-known fall that is occurring in India.
Observation wells near the twin cities of Islamabad and Rawalpindi showed a fall in the water table between 1982 and 2000 that ranged from three to six feet a year. In the Pakistani province of Balochistan, which borders Afghanistan, water tables around the capital, Quetta, are falling by 3.5 meters (11.5 feet) per year—pointing to the day when the city will run out of water. Sardar Riaz A. Khan, former director of Pakistan's Arid Zone Research Institute in Quetta, reports that six of Balochistan's seven basins have exhausted their groundwater supplies, leaving their irrigated lands barren.
In a World Bank study, water expert John Briscoe says: "Pakistan is already one of the most water-stressed countries in the world, a situation which is going to degrade into outright water scarcity due to high population growth." He then notes that "the survival of a modern and growing Pakistan is threatened by water."
In Mexico—home to a population of 122 million that is projected to reach 156 million by 2050—the demand for water is outstripping supply. Mexico City's water problems are well known. Rural areas are also suffering. In the agricultural state of Guanajuato, the water table is falling by six feet  or more a year. In the northwestern wheat-growing state of Sonora, farmers once pumped water from the Hermosillo aquifer at a depth of 40 feet. Today they pump from over 400 feet. Mexico may be near peak water use. Peak grain may be imminent.
In addition to these small and midsize countries, aquifer depletion now also threatens harvests in the big three grain producers—China, India and the U.S.—that together produce half of the world's grain. The question is not whether water shortages will affect future harvests in these countries, but rather when they will do so.
Among the big three, dependence on irrigation varies widely. Some four fifths of China's grain harvest comes from irrigated land, most of it drawing on surface water, principally the Yellow and Yangtze rivers. For India, three fifths of its grain is irrigated, mostly with groundwater. For the U.S., only one-fifth of the harvest is from irrigated land. The bulk of the grain crop is rain-fed, produced in the highly productive Midwestern Corn Belt where there is little or no irrigation.
Falling water tables are already adversely affecting harvest prospects in China, which rivals the U.S. as the world's largest grain producer. A groundwater survey released in Beijing in 2001 indicated that the water table under the North China Plain, an area that produces half of the country's wheat and a third of its corn, was falling fast. Overpumping has largely depleted the shallow aquifer, forcing well-drillers to turn to the region's deep aquifer, which is not replenishable.
The survey reported that under Hebei Province in the heart of the North China Plain, the average level of the deep aquifer was dropping nearly 10 feet per year. Around some cities in the province, it was falling twice as fast. He Qingcheng, head of the groundwater monitoring team, notes that as the deep aquifer is depleted, the region is losing its last water reserve—its only safety cushion.
In 2010, He Qingcheng reported that Beijing was drilling down 1,000 feet to reach an aquifer, five times deeper than 20 years ago. His concerns are mirrored in the unusually strong language of a World Bank report on China's water situation that foresees "catastrophic consequences for future generations" unless water use and supply can quickly be brought back into balance.
As serious as water shortages are in China, they are even more alarming in India, where the margin between food consumption and survival is so precarious. In India, whose population is growing by 15 million per year, irrigation depends heavily on underground water. And since there are no restrictions on well drilling, farmers have drilled more than 27 million irrigation wells and are pumping vast amounts of underground water.
In this global epicenter of well drilling, pumps powered by heavily subsidized electricity are dropping water tables at an alarming rate. Among the states most affected are Punjab, Haryana, Rajasthan and Gujarat in the north and Tamil Nadu in the south. In North Gujarat the water table is falling by 20 feet per year. In Tamil Nadu, a state of 72 million people, water tables are falling everywhere. Kuppannan Palanisami of Tamil Nadu Agricultural University noted in 2004 that 95 percent of the wells owned by small farmers have dried up, reducing the irrigated area in the state by half over the preceding decade.
India's grain harvest has been expanding rapidly in recent years, but in part for the wrong reason, namely massive overpumping. A World Bank study estimates that 15 percent of India's food supply is produced by mining groundwater. Stated otherwise, 175 million Indians are now fed with grain produced with the unsustainable use of water. As early as 2004, Fred Pearce reported in New Scientist that "half of India's traditional hand-dug wells and millions of shallower tube wells have already dried up, bringing a spate of suicides among those who rely on them. Electricity blackouts are reaching epidemic proportions in states where half of the electricity is used to pump water from depths of up to a kilometer."
As India's water tables fall, larger farmers are using modified oil-drilling technology to reach water, going as deep as 1,000 feet in some locations. In communities where underground water sources have dried up entirely, all agriculture is now rain-fed and drinking water must be trucked in. Tushaar Shah of the International Water Management Institute says of India's water situation: "When the balloon bursts, untold anarchy will be the lot of rural India."
In the U.S., farmers are over-pumping in the Great Plains, including in several leading grain-producing states such as Texas, Oklahoma, Kansas, and Nebraska. In these states, irrigation has not only raised wheat yields but it has also enabled a shift from wheat to corn, a much higher-yielding crop. Kansas, for example, long known as the leading wheat state, now produces more corn than wheat.
Irrigated agriculture has thrived in these states, but the water is drawn from the Ogallala aquifer, a huge underground water body that stretches from Nebraska southwards to the Texas Panhandle. It is, unfortunately, a fossil aquifer, one that does not recharge. Once it is depleted, the wells go dry and farmers either go back to dryland farming or abandon farming altogether, depending on local conditions.
In Texas, a large grain and cattle state, whose northern part overlies the shallow end of the Ogallala, irrigated grain area peaked in 1975. Since then it has shrunk by two-thirds, with the most precipitous drop in recent years. In Kansas the peak came in 1982 and irrigated grain area has since fallen 41 percent. Nebraska, now also a leading corn-producing state, saw its irrigated area peak most recently, in 2007. Even though aquifer depletion is reducing grain output in several key states, it is not yet sufficient to reduce the overall U.S. grain harvest, the bulk of which is produced in the rain-fed Midwestern Corn Belt.
At the international level, water conflicts, such as the one in the Nile river basin between Egypt and the upstream countries, make the news. But within countries it is the competition for water between cities and farms that preoccupies political leaders. Indeed, in many countries farmers now face not only a shrinking water supply as aquifers are pumped dry, but also a shrinking share of that shrinking supply.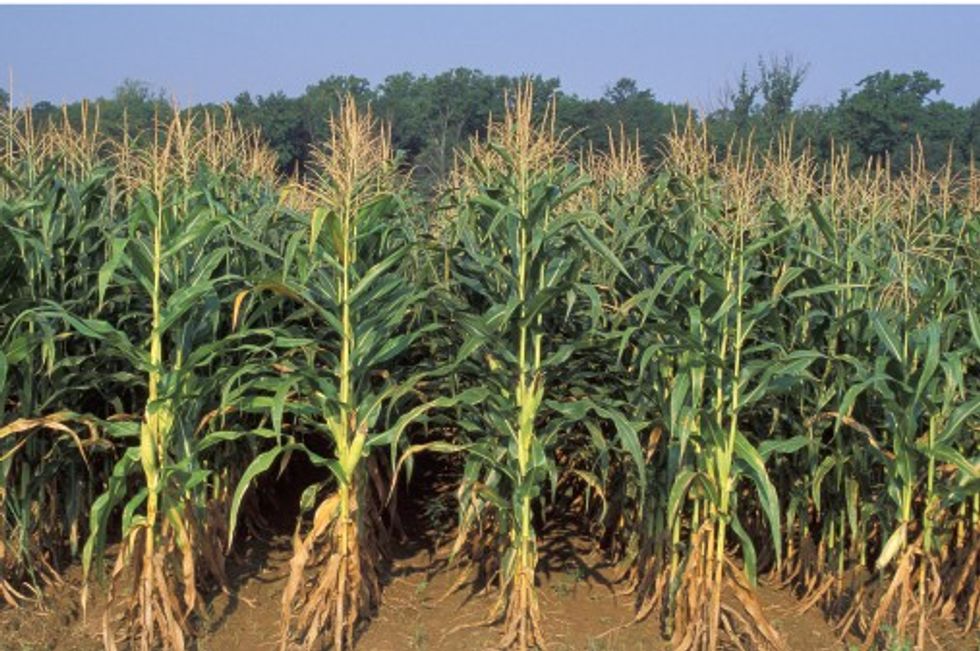 In large areas of the U.S., such as the southern Great Plains and the Southwest, virtually all water is now spoken for. The growing water needs of major cities and thousands of small towns often can be satisfied only by taking water from agriculture. As the value of water rises, more farmers are selling their irrigation rights to cities, letting their land dry up. Hardly a day goes by without the announcement of a new sale. Half or more of all sales are by individual farmers or their irrigation districts to cities and municipalities.
In the largest farm-to-city water transfer in U.S. history, farmers in California's highly productive Imperial Valley agreed in 2003 to send San Diego County enough water to meet the household needs of close to one million people each year. The agreement spans 45 years. This could reduce food production in the Imperial Valley, a huge vegetable garden not only for California, but for countless other markets as well. Writing from the area in the New York Times, Felicity Barringer notes that many fear that "a century after Colorado River water allowed this land to be a cornucopia, unfettered urban water transfers could turn it back into a desert."
Colorado, with a fast-growing population, has one of the world's most active water markets. Cities and towns of all sizes are buying irrigation water rights from farmers and ranchers. In the Arkansas river basin, which occupies the southeastern quarter of the state, Colorado Springs and Aurora (a suburb of Denver) have already bought water rights to one-third of the basin's farmland. Aurora has purchased rights to water that was once used to irrigate 19,000 acres of cropland in the Arkansas valley. The U.S. Geological Survey estimates that 400,000 acres of farmland dried up statewide between 2000 and 2005.
Colorado is not alone in losing irrigation water. Farmers in rural India are also losing their irrigation water to cities. This is strikingly evident in Chennai (formerly Madras), a city of 9 million on the east coast. As a result of the city government's inability to supply water to many of its people, a thriving tank-truck industry has emerged that buys water from nearby farmers and hauls it to the city's thirsty residents.
For farmers near cities, the market price of water typically far exceeds the value of the crops they can produce with it. Unfortunately the 13,000 privately owned tank trucks hauling water to Chennai are mining the region's underground water resources. As water tables fall, eventually even the deeper wells will go dry, depriving rural communities of both their food supply and their livelihood.
In the competition for water between farmers on the one hand and cities and industries on the other, farmers always lose. The economics do not favor agriculture. In countries such as China, where industrial development and the jobs associated with it are an overriding national economic goal, agriculture is becoming the residual claimant on the water supply.
Where virtually all water has been claimed, cities can typically get more water only by taking it from irrigation. Countries then import grain to offset the loss of irrigated grain production. Since it takes 1,000 tons of water to produce one ton of grain, importing grain is the most efficient way to import water. Thus trading in grain futures is, in a sense, trading in water futures. To the extent that there is a world water market, it is embodied in the world grain market.
We can now see how overpumping, whether in the Middle East or the U.S. Great Plains, can lead to aquifer depletion and shrinking grain harvests. In short, peak water can lead to peak grain. For some countries this is no longer merely a theoretical possibility. It is a reality.
Thus far, aquifer depletion has translated into shrinking harvests only in smaller countries in the Middle East. When we look at middle-sized countries such as Iran, Mexico and Pakistan, with tightening water supplies, we see that Iran is already in deep trouble. It is feeling the effects of shrinking water supplies from overpumping. Pakistan may also have reached peak water. If so, peak grain may not be far behind. In Mexico, the water supply may have already peaked. With less water for irrigation, Mexico may be on the verge of a downturn in its grain harvest.
In summarizing prospects for the three big grain producers—the U.S., China and India—we see sharp contrasts. In the U.S., the irrigated grainland is starting to shrink largely as a result of depletion of the Ogallala aquifer, making it more difficult to rapidly increase overall grain production.
China, with four-fifths of its grain harvest coming from irrigated land, relies heavily on irrigation, but it is largely river water. A notable exception to this is the all-important North China Plain which relies heavily on underground water. With tight water supplies in northern China and with cities claiming more irrigation water, the shrinking water supply will likely reduce the harvest in some local situations. And before long it could more than offset production gains, leading to an absolute decline in China's grain harvest.
Of the big three countries, the one most vulnerable to overpumping is India. Three-fifths of its grain harvest comes from irrigated land. And since only a minor share of its irrigation water comes from rivers, India is overwhelmingly dependent on underground water. Its millions of wells, each powered with a diesel engine or electric motor, are dropping water tables at an alarming rate. Accurate data are hard to come by, but India may have already passed peak water. The question is, will peak water be followed by peak grain or is there enough unrealized technological potential remaining to raise yields enough to offset any imminent losses from wells going dry?
The world has quietly transitioned into a situation where water, not land, has emerged as the principal constraint on expanding food supplies. There is a large area of land that could produce food if water were available.
Water scarcity is not our only challenge. Just as harvests are shrinking in some countries because of aquifer depletion, they are shrinking in other countries because of soil erosion. Among the more dramatic examples are Mongolia and Lesotho, which have each seen their grain area shrink as a result of soil erosion. And as a result of overplowing and overgrazing, two huge new dust bowls are forming in the world today, one in northwest China and the other in the Sahelian region of Africa. These giant dust bowls dwarf the U.S. Dust Bowl of the 1930s.
The bottom line is that water constraints—augmented by soil erosion, the loss of cropland to nonfarm uses, a plateauing of yields in major producing areas and climate change—are making it more difficult to expand world food production. The question raised is this: is it conceivable that the negative influences on future food production could one day offset the positive ones, leading to a cessation in the world grain harvest?
Visit EcoWatch's WATER and FOOD pages for more related news on this topic.
——–
Asia Pacific has surpassed the rest of the world in its consumption of materials and will continue to dominate world material flows, according to a new United Nations Environment Programme (UNEP) report released today.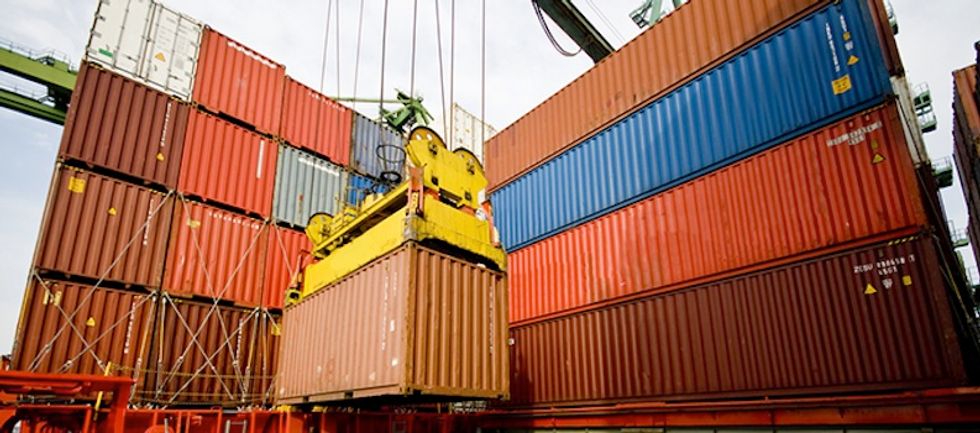 The region's trade balance indicates that the current rate of exploitation of its resource base is no longer sufficient to support the region's fast-growing economies and changing lifestyles. From 1970-2008, consumption of construction minerals increased 13.4 times, metal ores and industrial minerals consumption 8.6, fossil fuels 5.4 and biomass 2.7 times.
The data indicates that, at this rate, the region will be increasingly dependent on imports and unable to sustain its economies and lifestyles. The current rate of consumption is also having a negative impact on the environment.
The report, Recent Trends in Material Flows and Resource Productivity in Asia and the Pacific, presents an insight of the 2011 Resource Efficiency: Economics and Outlook for Asia and the Pacific (REEO) report on material flows and resource productivity in Asia and the Pacific. It brings together data extending the latest reported year up to 2008 and thus includes the onset of the global financial crisis.
The report highlights the region's material intensity—consumption of materials per dollar of Gross Domestic Product (GDP)—as an area of serious concern, as this will increase pressures on the environment and exceed the region's rapid growth. Currently, material intensity for Asia Pacific is three times the rest of the world.
"Each dollar of GDP requires increasing amount of materials," said Dr. Park Young-Woo, regional director of UNEP Regional Office for Asia and the Pacific. "The findings do not give signs of decoupling material consumption and natural resource use from economic growth in the region."
"Resource efficiency needs to increase rapidly to offset material growth in the Asia Pacific region, which needs systems innovations in urban areas, transportation modes, energy production and economic structure," he added.
Almost all of the world's growth in domestic material consumption, from the onset of the global financial crisis in 2008, can be attributed to Asia Pacific, which now shapes the world trajectory on growth in material consumption, according to the report.
Domestic materials consumption increased from 6.2 billion tonnes to 37.5 billion tonnes between 1970 and 2008, an annual growth rate of 4.8 percent. China and India heavily account for consumption by 2008, with China accounting for more than 60 percent of the regional total domestic material consumption, and India contributing more than 14 percent. The regional average per-capita material consumption now stands at 89 percent that of the rest of the world.
China shows the most dramatic trends in recent years: Per-capita material consumption increased by 25 percent between 2005 and 2008. China has reinforced its position as a net importer of materials (in particular petroleum) due to strong domestic demand, contrary to the common perception of China as a mass exporter. 
China has shown good progress in improving resource efficiency since the 1980s, but this has slowed down recently. It is still far less resource-efficient than the Asia Pacific and global averages.
In India, overall material consumption has remained low. However, metal ores and industrial minerals use grew by 8.6 percent each year over the period from 1998 to 2008, which indicates that India is entering a rapid acceleration phase in its transition to an industrialized economy. The insight showed another new development since the launch of the first REEO report: the stagnation since 2004 of the previously impressive improvements in resource efficiency from 1970 to 2004.
The report found that the region is moving from a biomass- to minerals-based economy, indicating that the most-populous countries like China and India are transitioning from agrarian to industrialized economies. Biomass dropped from more than half to 25 percent of the region's domestic extraction, while construction materials grew to 51.4 percent.
Population growth was also found to be the least-important driver of growing extractive pressures on the environment. Growing affluence and material intensity were cited as primary drivers and any effort to stabilize extractive pressure will need to address both, according to the report.
"The findings of the report conclude that countries in Asia and the Pacific face even greater challenges to make the transition of current economic growth patterns towards green growth, and to transform the economies into truly green economy, despite the strong efforts in development of policies and strategies by member countries," said Dr. Park. 
The report also underlined the urgent need for policymakers in the region to be vigilant in using of the latest data when developing their policies. It recommends the establishment of a global harmonized database that shares material use data for all countries as an important step in helping policymakers and businesses anticipate resource issues, and to provide academia with reliable data to support decision makers with the policy relevant science.
Country specific highlights
Australia: Extraction per capita is driven by exports of fossil fuels and metal ores. Australia is increasingly serving as an energy materials supplier to the industrial transformation in the Asia Pacific region. Resource use per capita is five times the regional and global averages. 
China: See above.
India: See above.
Indonesia: Indonesia is a massive exporter of raw materials, in particular fossil fuels. It has been an unusual case since 2005 in that material consumption per capita and material intensity have decreased in recent years, which is normally desirable. This overall trend is largely due to significant fluctuations in use of one resource group in particular: metal ores. 
Japan: Typically characterized as a stable industrialized economy with a relatively high level of resource use per capita considering the near absence of primary industry. Japan has gradually demonstrated a decline in material intensity.
Malaysia: has shown historical volatility in material use per capita. Material intensity is high compared to regional averages, but has been declining in recent years.
Pakistan: The most biomass-based economy (3t biomass/capita out of the total 4.8tmaterials/capita). The slow growth in construction material use per capita reveals the low priority of infrastructure development in this period. 
Republic of Korea (RoK): The historic material use data of the RoK clearly outlines its transition to an industrialized economy since the 1980s.
Thailand: Like many Asian industrializing countries, Thailand's material use patterns are largely dominated by construction materials. In the past years, Thailand showed promising improvements in material intensity, reducing from 4kg/$ in 2004 to 3kg/$ in 2008. 
Viet Nam: The journey from one of the lowest resource users to close to average for the region has been based on a steady acceleration in the use of construction materials (from 0.3t construction materials/cap in 1970 to 5.3t construction materials/cap in 2008). One interesting finding is a sudden decline in the export of fossil fuels from 2007 to 2008. This is partly explained by decreased extraction of fossil fuels, but also due to growing domestic demand of fossil fuels. Viet Nam may be a net importer of fossil fuels in the near future.
Visit EcoWatch's BIODIVERSITY page for more related news on this topic.
——–
Click here to tell Congress to Expedite Renewable Energy.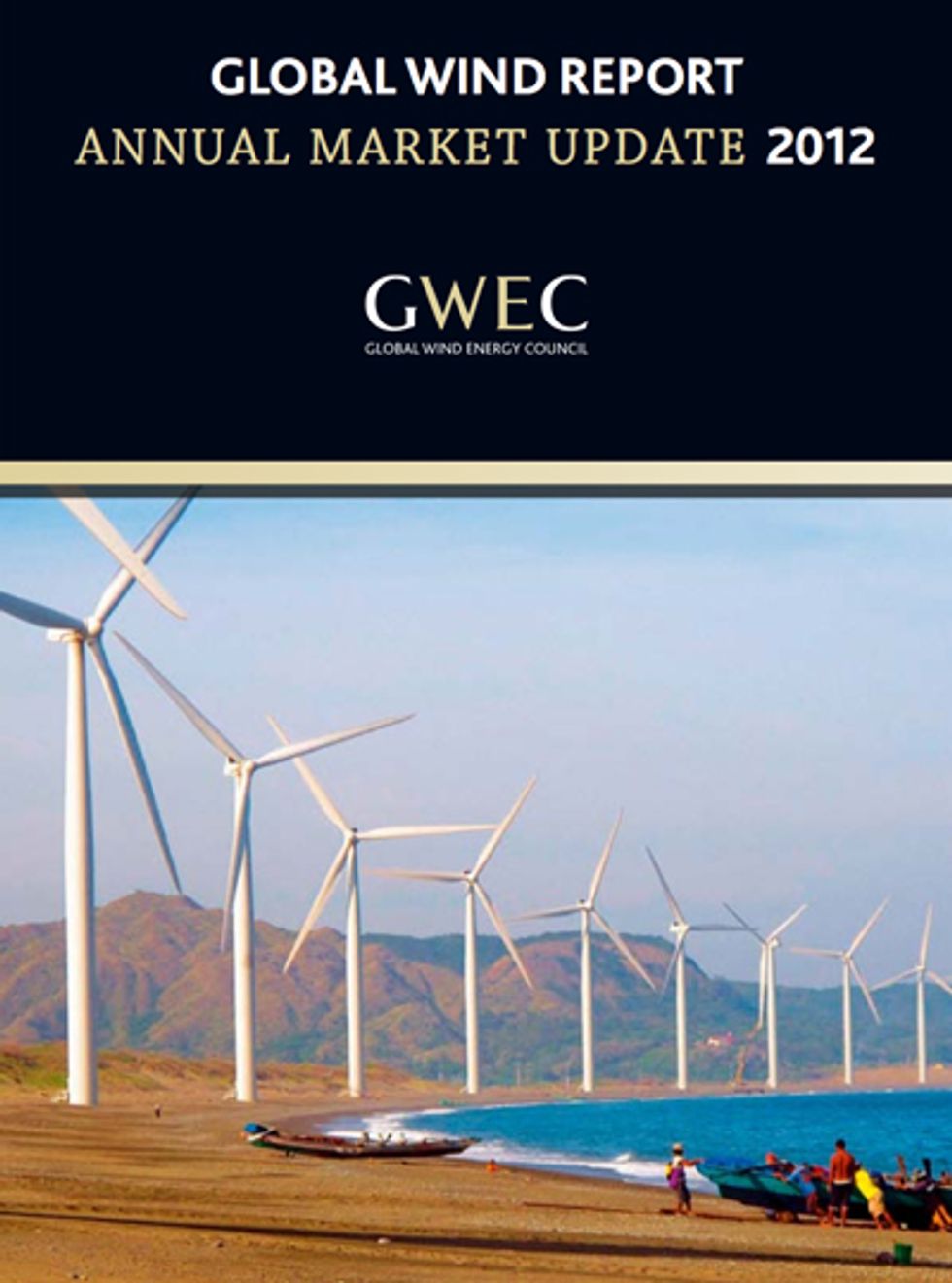 The Global Wind Energy Council (GWEC) released its Annual Market Update this week, with a comprehensive snapshot of the global wind industry at the end of 2012, along with a five year forecast out to 2017. Although policy uncertainty in the main Organisation for Economic Co-operation and Development (OECD) markets is a cause for concern, strong markets in China, India and Brazil, as well as in new markets in Latin America, Africa and the rest of Asia will drive global growth during the period.
"Wind power may be variable, but the greatest threat to the continued stable growth of the industry is the variability and unpredictability of the politicians who set the frameworks for the energy sector," said Steve Sawyer, GWEC secretary general. "However, all of the fundamentals which have driven wind power to date are still in place: energy security, price stability, local economic development, climate change mitigation and local air and water pollution issues; and wind is now competitive in an increasing number of markets, despite fossil fuel subsidies which last year amounted to an incentive to emit CO2 of about $110/tonne."
Record installations in the U.S. and Europe led global installations of 44.8 gigawatts (GW) of new wind power globally in 2012, 10 percent more than was installed in 2011. Global installed capacity has now reached 282.5 GW, a cumulative increase of almost 19 percent. The forecast is for a modest downturn in 2013, however, followed by a recovery in 2014 and beyond; with global capacity growing at an average rate of 13.7 percent out to 2017, and global capacity nearly doubling to 536 GW.
The U.S. regained the number one spot for global markets in 2012 for the first time since 2009, eking out China by 164 megawatts (MW). However, the late extension of the U.S. Production Tax Credit on January 1 means that the U.S. market will drop precipitously in 2013, although with substantial recovery expected in 2014. Europe's record installations in 2012 are unlikely to be repeated in 2014, as a result of policy uncertainty and backtracking.
"European governments are driving up the cost of meeting their 2020 renewable energy targets by making policy changes that undermine investor confidence," said Thomas Becker, CEO of the European Wind Energy Association. "An ambitious and binding 2030 renewable energy target would hugely reduce uncertainty. It would create jobs and exports and boost Europe's world-leading wind industry."

After a year of market consolidation in China, the world's largest market with over 75 GW of installed capacity, Chinese authorities are calling for 18 GW of installations in 2013; and after a year-long policy hiatus in India, the market is expected to recover and return to growth in 2014. Brazil continues to lead the Latin American market, and may surpass 2 GW of annual installations in 2013; and both Mexico and Canada are expected to grow substantially over the period.
There are also hundreds of MW under construction in South Africa, with another 500 MW expected to come to financial close this year, leading a surge in installations in sub-Saharan Africa which began in Ethiopia in 2012. In Asia, Pakistan, Mongolia, the Philippines and Thailand are all expected to see significant installations in 2013 and beyond.
Visit EcoWatch's RENEWABLES and ENERGY pages for more related news on this topic.
——–
Click here to tell Congress to Expedite Renewable Energy.