This website uses cookies to ensure you get the best experience while browsing it. By clicking 'Got It' you're accepting these terms.
Milk made from almonds, oats and coconut are among the healthiest alternatives to cow's milk. triocean / iStock / Getty Images Plus
Dairy aisles have exploded with milk and milk alternative options over the past few years, and choosing the healthiest milk isn't just about the fat content.
Whether you're looking beyond cow's milk for health reasons or dietary preferences or simply want to experiment with different options, you may wonder which type of milk is healthiest for you.
Ivan / Getty Images
By Dan Nosowitz
There has been much concern in recent years about the encroachment of factory farms onto organic territory; with the premium prices organic foods can bring, many larger farms have engaged in a race to the bottom of quality, trying to just barely squeak above the organic regulations to grab that label without adhering to the spirit of the law.
EcoWatch Daily Newsletter
Cows rotate in the milking parlor at Fair Oaks Farms, a large-scale dairy and tourist attraction, near Rensselaer, Ind. Dan Charles / NPR
By Susan Levin
When students returned to Los Angeles public schools this fall, for the first time in five years, chocolate milk was back on the menu.
No one would argue that a carton of chocolate milk—full of cholesterol, saturated fat and more sugar than two Krispy Kreme doughnuts combined—is healthy. So why has it made its way back onto the lunch line, and what can you do about it?
Why are so many people convinced that dairy is the best source of calcium? A strategic marketing campaign from the dairy industry would have us believe that by drinking milk, we will be protected from bone crippling osteoporosis, but the opposite may be true.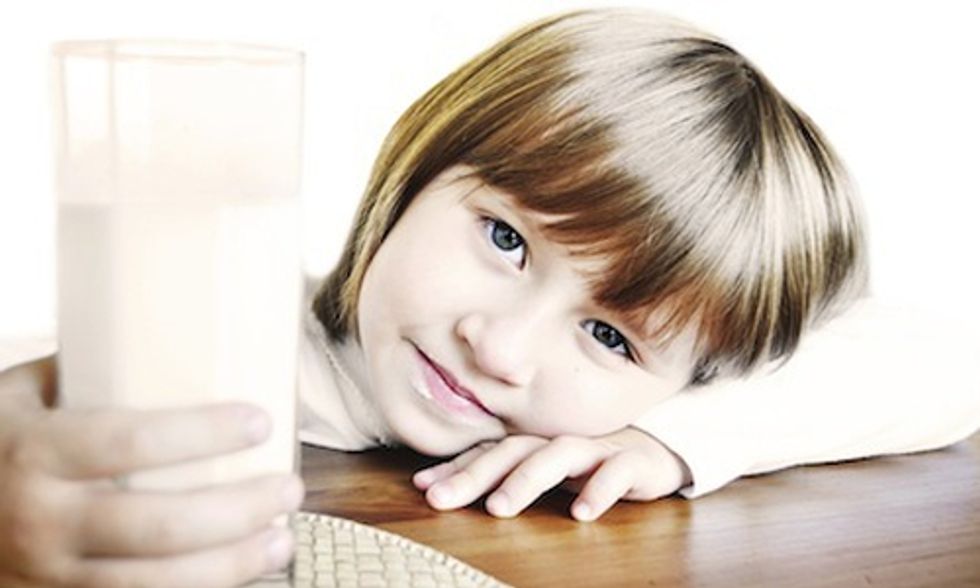 Starting them young: the dairy industry supplies school curriculum that teaches children about the "nutrition" in cow's milk. Also, most western doctors carry the "3 glasses of a milk a day for strong bones" message to their patients. So how has the dairy industry been so successful in spreading this misinformation campaign?
It might have something to do with the fact that over $8 million was spent in lobbying efforts in 2013 alone. Additionally, dairy program subsidies in the U.S. totaled $5.3 billion from 1995-2012, including $171,578,059 in "milk marketing fees." That's right, we're paying to be misled, and the hidden cost may be our impaired health.
So what is the misinformation in these campaigns? While dairy products from cows' milk does contain calcium, we don't absorb all of it. In order to absorb calcium, the body needs comparable amounts of another mineral element, magnesium. Milk and dairy products contain only small amounts of magnesium. Without the presence of magnesium, the body absorbs only 25 percent of the available dairy calcium content. Without magnesium, this excess calcium is utilized by the body in injurious ways.
Additionally, consumption of high protein dairy products like milk creates an acidic environment in the body, which triggers a release of calcium from the bones to bring the blood PH back into balance, and can cause a 50 percent loss of calcium in the urine. In other words, drinking milk leaches calcium from our bones and thereby creates a deficiency in calcium, the exact opposite of the the claims of the dairy industry.
This may explain why, as found in The China Study, the countries that are known to consume the highest levels of dairy also tend to have the highest incidence of osteoporosis.
Dr. T. Colin Campbell, the world's leading epidemiological researcher in the field of diet and health, who happened to be raised on a dairy farm, says, "The dairy folks, ever since the 1920s, have been enormously successful in cultivating an environment within virtually all segments of our society–from research and education to public relations and politics–to have us believing that cow's milk and its products are manna from heaven … Make no mistake about it; the dairy industry has been virtually in total control of any and all public health information that ever rises to the level of public scrutiny."
"The association between the intake of animal protein and fracture rates appears to be as strong as the association between cigarette smoking and lung cancer," he added.
Contrary to the dairy industry's clever marketing, there are some other reasons why dairy may not be the healthiest source of calcium. High saturated fat content of many dairy products is a risk factor for heart disease. According to Harvard, milk may also lead to an increased risk of ovarian cancer in women and a probable increased risk in prostate cancer in men.
As stated on their website, "Clearly, although more research is needed, we cannot be confident that high milk or calcium intake is safe." Another issue with milk for a lot of people, particularly those of non-Northern European descent, is lactose intolerance. For them, eating or drinking dairy products causes problems like cramping, bloating, gas and diarrhea.
Cows' milk is intended for baby cows, not humans. We are the only species that habitually drinks milk from other species, and into adulthood, no less. Dairy cows are kept continually pregnant, and their calves are separated from them upon birth, so the milk intended for them can be sold to us.
In the '40s, the average dairy cow produced less than 5,000 pounds of milk in its lifetime. Now, the average cow produces over 21,000 pounds of milk. That's with an increase of 15 percent in just the last 10 years. Cows are often genetically manipulated, artificially inseminated and drugged in order to force them to produce about four and a half times as much milk as they naturally would to feed their calves.
Factory farming has proven to be very profitable for the dairy industry, while harming air, land and water and causing needless suffering to millions of animals. Cows can live up to 25 years, but in the dairy industry cows are typically slaughtered for low-grade beef around their fifth birthday. Most male calves are slaughtered for veal, while most female calves are doomed to the same fate as their mothers.
Adequate, lifelong dietary calcium intake is necessary to reduce the risk of osteoporosis. Consuming adequate calcium and vitamin D and performing regular, weight-bearing exercise are also important to build maximum bone density and strength. With all the delicious substitutes for dairy products these days, one can easily omit dairy from their diet. According to the recommended guidelines for calcium, children ages 4 to 8 need 1000 mg; ages 9 to 13 need 1,300 mg; and adults, including lactating mothers, need 1,000 mg.
There is a long list of plant foods that supply plenty of calcium that is easily absorbed by the body: legumes, green leafy vegetables like kale, collards, mustard greens, turnip greens, bok choy, parsley, broccoli, cabbage, oats, beans, sesame seeds, almonds, asparagus, as well as fortified plant milks, fortified juices and firm tofu made with calcium-sulfate.
So when you next hear a dairy advertisement tell you that you need calcium for healthy bones, think about what they aren't telling you. There are alternatives that may not only be healthier for you, but also kinder to cows, calves and the environment.
--------
Related Content:
Europe Installs Raw Milk Vending Machines While U.S. Rules Unpasteurized Dairy Illegal
Alternatives to Factory Farmed Milk
Coalition Sues NY State for Putting Industrial Milk Production Before Clean Water
Organic milk contains significantly higher concentrations of heart-healthy fatty acids compared to milk from cows on conventionally managed dairy farms, a study led by a Washington State University (WSU) researcher has found.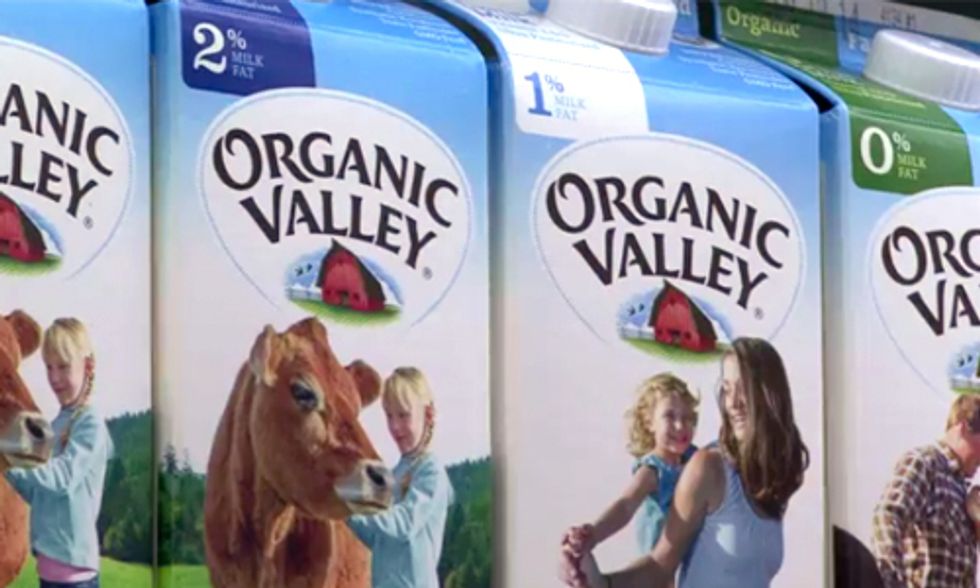 While all types of milk fat can help improve an individual's fatty acid profile, the team concludes that organic whole milk does so even better.
The study is the first large-scale, U.S.-wide comparison of organic and conventional milk, testing nearly 400 samples of organic and conventional milk over an 18-month period.
Conventional milk had an average omega-6 to omega-3 fatty acid ratio of 5.8, more than twice that of organic milk's ratio of 2.3. The researchers say the far healthier ratio of fatty acids in organic milk is brought about by a greater reliance on pasture and forage-based feeds on organic dairy farms.
A large body of research has shown that grass and legume forages promote cow health and improve the fatty acid profile in organic dairy products. Still, said WSU researcher Dr. Charles Benbrook, the study's lead author, "We were surprised by the magnitude of the nutritional quality differences we documented in this study."
After fruits and vegetables, dairy products are the largest category of the growing, $29 billion organic food sector, according to the Organic Trade Association's 2013 Organic Industry Survey.
Organic milk and cream sales were worth $2.622 billion, the survey found. Overall, organic milk accounted for 4 percent of fluid milk sales last year, according to the Milk Processor Education Program.
The consumption of more omega-6 fatty acids than omega-3 fatty acids is a well-known risk factor for a variety of health problems, including cardiovascular disease, cancer, excessive inflammation and autoimmune diseases. The higher the ratio of omega-6 to omega-3, the greater the associated health risk.
Western diets typically have a ratio of about 10-to-1 to 15-to-1, while a ratio of 2.3-to-1 is thought to maximize heart health. The team modeled a hypothetical diet for adult women with a baseline omega-6 to omega-3 ratio of 11.3 and looked at how far three interventions could go in reducing the ratio to 2.3.
They found that almost 40 percent of the needed nine-point drop could be achieved by switching from three daily servings of conventional dairy products to 4.5 daily servings of mostly full-fat organic dairy products. Women who also avoid a few foods each day that are high in omega-6 fatty acids can lower their fatty acid ratio to around 4, 80 percent of the way to the 2.3.
"Surprisingly simple food choices can lead to much better levels of the healthier fats we see in organic milk," Benbrook said.
The team also compared the fatty acids in dairy products to those in fish.
"We were surprised to find that recommended intakes of full-fat milk products supply far more of the major omega-3 fatty acid, ALA, than recommended servings of fish," said co-author and WSU research associate Donald R. Davis.
Conventional milk had about nine times more ALA than fish while organic milk had 14 times more, he said. Organic milk also is a significant source of two other omega-3 fatty acids, EPA and DPA, but not DHA.
The study was published Monday in the online journal PLOS ONE. It analyzed organic milk from cows managed by farmer-owners of the Cooperative Regions of Organic Producer Pools, or CROPP, which markets through the Organic Valley brand. The two organizations helped fund the study but had no role in its design or analysis, which was funded by the Measure to Manage program in the Center for Sustaining Agriculture and Natural Resources at Washington State University.
Check out this video that features an interview with Dr. Charles Benbrook, the study's lead author.
Visit EcoWatch's FOOD page for more related news on this topic.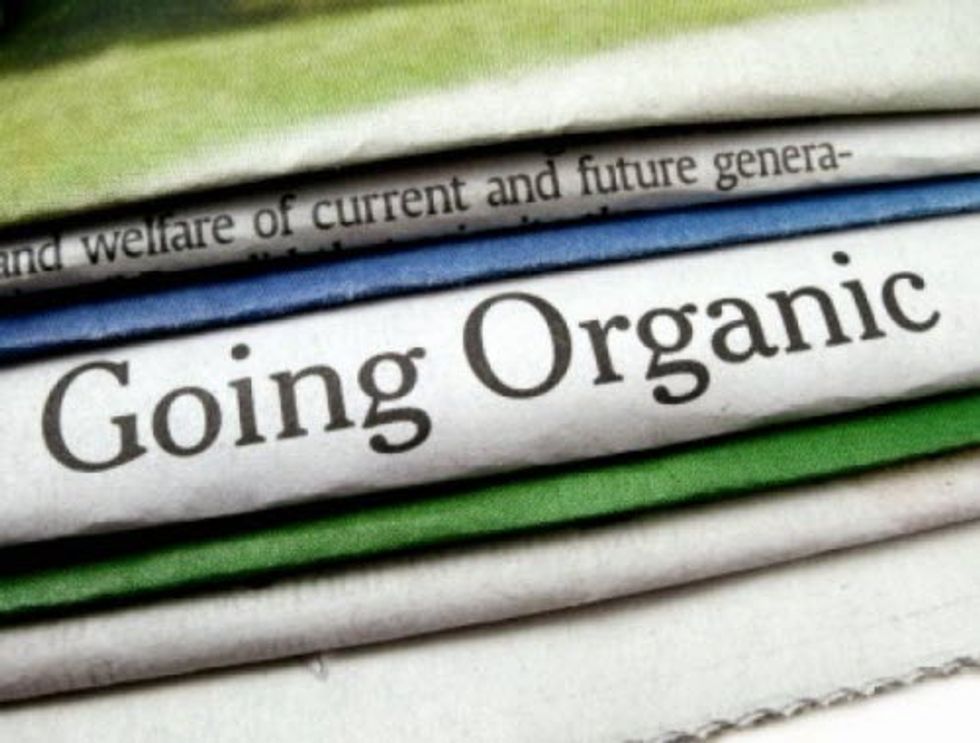 Continuing a long tradition of public participation in setting organic standards, more than 1,000 people submitted comments leading up to the National Organic Standards Board (NOSB) meeting in Savannah, Ga. between Nov. 30 and Dec. 1. To view a webcast of the 4-day meeting, click here. The comments were in response to specific agenda items which the NOSB was convening to consider, including many important materials review decisions. At the meeting, NOSB members frequently cited both individual comments and the collective weight of public opinion as decisive factors in determining how they voted. Beyond Pesticides thanks everyone who used our Keeping Organic Strong webpage as a resource for developing their comments and encourages the public to continue making your voices heard in the development of organic standards.
The NOSB was established under the Organic Foods Production Act of 1990 (OFPA) which authorizes the U.S. Department of Agriculture (USDA) to operate an organic certification program. Appointed by the U.S. Secretary of Agriculture, the 15-member NOSB is responsible for making recommendations on whether a substance should be allowed or prohibited in organic production or handling, assisting in the development of standards for substances used in organic production, and advising the secretary on other aspects of implementing OFPA. No substance can be added to the National List of Allowed and Prohibited Substances that governs material use on certified production and handling operations without a supportive recommendation from the NOSB. Beyond Pesticides Executive Director Jay Feldman received a five-year appointment to the NOSB beginning January 2010 as an environmentalist—one of seven constituencies represented on the board.
Here is a brief summary of some of the NOSB's major votes on Crop and Handling materials taken in Savannah:
Propane (odorized)
This material was petitioned for use in exploding underground devises used to kill burrowing pests, including ground squirrels. The Crops Committee voted against this allowance in advance of the meeting and the full board affirmed that decision in Savannah. Those opposed to the petition stated that there is a full range of alternative materials to odorized propane and that methods already allowed in organic systems that can effectively control rodents, including habitat modification, traps, introduction of predators (such as dogs), rodenticide baits and many others, without the adverse impacts on biodiversity and with greater efficacy. These alternatives, in a more effective and less costly manner, achieve with management what propane would achieve with off-farm synthetic inputs.
Sulfur dioxide
Under existing organic standards, sulfur dioxide can only be added to wine labeled 'made with organic grapes,' provided that the total concentration of sulfite does not exceed 100 parts per million (ppm). Only wines to which no sulfites, which function as a preservative, have been added can be labeled 'organic' and display the USDA organic seal. Arguing that this restriction holds back growth in the marketplace for organically produced wines, a number of wineries petitioned with a request that the annotation be amended to allow sulfur dioxide use and resultant concentrations of sulfites not exceeding 100 ppm in wines labeled as 'organic' and displaying the USDA organic seal.Those opposing the petition commented that the addition of sulfites to wine has not been proven to be essential and argued against adding sulfites, which are a recognized allergen, to 'organic' wine. The NOSB rejected the petition, thereby retaining the distinction between wines that are 'organic' and 'made with organic grapes.'
Copper sulfate
In advance of the Savannah meeting, the Crop Committee recommended placing additional protections on the use of copper sulfate in rice production. The committee cited concerns that routine application rates of this material results in residual copper levels that threaten aquatic organisms including amphibians both in the rice fields and downstream after the irrigation water is released. When the committee proposed a preference for a well-established cultural practice—drill seeding of rice—in lieu of chronic dependence of synthetic copper sulfate, some rice producers questioned the practicality of such a solution. In the final vote in Savannah, copper sulfate in organic rice production was retained on the national list without the preference for drill seeding when conditions allowed.
Ammonium nonanoate
This material was petitioned for use in spray applications to control weeds prior to planting food crops, at the base of grape vines and fruit trees and on the soil surface between crop rows or at the edges of plastic film mulch. Citing concerns about compatibility with organic practices and toxicity to aquatic invertebrates and the availability of several alternatives that do not require using a synthetic substance, the Crops Committee had rejected this petition and the NOSB concurred with that position.
Chlorine
The Handling Committee had proposed a recommendation to bring the use of chlorine in handling into compliance with the existing guidance policy established by the National Organic Program. This guidance will permit use of chlorine up to maximum labeled rates for sanitation of equipment and labeled uses in direct contact with products like fruits or vegetables, as long as there is a potable water rinse with no higher than drinking water levels after use. Additionally, it restricts chlorine in water used as an ingredient must to the level permitted in drinking water. Beyond Pesticides argued that this recommendation did not adequately address the significant human health and environmental risks known to result from chlorine's manufacture and release into the environment. Furthermore, adoption of this recommendation means that there will be no differentiation between the allowance for chlorine use in organic and nonorganic products. Despite Jay Feldman's dissenting vote, the NOSB approved the Handling Committee's recommendation.
For more information, click here.