This website uses cookies to ensure you get the best experience while browsing it. By clicking 'Got It' you're accepting these terms.
What the Dairy Industry Is Not Telling You
Mar. 27, 2014 10:06AM EST
Food
Why are so many people convinced that dairy is the best source of calcium? A strategic marketing campaign from the dairy industry would have us believe that by drinking milk, we will be protected from bone crippling osteoporosis, but the opposite may be true.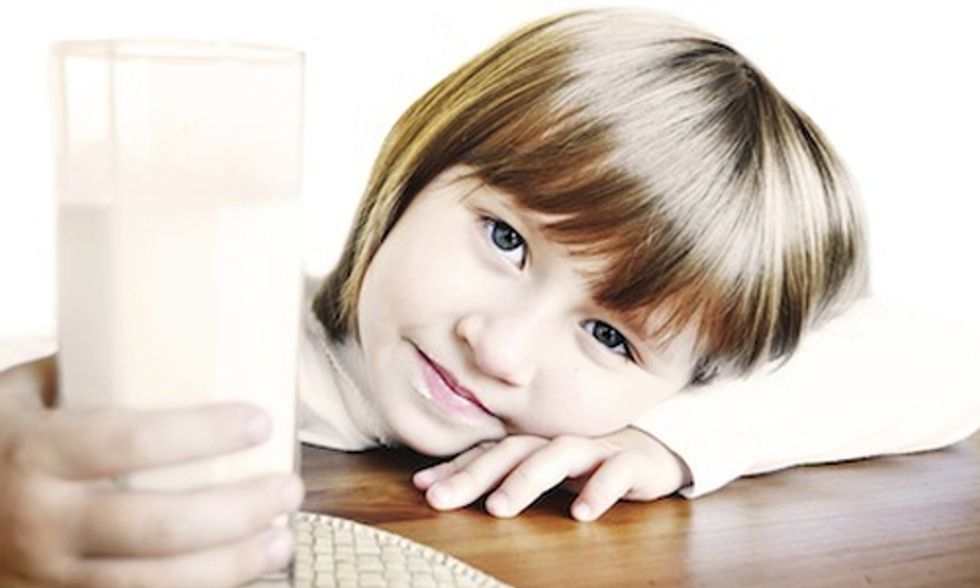 Starting them young: the dairy industry supplies school curriculum that teaches children about the "nutrition" in cow's milk. Also, most western doctors carry the "3 glasses of a milk a day for strong bones" message to their patients. So how has the dairy industry been so successful in spreading this misinformation campaign?
It might have something to do with the fact that over $8 million was spent in lobbying efforts in 2013 alone. Additionally, dairy program subsidies in the U.S. totaled $5.3 billion from 1995-2012, including $171,578,059 in "milk marketing fees." That's right, we're paying to be misled, and the hidden cost may be our impaired health.
So what is the misinformation in these campaigns? While dairy products from cows' milk does contain calcium, we don't absorb all of it. In order to absorb calcium, the body needs comparable amounts of another mineral element, magnesium. Milk and dairy products contain only small amounts of magnesium. Without the presence of magnesium, the body absorbs only 25 percent of the available dairy calcium content. Without magnesium, this excess calcium is utilized by the body in injurious ways.
Additionally, consumption of high protein dairy products like milk creates an acidic environment in the body, which triggers a release of calcium from the bones to bring the blood PH back into balance, and can cause a 50 percent loss of calcium in the urine. In other words, drinking milk leaches calcium from our bones and thereby creates a deficiency in calcium, the exact opposite of the the claims of the dairy industry.
This may explain why, as found in The China Study, the countries that are known to consume the highest levels of dairy also tend to have the highest incidence of osteoporosis.
Dr. T. Colin Campbell, the world's leading epidemiological researcher in the field of diet and health, who happened to be raised on a dairy farm, says, "The dairy folks, ever since the 1920s, have been enormously successful in cultivating an environment within virtually all segments of our society–from research and education to public relations and politics–to have us believing that cow's milk and its products are manna from heaven … Make no mistake about it; the dairy industry has been virtually in total control of any and all public health information that ever rises to the level of public scrutiny."
"The association between the intake of animal protein and fracture rates appears to be as strong as the association between cigarette smoking and lung cancer," he added.
Contrary to the dairy industry's clever marketing, there are some other reasons why dairy may not be the healthiest source of calcium. High saturated fat content of many dairy products is a risk factor for heart disease. According to Harvard, milk may also lead to an increased risk of ovarian cancer in women and a probable increased risk in prostate cancer in men.
As stated on their website, "Clearly, although more research is needed, we cannot be confident that high milk or calcium intake is safe." Another issue with milk for a lot of people, particularly those of non-Northern European descent, is lactose intolerance. For them, eating or drinking dairy products causes problems like cramping, bloating, gas and diarrhea.
Cows' milk is intended for baby cows, not humans. We are the only species that habitually drinks milk from other species, and into adulthood, no less. Dairy cows are kept continually pregnant, and their calves are separated from them upon birth, so the milk intended for them can be sold to us.
In the '40s, the average dairy cow produced less than 5,000 pounds of milk in its lifetime. Now, the average cow produces over 21,000 pounds of milk. That's with an increase of 15 percent in just the last 10 years. Cows are often genetically manipulated, artificially inseminated and drugged in order to force them to produce about four and a half times as much milk as they naturally would to feed their calves.
Factory farming has proven to be very profitable for the dairy industry, while harming air, land and water and causing needless suffering to millions of animals. Cows can live up to 25 years, but in the dairy industry cows are typically slaughtered for low-grade beef around their fifth birthday. Most male calves are slaughtered for veal, while most female calves are doomed to the same fate as their mothers.
Adequate, lifelong dietary calcium intake is necessary to reduce the risk of osteoporosis. Consuming adequate calcium and vitamin D and performing regular, weight-bearing exercise are also important to build maximum bone density and strength. With all the delicious substitutes for dairy products these days, one can easily omit dairy from their diet. According to the recommended guidelines for calcium, children ages 4 to 8 need 1000 mg; ages 9 to 13 need 1,300 mg; and adults, including lactating mothers, need 1,000 mg.
There is a long list of plant foods that supply plenty of calcium that is easily absorbed by the body: legumes, green leafy vegetables like kale, collards, mustard greens, turnip greens, bok choy, parsley, broccoli, cabbage, oats, beans, sesame seeds, almonds, asparagus, as well as fortified plant milks, fortified juices and firm tofu made with calcium-sulfate.
So when you next hear a dairy advertisement tell you that you need calcium for healthy bones, think about what they aren't telling you. There are alternatives that may not only be healthier for you, but also kinder to cows, calves and the environment.
--------
Related Content:
Europe Installs Raw Milk Vending Machines While U.S. Rules Unpasteurized Dairy Illegal
Alternatives to Factory Farmed Milk
Coalition Sues NY State for Putting Industrial Milk Production Before Clean Water
EcoWatch Daily Newsletter
Scanning electron micrograph of Yersinia pestis, which causes bubonic plague, on proventricular spines of a Xenopsylla cheopis flea. NIAID / Flickr /
CC BY 2.0
A middle-aged married couple in China was diagnosed with pneumonic plague, a highly infectious disease similar to bubonic plague, which ravaged Europe in the middle ages, as CNN reported.
Milk made from almonds, oats and coconut are among the healthiest alternatives to cow's milk. triocean / iStock / Getty Images Plus
Dairy aisles have exploded with milk and milk alternative options over the past few years, and choosing the healthiest milk isn't just about the fat content.
Whether you're looking beyond cow's milk for health reasons or dietary preferences or simply want to experiment with different options, you may wonder which type of milk is healthiest for you.
Greta Thunberg stands aboard the catamaran La Vagabonde as she sets sail to Europe in Hampton, Virginia, on Nov. 13. NICHOLAS KAMM / AFP via Getty Images
Greta Thunberg, the teenage climate activist whose weekly school strikes have spurred global demonstrations, has cut short her tour of the Americas and set sail for Europe to attend COP25 in Madrid next month, as The New York Times reported.
At least 1,688 dams across the U.S. are in such a hazardous condition that, if they fail, could force life-threatening floods on nearby homes, businesses, infrastructure or entire communities, according to an in-depth analysis of public records conducted by the the Associated Press.
By Sabrina Kessler
Far-reaching allegations about how a climate-sinning American multinational could shamelessly lie to the public about its wrongdoing mobilized a small group of New York students on a cold November morning. They stood in front of New York's Supreme Court last week to follow the unprecedented lawsuit against ExxonMobil.
By Alex Robinson
Leah Garcés used to hate poultry farmers.
The animal rights activist, who opposes factory farming, had an adversarial relationship with chicken farmers until around five years ago, when she sat down to listen to one. She met a poultry farmer called Craig Watts in rural North Carolina and learned that the problems stemming from factory farming extended beyond animal cruelty.
People navigate snow-covered sidewalks in the Humboldt Park neighborhood on Nov. 11 in Chicago. Scott Olson / Getty Images
Temperatures plunged rapidly across the U.S. this week and around 70 percent of the population is expected to experience temperatures around freezing Wednesday.
A general view of the flooded St. Mark's Square after an exceptional overnight "Alta Acqua" high tide water level, on Nov. 13 in Venice. MARCO BERTORELLO / AFP / Getty Images