This website uses cookies to ensure you get the best experience while browsing it. By clicking 'Got It' you're accepting these terms.


The best of EcoWatch, right in your inbox. Sign up for our email newsletter!
By Tara Lohan
It was 1985 and privatization, deregulation and free trade were in the air. Canadian Prime Minister Brian Mulroney and President Ronald Reagan were negotiating a free trade deal — a precursor to NAFTA. Among the goods it would cover: "Water, including … mineral waters … ice and snow."
EcoWatch Daily Newsletter
By Jake Johnson
President Donald Trump has repeatedly declared that "Americans deserve the best infrastructure in the world," but—judging by policy blueprints that have emerged from the White House in recent days—critics argue that Trump is actually planning to deliver a heavy dose of "disaster capitalism" that will hand construction projects to corporate America while running roughshod over people and the environment.
"After talking with @FLGovScott, I am removing #Florida from the draft offshore plan." Sec. Ryan Zinke / Twitter
The Trump administration will exclude Florida from its controversial offshore oil drilling plan after a plea from the state governor, Rick Scott.
"I support the governor's position that Florida is unique and its coasts are heavily reliant on tourism as an economic driver," Interior Sec. Ryan Zinke said Tuesday. "As a result of discussion with Governor Scott and his leadership, I am removing Florida from consideration for any new oil and gas platforms."
U.S. Bank building in downtown Bismarck, North Dakota. Randy Hoffman / Flickr
By Sharon Kelly
At a shareholder meeting this past spring, U.S. Bank announced it would be the first large American bank to completely stop issuing loans for oil and gas pipeline construction projects.
Environmental groups, indigenous activists and divestment advocates hailed U.S. Bank's announcement as a triumph.
Shutterstock
By Steve Horn
A new study published in the journal Science Advances has concluded that babies born within two miles of sites of fracking for natural gas in Pennsylvania's Marcellus Shale basin are more likely to have low birth weights.
Researchers from Princeton, the University of Chicago and UCLA analyzed a decade of Pennsylvania birth data from 2004 to 2013—reviewing 1.1 million birth certificates—and concluded that those babies born to mothers living in close proximity to fracking sites are more likely to weigh under 5.5 pounds at birth. Specifically, the study concluded that babies born within a kilometer (just over half a mile) of fracking sites are 25 percent more at risk of low birth weights, which comes with other health effects.
OFF Act press conference, Oct. 26, 2017. Congresswoman Tulsi Gabbard / Flickr
Reps. Tulsi Gabbard (HI-02), Barbara Lee (CA-13) and Nanette Diaz Barragán (CA-44) joined Food & Water Watch, first responders, non-profit organizations and local government officials to urge Congress to pass H.R. 3671, the OFF Fossil Fuels for a Better Future Act (OFF Act) to transition the U.S. to a 100 percent clean energy economy by 2035.
"Our country cannot passively standby while we watch the climate crisis devastate our planet and the livelihoods of working families across the country and the world," said Gabbard, who introduced the bill. "It is our obligation to protect the most vulnerable in our society, to protect our planet, to grow the economy and rebuild America's infrastructure with a stable, domestic clean energy economy."

FEMA
Update, 10/20/17: Since this piece was posted, we became aware of the Puerto Rico Aqueduct and Sewer Authority's (PRASA) boil water notice for all people who have access to running water. So, while roughly 70 percent of the island has access to tap water, it appears it is not safe to drink untreated. However, FEMA appears to be reporting this figure as potable water. We've translated the boil water notice on PRASA's site as of Oct. 20 as the following: "After service is restored—To ensure that the water is drinkable: boil it for five minutes without covering [and] add chlorine bleach (without fragrance or other detergent), using the appropriate amount for the amount of water you will use. READ THE LABEL before using to guarantee that it contains only bleach. Read the percent of bleach and add the recommend amount to the water according to the table on the left. Mix well with water and leave for 20 minutes. You should be able to smell a faint odor of bleach. If that is not the case, add more bleach and leave for another 15 minutes. You can also use bleach in pill form sold in pharmacies. Follow the instructions on the label."
It's been a month since supercharged Hurricane Maria delivered a devastating blow to Puerto Rico, and people are still suffering without food, water and electricity. This is America in 2017, and there is only more climate chaos ahead thanks to the tight fist that fossil fuel interests have on climate policy. What will the response be to this new normal—deadly hurricanes, horrific and deadly wildfires, and their equally deadly aftermath? The past few weeks of climate disasters during this historically vicious season have shown that we need to move swiftly off of greenhouse gas-spewing fossil fuels. They have also shown that if we don't prioritize an equitable and just response to these unnatural disasters, more Americans will continue to face climate-fueled humanitarian crises.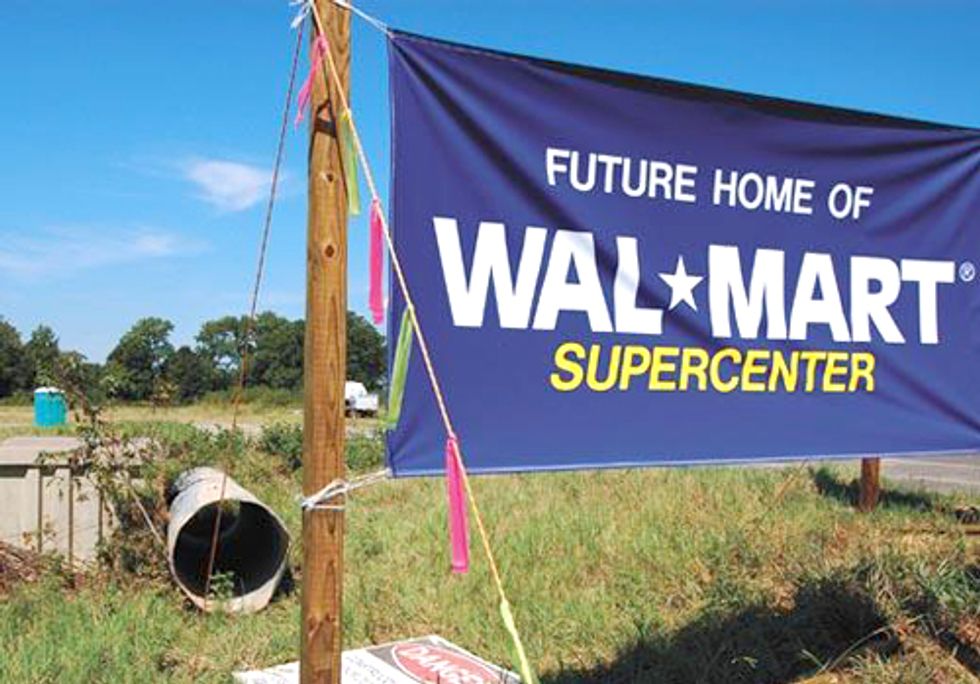 On the steps of New York City Hall on Feb. 23, national, community, food, urban and labor group leaders hosted a press conference to address Walmart's negative impact on the food system. Food & Water Watch Executive Director Wenonah Hauter and Stuart Appelbaum, president of the Retail, Wholesale, and Department Store Union (RWDSU), spoke at the event, which also marked the release of the new Food & Water Watch report, "Why Walmart Can't Fix the Food System," an analysis of the rift between Walmart's marketing claims and the true impact the company has on the food system.
This week, as the largest food retailer in the U.S. released its fourth quarter earnings, community leaders in New York gathered to call attention to the company's business model, which squeezes farmers, workers and processors, and drives food production to become more consolidated and industrialized. While Walmart has been busy promoting itself as the solution to lack of access to healthy food in urban communities, the message from City Hall was loud and clear—Walmart is not the answer and they are not wanted in New York City.
"Plunking down a big-box store in the middle of a community with a lack of access to healthy food will not solve this complicated problem," said Food & Water Watch Executive Director Wenonah Hauter. "Selling fruit and vegetables is one step, but all communities, especially those that are struggling financially, will be better served for the long term by local businesses that put money back into the community by paying livable wages and buying from local and regional suppliers and farmers whenever possible."
"This report shows Walmart has been a source of tremendous harm and devastation to workers, businesses, and communities across the country," said Stuart Appelbaum, president of the Retail, Wholesale and Department Store Union (RWDSU), UFCW. "Walmart is a great destroyer, not the great savior it claims to be. We are working with a large coalition to keep Walmart out of New York City."
"Walmart can't fix the food system, just like it can't get our communities out of poverty," said Matt Ryan, executive director of ALIGN. "It is ultimately the source of the problem, not the solution."
"I don't believe for one second that Walmart cares whether or not I have fresh vegetables; their bottom line is opening more stores and making money," said East New York resident Maria Maisonett.
"Part of the challenge to ending hunger in our communities is creating a sustainable food system that provides affordable, healthy food while also paying a living wage to food producers and other workers in the food system," said Mark Dunlea, executive director of the Hunger Action Network of NYS. Walmart unfortunately is a major factor in the corporate consolidation of our food supply, making it harder for local farmers and communities to make a decent living, while also pushing out other food retailers. Too much of Walmart's publicity about support local and organic foods is a marketing devise rather than supporting a truly local, decentralized, environmentally sound, sustainable food system."
"Brooklyn doesn't need a Walmart to eat more healthy food. It needs local businesses, paying fair wages, and a focus on a stronger sustainable regional supply chain," said Benjamin Solotaire, a volunteer with the Brooklyn Food Coalition.
"It is no surprise that the Food & Water Watch report shows how Wal-Mart is not a solution to food deserts but the actual problem," says Food Chain Workers Alliance organizer Diana Robinson. "Whether it be from factory workers in Bangladesh to warehouse and retail workers in the United States, Wal-Mart has a proven record of committing labor rights violations with its own employees. Because of Wal-Mart's dominance in the retail market, it drives down the prices that it pays its suppliers, which, in turn, drives down wages and working conditions throughout the food supply chain. 20 million people in the U.S. work in the food system, and many of the low-wage food workers live in food deserts because they cannot afford to live in neighborhoods with reasonable access to affordable fresh and healthy food. It's a vicious cycle that needs to be stopped. Wal-Mart's business practice of super low wages and super low prices is not the answer to food desserts."
For more information, click here.
—————
Food & Water Watch works to ensure the food, water and fish we consume is safe, accessible and sustainable. So we can all enjoy and trust in what we eat and drink, we help people take charge of where their food comes from, keep clean, affordable, public tap water flowing freely to our homes, protect the environmental quality of oceans, force government to do its job protecting citizens, and educate about the importance of keeping shared resources under public control.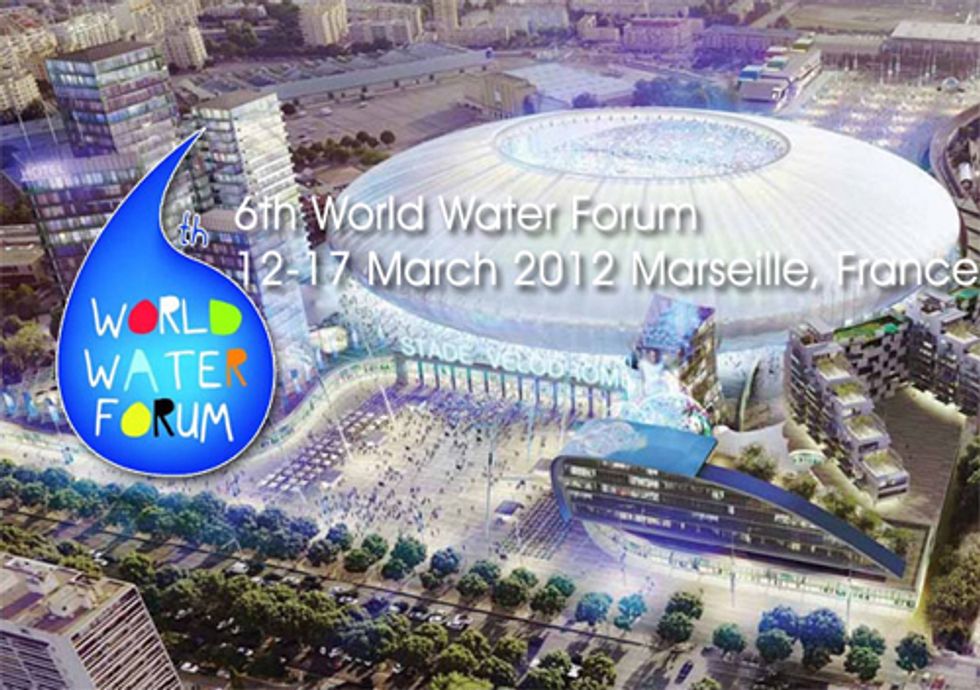 Critics of the triennial World Water Forum are encouraged by the failure on the part of forum organizers to attract large numbers to this year's event taking place March 12-17 in Marseille.
Forum organizers announced at a press conference last week that only 2,000 people had fully registered, while another 2,000 were yet to be confirmed. This falls dismally short of the 20,000 participants that had been anticipated.
The small number of registrations also comes despite the fact that various national, regional and municipal authorities have poured millions of euros of public funds into sponsorship of the event.
"It isn't just the World Water Forum that is failing," says Maude Barlow, senior advisor to the 63rd President of the UN General Assembly. "Water privatization has failed communities around the world and a growing number are now reclaiming control of their water. In this context, it is no surprise that this illegitimate Forum is no longer able to attract attention."
Notably, the Norwegian Ministry of Foreign Affairs has already stated that it will not be attending this year.
At the 2009 World Water Forum in Istanbul, 24 governments signed a counter-declaration recognizing water as a human right in opposition to the forum's official ministerial declaration. And in a scathing criticism of the World Water Forum, then-president of the United Nations General Assembly, Father Miguel d'Escoto Brockmann, called for the UN to hold its own event to address the global water crisis.
"It is significant for the World Water Forum to show signs of crisis in Marseille, which is where the World Water Council was founded," says French MEP Michèle Rivasi. "Re-municipalization is gaining speed in France, regardless of the strong support for privatization from the French government."
Groups from around the world—who view the forum as a corporate tradeshow disguised as a multi-stakeholder conference—are organizing the Alternative World Water Forum (in French, Forum Alternatif Mondial de l'Eau, or FAME). They have invited governments to a consultation with civil society outside the forum on the implementation of the human right to water.
For more information, click here.