Mario Gutiérrez / Moment / Getty Images
But before you go electric, there are a few decisions you have to make — and some planning you need to do — to make sure the car you buy fits your driving needs. Here are a few things to consider before you make the switch.
Emily is a freelance writer based in Salt Lake City, UT.
This story originally appeared in Lifehacker. It is republished here as part of EcoWatch's partnership with Covering Climate Now, a global collaboration of more than 250 news outlets to strengthen coverage of the climate story.
EcoWatch Daily Newsletter
By Sara Peach

Dear Sara,
I live in a city that does not have great transportation options, and I live far enough from my work that I am not able to walk or ride a bike. I have a 15-year-old car that I am looking to replace.
Wondering how climate change could affect you or your loved ones? Send your questions to [email protected]. Questions may be edited for length and clarity.

Sara Peach is the senior editor of Yale Climate Connections.
Reposted with permission from our media associate Yale Climate Connections.
waterlust.com / @tulasendlesssummer_sierra .
Each product featured here has been independently selected by the writer. If you make a purchase using the links included, we may earn commission.
The bright patterns and recognizable designs of Waterlust's activewear aren't just for show. In fact, they're meant to promote the conversation around sustainability and give back to the ocean science and conservation community.
Each design is paired with a research lab, nonprofit, or education organization that has high intellectual merit and the potential to move the needle in its respective field. For each product sold, Waterlust donates 10% of profits to these conservation partners.
Eye-Catching Designs Made from Recycled Plastic Bottles
waterlust.com / @abamabam
The company sells a range of eco-friendly items like leggings, rash guards, and board shorts that are made using recycled post-consumer plastic bottles. There are currently 16 causes represented by distinct marine-life patterns, from whale shark research and invasive lionfish removal to sockeye salmon monitoring and abalone restoration.

One such organization is Get Inspired, a nonprofit that specializes in ocean restoration and environmental education. Get Inspired founder, marine biologist Nancy Caruso, says supporting on-the-ground efforts is one thing that sets Waterlust apart, like their apparel line that supports Get Inspired abalone restoration programs.
"All of us [conservation partners] are doing something," Caruso said. "We're not putting up exhibits and talking about it — although that is important — we're in the field."
Waterlust not only helps its conservation partners financially so they can continue their important work. It also helps them get the word out about what they're doing, whether that's through social media spotlights, photo and video projects, or the informative note card that comes with each piece of apparel.
"They're doing their part for sure, pushing the information out across all of their channels, and I think that's what makes them so interesting," Caruso said.
And then there are the clothes, which speak for themselves.
Advocate Apparel to Start Conversations About Conservation
waterlust.com / @oceanraysphotography
Waterlust's concept of "advocate apparel" encourages people to see getting dressed every day as an opportunity to not only express their individuality and style, but also to advance the conversation around marine science. By infusing science into clothing, people can visually represent species and ecosystems in need of advocacy — something that, more often than not, leads to a teaching moment.

"When people wear Waterlust gear, it's just a matter of time before somebody asks them about the bright, funky designs," said Waterlust's CEO, Patrick Rynne. "That moment is incredibly special, because it creates an intimate opportunity for the wearer to share what they've learned with another."
The idea for the company came to Rynne when he was a Ph.D. student in marine science.
"I was surrounded by incredible people that were discovering fascinating things but noticed that often their work wasn't reaching the general public in creative and engaging ways," he said. "That seemed like a missed opportunity with big implications."
Waterlust initially focused on conventional media, like film and photography, to promote ocean science, but the team quickly realized engagement on social media didn't translate to action or even knowledge sharing offscreen.
Rynne also saw the "in one ear, out the other" issue in the classroom — if students didn't repeatedly engage with the topics they learned, they'd quickly forget them.
"We decided that if we truly wanted to achieve our goal of bringing science into people's lives and have it stick, it would need to be through a process that is frequently repeated, fun, and functional," Rynne said. "That's when we thought about clothing."
Support Marine Research and Sustainability in Style
To date, Waterlust has sold tens of thousands of pieces of apparel in over 100 countries, and the interactions its products have sparked have had clear implications for furthering science communication.
For Caruso alone, it's led to opportunities to share her abalone restoration methods with communities far and wide.
"It moves my small little world of what I'm doing here in Orange County, California, across the entire globe," she said. "That's one of the beautiful things about our partnership."
Check out all of the different eco-conscious apparel options available from Waterlust to help promote ocean conservation.
Melissa Smith is an avid writer, scuba diver, backpacker, and all-around outdoor enthusiast. She graduated from the University of Florida with degrees in journalism and sustainable studies. Before joining EcoWatch, Melissa worked as the managing editor of Scuba Diving magazine and the communications manager of The Ocean Agency, a non-profit that's featured in the Emmy award-winning documentary Chasing Coral.
By Ben Jervey
As federal support for electric vehicles (EVs) is expected to wither under the Trump administration, state-level policies will play the biggest political role in how quickly battery powered motors replace the internal combustion engine.
Yet, at this critical moment when state governments should be supporting zero-emission vehicles, many states are cutting their incentives, while others are penalizing EV drivers outright.
Ready to Buy an #EV? Here's How to Save Big https://t.co/5UzTV2dRb6 @sierraclub @ChevyElectric @Toyota @Ford @Nissan @NissanElectric

— EcoWatch (@EcoWatch)1482256717.0
In a recent article for the New York Times, Hiroko Tabuchi explores a number of efforts underway in state capitals across the country that are making the transition to electric cars a steeper uphill climb.

These speed bumps take two main forms:
1. The canceling of tax credits that support EV sales and leases.
2. New registration fees that disproportionately penalize battery-powered vehicles.
These legislative attacks on EVs bear the fingerprints of Big Oil, which sees the electrification of the transportation sector as the biggest single threat to the oil industry. Groups funded by the likes of ExxonMobil and the Koch brothers are supporting the measures and in some cases, even writing the bills.
State Financial Support for EV Sales Slacking
Over the past decade, nearly half of all of the states and the District of Columbia have had some kind of financial incentive for EV sales on the books—typically in the form of an income tax credit or a straight-up rebate. But this support is fading, as some states cancel the incentives and others let them expire.
Today, only 16 states (plus the District of Columbia) still offer tax credits or rebates and at least two states are voting in the current legislative session on whether or not to extend or repeal the benefits.
In Utah, a bill that would have extended the state's EV tax credit (of up to $1,500) through 2021 was just voted down, failing by a single vote. Meanwhile, in Colorado, which had offered the country's most generous EV incentive, legislators will soon vote on a bill that would cancel the $6,000 tax credit for purchasers of EVs.
As Tabuchi noted:
"The measure in Colorado has been backed publicly by Americans for Prosperity, an advocacy group founded by the conservative billionaire brothers David H. and Charles G. Koch, whose wealth is founded on their petrochemicals empire."

The rollback of sales incentives has come at the same time as many states are introducing new fees that directly penalize plug-in owners for their choice to drive zero emission vehicles that charge off the local electric grid.
Registration Fees for EVs
Coming into the 2017 state legislative sessions, 10 states impose extra fees to register electric vehicles.
National Conference of State Legislatures
This year, policymakers in nine states have introduced legislation that would charge a higher rate for EV registrations than for conventional internal combustion vehicles. (Another state, Illinois, is debating a bill that would raise the EV registration rate, which is currently lower, to match gas-powered vehicles).

Kansas and Indiana are both debating a $150 annual fee. Montana started out with a bill featuring a $300 annual fee, but that was negotiated down to $95 per year, which passed their house and has moved into the state senate. New Hampshire, South Carolina, Minnesota, Arizona and even California have some sort of EV fee winding through the legislature.
Proponents of higher EVs fees say that they are necessary to ensure that plug-in cars pay their fair share for the roads. Typically and universally within the U.S., highway funds are raised from revenue from gasoline taxes. Because EV drivers don't buy gas, they aren't chipping in for those highway funds.
However, the Sierra Club's Electric Vehicles Initiative director, Gina Coplon-Newfield, told DeSmog that this argument fails the tests of basic math, saying, "When you look at the financial numbers, they don't add up at all."
First of all, Coplon-Newfield noted, "conventional vehicles have become far more efficient" and aren't consuming as much gasoline and therefore aren't generating as much revenue for the highway funds. Second, "gas tax charges have not been in sync with inflation."
Coplon-Newfield gives the example of North Carolina, where the state is hoping to raise millions for their highway fund. If you raised the gas tax by one cent per gallon, the state would raise an extra $7.5 million. Contrast that with the total revenue raised from EV registration fees in 2014: $440,000. Even if the state is registering three times as many EVs today, it's still millions short of the goal.
There are other reasons that EVs should be given a break on registration fees—they actually cause less road damage given their light weight and improve air quality and benefit public health because they don't have tailpipes.
Georgia: A Cautionary Tale
For a look at what happens when a state both kills incentives and starts charging EV drivers extra fees, you only have to look to Georgia.
Just three years ago, Georgia was an unlikely national leader in electric vehicle sales, boosted by one of the nation's most generous state-level EV tax incentives that offered drivers a tax credit of up to $5,000 when buying a plug-in vehicle. By early 2014, Georgia trailed only California in EV registrations. Then, in January 2015, a new measure slipped into the state's $1 billion transportation bill which killed the credit and added another $200 annual fee for EV drivers.
Electric car sales immediately fell off a cliff.
Overall EV sales dropped by 90 percent and sales of the Nissan LEAF are off nearly 95 percent, according to Don Francis, the coordinator of Clean Cities-Georgia and executive director of the Partnership for Clean Transportation.
Here's how Atlanta Magazine described the history of the legislation:

"In January 2015, state Representative Chuck Martin, an Alpharetta Republican, introduced a bill to kill the state credit partly on the argument that it gave electric vehicles an unfair advantage over other low-emission cars such as the Chevrolet Volt. Martin's measure got lumped into the $1 billion transportation bill, which raised the state's gas tax to pay for road improvements. As if that weren't enough, lawmakers slapped electric vehicle owners with an additional $200 annual fee on the logic that it wasn't fair to make drivers of gas-powered vehicles bear the entire cost of road maintenance. When the new laws went into effect on July 1, the emerging electric vehicle market was immediately eviscerated. Statewide registrations plummeted from 1,338 in June to 115 in October."
But there's more to the story. Martin's bill looks similar to model bills that have been pushed by the American Legislative Exchange Council (ALEC), a Koch-funded entity that pushes fossil fuel–friendly agendas through state legislatures.
As the Center for Media and Democracy has noted, ALEC recently began pushing the Koch's anti-EV agenda:
"At the American Legislative Exchange Council (ALEC) meeting in Scottsdale, Arizona in December 2015, the Energy, Environment and Agriculture Task Force heard a presentation on 'State and Federal Subsidies for Electric Vehicles,' then voted on a resolution to discourage states from providing subsidies, the 'Resolution Regarding Subsidies for Electric Vehicles.' The Kochs have long funded ALEC. Koch Industries has had a seat on ALEC's 'Private Enterprise' board for years, while Koch network entities like Freedom Partners, Americans for Prosperity and Koch-funded 'think tanks' have seats on a number of task forces where they get a vote on bills."
Meanwhile, also in 2015, Georgia started charging EV drivers extra registration fees. The extra $200 per year to register the vehicle probably doesn't have the impact of losing the $5,000 tax credit. But it sure doesn't help.
As evidenced in the registration numbers pictured in the chart above, Georgia is no longer a national leader in electric car sales. In Georgia and nationwide, the transition to electric cars seems inevitable. It just might take a decade or two longer if left to market forces alone. In terms of public health and the climate, those years shouldn't be wasted.
As Coplon-Newfield put it, "Now is the time to be incentivizing, not penalizing, electric vehicles."
Reposted with permission from our media associate DeSmogBlog.
Battery Cell Production Begins at the Gigafactory https://t.co/xrFl4tChBx

— Tesla (@Tesla)1483546847.0
"Tesla's mission is to accelerate the world's transition to sustainable energy through increasingly affordable electric vehicles in addition to renewable energy generation and storage," the company announced in a blog post on Wednesday. "At the heart of these products are batteries."
Tesla's highly vaunted Gigafactory is currently being built in phases so that the company and its partners can manufacture products while the building continues to expand. Construction is expected for completion by 2018, at which point the Gigafactory stands to claim the title of world's largest building by footprint.
According to Electrek, "Tesla aims for the Gigafactory to become the biggest building in the world by footprint at 5.8 million square feet and second largest building in the world by total square footage of over 13 million."

Tesla touts that its current structure already has a footprint of 1.9 million square feet, which houses 4.9 million square feet of operational space across several floors.
"And we are still less than 30 percent done," the firm adds.
Not only that, as EcoWatch reported in July, the enormous building will be powered 100 percent by renewables such as solar, wind and geothermal, and will feature energy-storage technology. The company also plans for the building to achieve net zero energy.
Should mention that Gigafactory will be fully powered by clean energy when complete & include battery recycling

— Elon Musk (@Elon Musk)1469639997.0
Once it reaches full capacity, the Gigafactory will produce 35 GWh/year of lithium-ion battery cells annually, which is "nearly as much as the rest of the entire world's battery production combined."

Tesla built the Gigafactory in order to fast-track a cleaner, more sustainable future.
"With the Gigafactory online and ramping up production, our cost of battery cells will significantly decline due to increasing automation and process design to enhance yield, lowered capital investment per Wh of production, the simple optimization of locating most manufacturing processes under one roof, and economies of scale," the company explained in the blog post.
"By bringing down the cost of batteries, we can make our products available to more and more people, allowing us to make the biggest possible impact on transitioning the world to sustainable energy."
Elon Musk: Tesla Battery Will 'Fundamentally Change the Way the World Uses Energy' http://t.co/vjWsbkX4AX @Act4Renewables @Ecofys

— EcoWatch (@EcoWatch)1430604917.0
Tesla said that bringing cell production to the U.S. will create thousands of American jobs.
"In 2017 alone, Tesla and Panasonic will hire several thousand local employees and at peak production, the Gigafactory will directly employ 6,500 people and indirectly create between 20,000 to 30,000 additional jobs in the surrounding regions," the company said.
It's no secret—here in the U.S., there's an election coming up. It's soon. It's a big decision for American voters. And it's a big deal.
It's also not the only decision with global consequences this fall. Because at the same time the U.S. campaign season was getting into the business end of things, more and more leaders all around the world were deciding to stand up to climate change and sign on to the historic Paris Agreement. In fact, 86 parties (representing over 61 percent of global emissions) have already joined this landmark agreement—which will now go into effect on Nov. 4, four days before the U.S. votes. Interesting timing, don't you think?
Coincidence or not, the timing of the two events highlights what's at stake for our planet in these decisions and why—we've learned anything after months and months of way too many ads, speeches and debates, it's that politicians go where the voters tell them. So let's make the climate issue their issue, the one they can't afford to ignore. And not just this year, but in every year that follows.
Why now? Because with the Paris Agreement becoming official, we finally have the framework to fight climate change together as one planet in a way we never have before. And with all the incredible progress we're seeing in renewables and other areas of solutions, we finally have the tools and technology to make a global shift from fossil fuels to clean energy, affordably and effectively. Want proof? Here are seven reasons we're hopeful for the future, because the solutions are out there:
1. Renewables are growing and getting cheaper
Due to declining costs and improvements in renewable technologies, solar and wind projects are being built in more places around the globe more cheaply than any time in history. On top of that, if the price of photovoltaic cells continues to drop as rapidly as it has over the past 10 years, solar power could be as cheap as coal almost everywhere by as early as 2017!
According to some studies, almost 100 percent of the world's energy needs could be met with renewable sources by mid-century—as long as the right supportive public policies are put in place to help implement them. That's where our elected leaders come in— and where you come in too.
2. Cost of rooftop solar is competitive
In many places across the U.S., not only is solar power becoming more affordable than ever before, it's actually becoming cost competitive with most utility rates for energy from fossil fuel. When solar power costs the same (or less!) as purchasing power from the grid, it's called solar grid parity, and it's an important milestone in demonstrating the cost-effectiveness of harnessing the power of the sun. The U.S. is well on the way to achieving the SunShot Initiative's 2020 goal of solar grid parity—with several major regions following suit.
3. Remarkable progress in energy storage
How we create energy with renewables is important. How we store this energy—so we can use it when needed—is just as critical. That's because the sun doesn't shine 24 hours a day every day, nor is it always windy. The good news is this: we're seeing incredible progress in energy storage. For example, a bill for California's energy storage mandate passed unanimously, instructing the state's investor-owned utilities to greatly expand electricity storage capacity. And since then, the state has expanded the mandate to allow even more energy storage. Similar policies in Japan and Germany are spurring similar growth in energy storage overseas.
4. The electric grid is evolving
Just like energy storage is important for renewable energy to thrive, a smarter and more flexible electric grid is critical too. Smart grids improve energy efficiency, save money, and can improve reliability—all great reasons to move away from fossil fuels towards cleaner sources of energy. And since the grid is evolving and more renewables are being introduced, there is huge potential to revolutionize the energy market—for the benefit of the environment and economy.
5. The electric vehicle market is booming
Sure, the news that Tesla was releasing its cheapest electric car yet threatened to break one corner of the internet, but that's not the only sign the electric vehicle industry and market are booming. Just look at China: the government has expanded incentives for electric vehicles, waiving or even cutting sales taxes. And plug-in cars are even changing the face of auto racing! Just last year, Miami hosted a Formula E race, where all the race cars were electric. How cool is that?
6. Transportation is more efficient and public transit is growing
A recent survey by Consumer Reports found that the overwhelming majority of Americans (84 percent, in fact) believe automakers should keep making cars and trucks more and more fuel efficient. And automakers are listening—and not just in the US. At the same time use of public and mass transportation is growing rapidly. Technical improvements for new vehicles could avoid about 1.4 gigatons of CO2 annually by 2030, several countries are implementing eco-driving programs, and emissions mandates on cars in the US and EU are saving drivers at the pump in a big way. Meanwhile, huge investments in public transportation in countries like India and Colombia are helping contribute to energy conservation, land preservation, reduced air pollution, and so much more.
7. Energy efficiency is improving and saving you money
The more efficient you are at a task, you're wasting less time to complete it, right? It works the same way with energy: the more efficient energy is, the less you'll waste. Listen to this: a study across certain countries showed in just five years, energy efficiency measures avoided the consumption of 570 million tons of dirty energy. In other words, without these measures, energy use across these countries would have actually increased by 5 percent.
Here's another thing that Elon Musk is on the verge of disrupting: Ride-sharing.
The Tesla CEO is already shaking up the global automobile industry with his fleet of electric cars, but now he's taking aim at ride-hailing services such as Uber and Lyft by creating his own car-sharing network—the so-called "Tesla Network."
Elon Musk's new autonomous car-sharing service will allow Tesla owners to make money from their electric vehicles when they are not in use.Flickr
On an Q3 earnings call on Wednesday, Musk said that future Tesla owners will be able to make money off their cars by renting them out for ride shares by using Tesla's Autopilot feature, its famed semi-autonomous driving system.
"This would be something that would be a significant offset on the cost of ownership for a car, and a revenue generator for Tesla as well, but the majority of the revenue would go to owners," he said, according to TechCrunch.

"This has been characterized as Tesla vs. Uber," Musk added. "But it's not Tesla versus Uber, it's the people versus Uber."

Musk means that Tesla owners will not be using their car's self-driving function to give Uber or Lyft rides. Rather, Tesla owners—or "the people"—are competing directly against these companies.
Musk has seemingly confirmed the creation of the Tesla ride-sharing after retweeting TechCrunch's writeup.

Musk on Tesla Network: "It's not Tesla vs․ Uber, it's the people vs․ U... https://t.co/UZoyRP6mY5 by @etherington https://t.co/gqjh6qy9n1

— TechCrunch (@TechCrunch)1477521790.0
Just think, if the Tesla Network actually comes to fruition, a Tesla owner can make money by giving autonomous rides to the public while he or she is at work or on vacation. Instead of taking up space in a parking spot, the car can help ferry people from A to B.
However you feel about autonomous vehicles (here are some pros and cons) this nascent technology can be environmentally friendly.
"The key benefit of a self-driving vehicles is greater fuel efficiency," as EcoWatch's Dan Zukowski wrote recently. "The computer can drive better than you can. It will drive at a steady speed, will avoid jackrabbit starts and won't exceed the speed limit. Ultimately, a preponderance of autonomous vehicles could reduce traffic congestion by communicating with each other and traveling together in a controlled caravan. Car-sharing and carpooling make for more efficient use of roadways, vehicles and infrastructure devoted to parking."
Musk actually proposed his ride-sharing network idea back in July in his "Master Plan, Part Deux." He wrote:

"When true self-driving is approved by regulators, it will mean that you will be able to summon your Tesla from pretty much anywhere. Once it picks you up, you will be able to sleep, read or do anything else enroute to your destination.
"You will also be able to add your car to the Tesla shared fleet just by tapping a button on the Tesla phone app and have it generate income for you while you're at work or on vacation, significantly offsetting and at times potentially exceeding the monthly loan or lease cost. This dramatically lowers the true cost of ownership to the point where almost anyone could own a Tesla. Since most cars are only in use by their owner for 5% to 10% of the day, the fundamental economic utility of a true self-driving car is likely to be several times that of a car which is not.
"In cities where demand exceeds the supply of customer-owned cars, Tesla will operate its own fleet, ensuring you can always hail a ride from us no matter where you are."

Also on yesterday's earnings call, Tesla Motors reported its first quarterly net profit in more than three years. According to Fortune, Tesla posted a net income of $21.9 million and total revenue more than doubled to $2.30 billion.
"Record deliveries helped to offset rising expenses related to next year's roll-out of the company's mass-market Model 3 sedan," Forbes wrote.
Musk said the company could turn a profit again in the fourth quarter. Reuters noted that Tesla's positive earnings report should calm skeptics who have criticized the automaker's plans to acquire solar panel sister company SolarCity.
On Jan. 29, 1886, Carl Benz—who had invented the first stationary gasoline engine seven years earlier—patented a "vehicle powered by a gas engine," which he had built in Mannheim, Germany. By 2030, the country may ban his invention.
The world's first automobile, invented in 1886.Mercedes-Benz
Germany's Bundesrat, its upper house of parliament, passed a bipartisan resolution calling for a ban on sales of new vehicles powered by internal combustion engines, which includes both gasoline and diesel.
"If the Paris agreement to curb climate-warming emissions is to be taken seriously, no new combustion engine cars should be allowed on roads after 2030," weekly news magazine Der Spiegel quoted Green Party lawmaker Oliver Krischer as saying.
The shockwaves from this action, reported over the weekend, haven't quite hit the global auto industry or German manufacturers just yet. Germany has one of the largest automotive industries in the world, and it is the biggest industrial sector in Germany. Automobile manufacturing and related businesses employ 774,900 German workers and account for one-fifth of German industry revenue.
The country is also Europe's top automobile market, and U.S.-based manufacturers do big business there as well. General Motors sold 244,000 vehicles in Germany in 2015, while Ford is on track to sell 280,000 vehicles this year. The Ford Mustang is the most popular sports car in Germany. Fiat Chrysler Automobiles sold 90,000 vehicles there last year, with its U.S.-built Jeep brand growing strongly.
Part of Germany's plan to fully decarbonize by 2050 is to switch to 100% electric vehicles by 2030. #VergeCon https://t.co/etDf7gRPJE

— Bill Gross (@Bill Gross)1474388376.0
The company that Carl Benz started, today's Mercedes-Benz, is investing $1.1 billion in battery production and plans to launch 10 new electric vehicles (EVs) by 2025. The company says that every model series will be electrified. BMW is expanding its EV lineup, while Volkswagen—reeling from its diesel emissions scandal—announced that it plans to sell three million electric cars by 2025. At the current 2016 Paris Auto Show, virtually every major auto manufacturer is showcasing new electric or hybrid vehicles.
1 Million+ Electric Cars Are Now on the World's Roads https://t.co/VTLRcbX1kI @chrispaine @CoolElectricCar

— EcoWatch (@EcoWatch)1464999306.0
The Bundesrat resolution would require only electric or hydrogen fuel cell vehicles by 2030, and Germany's action is likely to precipitate wider European Union policy.

"We're ready for the launch of an electric product offensive that will cover all vehicle segments, from the compact to the luxury class," said Daimler AG Chief Executive Officer Dieter Zetsche at the opening of the Paris Auto Show in September. Daimler is the parent company of Mercedes-Benz. The company that invented the automobile now needs to reinvent itself.

For Elon Musk, having one Gigafactory isn't enough. If all goes to plan, he wants to build Gigafactories on several continents.
A rendering of the completed Sparks, Nevada Tesla Gigafactory which will be topped by rooftop solar panels. The massive battery plant had its grand opening on July 29.Tesla Motors
Musk gave journalists a tour inside the company's massive Gigafactory Tuesday at it's grand opening celebration. The unflagging Tesla CEO told BCC he wanted a factory "in Europe, in India, in China ... ultimately, wherever there is a huge amount of demand for the end product."

Indeed, demand is high for Tesla's products—the company received nearly 400,000 pre-orders for its highly anticipated $35,000 Model 3 sedan.

The Gigafactory will manufacture lithium-ion batteries for Tesla's electric cars and Powerwall products that store solar energy for homes and businesses.
To make its products, Tesla currently imports batteries from Japanese electronics company Panasonic. In order to meet Tesla's ambitious aim of producing 500,000 cars a year, it partnered with Panasonic to build the $5 billion Gigafactory in Sparks, Nevada to make the batteries locally to speed up production and slash costs. By manufacturing the battery cells onsite, Musk said Tesla will be able to innovate faster and cut out about 30 percent of the cost, according to BBC.
"Where the shipping costs start to become significant, the obvious way to combat that is to at least put a Gigafactory on the same continent," Musk said.
The Associated Press reported that the Gigafactory is only 14 percent built after two years of construction. The original projected completion date for the massive project was 2020 but Musk is ramping up construction. Around 1,000 people are working seven days a week on two shifts so the factory can start producing batteries before the end of the year, The Wall Street Journal reported.
The Gigafactory in Sparks, Nevada is only 14 percent built after two years of construction.Tesla Motors
Once construction is complete, the Gigafactory will be about three-fourths a mile long at an enormous 10 million square feet—the size of 262 NFL football fields. Musk noted that the factory could eventually employ 10,000 people in the next three to four years.

Not only will the Gigafactory be the world's largest building by footprint when construction finishes, it will be powered 100 percent by renewables such as solar, wind and geothermal, and will feature energy-storage technology. The company also plans for the building to achieve net zero energy.
Musk tweeted that the building will recycle old batteries—which will be highly necessary as Tesla aims to nearly double the world's production of lithium-ion batteries.
Should mention that Gigafactory will be fully powered by clean energy when complete & include battery recycling

— Elon Musk (@Elon Musk)1469639997.0
Tesla wants the Gigafactory to be a global powerhouse. As the Associated Press described of the company's goals:

Tesla says the factory will be producing 35 gigawatt hours of batteries by 2018. That's the equivalent to the entire world's production in 2014. Tesla CEO Elon Musk has said the factory has the capacity to produce 150 gigawatt hours if it needs to. To put that in context, New York City uses around 52 gigawatt hours of energy per year.
Musk has long advocated for a sustainable transportation future, and recently made a $2.8 billion move to acquire SolarCity to basically allow Tesla customers to drive on sunshine.
Last week, the entrepreneur further explained his grand plans when he unveiled his Master Plan, Part Deux. Climate Nexus summarized Musk's goals in four bullet points:
Create stunning solar roofs with seamlessly integrated battery storage
Expand the electric vehicle product line to address all major segments
Develop a self-driving capability that is 10X safer than manual via massive fleet learning
Enable your car to make money for you when you aren't using it
"Given that we must get off fossil fuels anyway and that virtually all scientists agree that dramatically increasing atmospheric and oceanic carbon levels is insane, the faster we achieve sustainability, the better," Musk wrote.
[email protected]

Unveils @TeslaMotors's 'Master Plan' https://t.co/ET0FxRFBw0 @sierraclub @greenpeaceusa @NRDC @EnvDefenseFund @ClimateReality

— EcoWatch (@EcoWatch)1469107804.0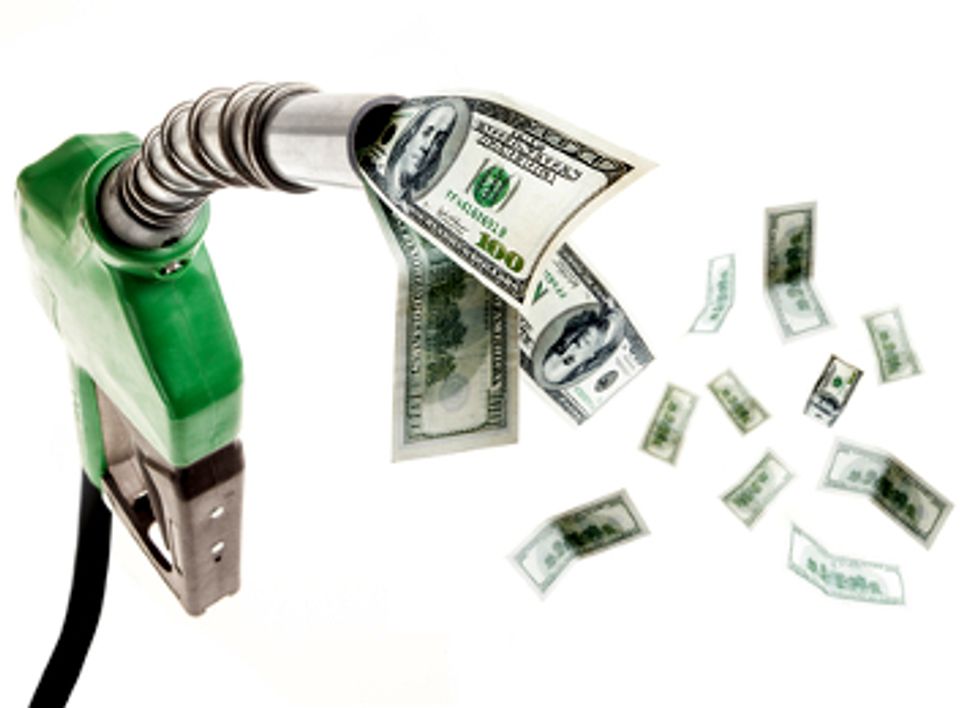 Photo courtesy of Shutterstock
States struggling to deal with declining gas tax revenues are unfairly targeting owners of gas-free vehicles to create new revenues.
Roads and bridges across the nation are largely built and maintained using money from gas taxes, and those revenues have been falling for years because cars have become more fuel efficient and Americans are driving less. But if you buy less gas, you pay less in gas taxes.
To make up the shortfall, nine states are either levying or planning to levy a tax on electric or hybrid vehicles, which obviously contribute little or nothing to gas tax revenues—or to air pollution, climate change and a host of other problems.
While the need to address the road maintenance is important, taxing green cars alone is a profoundly stupid idea. Right now, most of us are slaves to Big Oil—forced to use their fuel to power our cars, heat our homes and drive our economy because alternatives are not available or affordable. But we don't need oil to power our economy—we can meet 100 percent of our energy needs, including transportation, right now without creating any more pollution. All we lack is the political will to make them available to everyone at an affordable price.
City, state and federal government should be working together to help people transition as fast as possible to the 100 percent clean energy future we need, not punishing consumers who make the right choice for the planet with higher taxes, and then giving billions in subsidies to the same polluting fossil fuel companies who already make trillions in profits.
Visit EcoWatch's ENERGY page for more related news on this topic.