This website uses cookies to ensure you get the best experience while browsing it. By clicking 'Got It' you're accepting these terms.

A time-restricted eating plan provides a new way to fight obesity and metabolic diseases that affect millions of people worldwide. RossHelen / iStock / Getty Images Plus
By Satchin Panda and Pam Taub
People with obesity, high blood sugar, high blood pressure or high cholesterol are often advised to eat less and move more, but our new research suggests there is now another simple tool to fight off these diseases: restricting your eating time to a daily 10-hour window.
Pexels
Singapore will become the first country in the world to place a ban on advertisements for carbonated drinks and juices with high sugar contents, its health ministry announced last week. The law is intended to curb sugar consumption since the country has some of the world's highest diabetes rates per capita, as Reuters reported.
EcoWatch Daily Newsletter
BPA is found in plastic bottles, and it also leaches from can linings into foods, beverages and infant formula. Pixabay
The first U.S. study of the effect on people of exposure to a hormone-disrupting chemical widely used in food packaging showed that levels the Food and Drug Administration deems "safe" can alter insulin response, a key marker for diabetes.
The groundbreaking study, published in the Journal of the Endocrine Society, administered low doses of bisphenol A, or BPA, to 16 people, then tested their insulin production in response to glucose, commonly called blood sugar. When insulin and blood glucose levels were compared to the same measurements taken without exposure to BPA, researchers found that BPA significantly changed how glucose affected insulin levels. Similar insulin and glucose tests are used by doctors for diagnosing diabetes.
The Seattle skyline on Oct. 27, 2015. Seattle
ranks high
in short-term particle pollution.
SounderBruce / CC BY-SA 2.0
A major study published Friday in The Lancet Planetary Health has confirmed a reported link between air pollution and diabetes in a big way, finding that particulate matter exposure can increase risk for the disease even at levels currently deemed safe by the U.S. Environmental Protection Agency (EPA) and the World Health Organization, CNN reported.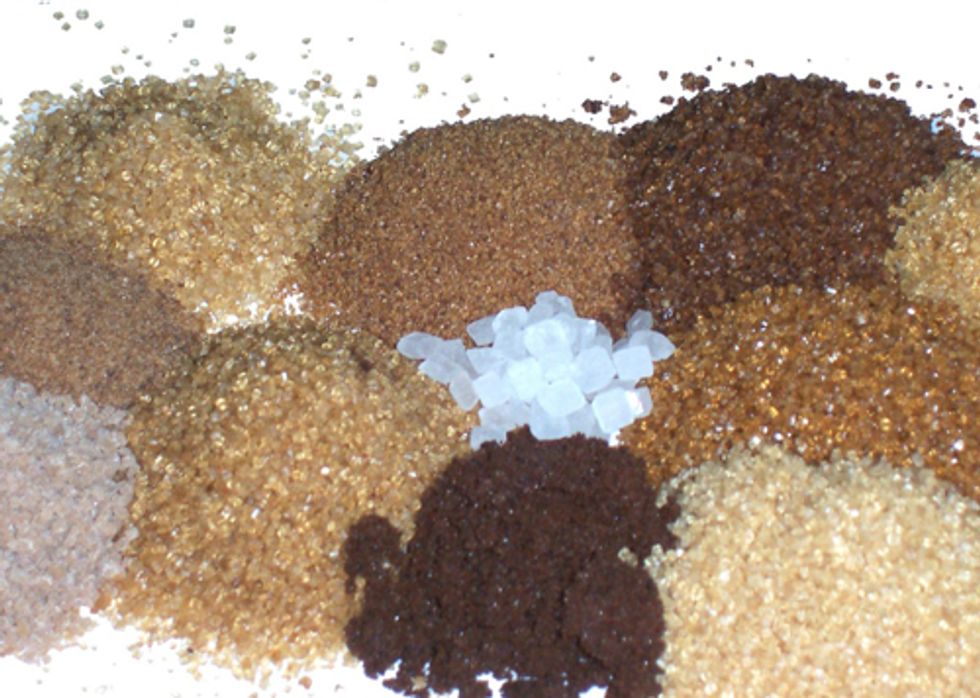 By Marion Nestle
Nature, the prestigious science magazine from Great Britain, has just published a commentary with a provocative title–The toxic truth about sugar—and an even more provocative subtitle—Added sweeteners pose dangers to health that justify controlling them like alcohol.
The authors, Robert Lustig, Laura Schmidt and Claire Brindis, are researchers at the University of California medical center in San Francisco (UCSF).
They argue that although tobacco, alcohol and diet are critically important behavioral risk factors in chronic disease, only two of them—tobacco and alcohol—are regulated by governments to protect public health.
Now, they say, it's time to regulate sugar. By sugar, they mean sugars plural—sucrose as well as high fructose corn syrup (HFCS). Both are about half fructose.
Their rationale?
Consumption of sugars has tripled over the last 50 years.
Many people consume as much as 500 calories a day from sugars (average per capita availability in the U.S. is about 400 calories a day)
High intake of fructose-containing sugars induce metabolic syndrome (high blood pressure, insulin resistance), diabetes, and liver damage.
Sugars have the potential for abuse.
Sugars have negative effects on society (mediated via obesity).
Too much of a good thing can be toxic.
Therefore, they argue, societies should intervene and consider the kinds of policies that have proven effective for control of tobacco and alcohol:
Taxes
Distribution controls
Age limits
Bans from schools
Licensing requirements
Zoning ordinances
Bans on TV commercials
Labeling added sugars
Removal of fructose from GRAS status
In a statement that greatly underestimates the situation, they say:
We recognize that societal interven­tion to reduce the supply and demand for sugar faces an uphill political battle against a powerful sugar lobby, and will require active engagement from all stakeholders.
But, they conclude:
These simple measures—which have all been on the battleground of American politics—are now taken for granted as essential tools for our public health and well-being. It's time to turn our attention to sugar.
What is one to make of this? Sugar is a delight, nobody is worried about the fructose in fruit or carrots, and diets can be plenty healthy with a little sugar sprinkled here and there.
The issue is quantity. Sugars are not a problem, or not nearly as much of a problem, for people who balance calorie intake with expenditure.
Scientists can argue endlessly about whether obesity is a cause or an effect of metabolic dysfunction, but most people would be healthier if they ate less sugar.
The bottom line? As Corinna Hawkes, the author of numerous reports on worldwide food marketing, wrote me this morning, "there are plenty of reasons for people to consume less sugar without having to worry about whether it's toxic or not!"
For more information, click here.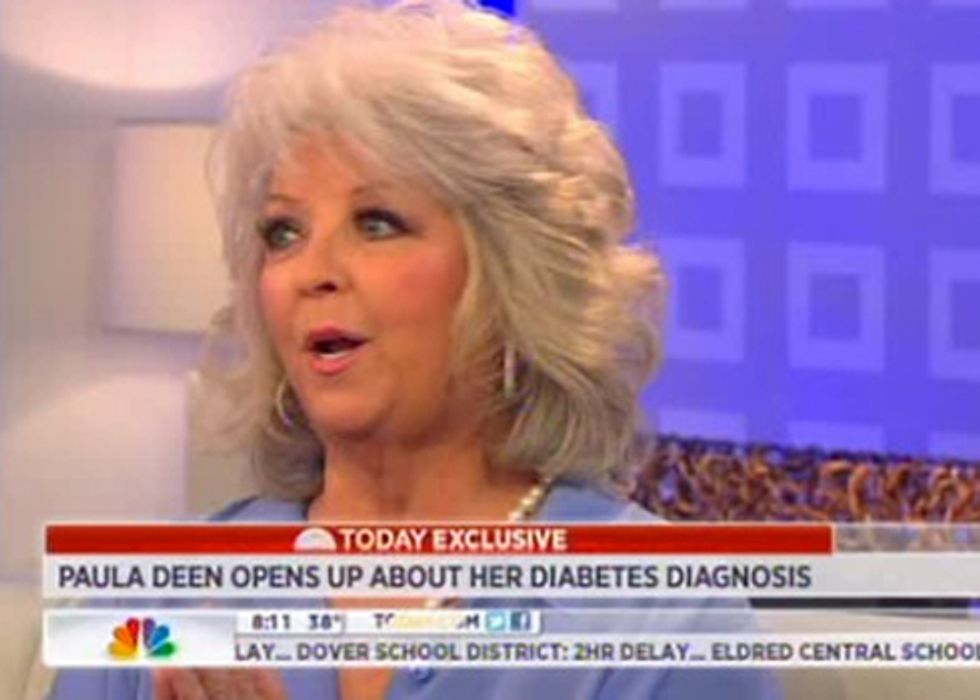 By Kristin Wartman
Paula Deen's public admission that she has Type 2 diabetes and her follow-up announcement that she is also a paid spokesperson for the pharmaceutical company Novo Nordisk, and its diabetes drug, Victoza, has sparked an interesting debate about the deeper issues surrounding our food system—especially the impact it has on the many people diagnosed with diabetes. And according to Deen's comments on the Today show, she implies to her millions of fans, that the primary ways to deal with this largely diet-related disease are through personal responsibility and pharmaceuticals.
Indeed, when Al Roker, asks her if she is going to change the way she eats and the foods she cooks, Deen says, "Honey, I'm your cook, I'm not your doctor. You are going to have to be responsible for yourself." Evading the question, Deen puts the onus back on the individual to decide what foods to eat or not, despite the fact that she promotes unhealthful and processed foods on TV. The one comment she does make about food choice is "moderation," one of the most meaningless and confusing bits of nutrition advice. In fact, this is what the industry giants often use as their defense for harmful, unhealthful foods.
Personal responsibility and consumer choice are solutions heralded by conservatives and liberals alike—the idea being that ultimately good health comes down to what we choose to buy and eat. But it's not that simple.
There are three main issues when it comes to the myth of personal responsibility about food choice and they get at the root of our nation's health crisis—The public's confusion about nutrition, the lack of time and knowledge about real home cooking, and the promotion of quick fixes like drugs, diet foods, and fads in lieu of addressing underlying causes. The Paula Deen diabetes story manages to hit on every single one of these issues.
Americans suffer from nutrition confusion, thanks to an array of conflicting and often inaccurate public health messages, misleading labels and claims on packaging, and a lack of nutrition knowledge by many doctors, dietitians, and other health care providers.
Deen's cooking, and now her public diabetes announcement, only adds to this confusion. During the Today show interview she repeatedly mentions the amount of fat in her recipes, as do many in the media reporting on the story. "For 10 years, wielding slabs of cream cheese and mounds of mayonnaise," a New York Times article begins, "Paula Deen has become television's self-crowned queen of Southern cuisine."
But real, unprocessed cream cheese and mayonnaise are not the problem. The issue that mainstream media has largely overlooked is that Deen uses the processed, packaged versions of these foods, which are full of chemicals, additives and trans-fats. Actual home cooking would require whipping these foods up herself in her kitchen using real ingredients. And that is the real story behind Deen's diabetes diagnosis—Her health problems are largely due to her reliance on packaged, processed foods that are the foundation for many of her recipes.
Even though her cooking show is called Paula's Home Cooking, there's a lot going on in her kitchen that is as far removed from home cooking as you can get. Many of her recipes include "ingredients" like Krispy Kreme doughnuts, biscuit mixes, cans of mushroom soup, and sour-cream-and-onion flavored potato chips. This is processed food cooking, not home cooking.
Heaping the blame on all the "fat" she cooks with only serves to confuse the public further. A New York Daily News article also cites fat as one of the main culprits in Deen's cooking and her diet. But the most recent research indicates that when it comes to diabetes, fat is not the problem. The problem foods are sugar, refined white flour, chemical additives, artificial sweeteners and flavors, trans-fats, and the various other chemicals and additives found in the processed foods that abound in Deen's recipes.
Now Deen is pushing the idea that taking medicine is the real solution to diabetes. On the Today show, she says, "Here's what I want to get across to people, I want them to first start by going to their doctor and asking to be tested for diabetes. Get on a program that works for you. I'm amazed at the people out there that are aware they're diabetic but they're not taking their medicine."
According to Deen, the reason she waited three years to go public with her diagnosis was because she didn't have anything to give her fans. "I could have walked out and said, 'Hey ya'll, I have been diagnosed with Type 2 diabetes.' I had nothing to give to my fellow friends out there. I wanted to bring something to the table when I came forward." So what is she bringing to the table? A sales pitch for a diabetes drug that costs $500 per month and has some seriously troubling side effects, including thyroid cancer, as Tom Philpott reports.
Just think of the kind of influence she could have wielded had she come out with a new cooking show that focused on using fresh, real food ingredients that cut way back on sugar and refined carbohydrates. In fact, if she had done so and eaten this way for the past three years she might have reversed her own diabetes diagnosis, which is entirely possible given the right diet.
But instead, Deen is getting paid to leave that task to a drug company. This isn't her first corporate sponsorship (here she peddles Smithfield ham) and I doubt it will be her last. Diabetic and diet foods can't be far behind in products she'll attach to her name.
Alas, we can't fairly discuss personal responsibility without taking into account the under-regulated advertising industry that pushes cheap, convenient, and processed foods on an overworked and cash-strapped population. Add to this the diminishing knowledge on how to shop for, cook, and prepare foods from scratch and we have a serious problem.
As Paula Deen now joins the 25.8 million other Americans suffering with diabetes, she "brings to the table" the ideas of moderation (an essentially meaningless and confusing bit of nutrition advice), personal responsibility, and the drug Victoza as the solutions. She could do so much more with all the power she wields.
Anthony Bourdain put it squarely when he said of Deen, "If I were on at seven at night and loved by millions of people at every age, I would think twice before telling an already obese nation that it's OK to eat food that is killing us." And this was before her diabetes announcement. Bourdain has also said that Deen is the "worst, most dangerous person to America." He might have a point.
For more information, click here.
—————
Kristin Wartman is a food writer living in Brooklyn. She has a Masters in Literature from UC Santa Cruz and is a Certified Nutrition Educator. She is interested in the intersections of food, health, politics, and culture. You can follow her on Twitter and read more of her writing at kristinwartman.wordpress.com.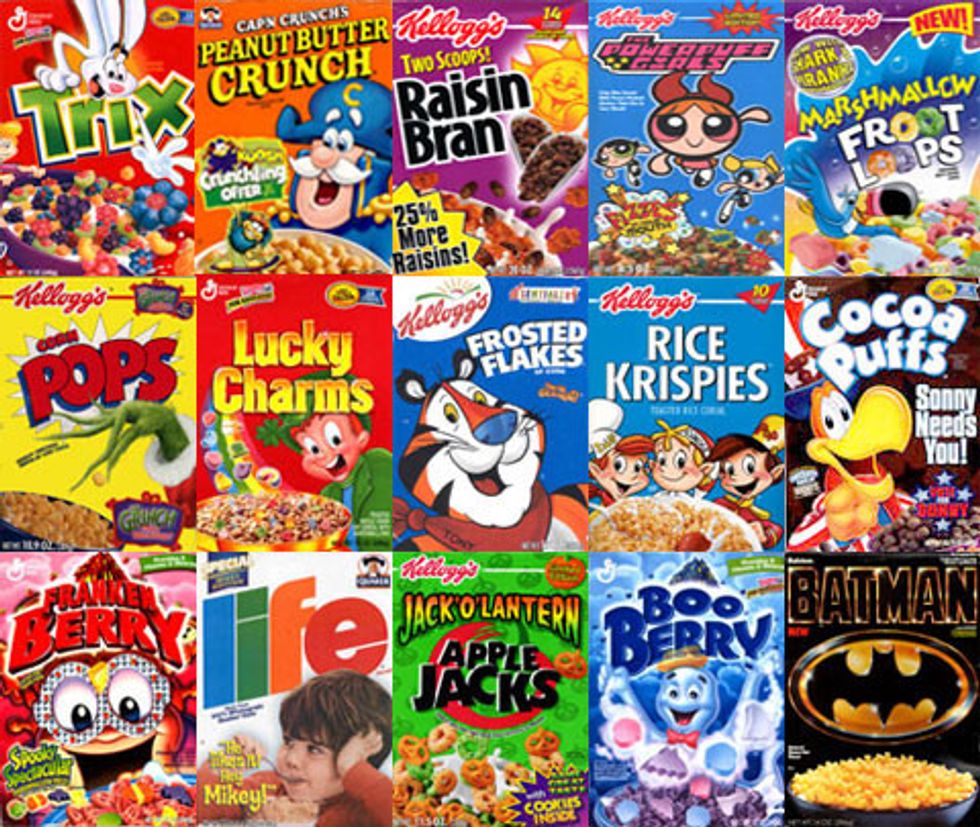 Parents have good reason to worry about the sugar content of children's breakfast cereals, according to an Environmental Working Group (EWG) review of 84 popular brands.
Kellogg's Honey Smacks, at nearly 56 percent sugar by weight, leads the list of the 10 worst children's cereals, according to EWG's analysis. In fact, a one-cup serving of the brand packs more sugar than a Hostess Twinkie, and one cup of any of the 44 other children's cereals has more sugar than three Chips Ahoy! cookies.
In response to the exploding childhood obesity epidemic and aggressive food company advertising pitches to kids, Congress formed the federal Interagency Working Group on Food Marketed to Children to propose standards to Congress to curb marketing of kids' foods with too much sugar, salt and fat.
But EWG has found that only one in four children's cereals meets the government panel's voluntary proposed guidelines, which recommend no more than 26 percent added sugar by weight. EWG has been calling for an even lower cap on the maximum amount of sugar in children's cereals.
"When I went to medical school in the 1960s, the consensus view was sugar provided empty calories, devoid of vitamins, minerals or fiber," said health expert Dr. Andrew Weil. "Aside from that, it was not deemed harmful. But 50 years of nutrition research has confirmed that sugar is actually the single most health-destructive component of the standard American diet. The fact that a children's breakfast cereal is 56 percent sugar by weight—and many others are not far behind—should cause national outrage."
"Cereal companies have spent fortunes on convincing parents that a kid's breakfast means cereal, and that sugary cereals are fun, benign and all kids will eat," said noted New York University nutrition professor Marion Nestle. "The cereals on the EWG highest-sugar list are among the most profitable for their makers, who back up their investment with advertising budgets of $20 million a year or more. No public health agency has anywhere near the education budget equivalent to that spent on a single cereal. Kids should not be eating sugar for breakfast. They should be eating real food."
"As a mom of two, I was stunned to discover just how much sugar comes in a box of children's cereal," said Jane Houlihan, EWG's senior vice president of research. "The bottom line—most parents would never serve dessert for breakfast, but many children's cereals have just as much sugar, or more."
Studies suggest that children who eat breakfasts that are high in sugar have more problems at school. They become more frustrated and have a harder time working independently than kids who eat lower-sugar breakfasts. By lunchtime they have less energy, are hungrier, show attention deficits and make more mistakes on their work.
About one-in-five American children is obese, according to the federal Centers for Disease Control and Prevention, which has reported that childhood obesity has tripled over the past 30 years.
"It has been said that exploding rates of obesity and type 2 diabetes in today's children will lead them to be the first in American history to have shorter lifespans than their parents," Weil said. "That tragedy strikes me as a real possibility unless parents make some dramatic changes in their children's lives."
"Nearly 20 percent of our children and one-third of adults in this country are obese. Our children face a future of declining health, and may be the first generation to have a shorter lifespan than their parents. We must provide consumers with the information they need to make healthier choices and prevent misleading claims about the nutritional contents of food," said Congresswoman Rosa DeLauro (D-CT). "Cereal is a prime example of this—we know that children do better in school if they have breakfast. But we also know that the type of breakfast matters. And yet, as the Environment Working Group's report shows, many children's cereals have sugar content levels that are above 40 percent by weight. Our children deserve better, and it is critical that we take action to combat America's obesity epidemic." Congresswoman DeLauro serves on the appropriations subcommittee responsible for the Food and Drug Administration and agriculture, where she oversees drug and food safety.
10 Worst Children's Cereals
Based on percent sugar by weight
1.) Kellogg's Honey Smacks 55.6%
2.) Post Golden Crisp 51.9%
3.) Kellogg's Froot Loops Marshmallow 48.3%
4.) Quaker Oats Cap'n Crunch's OOPS! All Berries 46.9%
5.) Quaker Oats Cap'n Crunch Original 44.4%
6.) Quaker Oats Oh!s 44.4%
7.) Kellogg's Smorz 43.3%
8.) Kellogg's Apple Jacks 42.9%
9.) Quaker Oats Cap'n Crunch's Crunch Berries 42.3%
10.) Kellogg's Froot Loops Original 41.4%
Some cereals are better than others. Nutrition expert Marion Nestle recommends:
Cereals with a short ingredient list (added vitamins and minerals are okay).
Cereals high in fiber.
Cereals with little or no added sugars (added sugars are ingredients such as honey, molasses, fruit juice concentrate, brown sugar, corn sweetener, sucrose, lactose, glucose, high-fructose corn syrup and malt syrup).
Among the best simple-to-prepare breakfasts for children are fresh fruit and high-fiber, lower-sugar cereals. Better yet, pair fruit with homemade oatmeal.
For more information, click here.