This website uses cookies to ensure you get the best experience while browsing it. By clicking 'Got It' you're accepting these terms.
The Ugly Truth about Kids' Cereals
Dec. 07, 2011 09:45AM EST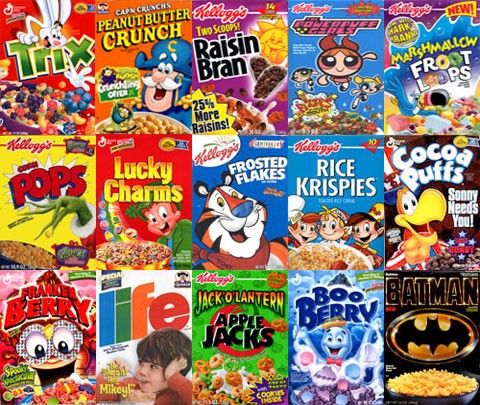 Parents have good reason to worry about the sugar content of children's breakfast cereals, according to an Environmental Working Group (EWG) review of 84 popular brands.
Kellogg's Honey Smacks, at nearly 56 percent sugar by weight, leads the list of the 10 worst children's cereals, according to EWG's analysis. In fact, a one-cup serving of the brand packs more sugar than a Hostess Twinkie, and one cup of any of the 44 other children's cereals has more sugar than three Chips Ahoy! cookies.
In response to the exploding childhood obesity epidemic and aggressive food company advertising pitches to kids, Congress formed the federal Interagency Working Group on Food Marketed to Children to propose standards to Congress to curb marketing of kids' foods with too much sugar, salt and fat.
But EWG has found that only one in four children's cereals meets the government panel's voluntary proposed guidelines, which recommend no more than 26 percent added sugar by weight. EWG has been calling for an even lower cap on the maximum amount of sugar in children's cereals.
"When I went to medical school in the 1960s, the consensus view was sugar provided empty calories, devoid of vitamins, minerals or fiber," said health expert Dr. Andrew Weil. "Aside from that, it was not deemed harmful. But 50 years of nutrition research has confirmed that sugar is actually the single most health-destructive component of the standard American diet. The fact that a children's breakfast cereal is 56 percent sugar by weight—and many others are not far behind—should cause national outrage."
"Cereal companies have spent fortunes on convincing parents that a kid's breakfast means cereal, and that sugary cereals are fun, benign and all kids will eat," said noted New York University nutrition professor Marion Nestle. "The cereals on the EWG highest-sugar list are among the most profitable for their makers, who back up their investment with advertising budgets of $20 million a year or more. No public health agency has anywhere near the education budget equivalent to that spent on a single cereal. Kids should not be eating sugar for breakfast. They should be eating real food."
"As a mom of two, I was stunned to discover just how much sugar comes in a box of children's cereal," said Jane Houlihan, EWG's senior vice president of research. "The bottom line—most parents would never serve dessert for breakfast, but many children's cereals have just as much sugar, or more."
Studies suggest that children who eat breakfasts that are high in sugar have more problems at school. They become more frustrated and have a harder time working independently than kids who eat lower-sugar breakfasts. By lunchtime they have less energy, are hungrier, show attention deficits and make more mistakes on their work.
About one-in-five American children is obese, according to the federal Centers for Disease Control and Prevention, which has reported that childhood obesity has tripled over the past 30 years.
"It has been said that exploding rates of obesity and type 2 diabetes in today's children will lead them to be the first in American history to have shorter lifespans than their parents," Weil said. "That tragedy strikes me as a real possibility unless parents make some dramatic changes in their children's lives."
"Nearly 20 percent of our children and one-third of adults in this country are obese. Our children face a future of declining health, and may be the first generation to have a shorter lifespan than their parents. We must provide consumers with the information they need to make healthier choices and prevent misleading claims about the nutritional contents of food," said Congresswoman Rosa DeLauro (D-CT). "Cereal is a prime example of this—we know that children do better in school if they have breakfast. But we also know that the type of breakfast matters. And yet, as the Environment Working Group's report shows, many children's cereals have sugar content levels that are above 40 percent by weight. Our children deserve better, and it is critical that we take action to combat America's obesity epidemic." Congresswoman DeLauro serves on the appropriations subcommittee responsible for the Food and Drug Administration and agriculture, where she oversees drug and food safety.
10 Worst Children's Cereals
Based on percent sugar by weight
1.) Kellogg's Honey Smacks 55.6%
2.) Post Golden Crisp 51.9%
3.) Kellogg's Froot Loops Marshmallow 48.3%
4.) Quaker Oats Cap'n Crunch's OOPS! All Berries 46.9%
5.) Quaker Oats Cap'n Crunch Original 44.4%
6.) Quaker Oats Oh!s 44.4%
7.) Kellogg's Smorz 43.3%
8.) Kellogg's Apple Jacks 42.9%
9.) Quaker Oats Cap'n Crunch's Crunch Berries 42.3%
10.) Kellogg's Froot Loops Original 41.4%
Some cereals are better than others. Nutrition expert Marion Nestle recommends:
Cereals with a short ingredient list (added vitamins and minerals are okay).
Cereals high in fiber.
Cereals with little or no added sugars (added sugars are ingredients such as honey, molasses, fruit juice concentrate, brown sugar, corn sweetener, sucrose, lactose, glucose, high-fructose corn syrup and malt syrup).
Among the best simple-to-prepare breakfasts for children are fresh fruit and high-fiber, lower-sugar cereals. Better yet, pair fruit with homemade oatmeal.
For more information, click here.
EcoWatch Daily Newsletter
A glacier is seen in the Kenai Mountains on Sept. 6, near Primrose, Alaska. Scientists from the U.S. Geological Survey have been studying the glaciers in the area since 1966 and their studies show that the warming climate has resulted in sustained glacial mass loss as melting outpaced the accumulation of new snow and ice. Joe Raedle / Getty Images
By Mark Mancini
On Aug. 18, Iceland held a funeral for the first glacier lost to climate change. The deceased party was Okjökull, a historic body of ice that covered 14.6 square miles (38 square kilometers) in the Icelandic Highlands at the turn of the 20th century. But its glory days are long gone. In 2014, having dwindled to less than 1/15 its former size, Okjökull lost its status as an official glacier.
Members of Chicago Democratic Socialists of America table at the Logan Square Farmers Market on Aug. 18. Alex Schwartz
By Alex Schwartz
Among the many vendors at the Logan Square Farmers Market on Aug. 18 sat three young people peddling neither organic vegetables, gourmet cheese nor handmade crafts. Instead, they offered liberation from capitalism.
Hackney primary school students went to the Town Hall on May 24 in London after school to protest about the climate emergency. Jenny Matthews / In Pictures / Getty Images
Bird watching in the U.S. may be a lot harder than it once was, since bird populations are dropping off in droves, according to a new study.
Amazon CEO Jeff Bezos announces the co-founding of The Climate Pledge at the National Press Club on Sept. 19 in Washington, DC. Paul Morigi / Getty Images for Amazon
The day before over 1,500 Amazon.com employees planned a walkout to participate in today's global climate strike, CEO Jeff Bezos unveiled a sweeping plan for the retail and media giant to be carbon neutral by 2040, 10 years ahead of the Paris agreement schedule.
For the past seven years, the Anishinaabe people have been facing the largest tar sands pipeline project in North America. We still are. In these dying moments of the fossil fuel industry, Water Protectors stand, prepared for yet another battle for the water, wild rice and future of all. We face Enbridge, the largest pipeline company in North America, and the third largest corporation in Canada. We face it unafraid and eyes wide open, for indeed we see the future.
The climate crisis often intensifies systems of oppression. Rieko Honma / Stone / Getty Images Plus
By Mara Dolan
We see the effects of the climate crisis all around us in hurricanes, droughts, wildfires, and rising sea levels, but our proximity to these things, and how deeply our lives are changed by them, are not the same for everyone. Frontline groups have been leading the fight for environmental and climate justice for centuries and understand the critical connections between the climate crisis and racial justice, economic justice, migrant justice, and gender justice. Our personal experiences with climate change are shaped by our experiences with race, gender, and class, as the climate crisis often intensifies these systems of oppression.