This website uses cookies to ensure you get the best experience while browsing it. By clicking 'Got It' you're accepting these terms.
Workers installing solar panels on a barn roof.
10 10 / Flickr /
CC BY 2.0
EcoWatch Daily Newsletter
A first-of-its-kind study published Monday shows that, when it comes to impacting life on Earth, humans are punching well above our weight.
The study, published in Proceedings of the National Academy of Sciences, is the first ever comprehensive census of the distribution of the biomass, or weight of living creatures, across classification type and environment. It found that, while humans account for 0.01 percent of the planet's biomass, our activity has reduced the biomass of wild marine and terrestrial mammals by six times and the biomass of plant matter by half.
By Danna Smith
Over the last several years, study after study has documented why burning trees to produce electricity, known as "biomass," will accelerate climate change. More than 800 scientists from around the world recently signed a letter to the EU government warning that burning trees for electricity releases more carbon into the atmosphere than coal per unit of electricity generated, increasing the amount of carbon in the atmosphere at a critical time when we must be doing everything we can to reduce it.
"Eólica" or wind power plant in Guanacaste, Costa Rica. ICE Group / Twitter
Costa Rica has charted another clean energy accolade. So far this year, the Central American country has run on 300 days of 100 percent power generation from renewable energy sources, according to the Costa Rican Institute of Electricity (ICE), which cited figures from the National Center for Energy Control.
With six weeks left of 2017 to go, Costa Rica could easily surpass 300 days.
Flying insects such as bees are important pollinators. Flickr / M I T C H Ǝ L L
A new study published Wednesday in the journal PLOS ONE adds more evidence that insect populations around the globe are in perilous decline.
For the study, researchers from Radboud University in the Netherlands, alongside their German and English colleagues, measured the biomass of trapped flying insects at 63 nature preserves in Germany since 1989. They were shocked to discover that the total biomass decreased dramatically over the 27 years of the study, with a seasonal decline of 76 percent and mid-summer decline of 82 percent, when insect numbers tend to peak.
Photo credit: CAFNR / Flickr
By Sami Yassa
A pre-eminent think tank in the United Kingdom, Chatham House, issued a seminal report last week challenging a fundamental assumption underlying European renewable energy policy: that burning forest biomass to produce electricity is "carbon neutral." The report, Woody Biomass for Power and Heat: Impacts on the Global Climate, finds that many forms of forest-derived biopower are likely increasing carbon pollution rather than reducing emissions and calls for restrictions on existing government incentives for the biomass industry in the EU.
The context for this analysis is a cross-Atlantic dirty energy boom, fueled by misplaced subsidies intended to promote clean energy. Currently energy companies are cutting U.S. forests and producing wood pellets to export to EU markets, claiming that biomass fuel is clean and renewable. These exports are driven by generous EU renewable energy subsidies that erroneously reward all forest biomass as "carbon-neutral"—equivalent to non-polluting sources like solar and wind energy. In other words, when counting carbon pollution at a biomass power plant, EU regulators treat the discharge from the smokestack as zero carbon, even though biomass combustion releases carbon emissions at levels comparable to fossil fuels.
The Chatham House report is the capstone to a growing body of peer-reviewed scientific analyses—including the UK government's own modeling—that show forest biomass is not carbon neutral. It underscores that in many cases forest biomass produces more emissions than fossil fuels and these emissions persist in the atmosphere for decades.
The report provides exhaustive research and deliberate reasoning to debunk the industry-promoted myths underlying the EU's misplaced carbon-neutrality assumptions. Here are a few of their top-line conclusions and recommendations:
Biomass Plants Pollute at the Smokestack at Levels Comparable to Fossil Fuels.
Since wood has a lower energy content compared with fossil fuels while also having a higher moisture content, its combustion for energy usually emits more carbon per unit of energy produced than fossil fuels. The Chatham House study, citing numbers from the IPCC confirms this fact:
... in most circumstances, comparing technologies of similar ages, the use of woody biomass for energy will release higher levels of emissions than coal and considerably higher levels than gas.
Burning Biomass Produces a "Carbon Debt" Which is Not Automatically Offset by Forest Regrowth.
The report goes on to underscore a fundamental flaw underlying the arguments of biomass proponents: namely, since forests can regenerate over time and sequester carbon in the process, this regrowth balances or offsets the stack emissions produced by burning wood for energy. The report rejects this overly simplistic error and instead stresses that biomass burning creates a "carbon debt"—excess carbon in the atmosphere—and that the intensity and duration of this debt depends on the type of forest biomass burned (for example, whole trees versus logging residues versus mill waste). In sum it confirms the findings of many prior scientific inquiries that not all biomass is created equal and burning whole trees in particular is always detrimental to climate.
The harvesting of whole trees for energy will in almost all circumstances increase net carbon emissions very substantially compared to using fossil fuels. This is because of the loss of future carbon sequestration from the growing trees—particularly from mature trees in old-growth forests, whose rate of carbon absorption can be very high—and of the loss of soil carbon consequent upon the disturbance.
The use of sawmill residues for energy has lower impacts because it involves no additional harvesting; it is waste from other operations of the wood industry. The impact will be most positive for the climate if they are burnt on-site for energy without any associated transport or processing emissions.
While wood pellet manufacturers in the U.S. southeast claim that most of their wood pellets are produced with residues, the report shows that about three quarters of the pellets from the southern U.S. came from whole trees and residues accounted for only a quarter.
Time Scale Matters
These two examples from the study show that when biomass is burned it releases carbon emissions immediately and this carbon debt lasts anywhere from a few years to many decades (often called the "payback period")—depending upon the type of feedstock used. But carbon emissions from burning forest biomass will have real consequences for climate in the near term—and not just some distant future 100 years from now. These near-term "tipping points" include melting glaciers, sea level rise, disruptions to agricultural systems and effects on human health. So only those feedstocks that reduce emissions in the short term will provide climate benefits. The Chatham House study confirms this finding:
Some have argued that the length of the carbon payback period does not matter as long as all emissions are eventually absorbed. This ignores the potential impact in the short term on climate tipping points (a concept for which there is some evidence) and on the world's ability to meet the target set in the 2015 Paris agreement to limit temperature increase to 1.5 C above pre-industrial levels, which requires greenhouse gas emissions to peak in the near term. This suggests that only biomass energy with the shortest carbon payback periods should be eligible for financial and regulatory support.
"Sustainable Forestry" Does Not Mean Carbon Neutrality
Many biomass proponents like to argue that biomass fuel sourced from a region where the net forest growth is positive or where sustainable forestry is practiced—is carbon neutral. Such logic is nonsense. Rates of forest growth simply cannot detect, quantify or reflect the carbon emissions from an individual biomass-burning facility and it does not establish a proper baseline for accounting or a cause-and-effect between the power plant and the region's forests. The Chatham House study flatly debunks this industry myth:
It is often argued that biomass emissions should be considered to be zero at the point of combustion because carbon has been absorbed during the growth of the trees, either because the timber is harvested from a sustainably managed forest, or because forest area as a whole is increasing (at least in Europe and North America).
These arguments are not credible. They ignore what happens to the wood after it is harvested (emissions will be different if the wood is burnt or made into products) and the carbon sequestration forgone from harvesting the trees that if left unharvested would have continued to grow and absorb carbon. The evidence suggests that this is true even for mature trees, which absorb carbon at a faster rate than young trees.
Among the report's many recommendations, three stand out as rejecting the fundamental carbon neutrality assumption underlying the EU's Renewable Energy Directive and restricting financial support only to biomass feedstocks that actually reduce carbon emissions in the short term—mill residues and post-consumer waste.
It is not valid to claim that because trees absorb carbon as they grow, the emissions from burning them can be ignored.
The provision of financial or regulatory support to biomass energy on the grounds of its contribution to mitigating climate change should be limited only to those feedstocks that reduce carbon emissions over the short term.
In practice, this means that support should be restricted to sawmill residues, together with post-consumer waste. Burning slower-decaying forest residues or whole trees means that carbon emissions stay higher for decades than if fossil fuels had been used.
Burning forest biomass is not a climate solution. It often worsens climate change by emitting more carbon than burning coal. These findings have now been corroborated by an established UK institution with a history of independent and rigorous research. It should serve as a wake-up call to policymakers in both the UK and EU that their renewables incentives and subsidies aimed at reducing carbon emissions from power plants are—in the case of forest biomass power—likely having the opposite effect and making our climate problems worse.
Sami Yassa is a senior scientist for the Natural Resources Defense Council.
The Himalayan Mountains and Tibetan Plateau, dubbed the "Third Pole" for having the largest ice mass on Earth after the polar regions, are rapidly losing their glaciers. Eighteen percent of China's glaciers have vanished in the past 50 years according to the Chinese Academy of Sciences. Air pollution and rising air temperatures are combining to increase glacial melt, threatening water supplies for one billion people.
Mount Everest is Earth's highest mountain.
Glacial surfaces are vulnerable to the effects of black carbon. What, exactly, is black carbon? The U.S. Environmental Protection Agency (EPA) defines it as "the most strongly light-absorbing component of particulate matter (PM), and is formed by the incomplete combustion of fossil fuels, biofuels and biomass." Airborne black carbon absorbs sunlight, creating local atmospheric warming. Deposited on glaciers, it darkens the surface, allowing the sun to warm the snow and ice just as wearing dark clothing on a summer day can make you feel the heat.
Source: Nature Communications
It's not just China's famous pollution or fossil fuel burning that's to blame. It's also yak dung.
Traditional Tibetan use of biomass such as animal dung for cooking and heating, along with open burning of garbage and crop waste, was found to be a greater contributor to the creation of black carbon in certain areas of the Himalaya-Hindu-Kush and Tibetan Plateau than burning of fossil fuels. A new study published this week in Nature Communications concludes that "the results of this extensive observation-based source-diagnostic study provide strong isotope-based evidence that biomass-sourced BC [black carbon] plays a quantitatively more important role in TP [Tibetan Plateau] glacier melting than fossil fuel-sourced BC, especially in the inland TP, and presumably arises mainly from domestic sources." The research was conducted by the Institute of Tibetan Plateau Research, Chinese Academy of Sciences.
The mineral-rich lands of Tibet are a source of diamonds, gold, uranium and copper, bringing extractive industries to the region. China is the world's fourth largest lithium producer, most of it coming from the Chang Tang plain in Western Tibet.The Tibet Express stated, "Glacier-water mining has major environmental costs in terms of biodiversity loss, impairment of some ecosystem services due to insufficient runoff water, and potential depletion or degradation of glacial springs."

Degrading glaciers threatens a critical Asian water source.
China, India and other countries surrounding the Tibetan Plateau have looked to it to supply growing water needs as populations increase and fresh-water sources suffer from industrial and human-waste pollution. China is also tapping the glaciers of the Himalaya's to support its bottled-water market, the world largest. At least 30 companies have been granted licenses to tap Tibetan glaciers.
Fossil fuels are by no means blameless in the degradation of the Himalayan glaciers. In the Himalayas, the Chinese study found fossil fuels accounted for 46 percent of black carbon versus 54 percent for biomass burning. Fossil fuel sources ranged as high as 70 percent in the Langtang and Mustang Valleys, largely from sources in Kathmandu and Northern India. The study also saw seasonal variations. Biomass-sourced black carbon decreased during monsoon season, presumably because these particles are more efficiently flushed out by precipitation.
Most of the 5,500 glaciers in the Himalaya-Hindu-Kush region—home of Mount Everest—may vanish by the end of this century. The long history of climbing through the Khumbu Icefall and up the Lhotse Face may become a rock scramble instead.
Related Articles Around the Web
The shift from fossil fuels to renewable energy is occurring mainly at the power plant level. But what about transportation? Can we significantly reduce greenhouse gas emissions by switching to cleaner fuels? Or is this just an attempt to keep 20th century technology chugging along while trading one set of environmental problems for another?
Nearly 100 activists with Cascadia Forest Defenders and Earth First! converged on the Seneca Jones biomass plant today protesting the company's privatization of public lands in the Elliott State Forest in Oregon and ongoing pollution in West Eugene.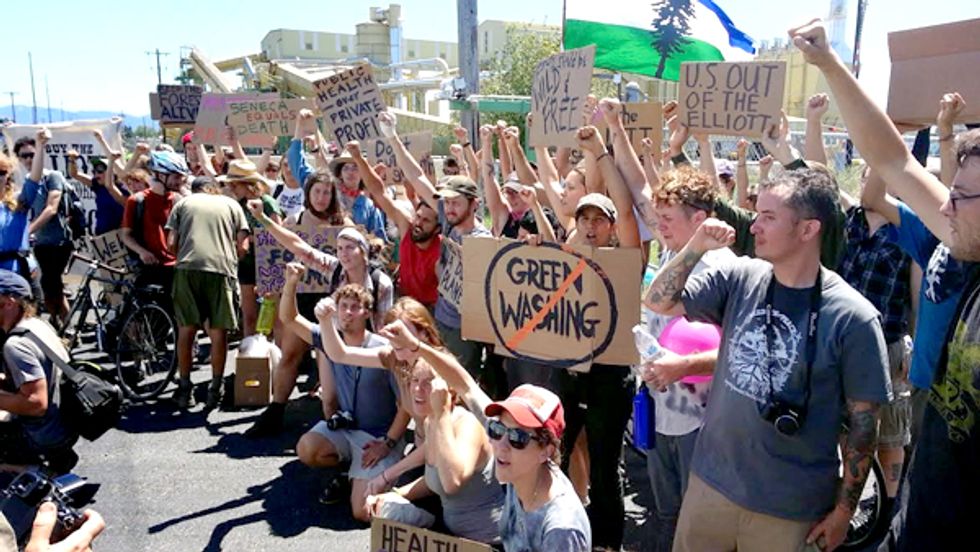 Several people locked themselves to equipment at the plant, halting a conveyor belt and blocking a "truck dump" where biomass is loaded into the incinerator, while dozens of protesters rallied outside the gates. A banner was dropped off of a tower reading: "Seneca Jones: Privatizing the coast range, polluting West Eugene." After police extracted the blockaders, three were taken to Lane County Jail and are facing several charges, including misdemeanor criminal mischief and felony burglary.
The activists brought attention to Seneca Jones Timber's role in privatizing the Elliott State Forest. This month Seneca closed on their purchase of 788 acres in the Elliott, called East Hakki Ridge. Co-owner of Seneca Kathy Jones recently expressed the company's intention to clearcut East Hakki and replace it with Douglas fir plantation.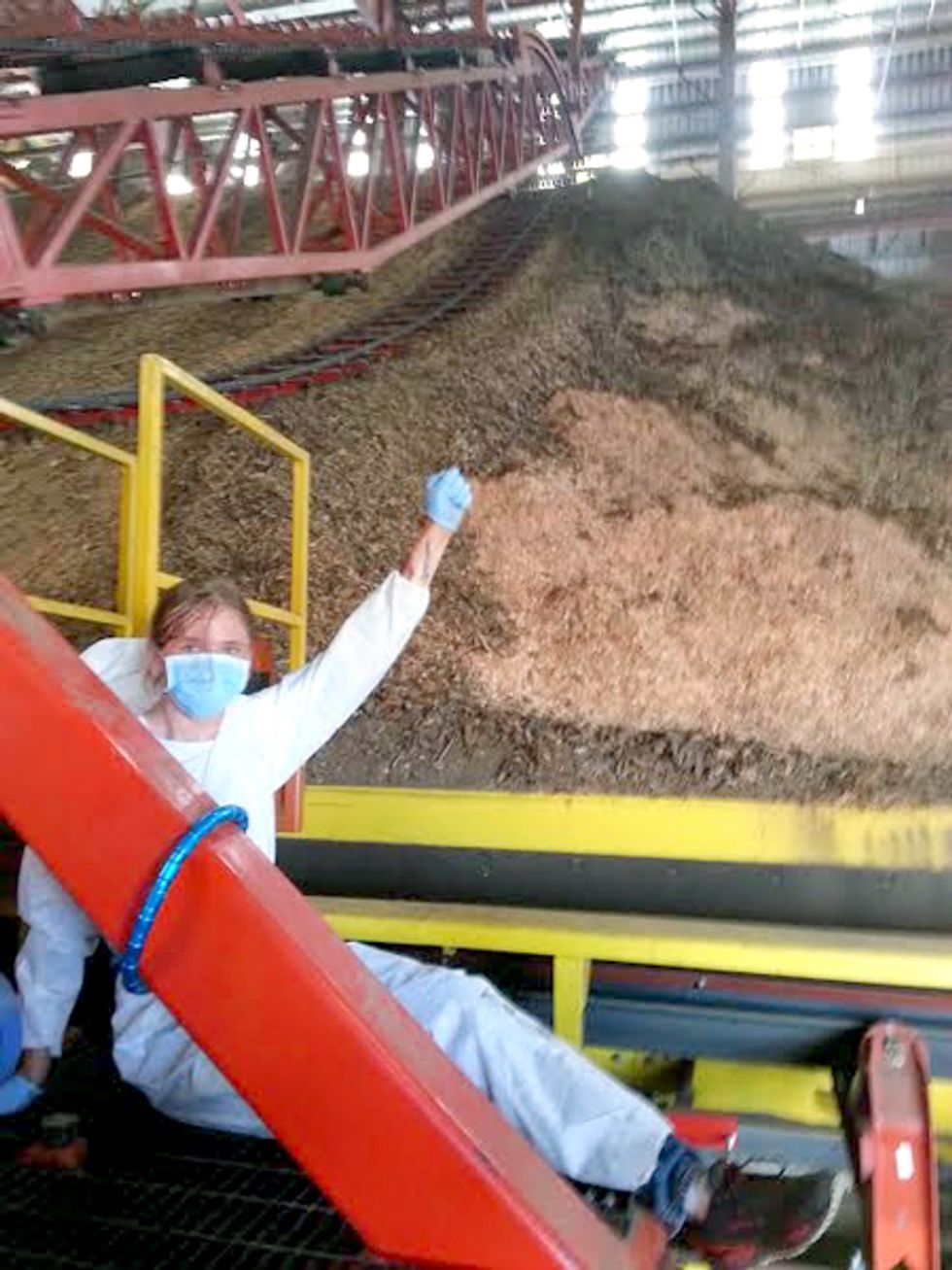 Cascadia Forest Defender Richard Haley commented, "However Kathy Jones paints it, her company is a bad neighbor everywhere it operates. Here in Eugene, Seneca pollutes. In the Elliott, Seneca clearcuts and puts up 'no trespassing' signs in pristine, never before logged forest. East Hakki is no longer a place where locals can go hunt, fish, hike, camp or watch birds. Now it is corporate property."
Coos Bay citizen science group Coast Range Forest Watch documented Marbled Murrelet nesting behavior in East Hakki Ridge in May. The bird is federally protected under the Endangered Species Act, which prohibits actions that injure or kill threatened species, including destruction of habitat. A month after Marbled Murrelets were found in East Hakki, conservation law organizations filed to sue Seneca Jones in the event of logging in the timber sale. Murrelets were also found in two timber sales purchased by timber company Roseburg Forest Products. Another parcel is up for sale this fall, and the State Land Board is considering privatizing the entire forest.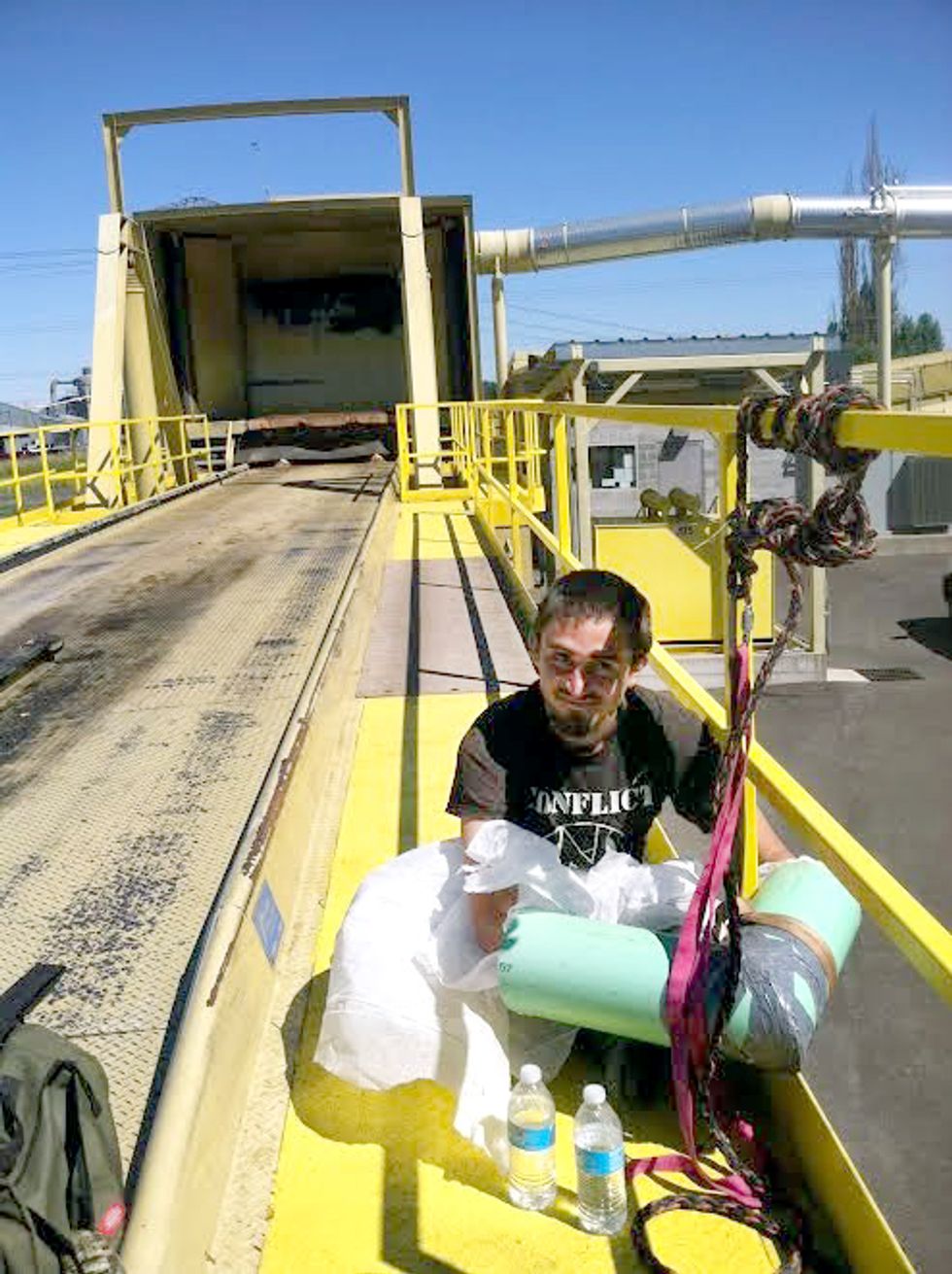 Despite Seneca's claim of being sustainable, the biomass plant failed its first Environmental Protection Agency air pollution test in 2011 but still requested more state funds to offset its production costs. In spite of its high impact on local air quality, Seneca receives $10 million in tax credits from the state of Oregon under the Business Energy Tax Credit Program.  
"The plant has had a bad reputation in this community since its opening," said West Eugene resident Matthew Hawks. "It's marketing itself as a 'green' solution in my neighborhood, but is actually harming the environment around us, especially the air we breathe."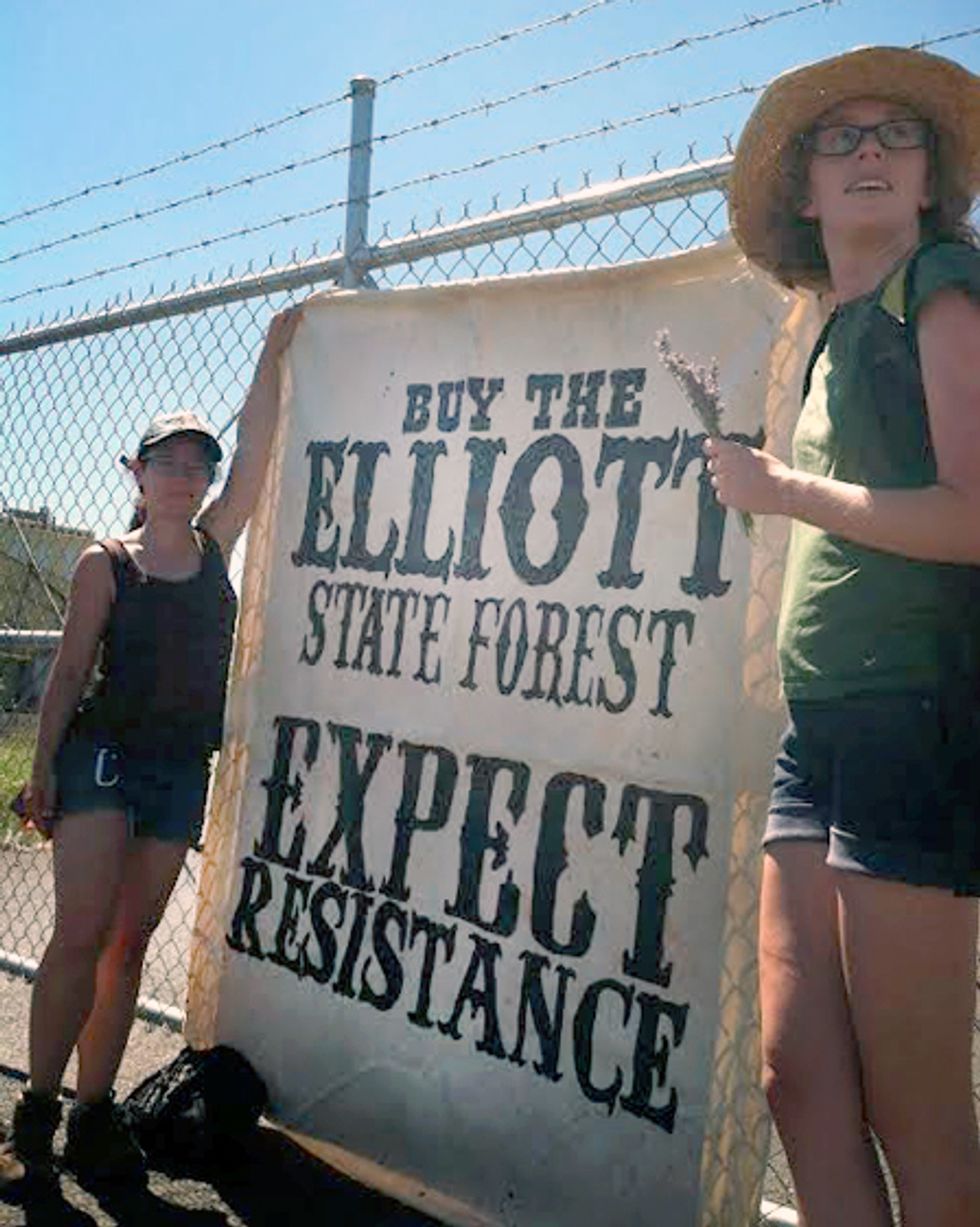 The plant, which only employs 11 people, releases an estimated 17,900 pounds of air toxins into West Eugene Neighborhoods annually, in addition to the 73,000 pounds released each year from the mill itself. There are three schools within three miles of the Seneca biomass facility. 
"While clearcutting and privatization in the Elliott State Forest is done in the name of public schools, this irresponsible company is taking millions of public dollars and impacting the health and safety of school children in their own neighborhood. It feels really twisted," said Cascadia Forest Defender Cordelia Finley.
The Eugene-based Cascadia Forest Defenders carried out this action with activists from across the U.S. following an annual Earth First! camp-out in the woods of Southern Oregon, called the Earth First! Round River Rendezvous.
Campaigners have awarded the UK Department for Energy and Climate Change (DECC) the "Biomess Award" after coming out on top of an online poll coinciding with a major biomass industry conference in London, with Drax and the Green Investment Bank coming a close second and third place, respectively.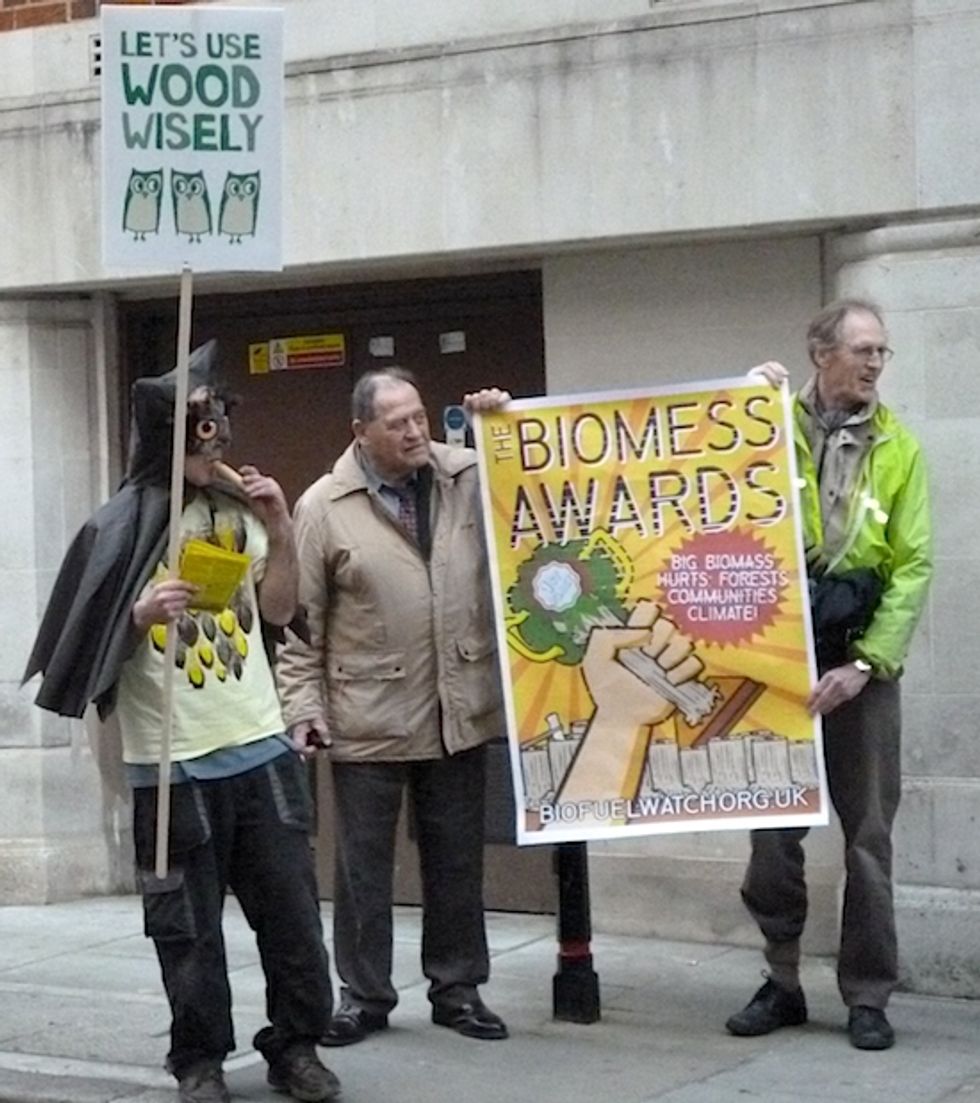 The award for forest destruction was given at an alternative awards ceremony held last night outside a gala dinner for delegates. After a last-minute change of venue the dinner took place at the conference venue, Grange St Paul's Hotel. More than 40 people held banners reading: "Big Biomass Fuels: Deforestation, Landgrabbing & Climate Change" and "Big Biomass Is Greenwash not Renewable Energy".
Biofuelwatch Campaigner Duncan Law, who hosted the satirical awards ceremony, said:
The people have spoken, and as far as they're concerned DECC are the biggest biomass baddie. Through their outrageous support for the biomass industry they have fuelled a new market for burning wood, and rewarded irresponsible companies such as Drax and their pellet suppliers Enviva for clearing ancient forests and pumping greenhouse gases into the atmosphere.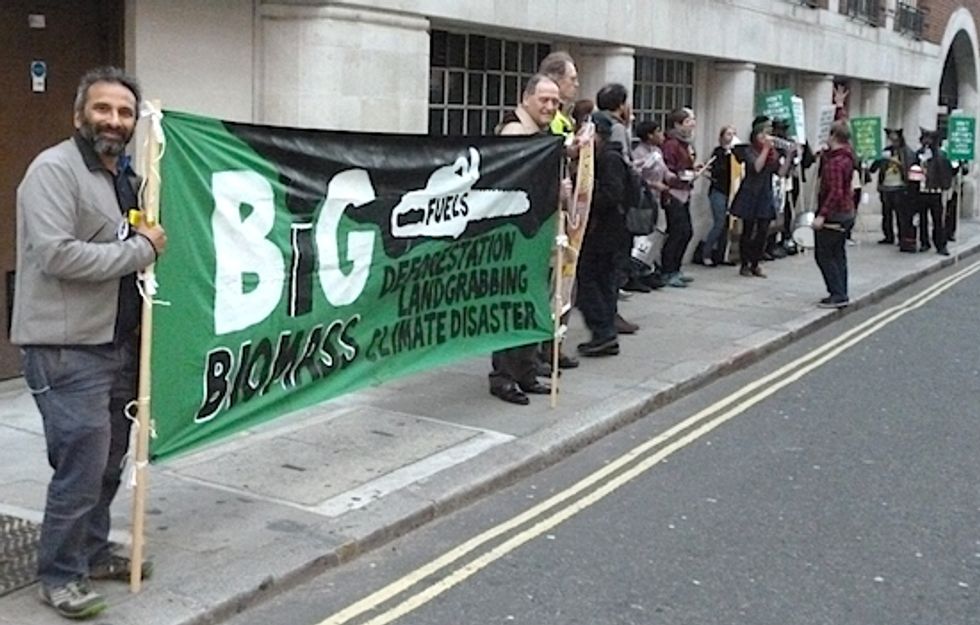 Biofuelwatch's alternative awards ceremony put a spotlight on the destruction being caused by the companies represented at the conference, which included award nominees Drax, Enviva, the Renewable Energy Association and the Woodpellet Association of Canada. Hundreds of people had voted for their "biggest biomass baddie" in an online poll held before the ceremony. 
The Dogwood Alliance plays a key role in exposing the current impacts of UK wood demand for biomass electricity on southern US forests. "Destruction of Southern forests is on the rise due to the dramatic growth in demand for wood pellets for energy from Europe with the UK leading the charge," said Scot Quarandra, head of campaigns for the Dogwood Alliance. "Big utilities and the wood pellet companies in the U.S. that supply them need to put the brakes on this false solution to climate change, and protect our forests and communities—not destroy them."
Drax's biomass plans will require pellets made from 15.8 million tons of wood each year, making it the biggest biomass-burning power station in the world. By comparison, the UK's total annual wood production is only 10 million tons. A growing number of scientific studies show that burning biomass actually produces more emissions than the coal it replaces for decades.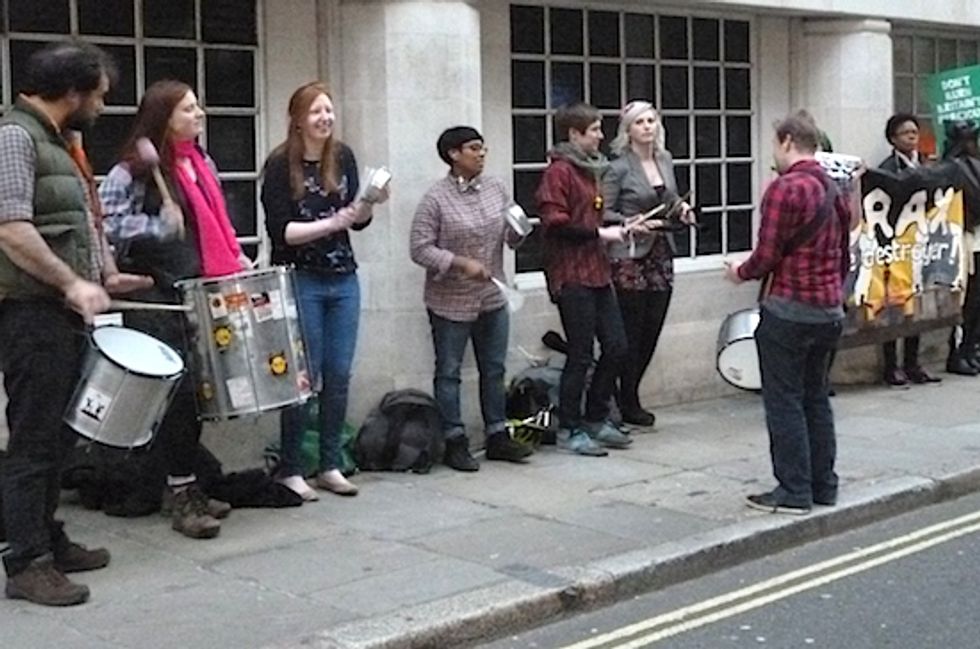 Duncan Law closed the awards ceremony saying:
Government and industry are using renewable energy targets as an excuse to keep old, polluting coal power stations running by burning vast amounts of imported wood. This is being justified because of a modern myth that biomass can be sustainable regardless of its scale. But there is nothing sustainable about importing and burning millions of tons of wood each year. In the UK alone, anticipated demand for wood because of biomass electricity is seven times the UK's current annual wood production. This won't come from renewable, clean or green sources, but from imports that are the result of cleared forests.
--------
YOU ALSO MIGHT LIKE
Report Highlights World-Wide Forest Destruction and Land Grabbing Due to UK Biomass Demand
Genetically Engineering Trees for Biofuel Undermines Real Energy and Climate Solutions
Research Finds Vapors From Coniferous Trees Could Help Slow Global Warming
--------