This website uses cookies to ensure you get the best experience while browsing it. By clicking 'Got It' you're accepting these terms.
Enjoy Seafood While You Can: Commercial Fisheries Likely to Collapse by 2048
Dec. 01, 2014 12:58PM EST
Food
Scientists and economists are concerned that commercial seafood harvesting may end within three decades. A prominent marine research ecologist says that commercial seafood from our oceans could disappear within the next three decades if humans don't take action immediately.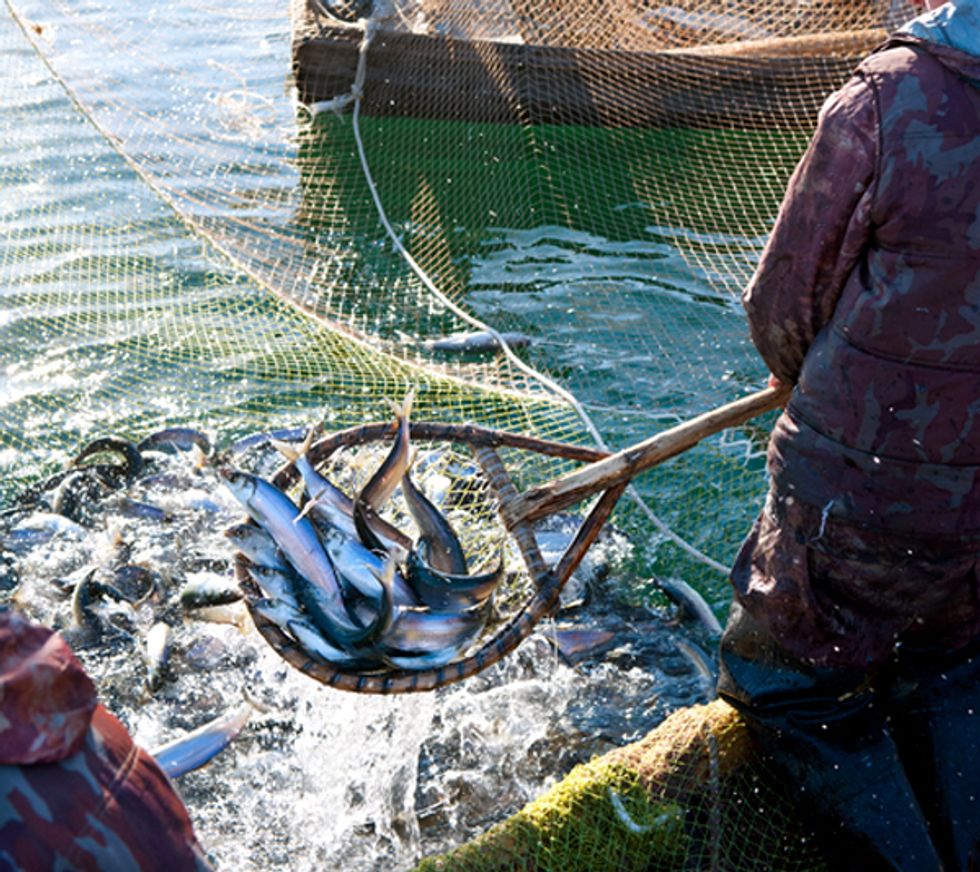 Photo credit: Shutterstock
Dr. Boris Worm of Dalhousie University in Halifax, Canada warns that the oceans are quickly losing biodiversity and that nearly 30 percent of seafood species that humans consume are already too small to harvest. If the long-term trend continues, there will be little or no seafood available for a sustainable harvest by 2048.
Dr. Worm's study was recently published in the journal Science and is an update of a study that was published in 2006. Importantly, the study is of the collapse of commercial catches, not species extinction. Catch collapse means that fish are caught at 10 percent or less of the rate they had been caught historically. Several media outlets have incorrectly stated that the study warns that all seafood will be gone from the ocean. CBS News, for example, reported that "the apocalypse has a new date: 2048" and that the oceans would be empty of fish at that time. To our knowledge, the television network has not issued a retraction.
"We never said that," says Dr. Worm. "We never talked about extinction. We talked about the collapse of the commercial catches."
Still, Worm and his international team of scientists and economists say that catch collapses still paint a grim picture for the ocean and for human health. The accelerated loss of biodiversity, they say, is imperiled by overfishing, pollution, habitat loss and climate change. Saltwater ecosystems, including human populations that depend on them for survival, can be adversely affected by dwindling populations. Harmful algae blooms, coastal flooding and poor water quality can be the results of reduced fish populations.
"Biodiversity is a finite resource, and we are going to end up with nothing left ... if nothing changes," says Worm.
The updated study points out that it's not too late to change, however. Areas can be managed for improved biodiversity and recovery is possible, says the study. In areas of the world where action has been taken to protect marine species, there have been notably positive results.
The problem is already affecting the U.S. seafood industry. Scientists are urging a moratorium on cold water shrimp harvesting in the Gulf of Maine as rising ocean temperatures are threatening populations of the tiny crustacean. This is the second straight season that researchers have urged that the netting of northern shrimp be halted.
The northern shrimp catch in Maine has been falling in recent years, as it has in neighboring New Hampshire and Massachusetts. However, it is estimated that some 85-90 percent of the northern shrimp caught in the Gulf of Maine are brought in by Maine boats. In 2010, more than 12 million pounds were caught by them, but it has declined by a factor of 14; less than 600,000 pounds were caught last year, according to the state of Maine.
The shrimp harvest averaged some 25 million pounds a year from 1969 to 1972 before falling below one million pounds in 1977. Those involved in the regional fishing industry are noticing a sharp decline in the population and are worried. Glen Libby, a shrimp processor and former fisherman, told the Portland Press Herald that the 2013 season was a bust and fishermen are finding few shrimp in their nets over the summer. He said it "probably is a good idea to give the fishery time to recover."
YOU MIGHT ALSO LIKE
9 of the Dirtiest U.S. Fisheries Exposed
3 Key Issues Governments Must Agree On at Lima Climate Talks
Eva Longoria and Eric Schlosser Expose the Real Cost of Our Food
EcoWatch Daily Newsletter
Penguins are seen near the Great Wall station in Antarctica, Feb. 9, days after the continent measured its hottest temperature on record at nearly 65 degrees Fahrenheit. Xinhua / Liu Shiping / Getty Images
By Richard Connor
Scientists have recorded Antarctica's first documented heat wave, warning that animal and plant life on the isolated continent could be drastically affected by climate change.
The Athos I tanker was carrying crude oil from Venezuela when a collision caused oil to begin gushing into the Delaware River.
U.S. Department of the Interior
A case that has bounced around the lower courts for 13 years was finally settled yesterday when the U.S. Supreme Court upheld a lower court decision, finding oil giant Citgo liable for a clean up of a 2004 oil spill in the Delaware River, according to Reuters.
The buildings of downtown Los Angeles are partially obscured in the late afternoon on Nov. 5, 2019, as seen from Pasadena, California, a day when air quality for Los Angeles was predicted to be "unhealthy for sensitive groups." Mario Tama / Getty Images
The evidence continues to build that breathing dirty air is bad for your brain.
Wave power in Portugal. The oceans' energy potential is immense. Luis Ascenso, via Wikimedia Commons
By Paul Brown
The amount of energy generated by tides and waves in the last decade has increased tenfold. Now governments around the world are planning to scale up these ventures to tap into the oceans' vast store of blue energy.
Yellowstone National Park closed to visitors on March 24, 2020 because of the Covid-19 virus threat. William Campbell-Corbis via Getty Images
When the novel coronavirus started to sweep across the country, the National Park Service started to waive entrance fees. The idea was that as we started to practice social distancing, Americans should have unfettered access to the outdoors. Then the parking lots and the visitor centers started to fill up, worrying park employees.