Trump leaves after delivering a speech at the Congress Centre during the World Economic Forum annual meeting in Davos on Jan. 21, 2020. JIM WATSON / AFP via Getty Images
Climate change and global warming are topping the agenda at this year's annual meeting in the Swiss ski resort of Davos, with activists at odds with businesses and governments about how to tackle the issue.
What Trump said:
The U.S. leader dubbed climate activists "prophets of doom" and rejected their warnings, saying: "Fear and doubt is not a good thought process."
Despite concerns about emissions, Trump praised the U.S. as one of the world's largest producers of natural gas.
He announced that the U.S. would be joining the WEF's one trillion trees initiative.
When asked about his stance on climate change by reporters ahead of his speech, he said: "I'm a big believer in the environment. The environment is very important to me."
Much of Trump's speech focused on praising his administration's domestic economic policies, saying that by rolling back regulations, prosperity "would come thundering back at record speed."
"A nation's highest duty is to its own citizens," he said. "Only when governments put their citizens first, will they be invested in their national futures."
Greta: 'Basically Nothing Has Been Done'
Following Trump's speech, Swedish teen climate activist Greta Thunberg criticized world leaders and business executives for failing to meet their climate targets.
"Unlike you, my generation will not give up without a fight. The facts are clear but they are still too uncomfortable for you to address," she told a panel.
"Our house is still on fire. Your inaction is fueling the flames by the hour. And we are telling you to act as if you loved your children above all else," Thunberg said, echoing her remarks from her WEF appearance last year.
At a panel just before Trump arrived, Thunberg emphasized that moderate changes will not be enough to slow the impact of climate change.
"We are all fighting for the environment and climate. If you see it from a bigger perspective, basically nothing has been done. It will require much more than this. This is just the very beginning," she said.
Who else will be there? More than 50 heads of state and government will be in attendance along with more than 3,000 other attendees. German Chancellor Angela Merkel is due to speak on Thursday. Following in Thunberg's footsteps, other young activists are also taking part this year, including South African climate activist Ayakha Melithafa and Irish teen scientist Fionn Ferreira.
What to look out for: It will be the first time that Trump meets with the new European Commission President Ursula von der Leyen. The U.S. leader has repeatedly clashed with the EU over trade and tax policies. It also remains to be seen whether businesses will back up their pledges on climate change with concrete action.
What is Davos? It's the 50th meeting of the World Economic Forum this year, which was launched by German economist Klaus Schwab. The meeting takes place at the Swiss ski resort of Davos, drawing world leaders, business executives, academics, charity heads and celebrities. The conference is used to hold bilateral meetings, make business deals or to try and impact the global agenda. The meeting this year runs from Jan. 21 – 24.
Reposted with permission from DW.
EcoWatch Daily Newsletter
By Jessica Corbett
Ahead of the World Economic Forum's (WEF) annual meeting in Davos, Switzerland next week—which convenes the world's wealthiest and most powerful for a summit that's been called both the "money Oscars" and a "threat to democracy"—the group published a report declaring, "Of all risks, it is in relation to the environment that the world is most clearly sleepwalking into catastrophe."
While WEF has made a habit of recognizing the threat posed by the human-made climate crisis in its Global Risks reports—for which it has garnered some praise—author and activist Naomi Klein was quick to challenge the narrative presented in the latest edition, pointing out that many of the policies pushed by the very people invited to the exclusive event have driven the global crisis.
"Sleepwalking? Nah. The policies of global deregulation, privatization, unending consumption, and growth-worship that you advanced so aggressively in order to construct the Davos Class marched us here," she tweeted. "Pretty sure your eyes were wide open."
Sleepwalking? Nah. The policies of global deregulation, privatization, unending consumption and growth-worship that… https://t.co/Gc5tbwYinR

— Naomi Klein (@Naomi Klein)1547659003.0
While Klein—who argued in her 2014 book This Changes Everything: Capitalism vs. the Climate that "our economic system and our planetary system are now at war"—brought a critical eye to the report's warnings about the dangers of failing to limit global warming, others welcomed the attention given to the crucial issue.
The climate crisis is once again ranked as the top global risk by @WEF — after yet another year in which Mother Nat… https://t.co/LrcIEGdh2w

— Al Gore (@Al Gore)1547655845.0
This, at the same time as #environmental risks continue to dominate @wef Global Risks Perception Survey (GRPS) with… https://t.co/2jlGVLmbvL

— Bo Norrman (@Bo Norrman)1547669016.0
WEF's Global Risks Perception Survey solicits input from nearly 1,000 "decision-makers" across government, big business, academia and civil society, and aims to identify both short- and long-term threats to the international community.

Environmental threats—including extreme weather, failure of climate-change mitigation and adaptation, natural disasters, biodiversity loss and ecosystem collapse, and man-made environmental disasters—dominate the top 10 lists for both likelihood and impact.

"Extreme weather was the risk of greatest concern, but our survey respondents are increasingly worried about environmental policy failure," the report notes, acknowledging that "biodiversity loss is affecting health and socioeconomic development, with implications for well-being, productivity, and even regional security."
Responding in a statement, Marco Lambertini, director general of World Wildlife Fund (WWF) International, said: "Recognition of the dangers posed by climate change and biodiversity loss is not enough. The science is clear: we need to see urgent and unprecedented action now."
"The consequences of not changing course are enormous not just for nature, but for humans. We depend on nature much more than nature depends on us," Lambertini added. "Global political and business leaders know that they have a major role to play in safeguarding the future of economies, businesses, and the natural resources we depend on."
Concerns about governmental failure to adequately address the climate crisis declined among "the Davos Class" after world leaders came together to sign the Paris agreement, according to Reuters. But that changed after President Donald Trump took office and announced plans to ditch the accord, which aims to limit warming within this century to 1.5°C—a goal that experts say would require immediately phasing out fossil fuels.

Additionally, as Aengus Collins, the WEF report's author, told Reuters, "People ... are beginning to understand increasingly the gravity of the situation and that the Paris agreement, even if fully implemented, cannot be seen as a panacea."
In October, the U.N. Intergovernmental Panel on Climate Change (IPCC) put out a report detailing what the world could look like with that level of warming, and demanding "rapid, far-reaching, and unprecedented" systemic reforms. That report has been followed by various studies outlining how the U.S. is "drilling toward disaster" with fossil fuel expansion while the oceans are warming and ice is melting at alarming rates.
Along with rising sea levels, the crisis has also featured devastating hurricanes, heatwaves and wildfires. One analysis of last year's costliest climate-driven extreme weather events estimated that the top 10 storms, droughts, fires and floods of 2018 caused at least $84.8 billion in damage, almost certainly an underestimate. Experts warn that as the planet warms, such events will become more common and powerful.
Despite warnings from the global scientific community and mounting public demands for a Green New Deal, Trump and his backers continue to downplay the threat and attack climate and environmental regulations. Although the president no longer plans to attend the Davos meeting due to the government shutdown he has forced over border wall funding, five members of his administration are supposedly still set to attend.
Regardless of whether the government reopens by next week, CNBC reports that "Treasury Secretary Steven Mnuchin will lead the five-strong delegation which also includes Secretary of State Mike Pompeo; Secretary of Commerce Wilbur Ross; U.S. Trade Representative Robert Lighthizer; and Assistant to the President and Deputy Chief of Staff for Policy Coordination, Chris Liddell."
5 Ways to Curb the Power of Corporations and Billionaires @karenhunter - @AfroStateOfMind #KarenRebels https://t.co/LRC72RPAu7

— SiriusXM Urban View (@SiriusXM Urban View)1532031493.0
Reposted with permission from our media associate Common Dreams.

From Your Site Articles
Related Articles Around the Web
waterlust.com / @tulasendlesssummer_sierra .
Each product featured here has been independently selected by the writer. If you make a purchase using the links included, we may earn commission.
The bright patterns and recognizable designs of Waterlust's activewear aren't just for show. In fact, they're meant to promote the conversation around sustainability and give back to the ocean science and conservation community.
Each design is paired with a research lab, nonprofit, or education organization that has high intellectual merit and the potential to move the needle in its respective field. For each product sold, Waterlust donates 10% of profits to these conservation partners.
Eye-Catching Designs Made from Recycled Plastic Bottles
waterlust.com / @abamabam
The company sells a range of eco-friendly items like leggings, rash guards, and board shorts that are made using recycled post-consumer plastic bottles. There are currently 16 causes represented by distinct marine-life patterns, from whale shark research and invasive lionfish removal to sockeye salmon monitoring and abalone restoration.

One such organization is Get Inspired, a nonprofit that specializes in ocean restoration and environmental education. Get Inspired founder, marine biologist Nancy Caruso, says supporting on-the-ground efforts is one thing that sets Waterlust apart, like their apparel line that supports Get Inspired abalone restoration programs.
"All of us [conservation partners] are doing something," Caruso said. "We're not putting up exhibits and talking about it — although that is important — we're in the field."
Waterlust not only helps its conservation partners financially so they can continue their important work. It also helps them get the word out about what they're doing, whether that's through social media spotlights, photo and video projects, or the informative note card that comes with each piece of apparel.
"They're doing their part for sure, pushing the information out across all of their channels, and I think that's what makes them so interesting," Caruso said.
And then there are the clothes, which speak for themselves.
Advocate Apparel to Start Conversations About Conservation
waterlust.com / @oceanraysphotography
Waterlust's concept of "advocate apparel" encourages people to see getting dressed every day as an opportunity to not only express their individuality and style, but also to advance the conversation around marine science. By infusing science into clothing, people can visually represent species and ecosystems in need of advocacy — something that, more often than not, leads to a teaching moment.

"When people wear Waterlust gear, it's just a matter of time before somebody asks them about the bright, funky designs," said Waterlust's CEO, Patrick Rynne. "That moment is incredibly special, because it creates an intimate opportunity for the wearer to share what they've learned with another."
The idea for the company came to Rynne when he was a Ph.D. student in marine science.
"I was surrounded by incredible people that were discovering fascinating things but noticed that often their work wasn't reaching the general public in creative and engaging ways," he said. "That seemed like a missed opportunity with big implications."
Waterlust initially focused on conventional media, like film and photography, to promote ocean science, but the team quickly realized engagement on social media didn't translate to action or even knowledge sharing offscreen.
Rynne also saw the "in one ear, out the other" issue in the classroom — if students didn't repeatedly engage with the topics they learned, they'd quickly forget them.
"We decided that if we truly wanted to achieve our goal of bringing science into people's lives and have it stick, it would need to be through a process that is frequently repeated, fun, and functional," Rynne said. "That's when we thought about clothing."
Support Marine Research and Sustainability in Style
To date, Waterlust has sold tens of thousands of pieces of apparel in over 100 countries, and the interactions its products have sparked have had clear implications for furthering science communication.
For Caruso alone, it's led to opportunities to share her abalone restoration methods with communities far and wide.
"It moves my small little world of what I'm doing here in Orange County, California, across the entire globe," she said. "That's one of the beautiful things about our partnership."
Check out all of the different eco-conscious apparel options available from Waterlust to help promote ocean conservation.
Melissa Smith is an avid writer, scuba diver, backpacker, and all-around outdoor enthusiast. She graduated from the University of Florida with degrees in journalism and sustainable studies. Before joining EcoWatch, Melissa worked as the managing editor of Scuba Diving magazine and the communications manager of The Ocean Agency, a non-profit that's featured in the Emmy award-winning documentary Chasing Coral.
By Joel Scata
Extreme weather, failure to adapt to climate impacts, and failure to combat climate change all top the World Economic Forum's list of Global Risks.
Yet, President Trump, who addressed the World Economic Forum meeting in Davos, Switzerland Friday, fails to recognize these risks and, in fact, has taken many actions that make the nation more vulnerable to them.
Global Risks Report 2018, World Economic Forum
Extreme Weather Equals Extreme Costs

The World Economic Forum's Global Risks Report 2018 ranked extreme weather, natural disasters, and our collective failure to mitigate and adapt to a climate change as some of the greatest and most likely risks facing humanity in the next 10 years. And their warnings are not meritless. Climate change is already helping to fuel more extreme storms.
Such extreme weather events can be economically and socially devastating for many regions of the world. These events, such as catastrophic hurricanes, major floods and prolonged high temperatures and droughts, are expected to occur more frequently and at greater magnitude in the coming decades. These events will further stress many countries beset by poverty and instability, and could potentially result in water crises and large-scale migrations of refugees, inflaming regional tensions. According to the report, "76% of the 31.1 million people displaced during 2016 were forced from their homes as a result of weather-related events."
For the U.S., extreme weather events cause billions of dollars in disaster-related damages. In the 2017, sixteen weather-related disasters, each exceeding $1 billion in damage, occurred in the U.S. Hurricane Harvey, alone, has likely cost $125 billion in damages.
As this graphic demonstrates, the number of these events and their associated costs has steadily increased.
NOAA National Centers for Environmental Information (NCEI) U.S. Billion-Dollar Weather and Climate Disasters (2018).
This trend will likely continue to increase as climate change continues to load the dice when it comes to extreme events.

"America First" in Exposure to Impacts of Climate Change
However, the Trump administration appears hell-bent on taking the U.S. in reverse. The administration has strived to cast doubt on the existence of climate change and its role in fueling these disasters. Many of the Trump administration's actions, like revoking the federal flood protection standard, are inapposite to findings of the report, and have undermined the nation's ability to mitigate and adapt.
The Trump administration has taken a hatchet to numerous laws, regulations, and policies that, if left in place, would have made America stronger and safer in the face of climate change impacts. Instead, Trump's anti-environment agenda has left the U.S. exposed, threatening human health and safety, and the nation's long-term economic prosperity. Here is a list of just some of Trump's dangerous actions:
An Extreme Future for America
Climate change is not a matter of "if;" it is occurring and will continue to occur with worsening severity, unless action is taken to mitigate and adapt to its impacts. The Trump administration would be wise to heed the warnings of the report because its current actions set the U.S. up to fail. One only need to look to the past year to see the implications of a future of more extreme weather. And America is on a path to be vastly unprepared.
Related Articles Around the Web
Twenty-four hours of inspiring stories of regular people taking their future into their hands and taking action on climate.
Twenty-four hours of eye-opening conversations with the business innovators, government leaders, scientists, community voices and more leading the fight for solutions all around the planet. Names like New Zealand Prime Minister Jacinda Ardern, California Gov. Jerry Brown and World Economic Forum Founder and Executive Chairman Klaus Schwab.
Twenty-four hours of electrifying musical performances from some of the great names of pop music and fresh new voices. Artists like Annie Lennox, Belinda Carlisle, Billy Bragg, Ellie Goulding, Iggy Pop, Jason Mraz, Maná, Nile Rodgers, Rag'n'Bone Man and Young Paris.
Twenty-four hours of inspiration for all of us to be the voice of reality and millions to speak up for the planet we want.
On Dec. 4-5, we're presenting the global broadcast event, 24 Hours of Reality: Be the Voice of Reality, hosted by former Vice President Al Gore, streaming live at 24hoursofreality.org and presented locally by television partners around the world.
For 24 hours, we'll travel around the Earth, telling stories of real people making a real difference for the climate. We'll talk to some of the most interesting and intriguing leaders in every sector of business, activism, policy and more who are changing how we create energy, power our economies, and live our everyday lives, everywhere from New York to New Delhi. Along the way, we'll see stirring performances from today's most dynamic musicians.
Most important, we'll show a world moving forward to a clean energy future. And we'll show you how you can help.
If you're ready to make a difference and join millions worldwide in speaking up as the voice of reality, join us on Dec. 4-5. Visit 24hoursofreality.org for the full lineup and program details.
The event is powered by Switchboard. Click the link below to use your voice to inspire millions.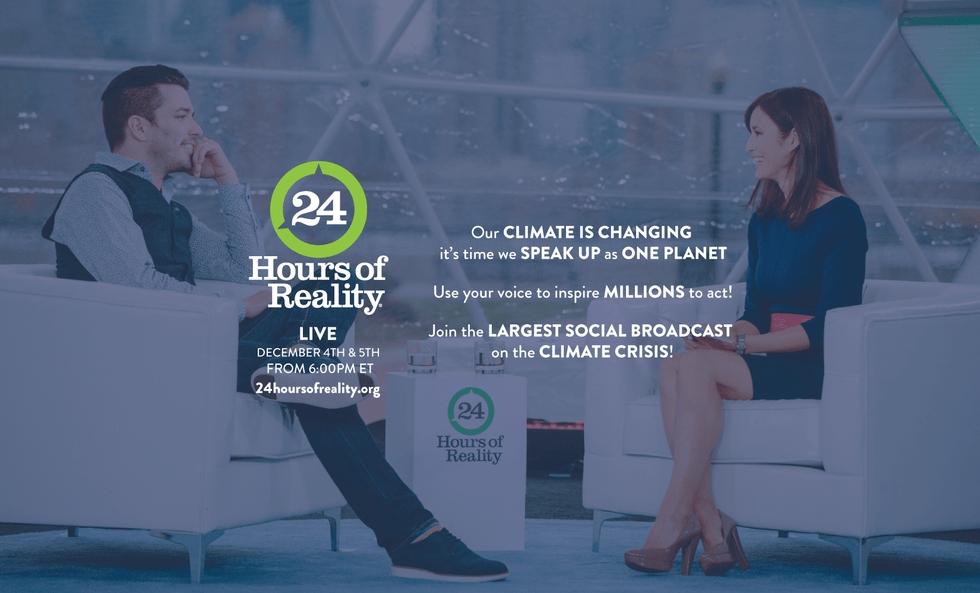 cloud.switchboard.live
Twenty-four hours of inspiring stories of regular people taking their future into their hands and taking action on climate.
Twenty-four hours of eye-opening conversations with the business innovators, government leaders, scientists, community voices and more leading the fight for solutions all around the planet. Names like New Zealand Prime Minister Jacinda Ardern, California Gov. Jerry Brown and World Economic Forum Founder and Executive Chairman Klaus Schwab.
Twenty-four hours of electrifying musical performances from some of the great names of pop music and fresh new voices. Artists like Annie Lennox, Belinda Carlisle, Billy Bragg, Ellie Goulding, Iggy Pop, Jason Mraz, Maná, Nile Rodgers, Rag'n'Bone Man and Young Paris.
Twenty-four hours of inspiration for all of us to be the voice of reality and millions to speak up for the planet we want.
On Dec. 4-5, we're presenting the global broadcast event, 24 Hours of Reality: Be the Voice of Reality, hosted by former Vice President Al Gore, streaming live at 24hoursofreality.org and presented locally by television partners around the world.
For 24 hours, we'll travel around the Earth, telling stories of real people making a real difference for the climate. We'll talk to some of the most interesting and intriguing leaders in every sector of business, activism, policy and more who are changing how we create energy, power our economies, and live our everyday lives, everywhere from New York to New Delhi. Along the way, we'll see stirring performances from today's most dynamic musicians.
Most important, we'll show a world moving forward to a clean energy future. And we'll show you how you can help.
If you're ready to make a difference and join millions worldwide in speaking up as the voice of reality, join us on December 4-5. Visit 24hoursofreality.org for the full lineup and program details.
March for Science. Molly Adams / Flickr
Far and wide, young people consider climate change to be the world's most serious issue, according to the World Economic Forum's 2017 Global Shaper Survey of more than 31,000 millennials from 186 countries and territories.
Close to half (48.8 percent) of those surveyed chose "climate change/destruction of nature" as their No. 1 concern. This is the third year in a row that 18-to-35-year-olds declared the issue as their biggest global concern.
The vast majority of survey participants also agreed about what causes climate change—91 percent answered "agree" and "strongly agree" with the statement "science has proven that humans are responsible for climate change."
About 78 percent of respondents also said they are willing to change their lifestyle to protect the environment.
Millennials are a major voting bloc in the U.S., accounting for 36 percent of eligible voters in the 2016 election. Population estimates from the U.S. Census Bureau in 2016 also found that millennials surpassed Baby Boomers as the nation's largest living generation.
But on a sad but related note, the new survey found that more than half (56 percent) of millennials believe that their views are ignored before important decisions are taken in their country.
"By wide margin, millennials (who will be here for decades to come) say climate change is worst problem world faces," tweeted Bill McKibben, environmentalist and founder of 350.org, about the survey's results.
Following climate change, "Large scale conflicts" (38.9 percent) and "Inequality" (30.8 percent) was voted as the second and third most serious global issue, respectively.

Wikimedia Commons
By Ariana López Peña
Costa Rica was the most environmentally advanced and happiest place on Earth last year, followed by Mexico, Colombia, Vanuatu and Vietnam.
So concluded the Happy Planet Index, which recently released its 2016 ranking of "where in the world people are using ecological resources most efficiently to live long, happy lives."
That neither the U.S. nor any European nations make the top ten may be surprising, but Costa Rica's winning position is not; this small Central American nation also topped the 2009 and 2012 rankings.
The Happy Planet Index measures life expectancy, well-being, environmental footprint and inequality to calculate nations' success—all areas where Costa Rica's government has made significant effort and investment.
Less War, More Health
In 1949, Costa Rica took a big gamble eliminating its army and investing military funds into health and education. The decision has paid off on numerous fronts.
By 2016, education comprised 8 percent of Costa Rica's national budget—up from 2.6 percent in 1994 and 5.9 percent 2014, according to a 2014 study.
By comparison, nearby El Salvador spends 3.42 percent of GDP on education, the U.S. spends 5.22 percent and Colombia allocates 4.67 percent.
In the environmental realm, Costa Rica has long been a pioneer. In the 1990s, the country passed a series of "green culture" laws including the tax-funded National Forests law that protects forests, waters, biodiversity and natural beauty as both tourist attractions and scientific resources. It also developed a financing system, supported by both the government and by international organizations, such as the World Bank, to pay for environmental protection programs.
Other green initiatives include the Eco-Marchamo, which is a voluntary complementary tax that allows drivers to offset 100 percent of the emissions generated by fuel consumption for one year and the Carbon Neutral Framework that incentives good environmental practice by Costa Rican companies.
Under President Luis Guillermo Solís, Costa Rica's national health policy also now includes the explicit goal of achieving "environmentally sustainable socio-economic development," based on the theory that such growth will better position the small country to face big international challenges, such as health crises, increasing violence and climate change.
In short, Costa Rica has built into its whole governance model the ability to face the major environmental and health challenges facing the world.
As a result, in addition to its top ranking on the Happy Planet Index, Costa Rica also does very well on the Global Index of Happy Workers (at number three), in Doing Business 2017 (at number five) in the region Latin American and on the Individual Liberties Index. Costa Rica is also a leader within Central America in labour rights and ranks among the most competitive economies in Latin America. (There's more, too—you can find it here).
This reveals a key issue highlighted by the Happy Place Index: public policies have a great impact on the well-being of a populace.
150 Days and Counting, Costa Rica Gets All of Its Electricity From Renewables https://t.co/e5utIsJMfu @Good_Energy @rechargenews

— EcoWatch (@EcoWatch)1473328216.0
Limits to the Rankings
But they're not the only factor and such rankings, while perhaps a point of pride for a tiny Central American nation, have serious limitations.
First, global indexes inevitably include certain indicators and exclude others. This can lead to certain cognitive dissonance. It is notable that among the WEF's top ten "happiest" places are two highly under-developed nations, Vanuatu and Bangladesh. Both not only have low global competitiveness but also do badly on the UN's Human Development Index (134th and 142nd, respectively).
How is it possible for a country to be eco-happy but underdeveloped?
Well, the Happy Planet Index does not look at such indicators as education, income, access to water and electricity or poverty rates. Accounting for those facts would create a more complete, and probably very different, perception of happiness.
Vanuatu, which the Happy Planet Index ranks fourth happiest in terms of sustainability, comes in 134th on Yale University's Environmental Performance Index (EPI), which examines how countries protect human health and the ecosystem. Costa Rica, first on the 2016 Happy Planet Index, ranks 42 place on the EPI. Meanwhile, Ecuador, tenth on the Happy Planet Index, is 76th in global competitiveness, according to the CDI's 2016-2017 rankings, and 103rd on Yale's EPI.
According to the UN's Conference on Trade and Development, the world's least-developed countries are characterized by having deficient per capita income and economic vulnerability. That is, at least 50 percent of the population lives in extreme poverty. They're also the countries that are most exposed to climate change and its consequences.
So is a country that's green necessarily a happy place?
What is Happiness?
The Happy Planet Index is useful in reconceptualizing happiness in terms of environmental well-being and sustainable practices, but it needs fine-tuning.
In underdeveloped countries, a low carbon footprint clearly has more to do with the lack of industry than with environmental policy. These countries simply didn't undergo the same economic growth processes that the rich world did, from the Industrial Revolution through to the second world war.
And it is confusing to talk about happiness in countries where life conditions are not even minimally acceptable. Even the authors of the report on the Happy Planet Index note when discussing Costa Rica that despite its environmental commitment, Costa Rica's ecological footprint is not small enough to be totally sustainable and that its income inequality remains quite high.
The same could be noted of the other top countries in the Happy Planet Index, Mexico and Colombia, whose 2014 GINI ratings of 48.2 and 53.5, respectively, reflect starkly uneven wealth distribution. In fact, Colombia is the second-most unequal country in Latin America, a region characterized by its wealth gap.
Costa Rica has achieved a lot since it turned away from war and toward national well-being a half century ago. But many challenges – from preventing violence to increasing income equality—remain for it to become both green and truly happy.
To create the kind of sustainability that fundamentally links human, environmental and social development, policy, science, education and citizen activism must all work together.
That's how we'll redefine the meaning of happiness—in Costa Rica and beyond.
Ariana López Peña is a professor at the School of International Relations, Universidad Nacional de Costa Rica. Reposted with permission from our media associate The Conversation.
The combined wealth of eight men is greater than the poorest 3.6 billion people, according to the anti-poverty charity Oxfam International.
This is a massive jump from last year's estimate, which cited the world's 62 richest people having a combined wealth equal to the poorest 50 percent of the population on the planet.
Oxfam's report, An Economy for the 99%, details the widening inequality of global wealth. The report will be presented at the World Economic Forum annual summit, beginning Jan. 17 in Davos, Switzerland. The attendees will include the top business executives, policy makers and academics.
62 Richest People on Earth Own the Same Wealth as Half the World's Population https://t.co/sSmjouKVnu @globalcompact @Ethical_Corp

— EcoWatch (@EcoWatch)1453250410.0
Oxfam's goal is to draw attention to political and economic forces creating widening inequality.
"It is obscene for so much wealth to be held in the hands of so few when 1 in 10 people survive on less than $2 a day," said Winnie Byanyima, executive director of Oxfam International, who will be attending the meeting in Davos. "Inequality is trapping hundreds of millions in poverty; it is fracturing our societies and undermining democracy."
The combined wealth of these eight men is greater than 164 countries GDPs:

Microsoft founder Bill Gates, $75 billion
Spanish retail magnate Amancio Ortega, $67 billion
American investor Warren Buffett, $60.8 billion
Mexican investor Carlos Slim Helu, $50 billion
Amazon.com founder Jeff Bezos, $45.2 billion
Facebook founder Mark Zuckerberg, $44.6 billion
Oracle founder Larry Ellison, $43.6 billion
Media mogul Michael Bloomberg, $40 billion
The world's 8 richest have as much wealth as the bottom half of the global population https://t.co/WGHlo1nnlP https://t.co/hA0epjRkQv

— The New York Times (@The New York Times)1484577427.0
Many of these top eight men have already pledged vast amounts of their fortunes to charity.
Oxfam found that incomes of the poorest people increased a meager $65 between 1988 and 2011, or $3 annually. The incomes of the wealthiest 10 percent, on the other hand, added a whopping 182 times during the same time period.
A report released December 2016 by economists Thomas Piketty, Emmanuel Saez and Gabriel Zucman found that 117 million American adults are living on income stagnated at $16,200 a year, before taxes and transfer payments. It concluded that the lower half of the U.S. population has been "shut off from economic growth over the past 40 years."
Tax avoidance by corporations and mega-wealthy individuals are escalating inequality between the rich and poor at a staggering rate. Oxfam's report contends that the wealthiest people and corporations are using a sophisticated network of tax havens. As a result, they are not paying their fair share. That enormous sum of money not being taxed is desperately needed by government agencies for aging infrastructure, social assistance and future-proofing cities for more extreme weather.
According to the report, it's the inequality that is holding back economies.
"Global leaders are very aware now of the fact that if stark inequality continues at this level, it has a global economic impact," said Jim Clarken, chief executive of Oxfam, Ireland. "This is not something that is inevitable. This is something that is a result of policy choices, and can be changed with the right kinds of policy choices."
Oxfam is urging governments to increase tax transparency and halt tax avoidance by multi-national corporations.
The organization believes that governments should be designed for the bottom 99 percent of the income earners rather than the top wealthiest one percent. Mandatory public lobby registries with stricter rules on conflicts of interest would curtail this widening gap of disparity.
According to the report:
"Some of the super-rich also use their fortunes to help buy the political outcomes they want, seeking to influence elections and public policy. The Koch brothers, two of the richest men in the world, have had a huge influence over conservative politics in the U.S., supporting many influential think tanks and the Tea Party movement and contributing heavily to discrediting the case for action on climate change. This active political influencing by the super-rich and their representatives directly drives greater inequality by constructing 'reinforcing feedback loops' in which the winners of the game get yet more resources to win even bigger next time."
One-Third of the Trump Team Has Ties to the Koch Brothers https://t.co/FabgX9Ahzc @OpenSecretsDC @Publici

— EcoWatch (@EcoWatch)1484189109.0
"From Brexit to the success of Donald Trump's presidential campaign, a worrying rise in racism and the widespread disillusionment with mainstream politics, there are increasing signs that more and more people in rich countries are no longer willing to tolerate the status quo," cautioned Oxfam's new report.
Solar farm at the Topaz Solar Farm in California. Photo credit: Sarah Swenty / USFWS
Renewable energy has reached an important milestone. The World Economic Forum (WEF) has determined that in many parts of the world, solar energy is now the same price or even cheaper than fossil fuels for the first time.
In a handbook released this month, the WEF observed how the price of renewable technologies, particularly solar, has declined to unprecedented lows.
This brings US total installed solar capacity to 35.8 gigawatts, enough to power 6.5 million homes: https://t.co/D8W2XHDSLC via @EcoWatch

— NRDC (@NRDC)1482612846.0
While the average global LCOE [levelized cost of electricity] for coal and natural gas is around $100 per megawatt-hour, the price for solar has plummeted from $600 a decade ago to $300 only five years later, and now close to or below $100 for utility-scale photovoltaic. For wind, the LCOE is around $50.

According to the WEF, more than 30 countries have already reached grid parity—even without subsidies. ("Grid parity" is the point when an alternative energy source, say solar, can generate power at a LCOE that's equal or even less than the price of traditional grid power.)
"It is relevant to note that the mentioned evolution, market share gain and continued potential for renewable energy do not hinge on a subsidy advantage," the report added. "In fact, according to [International Energy Agency], fossil-fuel consumption has received $493 billion in subsidies in 2014, more than four times the value of subsidies to renewable energy."

The WEF highlighted how the unsubsidized LCOE for utility-scale solar photovoltaic—which was not competitive even five years ago—has declined at a 20 percent compounded annual rate, "making it not only viable but also more attractive than coal in a wide range of countries."

Countries that have already reached grid parity include Chile, Mexico, Brazil and Australia with many more countries also on the same track. The WEF projects that two thirds of the world will reach grid parity in the next couple of years, and by 2020, solar photovoltaic energy is projected to have a lower LCOE than coal or natural gas-fired generation throughout the world.
"Renewable energy has reached a tipping point," Michael Drexler, who leads infrastructure and development investing at the WEF, told Quartz. "It is not only a commercially viable option, but an outright compelling investment opportunity with long-term, stable, inflation-protected returns."

The report follows a recent analysis from the IEA which revealed that total clean power capacity increased by 153 gigawatts, overtaking coal for the first time. To illustrate, about 500,000 solar panels installed were installed around the world every day.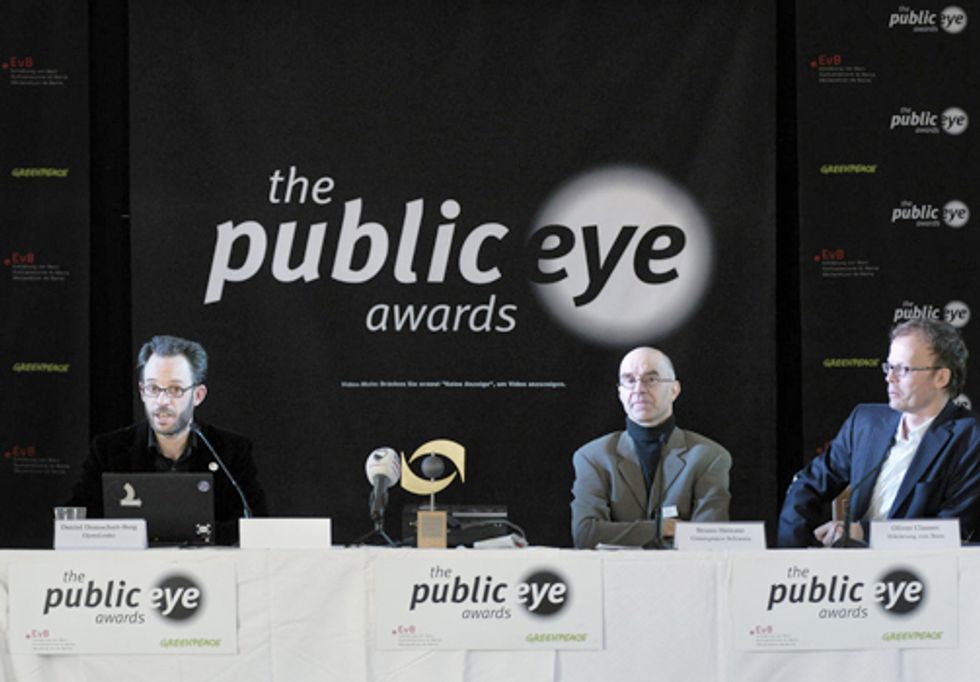 Each year since 1981, to counterbalance the seemingly never-ending awards ceremonies honoring the film industry, a different kind of award has cropped up—the Golden Raspberries, better known as the Razzies.
The day before the Academy Awards ceremony, the Razzies honor the worst performances in film. And to show the rest of the world that they don't take themselves too seriously, actors—for the most part—take the dubious Razzie nominations and awards in stride.
In fact, Sandra Bullock appeared at the Razzies to accept her "win" for worst actress of 2009 just the day before winning an Academy Award for best actress for her work in The Blind Side. Fortunately for her, no one remembered her other major release—All About Steve, which garnered her a Golden Raspberry.
Today, the corporate-world's version of the Razzie—The Public Eye Award—was awarded in Davos, Switzerland (in time with the World Economic Forum currently taking place there) to honor the corporation with the most "contempt for the environment and human rights" in the world.
But unlike the Razzies, where everything has the sparkle of humor in the cozy world of make-believe, the Public Eye Awards shed light on very real atrocities. And so this year's winner, Vale, a Brazilian multi-national mining corporation, won't have a spokesman on hand to accept the award.
By staging the Public Eye Award announcement at the world's largest gathering of leaders from politics, business, media and civil society, the impact is magnified "to remind corporations of their social and environmental responsibility."
The Public Eye Awards website has this to say about Vale:
Mines, steel plants, railroads, ports and hydroelectric dams at the expense of people and the environment—Vale is the second-largest corporation in Brazil, the second-largest mining corporation worldwide, operating in nearly 40 countries, and the largest global producer of iron ore. The corporation's 70-year history is tarnished by repeated human rights abuses, inhumane working conditions, pillaging of the public heritage and the ruthless exploitation of nature.  An international network linking communities and workers affected by Vale was created in 2010. It recently launched a dossiê describing several of the worst cases of Vale's disregard for people and the environment in eight countries. One such example is the company's recent purchase of a major stake in the consortium engaged in building the notorious Belo Monte Dam Complex in the Amazon. If the massive dam project continues, it will have disastrous social and environmental consequences, including the forced relocation of 40,000 people and devastation of a riverine ecosystem that is the basis of survival for indigenous communities, riverbank communities and fisherfolk—who have not had a voice in the matter, nor will they receive adequate compensation.
Vale received more than 25,000 votes to win the Public Eye Award of 2012. Other frontrunners included:
Barclay's
Tepco
Samsung
Syngento
Freeport
For more information about the awards and other finalists, click here.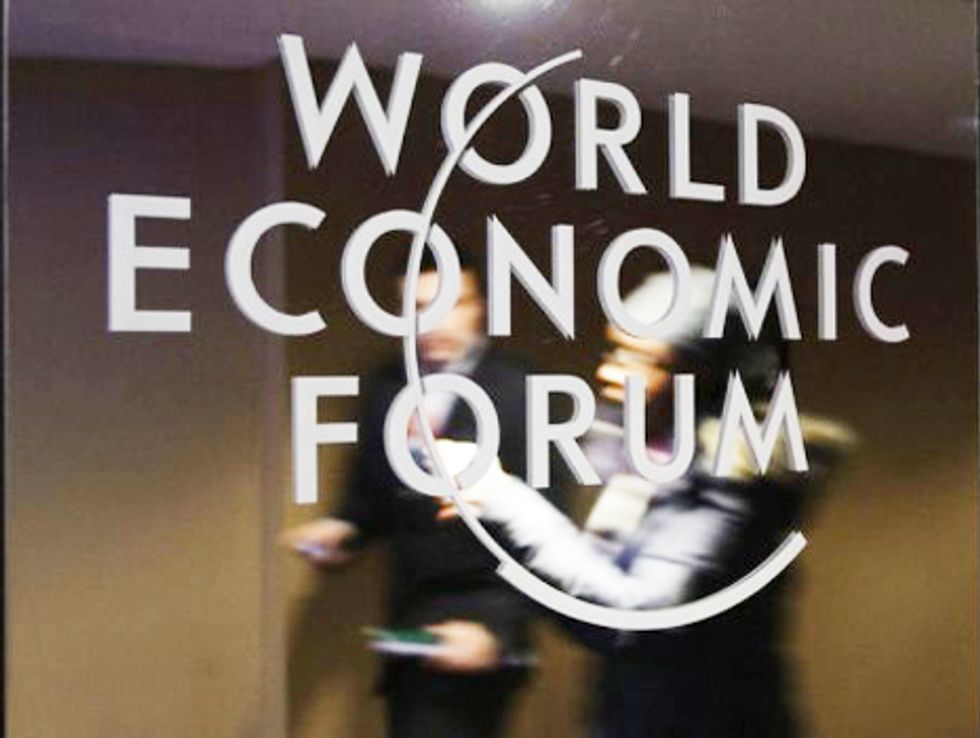 The World Economic Forum (WEF), meeting this week in Davos, Switzerland, is the biggest annual gathering of influential thinkers and leaders from the worlds of business, politics, media and civil society. World Wildlife Fund (WWF) Director General Jim Leape explains why WWF is there.
What are the main environmental issues on your mind going into this year's World Economic Forum in Davos?
There is an ever greater need for a sustainable approach to business—especially regarding resource use, in a world of rapidly increasing consumption. Humanity is already using the equivalent of over 1.5 planets—yet for life we all rely on clean air and healthy freshwater resources, abundant forests and thriving natural ecosystems.
WWF is active in preserving freshwater systems, ocean life and forests; encouraging the use and development of renewable energy; reducing the impact on natural resources of major commodity supply chains like paper, palm oil and soy; and generally lightening humanity's footprint on the natural world. We envision a future where humans live in harmony with nature, and we partner with major players on the world stage—politicians, civil society, faith groups, labour unions, businesses and many others—in achieving that goal.
The theme of this year's Davos event is 'The Great Transformation: Shaping New Models," and this links closely with WWF's vision of change that makes room for both social and environmental sustainability. We only have one planet, and a finite bank of precious natural resources. But with bold and thoughtful solutions, there is ample room for green businesses to thrive within a model of global sustainable development.
In recent years, WEF has proved to be an increasingly important place to engage with companies on sustainability. Good initiatives have started to emerge regarding water, agriculture and sustainable consumption—and I look forward to see how these good intentions can become more concrete in the coming days and weeks.
The WEF event in Davos is an opportunity to catch up with business and corporate contacts. How important is WWF's work with the private sector, and why should businesses care about the environment?
Business and industry have a massive impact on natural resources, and companies have a duty to ensure that they use those resources sustainably. We all benefit from products and services in our daily lives, but the private sector should be encouraged to conduct its business in a way that entails a minimum impact on the natural world and the ecosystems on which we all depend.
Companies that want to be competitive today and tomorrow should be concerned about sustainability. Licence to operate is being increasingly influenced by environmental and social performance—and this trend will only continue.
WWF engages with corporate partners to bring about real change on the ground—supporting responsible businesses to reduce their ecological footprint.
The next big event this year is the Rio+20 summit on sustainable development in Brazil in June. What does WWF hope will come out of that global gathering?
Two decades after the first Earth Summit in Rio de Janeiro, Brazil, this year's Rio+20 conference is a major opportunity for the world to commit to charting a course for creating shared prosperity within the limits of this one planet. Twenty years ago the term 'sustainable development' came into currency, but this has still not been followed by sufficient action in making the concept a reality. Rio is an opportunity to put things back on track.
I am hopeful that Rio+20 will prove a catalyst in sparking new commitments and urging major players—including governments, businesses and others—to stretch themselves in aiming for a more sustainable approach to what they do. The WEF in Davos this week is an ideal platform to inspire governments, corporate players and others to step up and prepare the road to Rio.
For more information, click here.