This website uses cookies to ensure you get the best experience while browsing it. By clicking 'Got It' you're accepting these terms.


The best of EcoWatch, right in your inbox. Sign up for our email newsletter!
Block Island Kelp / Catherine Puckett
By Marlene Cimons
Catherine Puckett needs to be close to the ocean. "I just can't be away from it," she said. "It means everything to me." She has to see it and smell it and hear the bells that ring from buoys offshore when a heavy sea rolls in from the east. When she is waist-deep in water, ankle-deep in mud, salt marsh on one side and water on the other, there's only one way she can describe it. "It's magical," she said. She even wades in during the coldest days of winter, often breaking through ice to get there. "I think to myself: 'why doesn't everybody do this?'" she said.
www.youtube.com
Check out this great 360° virtual reality video by NowThis on the world's largest indoor vertical farm, AeroFarms. Located in Newark, New Jersey, AeroFarms grows more than 2 million pounds of greens a year without sunlight, soil or pesticides.
As reported by EcoWatch in July 2105, the $30 million, 70,000-square-foot AeroFarms headquarters dwarfs Japan's (already impressive) 25,000-square-foot vertical indoor farm, which had been the world's largest until now.
EcoWatch Daily Newsletter
More than 80 types of crops are currently being grown at Bowery's New Jersey farm. Photo credit: Bowery
A New Jersey farm is growing leafy greens such as baby kale, arugula, butterhead lettuce and basil all year round without pesticides, soil or even sunshine.
Bowery, a high-tech vertical farm in the town of Kearny, claims to grow "the world's first post-organic produce." The company officially launched Feb. 23 after two years of planning and development.
Like many other vertical farms, Bowery's crops grow indoors in stacked rows under LED lights that mimic the sun's rays and get nourished by nutrient-filled, recirculating water.
But what makes Bowery's operation unique is its proprietary FarmOS technology that can detect peak times for harvest and learns what the crops need to thrive, thus eliminating a lot of guesswork that's usually involved with planting food.
Co-founder and CEO Irving Fain explained in a blog post how the fully integrated software system works:

"FarmOS uses data from multiple sources, including vision systems, along with machine learning to monitor plants and all the variables that drive their growth, quality, and flavor, from germination to harvest. This yields insight into what each crop needs, rather than relying on instinct. By monitoring the growing process 24/7 and capturing large amounts of data along the way, we can constantly iterate on each varietal, tweak flavor profiles, provide each crop exactly what it needs to thrive, and harvest at the exact right time. This means better produce all year round."
Fain listed several other advantages to the Bowery system:
0 pesticides - Our controlled indoor environment allows us to grow the purest produce imaginable, with absolutely no pesticides or chemicals. Bowery produce is so clean, you don't even have to wash it.
95% less water - We give our crops exactly what they need and nothing more. Nutrients get precisely delivered via purified water—not a single drop is wasted along the way.
100x+ more productive - By planting in vertical rows and growing twice as fast as traditional agriculture, our farms can be more more productive on the same footprint of land compared with traditional farms.
365 days a year - Growing indoors with LED lights that mimic the full spectrum of the sun means we can grow independent of seasonality or weather conditions. In the future, this will mean perfect, local produce available in New York and other cities in the dead of winter.
Same day harvest to store - Because our farms are located close to the communities they serve, Bowery produce reaches stores and restaurants within one day—unlike traditional produce, which can take weeks or even months.
According to FoodTank, more than 80 types of crops are currently being grown at the company's farm.
The Bowery team believes its model can help address the food needs of the planet's rapidly growing population, which is estimated to balloon to 9-10 billion people by 2050. By then we will need up to 70 percent more food to feed all those mouths.
Fain also pointed out that today's agricultural system has wreaked havoc on the environment and drained precious resources.
"Today our nation depends on cheap, mass-produced food, sacrificing quality for quantity at the expense of our health and the environment," he wrote. "Agriculture now consumes 70 percent of the world's accessible water and 700 million pounds of pesticides are used in the U.S. alone each year."
Another reason that operations like Bowery are important is that the world's population is increasingly urban. Today, 54 percent of the world's population lives in urban areas and will grow to 66 percent by 2050. With its location in Kearny, Bowery is less than 10 miles away from New York City, meaning produce can be plucked and packaged and on its way to the Big Apple in a day.
"We have to re-think what agriculture looks like in a world where water is scarce, people live in cities, and we're waking up to the dangers of pesticides and other chemicals in our food," Fain wrote. "If we can marry the honesty, quality, and precision of the best small providers with the scale of modern agricultural operations, we can change our food system for the better."
Its products can already be found in New York City establishments such as Tom Colicchio's restaurants Craft and Fowler & Wells and select Foragers stores. This month, it will expand to select tristate Whole Foods Markets.
Bowery's packaged greens start at $3.49, a price that's "equal to or lower than equivalent produce grown in the field," Fain wrote, adding that as the company continues to grow, "economies of scale will only drive this price down, making better food more accessible to more people."

Bowery, which recently raised $7.5 million in venture funding, says its scalable model can be replicated in other urban areas and the company is already working at planning their next farm.
By applying conservative estimates to current demographic trends, the human population will exceed 10 billion in 2050. In order to grow enough food to sustain future generations using today's growing practices, 20 percent more land than what is represented by the country of Brazil will be needed, according to Dr. Dickson Despommier's The Vertical Farm blog.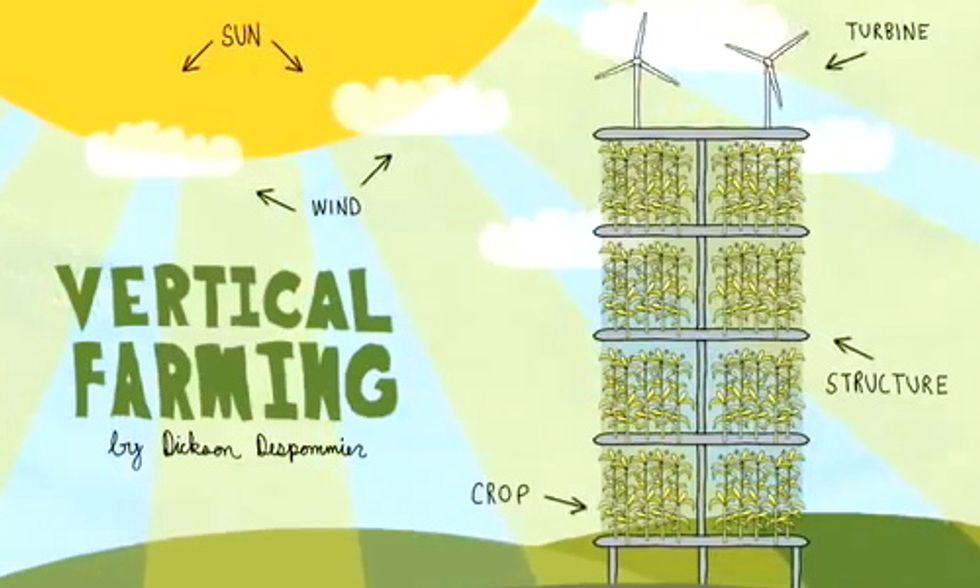 Vertical farming could be the solution to the world's impending food shortage. Photo credit: Dickson Despommier
Despommier, a renowned Columbia University professor who teaches microbiology and public health, said more than 80 percent of the world's land that is suitable for raising crops is in use, and about 15 percent of that has been wasted by poor management practices. 
To solve this critical problem, Despommier has endorsed vertical farming, which involves multi-story buildings that use either artificial or natural light to grow and raise plants and animals, respectively. Apart from saving space, vertical farms are free of insects and pesticides, and would not be affected by drought, flooding and disease. 
"New York City—where I live—that's a big city, right? Eight million people," said Despommier in a viral YouTube video. "These 8 million people consume food that it takes the state of Virginia in land mass to grow. We have to find another way to farm and [vertical farming] is the other way ... "
Why Traditional Farming Won't Cut It
Despommier writes:
In 2011, the United States lost some 110 billion dollars worth of grain crops due to a protracted drought throughout the American Midwest. Unless a miracle happens, it appears almost certain that the state of California will be the next victim of drought in 2014.
This could affect virtually every U.S. citizen, with significantly higher food prices and may even affect food availability, as well. Cities only occupy some 2-3 percent of the Earth's landmass, but emit over seventy percent of the atmospheric carbon dioxide. Nearly fifty percent of us now live in cities. Seven billion people require farmland equivalent in landmass to the size of South America. This calculates out to an astounding 6,890,000 square miles!
That means that cities need some 3,440,000 square miles of land to satisfy their daily caloric needs. From 1950s to the present, the Brazilian rainforest has been negatively impacted by encroachment, mainly for the sake of agriculture, sacrificing some 700,000 square miles of hardwood forest for farmland to feed its own growing population. 
The Advent of Vertical Farming and Its Innovative Technologies
In 2013, FarmedHere pioneered commercial vertical farming in Bedford Park, IL with its indoor "aquaponic" and "aeroponic" growing systems that create local produce in a sustainable farming environment. They reuse 97 percent of fresh water, use no herbicides or pesticides, can grow year-round. The two-story building (formerly an abandoned warehouse) is windowless and utilizes 90,000 square feet of growing space.
Singapore recently announced that Sky Greens, a commercial version of a vertical farm, is now up and running. Sky Greens is a four-story, transparent structure outfitted with specialized growing systems that produce leafy green vegetables. It uses sunlight as an energy source, and captures rainwater to drive an innovative pulley system, which rotates the grow racks, ensuring an even distribution of sunlight for all the plants.
Local Garden is a new two-story, 6,000 square foot transparent building located atop a parking garage in Vancouver, British Columbia. It utilizes a unique growing platform system that produces micro-green salad ingredients, like baby spinach, and baby kales.
Visit EcoWatch's FOOD page for more related news on this topic.