In the outskirts of Newark, New Jersey, tucked between a packaging manufacturer and an aquatics center lies a farm. Except, if you're driving down the nearby highway you probably wouldn't be able to tell that this particular farm is churning out thousands of pounds of greens each year. In fact, all you'll see is a bunch of buildings, because this is a vertical farming operation called AeroFarms, which grows all their food in a warehouse. Like the owners of AeroFarms, tech enthusiasts across the world have embraced the dream of vertical farming, exclaiming that their operations are the answer to feeding a growing global population, combating climate change, and eradicating food deserts.
The many-shelved farming operation that is AeroFarms is just one of many companies that use vertical space to grow vegetables. What sets AeroFarms apart, however, is that it grows in a fine mist filled with nutrients instead of a typical growing environment like Rockwool and nutrient-rich water. But AeroFarms is an outlier in the vertical farming space. The typical vertical farm looks a lot more like that at Bowery, a company that uses a more traditional hydroponics system to grow their produce. Essentially, Bowery grows greens and other veggies in a nutrient-rich tray of water, which is consistently recycled in a closed-loop system. This system is then replicated en masse and expanded not horizontally, but vertically to maximize space. But because all these plants are stacked on top of each other, access to light becomes a big obstacle, which means that each shelf is equipped with LED lights to act as artificial sunlight. Some operations like Plenty go even further by shining only the beneficial colors in the light spectrum for growth. While some of these large-scale vertical farms can quickly become laden with advanced technologies like robotic arms and AI monitoring systems, at their most basic, vertical farms use a combination of artificial sunlight and vertical space to maximize the amount of yield per acre. These food factories seem promising, but they also seem like a lot of work. So why are people so excited about them? For that answer and a deeper behind-the-scenes look at vertical farming, make sure to check out the video above.
Our Changing Climate is an environmental YouTube channel that explores the intersections of social, political, climatic, and food-based issues. The channel dives into topics like zero waste and nuclear energy in order to understand how to effectively tackle climate change and environmental destruction.
To receive all the latest videos produced by Charlie subscribe to his YouTube channel here.
EcoWatch Daily Newsletter
Block Island Kelp / Catherine Puckett
By Marlene Cimons
Catherine Puckett needs to be close to the ocean. "I just can't be away from it," she said. "It means everything to me." She has to see it and smell it and hear the bells that ring from buoys offshore when a heavy sea rolls in from the east. When she is waist-deep in water, ankle-deep in mud, salt marsh on one side and water on the other, there's only one way she can describe it. "It's magical," she said. She even wades in during the coldest days of winter, often breaking through ice to get there. "I think to myself: 'why doesn't everybody do this?'" she said.
Puckett, 36, known locally as "Oyster Wench," a single mother with two young children, lives on Block Island, about a dozen miles off the Rhode Island coast. She represents a new generation of ocean farmers, one whose singular connection to the water is coupled with a passion for the environment. She grows shellfish and kelp on her farm, located in the waters of the Great Salt Pond, using sustainable fishing methods that both preserve the ocean's ecosystems and fight climate change.
"What we are trying to do is grow food from the ocean that doesn't hurt the environment or the climate and, in fact, is working toward restoring both," she said.
Catherine Puckett harvesting kelp with fellow ocean farmers Charley Gale, Jon Grant, Kerri Gaffett and Dale Taylor
Source: Catherine Puckett
She is one of a growing number of ocean farmers engaged in 3D farming, cultivating her crops vertically in straight up-and-down water columns, using no fertilizers, freshwater or feed. Puckett's clams are buried and covered with nets to protect them from predators, while her oysters grow in bags. Her kelp develops on lines.
The operation helps cut down on pollution in numerous ways. The shellfish help filter pollutants from the water. They also offer a source of protein to diners, who might otherwise eat beef, which is made from cows who burp and fart methane, a potent heat-trapping gas. For those who can't give up their beef, ocean farming can help. Research shows that when cows eat a little seaweed, they produce less methane.
Seaweed also soaks up carbon and nitrogen, two pollutants lingering in the water. Carbon released by cars, trucks, factories and power plants is entering the ocean, turning waters more acidic. Nitrogen fertilizer used on farms is making its way into rivers and then to the ocean, creating dead zones. Seaweed cleans up both. If ocean farmers devoted a little less than 5 percent of U.S. waters to growing seaweed, they could clean up an estimated 135 million tons of carbon and 10 million tons of nitrogen, according to a report from the World Bank.
Catherine Puckett harvesting with fellow ocean farmers Charley Gale, Hunter Barto and Jon Grant
Source: Catherine Puckett
Puckett sells most of what she produces to a Maine food processor, and the remainder to land farmers who use it to fertilize their vegetables. "The kelp is sequestering carbon and nitrogen, so by selling it to the farmers as fertilizer, we are closing the loop," she said. "We are making the circle complete." She also keeps some for herself. She uses it in salads, as a substitute for spinach, and as a pizza topping. She also dries it, then bakes chips. "Those never make it out of the kitchen," she said.
Puckett developed her operation with the help of GreenWave, a nonprofit helping aspiring growers get into vertical farming. Bren Smith, a former commercial fisherman, founded the organization after seeing the global fishing industry was decimating wild fish. He developed his vertical farming system off the shores of the Long Island Sound in Connecticut. It's now being used by growers in New York, southern New England, California, Alaska and the Pacific Northwest.
"We have requests to start farms in every coastal state in North America and from 20 countries," said Smith, author of a new book, Eat Like a Fish. "People come from all walks of life. They are shell fishers, like Catherine, who are looking to diversify, former fishermen who want to transition, land-based farmers who want to leave the land, and indigenous people who want to revive their traditions and be on the forefront of climate farming."
He believes his model could ease overfishing, which threatens the extinction of many fish species. "We have to reimagine the seafood dinner plate and move wild fish to the edges, and put shellfish and seaweed to the center," Smith said. "Because what we grow has zero inputs, our food will be the most affordable food on the planet."
Catherine Puckett holds a bunch of kelp on her boat.
Source: Kerri Gaffett
Puckett shares this vision. After spending childhood summers on Block Island, she later decided to stay and fish. She started by working for the Block Island Shellfish Farm, then bought it five years ago. She's the only woman on the island running an ocean farm, and her bright teal and pink boat — still unnamed — is a standout.
"My kids wanted me to paint it rainbow and sparkle, but I said how about pink?" she said, laughing. "I wanted to make a statement that it was a 'girl' boat. There are a couple of guys here who help me with the kelp harvest who tease me — that they have to go out on a girl boat — but they are OK with that. Actually, the men here have known me for a long time, and have seen me go through my growing pains, and have helped me so much."
Puckett started with quahog clams, and then added scallops and oysters. She had long wanted to grow seaweed, but didn't know where to start. Another oyster farmer told her about GreenWave's Farmer-in-Training program, which taught her how to use the 3D model, then gave her free kelp seed for her first harvest. She now farms a one-acre shellfish site, and — in deeper waters — a two-acre kelp site, both leased from the state. Her kelp "grew like crazy," she said. "It was mind-blowing."
The Block Island wind farm, the first commercial offshore wind farm in the U.S.
Source: Ionna22
Puckett is happy that her work is curbing pollution, and she is proud that Block Island is the site of America's first offshore wind farm, which began operating in 2016 and has boosted tourism to the island, according to a recent study. Puckett eyes the turbines as future anchors to grow her seaweed. Smith thinks it's a great idea. "Why just harvest wind, when we can do food and fertilizer in the same space?" he said.
Smith wants to replicate Puckett's success elsewhere. "Imagine the impact if we scaled this model globally. The possibilities are limitless," he said. He envisions 50 small scale farms, each with a seafood hub and hatchery on shore, and a ring of entrepreneurs to develop markets for the products.
"We want to have 100,000 Catherine Pucketts worldwide," he said. "Amazingly, the people coming to this industry are not grizzled fishermen like me — we have plenty of those — the majority are women. This means women could be the architects of the blue economy. That is a very exciting prospect."
Reposted with permission from our media associate Nexus Media.
waterlust.com / @tulasendlesssummer_sierra .
Each product featured here has been independently selected by the writer. If you make a purchase using the links included, we may earn commission.
The bright patterns and recognizable designs of Waterlust's activewear aren't just for show. In fact, they're meant to promote the conversation around sustainability and give back to the ocean science and conservation community.
Each design is paired with a research lab, nonprofit, or education organization that has high intellectual merit and the potential to move the needle in its respective field. For each product sold, Waterlust donates 10% of profits to these conservation partners.
Eye-Catching Designs Made from Recycled Plastic Bottles
waterlust.com / @abamabam
The company sells a range of eco-friendly items like leggings, rash guards, and board shorts that are made using recycled post-consumer plastic bottles. There are currently 16 causes represented by distinct marine-life patterns, from whale shark research and invasive lionfish removal to sockeye salmon monitoring and abalone restoration.

One such organization is Get Inspired, a nonprofit that specializes in ocean restoration and environmental education. Get Inspired founder, marine biologist Nancy Caruso, says supporting on-the-ground efforts is one thing that sets Waterlust apart, like their apparel line that supports Get Inspired abalone restoration programs.
"All of us [conservation partners] are doing something," Caruso said. "We're not putting up exhibits and talking about it — although that is important — we're in the field."
Waterlust not only helps its conservation partners financially so they can continue their important work. It also helps them get the word out about what they're doing, whether that's through social media spotlights, photo and video projects, or the informative note card that comes with each piece of apparel.
"They're doing their part for sure, pushing the information out across all of their channels, and I think that's what makes them so interesting," Caruso said.
And then there are the clothes, which speak for themselves.
Advocate Apparel to Start Conversations About Conservation
waterlust.com / @oceanraysphotography
Waterlust's concept of "advocate apparel" encourages people to see getting dressed every day as an opportunity to not only express their individuality and style, but also to advance the conversation around marine science. By infusing science into clothing, people can visually represent species and ecosystems in need of advocacy — something that, more often than not, leads to a teaching moment.

"When people wear Waterlust gear, it's just a matter of time before somebody asks them about the bright, funky designs," said Waterlust's CEO, Patrick Rynne. "That moment is incredibly special, because it creates an intimate opportunity for the wearer to share what they've learned with another."
The idea for the company came to Rynne when he was a Ph.D. student in marine science.
"I was surrounded by incredible people that were discovering fascinating things but noticed that often their work wasn't reaching the general public in creative and engaging ways," he said. "That seemed like a missed opportunity with big implications."
Waterlust initially focused on conventional media, like film and photography, to promote ocean science, but the team quickly realized engagement on social media didn't translate to action or even knowledge sharing offscreen.
Rynne also saw the "in one ear, out the other" issue in the classroom — if students didn't repeatedly engage with the topics they learned, they'd quickly forget them.
"We decided that if we truly wanted to achieve our goal of bringing science into people's lives and have it stick, it would need to be through a process that is frequently repeated, fun, and functional," Rynne said. "That's when we thought about clothing."
Support Marine Research and Sustainability in Style
To date, Waterlust has sold tens of thousands of pieces of apparel in over 100 countries, and the interactions its products have sparked have had clear implications for furthering science communication.
For Caruso alone, it's led to opportunities to share her abalone restoration methods with communities far and wide.
"It moves my small little world of what I'm doing here in Orange County, California, across the entire globe," she said. "That's one of the beautiful things about our partnership."
Check out all of the different eco-conscious apparel options available from Waterlust to help promote ocean conservation.
Melissa Smith is an avid writer, scuba diver, backpacker, and all-around outdoor enthusiast. She graduated from the University of Florida with degrees in journalism and sustainable studies. Before joining EcoWatch, Melissa worked as the managing editor of Scuba Diving magazine and the communications manager of The Ocean Agency, a non-profit that's featured in the Emmy award-winning documentary Chasing Coral.
www.youtube.com
Check out this great 360° virtual reality video by NowThis on the world's largest indoor vertical farm, AeroFarms. Located in Newark, New Jersey, AeroFarms grows more than 2 million pounds of greens a year without sunlight, soil or pesticides.
As reported by EcoWatch in July 2105, the $30 million, 70,000-square-foot AeroFarms headquarters dwarfs Japan's (already impressive) 25,000-square-foot vertical indoor farm, which had been the world's largest until now.
More than 80 types of crops are currently being grown at Bowery's New Jersey farm. Photo credit: Bowery
A New Jersey farm is growing leafy greens such as baby kale, arugula, butterhead lettuce and basil all year round without pesticides, soil or even sunshine.
Bowery, a high-tech vertical farm in the town of Kearny, claims to grow "the world's first post-organic produce." The company officially launched Feb. 23 after two years of planning and development.
Like many other vertical farms, Bowery's crops grow indoors in stacked rows under LED lights that mimic the sun's rays and get nourished by nutrient-filled, recirculating water.
But what makes Bowery's operation unique is its proprietary FarmOS technology that can detect peak times for harvest and learns what the crops need to thrive, thus eliminating a lot of guesswork that's usually involved with planting food.
Co-founder and CEO Irving Fain explained in a blog post how the fully integrated software system works:

"FarmOS uses data from multiple sources, including vision systems, along with machine learning to monitor plants and all the variables that drive their growth, quality, and flavor, from germination to harvest. This yields insight into what each crop needs, rather than relying on instinct. By monitoring the growing process 24/7 and capturing large amounts of data along the way, we can constantly iterate on each varietal, tweak flavor profiles, provide each crop exactly what it needs to thrive, and harvest at the exact right time. This means better produce all year round."
Fain listed several other advantages to the Bowery system:
0 pesticides - Our controlled indoor environment allows us to grow the purest produce imaginable, with absolutely no pesticides or chemicals. Bowery produce is so clean, you don't even have to wash it.
95% less water - We give our crops exactly what they need and nothing more. Nutrients get precisely delivered via purified water—not a single drop is wasted along the way.
100x+ more productive - By planting in vertical rows and growing twice as fast as traditional agriculture, our farms can be more more productive on the same footprint of land compared with traditional farms.
365 days a year - Growing indoors with LED lights that mimic the full spectrum of the sun means we can grow independent of seasonality or weather conditions. In the future, this will mean perfect, local produce available in New York and other cities in the dead of winter.
Same day harvest to store - Because our farms are located close to the communities they serve, Bowery produce reaches stores and restaurants within one day—unlike traditional produce, which can take weeks or even months.
According to FoodTank, more than 80 types of crops are currently being grown at the company's farm.
The Bowery team believes its model can help address the food needs of the planet's rapidly growing population, which is estimated to balloon to 9-10 billion people by 2050. By then we will need up to 70 percent more food to feed all those mouths.
5 Ways Vertical Farms Are Changing the Way We Grow Food http://t.co/Dd0TFDodoR @GreenNewsDaily @sustainableag @UrbanFarmToday

— EcoWatch (@EcoWatch)1426418708.0
Fain also pointed out that today's agricultural system has wreaked havoc on the environment and drained precious resources.
"Today our nation depends on cheap, mass-produced food, sacrificing quality for quantity at the expense of our health and the environment," he wrote. "Agriculture now consumes 70 percent of the world's accessible water and 700 million pounds of pesticides are used in the U.S. alone each year."
Another reason that operations like Bowery are important is that the world's population is increasingly urban. Today, 54 percent of the world's population lives in urban areas and will grow to 66 percent by 2050. With its location in Kearny, Bowery is less than 10 miles away from New York City, meaning produce can be plucked and packaged and on its way to the Big Apple in a day.
"We have to re-think what agriculture looks like in a world where water is scarce, people live in cities, and we're waking up to the dangers of pesticides and other chemicals in our food," Fain wrote. "If we can marry the honesty, quality, and precision of the best small providers with the scale of modern agricultural operations, we can change our food system for the better."
Its products can already be found in New York City establishments such as Tom Colicchio's restaurants Craft and Fowler & Wells and select Foragers stores. This month, it will expand to select tristate Whole Foods Markets.
Bowery's packaged greens start at $3.49, a price that's "equal to or lower than equivalent produce grown in the field," Fain wrote, adding that as the company continues to grow, "economies of scale will only drive this price down, making better food more accessible to more people."

Bowery, which recently raised $7.5 million in venture funding, says its scalable model can be replicated in other urban areas and the company is already working at planning their next farm.
According to Business Insider, the big box store is kicking off its vertical farming pilot project in a handful of U.S. stores in spring 2017. If the trials are successful, Target stores across the U.S. will likely start selling vertically-grown leafy greens with the possibility of in-house grown potatoes, beetroot, zucchini, peppers and even rare tomatoes down the line.
The ambitious project is part Target's Food + Future CoLab, a collaboration with MIT's Media Lab and international design firm IDEO, to explore urban farming, food transparency, supply chain issues and health.
"People like to say things like, 'the best strawberries come from Mexico.' But really, the best strawberries come from the climate in Mexico that creates expressions like sweetness and color that we like," said Caleb Harper, director of the Open Agriculture initiative at MIT's Media Lab. "We think there is tremendous opportunity to democratize climate through control-environment agriculture and we look forward to kicking off this work with Target."

In the video below, Harper gives a tour of his "Food Computer" that creates the perfect climate to grow food.
EcoWatch has mentioned previously how vertical farms are an ideal food security solution, especially with Earth's rapidly changing climate and growing population. Produce is usually grown indoors with less water and without pesticides. In some of these indoor farms, produce is grown under LED lights that can mimic outdoor growing conditions and help accelerate plant growth. For swelling cities, vertical gardens help meet the demand for healthy food all year round, and usually with less food-miles to get from farm to plate.
"Down the road, it's something where potentially part of our food supply that we have on our shelves is stuff that we've grown ourselves," Casey Carl, Target's chief strategy and innovation officer, told Business Insider.

As Forbes reported, many industry insiders are exited about Target's new vertical farming initiative.
"Vertical farming is genius," Jasmine Glasheen, publishing editor of Off-Price Retailing Magazine commented on a RetailWire BrainTrust article. "Vertical farms are more resistant to climate changes and storms. Plus, the holistic aesthetic of an organic vertical farm will allow Target to compete for natural foods customers."

"I like the idea," added Paula Rosenblum, managing partner at RSR Research. "Even better, if they structurally could support it, would be growing this stuff on the roofs of the stores."

However, others have commented that this project might be too difficult and expensive to pull off.
"This is not a new idea," said Mel Kleiman, president of Humetrics. "Fiesta Supermarket built a store in Houston more than 30 years ago with a vertical garden. It looked great, got a lot of attention and cost a lot of money. Five years after they opened that store, the garden was gone."

"Good for marketing and PR, but the scalability, execution and ultimately the ROI (return on investment) may prove to be a significant challenge," Peter Sobotta, founder and CEO of Return Logic, wrote. "That said, I like the concept and it is a step in a good direction."

By applying conservative estimates to current demographic trends, the human population will exceed 10 billion in 2050. In order to grow enough food to sustain future generations using today's growing practices, 20 percent more land than what is represented by the country of Brazil will be needed, according to Dr. Dickson Despommier's The Vertical Farm blog.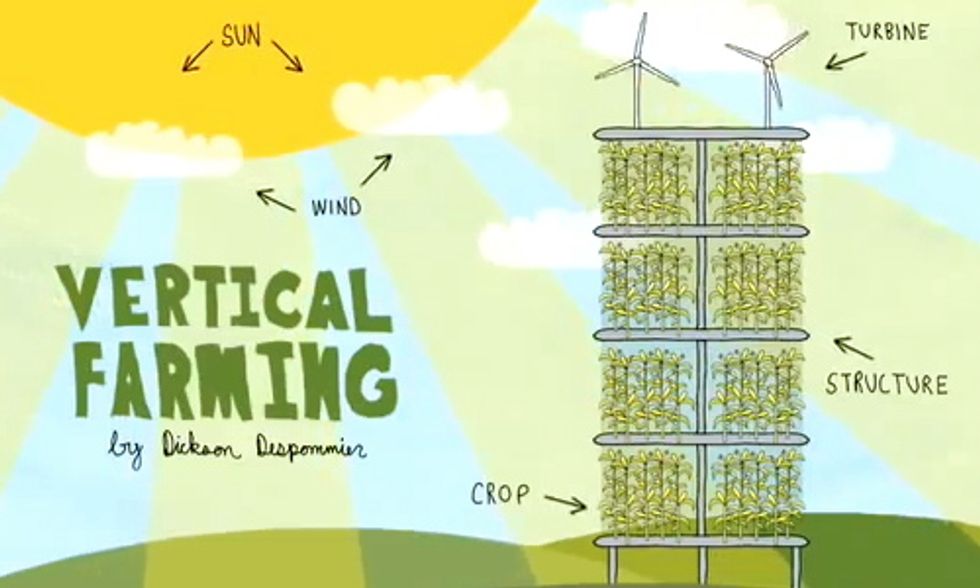 Vertical farming could be the solution to the world's impending food shortage. Photo credit: Dickson Despommier
Despommier, a renowned Columbia University professor who teaches microbiology and public health, said more than 80 percent of the world's land that is suitable for raising crops is in use, and about 15 percent of that has been wasted by poor management practices. 
To solve this critical problem, Despommier has endorsed vertical farming, which involves multi-story buildings that use either artificial or natural light to grow and raise plants and animals, respectively. Apart from saving space, vertical farms are free of insects and pesticides, and would not be affected by drought, flooding and disease. 
"New York City—where I live—that's a big city, right? Eight million people," said Despommier in a viral YouTube video. "These 8 million people consume food that it takes the state of Virginia in land mass to grow. We have to find another way to farm and [vertical farming] is the other way ... "
Why Traditional Farming Won't Cut It
Despommier writes:
In 2011, the United States lost some 110 billion dollars worth of grain crops due to a protracted drought throughout the American Midwest. Unless a miracle happens, it appears almost certain that the state of California will be the next victim of drought in 2014.
This could affect virtually every U.S. citizen, with significantly higher food prices and may even affect food availability, as well. Cities only occupy some 2-3 percent of the Earth's landmass, but emit over seventy percent of the atmospheric carbon dioxide. Nearly fifty percent of us now live in cities. Seven billion people require farmland equivalent in landmass to the size of South America. This calculates out to an astounding 6,890,000 square miles!
That means that cities need some 3,440,000 square miles of land to satisfy their daily caloric needs. From 1950s to the present, the Brazilian rainforest has been negatively impacted by encroachment, mainly for the sake of agriculture, sacrificing some 700,000 square miles of hardwood forest for farmland to feed its own growing population. 
The Advent of Vertical Farming and Its Innovative Technologies
In 2013, FarmedHere pioneered commercial vertical farming in Bedford Park, IL with its indoor "aquaponic" and "aeroponic" growing systems that create local produce in a sustainable farming environment. They reuse 97 percent of fresh water, use no herbicides or pesticides, can grow year-round. The two-story building (formerly an abandoned warehouse) is windowless and utilizes 90,000 square feet of growing space.
Singapore recently announced that Sky Greens, a commercial version of a vertical farm, is now up and running. Sky Greens is a four-story, transparent structure outfitted with specialized growing systems that produce leafy green vegetables. It uses sunlight as an energy source, and captures rainwater to drive an innovative pulley system, which rotates the grow racks, ensuring an even distribution of sunlight for all the plants.
Local Garden is a new two-story, 6,000 square foot transparent building located atop a parking garage in Vancouver, British Columbia. It utilizes a unique growing platform system that produces micro-green salad ingredients, like baby spinach, and baby kales.
Visit EcoWatch's FOOD page for more related news on this topic.