This website uses cookies to ensure you get the best experience while browsing it. By clicking 'Got It' you're accepting these terms.
The Oregon State Capitol building in Salem. Tashka / iStock / Getty Images
Rep. Alexandria Ocasio-Cortez (D-NY) (C) chants with housing and environmental advocates before a news conference to introduce legislation to transform public housing as part of her Green New Deal outside the U.S. Capitol Nov. 14, 2019 in Washington, DC. Chip Somodevilla / Getty Images
Rep. Alexandria Ocasio-Cortez (D-N.Y.) took to the floor of the House of Representatives yesterday to chide Republicans for not reading the Green New Deal, which she introduced over one year ago, as The Hill reported. She then read the entire 14-page document into the congressional record.
EcoWatch Daily Newsletter
An American flag flies next to a new wind turbine Wiota, Iowa.
Flickr /
CC BY 2.0
These days, bipartisan collaboration sometimes seems impossible. But during National Clean Energy Week, Republicans and Democrats come together for meetings in Washington, D.C., and workshops across the country.

SHEALAH CRAIGHEAD
By Elliott Negin
On July 19, President Trump hosted Apollo 11 astronauts Buzz Aldrin and Michael Collins and their families, along with the family of their deceased colleague Neil Armstrong, at a White House event to commemorate the 50th anniversary of the first manned landing on the moon.
The Peoples Climate March drew thousands of demonstrators on April 29, 2017 in Washington, DC.
Mark Dixon / CC BY 2.0
Nearly 8 in 10 Americans acknowledge climate change is occurring, and an increasing number of Republicans are also getting on board, new polling shows.
Artem Hvozdkov / Getty Images
On Thursday, July 19 The Hill reported that the Republican controlled Congress passed a non-binding resolution saying a tax on carbon-dioxide emissions "would be detrimental to American families and businesses, and is not in the best interest of the United States."
Republicans in the U.S. House of Representatives announced on Thursday a series of bills aimed at profoundly gutting the Endangered Species Act, including provisions making it almost impossible for imperiled species to gain protection and giving states that often oppose endangered species protection veto power over those decisions.
Black Rock Solar photovoltaic array. BlackRockSolar / Flickr
The tax bill barreling towards a vote in the Senate already includes a worrisome rider that would open up the pristine Arctic National Wildlife Refuge to oil and natural gas drilling.
Now, renewable energy trade associations are raising the alarm about an eleventh-hour provision called the Base Erosion Anti-Abuse Tax (BEAT) program that "would have a devastating, if unintended, impact on wind and solar energy investment and deployment," according to a letter addressed to the Senate.
Seppo Leinonen / Flickr
Just this week, more than 15,000 scientists from 184 countries signed a paper issuing a urgent plea to global leaders about the "current trajectory of potentially catastrophic climate change." The article, titled World Scientists' Warning to Humanity: A Second Notice, is a wakeup call to anyone concerned about rapidly rising temperatures and stronger and more frequent extreme weather events.
But the dire warning could fall on deaf ears to a specific segment of the U.S. population: highly educated Republicans.
On Nov. 9, voters in the U.S. will choose to send either Hillary Clinton or Donald Trump to the White House.
Their choice of president will, in part, determine the shape of U.S. climate policy for the next four years.
The Democrat and Republican parties — and their respective nominees — have spelled out radically different visions for the future of American energy and emissions reductions, as well as the country's participation in international efforts to tackle climate change.
The official party lines are expressed in the Democratic and Republican "platforms," the U.S. equivalent of a manifesto. Clinton has laid out a detailed plan for U.S. energy and climate policy on her campaign website. Trump outlined his own vision during a speech on energy in North Dakota.
Both candidates have also made various scattergun comments on the subject during their campaigns and careers.
Clinton and Trump have also announced who will be joining them as their respective vice presidents. Tim Kaine, senator for Virginia, will join the Democratic ticket, while Mike Pence, governor of Indiana, will join the Republicans.
Carbon Brief has collected the climate and energy views of the candidates, their vice presidents and their parties' platforms in an interactive grid. This will be constantly updated as the election approaches.
The recent ouster of House Majority Leader Eric Cantor (R-VA) from his Congressional seat has shaken Washington Republicans and rattled open several leadership positions. And—as hard as it is to believe—the House Republican conference apparently hadn't even hit bottom yet.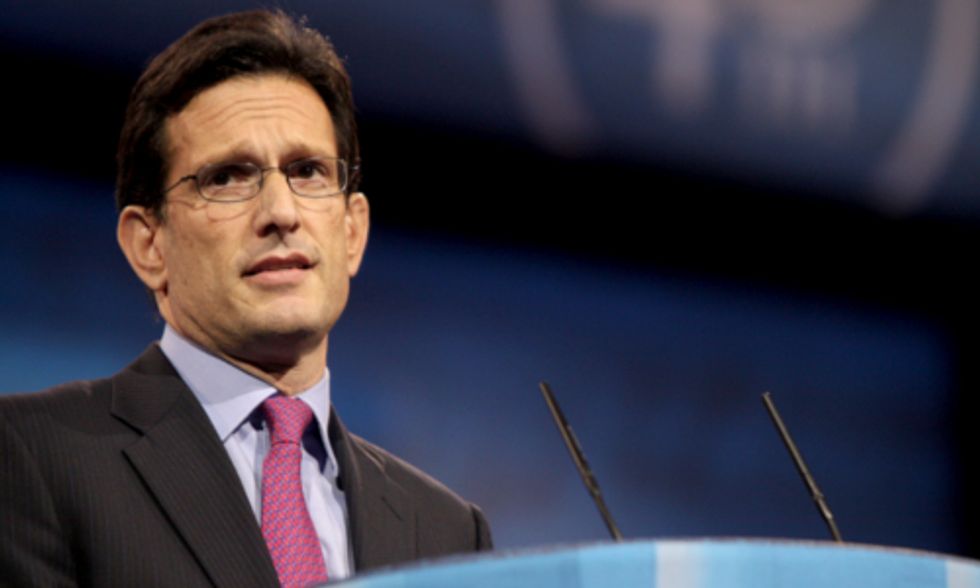 Flickr
You'd think that it'd be hard to get much worse than Cantor's record when it comes to clean air, clean water and action to tackle the climate crisis. As Majority Leader, Cantor worked side by side with Speaker John Boehner on pushing a destructive legislative agenda for what has been called the most anti-environmental House in history. Cantor himself earned just a four percent positive lifetime environmental voting rating from the League of Conservation Voters. In other words, he was among the lowest of the low when it came to doing the bidding of big polluters.
Cantor led the way on votes that would bar the U.S. Environmental Protection Agency (EPA) from acting to curb climate-disrupting pollution, force the construction of the Keystone XL pipeline, gut clean energy investments, take support away from job-creating clean energy projects and voted over and over again to give tax handouts to big oil companies. And all the while, he's tried to open up our public lands to drilling and make it harder for the President to designate National Parks. Still, while it is no tragedy to see Cantor go, its no comfort to look at the records of those who will replace him.
Current Majority Whip Kevin McCarthy (R-CA) just won an election among his colleagues to be promoted to Majority Leader. That's the same McCarthy who somehow scored lower than Cantor on an environmental voting scorecard, garnering just three percent. In fact, between 2013 and 2014, McCarthy did not make a single pro-environment vote. Instead, he stood alongside Cantor in rallying support and votes for one of the most toxic agendas ever.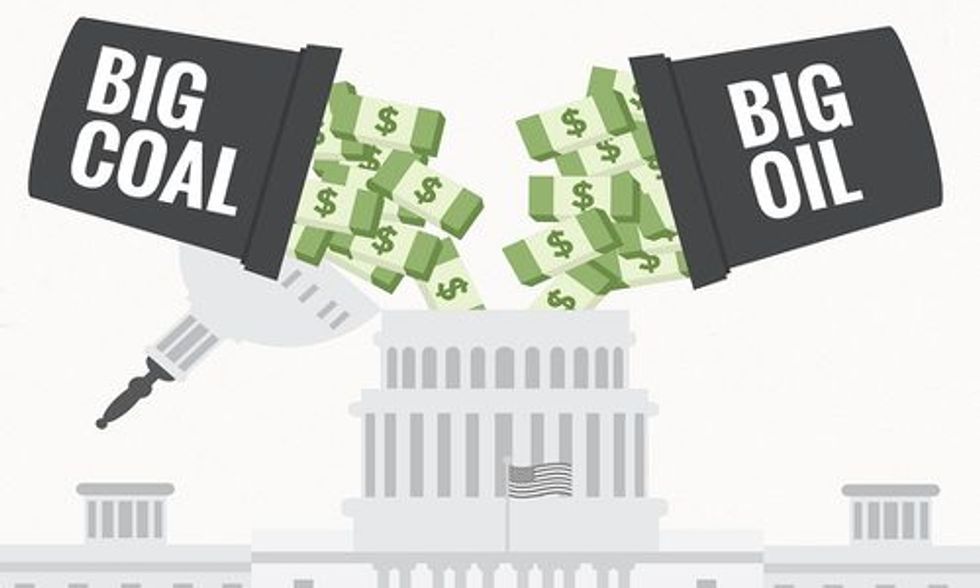 As Majority Whip, McCarthy spearheaded House Republican efforts to take nearly 500 votes attacking critical clean air and water safeguards, public lands protections and clean energy initiatives over just the last four years. And, now, with his eyes on a promotion, he's flip-flopping on one of the few issues he was strong on by abandoning the Wind Production Tax Credit, better aligning his position with the right wing political ATM that is the Koch Brothers. Its no surprise—as Sierra Club's Dave Hamilton explained.
"For years, Congressman McCarthy strongly backed the Wind Production Tax Credit as it supported thousands of California jobs, including many in his own district. He even pushed for the PTC to be extended to 2020," said Hamilton. "But unfortunately the path to Republican leadership appears to now go straight through the Koch Brothers' office. McCarthy is toeing the line by joining their call to kill competition from the wind industry by killing the PTC and American jobs right along with it."
While McCarthy is trying on a new brand of extremism, his promotion means a vicious fight broke out to fill his old Majority Whip post. And it was a race to the bottom.
The winner? Representative Steve Scalise (R-LA), who has been spending much of his recent time attacking the EPA's first-ever carbon pollution protections. You know—that policy supported by 67 percent of the American people. Why? Well, Scalise is notoriously chummy with fossil fuel lobbyists in Washington. According to the Republic Report, Former Congressional staffers from his office have gone on to work for trade groups that have made it a priority to attack clean air safeguards and push offshore drilling. And the Republican Study Committee that he chairs held meetings inside the office of the lobbying firm hired by the Koch Brothers to fight efforts to tackle the climate crisis.
In public, Scalise is just as bad. For example, he's rejected climate science as a "myth." His evidence for ignoring the calls for climate action resonating from 97 percent of scientists, the U.S. Military and NASA? Barack Obama wore a coat for his January 2013 inaugural address when he discussed the urgent need to tackle the climate crisis.
In other words, don't expect a new era of reason from the Republican-led House despite the new faces in leadership. Instead, Scalise and McCarthy stand for the brand of extremism that's been well practised there over the last four years, which puts polluters in the driver's seat while everyone else is trying to catch a ride.