This website uses cookies to ensure you get the best experience while browsing it. By clicking 'Got It' you're accepting these terms.
On Jan. 31—the day after President Trump's State of the Union address which lauded "beautiful clean coal" and completely ignored climate change—environmental activists gathered in Washington, DC to launch a new campaign to combat fossil fuel development and drive forward a renewable energy revolution from the ground up.
"Fossil Free U.S." is a grassroots strategy for passing local resolutions in cities and states nationwide that ban new fossil fuel projects. As a press release for the campaign stated, "Stopping Trump's climate-wrecking plans won't come from the beltway, but from communities everywhere fighting for justice from the ground up."
Gage Skidmore / Flickr
President Donald Trump—who remarked Tuesday that his administration ended the nonexistent "war on beautiful clean coal"—really wants to make fossil fuels great again.
The White House plans to ask Congress to cut the Department of Energy's renewable energy and energy efficiency programs by a massive 72 percent in fiscal 2019, according to draft budget documents obtained by the Washington Post.
Energy Secretary Rick Perry. Photo credit: Flickr
A supervisor at the Department of Energy's Office of International Climate and Clean Energy told staff to stop using the phrases "climate change," "emissions reduction" and "Paris agreement" in any official written communications, according to POLITICO's sources.
The instructions were reportedly given at a Tuesday meeting held shortly after President Trump's latest controversial executive order that reversed Obama-era climate policies.
While the former Texas governor had a few chuckles, Sanders made clear that the climate crisis is no laughing matter.
By Lauren McCauley
During his confirmation hearing on Thursday, former Texas Gov. Rick Perry was able to laugh off having once called for abolishing the Department of Energy, which he is now poised to lead, but Sen. Bernie Sanders (I-Vt.) refused to let him get away "sounding like a hung over frat boy," as one observer put it, when speaking about the crisis of climate change.
Sanders repeated Perry's own 2011 statement that he does not believe in global warming that America "should not spend billions of dollars addressing a scientific theory that has not been proven."
"That position is a variance with virtually the entire scientific community that has studied climate change," Sanders observed before asking, "do you still hold the views that you expressed in 2011? ... Do you agree with those scientists that it is absolutely imperative that we transform our energy system away from fossil fuel to energy efficiency so that we can leave this planet in a way that is healthy and habitable for our kids and future generations?"

Perry responded by delivering what The Hill described as Republicans' "new line on climate change."
"I believe the climate is changing," Perry said. "I believe some of it is naturally occurring, but some of it is also caused by manmade activity. The question is how do we address it in a thoughtful way that doesn't compromise economic growth, the affordability of energy or American jobs."
"Governor, I don't mean to be rude," Sanders interrupted. "We are in danger of spending God knows how many billions of dollars to repair the damage done by climate change. Drought is becoming a major crisis, it will impact agriculture in a very significant way."
"Let's get beyond the rhetoric," Sanders continued, "the majority of scientists who study this issue think that climate change is a global crisis. It's not a question of balance this and balance that. It is a global crisis that requires massive cuts in carbon and transformation of our energy system."
Then stopping Perry's interjection about his record of lowering emissions in Texas, Sanders said: "I am asking you if you agree with the scientific community that climate change is a crisis and if we need to transform our energy system to protect future generations?"
It is worth noting, as Climate Progress's founding editor Joe Romm did, that Perry's retort about lowering carbon and sulfur emissions speaks to his lack of knowledge as well as how Republican efforts to rollback emissions regulations are at odds with climate science.
As Romm reported, "the reductions in sulfur dioxide and NOx that Perry is now bragging about were due to EPA [U.S. Environmental Protection Agency] regulations that Republicans like Perry fought against from the get-go. And now team Trump wants to kill the EPA regulations that would keep lowering carbon emissions."
Sanders also pressed Perry to state whether he thinks that "testing nuclear weapons is a dangerous idea." Perry sidestepped, saying he wants "a nuclear arsenal that is modern and safe" and that he will look to nuclear scientists for answers on whether they should be tested.
Perry added, "I think anyone would be of the opinion that if we don't ever have to test another nuclear weapon, that would be a good thing, not just for the United States, but for the world."
Watch the exchange below:
Sanders is not the only lawmaker who took issue with Perry's past statements on climate change.
During the hearing, Sen. Al Franken (D-Minn.) quoted Perry in 2014, when he declared: "I don't believe we have the settled science by any sense of the imagination. Calling CO2 a pollutant is doing a disserve to the country and a disservice to the world."
"Now," Franken continued, "I see in your testimony that your views have been evolving on this and you note that man is responsible for some climate change. How much climate change do you think that science shows is due to human activity?"
Perry interjected: "It is far from me to be sitting before you and claiming to be a climate scientist. I will not do that."
To which Franken retorted, "I don't think you're ever going to be a climate scientist, but you are going to be head of the Department of Energy."
What the exchange below:
Reposted with permission from our media associate Common Dreams.
By Steve Horn
Records obtained by DeSmogBlog pertaining to City University of New York (CUNY) Macaulay Honors College's hiring of former head of the Central Intelligence Agency (CIA) David Petraeus to teach a seminar this coming fall reveal that his syllabus features two of the most well-known "frackademia" studies.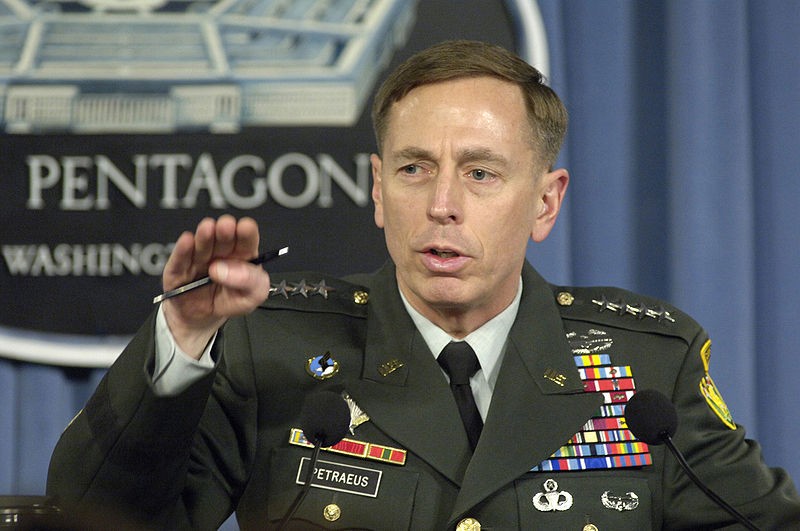 "Frackademia" is shorthand for oil and gas industry-funded research costumed as independent economics or science covering the topic of hydraulic fracturing, or fracking, the controversial horizontal drilling process via which oil and gas is obtained deep within shale rock basins.
According to the syllabus, Petraeus will devote two weeks to energy alone, naming those weeks "The Energy Revolution I" and "The Energy Revolution II." The two "frackademia" studies Petraeus will have his students read for his course titled "The Coming North American Decade(s)? are both seminal industry-funded works.
One of them is a study written by industry-funded National Economic Research Associates (NERA) concluding liquefied natural gas (LNG) exports are beneficial to the U.S. economy, despite the fact that exporting fracked gas will raise domestic home-heating and manufacturing prices. NERA was founded by "father of deregulation" Alfred E. Kahn. The study Petraeus will have his students read was contracted out by the U.S. Department of Energy (DOE) to NERA.
The other, a study written by then-Massachusetts Institute of Technology (MIT) research professor Ernest Moniz—now the head of the DOE—is titled "The Future of Natural Gas" and also covers LNG exports. DOE oversees the permitting process for LNG exports. That study was funded by the Clean Skies Foundation, a front group for Chesapeake Energy and covered in-depth in the Public Accountability Initiative's report titled, Industry Partner or Industry Puppet?
Noticeably absent from the reading list: studies tackling the climate impacts, air quality impacts, over-arching ecological impacts such as water contamination, wastewater impacts and diminishing supply issues.
Together, the two crucial studies on the syllabus reading list—and the lack of critical readings on the topic of fracking—offers a glimpse into the stamp of legitimacy industry-funded studies get when they have the logo of elite research universities on them. It's also another portrayal of the ascendancy of the corporate university. 
From "Petraeusgate" to "Frackademia"-gate
In the case of Petraeus, the original "Petraeusgate" scandal centered around the $200,000 fee the Honors College planned on paying him for his role as an adjunct professor set to teach one course. A normal CUNY Honors College adjunct receives $3,000 per course.
Recently, Petraeus—who the late Rolling Stone investigative journalist Michael Hastings pejoratively referred to as "King David" in reference to the role he played in implementing counterinsurgency doctrine in U.S.-occupied Iraq—took a pay cut down to $1 to teach the course. That doesn't include the money he'll still get from an unidentified private donor referred to in other documents. 
That scandal sat on top of the scandal that led to his resignation from the CIA in the first place: an extramarital affair with Paula Broadwell, who at the time of the affair was writing a biography about him titled, All In: The Education of General David Petraeus.
Petraeus Teaches Frackers Counterinsurgency, Psychological Warfare
Petraeus has also taught the shale gas industry some important things, as well.
Namely, Petraeus was one of the co-authors of the Counterinsurgency (COIN) Field Manual that Anadarko Petroleum PR hand Matt Carmichael said he has employees read at the "Media & Stakeholder Relations: Hydraulic Fracturing Initiative 2011" conference in Houston, TX, in 2011. 
"Download the U.S. Army/Marine Corps Counterinsurgency Manual because we are dealing with an insurgency," said Carmichael at the conference. "There's a lot of good lessons in there, and coming from a military background, I found the insight in that extremely remarkable."
One of the key COIN tactics covered in the Field Manual is psychological operations (PSYOPs), also discussed at the Houston conference by Range Resources spokesman Matt Pitzarella.
"We have several former PSYOPs folks that work for us at Range because they're very comfortable in dealing with localized issues and local governments," Pitzarella said to the audience in Houston. 
"Really all they do is spend most of their time helping folks develop local ordinances and things like that. But very much having that understanding of PSYOPs in the Army and in the Middle East has applied very helpfully here for us in Pennsylvania." 
As Hastings covered in another Rolling Stone investigation, the U.S. military employed PSYOPs tactics on members of Congress. That's illegal within U.S. borders under the Smith-Mundt Act of 1948, though it seems rather unlikely the co-author of the COIN Manual—"King David" himself—will cover these details in his course. 
Petraeus' Wall Street Job Description Mirrors His Course Description
Petraus also has a teaching gig at University of Southern California (USC) and a day job working at the Wall Street firm Kohlberg Kravis Roberts (KKR). 
"He is expected to advise on economic trends, issues with foreign governments and other matters that could affect transactions," The Wall Street Journal explained of his hiring at KKR. "He will advise firms owned by KKR in an effort to improve management and leadership and help them confront economic and geopolitical forces that affect them."
Petraeus' job description mirrors the course description he will teach, lending insight into what type of jobs the students taking his course may obtain in the future if Petraeus' class is a pedagogical success.
"Petraeus and others at the firm [will have] discussions over macroeconomic and geopolitical forces that could influence KKR's investment decisions. These issues include the heightened role of central banks following the financial crisis, and what KKR views as 'revolutions' in energy, manufacturing and technology, among other areas," The Wall Street Journal further spelled out. 
The course description, as seen below, sings a similar tune:

Students taking Petraeus' course will go above and beyond passive stoic discussion of the burning public policy issues of the day. Indeed, they will dive into the sphere of role-playing the positions of high-ranking U.S. officialdom, all in the context of the readings—such as the "frackademia" ones—they must complete and discuss in seminar on a weekly basis that will inform the role-play.
An example below:


Re-Conceptualizing the "Revolving Door"
The government-industry revolving door commonly refers to governmental officials leaving taxpayer-funded government gigs for jobs as corporate lobbyists, public relations spin-doctors and other related iterations. The evolution and corporatization of research unversities - in many ways research factories on behalf of multinational corporations - has seen the revolving door extend into higher education. 
Petraeus is one example and Moniz is another, but so too is former CIA-head Robert Gates. After leaving the CIA, Gates became the Chancellor of University of Texas A&M and then became Secretary of Defense.
Another example is Janet Napolitano, former head of the Department of Homeland Security who recently secured a job to head the University of California System. And yet another example is John Deutch, former head of the CIA who is now on the Board of Directors of Cheniere, served on President Obama's DOE Fracking Subcommittee and is a professor at MIT, where he co-wrote the "The Future of Natural Gas" with Moniz that Petraeus will have his students read.  
"Petraeusgate," then, is just the tip of the iceberg of a problem with much deeper roots.
Visit EcoWatch's FRACKING page for more related news on this topic.
——–
SHARE YOUR THOUGHTS BELOW.
——–