On Jan. 31—the day after President Trump's State of the Union address which lauded "beautiful clean coal" and completely ignored climate change—environmental activists gathered in Washington, DC to launch a new campaign to combat fossil fuel development and drive forward a renewable energy revolution from the ground up.
"Fossil Free U.S." is a grassroots strategy for passing local resolutions in cities and states nationwide that ban new fossil fuel projects. As a press release for the campaign stated, "Stopping Trump's climate-wrecking plans won't come from the beltway, but from communities everywhere fighting for justice from the ground up."
350.org co-founder Bill McKibben said, "2017 was tough—we resisted, but we lost a lot of ground. 2018 we take that ground back, and we'll do it with this Fossil Free campaign that helps unite progressive environmentalists to move us off oil and coal and gas and on to a world that works."
The 350.org-hosted event was held at George Washington University and broadcast live to more than 300 watch parties around the country. It featured a number of prominent climate advocates, including Sen. Bernie Sanders of Vermont.
"Donald Trump spoke last night for over an hour. He talked about many things, but somehow he forgot to mention the words 'climate change.' What an outrage. But we should not be surprised, because Donald Trump―one of the great scientists of our time―has determined, after years and years of exhaustive study, that climate change is a hoax brought to us from China," Sanders quipped to a cheering crowd.
Donald Trump spoke for over an hour last night on many issues, yet somehow he forgot to mention the words "climate… https://t.co/FSMV823DII

— Bernie Sanders (@Bernie Sanders)1517447748.0
"But not only does he not talk about climate change, but horrifically and dangerously, has as appointed administrators of the EPA and the Department of Energy who are doing everything they can to stop the movement towards sustainable energy," the senator continued.
"What we are about is telling Donald Trump and the Koch brothers, and all of these people, that their days are numbered, fossil fuels' days are numbered, we are going to transform our energy system."
Sanders once again committed to refuse campaign contributions from the fossil fuel industry and called on other politicians to do the same. Charles and David Koch, the billionaire brothers who own the coal, oil and gas conglomerate Koch Industries, plan to spend a record $400 million for the midterm elections.
Other speakers included Cherri Foytlin, Rev. Lennox Yearwood Jr., Antonique Smith, Naomi Klein, Jacqueline Patterson and New York City Mayor Bill de Blasio.
According to HuffPo, the event highlighted cities' efforts to combat fossil fuels, including New York City's plans to divest its $5 billion in pension funds from fossil fuel investments and its lawsuit against five oil giants for their role in contributing to the climate crisis.
"Big oil may think they are living in Trump's America," de Blasio said. "They are wrong. They are living in your America."
McKibben outlined the Fossil Free campaign's three main components in a Guardian article:
"The first—joining in work pioneered by groups like the Sierra Club—is to persuade towns, cities, counties, and states to pledge to make the transition to 100 percent renewable energy. This is now easy and affordable enough that it doesn't scare politicians—cities from San Diego to Atlanta have joined in, and they will help maintain the momentum towards clean energy that the Trump administration is trying so hard to blunt.
"Job two is to block new fossil fuel infrastructure. In some places, that will be by law: Portland, Oregon, recently passed a bill banning new pipes and such, over the strenuous objections of the industry. In other places it will take bodies—tens of thousands have already pledged to journey to the upper midwest if and when TransCanada decides to build out the Keystone XL pipeline that Trump has permitted.
"And third is to cut off the money that fuels this industry—by divestment, which has now begun to take a real and telling toll ($6tn worth of endowments and portfolios have joined the fight, and studies show it is cutting the capital companies need to keep exploring for oil we don't), and by the kinds of lawsuits that New York, San Francisco and a host of other cities have already filed."
Find more details about the campaign here.
From Your Site Articles
Related Articles Around the Web
EcoWatch Daily Newsletter
Gage Skidmore / Flickr
President Donald Trump—who remarked Tuesday that his administration ended the nonexistent "war on beautiful clean coal"—really wants to make fossil fuels great again.
The White House plans to ask Congress to cut the Department of Energy's renewable energy and energy efficiency programs by a massive 72 percent in fiscal 2019, according to draft budget documents obtained by the Washington Post.
The Office of Energy Efficiency and Renewable Energy's (EERE) current spending level is set at $2.04 billion for the current fiscal year ending on Oct. 1. But the Trump administration will significantly lower that amount to $575.5 million for 2019, the Post reported.
The EERE supports the development of sustainable transportation, renewable power, and energy-efficient homes, buildings and manufacturing. Its SunShot Program has significantly reduced the total costs of solar energy.
The draft budget document calls for a number of cuts, including:
A staff cut of 680 in the enacted 2017 budget to 450 in 2019.
Reducing research in fuel efficient vehicles by 82 percent.
Cutting research into bioenergy technologies by 82 percent.
Shrinking research into solar energy technology by 78 percent.
This is the second year Trump has targeted clean energy spending. Last year, he proposed cutting the office's budget by two-thirds to $636.1 million, which Congress later rejected.
"It shows that we've made no inroads in terms of convincing the administration of our value, and if anything, our value based on these numbers has dropped," one EERE employee told the Post.
The reported spending cut comes not long after Trump's decision to impose steep tariffs on imported solar panels and related equipment—a move that experts say will stifle the current solar boom, harm the fastest-growing job sector in the U.S., and drag down clean energy innovation.
The draft document could change before the federal budget is due later this month, but as the Post pointed out, the budget "will mark a starting point for negotiations and offer a statement of intent and policy priorities."
In response, the White House told the newspaper: "We don't comment on any leaked or pre-decisional documents prior to the release of the official budget."
Trump's Destructive Solar Tariffs: Why Smarter Ways Exist to Foster Innovation and Save Jobs… https://t.co/fQgFJgStig

— EcoWatch (@EcoWatch)1516717200.0
From Your Site Articles
Related Articles Around the Web
waterlust.com / @tulasendlesssummer_sierra .
Each product featured here has been independently selected by the writer. If you make a purchase using the links included, we may earn commission.
The bright patterns and recognizable designs of Waterlust's activewear aren't just for show. In fact, they're meant to promote the conversation around sustainability and give back to the ocean science and conservation community.
Each design is paired with a research lab, nonprofit, or education organization that has high intellectual merit and the potential to move the needle in its respective field. For each product sold, Waterlust donates 10% of profits to these conservation partners.
Eye-Catching Designs Made from Recycled Plastic Bottles
waterlust.com / @abamabam
The company sells a range of eco-friendly items like leggings, rash guards, and board shorts that are made using recycled post-consumer plastic bottles. There are currently 16 causes represented by distinct marine-life patterns, from whale shark research and invasive lionfish removal to sockeye salmon monitoring and abalone restoration.

One such organization is Get Inspired, a nonprofit that specializes in ocean restoration and environmental education. Get Inspired founder, marine biologist Nancy Caruso, says supporting on-the-ground efforts is one thing that sets Waterlust apart, like their apparel line that supports Get Inspired abalone restoration programs.
"All of us [conservation partners] are doing something," Caruso said. "We're not putting up exhibits and talking about it — although that is important — we're in the field."
Waterlust not only helps its conservation partners financially so they can continue their important work. It also helps them get the word out about what they're doing, whether that's through social media spotlights, photo and video projects, or the informative note card that comes with each piece of apparel.
"They're doing their part for sure, pushing the information out across all of their channels, and I think that's what makes them so interesting," Caruso said.
And then there are the clothes, which speak for themselves.
Advocate Apparel to Start Conversations About Conservation
waterlust.com / @oceanraysphotography
Waterlust's concept of "advocate apparel" encourages people to see getting dressed every day as an opportunity to not only express their individuality and style, but also to advance the conversation around marine science. By infusing science into clothing, people can visually represent species and ecosystems in need of advocacy — something that, more often than not, leads to a teaching moment.

"When people wear Waterlust gear, it's just a matter of time before somebody asks them about the bright, funky designs," said Waterlust's CEO, Patrick Rynne. "That moment is incredibly special, because it creates an intimate opportunity for the wearer to share what they've learned with another."
The idea for the company came to Rynne when he was a Ph.D. student in marine science.
"I was surrounded by incredible people that were discovering fascinating things but noticed that often their work wasn't reaching the general public in creative and engaging ways," he said. "That seemed like a missed opportunity with big implications."
Waterlust initially focused on conventional media, like film and photography, to promote ocean science, but the team quickly realized engagement on social media didn't translate to action or even knowledge sharing offscreen.
Rynne also saw the "in one ear, out the other" issue in the classroom — if students didn't repeatedly engage with the topics they learned, they'd quickly forget them.
"We decided that if we truly wanted to achieve our goal of bringing science into people's lives and have it stick, it would need to be through a process that is frequently repeated, fun, and functional," Rynne said. "That's when we thought about clothing."
Support Marine Research and Sustainability in Style
To date, Waterlust has sold tens of thousands of pieces of apparel in over 100 countries, and the interactions its products have sparked have had clear implications for furthering science communication.
For Caruso alone, it's led to opportunities to share her abalone restoration methods with communities far and wide.
"It moves my small little world of what I'm doing here in Orange County, California, across the entire globe," she said. "That's one of the beautiful things about our partnership."
Check out all of the different eco-conscious apparel options available from Waterlust to help promote ocean conservation.
Melissa Smith is an avid writer, scuba diver, backpacker, and all-around outdoor enthusiast. She graduated from the University of Florida with degrees in journalism and sustainable studies. Before joining EcoWatch, Melissa worked as the managing editor of Scuba Diving magazine and the communications manager of The Ocean Agency, a non-profit that's featured in the Emmy award-winning documentary Chasing Coral.
By now it shouldn't be a surprise that the Trump administration is wiping Obama-era climate initiatives off the Internet.
This time, the Department of Energy (DOE) has significantly altered its websites on renewable energy, removing references on how clean energy technologies can reduce the nation's reliance on fossil fuels and help lower climate-changing emissions.
The DOE's Office of Energy Efficiency and Renewable Energy—which could face deep funding cuts under Trump's budget proposal—has made "extensive changes and reorganizations" on websites for the Bioenergy Technologies Office, the Wind Energy Technologies Office and the Vehicle Technologies Office, according to the Environmental Data and Governance Initiative (EDGI), a coalition of academics and nonprofits that has tracked changes to federal websites ever since Donald Trump took office.
Environmental Data and Governance Initiative
As The Washington Post explained:
"Under the Obama administration, these offices' websites emphasized the importance of cutting down on U.S. carbon emissions and reducing the nation's dependence on fossil fuels—a message in keeping with President Barack Obama's push to address climate change.
"But with the Trump administration de-emphasizing climate change and looking to promote climate-friendly and carbon-intensive energy sources—an agenda that coincides with a broad attempt to eliminate regulations on fossil fuels and particularly on coal—the priorities outlined on these offices' Web pages have been shifting since the inauguration."
For instance, on the wind technology office page, this sentence was entirely removed:
"Wind power is an emission-free and water-free renewable energy source that is a key component to the Administration's renewable electricity generation goals."
Instead, the new wording emphasizes the potential of wind for U.S. jobs and economic growth. For example, this sentence was added:
"Wind energy currently supports more than 100,000 U.S. jobs, and wind turbine technician is the nation's fastest-growing occupation. According to industry experts, the U.S. wind industry is expected to drive over $85 billion in economic activity from 2017 to 2020, and wind-related employment is expected to reach 248,000 jobs in all 50 states by 2020."
This, of course, is true. The renewable energy sector has been a major boon to the nation's job growth and even the DOE can't ignore that.
However, the Rick Perry-led agency gives little weight to the clear environmental benefits of renewable energy.
Take the wind technology office's "WHY IT MATTERS" description. The EDGI noticed that the wording changed from how wind can "help the nation reduce emissions of greenhouse gases and other air pollutants, diversify its energy supply, provide cost-competitive electricity to key regions across the country, and reduce water usage for power generation" to how wind "helps the nation increase its competitiveness, diversify its energy supply, increase energy security and independence, reduce emissions of air pollutants, save water that would otherwise be used by thermal power generation, and provide cost-competitive electricity across the country."

Another subtle change was, "creating long-term, sustainable skilled jobs" to "creating long-term skilled jobs." Notice the difference?
As the Washington Post puts it:
"Together, the changes collectively downplay the climate benefits of each form of technology and distance the agency from the idea that they might be used to reduce dependence on fossil fuels, instead emphasizing their economic advantages. It's a move that's well in line with the Trump administration's generally dismissive attitude toward the issue of climate change."

Energy Secretary Rick Perry. Photo credit: Flickr
A supervisor at the Department of Energy's Office of International Climate and Clean Energy told staff to stop using the phrases "climate change," "emissions reduction" and "Paris agreement" in any official written communications, according to POLITICO's sources.
The instructions were reportedly given at a Tuesday meeting held shortly after President Trump's latest controversial executive order that reversed Obama-era climate policies.
Senior officials apparently told DOE climate office staff that the climate-related words would cause a "visceral reaction" with Energy Sec. Rick Perry, his immediate staff and the department's White House advisers.
While a department spokeswoman denied any official language ban in the climate office or in the department as a whole, POLITICO's sources said that there is a general sense among DOE employees that such hot-button terms should be avoided in favor of words like "jobs" and "infrastructure" in light of the Trump administration's anti-environmental agenda.
Environmental groups have balked at POLITICO's report. The Sierra Club noted that the DOE only just emerged from a storm of controversy regarding climate change after its staff purge during the transition period.
"What exactly is this office supposed to call itself now? The international C****** office?" Sierra Club Climate policy director Liz Perera said. "Ignoring the climate crisis will not make it go away, will not create jobs in the booming clean energy economy, and will not make our country great."
"Rick Perry lied to Congress about climate science to get a job at an agency he wanted to eliminate, and he has started things off with a blatant dereliction of duty. The only place the climate is not changing is in the minds of those in the Trump administration," Perera added.
The former Texas governor told Congress during his confirmation hearing that "science tells us that the climate is changing, and that human activity, in some manner, impacts that change." In a 2011 presidential debate, Perry famously forgot the name of the agency he would abolish.
While the former Texas governor had a few chuckles, Sanders made clear that the climate crisis is no laughing matter.
By Lauren McCauley
During his confirmation hearing on Thursday, former Texas Gov. Rick Perry was able to laugh off having once called for abolishing the Department of Energy, which he is now poised to lead, but Sen. Bernie Sanders (I-Vt.) refused to let him get away "sounding like a hung over frat boy," as one observer put it, when speaking about the crisis of climate change.
Sanders repeated Perry's own 2011 statement that he does not believe in global warming that America "should not spend billions of dollars addressing a scientific theory that has not been proven."
What Would U.S. Energy Policy Look Like With Rick Perry at the Helm? https://t.co/kpivkdgGEM @foodandwater @Peter_Seeger

— EcoWatch (@EcoWatch)1484362512.0
"That position is a variance with virtually the entire scientific community that has studied climate change," Sanders observed before asking, "do you still hold the views that you expressed in 2011? ... Do you agree with those scientists that it is absolutely imperative that we transform our energy system away from fossil fuel to energy efficiency so that we can leave this planet in a way that is healthy and habitable for our kids and future generations?"

Perry responded by delivering what The Hill described as Republicans' "new line on climate change."
"I believe the climate is changing," Perry said. "I believe some of it is naturally occurring, but some of it is also caused by manmade activity. The question is how do we address it in a thoughtful way that doesn't compromise economic growth, the affordability of energy or American jobs."
"Governor, I don't mean to be rude," Sanders interrupted. "We are in danger of spending God knows how many billions of dollars to repair the damage done by climate change. Drought is becoming a major crisis, it will impact agriculture in a very significant way."
"Let's get beyond the rhetoric," Sanders continued, "the majority of scientists who study this issue think that climate change is a global crisis. It's not a question of balance this and balance that. It is a global crisis that requires massive cuts in carbon and transformation of our energy system."
Then stopping Perry's interjection about his record of lowering emissions in Texas, Sanders said: "I am asking you if you agree with the scientific community that climate change is a crisis and if we need to transform our energy system to protect future generations?"
It is worth noting, as Climate Progress's founding editor Joe Romm did, that Perry's retort about lowering carbon and sulfur emissions speaks to his lack of knowledge as well as how Republican efforts to rollback emissions regulations are at odds with climate science.
As Romm reported, "the reductions in sulfur dioxide and NOx that Perry is now bragging about were due to EPA [U.S. Environmental Protection Agency] regulations that Republicans like Perry fought against from the get-go. And now team Trump wants to kill the EPA regulations that would keep lowering carbon emissions."
Sanders also pressed Perry to state whether he thinks that "testing nuclear weapons is a dangerous idea." Perry sidestepped, saying he wants "a nuclear arsenal that is modern and safe" and that he will look to nuclear scientists for answers on whether they should be tested.
Perry added, "I think anyone would be of the opinion that if we don't ever have to test another nuclear weapon, that would be a good thing, not just for the United States, but for the world."
Watch the exchange below:
Sanders is not the only lawmaker who took issue with Perry's past statements on climate change.
During the hearing, Sen. Al Franken (D-Minn.) quoted Perry in 2014, when he declared: "I don't believe we have the settled science by any sense of the imagination. Calling CO2 a pollutant is doing a disserve to the country and a disservice to the world."
"Now," Franken continued, "I see in your testimony that your views have been evolving on this and you note that man is responsible for some climate change. How much climate change do you think that science shows is due to human activity?"
Perry interjected: "It is far from me to be sitting before you and claiming to be a climate scientist. I will not do that."
To which Franken retorted, "I don't think you're ever going to be a climate scientist, but you are going to be head of the Department of Energy."
What the exchange below:
Reposted with permission from our media associate Common Dreams.
By Steve Horn
Records obtained by DeSmogBlog pertaining to City University of New York (CUNY) Macaulay Honors College's hiring of former head of the Central Intelligence Agency (CIA) David Petraeus to teach a seminar this coming fall reveal that his syllabus features two of the most well-known "frackademia" studies.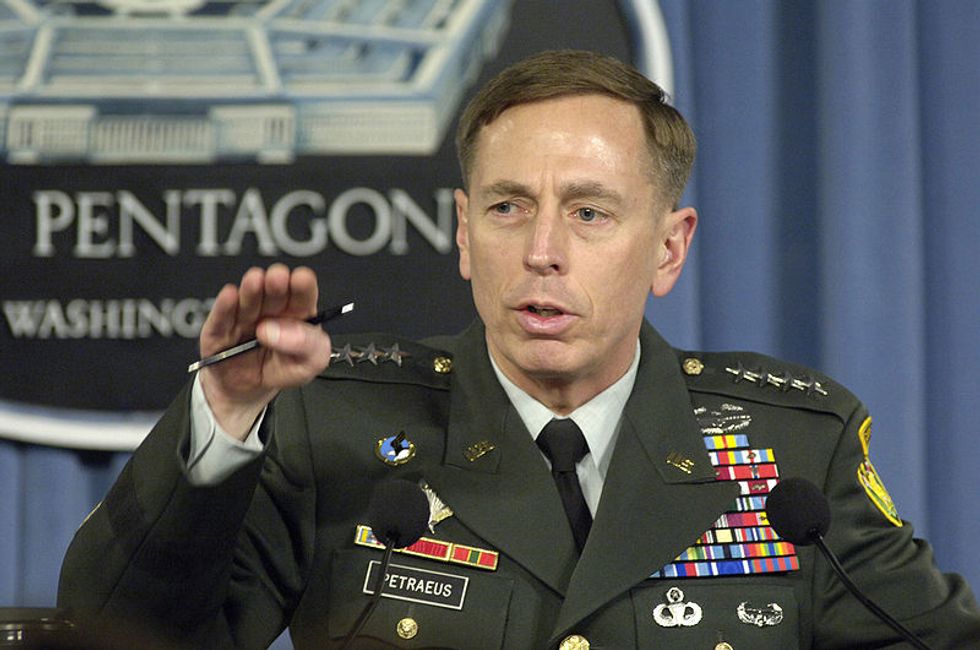 "Frackademia" is shorthand for oil and gas industry-funded research costumed as independent economics or science covering the topic of hydraulic fracturing, or fracking, the controversial horizontal drilling process via which oil and gas is obtained deep within shale rock basins.
According to the syllabus, Petraeus will devote two weeks to energy alone, naming those weeks "The Energy Revolution I" and "The Energy Revolution II." The two "frackademia" studies Petraeus will have his students read for his course titled "The Coming North American Decade(s)? are both seminal industry-funded works.
One of them is a study written by industry-funded National Economic Research Associates (NERA) concluding liquefied natural gas (LNG) exports are beneficial to the U.S. economy, despite the fact that exporting fracked gas will raise domestic home-heating and manufacturing prices. NERA was founded by "father of deregulation" Alfred E. Kahn. The study Petraeus will have his students read was contracted out by the U.S. Department of Energy (DOE) to NERA.
The other, a study written by then-Massachusetts Institute of Technology (MIT) research professor Ernest Moniz—now the head of the DOE—is titled "The Future of Natural Gas" and also covers LNG exports. DOE oversees the permitting process for LNG exports. That study was funded by the Clean Skies Foundation, a front group for Chesapeake Energy and covered in-depth in the Public Accountability Initiative's report titled, Industry Partner or Industry Puppet?
Noticeably absent from the reading list: studies tackling the climate impacts, air quality impacts, over-arching ecological impacts such as water contamination, wastewater impacts and diminishing supply issues.
Together, the two crucial studies on the syllabus reading list—and the lack of critical readings on the topic of fracking—offers a glimpse into the stamp of legitimacy industry-funded studies get when they have the logo of elite research universities on them. It's also another portrayal of the ascendancy of the corporate university. 
From "Petraeusgate" to "Frackademia"-gate
In the case of Petraeus, the original "Petraeusgate" scandal centered around the $200,000 fee the Honors College planned on paying him for his role as an adjunct professor set to teach one course. A normal CUNY Honors College adjunct receives $3,000 per course.
Recently, Petraeus—who the late Rolling Stone investigative journalist Michael Hastings pejoratively referred to as "King David" in reference to the role he played in implementing counterinsurgency doctrine in U.S.-occupied Iraq—took a pay cut down to $1 to teach the course. That doesn't include the money he'll still get from an unidentified private donor referred to in other documents. 
That scandal sat on top of the scandal that led to his resignation from the CIA in the first place: an extramarital affair with Paula Broadwell, who at the time of the affair was writing a biography about him titled, All In: The Education of General David Petraeus.
Petraeus Teaches Frackers Counterinsurgency, Psychological Warfare
Petraeus has also taught the shale gas industry some important things, as well.
Namely, Petraeus was one of the co-authors of the Counterinsurgency (COIN) Field Manual that Anadarko Petroleum PR hand Matt Carmichael said he has employees read at the "Media & Stakeholder Relations: Hydraulic Fracturing Initiative 2011" conference in Houston, TX, in 2011. 
"Download the U.S. Army/Marine Corps Counterinsurgency Manual because we are dealing with an insurgency," said Carmichael at the conference. "There's a lot of good lessons in there, and coming from a military background, I found the insight in that extremely remarkable."
One of the key COIN tactics covered in the Field Manual is psychological operations (PSYOPs), also discussed at the Houston conference by Range Resources spokesman Matt Pitzarella.
"We have several former PSYOPs folks that work for us at Range because they're very comfortable in dealing with localized issues and local governments," Pitzarella said to the audience in Houston. 
"Really all they do is spend most of their time helping folks develop local ordinances and things like that. But very much having that understanding of PSYOPs in the Army and in the Middle East has applied very helpfully here for us in Pennsylvania." 
As Hastings covered in another Rolling Stone investigation, the U.S. military employed PSYOPs tactics on members of Congress. That's illegal within U.S. borders under the Smith-Mundt Act of 1948, though it seems rather unlikely the co-author of the COIN Manual—"King David" himself—will cover these details in his course. 
Petraeus' Wall Street Job Description Mirrors His Course Description
Petraus also has a teaching gig at University of Southern California (USC) and a day job working at the Wall Street firm Kohlberg Kravis Roberts (KKR). 
"He is expected to advise on economic trends, issues with foreign governments and other matters that could affect transactions," The Wall Street Journal explained of his hiring at KKR. "He will advise firms owned by KKR in an effort to improve management and leadership and help them confront economic and geopolitical forces that affect them."
Petraeus' job description mirrors the course description he will teach, lending insight into what type of jobs the students taking his course may obtain in the future if Petraeus' class is a pedagogical success.
"Petraeus and others at the firm [will have] discussions over macroeconomic and geopolitical forces that could influence KKR's investment decisions. These issues include the heightened role of central banks following the financial crisis, and what KKR views as 'revolutions' in energy, manufacturing and technology, among other areas," The Wall Street Journal further spelled out. 
The course description, as seen below, sings a similar tune:

Students taking Petraeus' course will go above and beyond passive stoic discussion of the burning public policy issues of the day. Indeed, they will dive into the sphere of role-playing the positions of high-ranking U.S. officialdom, all in the context of the readings—such as the "frackademia" ones—they must complete and discuss in seminar on a weekly basis that will inform the role-play.
An example below:


Re-Conceptualizing the "Revolving Door"
The government-industry revolving door commonly refers to governmental officials leaving taxpayer-funded government gigs for jobs as corporate lobbyists, public relations spin-doctors and other related iterations. The evolution and corporatization of research unversities - in many ways research factories on behalf of multinational corporations - has seen the revolving door extend into higher education. 
Petraeus is one example and Moniz is another, but so too is former CIA-head Robert Gates. After leaving the CIA, Gates became the Chancellor of University of Texas A&M and then became Secretary of Defense.
Another example is Janet Napolitano, former head of the Department of Homeland Security who recently secured a job to head the University of California System. And yet another example is John Deutch, former head of the CIA who is now on the Board of Directors of Cheniere, served on President Obama's DOE Fracking Subcommittee and is a professor at MIT, where he co-wrote the "The Future of Natural Gas" with Moniz that Petraeus will have his students read.  
"Petraeusgate," then, is just the tip of the iceberg of a problem with much deeper roots.
Visit EcoWatch's FRACKING page for more related news on this topic.
——–
SHARE YOUR THOUGHTS BELOW.
——–

Yesterday, environmental groups including Clean Ocean Action, Food & Water Watch and Edison Wetlands Association blasted the offshore Port Ambrose Liquefied Natural Gas (LNG) facility at a press conference just before the public hearing at the New Jersey Expo and Convention Center in Edison, NJ. The groups cited reasons to reject this project including, threats to tourism, commerce and the marine environment, the connection to hydraulic fracturing, also known as fracking, the deficiencies in the application and the fact that an identical project was vetoed by Gov. Christie. Hundreds of citizens attended and spoke out against the project at the public hearing as well, with momentum building in opposition to Port Ambrose following last night's public hearing in Long Beach, NY.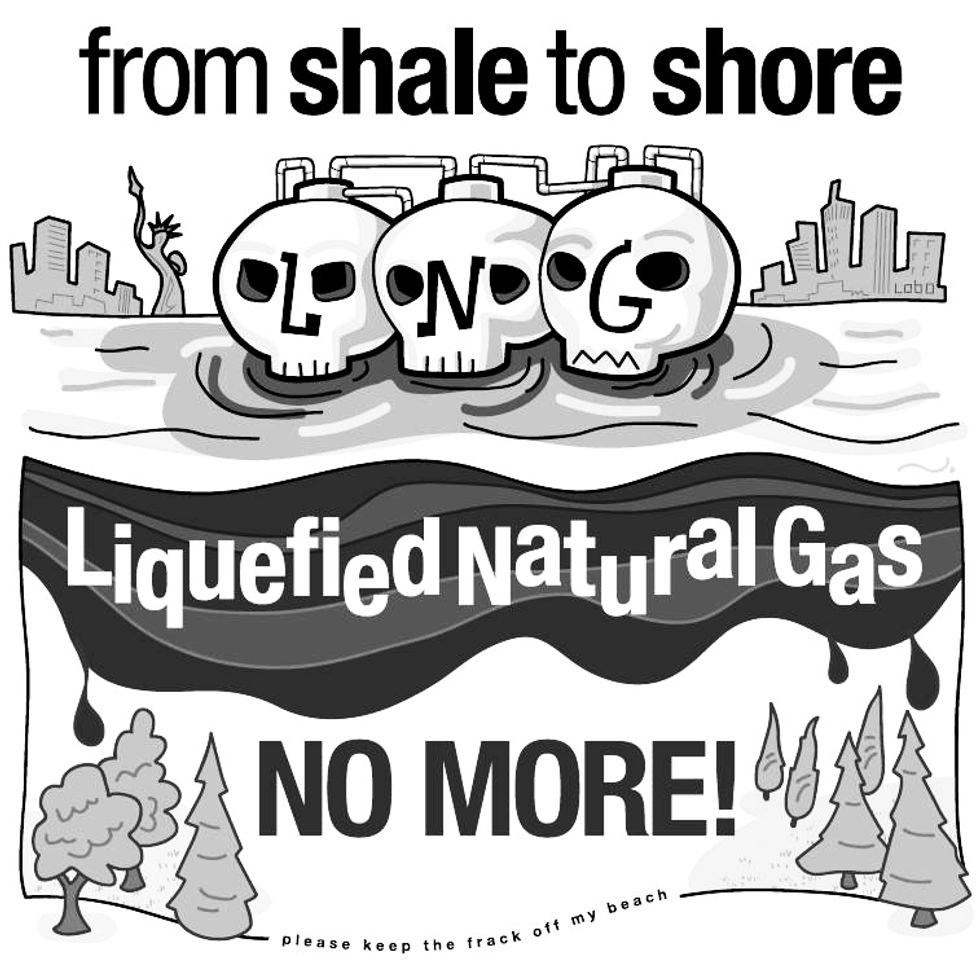 Surfrider Foundation
.
"I am proud that so many residents came and spoke out yesterday. I repeat my demand that the public be provided more information, more time for comment, more hearings and more opportunity to be heard," stated Nassau County Legislator David Denenberg (D-Merrick). "This project has security, economic, commercial and environmental concerns that must be discussed and dealt with before closing off public comment and moving to the next step," stated Mr. Denenberg.
 
The Port Ambrose LNG facility has been proposed off the coast of Long Branch, NJ, and 17 nautical miles south of Jones Beach, NY. The project is the same proposal that New Jersey Gov. Chris Christie vetoed. The only difference is the name. The project, if licensed, would allow both exports and imports of natural gas, resulting in accelerated hydro-fracking in the region and higher energy costs.
 
While the application is for an import facility, existing Department of Energy approvals have authorized up to 40 percent of our domestically-produced natural gas to be exported to certain nations around the world, and more approvals are in the pipeline for exports to the rest of the globe. Opponents of the project say any LNG facility will be for both import and export and it will create demand for fracking, via exports.
 
"This proposed LNG facility has the capability to destroy our Garden State. New Jersey is one the most densely populated areas in the country and our Jersey Shore generates millions of dollars through summer recreation alone," said Dana Patterson, Edison Wetlands Association's program supervisor. "Our communities must not be put at risk so a precarious facility can operate for pure profit without consideration for our water quality, diverse sea life, thriving fisheries or health and safety of our residents," she explained.
 
"The last thing our still suffering Sandy damaged New Jersey Shore needs is an LNG export facility. We know the process of fracking to extract the gas destined for export risks our drinking water, air and ocean as it is not even regulated," said ocean advocate and paddler Margo Pellegrino. "With this proposed terminal we increase this risk to our own drinking water and ocean, our own health, and pay more for our own 'home grown' energy as prices skyrocket with European demand for our dirty fuel. To say the idea of such a facility anywhere on the East Coast, but especially here in this most trafficked of all waterways is a 'bad idea' is an extreme understatement," added Pellegrino.
 
"Port Ambrose would require a massive investment in dirty fossil fuels and fracking at a time when the threat of climate change demands we switch to truly clean energy," said Matt Smith, an organizer with Food & Water Watch, a consumer advocacy organization. "In this post-Superstorm Sandy era, New Jersey residents are saying no to fossil fuels, no to fracking and no to this ill-concieved hazard to our air, water and climate," stated Smith.
 
"Liberty Natural Gas, an unknown and well-connected foreign company is using their significant money, lobbyists and influence to bring this floating disaster to our region. By holding this hearing in Edison, NJ, the Maritime Administration is trying to ignore the Jersey Shore, which is why we are hosting a 'Citizens' Hearing' tomorrow in Sea Bright, NJ," explained Cindy Zipf, executive director of Clean Ocean Action. "Citizen's voices unable to get to Edison can come and testify and the comments will be officially submitted for the record," said Zipf.
 
The citizens' hearing, organized by Clean Ocean Action, is tonight in Sea Bright, NJ, at the Sea Bright Public Beach, 1099 Ocean Ave., Sea Bright, NJ 07760. There will be an informational open house from 4:30 - 5:30 p.m. and the hearing will be from 6 - 8 p.m. Comments made at this hearing will be submitted to the federal government.
Visit EcoWatch's LIQUEFIED NATURAL GAS and FRACKING pages for more related news on this topic.
———
SHARE YOUR THOUGHTS BELOW: Do you feel misled upon learning the plans to export LNG since officials have long claimed that fracking for natural gas will create energy independence?
———

By Sharon Kelly
The key takeaway from President Obama's major climate change announcement last week was his intent to batten down on coal. But if history is any indication, the man Mr. Obama selected to run the Department of Energy may have different plans.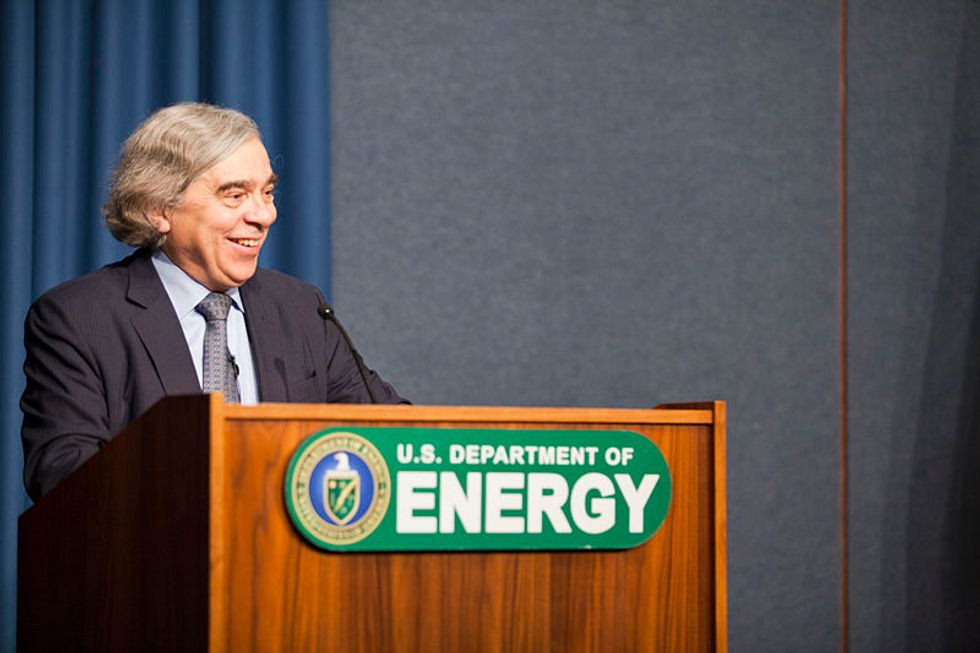 Ernest J. Moniz has a long history of supporting coal-powered electricity, staking his arguments in favor of coal on a technology that remains entirely unproven: carbon capture and sequestration (CCS).
Mr. Moniz will be in a uniquely influential position when it comes to confronting these problems. President Obama announced that he would rely on executive agencies instead of Congress, so Mr. Moniz's Energy Department will play a crucial role in determining precisely how Obama's strategy is administered.
The day after Obama's speech, Moniz told Congress "the President advocates an all-of-the-above energy strategy and I am very much in tune with this."
What's wrong with an all-of-the-above strategy? It extends reliance on fossil fuels, at a time when scientists warn that we can only burn 20 percent of current reserves before the world tips past the crucial 2 degree Celsius point. Beyond two degrees, some of the most devastating impacts of global warming will be felt. Keep in mind that, if all of the world's coal is burned, global temperatures could rise by a jaw-dropping 15 degrees Celsius, a study published in the prestigious journal Nature last year concluded.
The stakes, when it comes to controlling American greenhouse gas emissions, are huge.
In May, carbon dioxide levels in the Earth's atmosphere reached 400 parts per million—the highest level of carbon dioxide ever recorded in human history. Last year, the continental U.S. experienced its hottest year on record, and the Natural Resources Defense Council estimates that climate-related disasters like crop loss, wildfires and floods cost the nation roughly $140 billion last year alone, with much of the tab picked up by taxpayers.
Power plants are the single largest source of American carbon dioxide emissions, accounting for a third of the nation's total greenhouse gases. So focusing on power plants is key if emissions are to be reduced.
Coal currently supplies about 40 percent of American electricity, according to Energy Information Administration statistics, down from 50 percent in 2005. Coal's decline comes as natural gas from fracking (which has its own worrisome climate impacts, measured in methane rather than carbon dioxide), wind and solar, have risen in their share of the U.S. electric portfolio. Since the beginning of 2010, 145 coal-fired power plants announced plans to retire.
But the Department of Energy is focused not on retiring more of these plants, pinning its hopes instead on developing new technologies to make coal cleaner. The plan in rough form, involves collecting carbon dioxide emitted by power plants and burying it, forever, underground.
If that sounds like a heck of a challenge, that's because it is.
There's not a single large commercially-operating carbon sequestration plant anywhere in the world.
That's despite over $25 billion in government subsidies worldwide from 2008 to 2012.
Nevertheless, Mr. Moniz told Congress that "the Administration has already committed about $6 billion to [carbon capture and sequestration] demonstrations, and success of the forthcoming projects will be a critical step toward meeting the President's climate goals."
The $8 billion in total subsidies adds up to more than the wind and solar industries combined receive—and those are industries that have proven themselves to be commercially viable.
Undaunted, Moniz told The New York Times that CCS was a vital part of the country's climate change strategy. He called for CCS to be commercialized first for coal-fired power plants. He added that natural gas' carbon emissions, though half those of coal, are still too high to meet Obama's long-term goal of slashing emissions 80 percent from 1990 levels by 2050—so he called for the same speculative technology to resolve that problem as well.
The transition to an electric industry that captures its greenhouse gases instead of releasing them into the atmosphere makes the challenges associated with developing renewables like wind and solar look easy in comparison.
Professor Vaclav Smil, author of Energy Myths and Realities: Bringing Science to the Energy Policy Debate has calculated that to sequester just a fifth of current carbon dioxide emissions:
"... we would have to create an entirely new worldwide absorption-gathering-compression-transportation-storage industry whose annual throughput would have to be about 70 percent larger than the annual volume now handled by the global crude oil industry whose immense infrastructure of wells, pipelines, compressor stations and storages took generations to build."
Carbon capture is also grossly inefficient. "By some estimates, 40 percent of the energy generated has to go to the carbon capture and sequestration process," Josh Galperin, associate director of the Yale Center for Environmental Law and Policy, said after the climate strategy was released. DeSmog's Kevin Grandia describes some further technical hurdles that carbon sequestration has yet to overcome.
In a key indication of how shaky the science is behind carbon sequestration, not even the World Bank will fund it. Concerns about climate change led the Bank to restrict its financial support for coal projects except in "rare circumstances," a draft strategy leaked to the press last week indicates. In a glaring omission, the strategy says nothing about carbon capture and sequestration as an alternative.
None of this seems to matter to Mr. Moniz, whose support of the coal industry and faith in sequestration has been longstanding.
A 2009 report he helped produce focused on how to reduce carbon dioxide from coal plants, touting the potential for so-called "clean coal."
"It's cheap," he told Scientific American when the report was released, "there's lots of it and there's lots of it in places with high demand, namely the U.S., China and India."
In 2007, Moniz co-authored an Massachusetts Institute of Technology report titled The Future of Coal that aimed to examine "how the world can continue to use coal, an abundant and inexpensive fuel, in a way that mitigates, instead of worsens, the global warming crisis."
Moniz's faith in carbon sequestration has remained unshaken up to the present day.
"It's not going to happen tomorrow, but I believe in this decade we will have demonstrated the viability of large-scale storage" of carbon dioxide from industrial operations, he told the Associated Press recently. "The president made clear that we anticipate that coal and other fossil fuels are going to play a significant role for quite some time on the way to a very low carbon economy," he added.
Meanwhile, broader concerns about the President's climate plans remain.
"We're happy to see the president finally addressing climate change" said Bill Snape, senior counsel for the Center for Biological Diversity, "but the plain truth is that what he's proposing isn't big enough, and doesn't move fast enough, to match the terrifying magnitude of the climate crisis."
And if the clean coal technology Mr. Moniz is counting on doesn't pan out, prospects may be even dimmer.
Visit EcoWatch's CLIMATE CHANGE page for more related news on this topic.
——–

DO YOU THINK ERNEST MONIZ MAY HAVE A CONFLICT OF INTEREST IN THE HEAVILY SUBSIDIZED CARBON CAPTURE AND SEQUESTRATION INDUSTRY?

Early scientific analysis predicted that the risks associated with hazardous waste injection wells would be negligible. Unfortunately, experience has indicated that disposing of hazardous waste deep underground has been linked to water contamination, destroyed ecosystems, toxic leaks and earthquakes.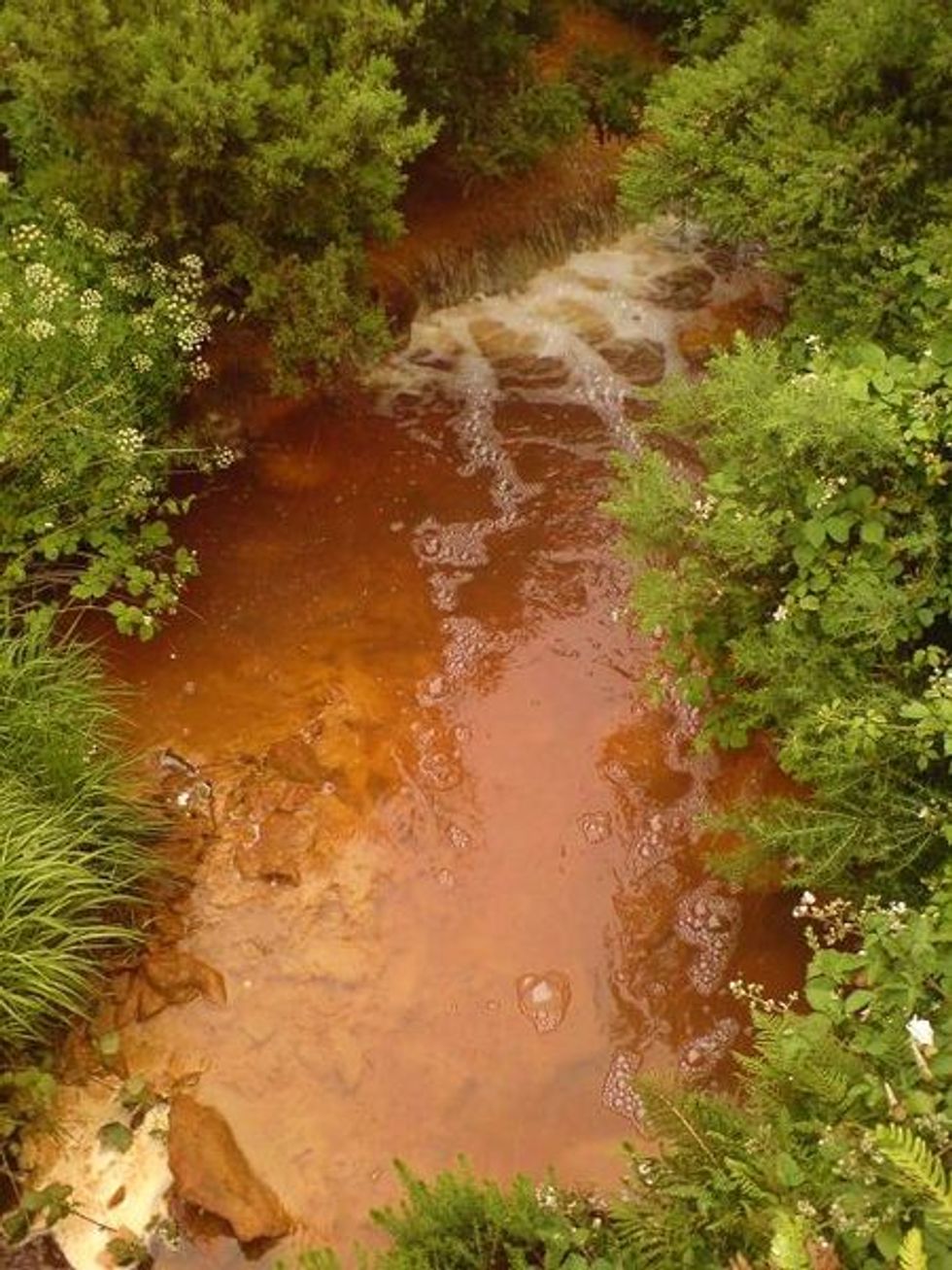 Now we are learning that there is a difference between scientific analysis and scientific evidence.
In a recent extensive report by ProPublica, John Apps, leading geoscientist, who advises the Department of Energy for Lawrence Berkeley National Labs, said that the science used to go forward with disposal wells was not sound.
"Every statement is based on a collection of experts that offer you their opinions. Then you do a scientific analysis of their opinions and get some probability out of it. This is a wonderful way to go when you don't have any evidence one way or another ... But it really doesn't mean anything scientifically," said Apps.

Perhaps the scientific projections behind the disposal well operations would be sound under ideal conditions: uniform rock structure, stability of toxic materials, predictable reactions and seismic activity. But, scientists say, no amount of speculation can take into account all of the variables of deep underground environments.
"Geology," according to geologist Ronald Reese, "is never what you think it is."
Only practical data and experimental research can offer any insight into the possible risks of hazardous waste injection wells. And since many disposal wells have gone unmonitored for years, regulators are unable to make informed decisions about their safety.
According to ProPublica, the U.S. Environmental Protection Agency (EPA) "has not counted the number of cases of waste migration or contamination in more than 20 years."
Up until the 1960s, most toxic waste was deposited in lakes and rivers, which led to obvious, unbearable pollution of ecosystems and drinking water in the U.S. As an answer to this pressing problem, oil companies developed hazardous waste injection wells as a solution.
Disposal wells use high-pressure pumps to force toxic and non-toxic waste down cement and steel pipelines to dumping zones about two kilometers deep in the Earth. Wells can be shallower if the waste is less offensive. The waste is then released into the porous rock beneath several layers of Earth. 
The idea, according to a recent report in the Scientific American, is that "underground waste is contained by layer after layer of impermeable rock. If one layer leaks, the next blocks the waste from spreading before it reaches groundwater. The laws of physics and fluid dynamics should ensure that the waste can't spread far and is diluted as it goes."
Each disposal well could deposit more than millions of gallons of waste into the ground using tremendous force. Once the waste is deposited, it is not tracked and scientists have no real idea of how far it can travel.
The ProPublica report points out that, "rock layers aren't always neatly stacked as they appear in engineers' sketches. They often fold and twist over on themselves. Waste injected into such formations is more likely to spread in lopsided, unpredictable ways."
In light of recent research and evidence of leakage, hydrologist Tom Myers says that more knowledge is needed to understand the implications of deep disposal wells as "natural faults and fractures are more prevalent than commonly understood."
Scientific projections were unable to foresee the ways that injection wells would impact the environment. The three major ways are:
Water
In many cases, liquid waste has traveled horizontally and migrated up to ground water through abandoned water and oil wells. This unanticipated phenomenon has been linked to hundreds of water contamination cases throughout the U.S. and Canada. 
There are currently thousands of unplugged and abandoned wells in the U.S. and Canada. In 1989, the U.S. General Accounting Office (GAO) investigated and concluded that current safeguards aren't preventing contamination from injected oil and gas wastes. Their report states specifically that "brines from Class II wells can enter drinking water supplies directly, through cracks and leaks in the well casing, or indirectly through nearby wells."
Canada, too, has had its share of disposal well-related contamination due to insufficient research. The Canadian government blames events like the contamination of groundwater in Lambton Count, Ontario, in 1977 on a "lack of knowledge." According to Environment Canada, "[d]isposal wells were constructed and waste injected following the regulations and best knowledge at the time. However, it was not realized that waste fluids would migrate to the surface through abandoned oil and groundwater wells, causing a major problem that still exists today."
Earthquakes
Even basic regulations are supposed to include a seismic survey within a two-mile radius of the designated drilling area. Yet, "in 1961, a 12,000-foot well was drilled at the Rocky Mountain Arsenal, northeast of Denver, [CO], for disposing of waste fluids from the Arsenal's chemical weapons operations. Injection commenced March 1962, and an unusual series of earthquakes erupted in the area shortly after." According to the U.S. Geological Survey, over the course of time that the Rocky Mountain Arsenal waste dumping practice went on, the area sustained a dozen earthquakes.
The earthquakes were prompted by the destabilization of a seismic fault line due to the drilling of the well and the pressure of materials being forced into the ground. The Arsenal stopped injection operations Nov. 26, 1967, after a 5.0 magnitude earthquake rocked the area a few months earlier.
This isn't an isolated case.
In 2011, A magnitude 5.7 earthquake rocked the area surrounding Prague, OK. Scientists say the "largest earthquake in Oklahoma history was likely triggered by a waste injection well." According to a report in National Geographic, "[a]s pressure builds in these disposal wells, it pushes up against geological faults, sometimes causing them to rupture, setting off an earthquake."
In a report released by the scientific journal Geology earlier this year, "Significant earthquakes are increasingly occurring within the continental interior of the United States." These quakes are being directly linked with injection well operations.
Land Value
In Texas, many farmers are unable to use their land for farming or livestock due to contamination. Texas is riddled with abandoned and unplugged oil wells, which play a role in the leaks caused by injection wells.
The abandoned wells present a pathway for injected wastes to migrate upward into ground water and onto farmland. If a field is flooded by an injection well leak, the land is not suitable for farming of any kind. The resale value of the land is also affected.
As ProPublica reports, in 2003, "Ed Cowley of the EPA got a call to check out a pool of briny water in a bucolic farm field outside Chico, TX. Nearby, he said, a stand of trees had begun to wither, their leaves turning crispy brown and falling to the ground." 
The pool of water was due to a salt-water leak from a nearby injection well. Salt-water brine is used in various oil production techniques [fracking] and is known to contain dangerous chemicals like benzene. "It was frustrating," Crowley said. "If your water goes, what does that do to the value of your land?"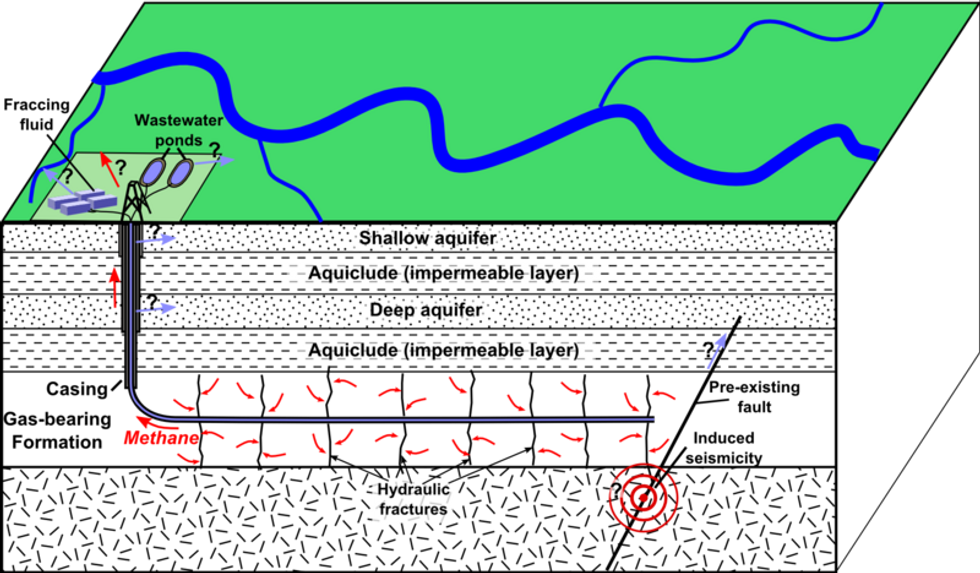 A major contributor to the deficit of knowledge surrounding waste injection wells could be the lack of sufficient monitoring and documentation. And this negligence doesn't appear to be accidental. In the 1980's, an abundance of leak and water contamination reports brought waste injection well regulations into consideration with federal regulators proposing stricter rules. At the time the oil and gas industry complained they couldn't afford to uphold such high standards of inspection. The amount of money needed to conduct the inspections would force them to close down they said.
Oil and gas exploration and production waste is now exempt from federal hazardous wastes regulations in the U.S. 
According to ProPublica, "[o]perators are required to do so-called 'mechanical integrity' tests at regular intervals, yearly for Class 1 wells and at least once every five years for Class 2 wells. In 2010, the tests led to more than 7,500 violations [in the U.S.], with more than 2,300 wells failing. In Texas, one violation was issued for every three Class 2 wells examined in 2010."
In some cases, operators aren't required to comply with what regulations do exist. Many operational wells were built before current regulations were put into place. These "grandfathered" wells are not, and will not be, subject to the same regulations as new wells.
Even with new wells, the standards are not being met. According to the GAO, new permits are being issued "without evidence that the pressure tests were conducted."
Inspection regulations in place are habitually ignored or sidestepped. Perhaps because regulations are, according to some experts, "outdated at this point."
Visit EcoWatch's FRACKING WASTEWATER page for more related news on this topic.
——–

HOW IS YOUR COMMUNITY'S WATER IS SOURCED?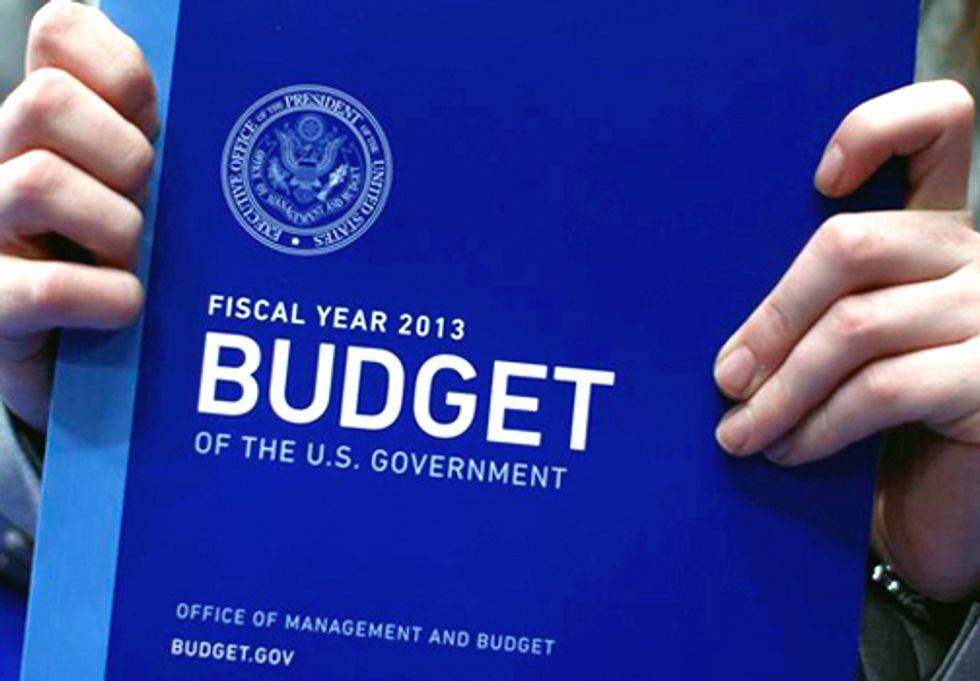 Environmental Defense Fund (EDF) praised President Obama's congressional budget request that would provide funding for sustainable fisheries and shift some of the $4 billion a year in subsidies for oil and gas companies to invest in clean technology in Fiscal Year 2013. However, EDF lamented the fact that the president's budget proposes cutting funding for the U.S. Environmental Protection Agency (EPA) by $105 million and Farm Bill conservation programs by about $600 million in FY 2013.
"Despite some flaws, the president's budget is a big net plus for the environment, and we urge Congress to embrace the positive aspects of it," said Elgie Holstein, senior director for strategic planning at Environmental Defense Fund (EDF) and a former associate director of the Office of Management and Budget for Natural Resources, Energy and Science.
"The fact is—clean energy and responsible environmental policy make good economic policy as well because they create jobs, while cutting energy and medical bills for American families," said Jim Marston, vice president of EDF's Energy Program. "Look at it this way—environmental conservation is cheaper than environmental cleanup, just like preventive medicine is cheaper than emergency room treatment. We applaud the president's support of job-creating, clean energy programs."
"We look forward to working with Congress to ensure that important fishery management functions have adequate funding and fishermen have all the tools they need, including sustainable market programs such as catch shares," said John Mimikakis, associate vice president of EDF's Ocean Program.
Good news:
$27.2 billion for the Department of Energy, a 3.2 percent increase over what Congress enacted last year:

$2.3 billion would go towards research and development for energy efficiency, advanced vehicles and biofuels.
$522 million increase in renewable energy sources and an additional $174 million for a revamped industrial technology-advanced manufacturing program.
$12 million would go towards multi-year research investments in safer natural gas infrastructure in order to reduce risks associated with hydraulic fracturing in shale formations.

Pipeline safety would receive a 70 percent, or $64 million, increase.

Approximately $1 billion for energy conservation efforts in the Department of Defense (DOD), which is the world's largest energy consumer.

DOD is increasing its commitment to renewable energy, which now makes up 8.5 percent of its energy production and procurement.

$174 million for sustainable fisheries work by the National Oceanic and Atmospheric Administration, which supports the science and management needed to support the commercial fishing industry that supports 1 million jobs and yields more than $32 billion in income every year.
$28 million for the National Catch Share Program, a critical part of the nation's strategy to return its fisheries to abundance, the same level adopted by the Congress last year.
Bad news:
Counterproductive cuts to the Environmental Protection Agency

The fiscal 2013 budget seeks $8.3 billion, which is $105 million below the current funding level for the agency.
If Congress approves the proposal, it would be the first time since 1994 that the agency's budget was cut for three consecutive years.

Counterproductive cuts to USDA's Natural Resources Conservation Service

The fiscal 2013 budget seeks to cut funding for Farm Bill conservation programs by about $600 million.
Congress already has cut conservation funding by $2.8 billion over the last five years (FY 2008-2012), representing 81 percent of the nearly $3.5 billion in Farm Bill spending cuts during that time period.
For more information, click here.
Environmental Defense Fund, a leading national nonprofit organization, creates transformational solutions to the most serious environmental problems. EDF links science, economics, law and innovative private-sector partnerships.