This website uses cookies to ensure you get the best experience while browsing it. By clicking 'Got It' you're accepting these terms.


The best of EcoWatch, right in your inbox. Sign up for our email newsletter!
Rabbits being held for cosmetic eye-irritancy testing. PA Images via Getty Images
California Governor Jerry Brown signed a first-of-its-kind law banning the sale of animal tested cosmetics Friday, the Huffington Post reported.
"We are grateful to Governor Brown for signing this bill," California state director for the Humane Society of the United States Crystal Moreland said in a press release. "I am proud that California is the first state in the nation to take a stand against cruel cosmetic animal testing."
Shutterstock
By Scott Faber
A rash of product recalls, government warning notices and contaminated cosmetics may finally push Congress to give our broken cosmetics law a makeover.
This month, a key Senate committee announced a bipartisan plan to consider cosmetics reform legislation this spring and work for its passage by the full Senate this year.
EcoWatch Daily Newsletter
A new Northwestern University study revealed that consumer complaints have more than doubled for cosmetic products from 2015 to 2016, highlighting problems with the under-regulated multibillion-dollar beauty industry.
In fact, cosmetics companies and manufacturers are not legally required to share complaints about its products to the U.S. Food and Drug Administration (FDA) meaning potentially harmful products are on our shelves today.
By Scott Faber
Cosmetics and other personal care product companies make questionable organic claims on thousands of products, a new Environmental Working Group (EWG) analysis shows.
More than 5,000 products in EWG's Skin Deep database—about 20 percent of current product formulations rated on the site—use "organic" in the brand name, product name, product label or list of ingredients. But many of these products contained risky or hidden ingredients and received poor Skin Deep scores.
Twenty-two companies have requested trade secret status to avoid telling the public about toxic chemicals found in nearly 1,500 cosmetic products included in the new California Safe Cosmetics Program Database. The database was released earlier this month as part of the state's Safe Cosmetics Act, which requires companies to report ingredients in their cosmetic products that are considered carcinogens or reproductive toxins under Proposition 65.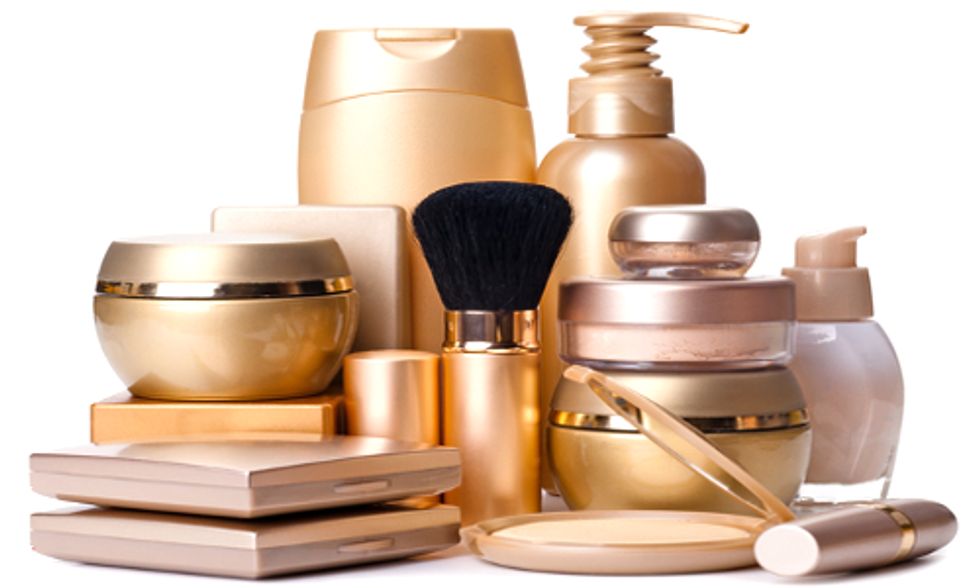 Photo courtesy of Shutterstock
Women's Voices for the Earth's recent analysis shows that more than 20 companies—including the makers of Dial, Right Guard, Tresemme, Nexxus, Gold Bond, Selsun Blue, and even "green" brands like CHI Organics—are attempting to skirt the intent of the California's Safe Cosmetics Act by avoiding public ingredient disclosure in the state's new database.
"Trade secret status should never be allowed to conceal harmful chemicals such as carcinogens or reproductive toxins from consumers," said Erin Switalski, executive director of Women's Voices for the Earth. "It's reasonable and prudent for consumers to want to avoid exposure to carcinogens, just as women of reproductive age may well want to avoid exposure to reproductive toxins."
"We understand and respect the need for companies to have trade secret protections for the few select chemicals needed to a product's competitive advantage, but we do not believe that these business needs should ever trump public health," she said.
One example is Shiseido, a manufacturer of skincare, make-up and fragrances sold at popular retailers like Macy's and Sephora. The company filed for trade secret status on ingredients in nearly 400 products they reported to the state.
Switalski said it's "highly unlikely" that nearly all 400 products Shiseido reported to the database would have chemicals in them that actually need trade secret protection.
"It appears that they are abusing the system to unnecessarily hide harmful chemicals in some of their products from their customers," said Switalski.
The Campaign for Safe Cosmetics, of which Women's Voices for the Earth is a co-founder, also called out the companies requesting trade secret status.
"It's just plain wrong that companies are hiding chemicals linked to cancer and birth defects under the pretense of trade secrets," said Janet Nudelman, director of program and policy and co-founder of the Campaign. "Consumers want and deserve full ingredient disclosure."
Concerned consumers may call the 1-800 number listed on products made by these companies and ask them what ingredients they are hiding from their customers. They can also ask by tweeting the companies by following @women4earth and using the hashtag #nosecrets or tagging the companies in Facebook posts.
The 22 companies that requested trade secret status are:
Alberto Culver
Alberto Culver USA, Inc.
Chattem, Inc.
Colgate-Palmolive Company
Conopco, Inc.
Demeter Fragrance Library, Inc.
Farouk Systems, Inc.
Great Clips, Inc.
Jan Marini Skin Research, Inc.
Kenra Professional, LLC
Lumene Oy
Melaleuca, Inc.
Nars Cosmetics
Regis Corporation
Robell Research
rolland srl
Rowpar Pharmaceuticals, Inc
Schwartzkopf & Henkel
Shiseido America, Inc.
Shiseido Ltd.
Tammy Taylor Nails, Inc.
The Dial Corporation
Visit EcoWatch's HEALTH page for more related news on this topic.

Beauty balm and complexion corrector creams may expose users to fewer toxic chemicals than the moisturizer, foundation and sunscreen regimens they are designed to replace, says a new analysis by Environmental Working Group (EWG).
A consumer using a beauty balm or complexion corrector—a product that is an all-in-one primer, sunscreen, moisturizer and tone evener—would typically be exposed to an average of 40 chemical ingredients. Someone using three separate products—foundation, moisturizer and sunscreen—would be exposed to an average of 70 chemical ingredients, EWG's report shows.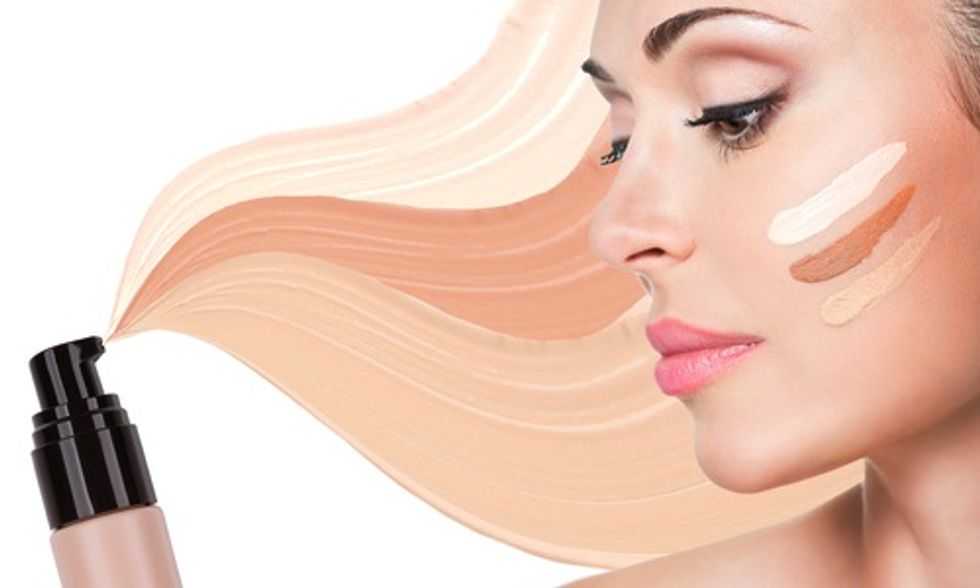 Shutterstock
Checking products against Skin Deep, EWG's cosmetics safety database, researchers found the average number of ingredients recognized as hazardous dropped from three to one when the user shifted from a three-product regimen to a single beauty balm or complexion corrector.
"On average, you can reduce your exposure to cosmetic chemical ingredients by nearly half by using one of these products, instead of the usual trifecta of moisturizer, foundation and sunscreen," said Nneka Leiba, EWG deputy research director.
EWG advises consumers to do their homework before choosing a product because some beauty balm and complexion correctors contain ingredients of concern. Some contain hazardous ingredients such as vitamin A and oxybenzone commonly found in sunscreen products.
EWG has published a list of top picks and products to avoid.
The federal Food and Drug Administration (FDA) has no authority to require companies to test products for safety before they go to market. Nor does the agency review or approve the vast majority of products or ingredients before they are sold.
"As with all cosmetics products on the market, you simply can't trust the FDA to ensure that those products are truly safe and effective," Leiba said.
Visit EcoWatch's HEALTH page for more related news on this topic.

Microplastics ingested by marine worms are transferring toxic chemicals into their systems, having destructive consequences for ocean biodiversity, a new study has found.
A study published Dec. 2 in the journal Current Biology is the latest to warn of the ecological hazards of tiny grains of plastic known as microplastics, millions of tons of which pollute streams and oceans.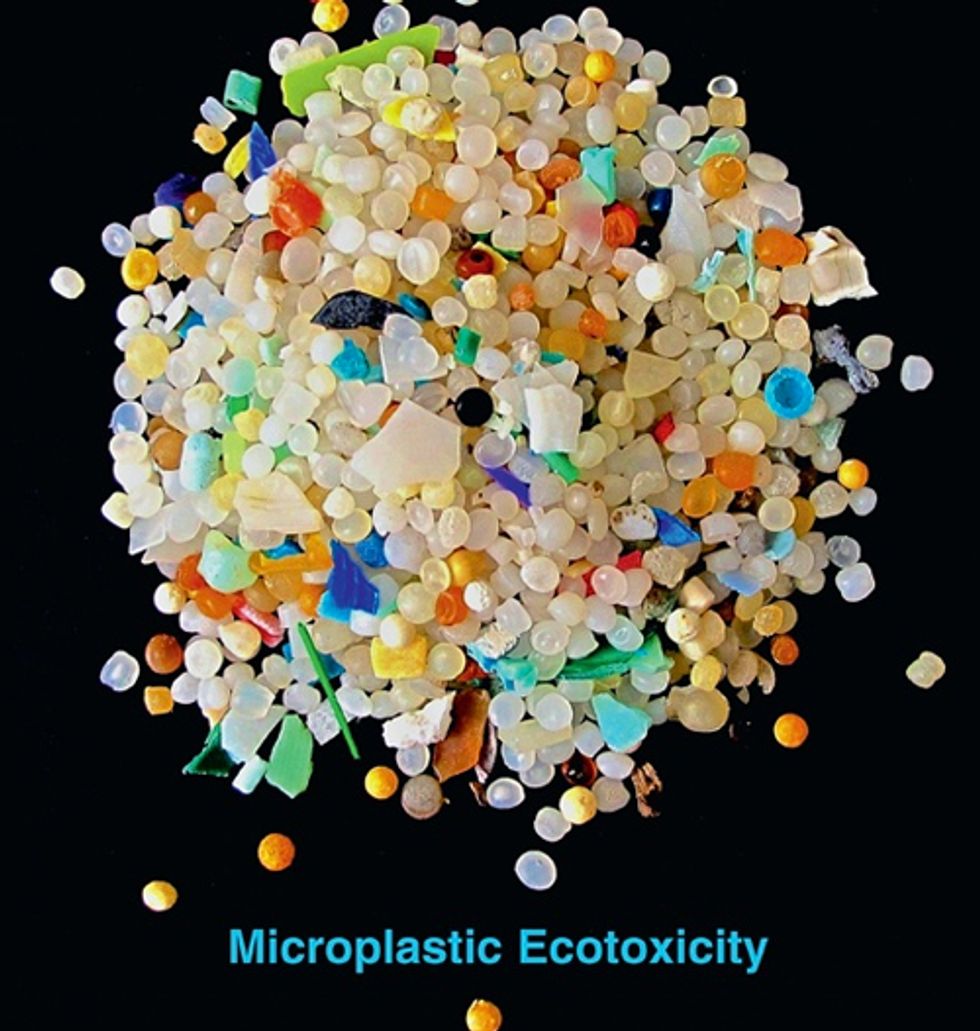 Microplastics are suspected to come from several sources. One is plastic beads used in facial scrubs or cosmetics. Microplastics also come from the breakdown of larger plastic materials, such as shopping bags, or the shedding of synthetic fibers from textiles by clothes washing.
The abundance and global distribution of microplastics in the oceans has steadily increased over the last few decades with rising plastic consumption worldwide. The study found that microplastics are threatening lugworms that comprise around 32 percent of the biomass along a shore.
When so-called "eco-engineer" lugworms consume microplastics, they absorb toxic chemicals that disrupt the worms' biological functions. It becomes difficult for the worms to eat organic matter such as silt, which in turn "changes the whole assemblage of animals that live around it," the study found.
"We are losing a large volume of plastic and we know it is going into the environment and the assumption being made by policymakers is that this material is nonhazardous, it has got the same ranking as scraps of food," Mark Browne, an ecologist from the U.S.-based National Center for Ecological Analysis and Synthesis, told the BBC.
Though microplastics are the most plentiful type of solid-waste pollution on earth, they are not considered hazardous under U.S. law.
Marine life other than lugworms also consume these microplastics, which absorbs chemical pollutants such as antimicrobials including triclosan and dyes. Pollutants from microplastics were found to accumulate at higher concentrations in the lugworms' intestines than pollutants from sand.
"For more than 40 years the bit that the scientists and policymakers didn't have was whether these particles of plastic can actually transfer chemicals into wildlife and damage the health of the organism and its ability to sustain biodiversity," Browne said. " That's what we really nailed with the study."
Visit EcoWatch's HEALTH page for more related news on this topic.

It's bad enough that some shampoos have ingredients that can cause cancer. Now a new study shows that some anti-dandruff shampoos may be harmful to the environment.
The study, in the journal Environmental Toxicology and Chemistry, says that the anti-dandruff ingredient climbazole recently was detected for the first time in wastewater treatment plant discharge.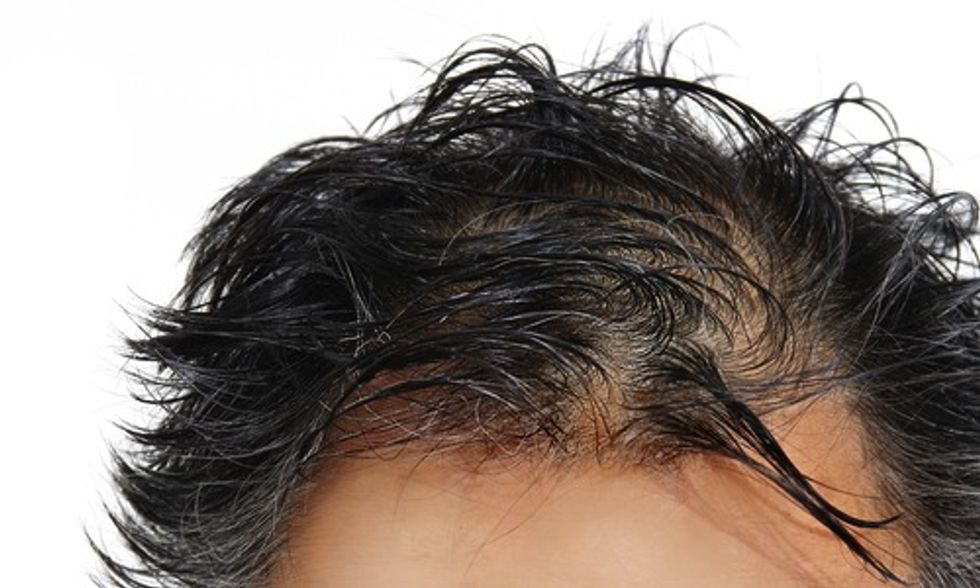 Shutterstock
Climbazole acts as a highly efficient fungicide, the study says, and not much is known about its impact on the environment. But even at concentrations as low as 0.5 micrograms per liter of water, such fungicides can hurt many organisms, from tiny algae to big plants and fish.
The local wastewater treatment plant removes a lot of substances, but fail to grab the drugs in soaps, shampoos, toothpastes, perfumes, sunscreen, prescription medications and other skincare products that our daily habits add to wastewater.
Because the climbazole remains in the water, the plants are exposed to the fungicide day after day after day. The algae die, but bigger plants suffer retarded growth. Animals like fish are affected, too, since they share similar cellular mechanisms.
Cosmetics are among the least-regulated products on the market, says the Campaign for Safe Cosmetics. Under current U.S. regulations, it is legal for cosmetics manufacturers to use unlimited amounts of virtually any ingredient in salon and professional use products, as well as those sold to the general public, including chemicals linked to cancer, reproductive and developmental harm, hormone disruption and other adverse health impacts, with no pre-market safety assessment.
As a result, 89 percent of all ingredients in cosmetics have not been evaluated for safety by any publicly accountable institution.
Visit EcoWatch's HEALTH page for more related news on this topic.

If you like to have soft, glowing skin but don't want to pollute our oceans and lakes with plastic microbeads, try these recipes and make your own exfoliating scrub with ingredients from your kitchen.
Avocado Foot Softener from Healthy Child Healthy World
2 tablespoons cornmeal
2 tablespoons mashed avocado or avocado oil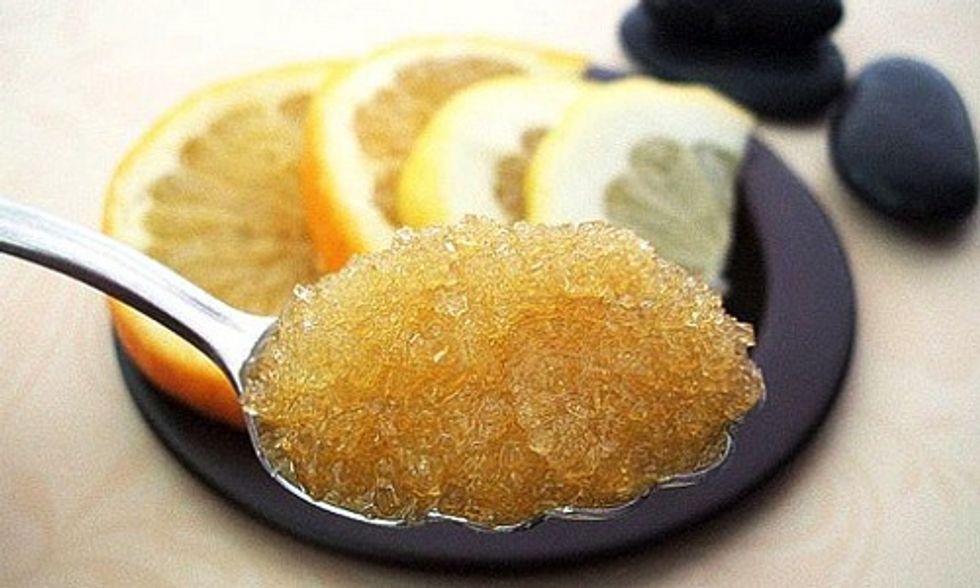 Mix ingredients in a small bowl until a paste forms. Apply to feet, working the gritty paste into calluses and rough spots, and up and around the toes. Rinse with warm water and dry feet thoroughly. Repeat once or twice a week.
Strawberry Hand and Foot Exfoliant from Campaign for Safe Cosmetics
8 to 10 strawberries 
2 tablespoons apricot oil (you may substitute olive oil) 
1 teaspoon of coarse salt, such as Kosher salt or sea salt 
Mix together all ingredients, massage into hands and feet, rinse and pat dry.
Simple Homemade Sugar Scrub Recipe from sassygirlz.net
2 cups turbinado sugar
½ cup coconut oil
2 tablespoons honey
1 tablespoon vanilla extract or your favorite essential oil
Combine sugar and honey in a bowl and mix. Add coconut oil and stir until sugar mixture is well soaked. Add vanilla or essential oil of choice. Store in an airtight jar. 
No-Nonsense Daily Scrub Recipe from Crunchy Betty
½ cup finely ground oats
½ cup finely ground almond meal
Liquid of choice (water or witch hazel for oily skin, milk for dry skin, rosewater for any skin type)
Grind up oats and almonds separately, then combine well. Place a small amount, approximately 2 teaspoons, of scrub in your hand or a small dish. Add a bit of the liquid to the scrub and combine well, letting the oats absorb the liquid. Lightly scrub your face with the mixture, moving in an upward, circular fashion. Let the scrub dry for a few minutes, then lightly rinse with warm water, or rinse off immediately.
Tailor your scrub to your skin type by adding these ingredients:
Oily skin: 2 tablespoons fine sea salt, 2 tablespoons finely ground dried peppermint, and/or 5 drops of rosemary essential oil.
Dry skin: 2 tablespoons powdered milk (try to find full-fat, if you can), 2 tablespoons. finely ground dried calendula, and/or 5 drops Roman chamomile essential oil. If you have very dry skin, you might find more benefit from using full-fat cream as the liquid you use to wet the scrub.
Combination skin: 2 tablespoons cornmeal, 2 tablespoons finely ground dried chamomile, and/or 5 drops lavender essential oil.

The Breast Cancer Fund and online women's group Ultraviolet are refusing a request by Revlon to withdraw their claim that the cosmetics manufacturer uses cancer-causing chemicals in its products.
Revlon says a survey recently issued by the two groups is false and defamatory and is demanding that the groups issue a retraction.
As reported by EcoWatch last week, the groups surveyed ingredients of Revlon products sold in stores and found numerous cancer-causing and hormone-disrupting chemicals—including parabens and chemicals that release the carcinogen formaldehyde—in mascaras, face creams, hair dyes and other products.
The groups launched an online petition drive that mobilized more than 45,000 people to demand Revlon stop using chemicals such as butylated compounds, octinoxate and quaternium-15 and other formaldehyde-releasing chemicals in its makeup and hair dye. The online campaign is part of a national effort launched by the Breast Cancer Fund, the Campaign for Safe Cosmetics and Ultraviolet, a national women's advocacy organization.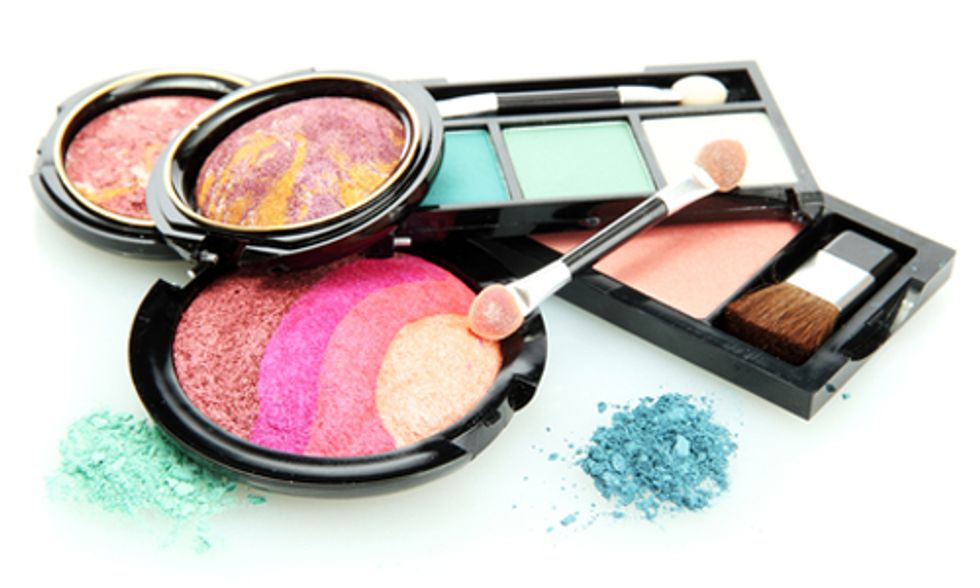 Shutterstock
"Women shouldn't have to worry about cancer when they apply their makeup in the morning," said Shaunna Thomas, co-founder of UltraViolet. "Young women developing cancer in record numbers should be enough for Revlon to stop lacing its products with toxic chemicals, but instead the company is fighting back against its customers and trying to silence criticism of the chemicals found in its products. No one deserves to increase their cancer risk from using makeup, and we demand Revlon join us in taking a stand and immediately drop these chemicals from its products."
Revlon's tactics will not work, said Janet Nudelman, director of program and policy at the Breast Cancer Fund and co-founder of the Campaign for Safe Cosmetics. "Here's our message to Revlon: No amount of bullying is going to make us stop advocating on behalf of the millions of people who want and deserve safe cosmetics. Step up and become a leader by taking dangerous chemicals that harm women's health out of your makeup and hair dyes," Nudelman said.
Next week cancer survivors, women's advocates and other concerned consumers will be joined by supporters in a protest in front of Revlon's NYC headquarters. The groups urge Revlon to commit to:
Develop a comprehensive "safe cosmetics policy" to protect women from chemicals linked to cancer and other adverse health effects.
Support federal cosmetics safety legislation.
Share the Revlon product safety policy publicly on the company's website.
Visit EcoWatch's HEALTH page for more related news on this topic. 

A new survey by The Breast Cancer Fund and the Campaign for Safe Cosmetics says Revlon cosmetics contain cancer-causing and hormone-disrupting chemicals.
The two groups, in partnership with the online women's group UltraViolet, are demanding the cosmetics manufacturer stop using cancer-causing chemicals and other dangerous substances in its products.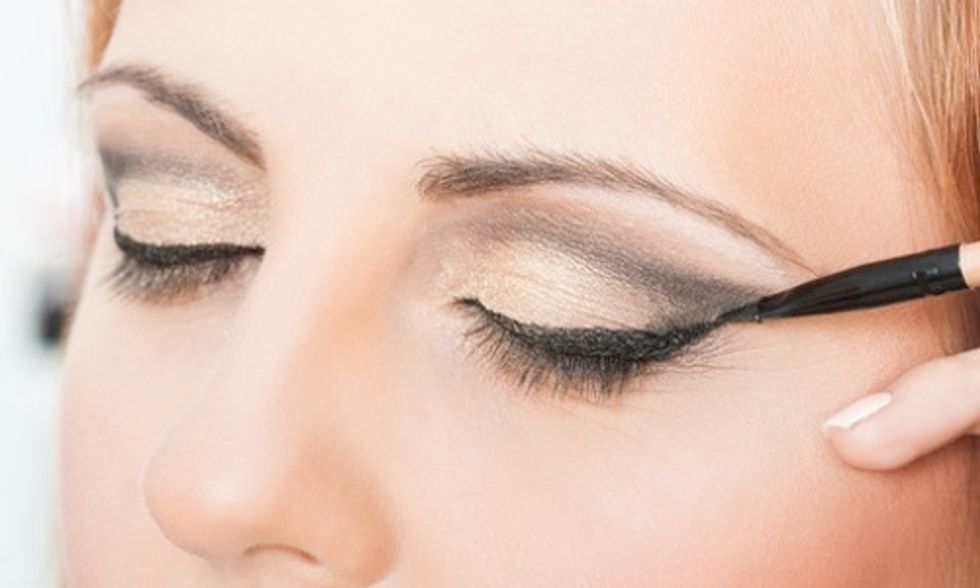 Photo courtesy of Shutterstock
The survey says that Revlon cosmetics contain:
Butylated compounds (BHA, BHT): Found in hair dyes and lip glosses—linked to cancer
Quaternium-15 and other formaldehyde-releasing chemicals: Found in mascaras, pressed powders and eyeliners—linked to cancer
Parabens: Found in eyeliners and hair dyes—an endocrine disruptor linked to cancer
Octinoxate: Found in foundation makeup—an endocrine disruptor linked to thyroid disorders
Resorcinol:Found in hair dyes—an endocrine disruptor and allergen
p-Phenylenediamine: Found in hair dyes—a respiratory toxicant
Carbon black: Found in eyeliners—linked to cancer
The groups want Revlon to:
Develop a comprehensive safe cosmetics policy to protect women from chemicals linked to cancer and other adverse health effects.
Post the product safety policy on the company's website.
Support federal cosmetics safety legislation.
The groups plan a full campaign against Revlon to include calls, online pressure, advertisements and in-person events.
"The most significant thing Revlon can do to prevent women's cancers is to eliminate cancer-causing chemicals from its cosmetics, which are used by millions of women and girls every day," said Janet Nudelman, director of program and policy for the Breast Cancer Fund and co-founder of the Campaign for Safe Cosmetics.
"Revlon is putting cancer-causing chemicals in makeup and that is shameful," said Shaunna Thomas, co-founder of UltraViolet. "If soaring rates of cancer in young women aren't enough to make Revlon change its mind about lacing their products with toxic chemicals, hopefully outrage from their consumers will be. We demand Revlon take a stand against cancer and drop these chemicals from their products immediately."
The groups say federal law governing the use and disclosure of cosmetics ingredients—which was adopted more than 75 years ago—is outdated and weak, leaving decisions about toxic chemicals in makeup to the industry. Under current law, the U.S. Food and Drug Administration (FDA) cannot require cosmetics companies to conduct safety assessments or pre-market testing, and cannot require product recalls.
The Safe Cosmetics and Personal Care Products Act of 2013, introduced in the House of Representatives by Jan Schakowsky (D-IL) and now-Senator Ed Markey (D-MA) would revamp the law and give the FDA the authority to ensure that personal care products are free of harmful ingredients. Until then, consumer groups involved in the campaign say they intend to continue to pressure Revlon to protect women immediately by voluntarily removing toxic chemicals.
UltraViolet is hosting a petition to present to Revlon, while the Campaign for Safe Cosmetics is hosting a letter-writing campaign.