This website uses cookies to ensure you get the best experience while browsing it. By clicking 'Got It' you're accepting these terms.
Kasatka, a female orca who lived in captivity for nearly four decades, was humanely euthanized Tuesday night at SeaWorld San Diego. She was approximately 41 years old.
The ocean park announced that the mother of four, grandmother of six and great grandmother of two died at approximately 8:15 p.m. "surrounded by members of her pod, as well as the veterinarians and caretakers who loved her."
www.youtube.com
According to Bloomberg, "SeaWorld Entertainment Inc. received a subpoena earlier this month from regulators investigating disclosures and public statements by executives, including comments about the Blackfish documentary that caused a public backlash against the confinement of orcas.
EcoWatch Daily Newsletter
On the morning of Jan. 6, one of SeaWorld's most well-known orcas, Tilikum, passed away surrounded by trainers, care staff and veterinarians at the Orlando, Florida ocean theme park where the famous killer whale lived most of his life.
By Amanda Froelich
According to a new report by SeaWorld, Tilikum—the infamous killer whale involved in the deaths of three people—died today. The well-known orca, thought to be about 35-years-old, was the focus of the 2013 documentary "Blackfish," which criticizes the marine park for keeping killer whales and other aquatic wildlife in conditions deemed to be less-than-ideal.
Nanuq was held captive at SeaWorld properties. Sea Shepherd Conservation Society / Nicolas Dumenil
Sea Shepherd Conservation Society launched a series of images today illustrating the tragic fates met by real-life captive cetaceans.
The images come just as the holiday season begins and families are making choices about how to spend their money on entertainment. The pictures are being published to educate and deter travelers around the world from buying tickets to marine shows, swim-with-dolphin programs and other similar animal encounter experiences.
Meet Takara, a 25-year-old pregnant orca living in SeaWorld San Antonio in Texas. Takara's newborn, expected to arrive in Spring 2017, will be the last remaining orca to live its life in SeaWorld's tanks after the ocean park announced in March it would end its captive orca breeding program after years of campaigning from animal welfare groups and concerned citizens.
Southwest Airlines has announced yesterday that they will end their long-standing partnership with SeaWorld at the end of this year.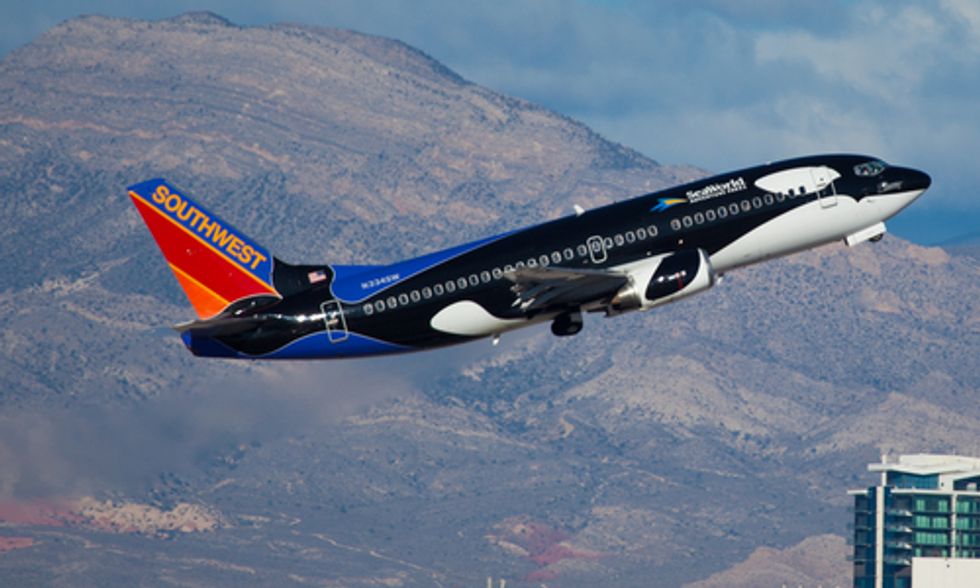 Southwest Airlines has partnered for 25 years with SeaWorld. Chris Parypa Photography / Shutterstock.com
In January, Sea Shepherd called upon Southwest Airlines to end the 25-year partnership and remove SeaWorld marketing from their planes. We even proposed a partnership of our own, and showed the airlines how great their planes would look if, instead of SeaWorld's imprisoned orcas, they sported Sea Shepherd's Jolly Roger—a logo that represents protecting marine life, not exploiting it. Though it doesn't sound like they'll be taking us up on our offer just yet, we are happy to report Southwest listened to calls to end the relationship from activists worldwide and is going to be removing SeaWorld's name and images from their planes.
The companies have stated that they came to a mutual decision to end their relationship, with Southwest calling it a "business decision" to direct their focus internationally. But based on the enormous positive response that Sea Shepherd received following our proposal to Southwest Airlines, and the ever-growing backlash against SeaWorld in the wake of the ground-breaking documentary Blackfish, it is almost certain that the concerns of the public about SeaWorld's treatment of its captive animals played a deciding role in Southwest's decision.
As Sea Shepherd's Cove Guardians have documented time and time again in Taiji, Japan, there is bloodshed behind the aquarium industry. In Taiji, in the infamous cove, entire pods of dolphins and small whales are driven in by boats and either killed or separated from their family forever to become a performing spectacle in captivity. They're sent not only to marine parks in Taiji but elsewhere around the globe. The captive selection occurs simultaneously to the slaughter, despite claims from Taiji officials and fisheries. It is undeniable–the captive marine mammal industry, of which SeaWorld is a key player, is inextricably linked to the killing of wild marine mammals.
Though SeaWorld emphasizes that they do not have animals from drive hunts like the one in Taiji, recently they quietly received a permit from the National Oceanic and Atmospheric Administration (NOAA) to import Kirara, a Pacific white-sided dolphin who was born in captivity in Japan, but whose wild parents were kidnapped from their ocean home. They will also obtain wild-caught beluga whales from Russia, if the Georgia Aquarium succeeds in their lawsuit against NOAA to import them into the U.S. and scatter them to various aquariums and parks. This is all in addition to the blood already on SeaWorld's hands—a grim history of animals dying prematurely in their "care" and trainers being injured and even killed by stressed, desperate captive whales.
Sea Shepherd applauds Southwest Airlines' decision to fly into a future that is becoming more and more possible—one in which tanks are empty and the oceans are full, in which the killing ends in Taiji because people will no longer support the captive industry that funded it, and in which cetaceans are finally left to swim freely in their ocean home with their families.
You Might Also Like
The Blackfish Effect: 40 Members of Congress Call on USDA to Revise Rules for Captive Marine Mammals
Sea Shepherd Founder to Bill Maher: 'If Oceans Die, We Die'
Shocking Court Documents Expose SeaWorld's Continued Cruelty of Orca Whales