This website uses cookies to ensure you get the best experience while browsing it. By clicking 'Got It' you're accepting these terms.
Overpass Light Brigade
By Chris Taylor
The best part of my 9th American Legislative Exchange Council (ALEC) conference so far was trying to get into the host hotel in Denver.

When I pulled up in my cab, it was surrounded by hundreds of protestors marching on the sidewalk and shouting some of my favorite chants. Any possible entrance into the hotel was blocked by yellow police tape or a barricade. So I marched with them for a bit, pulling my suitcase behind me, and then ducked under the tape to get into the hotel.
The coastal town of Harpswell enacted a pesticide ban to save local lobsters. Photo credit: Flickr
EcoWatch Daily Newsletter
The New York Times published an astonishing article last week that blames green power for difficulties countries are facing to mitigate climate change.
The article by Eduardo Porter, How Renewable Energy is Blowing Climate Change Efforts Off Course, serves as a flagship for an on-going attack on the growth of renewables. It is so convoluted and inaccurate that it requires a detailed response.
Our planet is burning up from fossil fuels and being irradiated by decrepit money-losing reactors that blow up. Blaming renewable energy for all that is like blaming the peace movement for causing wars.
As Mark Jacobson, director of Atmosphere/Energy Program at Stanford University, pointed out to me via email:
The New York Times article "suffers from the inaccurate assumption that existing expensive nuclear that is shut down will be replaced by natural gas. This is impossible in California, for example, since gas is currently 60 percent of electricity supply but state law requires non-large-hydro clean renewables to be 50 percent by 2030. This means that, with the shuttering of Diablo Canyon nuclear facility be 2025, gas can by no greater than 35-44 percent of California supply since clean renewables will be at least 50 percent (and probably much more) and large hydro will be 6-15 percent. As such, gas must go down no matter what. In fact, 100 percent of all new electric power in Europe in 2015 was clean, renewable energy with no new net gas, and 70 percent of all new energy in the U.S. was clean and renewable, so the fact is nuclear is not being replaced by gas but by clean, renewable energy.
"Further, the article fails to consider the fact that the cost of keeping nuclear open is often much greater than the cost of replacing the nuclear with wind or solar. For example, three upstate New York nuclear plants require $7.6 billion in subsidies from the state to stay open 12 years. To stay open after that, they will need an additional $805 million/year at a minimum, or at least $17.7 billion from 2028-2050, or a total of $25.3 billion from 2016 to 2050. If, on the other hand, those three plants were replaced with wind today, the total cost between now and 2050 would be $11.9 billion. Thus, keeping the nuclear plants open 12 years costs an additional $7.6 billion; keeping it open 34 years costs and additional $25.3 billion, in both cases with zero additional climate benefit, in comparison with shuttering the three plants today and replacing them with onshore wind."
Gideon Forman, climate change and transportation policy analyst at David Suzuki Foundation, also shared his dismay on the Times piece:
"The notion that non-renewable power sources are necessary is questionable at best. Some scientists believe that, over the next few decades, renewables could provide all our power. One is Stanford Prof. Mark Jacobson. He has done modeling to show the U.S. could be entirely powered by renewables by 2050.
"Porter is wrong to claim that nuclear produces 'zero-carbon electricity.' If we look at the full nuclear cycle, including production of uranium fuel, we find it involves considerable carbon emissions. Jacobson and his co-author, Mark A. Delucchi, have written, 'Nuclear power results in up to 25 times more carbon emissions than wind energy, when reactor construction and uranium refining and transport are considered.'
"Porter says if American nuclear plants were replaced with gas-fired generators it would lead to 200 million tons of additional CO2 emissions annually. But it's wrong to suggest that nuclear could only be replaced by natural gas. A full suite of renewables—along with energy storage and conservation programs—could meet demand, certainly in the not very distant future.
"Porter suggests that nuclear power can 'stay on all the time.' But of course, nuclear plants, like all generators, are sometimes out of service for maintenance. This downtime can be considerable. For example, it is expected that from 2017 to 2021, Ontario's Pickering nuclear station will require back-up almost 30 percent of the time."
Karl Grossman, professor of journalism at State University of New York/College at Old Westbury, called the Times piece "outrageous." He told me:
"The Times piece continues the paper's long record of minimizing and downplaying—not recognizing and indeed often denying—the deadly impacts of nuclear power. It's been a shameful journalistic dysfunction. As Alden Whitman, a Times reporter for 25 years, told me, 'there certainly was never any effort made to do' in-depth or investigative reporting on nuclear power. 'I think there stupidity involved,' he said, and further, 'The Times regards itself as part of the establishment." Or as Anna Mayo of The Village Voice related: 'I built a full-time career on covering nuclear horror stories that the New York Times neglected.'"

So where do I stand on the Porter piece? Here are my eight biggest complaints:
1. Though viewed as the "journal of record," the Times has been consistently pro-nuclear. Its slanted coverage has served as an industry bulwark for decades. A long-time atomic beat reporter, Matt Wald, went straight from the Times to a job with the Nuclear Energy Institute, the primary public relations front for the reactor industry. The Times has a long history as a cheerleader for nuclear power dating back to the atomic bomb era, when it consistently denied health problems from radioactive fallout. It also denied health problems resulting from radiation releases at Three Mile Island, and much more. Now it has taken a major role in defending the nuclear industry from the renewable energy revolution that is driving it to bankruptcy while bringing a tsunami of reactor shut downs. It's these shut downs that now seem to worry the paper.
2. The primary technological transition in the world of electric power today is from fossil and nuclear fuels (King CONG: Coal, Oil, Nukes, Gas) to a Solartopian system based on green power. But there's a deeper shift going on: from centralized, grid-based corporate control to decentralized citizen-based community control. When nuclear power and its apologists defend continued operations at dangerously deteriorated reactors, they are more broadly defending the power and profits of huge corporations that are completely invested in a centralized grid. When they argue that renewables "can't do the job," they're in fact working to prolong the lives of the large generators that are the "base load" basis of a corporate grid-based supply system.
3. But that grid is now obsolete. What strikes the ultimate terror in utility boardrooms is the revolutionary reality of a decentralized power supply, free of large generators, comprised instead of millions of small photovoltaic (PV) panels owned by individuals. Industry sources have widely confirmed that this decentralized, post-grid model means the end of big utilities. Thus when they fight against PV and for nuclear power, they are fighting not for the life of the planet, but for the survival of their own corporate profits.
4. Some utilities do support some renewables, but primarily in the form of large centralized grid-based solar and wind turbine farms. Pacific Gas & Electric said it will replace the power from the Diablo Canyon nuke plant with solar energy. But PG&E is simultaneously fighting rooftop solar, which will allow individual homeowners to disconnect from the grid. Germany's transition from fossil-nukes to renewables has also been marked by conflict between large grid-based wind farms versus small community-based renewables.
5. PG&E and other major utilities are fighting against net metering and other programs that promote small-scale renewables. The Koch Brothers' American Legislature Exchange Council (ALEC) has spread a wide range of taxes and disincentives passed by the states to make it ever-harder to go solar. All this is being done to preserve the grid-based monopolies that own large fossil/nuclear facilities.
6. The idea that nuclear power might fight climate change, and that environmentalists might support it, is a recent concoction, a disgraceful, desperate load of utility hype meant to defend the status quo. Fukushima, unsolved waste problems and the plummeting price of renewables have solidified the environmental community's opposition to nuke power. These reactors are dirty and dangerous. They are not carbon-free and do emit huge quantities of heated water and steam into the ecosphere. The utility industry can't get private liability insurance for them, and relies on the 1957 Price-Anderson Act to protect them from liability in a major catastrophe. The industry continually complains about subsidies to renewable energy but never mentions this government protection program without which all reactors would close.
7. Not just nuke power but the entire centralized fossil/nuke-based grid system is now being undermined by the massive drops in the price of renewable energy, and massive rises in its efficiency and reliability. The critical missing link is battery technology. Because the sun and wind are intermittent, there needs to be energy storage to smooth out supply. Elon Musk's billion-dollar Tesla Gigafactory in Nevada and many other industrial ventures indicate major battery breakthroughs in storage is here today.
8. Porter's NY Times piece correctly says that the massive amounts of cheap, clean renewables flooding the grid in Europe and parts of the U.S. are driving nuclear power plants into bankruptcy. At least a dozen reactor shut downs have been announced in the U.S. since 2012 and many more are on their way. In Japan 52 of the 54 reactors online before the Fukushima disaster are now closed. And, Germany has pledged to shut all its reactors by 2022.
But Porter attacks this by complaining that those nukes were supplying base load power that must be otherwise—according to him—shored up with fossil burners. Here's his key line:
"Renewable sources are producing temporary power gluts from Australia to California, driving out other energy sources that are still necessary to maintain a stable supply of power."
But as all serious environmentalists understand, the choice has never been between nukes versus fossil fuels. It's between centralized fossil/nukes versus decentralized renewables.
Porter's article never mentions the word "battery" or the term "rooftop solar." But these are the two key parts in the green transition already very much in progress.
So here is what the Times obviously can't bring itself to say: "Cheap solar panels on rooftops are now making the grid obsolete." The key bridging element of battery back-up capability is on its way. Meanwhile there is absolutely no need for nuclear power plants, which at any rate have long since become far too expensive to operate.
Spending billions to prop up dying nuke reactors for "base load" generation is pure corporate theft at the public expense, both in straight financial terms and in the risk of running badly deteriorated reactors deep into the future until they inevitably melt down or blow up.
Those billions instead should go to accelerating battery production and distribution, and making it easier, rather than harder, to gain energy independence using the wind and the sun.
All this has serious real-world impacts. In Ohio, for example, a well-organized shift to wind and solar was derailed by the Koch-run legislature. Some $2 billion in wind-power investments and a $500 million solar farm were derailed. There are also serious legal barriers now in place to stop homeowners from putting solar shingles and panels on their rooftops.
Meanwhile, FirstEnergy strong-armed the Ohio Public Utilities Commission into approving a huge bailout to keep the seriously deteriorated Davis-Besse nuke operating, even though it cannot compete and is losing huge sums of money. Federal regulators have since put that bailout on hold.
Arizona and other Koch-owned legislatures have moved to tax solar panels, ban solar shingles and make it illegal to leave the grid without still paying tribute to the utilities who own it. Indeed, throughout the U.S. and much of the western world, corporate-owned governments are doing their best to slow the ability of people to use renewables to rid themselves of the corporate grid.
For an environmental movement serious about saving the Earth from climate change, this is a temporary barrier. The Times and its pro-nuke allies in the corporate media will continue to twist reality. But the Solartopian revolution is proceeding ahead of schedule and under budget. A renewable, decentralized energy system is very much in sight.
The only question is how long corporate nonsense like this latest NY Times screed can delay this vital transition. Our planet is burning up from fossil fuels and being irradiated by decrepit money-losing reactors that blow up. Blaming renewable energy for all that is like blaming the peace movement for causing wars.
The centralized King CONG grid and its obsolete owners are at the core of the problem. So are the corporate media outlets like the New York Times that try to hide that obvious reality.
Harvey Wasserman's SOLARTOPIA! OUR GREEN-POWERED EARTH is at www.solartopia.org, where his
AMERICA AT THE BRINK OF REBIRTH: THE ORGANIC SPIRAL OF US HISTORY is soon to arrive. He edits www.nukefree.org and hosts the Solartopia Green Power & Wellness Show at www.prn.fm.
By Elliott Negin
ExxonMobil officials may hem and haw when reporters ask them if the company still funds climate science denier organizations, but the numbers don't lie.
The company says it acknowledges the reality of global warming and claims it supports a carbon tax, but its recently disclosed list of 2015 "public information and policy research" grantees shows it spent nearly $2 million last year on more than a dozen think tanks, advocacy groups and associations that dispute climate science and disparage renewable energy.
350.org
That's significant from both a legal and political perspective.

There are legal implications because ExxonMobil is currently under investigation for allegedly misleading investors and the general public about climate risks. Its scientists, who were conducting cutting-edge climate research as far back as the 1970s, cautioned top management that continuing to burn vast quantities of fossil fuels could be catastrophic. Instead of heeding those warnings, the company stressed scientific uncertainty to protect its long-term profitability and bankrolled denier groups to spread disinformation.
Likewise, it is politically significant because, by sowing doubt about climate science and the potential of carbon-free energy sources, denier groups provide cover for elected officials to stand in the way of progress.
Two Decades of Duplicity
Shortly after the adoption of the Kyoto Protocol international climate treaty, Exxon went on a spending spree to block federal efforts to address global warming. The company, which was outed by a 2007 report by the Union of Concerned Scientists (UCS), spent $18.62 million from 1998—a year before it merged with Mobil—through 2005 on a network of more than 40 groups. From 2006 through last year, it spent another $14.35 million, for a total of $33 million.
That's just what can be gleaned from the company's tax filings and statements, however. Corporations are not required to disclose all of their political spending and there is reason to suspect ExxonMobil has spent quite a bit more on its climate disinformation campaign. A former ExxonMobil executive who wishes to remain anonymous told UCS that the company secretly allocated as much as $10 million annually for what insiders called climate "black ops" from 1998 through 2005.
In any case, according to its own figures posted last week, ExxonMobil spent $1.96 million on 16 denier and obstructionist groups last year. Ten of them, including the American Enterprise Institute, American Legislative Exchange Council, Federalist Society and Hoover Institution, were among those listed in the 2007 UCS report.
So what is ExxonMobil getting for its money? Let's take a look at a handful of last year's grantees to find out.
U.S. Chamber of Commerce:
Half of ExxonMobil's 2015 denier donations—$1 million—went to the U.S. Chamber of Commerce, the same amount it gave the Chamber in 2014.
The chamber acknowledges that climate change is happening, but discounts the prevailing scientific consensus that it is largely due to human activity, mainly burning fossil fuels. When pressed about the Chamber's position during a March 2014 Senate hearing, Karen Harbert, head of the Chamber's Institute for 21st Century Energy, replied that there is a "robust debate" over what is causing climate change. "It is caused by a lot of things," she insisted.
Harbert's scientifically indefensible comment was not surprising. The Chamber has a long history of disputing climate science and that has alienated some of its members. In 2009, Apple, Exelon, Nike, PNM Resources and PG&E, for example, cancelled their memberships after Chamber Vice President William Kovacs demanded that the Environmental Protection Agency (EPA) convene a "Scopes monkey trial of the 21st century" on climate science with witnesses, cross-examinations and a judge ruling on the reality of global warming. "It would be evolution versus creationism," Kovacs explained. "It will be climate change science on trial."
Those high-profile defections apparently had little impact on the Chamber's position. In May 2014, just days before the EPA announced its draft Clean Power Plan to reduce power plant carbon pollution, the Chamber released a grossly misleading report attacking the proposed rule. The report, which was also sponsored by the American Petroleum Institute, was denounced not only by the EPA, but also by PolitiFact.com and the Washington Post. Among its many faults, the report wildly inflated the cost of the rule and failed to consider the benefits of cutting carbon emissions.
Last October, the Chamber and 14 other business associations filed a lawsuit against the EPA, arguing that the Clean Power Plan exceeds the agency's authority to regulate the energy sector and the Chamber's priorities for 2016 include opposing EPA efforts to curb carbon emissions as well as the agency's science-based finding that global warming endangers public health and the environment.
Manhattan Institute:
ExxonMobil gave the Manhattan Institute $200,000 in 2015, boosting the company's total donations to the self-described free-market think tank to $1 million since 1998. In turn, the institute has been cranking out papers and articles denouncing efforts to cut carbon and maligning renewable energy technologies.
Last summer, for example, Manhattan Institute Senior Fellow Oren Cass dismissed the idea of a carbon tax—ExxonMobil's supposed preferred policy—as a "shell game" in an article he wrote for National Affairs. He followed up that essay in October with a white paper calling the impending UN climate negotiations in Paris a "farce." What did Cass propose as a better solution? He urged policymakers to "abandon fruitless negotiations and focus instead on the realistic option of promoting innovation and preparing for any future adaptation that may be necessary."
The institute's longtime point man on energy, Robert Bryce—who previously worked for the ExxonMobil-funded Institute for Energy Research—says he's "agnostic" about climate change. Over the years he has written numerous columns for the Los Angeles Times, New York Times, Wall Street Journal and other publications praising oil, natural gas and coal and disparaging wind and solar. A recent Bryce column in the National Review, for instance, denounced tax breaks and subsidies for the wind industry but ignored the fact that, since 1918, federal oil and gas industry subsidies have averaged $4.85 billion a year in today's dollars.
American Legislative Exchange Council (ALEC):
ALEC, a secretive lobby group that drafts sample corporate-friendly legislation for state lawmakers, has received $1.79 million from ExxonMobil since 1998 and that investment is still paying dividends. At ALEC's annual meeting last July, for example, corporate and legislator members collaborated on bills and resolutions that would inhibit state implementation of the Clean Power Plan, hamper the solar industry from selling electricity directly to homes and businesses and undermine state renewable energy standards by restricting investment in wind and solar.
One of the keynote speakers at that meeting, Stephen Moore—founder of the Club for Growth and a visiting fellow at the Heritage Foundation—declared at a plenary session that the "biggest scam of the last 100 years is global warming." ALEC's official position on climate change is only slightly more nuanced, leaving open the question of the role human activity plays. "Climate change is a historical phenomenon," its website states "and the debate will continue on the significance of natural and anthropogenic contributions."
With that scientifically challenged position, it's no wonder ALEC invites speakers for its conferences from such notorious climate science denier groups as the Committee for a Constructive Tomorrow, the Heartland Institute and, of course, the Heritage Foundation—all former ExxonMobil grantees.
While ExxonMobil and other major carbon producers Chevron and Peabody Energy remain steadfast ALEC members, more than 100 corporations have severed ties with the organization for a variety of reasons, including its stance on climate change. Those companies include a number of heavy hitters in the energy sector, including American Electric Power, BP, ConocoPhillips and Shell.
National Black Chamber of Commerce:
From 2002 through last year, the National Black Chamber of Commerce (NBCC) received $1.1 million from ExxonMobil and the organization's president, Harry C. Alford, is unapologetic about taking fossil fuel industry money. "Of course we do and it is only natural," Alford states on the NBCC website. "The legacy of Blacks in this nation has been tied to the miraculous history of fossil fuel ... [F]ossil fuels have been our economic friend."
Last summer, NBCC published a report that falsely claimed the Clean Power Plan would pose "economic hardship" on poor and minority Americans. A UCS analysis found that the report was based on fraudulent claims from previously published studies, including the U.S. Chamber of Commerce's anti-Clean Power Plan report from 2014. In fact, unchecked climate change would likely hurt poor and minority communities most.
More recently, Alford wrote an opinion piece attacking the Clean Power Plan for The Hill, a Washington political trade publication. Like the U.S. Chamber of Commerce's bogus 2014 report, Alford's June 29 column vastly exaggerated the cost of the proposed rule and did not factor in the billions of dollars in health and economic benefits that would result from cutting carbon pollution.
ExxonMobil's Pretzel Logic
Last fall, UCS and reporters at InsideClimate News and the Los Angeles Times revealed that Exxon's own scientists had warned the company decades ago about the potential for climate catastrophe. The new revelations also showed that the company responded to that bad news by downplaying climate risks and helping establish the climate science denial network.
A number of journalists did follow-up stories, pressing ExxonMobil officials about the company's longtime support for denier groups. They didn't always get the same answer.
During an interview last September with Richard Keil, ExxonMobil's senior media relations advisor, WNYC's On the Media host Bob Garfield pushed Keil for an explanation. "Please clarify this for me: Are not funding or did not fund them?" Garfield asked. Keil's response was unequivocal. "We are not funding," he said.
When asked the same question by the New York Times in early November, then-Vice President of Public and Government Affairs Kenneth Cohen likewise said no. "We stopped funding them in the middle part of the last decade because a handful of them were making the uncertainty of the science their focal point," he said. "Frankly, we made the call that we needed to back away from supporting the groups that were undercutting the actual risk" of global warming.
Cohen's response wasn't a surprise. He made the same disingenuous claim back in February 2007, a few weeks after UCS disclosed that ExxonMobil had been spending millions of dollars on climate science denier groups. Greenwire, a trade news organization, reported that Cohen said the company "has stopped funding them."
The surprise came on November 9, three days after the New York Times story ran, when PBS NewsHour host Judy Woodruff asked Cohen if ExxonMobil has been funding denier groups. This time he took a different tack.
"Well, the answer is yes," replied Cohen, who retired from the company in January. "And I will let those organizations respond for themselves."
But before anyone declares a victory for corporate transparency, it turns out that Cohen's moment of candor was, well, momentary.
On December 1, a Washington Post story quoted yet another ExxonMobil spokesperson who qualified Cohen's remark. Alan Jeffers, a media relations manager, said the company "rejects the premise" that it has been funding climate science denial.
"We were engaged with funding public policy groups on policy issues, not on science," Jeffers explained. "We made our position known on some climate policies that made us unpopular with environmental activists and they tried to position that as us funding climate denial. And that's just not accurate."
Not accurate? As Jeffers, Keil and their former boss, Cohen, surely know, the think tanks, advocacy groups and associations ExxonMobil has been sponsoring all these years lie about the science to strengthen the argument against doing anything to address climate change. After all, if people believe climate science is a fraud—or at least "far from settled"—they will see no reason to support a carbon tax, cap-and-trade system or any other climate policy. And that line of reasoning, which protects the status quo, seems to suit ExxonMobil just fine.
Elliott Negin is a senior writer at the Union of Concerned Scientists. UCS staff members Dave Anderson and Jayne Piepenburg provided research for this article. Follow Elliott Negin on Twitter at @ElliottNegin.
There was a time when membership in the American Legislative Exchange Council aka ALEC was a plus for large corporations. The organization, which claims to be a nonprofit advocacy group but functions more like a lobbying group, writes so-called "model legislation" designed to favor business interests over all other interests, including the environment.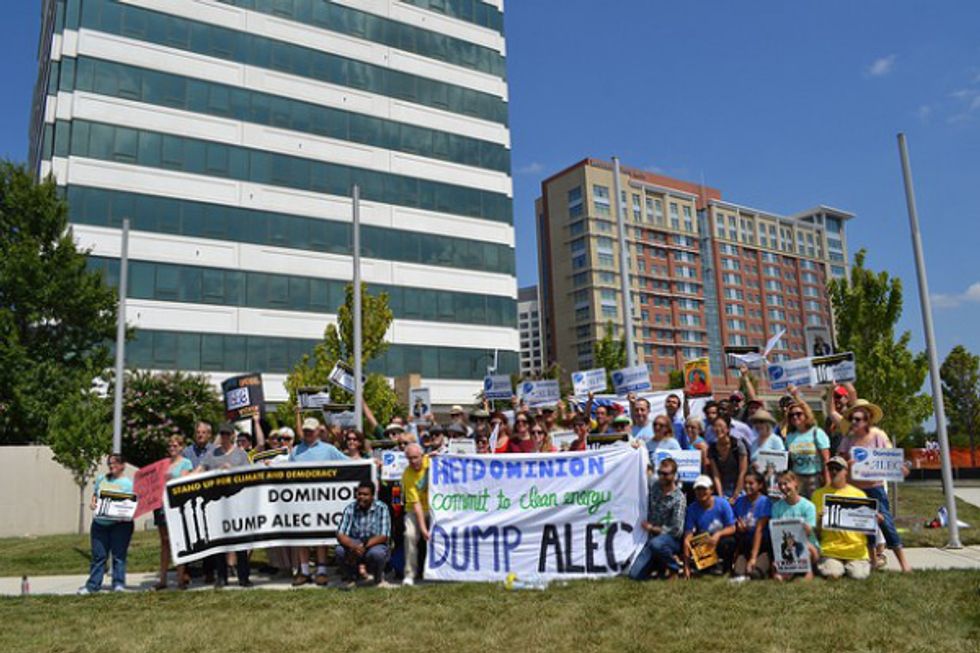 But that was when ALEC's activities were shrouded in secrecy. In the last several years, as they've gotten more publicity, membership has become a liability–and dozens of companies have dropped out, including biggies like CocaCola, Pepsi, Amazon, GE, McDonald's and Hewlett-Packard.
Activists want Virginia utility Dominion Resources to follow them. Yesterday, about 80 clean energy advocates gathered outside ALEC's Arlington, Virginia offices to draw attention to its work on behalf of polluters and to give Dominion Resources the sort of attention it probably doesn't want.
According to a Greenpeace blog, customers often have no choice other than Dominion due to market monopolization, and protestors want the company to stop investing the money they make from customers to fight against clean energy measures.
"Dumping ALEC is a basic gesture that utilities like Dominion and Duke Energy can make to show they're beginning to take climate change seriously," said Greenpeace's Connor Gibson. "Any utility claiming to acknowledge climate science or support clean energy undermines itself by bankrolling ALEC's interference on these issues."
Ahead of the protest, Alexandria mayor Bill Euille penned an editorial that appeared on the Fairfax (VA) Times last week. In it, he said:
 In working to head off the many dangers of global warming, we need the cooperation of everybody affected.  We must not permit our future well-being to be held hostage by fossil fuel companies and interests with a vested interest in maintaining the dangerous, unsustainable status quo. That means we must push back hard against groups like the American Legislative Exchange Council (ALEC), an organization which has expressly opposed the EPA's effort to curb carbon pollution from power plants as well as renewable energy while promoting dirty fossil fuels.
Sad to say, but one of the members (and funders) of that organization is Dominion Virginia Power, not coincidentally the largest emitter of carbon pollution in Virginia. In my personal opinion, Dominion Virginia Power should take a leadership role in mitigating climate change impacts by focusing on systematically replacing its coal-fired power plants with those using cleaner fuels and/or progressively installing new power sources using renewable energy.
Euille urged citizens to participate in yesterday's rally, where he spoke, along with a roster of speakers from sponsoring groups like Climate Progress, Black Youth Project, Sierra Club, Food & Water Watch and Oceana. Progress VA and the Chesapeake Climate Action Network were also sponsors.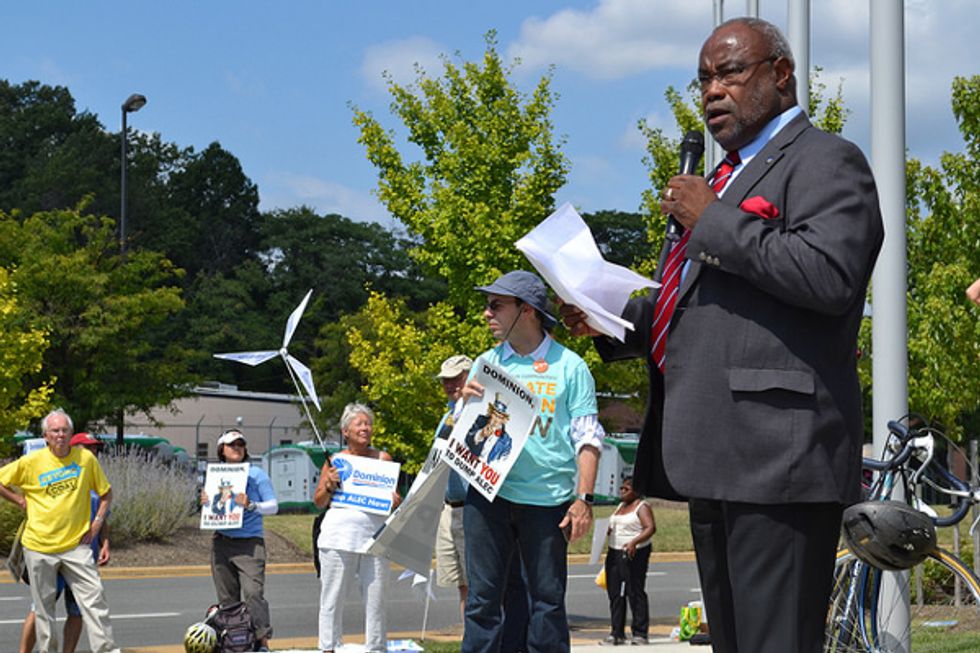 Virginia Sierra Club chair Ivy Main, who is also a member of Virginia Governor Terry McAuliffe's Climate Commission said, "ALEC works in the shadows to get its agenda through state legislatures, using the money and influence of corporate members like Dominion Resources. ALEC's agenda is anti-EPA, anti-clean energy, anti-consumer, and anti-worker. And because the only ones who can block the ALEC agenda are the people, ALEC is also anti-voting rights. ALEC is not an organization any public utility should belong to, and Dominion's customers deserve better. Dominion should quit ALEC now."
ALEC serves as a front for dirty energy companies, working in state legislatures to attack incentives for clean energy, including freezing  or repealing renewable energy standards as it did in Ohio and penalizing homeowners who install solar panels as it did in Arizona.
Greenpeace has pushed ALEC to explain how blocking clean energy while promoting incentives for fossil fuel interests is in line with its so-called "free market" strategy. 
"ALEC staff have not been able to account for the contradiction," says Greenpeace.
YOU MIGHT ALSO LIKE
Why 6 Utilities Quietly Dumped ALEC and Others Won't Even Speak of the Lobbying Group
Why ALEC Said 'No Thanks' to Renewable Energy Members
ALEC Continues Attack on Renewable Energy Policies to Keep America Addicted to Fossil Fuels
Let's talk about the real obstacle to fighting climate change in America: ALEC. Today, ALEC—the American Legislative Exchange Council—kicks off its annual meeting in Dallas, TX. The group, which has already brought America such favorites as stand-your-ground-shoot-first laws and voter suppression ID laws, now has its sights set on preventing clean energy policies from spreading across the U.S.
ALEC gets a lot of its funding from Big Oil and utility corporations, so it's only natural that it would be working feverishly to craft "model legislation" that continues America's toxic—and deadly—addiction to fossil fuels. Over the past decade alone, ALEC has received more than $500,000 from Big Oil-friendly Koch Brothers-backed foundations, and millions more from Big Oil giants like ExxonMobil. 
Chris Taylor, a Democratic lawmaker from Wisconsin who snuck into ALEC's annual meeting in Chicago last year, said, "A part of ALEC's battle is to preserve an old economy, where coal, oil and gas remain supreme. Their defense of these industries represents the will of corporate members."
And Nick Surgey, research director for the Center for Media and Democracy's PR Watch, told Think Progress that, "According to the meeting agenda, legislators will be schooled on how industry wants them to talk about climate change." He went on to say that there will be a heavy focus on the Environmental Protection Agency's new regulations, and that corporate lobbyists from ExxonMobil, BP and Koch Industries will be crafting model legislation that opposes limiting carbon emissions from coal plants. 
Conference goers will hear from climate-change-denying all-stars like Texas Governor Rick Perry, Heritage Foundation President Jim DeMint, and former GOP presidential candidate Herman Cain. They'll also be getting a copy of the most recent "report" from the NIPCC—the Nongovernmental International Panel on Climate Change. The NIPCC is funded by the Heartland Institute, one of the major players in climate change denial, and a group which has compared people who believe in climate change to the Unabomber.
ALEC's push to protect Big Oil interests and to sabotage clean energy policies isn't something new. It's been a major goal of the secretive organization for a while now. According to documents obtained by The Guardian, last year alone, ALEC pushed 70 bills in 37 states that would have hurt clean energy growth and development.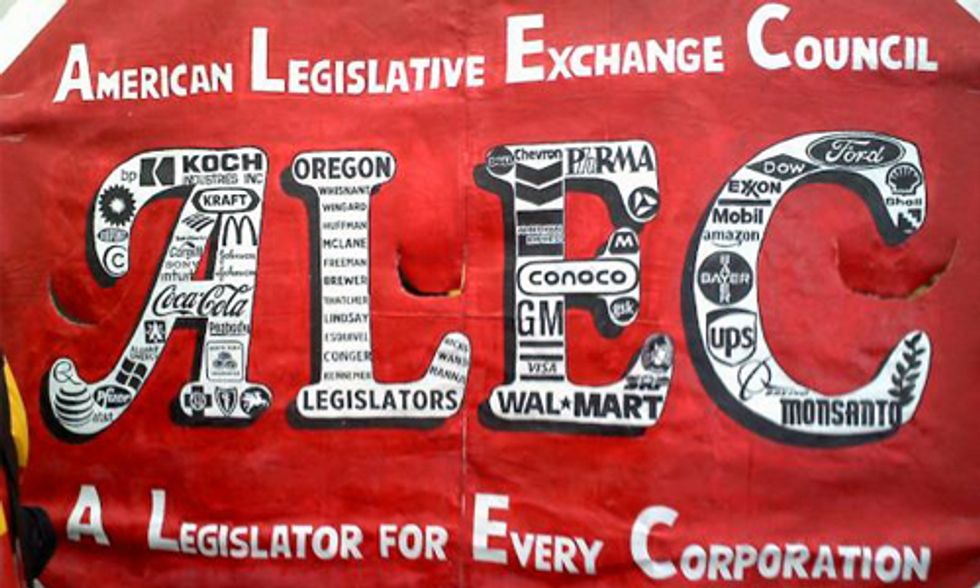 ALEC-crafted legislation has also played a major role in the battles between solar power customers and utility companies in Arizona over the past year, and also led to a Republican state lawmaker in Kansas being kicked out of that state's Chamber of Commerce because he opposed ALEC-backed legislation that was intended to weaken Kansas' renewable energy standards.
ALEC is also behind bills in several states that would require schools to teach climate change denial as part of their curriculum. In January of last year alone, ALEC successfully got its "Environmental Literacy Improvement Act" into the Colorado, Arizona and Oklahoma state legislatures. And some states, like Louisiana, have already adopted similar versions of that legislation. 
While ALEC has been around for nearly 40 years, recent Supreme Court decisions like Citizens United have put the group's ability to influence or essentially own Republican lawmakers on steroids. Thanks to the Supreme Court-created ideas that "money is speech" and "corporations are people," ALEC has gained tremendous power, and it's using that power to sabotage us and the only planet we can call home. 
The conservative lawmakers and corporate shills who make up ALEC are the very people keeping us from developing the clean and green energy policies that are essential for the survival of our planet and the human race. As Dale Eisman, director of communications for Common Cause, put it, "Whatever the issue—labor, schools, climate or energy—they [ALEC] are drafting bills to advance corporate interests that don't necessarily coincide with the public interest."
If want to have any chance of saving the human race from the greatest threat it has ever faced, then we need to start putting public interests ahead of corporate interests, and the only way we can do that is by getting money out of politics. We need to amend the Constitution, to say that money is not speech, and that corporations are not people. The future of our planet depends on it. Go to movetoamend.org to learn all about it.
You Might Also Like
10 Biggest Threats to Human Existence
The Truth About Natural Gas: A 'Green' Bridge to Hell
German Solar Experience Offers Critical 'Lessons Learned' For America
*Editor's note: This article was updated at 12:50 p.m. with new information.*
After writing letters to nine utility companies that have supported the anti-science, environmental attack campaign waged by a secretive lobbying group called the American Legislative Exchange Council (ALEC), Greenpeace has directly confirmed at least six large U.S. utility companies have ceased supporting the secretive lobbying group in recent years:
MidAmerian Energy Holdings Company (MEHC)
PacifiCorp—a MEHC subsidiary with distinct ALEC membership as of 2011
NV Energy—now a MEHC subsidiary with distinct ALEC membership as of 2011
Alliant Energy
PG&E
Ameren– confirmed at shareholder meeting last week
As ALEC begins its 2014 Spring Task Force Summit in Kansas City, MO, this isn't great news for Corporate America's Trojan Horse in our Statehouses. Last year, ALEC experienced a $1.3 million budget shortfall from an exodus of its corporate members in recent years.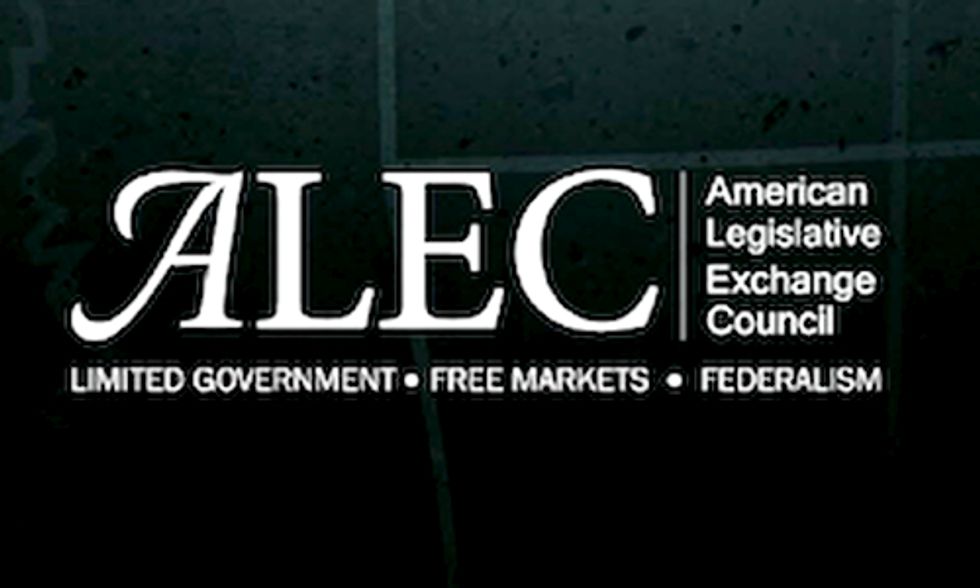 None of these five utilities made any commitment whatsoever to maintain disassociation from ALEC. Instead, they all defended their self-stated commitments to climate and clean energy policies, which Greenpeace's letters referenced and juxtaposed against ALEC's ongoing work to deny climate change science and undermine climate change solutions like renewable energy policies that create jobs and stimulate local economies.
Independent of ALEC, some of these companies continue to resist commonsense clean energy incentives, such as net metering for distributed solar generation. The democratization of electricity production poses a serious threat to monopolistic utility companies, and rather than working to innovate during this massive shift in the energy economy, many utilities are digging in their heels. In the long run, that will not likely turn out to be a wise choice; even King Coal's top lobbyists admits that the industry is outdated, comparing coal's latest pollution control technology to the irrelevant "bag phone" technology of yesteryear.
Several Dirty Utility Companies Won't Talk About ALEC
Four utilities refused to respond to Greenpeace after over two months of repeated outreach through phone, email and fax, indicating how toxic ALEC's brand is even to some of the nation's polluters:
Dominion Resources in Richmond, VA
Ameren in St. Louis, MO
NiSource in Merrillville, IN
Arizona Public Service (and holding company Pinnacle West Capital) in Phoenix, AZ
APS rejoined ALEC after a brief eight-month breakup. Perhaps ALEC's clear intent to impose taxes and fees on people and small businesses installing solar panels on their rooftops wooed APS back into its dirty ranks, since APS coordinated with other Koch-funded front groups to run ads promoting fees for solar net metering. APS executives have refused to communicate with Greenpeace.
The nation's largest utility company, Duke Energy, has also refused to discuss ALEC after internal ALEC documents published by The Guardian indicated that Duke's membership lapsed when it merged with Progress Energy. Notes indicated that Duke was simply pausing amid the merger to assign new lobbyists to work with ALEC. In 2012, more than 150,000 people asked Duke to leave ALEC. ALEC has helped Duke block regulations on its toxic coal ash dumps, fought clean energy incentives and disfranchise legitimate American voters.
It's worth noting that all of these utilities can still have proxy involvement in ALEC's dirty work through their membership in the power sector's top trade association, Edison Electric Institute. EEI pays to participates in ALEC's Energy, Environment and Agriculture task force. ALEC's previous director for its energy and anti-environmental initiatives, climate change denier Todd Wynn, is now Director of External Affairs at EEI.
EEI, ALEC and the utility companies they represent are all engaged in heated battles against U.S. Environmental Protection Agency's pending rules for power plants to reduce their carbon emissions, and political attacks on residents and businesses that install small-scale solar arrays and sell extra electricity back to utility companies.
These contemporary fights are consistent with the decades-long use of ALEC by dirty energy giants to deny the science of climate change and oppose any policy solutions to global warming.
ALEC Opens Meeting in Kansas City
Starting today, ALEC meets in Kansas City, MO for its 2014 Spring Task Force Summit, where corporate lobbyists and state legislators will vote in secret on new model bills. Legislators will then return to the states to implement ALEC's Big Business wishlist.
Check out this fresh report on ALEC's impact in Kansas and Missouri in recent years, from Progress Missouri and other groups participating in the "Stand Up To ALEC" initiative.
——–
YOU ALSO MIGHT LIKE
ALEC-Affiliated Legislators Launch Premature Attacks on Carbon Pollution Limits
How Arizona Could Soon Tax Thousands of Residents For Going Solar
ALEC Calls for 'Guerilla Warfare' in Weakening Carbon Emissions Standards
——–
By Aliya Haq
This week, the polluter-funded American Legislative Exchange Council (ALEC) is holding its annual meeting in D.C., and the obstruction of the U.S. Environmental Protection Agency (EPA) progress to reduce carbon pollution is front and center on its Environment Task Force agenda.
ALEC conferences create a space for corporations and conservative lawmakers to create model legislation that any state legislator can introduce. American Electric Power is the current chair of ALEC's environment task force.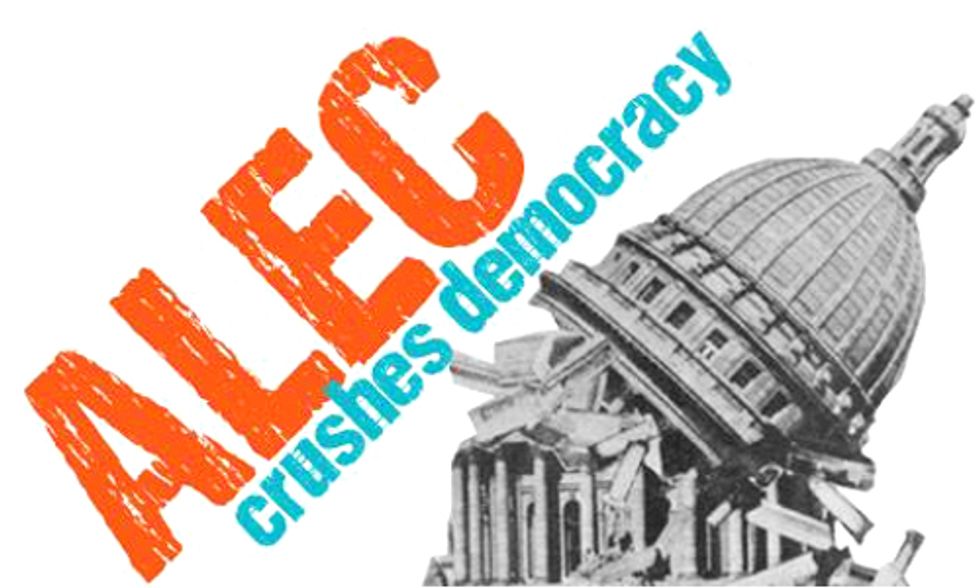 After the killing of Trayvon Martin in Feb. 2012, ALEC became notorious for its promotion of Stand Your Ground gun laws in states, losing financial and political support. A Guardian article published yesterday reveals that ALEC has lost nearly 60 corporate members and hundreds of state legislators from its network in the last two years.
While ALEC addresses a wide range of issues, including health care and anti-union bills, the agenda for this week's ALEC conference has a big focus on EPA power plant rules. Hindering state action to reduce carbon pollution will likely be an ALEC priority in state legislatures next year.
According to the agenda, today is the "EPA working group session" to develop "tools and strategies legislators and private sector members can employ to respond to EPA's proposed New Source Performance Standards (NSPS) and forthcoming rule for existing sources." 
On Friday, the ALEC Energy, Environment and Agriculture Task Force will convene to discuss three pieces of model legislation. Two of these three ALEC resolutions focus on EPA's plans to limit carbon pollution. Resolutions are toothless with no real force of law, but they make fodder for polluters and their allies who use them as a political maneuver to decry EPA's work.
The first draft model bill, the "Resolution in Response to EPA's Plan to Regulate Greenhouse Gases under the Clean Air Act," (p. 7), attempts to bolster opposition to carbon standards by floating the tired canard that protecting public health from dangerous power plant pollution isn't compatible with "providing affordable, reliable, and safe electric power."
The second draft bill, the "Resolution Concerning EPA Proposed Greenhouse Gas Emission Standards for New and Existing Fossil-Fuel Power Plants," (p. 8-10), reads somewhat like a back-up plan, grudgingly accepting carbon standards but urging states to ask EPA to create separate standards for coal plants and encourage use of "domestic energy sources" that are "affordable and reliable."
Past ALEC model resolutions have directly opposed many federal and state efforts to reduce carbon pollution. The New York Times reported that past ALEC internal task force documents have noted which corporate members wrote and supported certain model bills, citing an example that ExxonMobil sponsored an ALEC bill containing loopholes regarding fracking fluid disclosure. Unfortunately, recent ALEC documents do not list the corporate sponsors of ALEC bills, nor does the conference agenda list the current corporate members of the ALEC Environment Task Force.
Documents obtained by Common Cause show that members of ALEC (p 52) attending a 2011 Environment Task Force meeting included a number of private sector members with an interest in slowing down carbon pollution standards, including: Alliant Energy, American Coalition for Clean Coal Electricity, American Electric Power Company, American Gas Association, American Petroleum Institute, BP, Duke Energy Corporation, Edison Electric Institute, Exxon Mobil Corporation, National Rural Electric Cooperative Association and Peabody Energy.
As EPA continues to implement its part of the President's Climate Action Plan, we can expect to see more activity from ALEC attempting to stymie EPA efforts. Let's hope state legislators aren't fooled and are able to identify ALEC's fingerprints on bad model bills.
Visit EcoWatch's ENERGY page for more related news on this topic.

By Jeff Deyette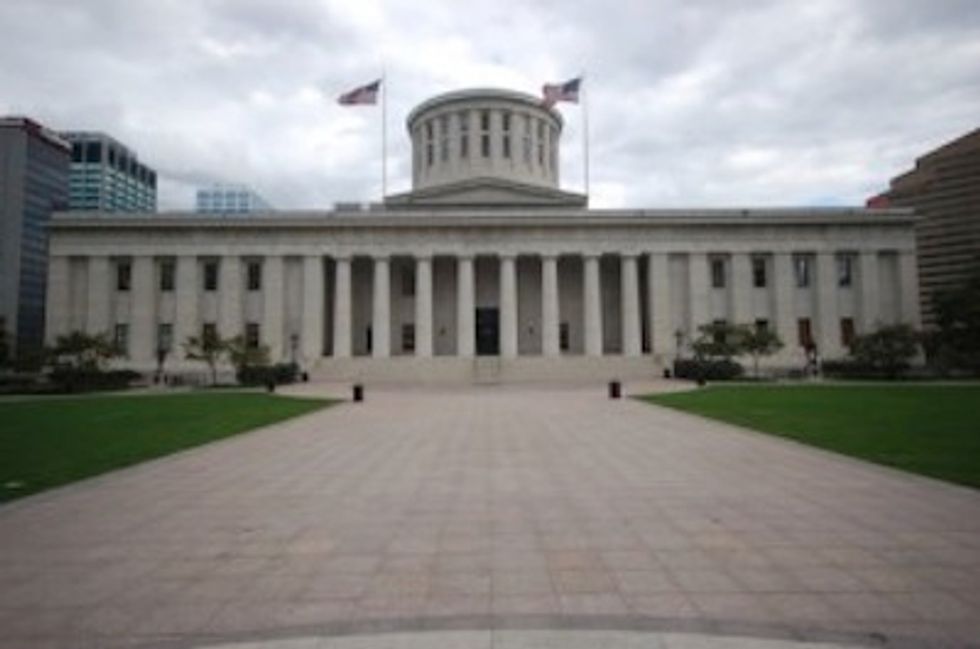 Members of the Ohio Senate Public Utilities Committee heard testimony this week on two bills that would roll back Ohio's renewable energy and energy efficiency standards. Backed by fossil-fuel funded special interest groups and their political allies, these proposals would undermine Ohio's emerging clean energy industries and make the state even more dependent on coal and natural gas.
It is no coincidence that the primary sponsors of these bills are both members of the American Legislative Exchange Council (ALEC). Last year, the Washington Post,Union of Concerned Scientists (UCS) and others exposed ALEC's scheme to deploy model legislation written by the Heartland Institute, and backed by deeply flawed and soundly refuted analyses from the Beacon Hill Institute at Suffolk University, that would repeal renewable electricity standards (RES) now in place in 29 states.
ALEC, the Heartland Institute, and the Beacon Hill Institute all come to the table with dubious records of spreading disinformation to sow doubt about the scientific evidence on climate change and the consequences of tobacco use. Each has received funding from fossil fuel and tobacco interests.
So far, their campaign to roll back RES policies across the country has failed. Policymakers in states like Kansas and North Carolina exhibited sound judgment in rejecting the disinformation and repeal attempts. Likewise, Ohioans should be skeptical of claims about the Buckeye State's clean energy policies coming from these groups, and the politicians who repeat them.
Senate Bill 34: Repeal Ohio's Renewable Electricity Standard?
Leading off at the latest Senate Public Utilities Committee hearing was Senate Bill 34. Introduced by Sen. Jordan (R–Ostrander), this bill would repeal Ohio's requirement that 12.5 percent of the state's power supply come from renewable energy by 2025. It is a retread version of the RES repeal bill Sen. Jordan first introduced in 2011, which was hailed by ALEC, but ultimately tabled by the Committee.
In his rhetoric against the RES, Sen. Jordan routinely cites a Beacon Hill Institute economic analysis that ALEC distributed to Ohio lawmakers. But the Beacon Hill Institute's Ohio RES study is deeply flawed in many ways, including that it exaggerates the costs of renewable energy technologies and ignores the benefits of wind and solar power. The study even makes the incredulous claim that variable wind power "could actually increase pollution and greenhouse gas emissions."
The opposite conclusion was reached in a recent analysis by an economist at the Public Utilities Commission of Ohio (PUCO), the agency responsible for overseeing the RES. That study found Ohioans are already benefiting from renewable energy through downward pressure on wholesale electricity prices and reduced emissions. PUCO's modeling also showed that the more frequent ramping up and down of fossil-fuel plants to accommodate renewable energy resources did not materially affect overall emissions reductions.
Unfortunately, the Beacon Hill Institute deliberately ignores real world evidence about the innovations and tools that make it more efficient and cost-effective to ramp up renewable energy, while maintaining a reliable and cleaner power system. Instead, they effectively cut and paste the same false claim in study after study, spreading misinformation about the environmental benefits of renewable energy.
It is telling that the Beacon Hill Institute grounds its claim in the questionable findings of a single Colorado-specific report from 2010, also funded by fossil fuel interests. Xcel Energy, Colorado's largest utility with extensive experience generating and integrating wind power, promptly debunked the study's findings. And more recently, a National Renewable Energy Laboratory study on Colorado and other Western states found that any increase in fossil-fuel power plant emissions to accommodate renewable energy is small, and more than offset by overall reductions in carbon emissions and other air pollutants.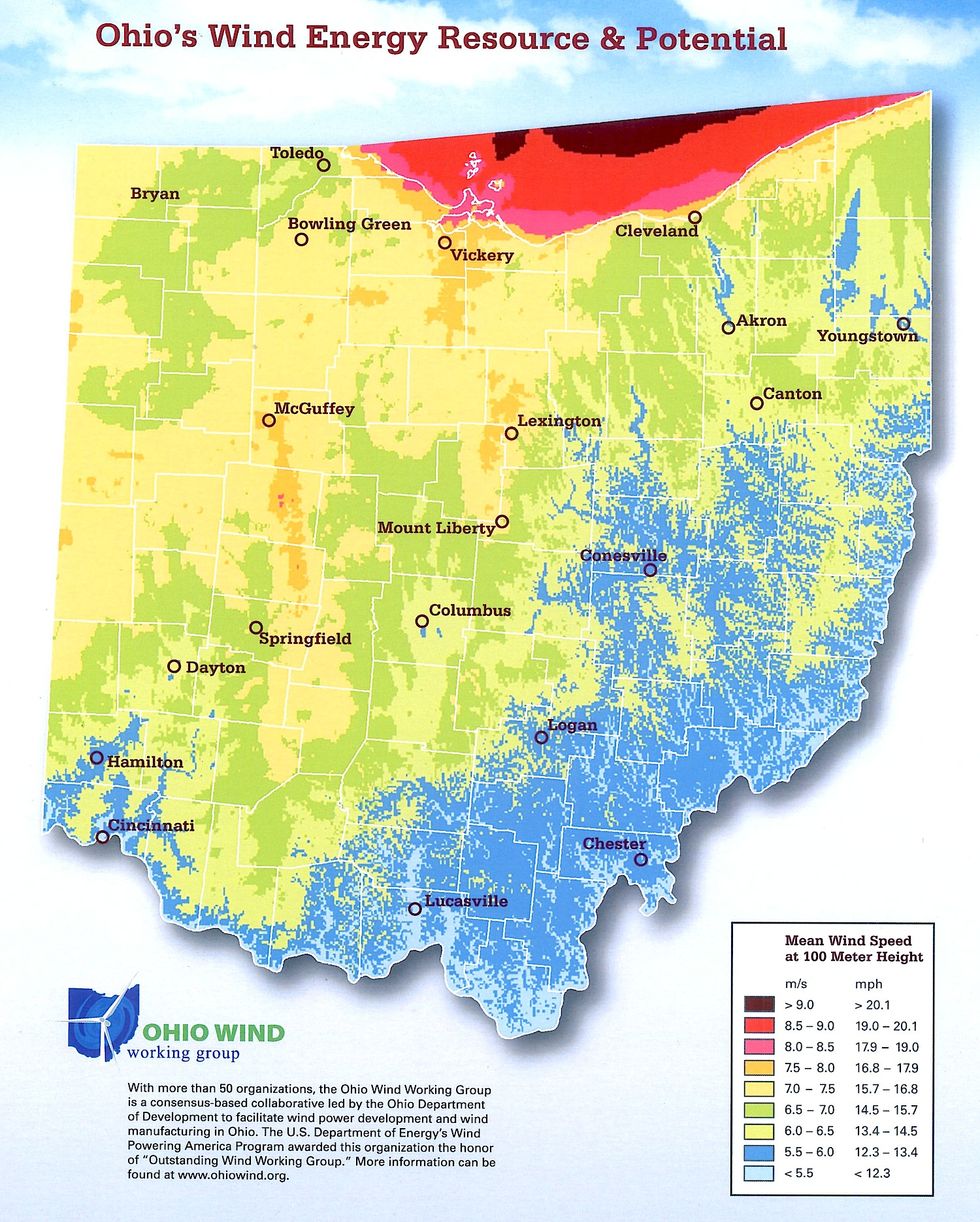 Senate Bill 58: A Wolf in Sheep's Clothes
The second bill considered at the hearing was SB 58, introduced by committee chairman Sen. Seitz (R–Cincinnati), a current member of ALEC's board of directors. In recent testimony, Senator Seitz stated that what he really wants is to repeal Ohio's renewable energy and energy efficiency standards. Having failed once already to achieve this goal, his new tactic with SB 58 is a more subtle approach, but would still effectively gut both standards.
In explaining his change of position—Sen. Seitz voted for the original clean energy standards in 2008, along with nearly every member of the Ohio House and Senate—and current rollback attempt, Senator Seitz argues that "[i]n 2008, we projected that there would be a steady increase in electricity demand. That has not happened."
That's true, but using electricity more efficiently has always been a central goal of the Ohio's clean energy law, which requires utilities to achieve cumulative energy savings of 22 percent by the end of 2025. In fact, Ohio's four regulated utilities achieved nearly 3.1 million MWh of savings through energy efficiency from 2009 to 2011, as PUCO Chairman Todd Snitchler told Sen. Seitz's committee in March. The fact that the energy efficiency standard is working effectively seems like a spurious reason to be against it.
Sen. Seitz deserves credit for accurately acknowledging that the costs for wind and solar power have declined in recent years. But he also contends that wind and solar "fuels remain far more costly" than "fuel generated from conventional sources, and uncompetitive with natural gas." In reality, strong evidence shows that wind and solar can protect consumers against fossil fuel price volatility. Once built, the "fuel" to power wind turbines and solar panels is free; whereas natural gas and coal prices are subject to dramatic swings. In fact, coal and natural gas prices projected to increase by 59 and 119 percent, respectively, in the wholesale electricity market serving Ohio.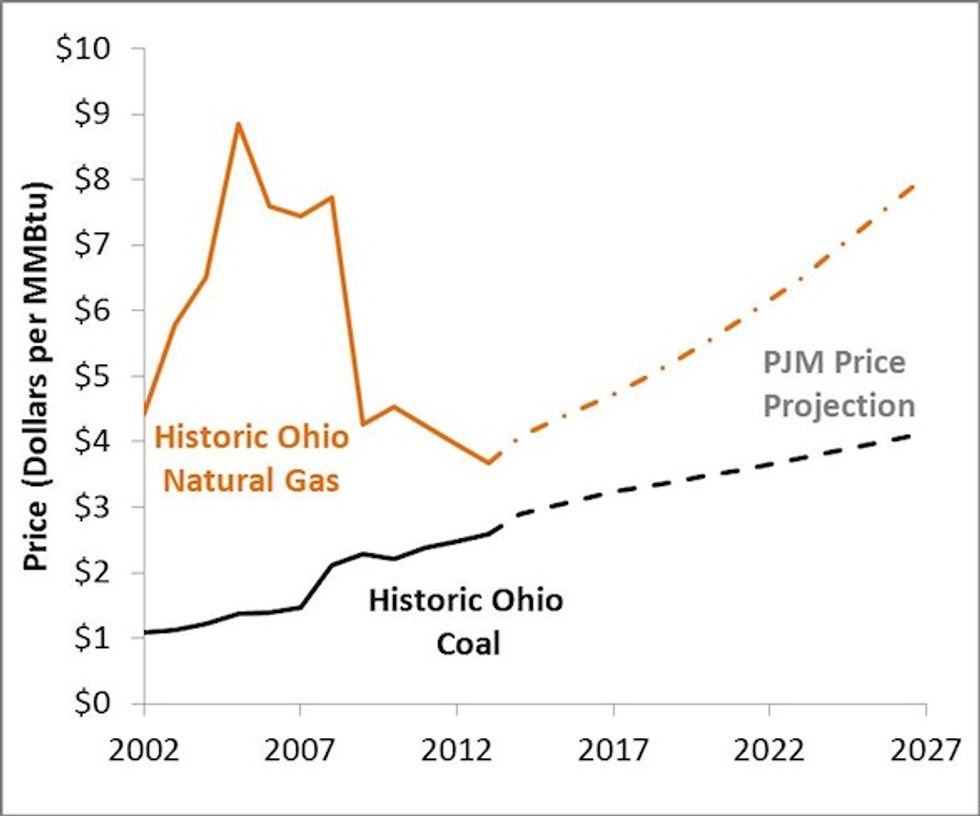 Putting all of Ohio's energy eggs in the fossil fuel basket ignores the myriad risks of dependence on coal and natural gas, including risks to public health and climate change. Sen. Seitz recently invited climate deniers from the Heartland Institute to testify on Ohio's clean energy standards, who used the opportunity to falsely characterized natural gas as "essentially an emissions free-power source." As with any fossil fuel, burning natural gas for electricity results in the release of carbon dioxide, and thus contributes to global warming, making it a far less attractive from a climate solutions standpoint than renewable energy or energy efficiency.
Time to Move Forward With Ohio's Clean Energy Future
Periodic review of any policy makes good sense. But such reviews need to be based on sound and transparent analysis from credible sources, not ideological attacks and disinformation from special interest groups funded by the very industry that stands to benefit from dismantling the policy.
A rigorous review of Ohio's renewable energy and energy efficiency standards would find that these policies have been effective, affordable and are delivering benefits to consumers and the environment. They should be strengthened—not repealed or diluted.
A recent survey shows that a majority of Ohioans supports requiring utilities to provide 20 percent their electricity from renewable energy (well above the current 12.5 percent requirement). That would be a good step forward. First, let's make sure Ohio does not become the first state to choose the fossil fuel industry's fiction over clean energy facts.
Visit EcoWatch's RENEWABLES page for more related news on this topic.
——–

The Koch brothers can't buy a break—literally. Not even from the Tea Party.
Last week the Tea Party Patriots helped push a proposal through Georgia's Public Service Commission that requires the state's largest electric utility to more than double the amount of solar power it uses.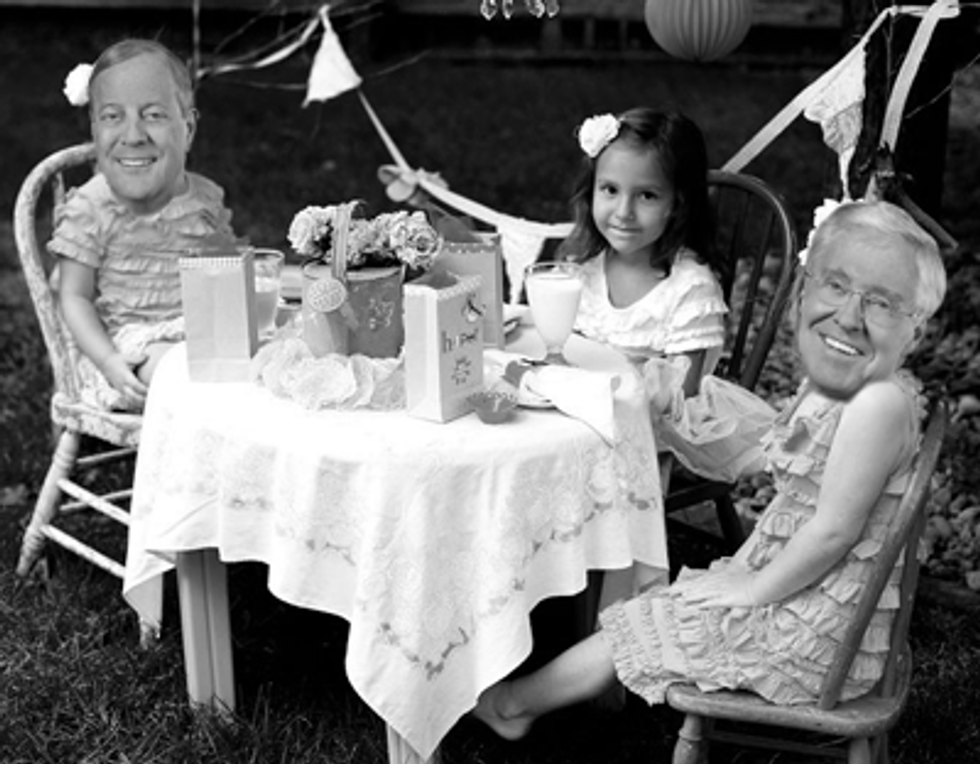 Opposing the plan was a local chapter of Americans for Prosperity, a front group for the Koch brothers and supporter of various Tea Party efforts.
Despite exaggerated warnings from Americans for Prosperity about the massive rate increases and losses in power reliability, the Patriots were unconvinced and instead viewed the expansion of solar power capacity as as an expansion of the free market, as well as providing customers with more energy sources to choose from.
The Koch brothers have had trouble all year in their battle to get states to ignore climate change and put the kibosh on green energy. Even GOP-dominated legislatures have recognized the job creation benefits of wind and solar power and have denied the Koch's attempts to do away with policies that require public utilities to use more clean energy.
But to lose to the Tea Party must really sting. At least, we hope it does.
Visit EcoWatch's ENERGY and RENEWABLES pages for more related news on this topic.
——–

Muckrakers and activists have been working to expose the brutality of industrialized meat production since Upton Sinclair's writing of The Jungle in 1906. But an ALEC model bill known as "The Animal and Ecological Terrorism Act" would make it a crime to film at animal facilities—such as factory farms or slaughterhouses—with the intent to "defame the facility or its owner." So-called "ag-gag" laws that appear inspired by the ALEC model have been passed in several states. This report, produced by Okapi Productions, LLC and the Schumann Media Center, Inc., looks at the effect of these laws on both our food supply and our freedom of speech.
Visit EcoWatch's FACTORY FARMING page for more related news on this topic.
———
SHARE YOUR THOUGHTS BELOW: Do you feel that "ag-gag" laws protect the nation's food supply or are dangerous to the nation's food supply?
———