This website uses cookies to ensure you get the best experience while browsing it. By clicking 'Got It' you're accepting these terms.
ALEC Continues Attack on Renewable Energy Policies to Keep America Addicted to Fossil Fuels
Jul. 30, 2014 08:25AM EST
Energy
Let's talk about the real obstacle to fighting climate change in America: ALEC. Today, ALEC—the American Legislative Exchange Council—kicks off its annual meeting in Dallas, TX. The group, which has already brought America such favorites as stand-your-ground-shoot-first laws and voter suppression ID laws, now has its sights set on preventing clean energy policies from spreading across the U.S.
ALEC gets a lot of its funding from Big Oil and utility corporations, so it's only natural that it would be working feverishly to craft "model legislation" that continues America's toxic—and deadly—addiction to fossil fuels. Over the past decade alone, ALEC has received more than $500,000 from Big Oil-friendly Koch Brothers-backed foundations, and millions more from Big Oil giants like ExxonMobil. 
Chris Taylor, a Democratic lawmaker from Wisconsin who snuck into ALEC's annual meeting in Chicago last year, said, "A part of ALEC's battle is to preserve an old economy, where coal, oil and gas remain supreme. Their defense of these industries represents the will of corporate members."
And Nick Surgey, research director for the Center for Media and Democracy's PR Watch, told Think Progress that, "According to the meeting agenda, legislators will be schooled on how industry wants them to talk about climate change." He went on to say that there will be a heavy focus on the Environmental Protection Agency's new regulations, and that corporate lobbyists from ExxonMobil, BP and Koch Industries will be crafting model legislation that opposes limiting carbon emissions from coal plants. 
Conference goers will hear from climate-change-denying all-stars like Texas Governor Rick Perry, Heritage Foundation President Jim DeMint, and former GOP presidential candidate Herman Cain. They'll also be getting a copy of the most recent "report" from the NIPCC—the Nongovernmental International Panel on Climate Change. The NIPCC is funded by the Heartland Institute, one of the major players in climate change denial, and a group which has compared people who believe in climate change to the Unabomber.
ALEC's push to protect Big Oil interests and to sabotage clean energy policies isn't something new. It's been a major goal of the secretive organization for a while now. According to documents obtained by The Guardian, last year alone, ALEC pushed 70 bills in 37 states that would have hurt clean energy growth and development.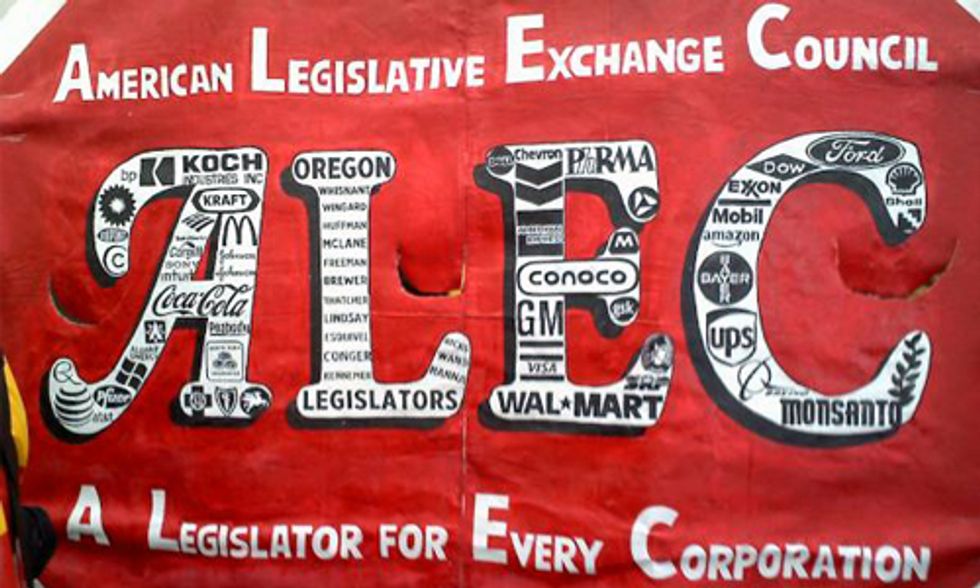 ALEC-crafted legislation has also played a major role in the battles between solar power customers and utility companies in Arizona over the past year, and also led to a Republican state lawmaker in Kansas being kicked out of that state's Chamber of Commerce because he opposed ALEC-backed legislation that was intended to weaken Kansas' renewable energy standards.
ALEC is also behind bills in several states that would require schools to teach climate change denial as part of their curriculum. In January of last year alone, ALEC successfully got its "Environmental Literacy Improvement Act" into the Colorado, Arizona and Oklahoma state legislatures. And some states, like Louisiana, have already adopted similar versions of that legislation. 
While ALEC has been around for nearly 40 years, recent Supreme Court decisions like Citizens United have put the group's ability to influence or essentially own Republican lawmakers on steroids. Thanks to the Supreme Court-created ideas that "money is speech" and "corporations are people," ALEC has gained tremendous power, and it's using that power to sabotage us and the only planet we can call home. 
The conservative lawmakers and corporate shills who make up ALEC are the very people keeping us from developing the clean and green energy policies that are essential for the survival of our planet and the human race. As Dale Eisman, director of communications for Common Cause, put it, "Whatever the issue—labor, schools, climate or energy—they [ALEC] are drafting bills to advance corporate interests that don't necessarily coincide with the public interest."
If want to have any chance of saving the human race from the greatest threat it has ever faced, then we need to start putting public interests ahead of corporate interests, and the only way we can do that is by getting money out of politics. We need to amend the Constitution, to say that money is not speech, and that corporations are not people. The future of our planet depends on it. Go to movetoamend.org to learn all about it.
You Might Also Like
10 Biggest Threats to Human Existence
The Truth About Natural Gas: A 'Green' Bridge to Hell
German Solar Experience Offers Critical 'Lessons Learned' For America
EcoWatch Daily Newsletter
Trevor Noah appears on set during a taping of "The Daily Show with Trevor Noah" in New York on Nov. 26, 2018.
The Daily Show With Trevor Noah / YouTube screenshot
Rebecca Burgess came up with the idea of a fibersheds project to develop an eco-friendly, locally sourced wardrobe.
Nicolás Boullosa / CC BY 2.0
By Tara Lohan
If I were to open my refrigerator, the origins of most of the food wouldn't be too much of a mystery — the milk, cheese and produce all come from relatively nearby farms. I can tell from the labels on other packaged goods if they're fair trade, non-GMO or organic.
A television crew reports on Hurricane Dorian while waves crash against the Banana River sea wall. Paul Hennessy / SOPA Images / LightRocket / Getty Images
By Mark Hertsgaard and Kyle Pope
Some good news, for a change, about climate change: When hundreds of newsrooms focus their attention on the climate crisis, all at the same time, the public conversation about the problem gets better: more prominent, more informative, more urgent.
U.S. Senators Chris Coons (D-Del.) and Mike Braun (R-Ind.) met with Bill Gates on Nov. 7 to discuss climate change and ways to address the challenge.
Senator Chris Coons
A timelapse video shows synthetic material and baby fish collected from a plankton sample from a surface slick taken off Hawaii's coast.
Honolulu Star-Advertiser / YouTube screenshot
Two silver-backed chevrotain caught on camera trap. The species has only recently been rediscovered after being last seen in 1990. GWC / Mongabay
By Jeremy Hance
VIETNAM, July 2019 – I'm chasing a ghost, I think not for the first time, as night falls and I gather up my gear in a hotel in a village in southern Vietnam. I pack my camera, a bottle of water, and a poncho; outside the window I can see a light rain.