This website uses cookies to ensure you get the best experience while browsing it. By clicking 'Got It' you're accepting these terms.
New Mexico at a Crossroads: Burn Coal at High Price or Switch to Renewables and Save Money
Jul. 28, 2015 02:40PM EST
Business
New Mexico is at a crossroads. Local electric utility PNM has a proposal before the New Mexico Public Regulation Commission (PRC) to lock New Mexico families and ratepayers into a future that is reliant on dirty, expensive coal-fired power. They want to raise rates for their customers in order to fund their plan to continue burning coal at the San Juan Generating Station rather than transitioning to more affordable energy sources.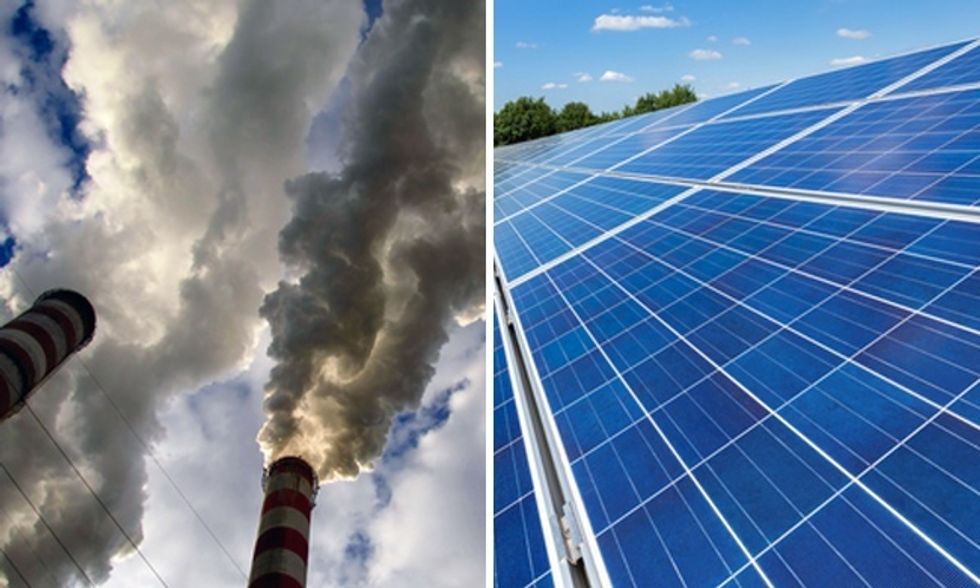 But there's a cheaper, safer way forward that will improve public health in New Mexico: invest in affordable, reliable clean energy solutions. Right now, clean energy sources like wind and solar are already providing energy at a lower cost than burning coal at the San Juan Generating Station, saving money for consumers, and creating long-term jobs.
It costs at least $60 per megawatt hour to produce coal-fired energy at the San Juan Generating Station, a cost that will only increase if the utility gains PRC approval to continue burning expensive, dirty coal at the power plant. Other utilities have claimed that the cost is actually higher—as high as $100 per MWh. In fact, the City of Glendale recently voted to divest from the San Juan Generating Station citing the high costs of the electricity it produces. Even at the lower end of the estimate, electricity from the San Juan Generating Station costs roughly three times more than wind power already being generated in New Mexico, and almost twice as much as solar power produced across the Southwest. Wind power projects in New Mexico, Oklahoma and Texas are consistently coming in at costs that are about one third of the cost of coal energy at the San Juan Generating Station.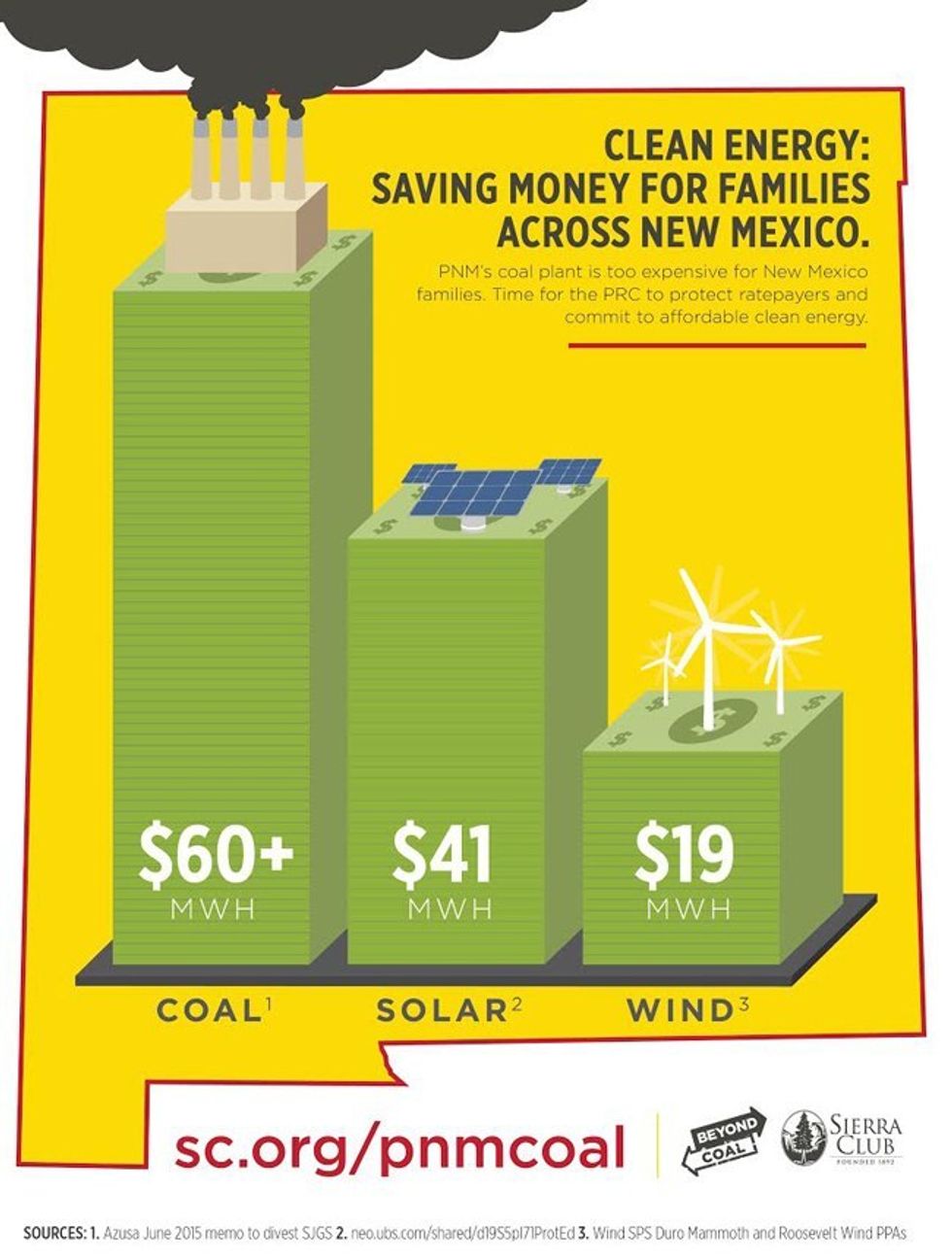 Just one example is the Infinity Wind Resources Roosevelt Project, which is producing power at $23 per megawatt hour. Xcel Energy's Mammoth Wind Project in Oklahoma and the Palo Duro wind project in Texas are both producing clean wind energy at even lower costs—$19 per megawatt hour and $21 per megawatt hour respectively. New Mexico's neighbors in Nevada have access to solar energy that has been called the cheapest power in the U.S. Shrewd energy investors can see which way the wind is blowing—Warren Buffett snapped up that cheap solar energy to supply his utility Nevada Energy.
There's no good reason to double down on the ballooning costs of continuing to burn coal at the San Juan Generating Station when there is a wealth of clean energy available for less than a third of the price. Estimated costs for the plan to burn coal have already shot up by over a billion dollars. Investing in clean energy solutions is the safe choice for New Mexico's families. And New Mexico won't be alone if they choose to transition to clean energy—communities across the country are putting their money into more jobs, lower costs, and economic growth through wind and solar. Over in Arizona, which—like New Mexico—is rich with huge wind and solar potential, the solar industry created more than 600 new jobs just in the last year. Clean energy creates more jobs than fossil fuels, dollar for dollar and megawatt for megawatt.
New Mexico needs good jobs and clean air, not outdated and polluting coal energy. The choice could not be clearer: invest in clean, affordable energy like wind and solar or lock New Mexico ratepayers into a future of more expensive, dirty coal-fired power. To protect ratepayers and create long-term sustainable jobs, the PRC should reject PNM's proposal and demand a plan that moves the state towards affordable, reliable clean energy like wind and solar.
YOU MIGHT ALSO LIKE
Hillary Clinton: If I'm Elected President Every American Home Will Be Powered by Renewables by 2027
5 Bold and Beautiful Solar Projects From Around the World
EcoWatch Daily Newsletter
We need our government to do everything it can to stop PFAS contamination and exposure from wreaking havoc in communities across the country. LuAnn Hun /
Unsplash
By Genna Reed
The EPA announced last week that it is issuing a preliminary regulatory determination for public comment to set an enforceable drinking water standard to two of the most common and well-studied PFAS, PFOA and PFOS.
This decision is based on three criteria:
PFOA and PFOS have an adverse effect on public health
PFOA and PFOS occur in drinking water often enough and at levels of public health concern;
regulation of PFOA and PFOS is a meaningful opportunity for reducing the health risk to those served by public water systems.
Charging EVs in Stockholm: But where does a dead battery go? Ranjithsiji / Wikimedia Commons
By Kieran Cooke
Driving an electric-powered vehicle (EV) rather than one reliant on fossil fuels is a key way to tackle climate change and improve air quality — but it does leave the old batteries behind as a nasty residue.
U.S. Secretary of the Treasure Steven Mnuchin arrives for a welcome dinner at the Murabba Palace in Riyadh, Saudi Arabia on Feb. 22, 2020 during the G20 finance ministers and central bank governors meeting. FAYEZ NURELDINE / AFP via Getty Images
Finance ministers from the 20 largest economies agreed to add a scant mention of the climate crisis in its final communiqué in Riyadh, Saudi Arabia on Sunday, but they stopped short of calling it a major economic risk, as Reuters reported. It was the first time the G20 has mentioned the climate crisis in its final communiqué since Donald Trump became president in 2017.
Aerial view of Parque da Cachoeira, which suffered the January 2019 dam collapse, in Brumadinho, state of Minas Gerais, Brazil — one of the country's worst industrial accidents that left 270 people dead. Millions of tons of toxic mining waste engulfed houses, farms and waterways, devastating the mineral-rich region. DOUGLAS MAGNO / AFP / Getty Images
Participants of the climate demonstration Fridays for Future walk through Hamburg, Germany on Feb. 21, 2020. Axel Heimken / picture alliance via Getty Images