This website uses cookies to ensure you get the best experience while browsing it. By clicking 'Got It' you're accepting these terms.
Low-Carbon Energy World 'Feasible' by 2050
Oct. 10, 2014 08:45AM EST
Business
A global low-carbon energy economy is not only feasible, it could double electricity supply by 2050 while actually reducing air and water pollution, according to new research.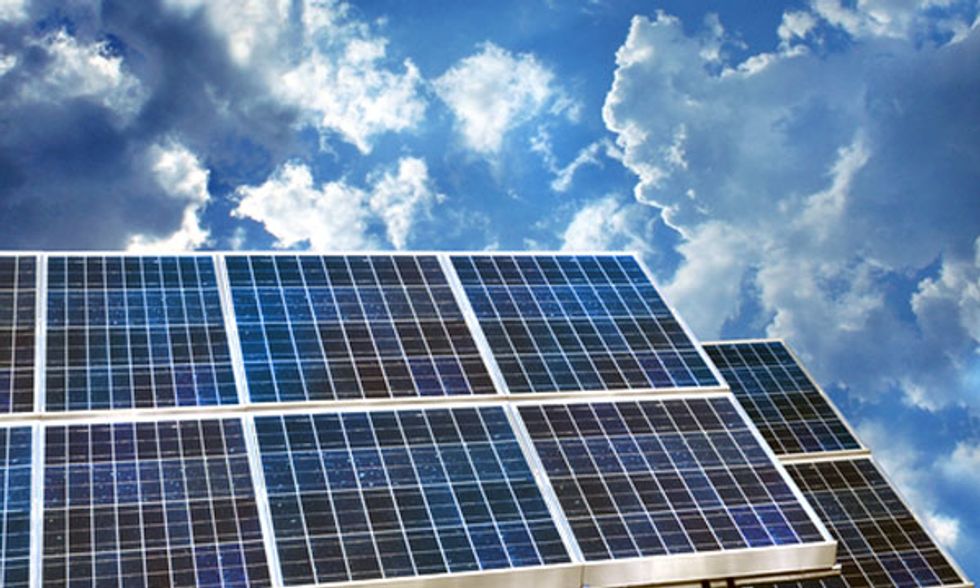 Photo credit: Shutterstock
Even though photovoltaic power requires up to 40 times more copper than conventional power plants, and wind power uses up to 14 times more iron, the world wins on a switch to low-carbon energy.
These positive findings are published in the Proceedings of the National Academy of Sciences by Edgar Hertwich and Thomas Gibon, of the Norwegian University of Science and Technology Department of Energy and Process Engineering.
Life-cycle assessment
They and international research colleagues report that they have made—as far as they know—the first global life-cycle assessment of the economic and environmental costs of renewable and other clean sources of energy in a world that responds to the threat of climate change.
Other studies have looked at the costs in terms of health, pollutant emissions, land use change or the consumption of metals. The Norwegian team set out to consider the lot.
There were some things they had to leave out: for instance, bioenergy, the conversion of corn, sugar cane or other crops to ethanol for fuel, because that would also require a comprehensive assessment of the food system; and nuclear energy, because they could not reconcile what they called "conflicting results of competing assessment approaches."
But they tried to consider the whole-life costs of solar power, wind power, hydropower and gas and coal generators that used carbon capture and storage to reduce greenhouse gas emissions.
They took into account the demand for aluminium, copper, nickel and steel, metallurgical grade silicon, flat glass, zinc and clinker. They thought about the comparative costs of "clean" and "dirty" power generation, and they considered the impact of greenhouse gases, particulate matter, toxicity in ecosystems, and the eutrophication—the overwhelming blooms of plankton—of the rivers and lakes.
They also assessed the impact of such future power plants on the use of land, and they made allowances for the economic benefits of increasing amounts of renewable power in the extraction and refinement of minerals needed to make yet more renewable power.
More efficient
Then they contemplated two scenarios: one in which global electricity production rose by 134 percent by 2050, with fossil fuels accounting for two-thirds of the total; and one in which electricity demand in 2050 rises by 13 percent less because energy use becomes more efficient.
They found that to generate new sources of power, demand for iron and steel might increase by only 10 percent. Photovoltaic systems would require between 11 and 40 times the amount of copper that is needed for conventional generators, but even so, the demand by 2050 would add up to just two years' worth of current copper production.
Their conclusion? Energy production-related climate change mitigation targets are achievable, given a slight increase in the demand for iron and cement, and will reduce the current emission rates of air pollutants.
"Only two years of current global copper and one year of iron will suffice to build a low-carbon energy system capable of supplying the world's electricity needs by 2050," the authors say.
YOU MIGHT ALSO LIKE
Solar Energy Could Be Largest Source of Global Electricity by 2050
We Can Transition to 100% Renewable Energy Starting Today
EcoWatch Daily Newsletter
The CDC has emphasized that washing hands with soap and water is one of the most effective ways to prevent the spread of COVID-19. Guido Mieth / Moment / Getty Images
The Centers for Disease Control has emphasized that washing hands with soap and water is one of the most effective measures we can take in preventing the spread of COVID-19. However, millions of Americans in some of the most vulnerable communities face the prospect of having their water shut off during the lockdowns, according to The Guardian.
A California newt (Taricha torosa) from Napa County, California, USA. Connor Long /
CC BY-SA 3.0
Aerial photos of the Sierra Nevada — the long mountain range stretching down the spine of California — showed rust-colored swathes following the state's record-breaking five-year drought that ended in 2016. The 100 million dead trees were one of the most visible examples of the ecological toll the drought had wrought.
Now, a few years later, we're starting to learn about how smaller, less noticeable species were affected.
Disinfectants and cleaners claiming to sanitize against the novel coronavirus have started to flood the market.
Natthawat / Moment / Getty Images
Disinfectants and cleaners claiming to sanitize against the novel coronavirus have started to flood the market, raising concerns for the U.S. Environmental Protection Agency (EPA), which threatened legal recourse against retailers selling unregistered products, according to The New York Times.
A customer packs groceries in reusable bags at a NYC supermarket on March 1, 2020. Eduardo Munoz Alvarez/Getty Images
The global coronavirus pandemic has thrown our daily routine into disarray. Billions are housebound, social contact is off-limits and an invisible virus makes up look at the outside world with suspicion. No surprise, then, that sustainability and the climate movement aren't exactly a priority for many these days.
Ingredients are displayed for the Old School Pinto Beans from the Decolonize Your Diet cookbook by Luz Calvo and Catriona Rueda Esquibel. Melissa Renwick / Toronto Star via Getty Images
By Molly Matthews Multedo
Livestock farming contributes to global warming, so eating less meat can be better for the climate.