This website uses cookies to ensure you get the best experience while browsing it. By clicking 'Got It' you're accepting these terms.
How the EPA's Carbon Plan Could Create 274,000 New Jobs
Jun. 02, 2014 11:02AM EST
U.S. Environmental Protection Agency Administrator Gina McCarthy made herself clear Monday morning—adoption of the proposed carbon regulation would not force the country to choose between a strong economy and a healthy environment.
The Natural Resources Defense Council and ICF International had already completed research aligned with that statement before McCarthy ever spoke. According to analysis from the two organizations, carbon standards could create 274,000 new American jobs and save households and businesses $37.4 billion on their electric bills in 2020.
They cited Arkansas, Colorado, Florida, Iowa, Illinois, Missouri, Montana, Minnesota, North Carolina, Nevada, Ohio, Pennsylvania and West Virginia as the states that would benefit most from climate action. The public health and energy efficiency sectors could gain the most workers if the proposal is adopted following a yearlong, open-comment period.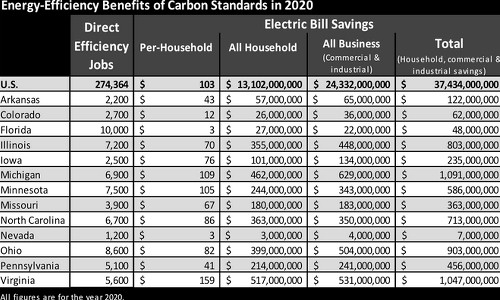 "Most Americans support curbing dangerous carbon pollution from power plants because it's the right thing to do," said Daniel Lashof, chief operating officer at NextGen Climate. "Cleaning up dirty power plants can be a bonanza for public health and a boon for energy efficiency jobs—and save Americans on their electric bills.
"This is a winning step toward a cleaner, cheaper and healthier 21st Century energy future. It's time to get moving."
In 2012, Lashof, also a senior fellow at the NRDC, oversaw the development of an NRDC proposal to reduce carbon that ended up being very similar to the proposal announced by McCarthy. The organization proposed the country cut carbon pollution by 531 million tons per year, or nearly 25 percent from 2012 levels by 2020. When expanded to 2030, the numbers end up exceeding the EPA proposal by 5 percent.
The jobs that could see the biggest rises in employment include electricians, roofers, carpenters, insulation workers, heating and air conditioning installers and heavy equipment operators. Investments in energy efficiency could save households an average of $103 per household, or $13 billion as a nation.
Coal-fired power plants are the main polluters and have escaped regulation, as this proposal marks the first time an Administration has attempted to regulate carbon pollution.
"For far too long, coal-fired power plants have had free reign to dump carbon pollution into our atmosphere," NextGen founder Tom Steyer said. "The Administration's plan to end this carbon pollution loophole will establish a level playing field for advanced energy solutions that are cleaner, affordable and more secure. Now, more than ever, the United States must be a global leader in addressing climate change. As the centerpiece of the president's Climate Action Plan, today's carbon pollution standards proposal goes a very long way toward establishing that leadership and the president's legacy."
There are about 1,000 power plants today emitting more than 2 billion tons of carbon dioxide per year—about 40 percent of the country's carbon pollution emissions. There are already emissions limits on pollutants like arsenic, mercury, lead, sulfur and soot.
"Energy efficiency is the cheapest, fastest and cleanest way to cut carbon emissions, and it benefits local communities enormously by putting people to work and lowering bills," said Sheryl Carter, co-director of NRDC's Energy Program. "We are already seeing clear examples of efficiency in action, with huge job and money-savings benefits based on real-world experience by states.
"This analysis shows that carbon standards that use efficiency as a key strategy will expand these benefits to a much bigger scale. We need to do this now."
——–
YOU ALSO MIGHT LIKE
Obama and EPA Release Historic Carbon Reduction Plan to Fight Climate Change
Activist Tom Steyer Announces Big-Spending Election Plan to Take Down Climate-Denying Candidates
President Obama's Climate Action Plan
——–
Southwest Greenland had the most consistent ice loss from 2003 to 2012. Eqalugaarsuit, Ostgronland, Greenland on Aug. 1, 2018.
Rob Oo / CC BY 2.0
Finally, some good news about the otherwise terrible partial government shutdown. A federal judge ruled that the Trump administration cannot issue permits to conduct seismic testing during the government impasse.
The Justice Department sought to delay—or stay—a motion filed by a range of coastal cities, businesses and conservation organizations that are suing the Trump administration over offshore oil drilling, Reuters reported. The department argued that it did not have the resources it needed to work on the case due to the shutdown.
Climate change has been called the biggest challenge of our time. Last year, scientists with the United Nations said we basically have 12 years to limit global warming to 1.5ºC to avoid planetary catastrophe.
Amid a backdrop of rising global carbon emissions, there's a real case for pessimism. However, many scientists are hopeful of a way out.
Demonstrators participate in a protest march over agricultural policy on Jan. 19 in Berlin, Germany. Carsten Koall / Getty Images Europe
By Andrea Germanos
Organizers said 35,000 people marched through the streets of the German capital on Saturday to say they're "fed up" with industrial agriculture and call for a transformation to a system that instead supports the welfare of the environment, animals and rural farmers.

A Massachusetts road coated with snow and ice following the winter storm which prompted Trump to mock climate change. Scott Eisen / Getty Images
President Donald Trump has once again contradicted the findings of the U.S. government when it comes to the threat posed by climate change. Days after a Department of Defense report outlined how climate-related events like wildfires and flooding put U.S. military installations at risk, Trump took to Twitter to mock the idea that the world could be getting warmer, Time reported.
Trump's tweet came in response to a massive winter storm that blanketed the Midwest and Northeast this weekend.
The fire that erupted after a pipeline explosion in Mexico Friday. FRANCISCO VILLEDA / AFP / Getty Images
By Jason Bittel
Formidable predators stalk the forests between Panama and northern Argentina. They are sometimes heard but never seen. They are small but feisty and have even been documented trying to take down a tapir, which can top out at nearly 400 pounds. Chupacabras? No.
Mead is a fermented beverage traditionally made from honey, water and a yeast or bacterial culture.
U.S. Army member helps clear debris from Tyndall Air Force Base following Hurricane Michael.
U.S. Army
A tree found severed in half in an act of vandalism in Joshua Tree National Park. Gina Ferazzi / Los AngelesTimes / Getty Images
By Rhea Suh
One month on, the longest and most senseless U.S. government shutdown in history is taking a grave and growing toll on the environment and public health.

Food inspectors have been idled or are working without pay, increasing the risk we'll get sick from eating produce, meat and poultry that isn't properly checked. National parks and public wilderness lands are overrun by vandals, overtaken by off-road joyriders, and overflowing with trash. Federal testing of air and water quality, as well as monitoring of pollution levels from factories, incinerators and other sources, is on hold or sharply curtailed. Citizen input on critical environmental issues is being hindered. Vital research and data collection are being sidelined.