This website uses cookies to ensure you get the best experience while browsing it. By clicking 'Got It' you're accepting these terms.
Al Gore Teams Up With Tea Party to Fight for Rooftop Solar
Apr. 15, 2015 01:22PM EST
Climate
Al Gore has been one of the leading voices in support of the environmental movement for decades, advocating for protection of the planet while in Congress and serving as former President Bill Clinton's vice president. He's written four books on the subject. His role became especially high profile after the release of the 2006 documentary An Inconvenient Truth, which spotlighted the work he had been doing to raise awareness of climate change through a slide show presentation he'd been doing to groups across the country. He won the 2007 Nobel Peace Prize for his work.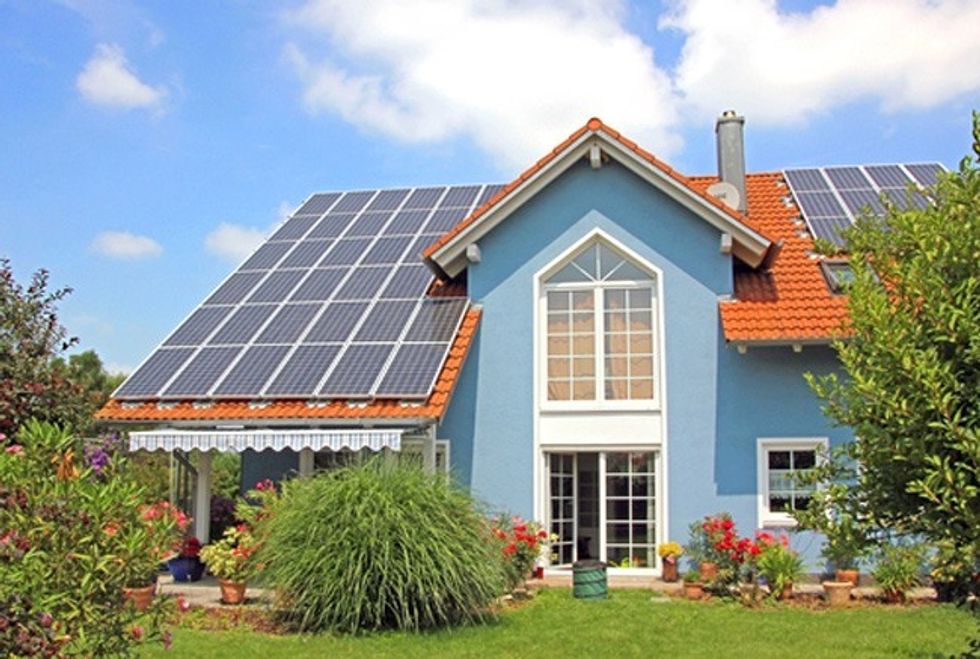 Photo credit: Shutterstock
That film was mocked and dismissed by climate deniers. For instance, an editorial in the Wall Street Journal, written by Massachusetts Institute of Technology professor of atmospheric science Richard Lindzen, argued that Gore falsely claimed there was scientific consensus around the reality of climate change. We're currently observing the spectacle of Republicans in Congress fighting tooth and nail to sink President Obama's Clean Power Plant proposal, even going so far as to suggest to governors that their states break the law to defy the federal government and the U.S. Environmental Protection Agency.
So when you find Democrat Al Gore on the same side of an environmental issue as a far-right Tea Party leader, it's eye-opening. But left and right are coming together over the issue of distributed solar power and the right of homeowners and businesses to install rooftop photovoltaic solar panels.
That shared interest was highlighted this week when Gore spoke at the Bloomberg New Energy Finance conference in New York this week back-to-back with Debbie Dooley, a national Tea Party activist, chairman of the Atlanta Tea Party and founder of Conservatives for Energy Freedom.
But while Gore has focused on the climate impacts of dirty energy and the need to switch to clean energy sources to prevent global catastrophe, Dooley ignores climate change altogether to focus on individual freedom and the "free market."
"She is an activist for solar energy and decentralizing the grid, working with conservatives across the country who believe expanding renewable energy markets and customer choice are consistent with free-market principles," says her bio. "She believes our nation is in the midst of a clean-energy revolution that unites grassroots activists from the left and right."
An article in Bloomberg News called Gore and Dooley a "political odd couple" and noted that Dooley never mentioned climate change in her presentation, focusing rather on consumer choice.
"Solar equals independence—solar equals freedom," she said, using a favorite Tea Party word. "Tea Party activists don't like strong centralized units. There's nothing more centralized than a utility, than the government telling you what power to buy. This is a battle that we will win. I am literally floored with the response I have been getting from conservatives with the right message."
Gore had a startlingly similar message.
"People want their own opportunity to shape their own future, and renewable energy is part of that," he said. "There is a war on solar with these legacy utilities, and coal companies using their historic political power, campaign contributions and lobbying to pass the most ridiculous laws and tax the people who want to put solar panels on their roof."
Dooley's activism began when she joined forces with the Sierra Club to prevent Georgia Power from billing customers in advance for two nuclear plants projected to have huge cost overruns. She also helped fight off an effort by Georgia utilities to charge owners of rooftop solar an extra fee on their monthly bill, something utilities, backed by conservative groups like Americans for Prosperity, are pushing around the country. Currently, Dooley is one of the leaders of a battle in Florida to protect and expand the ability of homeowners and businesses to generate their own rooftop solar and sell it to their neighbors, bypassing big utility companies. The effort is engaging both conservative and liberal environmentalists.
"They have a lot of policies in Florida that actually effectively block the sun," Dooley told Yale Environment 360. "So you have the Sunshine State that has policies put in place by these powerful utilities to stifle competition, and I just felt like something needed to be done."
"We're going to work together to accomplish something," she said. "Those on the left believe in climate change and coal's bad. Those on the right don't like government-created monopolies— we believe in free-market choice and national security. It doesn't matter what your reasons are, as long as we work together to accomplish a common goal. That's all that matters, and we're much more successful when we're able to do that."
YOU MIGHT ALSO LIKE
Al Gore at SXSW: We Need to 'Punish Climate-Change Deniers' and 'Put a Price on Carbon'
Tea Party Members and Environmentalists Join Forces in Support of Solar Energy
4 States Where Solar is Under Attack by Koch-Funded Front Groups
EcoWatch Daily Newsletter
The Ernest N. Morial Convention Center in New Orleans, Louisiana has been converted to a 1,000-bed field hospital for coronavirus patients to alleviate stress on local hospitals. Chris Graythen / Getty Images
An area in Louisiana whose predominantly black and brown residents are hard-hit by health problems from industry overdevelopment is experiencing one of the highest death rates from coronavirus of any county in the United States.
A woman lies in bed with the flu. marka/Universal Images Group via Getty Images
A central player in the fight against the novel coronavirus is our immune system. It protects us against the invader and can even be helpful for its therapy. But sometimes it can turn against us.
Several flower species, including the orchid, can recover quickly from severe injury, scientists have found. cunfek / iStock / Getty Images Plus
Calling someone a delicate flower may not sting like it used to, according to new research. Scientists have found that many delicate flowers are actually remarkably hearty and able to bounce back from severe injury.
A Boeing 727 flies over approach lights with a trail of black-smoke from the engines on April 9, 2018. aviation-images.com / Universal Images Group via Getty Images
With global air travel at a near standstill, the airline industry is looking to rewrite the rules it agreed to tackle global emissions. The Guardian reports that the airline is billing it as a matter of survival, while environmental activists are accusing the industry of trying to dodge their obligations.
A National Guard member works on election day at a polling location on April 7, 2020 in Madison, Wisconsin. Andy Manis / Getty Images.
ByJulia Baumel
The outbreak of COVID-19 across the U.S. has touched every facet of our society, and our democracy has been no exception.