This website uses cookies to ensure you get the best experience while browsing it. By clicking 'Got It' you're accepting these terms.
7 Sins of Greenwashing (And 5 Ways to Keep It Out of Your Life)
Apr. 23, 2014 11:59AM EST
How to make sure your "all natural" products are the real deal
From electric cars to reusable shopping bags, it's undeniable that "going green" is one of the fastest growing trends out there today. This is great news for the eco-friendly consumer, as companies are scrambling to offer greener versions of their products to meet demand.
Unfortunately, many companies have also noticed that it's much cheaper to claim to have environmental, health or safety standards than it is to actually live by them. When a company misleads its customers about the safety or environmental impact of its products or practices, it's called greenwashing.
Many people are aware of the high profile instances (BP after the oil spill, anyone?), but the practice isn't limited to corporate makeovers. Greenwashing occurs from national ad campaigns down to labels on the products you buy everyday.
In a 2010 study, TerraChoice investigated the claims of 4,744 "green" products carried in stores across the U.S. and Canada, finding that more than 95 percent of these products were guilty of at least one of what they call:
The Seven Sins of Greenwashing
1. Hidden Trade-Off: Labeling a product as environmentally friendly based on a small set of attributes (i.e., made of recycled content) when other attributes not addressed (i.e., energy use of manufacturing, gas emissions, etc.) might make a bigger impact on the eco-friendliness of a product as a whole.

2. No Proof: Making an environmental claim without providing easily accessible evidence on either the label or the product website (i.e., a light bulb is touted as energy efficient with no supporting data).

3. Vagueness: Using terms that are too broad or poorly defined to be properly understood (i.e., an "all-natural" cleaner may still contain harmful ingredients that are naturally occurring).

4. Irrelevance: Stating something that is technically true but not a distinguishing factor when looking for eco-friendly products (i.e., advertised as "CFC-Free"—but since CFCs are banned by law this is unremarkable).

5. Lesser of Two Evils: Claiming to be greener than other products in its category when the category as a whole may be environmentally unfriendly (i.e., an organic cigarette may be greener, but, you know, it's still a cigarette).

6. Fibbing: Advertising something that just isn't true (i.e., claims to be Energy Star Certified, but isn't).

7. Worshiping False Labels: Implying that a product has a third-party endorsement or certification that doesn't actually exist, often through the use of fake certification labels.
As the TerraChoice study highlights, greenwashing is rampant, which makes it difficult to know who to trust. To play it safe, make sure that your go-to sources for information and shopping are investigating the claims of each product they sell in their stores.
It takes a lot of work, but luckily there are a growing number of allies in the fight for honesty and transparency in marketing.
For instance, in 2010 the Federal Trade Commission established a guide to set the standard for environmental marketing and help define what terms like recyclable, compostable and non-toxic really mean.
There are also a growing number of eco-labels and certifications, such as USDA Certified Organic, Non-GMO Project Verified, Cruelty-Free, Vegan and Energy Star, which are certifications provided by dedicated organizations for products that meet their health, ingredient and environmental standards. These are often more credible than the labels provided by manufacturers, since they're given by an impartial third-party and often take into account the entirety of a product's manufacturing process.
While organizations can help put pressure on greenwashing practices, ultimately it's the consumer whose actions tell businesses that dishonesty won't be tolerated.
Here are five simple ways you can keep greenwashing out of your products and your home:
1. Tell a friend. If more people are aware of the problem, it's easier to combat.
2. Be on the look-out for the Seven Sins on your product labels. Play Name That Sin for practice.
3. Familiarize yourself with existing eco-labels so you'll be able to spot the phonies. (Not sure about a label? Verify it with this tool from Consumer Reports.)
4. Print out this fact sheet to carry in your wallet for on-the-go reference.
5. Shop with vendors who are dedicated to honesty in advertising.
Here's an infographic on greenwashing you might find helpful: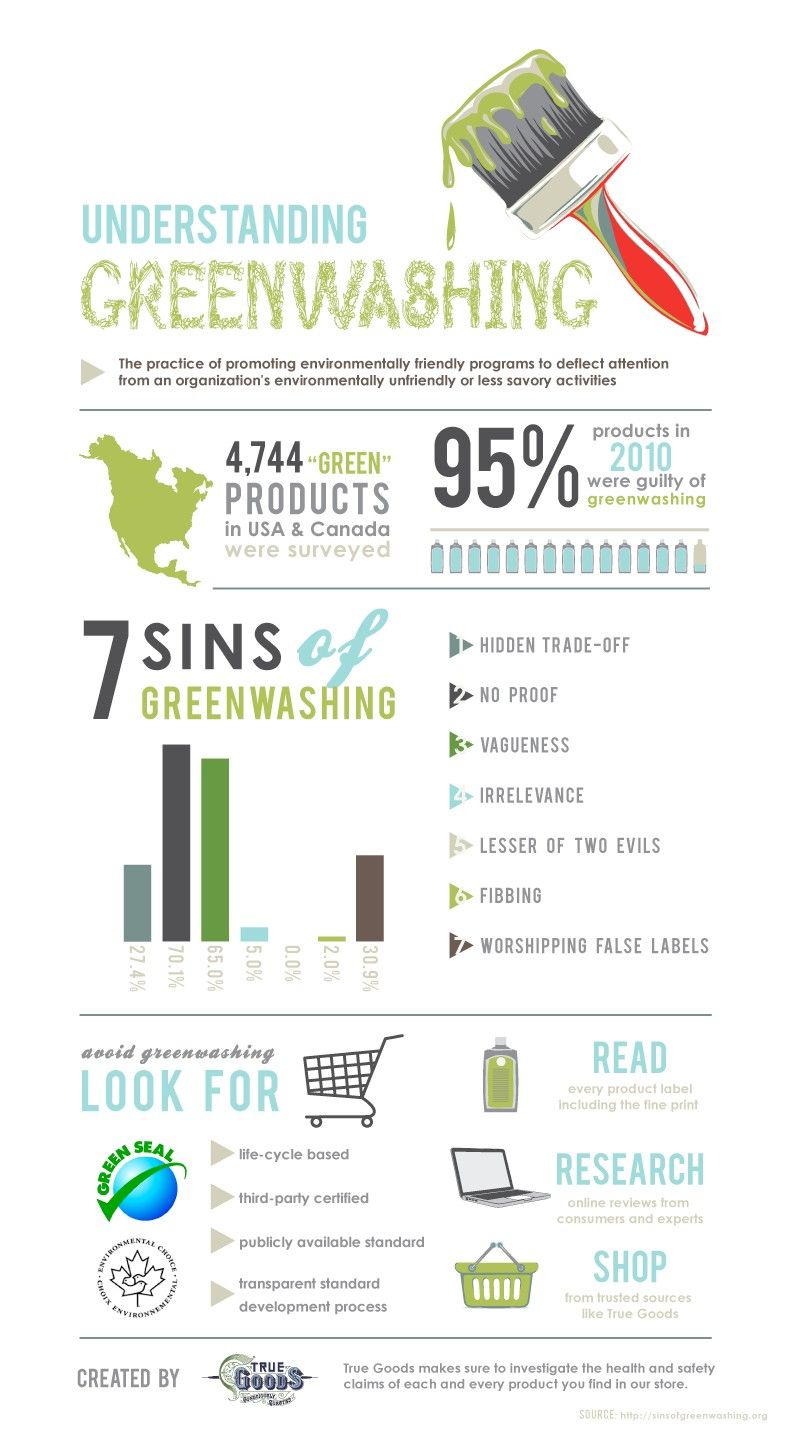 ——–
YOU MIGHT ALSO LIKE
Join the Earth Month Plastic-Free Challenge
Go Green With a DIY Waste Audit
How to Teach Kids About Sustainability
——–
EcoWatch Daily Newsletter
An African elephant is pictured on November 19, 2012, in Hwange National Park in Zimbabwe. MARTIN BUREAU / AFP / Getty Images
The unprecedented drought that has caused a water crisis in Zimbabwe has now claimed the life of at least 55 elephants since September, according to a wildlife spokesman, as CNN reported.
Maria Dornelas.
By John C. Cannon
Life is reshuffling itself at an unsettling clip across Earth's surface and in its oceans, a new study has found.
An Exxon station in Florida remains open despite losing its roof during Hurricane Katrina on Aug. 29, 2005. Florida Air National Guard photo by Master Sgt. Shaun Withers
The country's largest fossil fuel company goes on trial today to face charges that it lied to investors about the safety of its assets in the face of the climate crisis and potential legislation to fight it, as the AP reported.
El Niño's effect on Antarctica is seen in a tabular iceberg off of Thwaites ice shelf. Jeremy Harbeck / NASA
El Niños are getting stronger due to climate change, according to a new study in Monday's Proceedings of the National Academy of Sciences.
By Julia Ries
Antibiotic resistance has doubled in the last 20 years.
Additionally a new study found one patient developed resistance to a last resort antibiotic in a matter of weeks.
Health experts say antibiotic prescriptions should only be given when absolutely necessary in order to avoid growing resistance.
Over the past decade, antibiotic resistance has emerged as one of the greatest public health threats.
Pexels
There are hundreds of millions of acres of public land in the U.S., but not everyone has had the chance to hike in a national forest or picnic in a state park.
Workers attend to a rooftop solar panel project on May 14, 2017 in Wuhan, China. Kevin Frayer / Getty Images
By Simon Evans
Renewable sources of electricity are set for rapid growth over the next five years, which could see them match the output of the world's coal-fired power stations for the first time ever.