This website uses cookies to ensure you get the best experience while browsing it. By clicking 'Got It' you're accepting these terms.


The best of EcoWatch, right in your inbox. Sign up for our email newsletter!
Rising temperatures and more frequent wildfires in Alaskan national parks could affect caribou's habitat and winter food sources.
Zak Richter / NPS
By Stephen Nash
The Trump administration's decision to keep many U.S. national parks open during the current federal government shutdown, with few or no staff, spotlights how popular and how vulnerable these unique places are.
Some states, such as Utah and Arizona, have spent heavily to keep parks open rather than lose tourist revenues. Unfortunately, without rangers to enforce rules, some visitors have strewn garbage and vandalized scenic areas.
A trispot darter fish. USFWS
A small, bright fish found in Tennessee, Georgia and Alabama will start the new year on the Endangered Species list, the Center for Biological Diversity (CBD) reported Thursday.
The trispot darter fish was thought to be entirely extinct in Alabama for more than 50 years until it was discovered in 2008 in Little Canoe Creek. Now, 10 years later, the U.S. Fish and Wildlife Service (FWS) has finalized protections for the 1.5 inch fish, earmarking more than 180 miles of river as "critical habitat."
EcoWatch Daily Newsletter
Around this time of year, millions of people travel to Tennessee's Great Smoky Mountains to witness the brilliant reds, oranges and yellows of autumn foliage.
But for the 13 million Americans who have protanopia and protanomaly (red-green color blindness or red-blind), they might not be as impressed with the scenery.
Wildfires have devastated eastern Tennessee. The blaze has claimed 11 lives, forced about 14,000 people to evacuate and destroyed hundreds of buildings in Sevier County.
The wildfires started Sunday from the Great Smoky Mountains and was carried by nearly 90mph winds into the city of Gatlinburg by Monday. Making matters worse, the strong winds also knocked over power lines, sparking even more fires. National Park Service spokeswoman Dana Soehn told CNN that investigators believe the fire started on a mountain trail and was "human caused."
As of Wednesday night, the main fire has only been 10 percent contained, fire commanders told NBC News.
More than 17,000 acres in the Great Smoky Mountains have been scorched, causing untold damage to wildlife and other natural resources.

"The Great Smoky Mountains are one of the most biologically diverse places in the United States, partly due to the geologically ancient nature of the landscape, as well as the wet and humid forests covering their slopes and hollows," Bruce Stein, associate vice president for conservation science and climate adaptation at the National Wildlife Federation, said.

"While fire is a natural phenomenon in Appalachian forests, these extreme, drought-fueled fires are not," Stein continued. "Rather, they are a glimpse into what many southeastern forests and communities will experience as climate change continues to intensify."
Indeed, much of the southeastern U.S. has been inundated by wildfires in recent weeks. Record-breaking drought and unseasonably warm temperatures have fueled the region's devastating wildfires.
As the New York Times pointed out, there's a clear connection between the wildfires and an ever-warming planet:
"The fires spread through Tennessee as much of the South has been enduring a crippling drought, even though rainfall this week offered some relief. The United States Drought Monitor reported last week that 60 percent of Tennessee was in 'exceptional' or 'extreme' drought, the two most severe ratings.
"Wildfires, once a seasonal phenomenon, have become a consistent threat, partly because climate change has resulted in drier winters and warmer springs, which combine to pull moisture off the ground and into the air."
A study in Nature Communications revealed that from 1979 to 2013, wildfire season has lengthened and the global area affected by wildfire has doubled. CNBC also reported that we are entering an era of "super fires" due to climate change causing hotter and drier weather.
"Based on what we know and in which direction the climate is going, yes, we can expect more frequent super fires," Marko Princevac, a fire expert at the University of California at Riverside, told CNBC. "There is scientific consensus that climate change will lead to much more intense fires, more dry areas."
The Tennessee wildfires have crept to Pigeon Forge, the home of singer and actress Dolly Parton's Dollywood. While the theme park was not damaged, Parton released a statement saying that she was heartbroken about the fire damage and had been "praying for all the families affected."
On Sunday, the Sevier County native released a public service announcement with Smokey Bear to promote wildfire preparedness amidst troubling drought conditions.
"This extended drought has resulted in high wildfire danger," Parton said. "As dry as it is, please help fire fighters avoid wildfires."
Update: This piece has been updated to reflect the raising death toll from the Tennessee wildfires, from seven to 11.
By Andrew Morris
The relatively untapped Chattanooga shale field—which runs from southern Kentucky through central Tennessee—will soon see a long awaited incursion of major gas and oil companies such as CONSOL Energy, CNX Gas, GeoMet and Atlas Energy. Tennessee's General Assembly's Joint Committee on Government Operations passed a series of rules on fracking on May 22, set to go into effect June 18.
CONSOL Energy—which has gas leases on roughly 240,000 acres in the state–already is preparing to begin horizontal drilling in Anderson County, which borders Kentucky. Soon workers will shoot gallons of water and nitrogen into the shale rock in order to release and collect the natural gas within. Some of the most glaring issues regard the notably high bar on when the rules actually apply—which most operations will not meet due to low demand and the state's geography.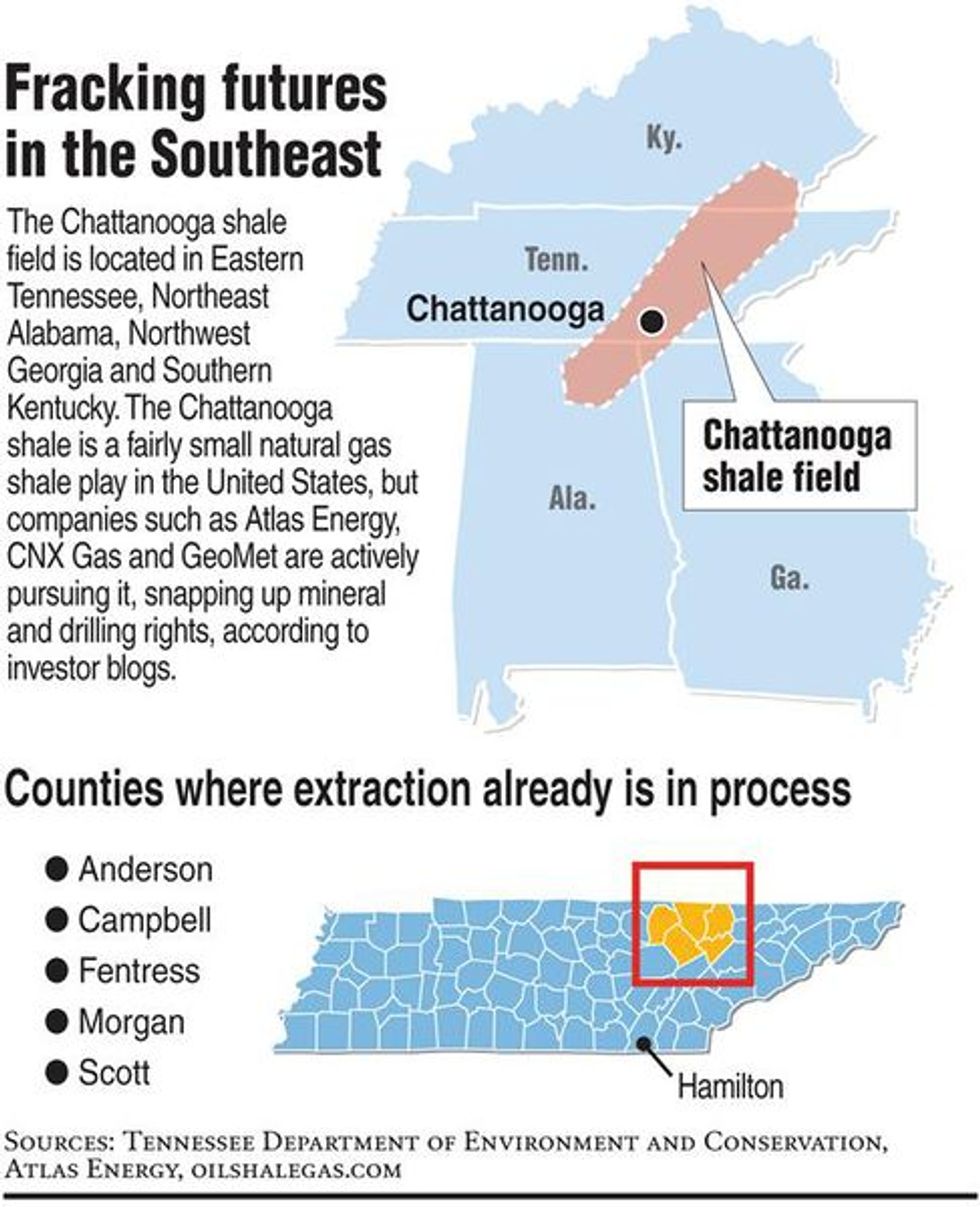 Unlike the Marcellus shale field in Pennsylvania, Tennessee's Chattanooga field is significantly shallower, which warrants less water to be used. Part of the controversy with the new rules is that public notice only applies when operations exceed 200,000 gallons of water, which is unlikely in the case of Chattanooga as significantly less water is necessary. In addition, general notice of the operations themselves is only required for those living half a mile from the site, which would exclude many.
In September local environmental groups pushed for a ban on fracking operations that would use water exceeding 200,000 gallons. The board dismissed the ban but kept 200,000 gallons as a marker for public notification. The board, at that time called the Oil and Gas Board—now merged with the Water Quality Control Board, forming the Board of Water Quality, Oil and Gas—ignored the cries of the groups for tighter regulations.
Serious questions have arisen about the effectiveness of the new set of rules in assuring proper safety of the local population and environment. Groups such as the Tennessee Clean Water Network and the Sierra Club's Tennessee Chapter were less than enthused. Concerns were raised about the safety of local groundwater, as fracking produces significant quantities of wastewater—also known as flowback—which contains salt, oil, grease and occasionally radioactive material depending on the location and method of fracking.
"Wastewater disposal is a significant issue in the Northeast where fracking occurs," contends Meg Lockhart of the Tennessee Department of Environment and Conservation. "The amounts of liquid we're dealing with in Tennessee are much, much smaller, if liquid is used at all."
"But, if water in any significant quantity is used, some of it would come back up the well," said Renee Hoyos, executive director of the Tennessee Clean Water Network.
It is a bit hyperbolic at this stage to assume that fracking operations in Tennessee will reach the level of Ohio or Pennsylvania, but if gas prices resume an increase in the near future we can expect to see more and more companies expanding into previously ignored areas of the country.
Visit EcoWatch's FRACKING page for more related news on this topic.
——–
Sign the petition today, telling President Obama to enact an immediate fracking moratorium:

The Tennessee Scenic Vistas Protection Act, which could make Tennessee the first state to put a ban on high-elevation surface mining techniques such as mountaintop removal, faces an important hurdle this Wednesday, Feb. 29, in the Senate Environment Committee. We expect the vote to be very close, so it's all hands on deck in moving these legislators to do the right thing.
Below is a list of the senators who sit on the Environment Committee. Call them and let them know you support the Scenic Vistas Protection Act, and want to vote "YES." Learn more about our work to pass the Scenic Vistas bill by clicking here.
Senate Environment Committee
Committee Officers:
Sen. Steve Southerland, chair: Phone (615) 741-3851
Sen. Jack Johnson, vice-chair: Phone (615) 741-2495
Sen. Jim Summerville, secretary: Phone (615) 741-4499
Members:
Sen. Mike Bell: Phone (615) 741-1946
Sen. Mike Faulk: Phone (615) 741-2061
Sen. Kerry Roberts: Phone (615) 741-1999
Sen. Roy Herron: Phone (615) 741-4576
Sen. Beverly Marrero: Phone (615) 741-9128
Sen. Eric Stewart: Phone (615) 741-6694
In addition, call Gov. Bill Haslam at 615-741-2001. He spoke out against mountaintop removal during the campaign. Ask him to put action to those words by showing the leadership to guide the Scenic Vistas bill through the legislature.
The following television ad is running on Fox News in many of their districts.
For more information, click here.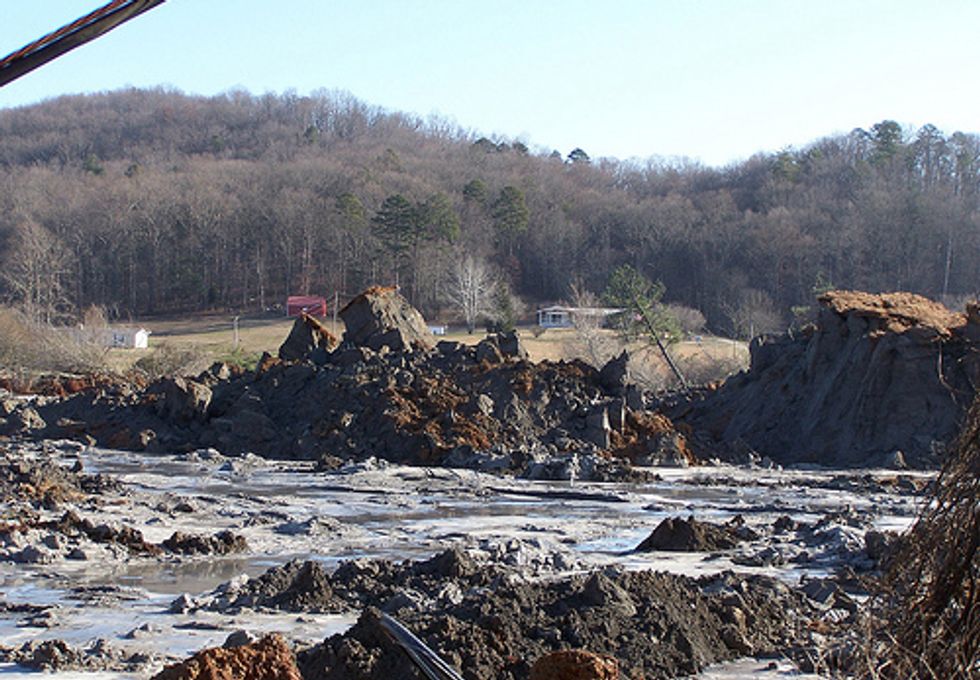 Environmental and public health groups announced their intent to sue the U.S. Environmental Protection Agency (EPA) in federal court Jan. 18 to force the release of long awaited public health safeguards against toxic coal ash. The EPA has delayed the first-ever federal protections for coal ash for nearly two years despite more evidence of leaking ponds, poisoned groundwater supplies and threats to public health.
Earthjustice, on behalf of Appalachian Voices (N.C.), Chesapeake Climate Action Network (Md.), Environmental Integrity Project, French Broad Riverkeeper (N.C.), Kentuckians For The Commonwealth (Ky.), Moapa band of Paiutes (Nev.), Montana Environmental Information Center (Mont.), Physicians for Social Responsibility, Prairie Rivers Network (Ill.), Sierra Club and Southern Alliance for Clean Energy (Tenn.), sent the EPA a notice of intent to sue the agency under the Resource Conservation and Recovery Act (RCRA). The law requires the EPA to ensure that safeguards are regularly updated to address threats posed by wastes. However, the EPA has never undertaken any action to ensure safeguards address the known threats posed by coal ash, a toxic mix of arsenic, lead, hexavalent chromium, mercury, selenium, cadmium and other dangerous pollutants that result from burning coal at coal-fired power plants.
A copy of the Notice of Intent to Sue letter sent to the EPA is available here.
Following a spill of more than a billion gallons of coal ash at a disposal pond in Harriman, Tenn., in December 2008, EPA Administrator Lisa Jackson announced in 2009 plans to set federal coal ash regulations by year's end. In May 2010, the EPA proposed a hybrid regulation to classify coal ash either as hazardous or non-hazardous waste. After eight public hearings across the country and more than 450,000 public comments, the agency decided to delay finalizing the rule amid intense pressure from the coal and power industries.
The following video shows the devastating results of the Harriman, Tennessee coal ash spill:
Despite numerous studies showing the inadequacy of current federal coal ash safeguards to protect public health and the environment as well as documented evidence by the EPA and environmental groups showing coal ash poisoned aquifers and surface waters at 150 sites in 36 states, the EPA continues to fail to adopt federal safeguards. The Jan. 18 lawsuit would force the EPA to set deadlines for review and revision of relevant solid and hazardous waste regulations to address coal ash, as well as the much needed and overdue changes to the test that determines whether a waste is hazardous under RCRA.
"Politics and pressure from corporate lobbyists are delaying much needed health protections from coal ash," said Earthjustice attorney Lisa Evans. "The law states that the EPA should protect citizens who are exposed to cancer-causing chemicals in their drinking water from coal ash. As we clean up the smokestacks of power plants, we can't just shift the pollution from air to water and think the problem is solved. The EPA must set strong, federally enforceable safeguards against this toxic menace."
"It's well past time for the EPA to do something about this hazardous waste," said Anne Hedges, program director of the Montana Environmental Information Center. "Our biggest coal ash ponds in Montana are leaking and have been leaking for decades."
"For far too long the Tennessee Valley Authority has been allowed to ignore the dangers of coal ash, resulting in the 2008 Kingston disaster, one of the worst environmental catastrophes of our time," said Josh Galperin, policy analyst and research attorney for Southern Alliance for Clean Energy. "Despite the lessons of Kingston and an explicit congressional mandate, coal ash continues to be unregulated by the EPA. We are taking action today to drive EPA to follow-through on its legal duty to protect Americans from this toxic waste."
"Data on groundwater at coal ash disposal sites is now available, and the results in Illinois and many other states are grim," said Traci Barkley, water resources scientist with Prairie Rivers Network. "State regulators found high levels of coal ash pollutants in groundwater at all 22 sites in our state. Seeing that our state's rules have not protected our residents and our clean water, we need to know that the EPA will get the job done."
"Right now our organization is involved in several lawsuits against old, leaking coal ash landfills in Maryland," said Diana Dascalu-Joffe, staff attorney with Chesapeake Climate Action Network. "Dangerous coal ash is leaching into waterways that hurt the Chesapeake Bay and could be threatening the health of Maryland citizens. The EPA has a responsibility to issue a uniform, strong rule to address coal ash so groups like ours don't have to fight to clean them up, facility by facility, at the state level."
"With a state legislature bent on weakening the ability to protect public health, North Carolinians are calling on the EPA to demonstrate political leadership by providing strong and consistent federal guidelines for coal ash disposal and storage," said Sandra Diaz, North Carolina campaign coordinator for Appalachian Voices.
"With many coal ash dumps located in populated areas, the public depends on the EPA to do everything possible to protect our health and keep our communities safe," said Mary Love, member of Kentuckians For The Commonwealth. "We need strong standards so we can not only clean up communities that have already been poisoned but make sure these toxic chemicals never again leak into our homes and communities."
"The EPA promised to set standards for coal ash disposal sites more than a decade ago," said Eric Schaeffer, executive director at Environmental Integrity Project. "Are we going to have to wait for another disaster before EPA finally keeps that promise?"
"The toxic threat that coal ash poses to human health is severe," said Dr. Maureen McCue, MD, PhD, of Physicians for Social Responsibility. "Coal ash contains contaminants that can cause cancer and can damage the intestines, liver, kidney, lungs, heart, peripheral nervous system and brain. It's unthinkable that the EPA allows this toxic stew to get into drinking water. It doesn't get much dirtier than this."
"Our children are losing more than their health because of the power plants; they're losing their culture, too," said William Anderson, chairman of the Moapa Band of Paiutes in southeastern Nevada. "We used to hunt ducks and geese on our land—but no longer. The birds land in the coal wastewater ponds. We used to harvest medicinal plants, but not anymore. The plants have been contaminated over the years by the plant's coal ash dust, soot and other pollutants."
"Two of the nation's 49 high hazard coal ash dams sit on the banks of the French Broad River. These ponds pose a looming threat to the health and safety of the surrounding community, as well as the French Broad River," said Hartwell Carson, French Broad Riverkeeper. "The dams also hold back toxic coal ash that pollutes the groundwater and surface water every day. It is time for the EPA to act to protect the French Broad River and the hundreds of similarly impacted rivers and communities around the country."
"The EPA must act and they must act soon," said Bruce Nilles, senior campaign director for the Sierra Club's Beyond Coal Campaign. "Millions of tons of toxic waste from coal plants—coal ash containing arsenic, lead, mercury and other dangerous pollution—are dumped across the country each year, often without basic safety protections. Even though the EPA has identified more than four dozen highly dangerous coal ash sites around the country they have still failed to safeguard the health and well being of those living near the dumping grounds. We urge the EPA to take definitive action to protect American families and communities."
For more information, click here.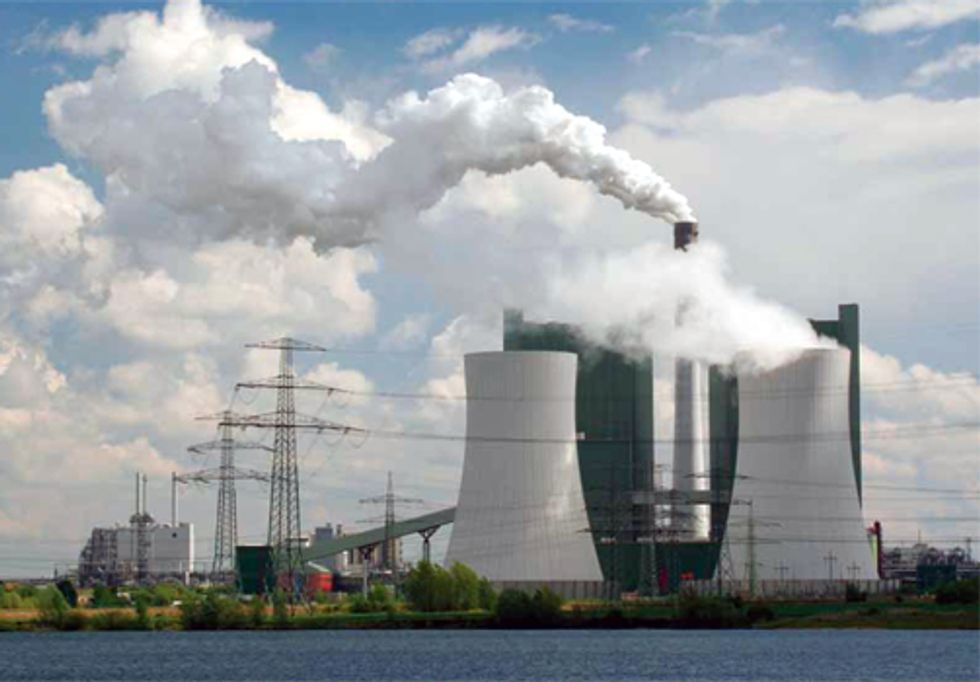 Power plants are stressing freshwater resources around the country, according to a new report by the Energy and Water in a Warming World Initiative, a three-year research collaboration between the Union of Concerned Scientists (UCS) and a team of more than a dozen scientists. The report, Freshwater Use by U.S. Power Plants: Electricity's Thirst for a Precious Resource, is the first systematic assessment of how power-plant cooling affects freshwater resources across the U.S. and of the quality of the data available on power plant water usage.
"Our research found that power plants can be very important in terms of the pressure put on the freshwater resources we depend on—rivers, streams, lakes and aquifers—even in unexpected places," said lead researcher Kristen Averyt, who is deputy director of the Western Water Assessment at the University of Colorado Boulder.
The UCS-organized analysis looked at different aspects of the implications of power plant water use related to the supply and demand of freshwater and to water quality issues, particularly water temperature.
"Some of the watersheds our analysis identified—in places like Texas—should come as no surprise," said Averyt. "But unlike in arid regions, where many power plants have already minimized their water use, we found indicators of potential problems in seemingly water-rich regions like the Southeast. Here our analysis uncovered some surprises, such as the Seneca River in South Carolina and the Upper Dan in North Carolina.
"It's important for the public to know that because many power plants depend so heavily on water, there's a real risk that they'll have to cut back electricity production at times when they can't get enough cooling water," noted Averyt. "Just ask power companies in Texas." The record-breaking 2011 Texas drought has put so much pressure on the water supply that operators have warned that if it continues into next year, power cuts on the scale of thousands of megawatts are possible.
To gauge water-supply stress, the analysis examined the balance of local water supply and demand in each major watershed or "sub-basin" in the U.S., then factored in the amount of water that power plants are using. The analysis then focused on areas where power plant demands were the largest contributor to water body stress based on the methodology.
Because of the need for good information to perform these types of analyses, the study also assessed the U.S. Department of Energy's reporting system used to track power plant water usage. The analysis looked at what power plants reported as their water usage in 2008—the most recent data then available.
"Uncovering power plants' water use was not an easy task because the data reported by plant operators and compiled by the U.S. Energy Information Administration—the most comprehensive set of information on power plant water use and cooling technologies—was full of holes and errors," said John Rogers, the report's co-author and senior analyst at UCS. "We had to piece together a lot of information to get a better handle on how much water power plants were really using.
"If we had used the Department of Energy data, we would have gotten a different picture of water stress from what we see in our results," added Rogers. "Where our analysis found water-supply stress to be driven mainly by power plants, several did not show up when we used the available data from the Energy Department."
The report also showed that power plants are stressing water bodies by discharging water at temperatures harmful to fish and other wildlife. In 2008, 350 power plants across the country reported discharging water at temperatures of more than 90 degrees Fahrenheit and some at temperatures more than 110 degrees, according to the report.
"It's unsafe for people to sit in a Jacuzzi at 105 degrees, let alone live in it," said Rob Jackson, director of the Center on Global Environmental Change at the Nicholas School of the Environment at Duke University and a member of the report's scientific advisory committee. "Fish and other species can't climb out of the hot tub."
In recent years, a number of power plants have had to cut back power production because they were unable to stay within water temperature discharge limits, according to the report. "If we start saving water today, we'll avoid blackouts and water shortages tomorrow," said Jackson.
Without water-smart energy choices, energy-water collisions may worsen as the population and the corresponding demand for energy and freshwater supplies grows, and as the climate changes. Water-smart technologies include wind and solar photovoltaics, which use essentially no water, and produce no carbon emissions, according to the report.
"Every time we build a power plant, we're making decisions that last for decades," said Peter Frumhoff, director of science and policy at UCS and head of the scientific advisory committee for the report. "By investing in power plants that are efficient, use low-water cooling and produce little or no carbon emissions, utilities and plant owners can help protect the water resources our kids and grandkids will depend on, and public utility commissions can encourage or require them to do so, especially where research indicates that power plants place water resources at risk."
The leading national experts on this report and its Scientific Advisory Committee also included scientists from the National Renewable Energy Laboratory, Vanderbilt University, the University of Texas, Tufts University and the University of Arizona.
For more information, click here.
—————
The Union of Concerned Scientists is the leading U.S. science-based nonprofit organization working for a healthy environment and a safer world. Founded in 1969, UCS is headquartered in Cambridge, Massachusetts, and also has offices in Berkeley, Chicago and Washington, D.C.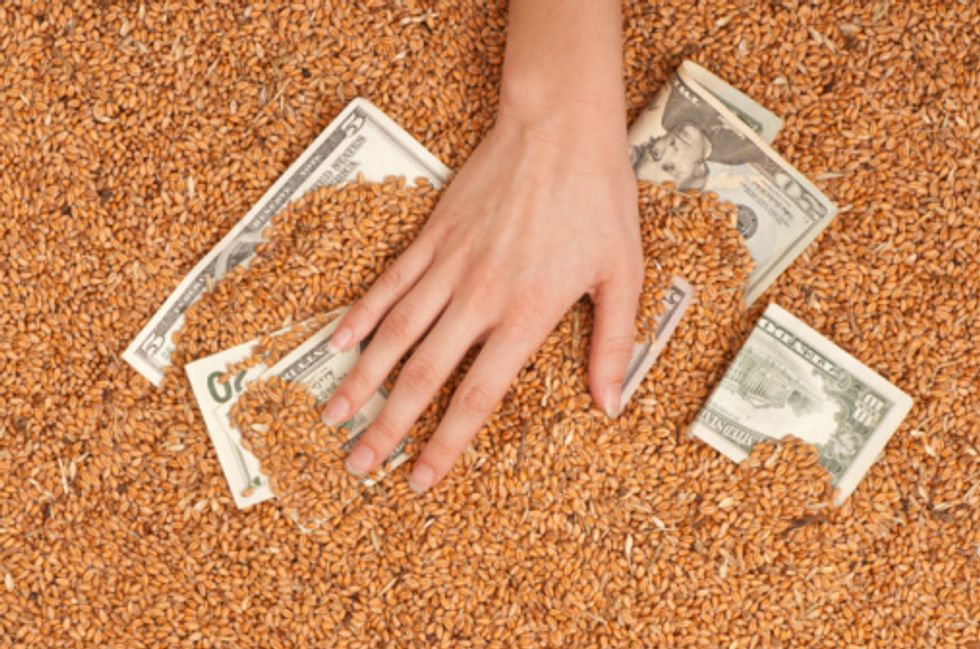 The Environmental Working Group (EWG) released a Direct Payment Database Nov. 10, giving taxpayers a look inside the complex agriculture partnerships and corporations that got the lion's share of $4.7 billion in federal direct payments to farmers in 2009. EWG found that the 10 agribusinesses receiving the biggest payouts raked in a total of $5.4 million. The biggest payments went to large agribusinesses in the southern states of Arkansas, Louisiana, Georgia, Tennessee and Mississippi.
The database also provides the names of the individuals who ultimately cashed the subsidy checks, whose identities have been hidden by these corporate structures and not publicly disclosed by the U.S. Department of Agriculture (USDA) since the 2008 farm bill.
Direct payments, promoted as a safety net for working farm and ranch families, are in reality annual cash giveaways to the most profitable businesses in farm country. The average crop subsidy payment to the top ten recipients in 2009 was $542,172 apiece—about 10 times more than the average American earns annually. A total of 160 individuals ultimately collected payments through these 10 farm enterprises.
"This new data underscores why direct payments should be eliminated. The savings could help reduce the deficit and bolster conservation and nutrition programs," said Craig Cox, EWG's vice president for Agriculture and Natural Resources. "It is remarkable that some in the subsidy lobby are still trying to cling onto this wasteful and unnecessary program."
The recipient of the single biggest direct payment was Ratio Farms in Helena, Ark. EWG's database identifies the 26 individuals who cashed in on the operation's $874,666 in subsidy payments. Each one received about $33,600 in 2009—barely $6,000 below USDA's $40,000 limit on how much each person is eligible to receive annually.
In its 2010 EWG farm subsidy database update released earlier this year, EWG was unable to identify individual recipients because the USDA now only provides this information on a program by program basis, making it easier for many of the individual beneficiaries to shield their receipt of tax dollars behind paper farms and corporate entity shell games. EWG obtained the additional data under the federal Freedom of Information Act and is still waiting for the 2010 records.
Since the early 90s, EWG has worked to transform USDA's current system of direct payments into a program that would actually target assistance to working farm and ranch families that need help to stay on the land, but until now the Big Ag subsidy lobby has blocked all attempts at meaningful reform. Now it is time to simply end direct payments, which are finally in the budget crosshairs as Congress works to reduce the federal deficit. Reformers, however, are still facing a full-court press from entrenched corporate agriculture interests, which want to replace the handouts with an expensive new entitlement to guarantee the business income of the very same highly profitable farm businesses that have long profited from direct payments.
EWG thinks that is the wrong way to go. Instead, it recommends:
• Eliminating direct payments, counter-cyclical payments, loan deficiency payments, ACRE (Average Crop Revenue Election) and SURE (Supplemental Revenue Assistance Payments).
• Providing every farmer with a free crop insurance policy that covers yield losses of more than 30 percent and eliminating federal premium and other subsidies for revenue-based or other crop insurance products.
• Having the federal government take bids from insurance companies to service these policies, eliminating insurers' recent windfall profits and encouraging the private sector to develop and offer innovative options for farmers to increase insurance coverage—but not at taxpayers' expense.
• Requiring producers to meet a basic standard of conservation practices in order to be eligible for publicly financed crop insurance.
• Ensuring full transparency by requiring USDA to disclose who is getting the free policies, the cost to taxpayers and how much farmers receive in insurance payouts.
For more information, click here.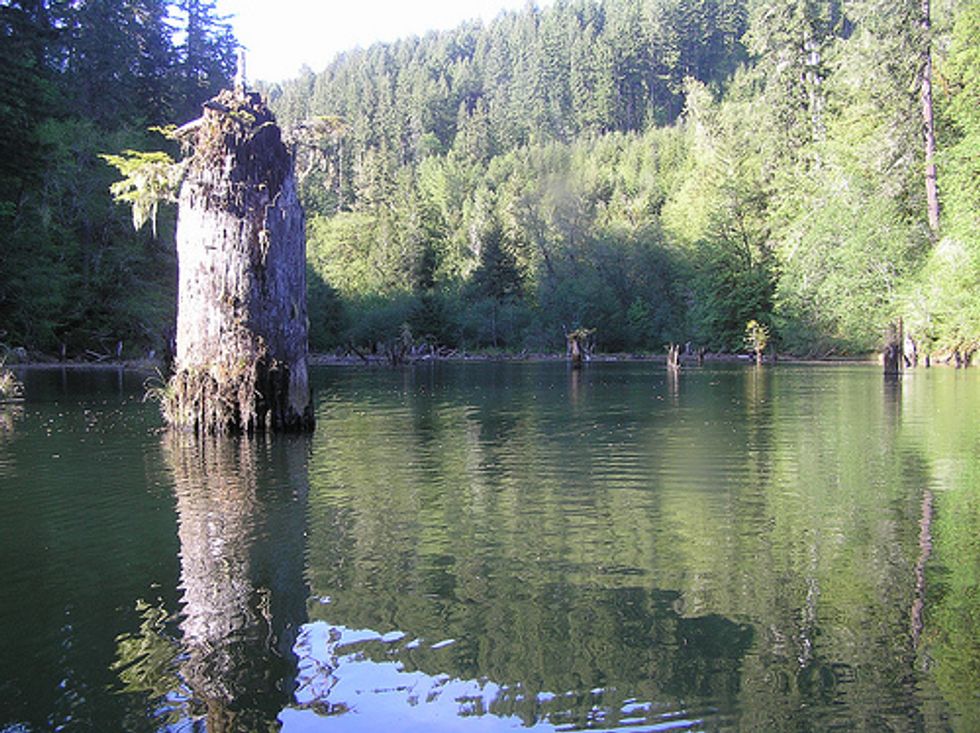 The Pew Campaign for America's Wilderness issued the following statement praising the approval of five bills that would protect more than 125,000 acres of wilderness in five states by the Senate Energy and Natural Resources Committee. The measures now go to the full U.S. Senate for a vote.
"This legislation will safeguard snow capped peaks in Washington, key habitat for brook trout in Tennessee, one of Oregon's most secluded landscapes, a popular recreation area on the shores of Lake Michigan, and one of the world's great migration flyways in New Mexico," said Director Mike Matz. "These are special places treasured by Americans for hiking, fishing, camping and watching wildlife."
"Since we lose 6,000 acres of open space to development every day, it is heartening that efforts continue to preserve land intact as a legacy for future generations. These bills, sponsored by both Democrats and Republicans, were crafted with input and support from local communities. We urge the full Senate to take up and pass these measures without delay."
The bills voted on were:
For more information, click here.