This website uses cookies to ensure you get the best experience while browsing it. By clicking 'Got It' you're accepting these terms.


The best of EcoWatch, right in your inbox. Sign up for our email newsletter!
Coconut oil is widely marketed as a "superfood."
"Dr. Hyman, you often talk about superfoods and their benefits," writes this week's house call. "Can you share some of your favorites?"
I realize "superfood" carries a certain hype, but some foods do earn that status. Food is medicine. And some foods are more powerful medicines than others! Food is the most powerful tool to create optimal health. Food is the first and most powerful drug in my arsenal to treat patients.
I've discussed numerous superfoods and you how to get them into your diet in The 10- Day Detox, Eat Fat, Get Thin and my other programs.
Here, I share five superfoods I frequently enjoy that you should also incorporate into your eating plan.
1. Seeds
My three favorite seeds are chia, hemp and flaxseeds. You can add all three super seeds to smoothies, puddings or on top of coconut yogurt with berries. Let's look at their benefits.
Chia seeds provide an excellent source of anti-inflammatory omega-3 fatty acids that have numerous benefits, including glowing skin and mental clarity. Just one ounce of chia seeds packs a whopping 10 grams of fiber. Its insoluble fiber acts as a prebiotic that feeds friendly gut bacteria and ferments into short-chain fatty acids to support gut health. Chia seeds also contain more protein than most plant foods. And they contain more calcium than milk.
Hemp seeds provide healthy omega-3 fats, protein, B vitamins, magnesium, zinc and iron.
Flaxseeds are another great source of omega-3 fats, dietary fiber and essential vitamins and minerals. Flaxseeds have powerful, anti-cancer, hormone-balancing phytonutrients called lignans. Freshly ground flaxseed sprinkled into a smoothie is an excellent way to ease constipation.
2. MCT Oil
Medium-chain triglycerides or MCTs are a special type of fatty acid derived from coconut oil. You can get them in coconut oil or as a stand-alone oil. I've written about how studies show MCT oil can help with weight loss, cognitive ability and much more. This super fuel becomes an instant-energy source because MCTs get rapidly burned and metabolized very efficiently, absorbing directly into the gut and then liver, so MCTs don't get stored as fat. You can add MCT oil to smoothies, coffee or veggies. MCTs also provide powerful antioxidant support to strengthen the immune system. Animal studies show MCTs also benefit liver and gut function.
3. Glucomannan
Fiber is vital for so many reasons, including feeding friendly gut bacteria. Studies show fiber can prevent obesity, reduce risk for chronic diseases and decrease aging. That's because fiber slows the rate food enters your bloodstream and increases the speed of food exiting through the digestive tract. Dietary fiber also helps balance blood sugar and cholesterol levels, aids in quick release of toxins from your gutand curbs your appetite. Glucomannan is a soluble, fermentable and highly viscous dietary fiber from the root of the elephant yam, also known as konjac. The konjac tuber has been used for centuries as an herbal remedy and to make traditional foods like konjac jelly, tofu and noodles. You can find glucomannan as a supplement called PGX. It mixes easily into water for an easy, effective fiber source.
4. Mushrooms
While visiting China, I discovered folks there knew more about food's medicinal properties than I did even after many years of research. Medicinal foods are a part of their everyday diet, and mushrooms play a huge role within Chinese medicine. Reishi, shiitake and cordyceps contain powerful healing properties that boost your immune system and support healthy hormone production. Mushrooms are anti-viral and anti-inflammatory to support healthy liver function, optimized cholesterol levels and anti-cancer benefits. I use them often: I make a reishi tea, cook with shiitake mushrooms and make mushroom soup.
5. Plant Foods
The vast, colorful array of vegetables represents more than 25,000 beneficial chemicals. Research shows the synergistic balance of these chemicals provides numerous health benefits. I recommend adiverse diet with numerous colorful whole foods. Our hunter-gatherer ancestors ate well more than 800 varieties of plant foods. Today, we don't consume anywhere near this amount. Make that extra effort to include as many varieties of these colorful superfoods as you can. Eat from the rainbow: Every fruit and vegetable color represents a different family of healing compounds. Red foods (like tomatoes) contain the carotenoid lycopene, which helps eliminate free radicals that damage our genes. Green foods contain the chemicals sulforaphane and isocyanate, as well as indoles that inhibit carcinogens to protect against cancer. Simply put: The more color you incorporate, the more health benefits you'll receive.
The tremendous power at the end of our forks becomes far more powerful than anything we find in a pill bottle. Functional Medicine ultimately rests on one central principle: Taking out the bad and putting in the good.
EcoWatch Daily Newsletter
By JJ Virgin
That hyperbolic headline stared me front and center recently while I patiently waited in my grocery line. Reluctantly, I grabbed the weekly and thumbed straight to the article claiming a specific "superfood" could make you lean and energetic while upping your libido.
Uh, huh. I rolled my eyes, winced and put the magazine back.
Every year or so, one of these supposedly miraculous foods makes headlines. Often with little or no science to back their claims, writers create frenzied buzz that ultimately benefits magazine sales rather than your health.
Shutterstock
Like a has-been former A-list actor, these foods inevitably fall out of favor because they're arcane or otherwise inaccessible, don't live up to their hype or people just get tired of hearing about them.

That got me thinking: What super-hyped foods actually earn their permanent stay at the table? I came up with these seven. They aren't miracles, but incorporating them into your meals yields impressive gains (or losses, if you will).
1. Lentils
Shutterstock
Studies show a high-fiber diet creates lower overall body weight. Lentils become tops for fiber as well as protein and nutrients.

"A cup of lentils contains a nice amount of protein—about 18 grams," wrote Dr. Jonny Bowden in The 150 Healthiest Foods on Earth. "But best of all, that same cup contains a whopping 16 grams of fiber. Lentils are also a terrific source of folate and a good source of at least seven minerals."
2. Coconut
Shutterstock
Coconut contains a special type of saturated fat called medium-chain triglycerides (MCTs), which your body prefers to burn than store. Studies show compared with other oils, MCTs can help you burn more fat. Coconut oil provides a delicate flavor with medium-heat cooking, while unsweetened coconut milk provides healthy fat for protein shakes.

3. Blueberries
Shutterstock
Fresh or frozen, organic blueberries pack quite a nutrient punch and satisfy your sweet tooth. Nature packed these guys with vitamins, minerals, fiber, antioxidants and all kinds of other goodness that cumulatively spike your health while lowering their sugar impact. In fact, studies show blueberries help normalize blood sugar levels and reduce your risk for diabetes. They're also high in vitamin C, an antioxidant that improves insulin sensitivity and insulin's ability to get glucose out of your bloodstream.

4. Green tea
Shutterstock
If you run into me late morning or early afternoon, chances are I'm sipping iced or hot green tea. Antioxidants and lower caffeine amounts are two reasons green tea becomes my drink staple. Studies show this popular beverage's fat-burning benefits become more pronounced when you combine green tea with exercise. Green tea contains L-theanine, a calming amino acid that dials down the chronic stress that makes you fat and miserable.

5. Coffee
Shutterstock
One study found coffee contains higher antioxidants than even green tea. (You should drink both). Those are among the reasons studies find coffee drinkers live longer. Quality and quantity become key. Stick with a cup or two of Bulletproof Upgraded (my favorite because it's mycotoxin-free), be aware about caffeine's jittery and other effects and don't use a gargantuan cup of dark roast to compensate for crappy sleep or chronic stress.
6. Swiss chard
Shutterstock
Move over, kale; you've got a rock star leafy-green contender.
"When I first looked up the lab analysis of the nutritional content of Swiss chard, I had to go back and check twice to be sure there wasn't a mistake," writes Bowden. "The amount of nutrition in this baby is so spectacular I thought it was a misprint; but no, it's absolutely true. Swiss chard is an excellent example of a nutritional powerhouse that delivers the goods for almost no calories." Among its gazillion benefits, studies show Swiss chard can help fight cancer.
7. Avocado
Shutterstock
Whether you slice it onto a salad, eat it as a mini-meal or make guacamole with kale chips, avocado becomes a super-fruit (yes, fruit) packed with heart-healthy monounsaturated fat. The National Health and Nutrition Examination Survey (NHANES) found avocado "improved overall diet quality, nutrient intake and reduced risk of metabolic syndrome."

Bowden points out avocados also contain 11 to 17 grams of fiber as well as nutrients like potassium, folate, vitamin A and carotenoids like beta-carotene and beta-cryptoxanthin.
For quinoa fanatics tired of eating quinoa burgers, quinoa pasta and quinoa porridge, fonio may be the answer. It's been called the grain you've never heard of and yes—it may even knock quinoa out of its throne.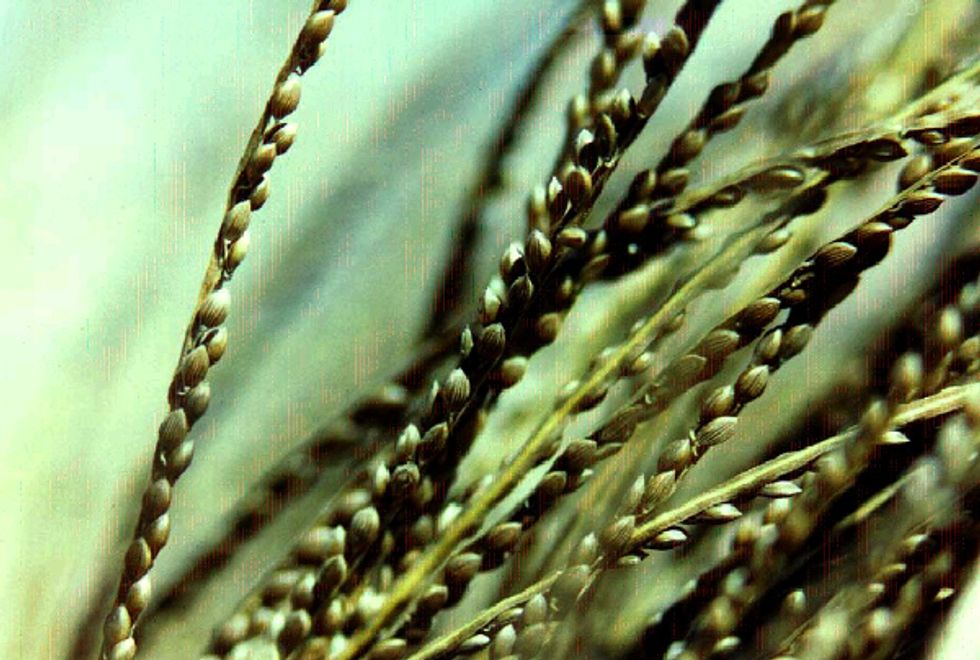 Fonio grains. Credit: fonio-bio.com
Fonio, an ancient West African cereal, closely resembles a type of millet. It's rich in amino acids like methionine, cysteine and leucine and because it's low in sugar it's popular among diabetics (some studies show it's an excellent grain for treating diabetes). It's also high in iron and contains no gluten. 
New York chef Pierre Thiam is hoping with a few marketing adjustments, fonio will be as popular as quinoa. Thiam was recently profiled in The Guardian for his efforts to launch fonio into American cooking. In 2009 he published Yolele! Recipes from the Heart of Senegal, and in 2011 he launched the AfroEats festival to celebrate Senegal's rich food culture. He hopes he can popularize Senegalese cuisine the way Mario Batali did for Italian food or Bobby Flay did for Mexican and Southwest cuisine. West Africans eat fonio for breakfast as porridge, or mix it in with vegetables like we do with couscous.
While some farmers are trying to grow quinoa in the U.S., fonio crops in the U.S. are practically non-existent. Fonio is primarily grown in West African countries like Mali, Guinea, Burkina Faso and Senegal. It's a desert grass that can resist high heat and desert storms and can be cultivated in poor soils, making it a great crop to fight hunger in drought-ridden nations. It requires no pesticides, making it organic as well.
Still there are some who worry a surge in fonio's popularity could cause problems. In "The Dark Truth Behind The Popular Superfood, Quinoa" Jill Richardson writes that quinoa's popularity "spawned a growing source of controversy, following reports that high global quinoa prices put the crop out of reach for the people who grow it." Tanya Kerrsen, a Bolivia-based researcher for Food First, told Richardson, "… whichever way you press the lever (buy more/buy less) there are bound to be negative consequences, particularly for poor farmers in the Global South."
It's possible fonio could have a similar problem. But Thiam has already begun the process of importing fonio for mainstream markets by the end of this year, and says his business is fair trade in the sense that "They trust me and I trust them."
While Thiam works on bringing fonio to a mainstream consumer base, today's customers will still need to visit a specialty store specializing in West African foods or order fonio online.
Although some varieties can grow in a short growing cycle (70–85 days) the harvesting is labor intensive and can take hours to process by hand, with women typically carrying the brunt of de-husking fonio. One gram of fonio contains roughly 2,000 grains. Two hours of work results in roughly 5 pounds of fonio.
Because the small grain takes hours to harvest by hand, fonio fell out of favor with African locals for years. Many in the city would instead eat rice or wheat. Then engineer Sanoussi Diakite invented a de-husking machine in the 1990s. His invention could de-husk 11 pounds of fonio in eight minutes. In 2013, he was awarded the African Innovation Prize for his service. Diakite's machine has provided jobs to the local economy in terms of making the machine but also in processing fonio, where in some cases now "demand far outstrips supply."
Regardless of fonio's growth in the natural foods aisle, its potential as a driver of local economies and a crop that can feed hunger-stricken countries is paramount. 
The Environmental Development Action in the Third World is attempting to expand fonio in Sub-Saharan Africa. Meanwhile, the U.S. African Development Foundation awarded a $190,000 grant to Koba Club, a group of female fonio producers who are "well-positioned to become large-scale agro-processors of pre-cooked fonio in Senegal's economy."
Other FONIO initiatives can be found with UCODAL and CIRAD.
You Might Also Like
10 Indigenous Foods You Should ​Be Eating
10 Best Ingredients to Include in Your Superfood Smoothies