This website uses cookies to ensure you get the best experience while browsing it. By clicking 'Got It' you're accepting these terms.
Move Over, Quinoa, a New Superfood Grain Is in Town
Aug. 11, 2014 01:04PM EST
Food
For quinoa fanatics tired of eating quinoa burgers, quinoa pasta and quinoa porridge, fonio may be the answer. It's been called the grain you've never heard of and yes—it may even knock quinoa out of its throne.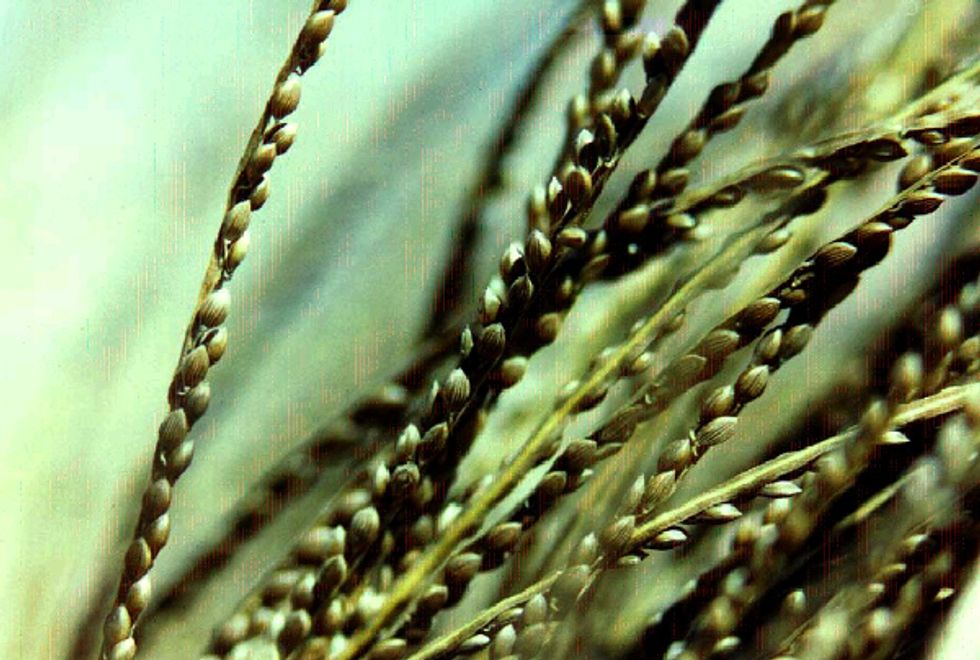 Fonio grains. Credit: fonio-bio.com
Fonio, an ancient West African cereal, closely resembles a type of millet. It's rich in amino acids like methionine, cysteine and leucine and because it's low in sugar it's popular among diabetics (some studies show it's an excellent grain for treating diabetes). It's also high in iron and contains no gluten. 
New York chef Pierre Thiam is hoping with a few marketing adjustments, fonio will be as popular as quinoa. Thiam was recently profiled in The Guardian for his efforts to launch fonio into American cooking. In 2009 he published Yolele! Recipes from the Heart of Senegal, and in 2011 he launched the AfroEats festival to celebrate Senegal's rich food culture. He hopes he can popularize Senegalese cuisine the way Mario Batali did for Italian food or Bobby Flay did for Mexican and Southwest cuisine. West Africans eat fonio for breakfast as porridge, or mix it in with vegetables like we do with couscous.
While some farmers are trying to grow quinoa in the U.S., fonio crops in the U.S. are practically non-existent. Fonio is primarily grown in West African countries like Mali, Guinea, Burkina Faso and Senegal. It's a desert grass that can resist high heat and desert storms and can be cultivated in poor soils, making it a great crop to fight hunger in drought-ridden nations. It requires no pesticides, making it organic as well.
Still there are some who worry a surge in fonio's popularity could cause problems. In "The Dark Truth Behind The Popular Superfood, Quinoa" Jill Richardson writes that quinoa's popularity "spawned a growing source of controversy, following reports that high global quinoa prices put the crop out of reach for the people who grow it." Tanya Kerrsen, a Bolivia-based researcher for Food First, told Richardson, "… whichever way you press the lever (buy more/buy less) there are bound to be negative consequences, particularly for poor farmers in the Global South."
It's possible fonio could have a similar problem. But Thiam has already begun the process of importing fonio for mainstream markets by the end of this year, and says his business is fair trade in the sense that "They trust me and I trust them."
While Thiam works on bringing fonio to a mainstream consumer base, today's customers will still need to visit a specialty store specializing in West African foods or order fonio online.
Although some varieties can grow in a short growing cycle (70–85 days) the harvesting is labor intensive and can take hours to process by hand, with women typically carrying the brunt of de-husking fonio. One gram of fonio contains roughly 2,000 grains. Two hours of work results in roughly 5 pounds of fonio.
Because the small grain takes hours to harvest by hand, fonio fell out of favor with African locals for years. Many in the city would instead eat rice or wheat. Then engineer Sanoussi Diakite invented a de-husking machine in the 1990s. His invention could de-husk 11 pounds of fonio in eight minutes. In 2013, he was awarded the African Innovation Prize for his service. Diakite's machine has provided jobs to the local economy in terms of making the machine but also in processing fonio, where in some cases now "demand far outstrips supply."
Regardless of fonio's growth in the natural foods aisle, its potential as a driver of local economies and a crop that can feed hunger-stricken countries is paramount. 
The Environmental Development Action in the Third World is attempting to expand fonio in Sub-Saharan Africa. Meanwhile, the U.S. African Development Foundation awarded a $190,000 grant to Koba Club, a group of female fonio producers who are "well-positioned to become large-scale agro-processors of pre-cooked fonio in Senegal's economy."
Other FONIO initiatives can be found with UCODAL and CIRAD.
You Might Also Like
10 Indigenous Foods You Should ​Be Eating
10 Best Ingredients to Include in Your Superfood Smoothies
EcoWatch Daily Newsletter
The Ernest N. Morial Convention Center in New Orleans, Louisiana has been converted to a 1,000-bed field hospital for coronavirus patients to alleviate stress on local hospitals. Chris Graythen / Getty Images
An area in Louisiana whose predominantly black and brown residents are hard-hit by health problems from industry overdevelopment is experiencing one of the highest death rates from coronavirus of any county in the United States.
A woman lies in bed with the flu. marka/Universal Images Group via Getty Images
A central player in the fight against the novel coronavirus is our immune system. It protects us against the invader and can even be helpful for its therapy. But sometimes it can turn against us.
Several flower species, including the orchid, can recover quickly from severe injury, scientists have found. cunfek / iStock / Getty Images Plus
Calling someone a delicate flower may not sting like it used to, according to new research. Scientists have found that many delicate flowers are actually remarkably hearty and able to bounce back from severe injury.
A Boeing 727 flies over approach lights with a trail of black-smoke from the engines on April 9, 2018. aviation-images.com / Universal Images Group via Getty Images
With global air travel at a near standstill, the airline industry is looking to rewrite the rules it agreed to tackle global emissions. The Guardian reports that the airline is billing it as a matter of survival, while environmental activists are accusing the industry of trying to dodge their obligations.
A National Guard member works on election day at a polling location on April 7, 2020 in Madison, Wisconsin. Andy Manis / Getty Images.
ByJulia Baumel
The outbreak of COVID-19 across the U.S. has touched every facet of our society, and our democracy has been no exception.