By Leo Hickman
Before the Flood, a new feature-length documentary presented and produced by Leonardo DiCaprio, is released in cinemas today.
The Oscar-winning actor and environmentalist has spent the past three years asking a wide variety of people around the world about climate change. His collection of interviews in the film—ranging from President Obama and the Pope through to Elon Musk and Piers Sellars—cover the science, impacts, vested interests, politics and possible solutions.
Leonardo DiCaprio visits the National Aeronautics and Space Administration Goddard Space Flight Center to discuss Earth science with Piers Sellers.NASA / Goddard/ Rebecca Roth
Carbon Brief was invited to the European premiere of Before the Flood last weekend. Before the screening in London began, DiCaprio took to the stage to introduce the film. He said:

"Before The Flood is the product of an incredible three-year journey that took place with my co-creator and director Fisher Stevens. We went to every corner of the globe to document the devastating impacts of climate change and questioned humanity's ability to reverse what maybe the most catastrophic problem mankind has ever faced. There was a lot to take on. All that we witnessed on this journey shows us that our world's climate is incredibly interconnected and that it is at urgent breaking point.
"I've been incredibly moved by so many climate change documentaries in the past, but I never felt that I saw one that articulated the science clearly to the public. I think people grasp it, but it seems something distant, far off, intangible and almost otherworldly. An individual doesn't feel like they can make an impact. The journey for me was to try and make a modern-day film about climate change. I've been studying this issue for the past 15 years, I've been watching it very closely. What's incredibly terrifying is that things are happening way ahead of the scientific projections, 15 or 20 years ago.
"We wanted to create a film that gave people a sense of urgency, that made them understand what particular things are going to solve this problem. We bring up the issue of a carbon tax, for example, which I haven't seen in a lot of documentaries. Basically, sway a capitalist economy to try to invest in renewables, to bring less money and subsidies out of oil companies. These are the things that are really going to make a massive difference. It's gone beyond, as we talk about in the film, simple, individual actions. We need to use our vote ... We cannot afford to have political leaders out there that do not believe in modern science or the scientific method or empirical truths … We cannot afford to waste time having people in power that choose to believe in the 2 percent of the scientific community that is basically bought off by lobbyists and oil companies. They are living in the stone ages. They are living in the dark ages. We need to live in the future."
Here, Leo Hickman, Carbon Brief's editor, identifies seven key scenes in Before the Flood…

5. Elon Musk
Setting the Scene
In terms of box-office draw alone, Before the Flood is the most significant film about climate change since Al Gore's An Inconvenient Truth was released a decade ago. DiCaprio has made maximum use of his global star power to bring together some of the world's leading voices and experts on climate change and package them up into 90-minute narrative which drips with urgency, insights and emotion.
It opens with a surprisingly personal monologue by DiCaprio in which he talks about the "nightmarish" painting which hung over his crib as a child.
"I would stare at it before I went to sleep," he explained, noting some of its themes—"over-population, debauchery, exodus."
Hieronymus Bosch's Garden of Earthly Delights was painted more than 500 years ago, but it speaks to today, he said, with its "twisted, decayed, burnt landscape." DiCaprio said the triptych's final panel shows a "paradise that's been degraded and destroyed."
The film is named after the middle panel—Humankind before the Flood—which, he said, acts as an allegorical warning to the world of what could come next, if it fails to act on climate change.
DiCaprio then sets off around the world on his quest for answers: "I want to see exactly what is going on and how to solve it." But self-doubt looms large from the off, even after he is named by Ban Ki-moon as the UN messenger of peace on climate change.
"Try to talk to anyone about climate change and people just tune out. They might have picked the wrong guy." As DiCaprio said this, a montage plays of clips showing his media critics, such as Fox News' Sean Hannity, attacking him for his lack of scientific credentials and celebrity lifestyle.
However, DiCaprio is frank about how his fame has afforded him such a privileged perspective: "First time I heard of global warming was when I sat down one-to-one with Al Gore [in the early 2000s]. This is most important issue of our time, he said. I had no idea what he was talking about."
After viewing tar sands in Canada by helicopter—"kinda looks like Mordor"—and narwhal whales in Kangerlussuaq, Greenland, DiCaprio explained what, in his view, has changed in the time since he received Gore's climate lesson.
"Everyone was focused on small individual actions [back then]. Boiled down to simple solutions such as changing a light bulb. It's pretty clear that we are way beyond that now. Things have taken a massive turn for the worse."
The Garden of Earthly Delights, a painting by Hieronymus Bosch from 1485.Damian Michaels / Flickr
1. Prof. Jason Box

DiCaprio is helicoptered onto the Greenland ice sheet, where he meets with Jason Box, a professor at the Geological Survey of Denmark and Greenland. Box has spent many Arctic summers monitoring the stability of the ice sheet, as well as, in more recent years, the way soot from forest fires and the burning of fossil fuels has darkened the snow and, hence, the ice's reflectivity or albedo. As they both stare at a torrent of water rushing down into a moulin, Box's concern about the long-term melting trend is palpable:
"We keep finding things that aren't in the climate models. That tells me that the projections for the future are really conservative. If the climate stays at the temperature that it's been in in the last decade, Greenland is going away."
DiCaprio gently mocked Box's equipment for measuring the ice.
"This is a climate station? I was imagining a massive igloo with all kinds of scientists and experiments. It really does look like broken down pool equipment."
Then he questioned why there is a long spiral of plastic hose laying on the ice. Box explained:
"The hose went down 30 feet, but [the ice] has now melted out. Five years of melt. Hundreds of cubic kilometres of ice stored on land that has now gone into the sea."
2. Prof. Michael E. Mann

No movie is complete without the bad guys. And DiCaprio is keen to stress the role that "corporate interests" have played in spreading "disinformation" about climate change.
A cast of villains is introduced ranging from right-wing newspapers and TV networks in the U.S. through to politicians and "front groups." All seek to cast doubt on the science and, in doing so, attack climate scientists.
No scientist has been more in the crosshairs than Michael E Mann, the director of the Penn State Earth System Science Center who is best known for his famous hockey stick graph showing a recent spike in global temperatures.
Publishing that graph proved to be a huge turning point, Mann told DiCaprio:
"I set myself up for a completely different life … I was vilified … I was called a fraud. I was being attacked by Congressmen. I had death threats, which were actionable enough that the FBI had to come to my office to look at an envelope that had white powder [in it]. I've had threats made against my family. These folks know they don't have to win a legitimate scientific debate. They just need to divide the public. All of that hatred and fear is organized and funded by just a few players. Fossil fuel interests … finance a very large echo chamber of climate change denialism. They find people with very impressive looking credentials who are willing to sell those credentials to fossil fuel interests. Front groups funded by corporate interests."
DiCaprio's frustration was clear: "If I were a scientist, I would be absolutely pissed every day of my life."
Footage from Frank Capra's 1958 short film for Bell Labs, The Unchained Goddess, which explains what impact burning fossil fuels will have on the climate, plays in the background.
"We've know about this problem for decades and decades," lamented DiCaprio. "Imagine the world right now if we'd taken the science of climate change seriously back then. Since then our population has grown by five billion people and counting. The problem has become more difficult to solve."
3. Dr. Sunita Narain

After a trip to Beijing to witness the smog and speak to experts about how releasing pollution data to citizens has helped to change public attitudes, DiCaprio arrives in India.
His meeting with Sunita Narain, director of the Centre for Science and Environment, provides, arguably, the key scene of the whole film. They discuss the sweetspot of the climate conundrum: How do developing nations with fast-rising populations raise standards of living for all without emitting vast volumes of greenhouse gases?
"We are a country where energy access is as much a challenge as climate change," said Narain. "We need to make sure that every Indian has access to energy."
DiCaprio mulled on that: "From what I understand, there are 300 million people without power in India. That's equivalent to the entire population of the United States."
As footage shows women in the village of Kheladi in Haryana burning uplas (cowdung cakes), Narain passionately lays out India's predicament:
Sunita Narain: Coal is cheap, whether you or I like it or not. You have to think of it from this point of view. You created the problem in the past. We will create it in the future. We have 700m household using biomass to cook. If those households move to coal, there'll be that much more use of fossil fuels. Then the entire world is fried. If anyone tells you that the world's poor should move to solar and why do they have to make the mistakes we have made … I hear this from American NGOs all the time. I'm like, wow. I mean, if it was that easy, I would really have liked the U.S. to move to solar. But you haven't. Let's put our money where our mouth is.
Leonardo DiCaprio: We have to practice what we preach. Absolutely.
Sunita Narain: I'm sorry to say this and I know you're American, so please don't take this the wrong way, but your consumption is really going to put a hole in the planet. I think that's the conversation we need to have. I'll show you charts from this perspective. [Shows page from a book]. Electricity consumed by one American at home is equivalent to 1.5 citizens of France, 2.2 citizens of Japan and 10 citizens of China, 34 of India and 61 of Nigeria. Why? Because you're building bigger, you're building more and using much more than before. The fact is we need to put the issue of lifestyle and consumption at the centre of climate negotiations.
Leonardo DiCaprio: Look, there's no way I don't agree with you. Absolutely correct. Yes, it's a very difficult argument to present to Americans that we need to change our lifestyle and I would probably argue that it's not going to happen. If we want to solve the climate crisis on, hopefully, that renewables like solar and wind will become cheaper and cheaper as more money is funneled into them and we invest into them, and, ultimately, we will solve that problem. But I … [Narain shakes her head]. You are shaking your head, obviously…
Sunita Narain: I'm shaking my head Indian style, which means "no." Who will invest? Let's be real about this. Who will invest? And how will they invest? We are doing more investment into solar today. China is doing much more investment in solar today than the U.S. is. What is the U.S. doing which the rest of the world can learn from? You are a fossil-addicted country, but if you are seriously disengaging, that's something for us to learn from. And it's leadership that we can hold up to our government and say if the U.S. is doing—and the U.S. is doing it—then, despite all the pressures, then we can do it as well … But it's just not happening. People like us, we are rich enough to withstand the first hit of climate change. But it's the poor of India, it's the poor of Africa, the poor of Bangladesh, who are impacted today in what I believe are the first tides of climate change … We need countries to believe that climate change is real and it is urgent. It's not a figment of their imagination
The scene concludes with DiCaprio musing on his conversation with Narain:
"There's no doubt we have all benefitted from fossil fuels. I know I have. My footprint is probably a lot bigger than most people's. And there are times when I question what is the right thing to do. What actions should we be taking? There are over a billion people out there without electricity. They want lights. They want heat. They want the lifestyle that we've had in the United States for the last hundred years. If we are going to solve this problem, we all have a responsibility to set an example. And, more than that, help the developing world to transition before it's too late."
4. Prof. Gidon Eshel

It is well known that DiCaprio has donated a significant proportion of his wealth and time to various habitat conservation projects, notably focused on oceans and tropical forests. So it isn't a surprise that he visits such locations in Before the Flood.
He views dead coral with marine biologist Jeremy Jackson. ("We're pushing this system really hard"). He flies over Sumatran forests being cleared by palm oil plantations with HAkA's Farwiza Farhan. ("I've never seen anything like this"). He feeds baby orangutans at a rescue center in the Mount Leuser National Park with Dr. Ian Singleton. ("They are refugees from the burning forest").
The message is clear. Lifestyle choices are damaging these carbon-absorbing habitats. Boycott companies which use palm oil to make their products, urges DiCaprio. Switch from eating beef to chicken.
This particular suggestion is put forward by the next person DiCaprio visits. Gidon Eshel, a professor of environmental science and physics at Bard College in New York, was the lead author of a study published in 2014 in the Proceedings of the National Academy of Sciences. It made headlines around the world and found that beef is about 10 times more damaging to the environment than any other form of livestock. Eshel said:
"Of all the reasons for tropical deforestation, the foremost is beef. Beef is one of the most inefficient use of resources on the planet. In the U.S., 47 percent of land is used for food production and, of that, the lion's share is just to grow feed for cattle. The things that we actually eat—fruit, vegetables, nuts—it's a percent. Most importantly, cows produce methane. And methane is a powerful greenhouse gas … About 10-12 percent of total U.S. emissions is due to beef. It's staggering … Maybe not everyone is ready to eat tofu 24/7. I get that. But even if you just have to have some flesh between your teeth, if you switch to chicken, you will have eliminated 80 percent of what you emit, depending on where you are coming from."
5. Elon Musk

DiCaprio in now looking out across Los Angeles from a vantage point up in the Hollywood hills.
"Every single light that you see has to be completely different—has to come from a new power source. We need to build all those things differently. All the cars that are on the road need to be different. This is one city. If you zoom out to a map of the world at night, you see electrification all over the world. And we're fighting powerful fossil fuel interests who basically want to keep doing business as usual. How are we possibly going to turn all this around?"
Next he is in the Nevadan desert visiting the "gigafactory," the latest project of Tesla founder Elon Musk. Once at full operation by 2020, the vast factory aims to be producing annually 500,000 electric vehicles and batteries/cells equal to 85 GWh/yr. Musk explains why this could be a game-changer:
Elon Musk: What would it take to transition the whole world to sustainable energy? What kind of throughput would you actually need? You need a hundred gigafactories.
Leonardo DiCaprio: A hundred of these?
Elon Musk: A hundred. Yes.
Leonardo DiCaprio: That would make the United States…
Elon Musk: No, the whole world.
Leonardo DiCaprio: The whole world?!
Elon Musk: The whole world.
Leonardo DiCaprio: That's it?! That sounds manageable.
Elon Musk: If all the big companies do this then we can accelerate the transition and if governments can set the rules in favour of sustainable energy, then we can get there really quickly. But it's really fundamental: unless they put a price on carbon…
Leonardo DiCaprio: … Then we are never going to be able to make the transition in time, right?
Elon Musk: Only way to do that is through a carbon tax.
[Carbon Brief has asked Tesla to explain how Musk arrived at this "100 gigafactory" claim. This article will be updated, if a reply is received].
To drive this point home, DiCaprio then speaks to Gregory Mankiw, a Harvard economics professor, who has long argued for a carbon tax. ("Let me get this straight, you're a Republican who wants more taxes?") During a "call to action" segment at the end of the film before the credits roll, a link to Carbotax.org is shown.
6. Barack Obama

When you're Leonardo DiCaprio you can request a meeting with anyone on the planet. Which other filmmaker could include personal conversations with the U.S. president, the Pope and the UN secretary general in one film?
However, given the imminent entry into force of the Paris agreement on climate change, it is DiCaprio's exchange with Barack Obama at the White House which provides the most insight.
Barack Obama: [Paris] creates the architecture. I was happy with that. The targets set in Paris are nowhere near enough, compared to what the scientists tell us we need to solve this problem. But if we can use the next 20 years to apply existing technologies to reduce carbon emissions and then start slowly turning up the dials as new technologies come online and we have more and more ambitious targets each year, then we're not going to completely reverse the warming that now is inevitable, but we could stop it before it becomes catastrophic … Even if someone came in [to the White House] denying climate science, reality has a way of hitting you on the nose if you're not paying attention and I think the public is starting to realize the science, in part because it is indisputable.
Leonardo DiCaprio: You have access to information. What makes you terrified?
Barack Obama: A huge proportion of the world's population lives near oceans. If they start moving, then you start seeing scarce resources are subject to competition between populations. This is the reason the Pentagon has said this is a national security issue. And this is in addition to the sadness I would feel if my kids could never see a glacier the way that I did when I went up to Alaska. I want them to see the same things that I saw when I was growing up.
7. Dr. Piers Sellers

There are very few people who can say they've had the privilege of being able to look down at the Earth from space. Piers Sellers, the British-born astronaut, spent a total of 35 days in orbit in the 1990s on three separate flights aboard the space shuttle. But back on Earth, he has spent much of his professional life modeling the climate system at NASA's Goddard Space Flight Center in Maryland. Earlier this year, he wrote in theNew York Times about how being diagnosed with terminal cancer has sharpened his thinking on climate change.
Sitting in front of a huge screen showing NASA visualizations of the Earth's climate in motion, Sellers explains to DiCaprio how he views the current changes to the climate as a scientist.
Dr. Piers Sellers: I realized that, as the science community, we have not done the best job, frankly, of communicating this threat to the public. When you go up there and see it with your own eye, you see how thin the world's atmosphere is. Tiny little onion skin around the Earth … [Sellers shows a visualization]. Here's an example of one thing we can see—ocean surface temperature, as measured from space. You can see the poles melting.
Leonardo DiCaprio: Wow.
Dr. Piers Sellers: This is the way to do it, man. This is the way to really see what's going on. This is the Gulf Stream. Look at this. This is the motion of the ocean.
Leonardo DiCaprio: This is like a great piece of art.
Dr. Piers Sellers: It is, isn't it? The biggest impact will be here. [Sellers points].
Leonardo DiCaprio: In the Gulf Stream.
Dr. Piers Sellers: This current … the dumping of ice off Greenland could stop this conveyor belt and the Gulf Stream would slow down and stop its transport of heat from here to there and then Europe would get cold toes because there is a lot of heat transport from across the tropics, across the north Atlantic that keeps Europe warm.
Leonardo DiCaprio: Europe would get colder? A big misconception with climate change is that everything gets warmer.
Dr. Piers Sellers: And here's the most advanced precipitation satellite in the world. It's very important, because we think the biggest impact from climate change is the moving of the precipitation belts from the equator to further out. We're already seeing more persistent drought…
Leonardo DiCaprio: …more drought in places that are already too hot?
Dr. Piers Sellers: Yes. And there are a lot of papers written in the States and elsewhere about how that same drought has help to fuel conflict in the Syrian civil war, Darfur, Sudan, all these places that are short of water and short of food.
Leonardo DiCaprio: Is just here or across the whole planet?
Dr. Piers Sellers: We are expecting elsewhere. Bits of India. In the U.S., in Oklahoma, the Dust Bowl region, we expect that to be much, much drier over the next few decades.
Leonardo DiCaprio: Oh my god. And what about my home state of California?
Dr. Piers Sellers: Not looking great, I'm afraid. Our models predicted persistent drought in the Dust Bowl and here 50 years from now. But we're just seeing the worst drought in 900 years here right now, so it's coming a bit earlier than we thought. We're talking about this happening over the period of a few decades…
Leonardo DiCaprio: This is not great news.
Dr. Piers Sellers: People get confused about the issue, but the facts are crystal clear—the ice is melting, the Earth is warming, the sea level is rising—those are facts. Rather than being, "Oh my god, this is helpless", say, "Ok, this is the problem, let's be realistic and let's find a way out of it". And there are ways out of it. If we stopped burning fossil fuels right now, the planet would still keep warming for a little while before cooling off again.
Leonardo DiCaprio: Would that Arctic ice start to then increase again?
Dr. Piers Sellers: Once the cooling started, yeah.
Leonardo DiCaprio: So there really is a possibility to repair this trajectory that we're on? Interesting.
Dr. Piers Sellers: Yeah. There's hope … I'm basically an optimistic person. I really do have faith in people. And I think once people come out of the fog of confusion on this issue and the uncertainty on this issue and realistically appreciate it on some level as a threat, and are informed on some level on what the best action is to do to deal with it, they'll get on and do it and what seemed almost impossible to deal with becomes possible.
Before the Flood opens in cinemas on Oct. 21 and will be broadcast on the National Geographic Channel on Oct. 30.

Reposted with permission from our media associate Carbon Brief.

EcoWatch Daily Newsletter
A little more than nine years ago, an EF-5 tornado ripped through Greensburg, Kansas. The massive, May 4, 2007 twister leveled the small town, and half of the town's population of 1,500 residents escaped and never came back.

Greensburg, Kansas is the second city in the U.S. to convert to 100 percent renewable energy after it was devastated by a powerful tornado in 2007.Wikimedia Commons
But from the rubble, opportunity emerged. Greensburg is now one of the greenest towns in the U.S. and serves as an actual role model for renewable energy and sustainable development. Greensburg could also teach its frack-happy, earthquake-riddled home state a lesson or two about better energy choices.
Greensburg—the second U.S. city to go 100 percent renewable after Burlington, Vermont—has an impressive list of green bonafides thanks to its master sustainability plan. After the tornado struck, the city picked itself up and rebuilt every building to LEED-platinum standards and converted every streetlight to LEDs, the first in the nation to do both.
The city has curbside recycling and conserves water with low flow fixtures and collects rainwater for irrigation and grey water in toilets. This town, located right in America's heartland, is even home to the world's largest hand-dug well.
A hospital turbine in Greensburg, Kansas.The City of Greensburg
Notably, the wind that destroyed the city is also what's powering it today. The 12.5-megawatt community Greensburg Wind Farm produces enough electricity to power every home business, and municipal building in the town and surrounding area, according to the U.S. Department of Energy.
In fact, the city's wind turbines, located just south of town, produces more energy than the city consumes, according to Newsy.
"The upflow on the elevation from Oklahoma into south-central Kansas is some of the best consistent, year-round wind in the United States," Mayor Bob Dixson told the publication.
As it happens, Kansas offers the third highest potential for wind energy in the U.S. and is a clean energy alternative definitely worth exploring.

EcoWatch reported last week that the largest earthquake ever recorded in Kansas—a 4.9 magnitude temblor that struck northeast of Milan on Nov. 12, 2014—has been officially linked to wastewater injection into deep underground wells, according to new research from the U.S. Geological Survey (USGS). The epicenter of that extremely rare earthquake struck near a known fracking operation.
Kansas has had a long history with fracking. In fact, the first well ever fracked in the United States happened in 1947 in the Sunflower state. The process is now used for nearly all of the 5,000 conventional wells drilled in Kansas every year.

Just like Oklahoma, Kansas is seeing an alarming uptick of "induced" earthquakes connected to the underground disposal of wastewater from the fracking process. Kansas is a region previously devoid of significant seismic activity, however, the number of earthquakes in the state jumped from only four in 2013 to 817 in 2014, The Washington Post reported.

It's Official: Injection of Fracking Wastewater Caused Kansas' Biggest Earthquake https://t.co/R9Y5nxffdu @GreenpeaceUK @Green_Europe

— EcoWatch (@EcoWatch)1476522036.0
Mayor Dixson told Go 100% that the town also uses solar and geothermal energy sources to compliment the wind power.

While Greensburg's population is still roughly half of what it was before the tornado hit nine years ago, Dixson explained to USA TODAY that Greensburg is doing its best to rise from the destruction.

"You have to do the best you can with the resources you have," he said. "We learned that the only true green and sustainable things in life are how we treat each other."
The town's resurrection as a green utopia has been the subject of books and TV shows, including a Planet Green reality series called Greensburg narrated by actor and environmental activist Leonardo DiCaprio. Even President Obama praised the city in his first address to a joint session of Congress.
"Greensburg … is being rebuilt by its residents as a global example of how clean energy can power an entire community—how it can bring jobs and businesses to a place where piles of bricks and rubble once lay. 'The tragedy was terrible,' said one of the men who helped them rebuild. 'But the folks here know that it also provided an incredible opportunity,'" Obama said.
waterlust.com / @tulasendlesssummer_sierra .
Each product featured here has been independently selected by the writer. If you make a purchase using the links included, we may earn commission.
The bright patterns and recognizable designs of Waterlust's activewear aren't just for show. In fact, they're meant to promote the conversation around sustainability and give back to the ocean science and conservation community.
Each design is paired with a research lab, nonprofit, or education organization that has high intellectual merit and the potential to move the needle in its respective field. For each product sold, Waterlust donates 10% of profits to these conservation partners.
Eye-Catching Designs Made from Recycled Plastic Bottles
waterlust.com / @abamabam
The company sells a range of eco-friendly items like leggings, rash guards, and board shorts that are made using recycled post-consumer plastic bottles. There are currently 16 causes represented by distinct marine-life patterns, from whale shark research and invasive lionfish removal to sockeye salmon monitoring and abalone restoration.

One such organization is Get Inspired, a nonprofit that specializes in ocean restoration and environmental education. Get Inspired founder, marine biologist Nancy Caruso, says supporting on-the-ground efforts is one thing that sets Waterlust apart, like their apparel line that supports Get Inspired abalone restoration programs.
"All of us [conservation partners] are doing something," Caruso said. "We're not putting up exhibits and talking about it — although that is important — we're in the field."
Waterlust not only helps its conservation partners financially so they can continue their important work. It also helps them get the word out about what they're doing, whether that's through social media spotlights, photo and video projects, or the informative note card that comes with each piece of apparel.
"They're doing their part for sure, pushing the information out across all of their channels, and I think that's what makes them so interesting," Caruso said.
And then there are the clothes, which speak for themselves.
Advocate Apparel to Start Conversations About Conservation
waterlust.com / @oceanraysphotography
Waterlust's concept of "advocate apparel" encourages people to see getting dressed every day as an opportunity to not only express their individuality and style, but also to advance the conversation around marine science. By infusing science into clothing, people can visually represent species and ecosystems in need of advocacy — something that, more often than not, leads to a teaching moment.

"When people wear Waterlust gear, it's just a matter of time before somebody asks them about the bright, funky designs," said Waterlust's CEO, Patrick Rynne. "That moment is incredibly special, because it creates an intimate opportunity for the wearer to share what they've learned with another."
The idea for the company came to Rynne when he was a Ph.D. student in marine science.
"I was surrounded by incredible people that were discovering fascinating things but noticed that often their work wasn't reaching the general public in creative and engaging ways," he said. "That seemed like a missed opportunity with big implications."
Waterlust initially focused on conventional media, like film and photography, to promote ocean science, but the team quickly realized engagement on social media didn't translate to action or even knowledge sharing offscreen.
Rynne also saw the "in one ear, out the other" issue in the classroom — if students didn't repeatedly engage with the topics they learned, they'd quickly forget them.
"We decided that if we truly wanted to achieve our goal of bringing science into people's lives and have it stick, it would need to be through a process that is frequently repeated, fun, and functional," Rynne said. "That's when we thought about clothing."
Support Marine Research and Sustainability in Style
To date, Waterlust has sold tens of thousands of pieces of apparel in over 100 countries, and the interactions its products have sparked have had clear implications for furthering science communication.
For Caruso alone, it's led to opportunities to share her abalone restoration methods with communities far and wide.
"It moves my small little world of what I'm doing here in Orange County, California, across the entire globe," she said. "That's one of the beautiful things about our partnership."
Check out all of the different eco-conscious apparel options available from Waterlust to help promote ocean conservation.
Melissa Smith is an avid writer, scuba diver, backpacker, and all-around outdoor enthusiast. She graduated from the University of Florida with degrees in journalism and sustainable studies. Before joining EcoWatch, Melissa worked as the managing editor of Scuba Diving magazine and the communications manager of The Ocean Agency, a non-profit that's featured in the Emmy award-winning documentary Chasing Coral.
Wednesday started the last 100 days of Obama's presidency. So rather than speculate on who our next leader will be, let's focus on what our current one still has the power to do on behalf of our climate.
With an election season as inconceivable as this one's turning out to be, it's easy to forget that Barack Obama is actually still our president—and he still holds the power to take the bold action on climate change we need.
There's no question President Obama has moved the needle when it comes to taking action on climate change.Flickr / Creative Commons
There's no question President Obama has moved the needle when it comes to taking action on climate change. More so than any other U.S. president to date, he has pushed for political solutions to carbon pollution at home with the Clean Power Plan (though that now has to fight its way through legal challenges).

On the global stage he has pushed for consensus among world leaders that we all need to deal with our addiction to fossil fuels, helping to broker the Paris climate accord and a landmark deal with China.
U.S., China Formally Join Paris Climate Agreement - EcoWatch https://t.co/DE9BVuroEe @carbonbrief @Climate_Rescue

— EcoWatch (@EcoWatch)1473240019.0
This would be a strong legacy, if it weren't for the stark reality that even developing the oil, gas and coal in fields and mines that already exist would take us beyond 2 C of warming into climate chaos territory, let alone if we frack, drill or otherwise dig up fossil fuels from new sites, of which there are plenty of companies hoping to do just that. (If you want to know more about the math behind our planet's climate boundaries for energy production and use, check out Oil Change International's brilliant but scary new analysis).

Faced with this reality, we need President Obama to do everything in his power to keep fossil fuels in the ground.
Specifically, in the next 100 days, the president needs to use his executive power in the U.S. to put a stop to new oil and gas drilling and fracking projects on our public lands and waters, just as his administration did earlier this year when it imposed a moratorium on new coal mining. Since President Obama took office, more than 10 million acres of public lands across the U.S. and more than 15 million acres of public offshore waters in the gulf have been turned over to energy corporations for fossil fuel extraction.
And there's plenty more where that came from.
Mark Ruffalo: President Obama, You Still Have Time to Ban Fracking https://t.co/TIjRoF0TPe @greenwatchdogNY @FrackAction

— EcoWatch (@EcoWatch)1476394813.0
Taking public lands off the table when it comes to fossil fuel developers would not only be an important step towards safeguarding our climate, but would also protect the many communities whose land, air and water are being poisoned. From the Gulf Coast, to Colorado, to North Dakota, to Alaska, the way that fossil fuels are extracted, processed and transported pose grave threats to public health, people's livelihoods and ancestral lands and waters. Protecting these spaces would send a clear message that America wants a just transition away from fossil fuels, not an abusive relationship where we're beholden to them, however much they hurt us.

When tThe New York Times interviewed President Obama recently, the reporter observed that "He believes that his efforts to slow the warming of the planet will be the most consequential legacy of his presidency." Studies have shown that by ending fossil fuel extraction on federal lands and waters, Obama can significantly reduce global emissions and make progress towards his Paris commitments.
So with 100 days still as the leader of the free world and the ability to stop fossil fuel extraction on our public lands and waters, the president doesn't have to just believe in his climate legacy, he can take action that makes it real.
Join us in telling President Obama: Protect our communities and our climate. End new fossil fuel leasing today.
By Dear President Obama
Three-time Academy Award nominated actor Mark Ruffalo and documentary filmmaker Jon Bowermaster sent a letter Tuesday respectfully calling on President Barack Obama to take immediate action addressing fracking during his last 100 days in office, which began Oct. 11.
The letter highlights the damages caused by increased oil and gas drilling and fracking over the course of the Obama administration. More than 17 million Americans now live within one mile of a well pad, putting their families at risk.
Despite President Obama's leadership in acknowledging climate change and the Paris climate agreement, the expansion of drilling and fracking for oil and gas and their disastrous impact on the climate threaten to undermine his legacy. By supporting fracking, the Obama administration has put the health of hardworking Americans at risk, as this extreme form of fossil fuel extraction is contaminating people's drinking water, polluting the air, and making more and more families sick.

A documentary narrated by Mark Ruffalo and produced by Jon Bowermaster, Dear President Obama: The Clean Energy Revolution is Now, exposes the dire situation and includes interviews of people across the country, giving a voice to everyday Americans who have become victims of drilling and fracking. Filmmakers spent three years conducting interviews with scientists, economists, health professionals, geologists and whistleblowers, which provide the core narrative of the film.
The letter calls on the President and his top environmental and energy advisors to watch the powerful film. It also calls on President Obama to instruct the U.S. Environmental Protection Agency to resume investigations into aquifers and well water contaminated by drilling and fracking in Pennsylvania, Wyoming and Texas that were inexplicably halted during his first term, and to aggressively pursue additional investigations across the country where drilling and fracking have contaminated people's water.
THIS IS HUGE: Pro-Fracking Law Ruled Unconstitutional by Pennsylvania Supreme Court https://t.co/i1kGo1isZ3 @MarkRuffalo @joshfoxfilm @350

— EcoWatch (@EcoWatch)1475239297.0
It concludes by reminding President Obama that evidence is overwhelmingly clear that fracking will have a lasting harm on people, drinking water, the environment and the climate.
The letter concludes, "During your time in office, science has overwhelmingly found that fracking is not clean, not safe and must not be a part of our energy future. With this evidence, states like New York banned fracking and others have put a halt to it. But there is a dire need for action and leadership at the federal level. You still have time to take action before you leave office."
Watch the Dear President Obama: The Clean Energy Revolution is Now trailer here:

President Obama announced plans for more regulations to combat climate change in the coming months and called the issue "one of the most urgent challenges for our time."
In a weekly address to the nation, Obama said his administration will roll out new measures, including fuel efficiency standards for heavy-duty vehicles and will work towards meeting the goal of 50 percent clean energy across North America by 2025.
Here's the transcript of his weekly address:
Hi, everybody. One of the most urgent challenges of our time is climate change. We know that 2015 surpassed 2014 as the warmest year on record—and 2016 is on pace to be even hotter.
When I took office, I said this was something we couldn't kick down the road any longer—that our children's future depended on our action. So we got to work, and over the past seven-and-a-half years, we've made ambitious investments in clean energy, and ambitious reductions in our carbon emissions. We've multiplied wind power threefold. We've multiplied solar power more than thirtyfold. In parts of America, these clean power sources are finally cheaper than dirtier, conventional power. And carbon pollution from our energy sector is at its lowest level in 25 years, even as we're continuing to grow our economy.
We've invested in energy efficiency, and we're slashing carbon emissions from appliances, homes, and businesses—saving families money on their energy bills. We're reforming how we manage federal coal resources, which supply roughly 40 percent of America's coal. We've set the first-ever national standards limiting the amount of carbon pollution power plants can release into the sky.
We also set standards to increase the distance our cars and light trucks can go on a gallon of gas every year through 2025. And they're working. At a time when we've seen auto sales surge, manufacturers are innovating and bringing new technology to market faster than expected. Over 100 cars, SUVs, and pick-up trucks on the market today already meet our vehicles standards ahead of schedule. And we've seen a boom in the plug-in electric vehicle market—with more models, lower battery costs, and more than 16,000 charging stations.
But we're not done yet. In the weeks and months ahead, we'll release a second round of fuel efficiency standards for heavy-duty vehicles. We'll take steps to meet the goal we set with Canada and Mexico to achieve 50 percent clean power across North America by 2025. And we'll continue to protect our lands and waters so that our kids and grandkids can enjoy our most beautiful spaces for generations.
There's still much more to do. But there's no doubt that America has become a global leader in the fight against climate change. Last year, that leadership helped us bring nearly 200 nations together in Paris around the most ambitious agreement in history to save the one planet we've got. That's not something to tear up—it's something to build upon. And if we keep pushing, and leading the world in the right direction, there's no doubt that, together, we can leave a better, cleaner, safer future for our children.
Thanks, everybody. Have a great weekend.
For a deeper dive:
News: The Hill, IB Times, CBS News, VOA News
Commentary: New York Times, Binyamin Appelbaum & Michael D. Shear analysis

For more climate change and clean energy news, you can follow Climate Nexus on Twitter and Facebook, and sign up for daily Hot News.
In recent weeks, we've been calling on President Obama to show the "courage of his convictions" when it comes to fighting climate change. In his speech last week, he agreed to take some essential steps in saving our planet, most notably cutting carbon pollution from power plants.

This is the right thing for our country. This is the way that America shows its leadership. And in taking these important steps toward a national plan for climate action, the President is showing his leadership.
Power plants are the largest source of carbon pollution in the U.S., and right now, those plants can spew an unlimited amount of carbon into our air and account for about 40 percent of our carbon footprint. When America's new climate plan takes on power plants, it will strike a blow against the climate chaos that threatens us all.
With the Clean Air Act, we can limit this source of climate pollution. In fact, under a plan the Natural Resources Defense Council (NRDC) has proposed, the Environmental Protection Agency (EPA) could develop safeguards under which each state would have its own carbon reduction target, tailored to its specific energy mix. We can even take on carbon pollution from power plants in a way that is affordable for utilities and actually means a cost savings of up to $700 a year for consumers on their electric bills. That's real money for our families.
Without question, we're facing a climate crisis. And it is taxpayers who are bearing the high costs. Just last year, taxpayers spent nearly $100 billion on crop losses, wildfires and disaster relief from Hurricane Sandy. Our coastal communities are under siege. The Great Plains are suffering drought for the third year in a row. Our people are hurting—and they're demanding action.
That's why the second significant pronouncement of the President is also critical. Simply put, President Obama gave a climate test to the proposed Keystone XL pipeline that would bring the climate destroying tar sands from Canada to the Gulf Coast across our waters and farms.
The President said he is not going to approve the Keystone XL pipeline if it harms the climate because doing so would not serve the national interest. I applaud him on this and I know tens of thousands of other do as well. We know that we cannot fully address climate change while facilitating expansion of the tar sands. That's why the Keystone XL tar sands pipeline is a bad idea. This pipeline will drive expansion of tar sands and its climate pollution. It's not in our national interest and could never pass a climate test. It needs to be denied. Our climate, our waters and our communities depend on it.
The need to keep moving forward with climate action on all fronts is imperative. Which is why it is incumbent upon us, in the months to come, to communicate with both the President and the American public about some of the more misguided parts of the plan. Specifically those that continue to support substantial expansion of the use of fossil fuels through natural gas fracking in the U.S. and building overseas markets for it, as well as pursuing "clean coal" technology.
The President is doing what's right for the country by limiting carbon pollution from power plants and establishing a national plan for climate action. And I hope he maintains the courage of his convictions next, by denying the Keystone XL tar sands pipeline, and continuing to fully engage in this multifaceted and most profound challenge of our times.
Visit EcoWatch's CLIMATE CHANGE page for more related news on this topic.
By Max Greenberg
Fox News cut away from President Obama's address on climate change in favor of a lawyer from a fossil fuel-funded think tank, who proceeded to dismiss the science indicating significant man-made global warming.
Yesterday, America Live interrupted Obama's speech, claiming that the President's statement that "the planet is warming and human activity is contributing to it" is "not the full story." Host Megyn Kelly then interviewed Chris Horner, a Competitive Enterprise Institute (CEI) and American Tradition Institute (ATI) fellow who often appears on Fox News to cast doubt on climate science.
Kelly granted Horner, a lawyer who has no scientific training, nearly as much air time (approximately four minutes and 10 seconds) as the leader of the free world (approximately four minutes and 35 seconds).
Kelly and Horner each claimed there has been "no warming" in the last 15 years, with the latter laughably declaring "the presidency deserves more than [warnings about climate change]." However, short-term temperature trends do not undermine the extensive evidence that the planet is getting warmer, largely due to human activity, at a rate that will have significant negative impacts.
Horner has spearheaded an ongoing effort to attack the U.S. Environmental Protection Agency and hype the Obama administration's alleged "war on coal," even when no evidence backs him up. Both CEI and ATI have financial ties to Koch Industries and other fossil fuel interests.
According to Politico and Mediabistro, many other cable networks skipped the address, with the Weather Channel, Fox Business and Bloomberg among the only ones to carry the full speech.
Visit EcoWatch's CLIMATE CHANGE page for more related news on this topic.
——–
Click here to tell Congress to Expedite Renewable Energy.

By Jennifer Morgan and Kevin Kennedy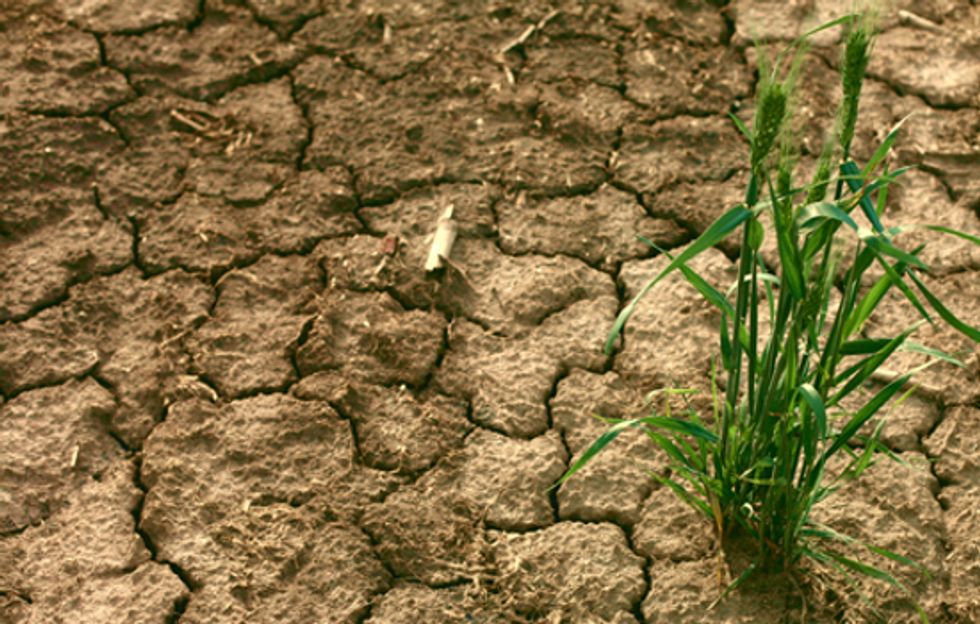 Photo courtesy of Shutterstock
With today's announcement of a national climate action plan, President Obama is pushing forward to tackle the urgent challenge of climate change. This is the most comprehensive climate plan by a U.S. president to date. If fully and swiftly implemented, the Obama Administration can truly reset the climate agenda for this country.
The plan looks to reduce harmful greenhouse gas emissions in a comprehensive way and takes on the question of how to protect the country from the devastating climate-related impacts we are already seeing today. With a clear, national strategy in place—and concrete steps to implement it—the administration can protect people at home and encourage greater ambition internationally.
Importantly, the president is recommitting the U.S. to meet its target of reducing greenhouse gas emissions by 17 percent below 2005 levels by 2020. World Resources Institute's (WRI) recent analysis demonstrates that meeting this target is achievable, but requires ambitious action across many sectors of the economy. WRI identifies four areas with the greatest opportunity for emissions reductions—power plants, energy efficiency, hydrofluorocarbons (HFCs) and methane—which are all specifically included in the plan.
The plan is also notable for addressing climate impacts and encouraging increased international engagement. Together, these steps can help the U.S. reclaim lost ground on climate change. While there are many details to be worked out, this plan is a welcome step to putting the U.S. on a pathway to a safer future.
Reducing Carbon Pollution from Power Plants
First off, the president's plan commits the U.S. to address carbon pollution in existing power plants. Power plants currently represent one-third of all U.S. greenhouse gas emissions, the largest source of carbon dioxide (CO2) pollution in the U.S. The president also directs the U.S. Environmental Protection Agency (EPA) to move quickly to finalize the proposed CO2 pollution standards for new power plants.
These actions will be important for protecting people's health and the planet—and WRI analysis finds that they can be implemented in a way that is flexible and cost effective. It will be important for the EPA to act with a sense of urgency in order to meet the U.S. emissions target. Just as important as the time frame for finalizing these standards is their stringency. Without sufficient ambition, the U.S. will not be able to achieve the reductions it needs by 2020 and in the years beyond.
Increasing Renewable Energy and Energy Efficiency
The additional actions and goals that the President has laid out in the plan for renewable energy and efficiency will be important in allowing stringent power plant standards to be achieved in a cost-effective manner.
On energy efficiency, the president announced a new goal to reduce CO2 pollution by a total of 3 billion metric tons through 2030 through new and existing efficiency standards for appliances and federal buildings. This would be a significant reduction, the equivalent of eliminating nearly two years' worth of emissions from coal power plants.
Energy efficiency is one of the most cost-effective ways to reduce emissions, as more efficient equipment uses less energy and therefore saves consumers money. There are dozens of products that are excellent candidates for new and updated efficiency standards—some of which are awaiting approval—and many more ways to capture this low-hanging fruit in the residential, commercial and industrial sectors. A recent analysis finds that there are a total of six standards that are waiting for approval. Each additional month of delay on these costs consumers $200 million in lost savings and pumps an additional 3 million metric tons of CO2 into the atmosphere.
The plan also calls for doubling renewable energy in the U.S. by 2020 and opening public lands for renewable energy development, to the tune of an additional 10 gigawatts of installed renewable capacity on those lands by 2020. This would be enough energy to power 2.6 million American homes.
This policy is a strong complement to the forthcoming emissions standards, as it could make compliance easier for utilities. The federal government owns roughly 28 percent of land in the U.S.; selectively opening up some public lands for clean energy projects should help ease siting concerns for utilities and project developers.
Reducing HFCs and Methane
The U.S. has been working for years to phase down the production and consumption of HFCs under the auspices of the Montreal Protocol. The recent agreement between the U.S. and China to work together toward this end is an important development in reducing emissions of this potent greenhouse gas. Both chemical and consumer product manufacturers support a planned global phasedown of HFC production and consumption. The plan also acknowledges that there is more the U.S. can and should be doing to eliminate its domestic emissions of HFCs under the Significant New Alternatives Policy Program. The plan also recognizes the importance of curbing emission of methane, another potent greenhouse gas. The President calls for development of an interagency methane strategy that improves data on methane emissions and identifies opportunities to reduce those emissions.
Preparing for Climate Impacts
Climate impacts are already happening globally. The U.S. is experiencing rising sea levels along our coasts, droughts in the Midwest, wildfires in Colorado and torrential rains in the Northeast. These impacts are taking a toll on our homes and our businesses. Drought impacts energy production and agriculture. Sea level rise threatens critical infrastructure and clean water supply. These risks are becoming a reality for people across the country.
In response, the plan aims to help Americans prepare for climate change impacts. Adapting to climate change will require striking the right balance between support and direction from the federal government and locally appropriate solutions. The plan focuses on reducing people's vulnerability by identifying barriers and reforming policies. These actions can empower states and localities to tailor their adaptation actions to their location-specific climate challenges. It should also help create incentives for businesses to contribute to solutions. As the country rebuilds from Hurricane Sandy and other extreme weather events of recent years, it will be important to systematically learn what is working and what needs improvement.
International Climate Action
The president calls for greater engagement internationally—and this, too, is critically important. The U.S. can—and should—be a leader on this global challenge. Climate change will bring significant impacts that will affect our economy and our security.
The U.S. should re-engage in a purposeful and constructive way, working with the international community to rally toward an effective and ambitious international climate agreement by 2015. Cooperation on climate change—as signified by the recent announcement between the U.S. and China on HFCs—shows this is an area where collaboration is both necessary and possible. Enhanced U.S. action will catalyze other countries to come forward with a greater sense of ambition and urgency.
Moving Forward with Ambitious Climate Action
Today's announcement marks a major milestone in the creation of a durable and far-ranging climate plan for the U.S. The details matter, of course, so we'll be watching for more specific information about what the various agencies will do—and how quickly and strongly they take up this challenge.
This plan puts a marker in the ground that the Obama Administration is ready to take climate change seriously. It is a strong and broad approach—one that stakes new ground, but also builds on existing common-sense actions.
The plan makes clear the responsibility that we all have to take action for today's communities and for future generations.
Visit EcoWatch's CLIMATE CHANGE page for more related news on this topic.
——–
Click here to tell Congress to Expedite Renewable Energy.
Watch live today at 1:55 EST as President Obama unveils his climate action plan:
Visit EcoWatch's CLIMATE CHANGE page for more related news on this topic.
——–
Click here to tell Congress to Expedite Renewable Energy

Recipients of the Nobel Peace Prize are calling for the rejection of the Keystone XL tar sands pipeline. A letter from 10 Nobel Peace Prize winners addressed to both President Obama and Secretary of State Kerry announced by the Nobel Women's Initiative was inspired by the Laureates' concern for the rapidly expanding Canadian tar sands.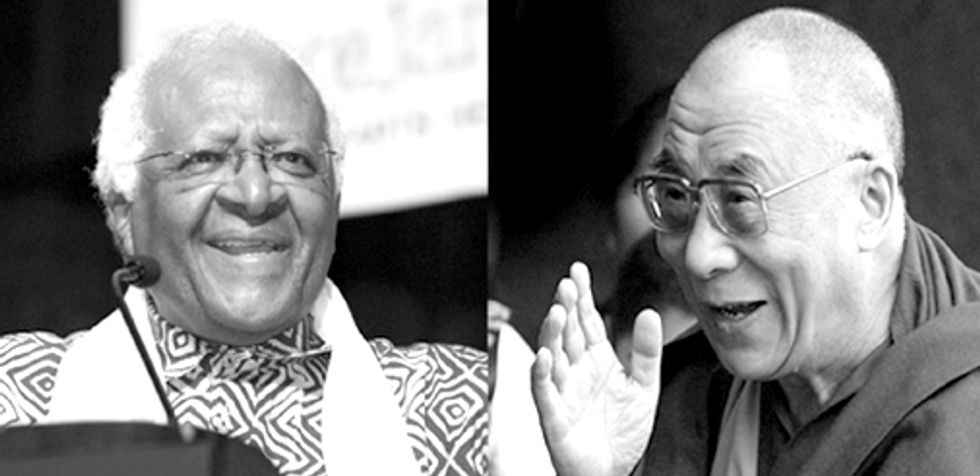 As wildfires burn out of control in Colorado adding to record-breaking weather across the nation, the Laureates said "as leaders who have spoken out strongly on these issues, we urge you, once again, to be on the right side of history and send a clear message that you are serious about moving beyond dirty oil."
The letter sent today followed an earlier letter sent in 2011 also calling for a rejection of Keystone XL. When the great moral leaders of our time, including Archbishop Tutu, call for a rejection of tar sands in the face of catastrophic climate change, it is time for the U.S. to reject the Keystone XL tar sands pipeline, a linchpin enabling the tripling of expansion of this dirty oil. 
Like millions of others, we were buoyed by words in the President's second inaugural address: "We will respond to the threat of climate change, knowing that failure to do so would betray our children and future generations." Mr. President and Secretary Kerry, this is an opportunity to begin to fulfill that promise. While there is no one policy or action that will avoid dangerous climate change, saying "no" to the Keystone XL pipeline is a critical step in the right direction. Now is the time for unwavering leadership.—Nobel Laureates Letter, 2013
The climate impacts of a world that accommodates tar sands expansion are unimaginable. If industry and the Canadian and Albertan governments had their way we would be on track for six degrees centigrade of global warming—triple the two degree limit that the President has promised to avoid.
The International Energy Agency, among many other respected bodies, has found that in order to prevent catastrophic global warming of over two degrees centigrade we must leave two thirds of fossil fuels in the ground.—Nobel Laureates Letter, 2013
In addition to the climate pollution, the tar sands are doing irreversible damage to water, air, land, animals and communities in Northern Alberta and along their pipeline routes where the question of a spill is not if but when.
Recent tar sands oil spills in Kalamazo, MI, and Mayflower, AR, have served as a harsh reminder that shipping the world's dirtiest oil will never likely be safe enough for human health and the environment. —Nobel Laureates Letter, 2013
President Obama and Senator Kerry have both been clear about the urgency and importance of dealing with climate change, and recognizing that as the world's largest polluter, the U.S. is a critical player in ensuring a safe future for generations to come. The Keystone XL tar sands pipeline debate has illustrated the two pathways we face as a country. One locks us into decades of dirty fossil fuels, taking us down a path of negatively affecting millions of lives and livelihoods. And on other pathway we build real energy security based on clean and renewable energy that will protect our economy, our people and future generations.
The Laureates acknowledged the President was under pressure to approve Keystone XL, especially by big oil interests.
We also recognize the pressure from forces in your own country. The Keystone XL pipeline will not benefit or improve the lives of Americans, but nevertheless we understand that the politics of action on climate are not easy. We believe you are the kind of leaders who can stand up to those interests when necessary, to do what is right for the world and for future generations. —Nobel Laureates Letter, 2013
The decision on the Keystone XL tar sands pipeline has emerged as an issue of international interest. It is about standing up to big oil and rejecting the expansion of some of the dirtiest oil on earth. President Obama and Secretary Kerry: It is time to say no to the Keystone XL tar sands pipeline once and for all.
Visit EcoWatch's KEYSTONE XL page for more related news on this topic.
——-
In protest of the Keystone XL pipeline, 22 activists were arrested today when they staged a sit in at the State Department in President Obama's hometown of Chicago. The activists arrested today included former Obama staffers, donors and volunteers who helped elect the President in 2008 and 2012 and want the President to make good on his commitment to fight climate change. The action was organized by CREDO, Rainforest Action Network and the Other 98%.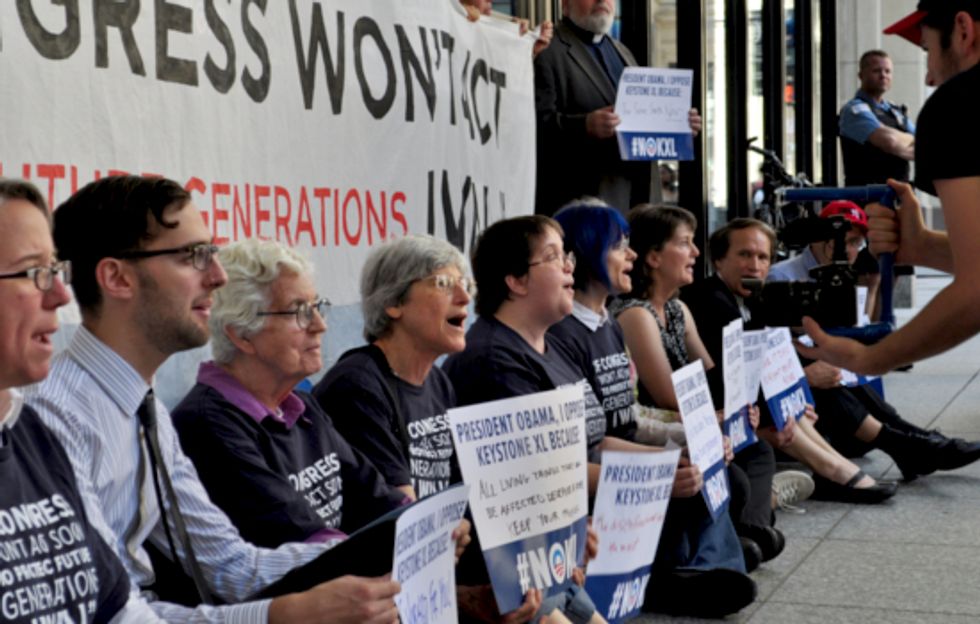 Many activists at today's event wore shirts with President Obama's quote committing to take action on climate change: "If Congress won't act soon to protect future generations, I will."
While President Obama's activism arm, Organizing for Action (OFA), has called out climate deniers, the President has not committed to any course to actually address climate change, nor has he rejected the Keystone XL pipeline, the approval of which would dramatically undermine any climate agenda the President may set.
"I never thought I'd be back in Chicago to risk arrest in order to get President Obama to do the right thing on climate change," said Elijah Zarlin, formerly a senior national email writer on President Obama's 2008 campaign. "But the fact is, President Obama hasn't made good on the commitment he made to his staff and supporters to fight climate change. If the president wants our help to push his agenda forward in the second term, Keystone XL is a make or break moment."
"As a grandfather and avid supporter of President Obama, I respect his words offered in response to the climate crisis but we are out of time for just words," said Rev. Terrence Gallagher, an Obama donor risking arrest at today's sit in. "I am risking arrest if that is what is necessary to move him to the action of denying the permit for the Keystone XL pipeline. The future well-being of our kids deserves no less of a response."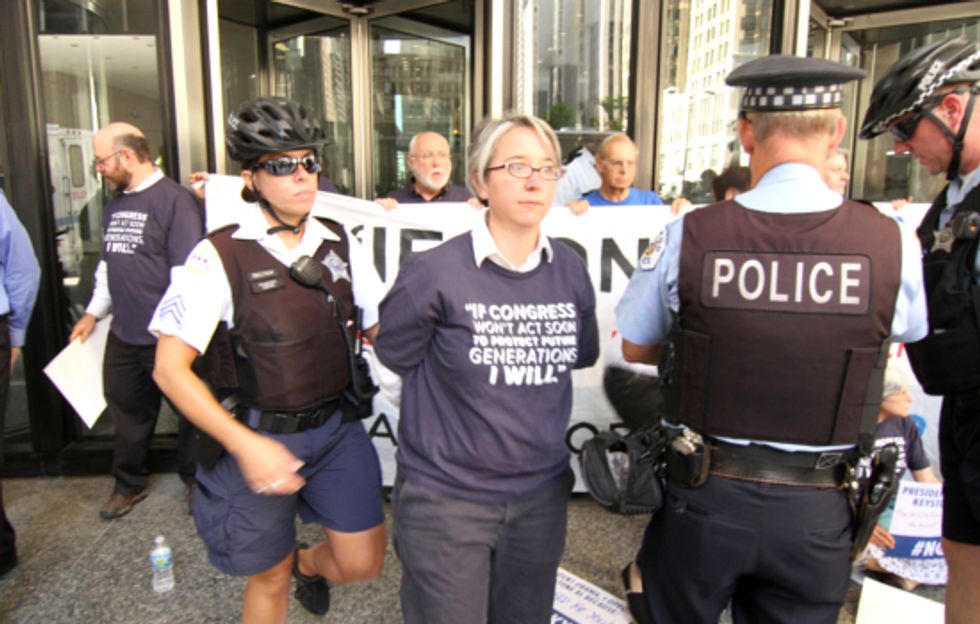 "Delivering Virginia for the President in 2012 was a huge honor. I put in 14 and 16 hour days because I, like most of my generation, believe in the president and I believe he'll do the right thing on climate and reject the Keystone XL pipeline," said Andrew Nazdin, formerly Virginia's deputy training director for OFA in 2012.
"People are ready for their government to take urgent action on the climate and they are willing to risk arrest to get it," said Amanda Starbuck, energy and finance program director at Rainforest Action Network. "Today's sit in marks the start of what tens of thousands will be prepared to do if the president doesn't stop the Keystone XL pipeline, and begin defending our country from climate change."
The location of today's sit in is notable not just because it is President Obama's hometown, and the location of his activism arm, OFA, but because the State Department is the agency currently engaged in finalizing the review of Keystone XL, a process that has been wrought with conflict of interest and insufficient science.
More than 62,000 people have signed the group's Pledge of Resistance to risk arrest in peaceful, dignified civil disobedience if President Obama's administration issues a draft National Interest Determination recommending approval of the Keystone XL pipeline. Today's action is the first of a number of civil disobedience actions the groups are planning throughout the summer to demonstrate to the president that they are serious in their pledge, and that it is politically unfeasible for him to approve Keystone XL.
Visit EcoWatch's KEYSTONE XL page for more related news on this topic.
——-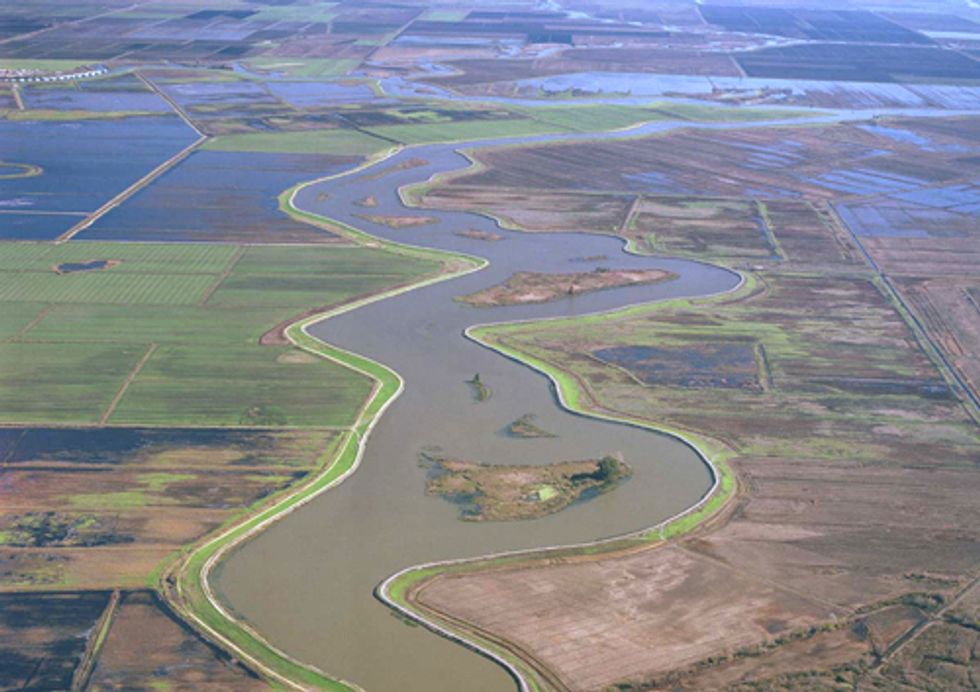 A bill that overrides a bipartisan, court-approved settlement to restore the San Joaquin River in California was passed by the House of Representatives, despite the fact that President Obama has already pledged to veto it. The bill passed with strong Republican support and against the wishes the vast majority of California Democratic House members.
The bill called the "San Joaquin Valley Water Reliability Act" (H.R. 1837) is also opposed by the State of California, California's two senators, the California Attorney General, the leaders of the California State Legislature, commercial and recreational fishing associations, environmental groups, water districts, local governments, delta farmers and others.
Among other things the bill, introduced by Rep. Devin Nunes (R-CA), would toss out the 2009 San Joaquin River Restoration Agreement, which was agreed to by parties in a federal court settlement in California. The bill also sets a dangerous precedent for preempting state water rights, leaving other states vulnerable to this kind of federal interference.
Farmers and fishermen, whose livelihoods depend on a healthy Bay-Delta oppose the bill because it would take water needed to grow crops and healthy salmon runs. If passed, the Representative Nunes bill would reverse efforts to restore the Bay-Delta estuary and improve the reliability California's water supplies.
Zeke Grader of the Pacific Coast Federation of Fishermen's Associations, a trade group representing commercial salmon fishermen said, "This bill is a jobs killer for fishermen and fishing communities. It's clear that Mr. Nunes and his fellow travelers have greased the way for a massive giveaway of a public resource to these San Joaquin Valley water profiteers."
"The Nunes bill is a blatant attempt to boost corporate profits for some of the world's wealthiest agribusinesses and to wipe out important environmental protections that the bill's supporters never liked," said Marjorie Mulhall, Earthjustice associate legislative counsel. "The changes proposed by Big Ag will result in more species going extinct, including species like Pacific salmon that are critical to the economies of West Coast states."
At stake is the largest estuary on the West Coast of North America. It is a maze of wetlands and farmlands, islands and waterways, where torrents of the Sierra Nevada mix with tides from the Pacific Ocean. It provides a haven for fish and wildlife, quenches the thirst of millions of Californians, contains thousands of acres of farmland while watering hundreds of thousands more, and nurses salmon runs that sustain fishing ports along a thousand miles of coastline.
A Bush-era water giveaway to junior water rights growers and a billionaire water-broker shattered the estuary's delicate life balance and caused natural flows to reverse course, dragging tens of thousands of young salmon and other native fish to their deaths. Earthjustice won court victories to stop this runaway water diversion scheme—victories now under attack in Congress.
For more information, click here.