To truly get the most out of life, a person needs to be able to get a good night's sleep. Lack of sleep due to stress or insomnia has led many to seek out natural products, including CBD, to help them fall asleep and stay asleep. Is there anything behind the idea of CBD for sleep improvement? In this article, we will explore the role that CBD for insomnia can play in a healthy sleep cycle and recommend CBD sleep products from brands we trust.
Our Top CBD for Sleep Picks
Each product featured here has been independently selected by the writer. You can learn more about our review methodology here. If you make a purchase using the links included, we may earn commission.
How We Picked the Best CBD for Sleep
We vetted the source and quality of the CBD for insomnia and sleep in this article. All recommended products were derived from industrial hemp grown in the United States and contains under 0.3% THC, which is required by law. Additionally, all products have been tested by third-party labs to ensure their quality and safety.
When reviewing CBD brands and products, we focus on six major factors:
Value — is the brand's CBD affordable compared to similar products?
Strength — how much CBD and what type of CBD does their product contain?
Source — where does the company source their hemp and how is the CBD extracted?
Flavor — does the product come in any flavors and do they flavor them naturally?
Transparency — do they offer third-party lab test results and information about each batch of CBD?
Customer experience — what do customer have to say about the product and purchasing experience?
Using these standards we were able to select the best CBD for insomnia and sleep. Learn more about our choices below.
The Best CBD for Sleep Products
Can CBD Improve Your Sleep?
What is the science on CBD and sleep? Research shows that CBD, or cannabidiol, can help treat chronic pain, anxiety, and insomnia, and may help users both fall asleep and stay asleep.
According to research in a 2019 study published in The Permanente Journal on behalf of the National Institutes of Health, CBD was examined for its efficacy in not only treating anxiety problems and post-traumatic stress disorder but also sleep disorders. The results of the study displayed that patients treated through the use of CBD over the course of three months saw an improvement in their sleep cycles, as well as a lessening of their anxiety and other mental anguish. Administered in doses of 25 mg of CBD, the cannabidiol was well received. Side effects were minimal and typically related to daytime sleepiness on higher doses of CBD.
It is believed that CBD for insomnia can improve sleep processes because it triggers the body's endocannabinoid system, a biological system that is comprised of receptors and enzymes that regulate a variety of bodily functions, including sleep, memory, appetite, and mood.
Phytocannabinoids, like CBD and CBN, have the potential to interact on an indirect basis with cannabinoid receptors in the endocannabinoid system, thereby encouraging the body to sleep by helping to manage anxiety, pain, and stress hormones that contribute to sleep loss.
Why is Sleep Important?

According to the American Sleep Apnea Association, an estimated 50 to 70 million people in the United States spanning all ages and socioeconomic classes suffer from sleeplessness. Both men and women are impacted by sleep disturbances, and according to the American Academy of Sleep Medicine and the Sleep Research Society, adults aged 18-60 years old need at least seven hours of sleep each night to realize optimal health and well-being.
Sleep plays an important role in your mental and physical health. When you have a healthy sleep cycle, your body and mind are able to engage in many restorative processes including healing and repairing cognitive and cardiac functions. During sleep, your body is actively working by boosting your immune system, fighting inflammation, regulating digestive processes, and so much more.
When a person does not get the sleep they need, they run the risk of developing many chronic health conditions, including:
High blood pressure
Stroke
Heart disease
Obesity
Diabetes
Mental health issues
Insomnia is a serious sleep disorder that can be acute (short-term) or chronic (long-term). Right now, one in four Americans develops insomnia annually, according to Science Daily. Insomnia can cause a person to have problems falling asleep, staying asleep, or waking far too early. This can drastically impact your energy level, your work performance, your quality of life, and has the potential to cause negative physical and mental health outcomes.
According to the Mayo Clinic, chronic insomnia can result in many of the health conditions we have referenced, and can also cause depression and anxiety. CBD for insomnia not only has the potential to help as a sleep aid to improve sleep quality, but it can also help to mitigate and manage anxiety and assist with chronic pain relief to help you achieve a calm and restful night's sleep.
How to Choose For You
If you are looking for the best CBD for sleep, then it is important to do your research and realize that not all CBD products are created equal.
What to Look For
In order to feel confident knowing that you purchased a high-quality CBD product, only buy from a brand that engages in accredited, third-party lab testing and subsequently publishes its lab reports on its website. You must be able to see that what is on the label of your CBD oil actually is validated through testing processes.
This also ensures that the CBD is free of toxins, including pesticides, heavy metals, microbials, and solvents, and contains the concentration of CBD, terpenes, and other cannabinoids and plant parts that it claims. Always look for brands that use CBD from hemp grown in the United States, as these products undergo more rigorous testing than in some other countries.
In addition to CBD, look for products that include other natural ingredients like lavender, chamomile, passion flower, and lemon balm that are help to promote calm and rest. Make certain that all ingredients, including any flavorings, are all natural and labeled clearly. Also consider products that contain melatonin, a natural hormone that regulates sleep alongside wakefulness. Boosting this particular hormone, which is already found in your body, can truly improve your sleep-wake cycle.
How to Read Labels
It's important to know what kind of CBD is used in the product you choose. When comparing labels, look for one of the following:
Full spectrum CBD - contains all of the plant compounds found in hemp including THC
Broad spectrum CBD - contains some additional plant compounds, but no THC
CBD isolate - pure CBD that contains no additional compounds
Some people find that full-spectrum CBD offers a better experience promoting sleep thanks to the entourage effect, while others may want to avoid THC entirely.
Here are some additional pieces of information to look for on each product.
Dosage
How much CBD the product contains and how much is included, in mg, per serving. It's recommended that those new to CBD start with a lower dose and slowly increase the amount taken to identify the right dosage for your body.
Other Cannabinoids
Look for information about additional cannabinoids included, like CBN or CBG. These are naturally found in the hemp plant in certain dosages, but some products have higher amounts to help promote sleep.
Carrier Oils
Additionally, CBD oil tinctures use carrier oils, frequently olive oil, MCT oil or hemp seed oil. Make sure you know what type of carrier oil is used in case you are allergic to certain ingredients like coconut.
How to Use
Depending on the type of CBD product you choose, you will use it differently to help you sleep. Most CBD sleep products recommend use an hour or so before bed to allow it to take effect.
If you are using a CBD oil tincture, this is taken with an included dropper to place a small amount under your tongue. Keep the CBD under your tongue for 30 seconds or so, for better absorption, before swallowing. In terms of dosage amounts, the oil should come with a dropper with mL measurements. To start, take a single mL drop for a single serving of CBD. Again, it's important to start low and go slow when adding CBD to your routine.
For capsules and gummies, simply take the recommended serving (typically 1 or 2) about an hour before bedtime. Some work better when taken with food, so be sure to check the directions on the packaging.
For CBD bath bombs, you simply add one of these to a hot bath as part of your evening routine before bed.
Note that CBD typically works best by building up in your system over time, so it may take up to a month for you to experience the full effects.
Side Effects
The primary side effects associated with CBD are rare and typically mild. These can include, but are not limited to, the following:
Drowsiness
Lightheadedness
Nausea
Diarrhea
Dry Mouth
It's also important to note that in certain cases CBD can negatively interact with prescription medications, causing altered concentrations of the medicine in the bloodstream. If you take prescription medications, or if you have any questions regarding CBD, be sure to consult with your primary care physician before taking CBD.
Should I Try CBD for Sleep?
There is no denying that we live in stressful times and that many people in the United States are experiencing problems with sleep. However, there is no need to suffer through another night tossing and turning. CBD for insomnia could help you regulate sleep cycles, promote restful sleep, and manage anxiety. Plus, with a number of different CBD products available, you can easily find the right one for your nightly routine.
Keep in mind that since CBD oil is not regulated by the FDA, you must do your due diligence. When considering CBD for sleep in your life, consult with a doctor if you have any existing medical conditions prior to beginning use.
EcoWatch Daily Newsletter
CBD, one of the many compounds found in the cannabis plant, has been getting a lot of attention recently. Some of it good and some of it bad. Increasingly, people in the UK are turning to CBD oils for help in relieving pain, anxiety, sleep and a host of other health issues. Find out which brands made our list of the best CBD oil in the U.K. below.
While CBD is gaining in popularity, and more products are becoming available on the high street and online, there is little scientific research to back the claims made by some CBD product manufacturers. That's why if you're going to buy CBD oil it is important to understand what you're purchasing and to choose products from brands that lab test their products and make the results available to customers.
To help you find the best CBD oil available in the UK, we've done all the hard work and created a list of the best CBD oil brands and products that are available online for you to choose from.
Our Top Picks for Best CBD Oils in the U.K.
Each product featured here has been independently selected by the writer. If you make a purchase using the links included, we may earn commission.
How We Chose the Best CBD in the U.K
To create this list of CBD oil producers and sellers, we've:
Spoken with over 100 different producers
Tested over 50 products for potency, quality and accuracy of labelling
Tried every product on the list
We've tested CBD oils for taste, consistency, cannabinoid profile, value, and accuracy of lab test results to compile our list of the best CBD oils available online today.
Our readers also provide feedback on the brands they've tried and like or don't rate so much. We take our readers' feedback into consideration when we make our Buyer's Guides.
We also work directly with many of the leading CBD brands to bring you their latest offers and discounts, so it's worth checking back to see how you can continue to get the best value CBD oils for your money.
It is important to note that the details for the products listed here are not intended for diagnosing, treating, curing or preventing any particular disease. If you take prescription medicines you should speak to your GP or other healthcare professional before you take CBD oil about possible drug on drug interactions.
In this buyer's guide to CBD oils in the U.K., you'll find:
A list of the brands we trust most
A price comparison chart to help you find the best value CBD oil
The potential benefits that you can derive from CBD oil
CBD dosage recommendations
How to pick the best CBD oil for your needs
CBD oil works differently for everyone and just because something works well for a friend or colleague doesn't necessarily mean it'll be as effective for you. Fortunately, there are many options out there to choose from. The CBD market is growing fast, however, quality can vary between brands, which is why we have conducted our own research to compile a list of CBD products that we think are the best.
Price Comparison
The key numbers to look at are the cost of CBD per mg (how much you're paying for your CBD) and the mg of CBD per mL (how much CBD you're getting per milligram). Where possible, compare each brand's 1,000mg product. It's worth bearing in mind that a higher strength bottle may be more cost effective in the long run.
For instance, Eir Health's 30ml 3,000mg bottle works out at £0.04 per milligram and delivers 100 milligrams per milliliter. So if you're looking for a higher strength bottle which will last you, paying slightly more initially would be beneficial. It's worth bearing in mind that a higher strength bottle may be more cost effective in the long run. For instance, Eir Health's 30ml 3,000mg bottle works out at £0.04 per milligram and delivers 100 milligrams per milliliter. So if you're looking for a higher strength bottle which will last you, paying slightly more initially would be beneficial.
What is CBD Oil?
CBD is short for cannabidiol and is a chemical compound found in all varieties of the cannabis plant. CBD oil has become popular in recent years due to changing worldwide legislation. In the UK specifically, there were several high-profile medical cases relating to medicinal cannabis and the treatment of children with epilepsy and other health conditions. CBD is the non-psychoactive component of cannabis and, it's thought, the primary cannabinoid that interacts with the body's endocannabinoid system. This system promotes homeostasis, or balance, and regulates physiological and cognitive functions such as mood, appetite, and how we feel pain caused by inflammation.
CBD oil is produced using a range of extraction methods, including CO2 or ethanol extraction, and then added to a carrier oil, such as MCT coconut oil, to create a tincture with a broad range of possible health benefits. CBD oil is just one form that this cannabinoid can be found in and is different to hemp seed oil, which is generally used as a dietary supplement for the essential fatty acids, vitamins and minerals it imparts. Hemp seed oil is produced by cold pressing hemp seeds and creating a dark coloured oil with the nutrient-rich composition described above. CBD, on the other hand, is extracted from the flower and leaves of hemp plants.
CBD is wildly popular for its potential therapeutic effects, which some clinical trials and animal studies have found to help with a number of symptoms and conditions that CBD may help alleviate, including:
Benefits of CBD Oil
Chronic pain
Nausea
Migraines
Appetite
Seizures
Psoriasis
Inflammation
Insomnia
The most common health and lifestyle issues that people turn to CBD oil for are:
Anxiety – CBD oil has been found to relieve symptoms of anxiety in people in several small studies. This is not restricted to one form of anxiety as social anxiety, generalised anxiety, panic attacks and some forms of depression have all been found to be relieved with CBD oil. It's thought that this is achieved by changing the way the brain reacts to anxiety.
Pain – CBD oil for pain is another area that anecdotal evidence and limited medical studies show people may find relief. CBD may help reduce inflammation in the body and therefore, relieve pain. Chronic pain, back pain and generalised pain have all been shown to be relieved with CBD oil.
Sleep – Falling asleep and staying asleep for longer periods may be enhanced with CBD oil. Both direct and indirect benefits for sleep can be derived from CBD oil. An oil or edible form of CBD can help to calm the mind (indirect) and in some cases, taking CBD can make the user drowsy (direct).
While there are a wide range of benefits that may be derived from CBD oil, the MHRA – which stands for the Medicines and Healthcare products Regulatory Agency and is the equivalent to America's Food and Drug Administration (FDA) – has taken the stance that unless a CBD product has been approved as a medication it cannot make any medical claims on its packaging or in its marketing. This means producers need to hold a product licence to legally sell, supply or advertise them as medicine in the UK. However, no licences for selling CBD oil as a medicine have been granted by the MHRA to date. The MHRA advises people to speak to their GP or other healthcare professional if they are considering taking CBD products.
Is CBD Oil Legal in the UK?
Yes, but there is some confusion. In the UK and EU, CBD products are completely legal, as long as they have been derived from industrial hemp and contain no more than 1mg of THC per product. But the general advice is that UK CBD oil should contain no more than 0.01% THC, as current testing standards may not be able to detect 1mg of THC.
It has been reported that CBD Oil in the UK with no more than 0.2% THC is legal but this only applies to the cultivation of hemp and not CBD oils, which are hemp derivatives. Also, any THC contained in CBD products must be difficult to separate from the rest of the product. There are two exceptions to this law; one for Sativex, a 50% CBD and 50% THC product approved by the MHRA as a medication for treating multiple sclerosis symptoms, and for the prescription of cannabis derived medicinal products by specialist clinicians. The second exception came into law in November of 2018 after several cases were brought to court requesting the use of medical cannabis products to alleviate severe epileptic symptoms in two children.
CBD Strength and Concentrations
Concentrations of CBD in oils vary from 1mg of CBD per millilitre to 50 or 400mg per millilitre.
If a bottle has 1000mg of CBD in a 10ml bottle, this means that 100mg of CBD is dissolved in every 1ml of liquid. You can work out the number of milligrams of CBD in each millilitre by dividing the milligrams (weight) of CBD by the millilitres (volume) of the bottle; for this example, that's 1000 divided by 10 which works out at 100mg per ml.
Many UK-based brands highlight the percentage of CBD in their products, such as 5% or 10% CBD. This simply refers to the weight of the drug by volume measured in grams in 100 millilitres. Using the example above, we need to convert 1,000 milligrams to grams, which is 1 gram of CBD, that's our weight. And as the bottle is 10ml, we divide 1 gram by 10 millilitres, and multiply by 100 to get our percentage, which is 10%.
How to Dose with CBD Oil
Advice on how much CBD oil you should take varies. It's almost impossible to find a definitive answer based on clinical guidance so people need to experiment in order to find out what works best for them. It's wise to start with a low dose and work your way up to find a dosage that works for you. Understanding different product types and labelling will help you to properly measure the amount of CBD to take.
Because dose guidelines are limited, it's best to start low and work your way up to a dose of CBD oil that works for you. One resource we've found suggests starting at 1 – 6mg of CBD per 10lbs of body weight. This would mean an average UK woman weighing 11 stone, could take anywhere between 15 – 92mg of CBD per dose. This could be broken into smaller doses throughout the day instead of taking all in one go.
Typically, 10ml works out to approximately 200 drops. Using the same example above, we know 1ml contains 100mg of CBD. That would mean to take 100mg of CBD you would need 20 drops of the CBD Oil. We got to that number by dividing 200 by 10. To get 15mg of CBD you would need to take only 3 drops.
What is the Correct CBD Oil Dosage?
How to take CBD and the concentrations for each does will vary depending on the condition you are looking to find relief from. For example, if you're taking CBD oil for anxiety, regular, lower doses seems to be appropriate. CBD oil for sleep calls for a single, higher dose no more than an hour before bed. That's not medical advice, that's what we've gleaned from people who use CBD products.
Dosing is the most common question people have about CBD oil and other products. It's also the question we're most often asked. We cannot overstate the fact that there is no one definitive answer.
With that being said, here is a typical dosing guide to help you get started:
CBD Oil Dosing Guide
| | | | | | |
| --- | --- | --- | --- | --- | --- |
| Symptom Severity | 25-50lbs | 50-85lbs | 85-150lbs | 150-240lbs | 240+lbs |
| Mild | 6mg | 9mg | 12mg | 18mg | 22mg |
| Medium | 9mg | 12mg | 15mg | 22mg | 30mg |
| Severe | 12mg | 15mg | 18mg | 27mg | 45mg |
How your body reacts to CBD is different to everyone else. The reason to take CBD is also personal to you – some people want to feel relaxed, others are thinking of a daily supplement to boost their health. CBD oil capsules can give your body a steady supply of cannabinoids to absorb over the course of the day. Oils will have you feeling the effects faster, but they still take time a small amount of time to work their way into your system (usually somewhere between 5 and 20 minutes). If you don't feel the effects immediately, don't take more. CBD can have an accumulative effect so wait a while before re-dosing.
Use Your Head
If you want to take 50mg of CBD and buy gummies containing 10mg each, consider the amount of sugar you'll also consume to get your CBD dose. Remember you're looking for a supplement, not a sugary snack. Choose the product that makes the most sense in regard to the dose of CBD you wish to take.
It's also worth considering price. If you find oils that declare 500mg of CBD for £15, yet everywhere else is selling the same for £50, ask yourself a few questions. Is it likely that the cheaper brand has found a way to lower the cost of growing, extracting and packaging their CBD that the others haven't? It's more likely that the cheaper brand is making bogus claims or misleading you in regards to the quality of CBD in their product? Check online guides, research brands, read a comparison list, and do your homework so you are sure you are purchasing the best CBD products for your individual circumstances.
How to Buy the Right CBD Oil Online
Consider How Much You Want to Spend
Before you purchase CBD oil online, you should consider how much you're comfortable spending. Products can be expensive, so setting an upward limit can help you narrow down the selection and find something that works for you, without breaking your budget.
Check the Test Results
The best CBD products and brands show third-party test results on their websites, or sometimes send them to you if requested. There are a few points you should look out for when viewing test results that can help you decide which brand is best for you.
Batch numbers – Some brands are fastidious about testing and you can check individual batch numbers for products. This lets you follow a crop from soil, to lab, to bottle. Test results should be recent, within the last quarter is good, within the past year is acceptable, anything more is less helpful.
Cannabinoid strength, potency and terpene levels – A recent UK study by the Centre for Medical Cannabis found 62% of UK CBD mislabelled. Checking on test results can help you confirm the CBD, THC and other terpene levels found in products.
Heavy metals and pesticides – Hemp sucks up whatever is in the soil. This can compromise the quality of CBD products and is why we like established brands that use land free from pesticides and heavy metals, as opposed to pop-up brands that may source their product from growers using unproven ground. Test results should show the heavy metal content of CBD products is below the safe threshold.
Solvents and bacteria – All CBD products should be free from solvents and manufactured in clean facilities that are free from bacteria such as salmonella.
If you are making a purchase via the internet, always make sure to review recent Certificates of Analysis.
Check to See What Kind of CBD Extract is Used in the Product
CBD products in the UK fall into three different categories: Full spectrum, broad spectrum, and isolate. Full and Broad-spectrum CBD oils are thought to have greater therapeutic benefits as the multiple cannabinoids work together. This is known as the 'entourage effect'. Experts we have spoken to support the idea of 'whole-plant therapy'. Some people may prefer CBD isolate if they are subject to drug tests through work and so on.
Consider the Taste
Some people can stand the taste of hemp. The earthy green flavour can be a turn off. Some CBD oil products have milder hemp flavours or natural additives that mask the hemp flavour to make them more palatable.
Shop Around
While you need to be aware of scammers, there are a lot of great brands that care about their product and customers. In terms of taste and strength of product, you may find it helps to try a range of brands to find the one that suits your personal preferences best.
FAQs
Is CBD oil safe?
The World Health Organisation (WHO) released a report in 2017 stating that there was little potential for abuse of CBD. Furthermore, they recognised the potential therapeutic benefits that could be derived from CBD for treating a wide range of conditions such as Alzheimer's disease, Parkinson's, multiple sclerosis, cancer and diabetic complications, along with general pain, anxiety and depression.
Does CBD get you stoned?
No. CBD is the non-psychoactive component of cannabis. THC is the compound that has a psychoactive effect when taken in large enough doses (more than the 0.2% found in CBD products). Someone would need to smoke a CBD joint the size of a telephone mast to feel any psychoactive effects. CBD products allow people to get beneficial cannabinoids into their system to help their body function better, without becoming 'high' or 'stoned'.
How long does CBD oil last?
This partly depends on how quickly your body processes CBD and also the kind of CBD product you use. 6 – 8 hours is generally the length of time CBD oils will provide a noticeable effect.
Some products, like capsules are considered a daily supplement that needs to be taken over a period of time for it to reach its potential. Other kinds of CBD are faster acting and stronger; these types of products are better for specific issues such as social anxiety, problems with public speaking, or irregular and unexpected pain or discomfort.
Can I take too much CBD Oil?
You need to be careful about taking anything that will affect your health and if you are taking other medication, you should definitely discuss how CBD might interact with them, with your GP or healthcare professional. That said, most experts agree it is impossible to overdoes on CBD and even the World Health Organisation has published a report stating CBD is non-toxic and safe to use.
If you do take a very high dose of CBD, you may experience dizziness, lethargy, nausea, dry mouth and diarrhoea, but this will pass as your body processes the dose you have taken.
Other Types of CBD Products
This page covers most of what you need to know about CBD oils. If you're in the states, we also have this helpful list of organic CBD oil brands. There are lots of CBD products on the market, and each have their pros and cons.
If you're interested in CBD gummies, topicals, capsules or anything else, check out our additional online guides to find out all about the CBD product that interests you most.
Melena Gurganus is passionate about health and wellness and her writing aims to help others find products they can trust. Her work has been featured in publications such as Health, Shape, Huffington Post, Cannabis Business Times, and Bustle.
waterlust.com / @tulasendlesssummer_sierra .
Each product featured here has been independently selected by the writer. If you make a purchase using the links included, we may earn commission.
The bright patterns and recognizable designs of Waterlust's activewear aren't just for show. In fact, they're meant to promote the conversation around sustainability and give back to the ocean science and conservation community.
Each design is paired with a research lab, nonprofit, or education organization that has high intellectual merit and the potential to move the needle in its respective field. For each product sold, Waterlust donates 10% of profits to these conservation partners.
Eye-Catching Designs Made from Recycled Plastic Bottles
waterlust.com / @abamabam
The company sells a range of eco-friendly items like leggings, rash guards, and board shorts that are made using recycled post-consumer plastic bottles. There are currently 16 causes represented by distinct marine-life patterns, from whale shark research and invasive lionfish removal to sockeye salmon monitoring and abalone restoration.

One such organization is Get Inspired, a nonprofit that specializes in ocean restoration and environmental education. Get Inspired founder, marine biologist Nancy Caruso, says supporting on-the-ground efforts is one thing that sets Waterlust apart, like their apparel line that supports Get Inspired abalone restoration programs.
"All of us [conservation partners] are doing something," Caruso said. "We're not putting up exhibits and talking about it — although that is important — we're in the field."
Waterlust not only helps its conservation partners financially so they can continue their important work. It also helps them get the word out about what they're doing, whether that's through social media spotlights, photo and video projects, or the informative note card that comes with each piece of apparel.
"They're doing their part for sure, pushing the information out across all of their channels, and I think that's what makes them so interesting," Caruso said.
And then there are the clothes, which speak for themselves.
Advocate Apparel to Start Conversations About Conservation
waterlust.com / @oceanraysphotography
Waterlust's concept of "advocate apparel" encourages people to see getting dressed every day as an opportunity to not only express their individuality and style, but also to advance the conversation around marine science. By infusing science into clothing, people can visually represent species and ecosystems in need of advocacy — something that, more often than not, leads to a teaching moment.

"When people wear Waterlust gear, it's just a matter of time before somebody asks them about the bright, funky designs," said Waterlust's CEO, Patrick Rynne. "That moment is incredibly special, because it creates an intimate opportunity for the wearer to share what they've learned with another."
The idea for the company came to Rynne when he was a Ph.D. student in marine science.
"I was surrounded by incredible people that were discovering fascinating things but noticed that often their work wasn't reaching the general public in creative and engaging ways," he said. "That seemed like a missed opportunity with big implications."
Waterlust initially focused on conventional media, like film and photography, to promote ocean science, but the team quickly realized engagement on social media didn't translate to action or even knowledge sharing offscreen.
Rynne also saw the "in one ear, out the other" issue in the classroom — if students didn't repeatedly engage with the topics they learned, they'd quickly forget them.
"We decided that if we truly wanted to achieve our goal of bringing science into people's lives and have it stick, it would need to be through a process that is frequently repeated, fun, and functional," Rynne said. "That's when we thought about clothing."
Support Marine Research and Sustainability in Style
To date, Waterlust has sold tens of thousands of pieces of apparel in over 100 countries, and the interactions its products have sparked have had clear implications for furthering science communication.
For Caruso alone, it's led to opportunities to share her abalone restoration methods with communities far and wide.
"It moves my small little world of what I'm doing here in Orange County, California, across the entire globe," she said. "That's one of the beautiful things about our partnership."
Check out all of the different eco-conscious apparel options available from Waterlust to help promote ocean conservation.
Melissa Smith is an avid writer, scuba diver, backpacker, and all-around outdoor enthusiast. She graduated from the University of Florida with degrees in journalism and sustainable studies. Before joining EcoWatch, Melissa worked as the managing editor of Scuba Diving magazine and the communications manager of The Ocean Agency, a non-profit that's featured in the Emmy award-winning documentary Chasing Coral.
James Barker / Unsplash
Many pet owners have shown an interest in CBD oil for dogs as a natural way to enhance the health and wellbeing of their pets. CBD, or cannabidiol, can offer a wide range of health benefits for animals, just as it can for humans. In this article we'll offer background information on CBD oils for dogs as well our recommendations for the best brands and products.
To help clarify any misconceptions about the use of CBD on animals, we wanted to outline important information regarding effects, dosing, and scientific research related to CBD use on pets. Those that have personally tried CBD for their pets say it has the potential to reduce pain, anxiety, inflammatory conditions, and seizures, among other advantages.
It's worth doing your own research to find the best CBD solution for your pet, since they now come in CBD treats, shampoos, peanut butters, and more. Our article will recommend the best CBD oils for dogs and will also provide important information for you to consider about giving CBD to your pets.
Our Top Picks for Dog CBD Oils
Below is our list of the best CBD oil products for dogs. Each of these brands has exhibited a commitment to third-party lab testing and creates products we think you and your pet can trust.
How We Review CBD Oil for Dogs
To create our list of best CBD tinctures for dogs, we evaluated each brand and product on six specific categories that we use for all of our reviews.
Value — Is the brand's pet CBD oil affordable and does it work as advertised?
Strength — How many total milligrams of CBD does each dose of CBD oil contain? Is it full spectrum, broad spectrum, or CBD isolate?
Source — Where does the company get its hemp? Is it grown in the USA?
Flavor — Do they flavor their CBD oil? If so, do they use natural ingredients?
Transparency — Can you view third-party lab test results and information about their extraction process?
Customer Experience — Do they offer a satisfaction guarantee? What do customer reviews say about the product?
Learn more about our picks for best CBD oils for dogs below.
Each product featured here has been independently selected by the writer. If you make a purchase using the links included, we may earn a commission.
About CBD for Dogs
When it comes to cannabis, dogs have a slightly different endocannabinoid system than humans. Canines have a higher concentration of CB1 receptors in the cerebellum than any other species, and THC is a partial agonist of these receptors. This means that dogs have increased sensitivity to THC, but since CBD is different compound it does not have much direct action with these CB1 receptors. Since CBD oils made from hemp have high amounts of CBD and extremely low amounts of THC, it's unlikely that CBD would harm your dog. Any product high in THC should probably be avoided unless otherwise recommended by a trusted vet.
While THC may have medicinal value in certain cases, it can produce a psychoactive effect that might actually increase anxiety in animals when administered in high doses. If you want to introduce cannabis extracted ingredients into your dog's diet, it's generally safer to use CBD dominant extracts.
Although THC and CBD can be used in conjunction for therapeutic purposes, it's more difficult to obtain extracts with a high concentration of THC — unless you live in one of the few states that allows for recreational marijuana use. Cannabis extracts that are high in CBD and low in THC are preferred, as they are considered to be widely available and legal in more areas. Lab test results, especially from a third party lab, can determine the percentage of CBD and THC within a cannabis extract. This way, you can ensure that any cannabis extract given to your dog is accurately labeled and contains only CBD extracted from hemp.
CBD Oil for Dogs FAQs
What are the benefits of CBD oil for dogs?
There are plenty of personal stories about the health benefits of CBD on pets, but what science is there to back up these claims?
One survey from the American Holistic Veterinary Medical Association (AHVMA) included responses from more than 600 pet owners, and found that the most successful uses of CBD in pets were:
Pain relief
Sleep aid
Anxiety relief (including thunderstorm or firework phobia)
Nervous system support
Reduced inflammation
Reduced seizures
Preventing vomiting and nausea
Mitigating muscle spasms
Helping with digestive tract issues
Skin condition treatments
On top of these findings, a recent scientific study conducted by Cornell University's College of Veterinary Medicine has shown that CBD oil helped decrease pain, and increase activity, in dogs suffering from osteoarthritis.
How do I choose the right CBD product for my pet?
With increased popularity in CBD and hemp products, new sellers are popping up everyday. There are a range of CBD products designed for pet owners, including:
Oils
Sprays (oral and topical)
Dog treats
Balms, salves, and other topical treatments
It can be difficult to distinguish between the quality of different brands and what product is best suited for your pet. You'll want to do your homework before buying anything. We recommend using CBD products that are intended for pets, as well as brands who use third-party labs to verify CBD potency and test for the presence of any pesticides, microbials, or solvents.
Most quality CBD pet products will have dosing guidelines, which makes it easier for owners to give their animal the right amount. But these guidelines are often coming from the company, not a veterinarian, so keep this in mind.
It's important to take existing medications into consideration before using CBD on your pet, as it may alter the efficacy of these treatments for certain conditions. According to Dr. Tim Shu, CEO and founder of VETCBD, "CBD has been shown to be very safe across a wide range of doses in multiple animal species. But if an animal is on other medications, especially ones with narrow therapeutic ranges, a pet owner should discuss the concurrent use of CBD with their veterinarian prior to starting."
Using CBD products designed for human consumption can be a bit more difficult, and they may include ingredients that are not healthy for dogs or cats to ingest. Currently, there are no pet products certified by the Association of American Feed Control Officials (AAFCO).
What should I look for in CBD for my dog?
Here are four important factors to consider when shopping for a CBD oil for dogs:
CBD products extracted from hemp: CBD can be extracted from hemp or marijuana, as both plants are from the cannabis family. Marijuana plants contain more THC than hemp plants, so it's likely that marijuana extracted CBD products will have a higher concentration of THC. CBD oils extracted from hemp can sometimes still contain trace amounts of THC. Some brands distill out these cannabinoids and terpenes to create a CBD isolate, but we recommend using full-spectrum CBD extracts for a synergistic effect and greater therapeutic value.
The product's origin story: Since cannabis is a hyperaccumulator, it absorbs the elements of the ground within which it was grown. This is of particular concern when it comes to CBD oil because heavy metal toxicity can be prevalent, and you certainly don't want to feed your pet anything toxic. Even "natural" doesn't always equal safe. Make sure you know where a product's hemp was sourced and how it was grown.
Is it infused with oil? CBD oil for dogs is easy to add into your pet's food without them detecting a difference. For ease of absorption, look for a CBD product that's infused with olive oil. Olive oil is rich in unsaturated fats, and healthier for your pet than other options like coconut oil.
Is it made with CBD or hemp seed oil? Hemp seed oil is not the same as CBD oil, and this can cause some confusion. Hemp seed extract is pressed from the seeds of hemp to produce an oil that may help give your dog a shinier coat or better skin, but it does not contain any cannabinoids. Some products contain both.
Our curated list above features some of our favorite CBD brands selling trusted pet products.
Is CBD safe for dogs?
In the emerging CBD space, it helps to look to medical professionals, review sites, and other experts to help you decide if CBD is the right fit for your dog.
The American Kennel Club says "while there's no definitive scientific data on using CBD to treat dogs, there's anecdotal evidence from dog owners suggesting it can treat pain, especially neuropathic pain, as well as helping to control seizures."
There is also some compelling research now being done on CBD's effects on canines. For instance, a study conducted by Cornell's College of Veterinary Medicine showed that treatment with CBD oil resulted in decreased pain for dogs with osteoarthritis.
And in a survey collected by the American Holistic Veterinary Medical Association, data from over 600 pet owners found that CBD use in animals also seems to yield positive results. These owners found success using CBD for anxiety relief, sleep assistance, nervous response support, treating skin conditions, reducing nausea, and preventing inflammation in dogs.
What are the side effects and risks?
The biggest risks to pets when given CBD are usually caused by an overdose of the compound. Some adverse side effects, such as an upset stomach or drowsiness, may occur in rare instances — but these can likely be avoided by supplying the proper dose.
If you're using a product that includes THC, you increase the risk that your pet may have a negative reaction. Dogs that suffer from too much THC intake develop static ataxia, which is specific to canines and results in loss of muscle coordination, balance, and problems controlling their bowels or bladders. For this reason, proper dosing of CBD and THC products is extremely important.
How much CBD should I give my dog?
Since official dosing recommendations from the veterinary community are limited, it's always best to start small. You can increase dosage slowly to gage your pet's response, and once you notice positive improvements in their condition, you can stick to this dose amount. Most products come with dosage recommendations and guidelines, depending on the size of your pet.
A general guideline is 0.2mg of CBD per pound of body weight per day.
Final Thoughts on CBD Oil for Dogs
Although CBD is generally considered to be safe for pets, it has not been approved by the FDA for this purpose. For this reason, it's important that you do your research and find a CBD product that you trust with verifiable third-party lab testing results.
As with anything you give your pet, it's important to recognize when something's off. If you are concerned about how your dog or cat is responding to CBD, contact your veterinarian and discontinue use of the product until professional guidance has been given.
There are many different CBD oil brands in today's market. But, figuring out which brand is the best and which brand has the strongest oil might feel challenging and confusing. Our simple guide to the strongest CBD oils will point you in the right direction.
More and more people are looking to boost their health with CBD oil. The rise in CBD's popularity shows that many people are experiencing positive outcomes through the regular use of CBD to help control and improve difficult health issues.
Since there are a great deal of brands out on the market today, it can get confusing trying to figure out which brand is best and which oil strength will work best for you and your needs. Keep in mind that even though it might feel exciting to have a host of brands to choose from, not all brands are created equal.
Our guide to the strongest CBD oils will help to point you in the right direction so that you can choose the best, most potent oil for your needs. We will also educate you about the best CBD oils along the way, while also discussing how we chose our top three brands and why we named FAB CBD Oil our top pick.
The Strongest CBD Oils
Each product featured here has been independently selected by the writer. If you make a purchase using the links included, we may earn a commission.
How We Selected Our Top Brands
The influx of CBD brands out on the market can be both a good and a bad thing. While it's great to have many options to choose from, it's frustrating to not know exactly which brand is the best in terms of quality, strength, and overall reputation. It's tempting to buy products from the first brand you come upon online. However, in doing so, you might be purchasing products that are unclean, ineffective, and just simply not the best for you.
When it comes to choosing a CBD oil brand, you need to take the time and put in the research to ensure that you are getting the strongest, and best quality product you can purchase.
We've put the time and effort into selecting the top brands that we feel have the strongest CBD oil, the best reputation, and the cleanest, most effective products. But before we were able to choose our top brands, we set up strict guidelines to follow. Next, we used our guidelines to break our list down until we were left with the top brands.
When it came to selecting our top strongest CBD oils, we looked at six key categories:
Value - product pricing
Strength - oil strength and purity
Source - where the brand sources its hemp from
Flavor - oil flavors and the ingredients used in the oil
Transparency - if a third-party lab was used to test the products and if those results are easy for customers to find
Customer experience - verified customer reviews
Based on these factors, see which brands made our list of strongest CBD oils.
Why buy — FAB is our number one pick simply because the brand offers some of the strongest, cleanest, and best CBD products out on the market today. Moreover, its customer services and transparency are second-to-none. The prices are affordable and the products are excellent overall.
FAB believes in being transparent, crafting the highest quality products, and having a strong customer service department to make sure all of its customers' needs and questions are met and answered. The brand does not use any pesticides, herbicides, or chemicals when it comes to cultivating hemp and creating products. All of FAB's organic hemp is grown and harvested in Colorado. The brand is involved in every step of its creation process from seed to sale.
All of FAB's products are crafted from the purest, cleanest extracts possible. FAB's full-spectrum CBD oil comes in a variety of flavors and strengths. The brand offers mint, citrus, vanilla, natural, and berry oils in strengths of 300mg, 600mg, 1200mg, and 2400mg. Every one of FAB's products is tested by ProVerde Labs, an independent third-party laboratory.
Value — Every one of FAB's products fall into the range of what you would expect to pay for a top quality CBD product. Remember, if a product is extremely cheap, then you need to look deeper into how it was made. FAB's products are absolutely priced accordingly and are of the best quality.
Strength — FAB has some of the best, strongest, and most effective full-spectrum oils on the market today. Their oil is available in 300mg, 1200mg, and 2400mg potencies.
Source of hemp — FAB sources all of its organic hemp from Colorado. The hemp is free from herbicides, pesticides, chemical fertilizers, and other dangerous substances. All of the hemp is grown using state-of-the-art growing and cloning technology and machinery.
Flavors — Mint, Citrus, Vanilla, Natural, and Berry
Transparency — Every one of FAB's products is tested by ProVerde Labs, an independent third-party laboratory.
Customer experience — The brand has a strong reputation among both customers and industry experts for having top-quality products that are highly effective and potent.
Why buy — While Spruce oils are expensive, we do feel that the brand does everything possible to ensure that its oils are high-quality, extremely potent, and 100 percent all-natural. The founder of Spruce got his start in the supplement space and is deeply involved in customer service and feedback, making it a wellness brand we trust.
The high potency CBD oil from Spruce CBD is a popular product among customers, and for good reason. This organic and all-natural CBD oil has no added flavor to allow for their strongest CBD concentration in a 30mL bottle. You can choose between an organic hemp seed carrier oil, best for pain, or an MCT oil option. The products are organic and non-GMO, and do not contain any additives or preservatives. The brand has a strong following online, especially in the arthritis community due to the strength and quality of their CBD oils for pain relief.
Value — As far as pricing goes, Spruce is more expensive than other oils. The prices vary depending on the strength of the oil that you choose. The brand does, however, offer a subscribe and save option.
Strength — Spruce's Extra Strength Full Spectrum CBD Oil contains 2,400mg of lab grade CBD oil.
Source of hemp — Kentucky and North Carolina
Flavors — None
Transparency — Third-party lab tested with easily accessible test results found on their site for each batch.
Customer experience — Just read the comments on the brand website or watch the plethora of testimonial videos, these strong CBD oils have built a following for a reason.
Why buy — CBDistillery is a reputable brand that works hard to create quality, potent, and affordable products. The brand has a broad product line that includes oils, gummies, and topicals. All products are made in America. CBDistillery does offer coupon codes.

CBDistillery sells a line of carefully crafted CBD hemp oils. With quality CBD oils starting at $20, CBDistillery offers good products at a great price. This affordability and their extremely potent CBD oils (like the 2500mg option) have made CBDistillery one of the fastest growing companies in the hemp space. Their Colorado-grown product line is comprehensive, including various oil concentrations, salves, edibles, and suppositories.
Value — The brand offers customers premium products at affordable prices.
Strength — The oils come in a variety of strengths, including 500mg, 1000mg, and 2500mg, which is the strongest concentration found on our list.
Source of hemp — CBDistillery sources all of its organic hemp from Colorado. The hemp is regularly tested for the presence of microbes, solvents, heavy metals, pesticides, and chemical fertilizers.
Flavors — None
Transparency — All CBDistillery products are tested by independent third-party labs with results available online.
Customer experience — CBDistillery has a strong reputation among customers for crafting high-quality products that are both strong and effective. According to verified customer reviews, the brand's products are effective and clean.
Why buy — Cornbread Hemp CBD oils are all USDA-certified organic. They use a distillation process designed to preserve as many of the beneficial phytonutrients and minor cannabinoids as possible. This CBD oil is vegan, non-GMO, and ideal for daytime use.
Cornbread Hemp's Distilled CBD oil comes in several different strengths, the most potent offers 50 mg of full spectrum CBD per serving. Their specific processing methods are meant to retain as many plant compounds as possible from their Kentucky-grown industrial hemp to provide enhanced relief through CBD's entourage effect. While it's not the strongest CBD oil available, we do like that it's USDA organic and uses USDA organic MCT coconut oil. Cornbread Hemp also offers a Whole Flower CBD oil that is great for nighttime use.
Value

— Very reasonably priced with the option to save with a monthly subscription.
Strength — The oils come in a variety of strengths, including 375mg, 750mg, and1500 mg
Source of hemp — Kentucky
Flavors — A mild flavor with notes of pepper.
Transparency — All Cornbread Hemp products are third-party lab tested with results available online.

Customer experience

— Cornbread Hemp offers a 30-day satisfaction guarantee on their products, and they ship CBD oil orders in 24 hours. Customers note that their CBD oils are noticeably smooth and effective.
How To Know If You're Selecting The Most Potent Oil
There are several key factors to take into consideration when choosing the strongest CBD oil. One of the first things to look at is the concentration of CBD within the product. Next, take a look at the milligrams of CBD that are in a single serving. The best quality products clearly have all the facts and information laid out on their labels. In reading the labels, you should be able to tell exactly how much CBD you are getting per serving. How much CBD you need to be taking depends on how your body reacts to the product over time.
CBD strength per serving will appear smaller when compared to the listing of CBD for the whole bottle. In looking for the strongest CBD oil, look to the serving size listed on the bottle. The total amount of CBD in a bottle will do very little to tell you how strong the product is overall. For example, 2400mg of CBD oil in a 30ml bottle is a lot stronger than 5000mg of CBD oil in a 60ml bottle.
How Much CBD Oil Is Enough?
Everyone's body is different, so what works well for one person might not work for another. Smaller individuals might need less CBD than larger individuals based on body size and overall mass. Along with body size, the reason you are taking CBD is another consideration in purchasing strong CBD oil.
Likewise, if you are new to CBD or are not taking for pain, consider purchasing CBD oil in strengths of 300mg, 500mg, or 750mg. Conversely, if you have been taking CBD for quite some time or are trying to alleviate chronic or severe pain, then you might consider purchasing oils of higher potencies such as 600mg, 1200mg, or 2400mg strengths.
Whatever oil strength you choose, you should first start low and go slow when it comes to dosing. For example, begin by taking 5mg of CBD once a day for one week. If you are not feeling any relief from your pain, then go ahead and take 5mg twice a day. Continue increasing the dosage slowly until you are achieving the desired effects. Always check in with yourself to see how you are feeling along the way. This will help you to determine if you should increase the dosage at all. As with any other medication or holistic supplement, your body will need adequate time to get used to a new CBD dosage.
To use a real life example: when you receive your bottle of CBD, begin by taking ½ a dropper of FAB CBD's full spectrum oil once a day for one week. This will equal about 5mg of CBD. After one week has passed, increase the dose to ½ a dropper two times a day for a week. This will now equal about 10mg of CBD a day. While you are going through this, do a body check-in to see how you are feeling and what your pain levels are, if you have any. This will be the best way to determine whether or not you should increase your dose of CBD.
Should You Take The Strongest Potency CBD Oil?
As with any natural supplement, there are a list of pros and cons that come along with CBD. Each one of these should be taken with the utmost consideration before purchasing an oil of a higher strength. In taking the strongest CBD oils, here are the benefits vs the drawbacks:
Benefits:
You need less of the oil to have an impact
Stronger potencies have a better impact on severe symptoms as well as larger people
Since you will need to take less of the oil, stronger doses are more affordable in the long-run
Stronger oils work better in tackling sleep issues and decreasing pain
Drawbacks:
Stronger oils may not be for everyone, as they can cause some mild side effects including dry mouth, lowered blood pressure, and lightheadedness/dizziness
It may be difficult to find the right dosage for you with stronger oils
Stronger oils can have a sedating effect
The Science on CBD Oil
CBD oil is created when cannabidiol, or CBD, is infused into a fat-based carrier oil such as hempseed oil, coconut oil, grapeseed oil, or olive oil. Carrier oils are usually medium-chain triglycerides that are easily digested by the body. The very basic oils will only have CBD and the carrier oil, however, some can also contain other compounds such as tetrahydrocannabinol, or THC, flavonoids, phytonutrients, and terpenes. Some brands will also infuse various natural flavors or essential oils into the final products.
CBD oil can vary in color, flavor, and consistency depending on its makeup. Likewise, the strength also depends on the oil's formulation. CBD oils can be isolates, broad spectrum, or full spectrum. In CBD isolates, only pure CBD is used. These oils are usually 99 percent pure. CBD isolates are typically made solely from the hemp plant.
Broad spectrum and full spectrum oils, on the other hand, are typically sourced from the cannabis plant and have had minimal processing and purification. These oils have a large amount of cannabinoids, terpenes, nutrients, vitamins, and phytonutrients. The difference between the two is that broad spectrum CBD products contain zero THC.
Along with CBD, one of the main compounds in full spectrum oils is THC. In large amounts, THC causes feelings of euphoria. However, legally, all CBD crafted and sold within the United States must contain less than 0.3% THC. When CBD and THC are combined, an entourage effect occurs. In the entourage effect, the compounds work together to dampen each other's negative side effects while amplifying each other's best qualities. For example, too much THC can cause feelings of nausea or dizziness. However, when THC is combined with CBD, the THC enables those with sleep issues to finally get some rest, and helps those with extreme nausea, due to cancer treatment, finally get some much-needed nourishment by increasing appetite. Put simply, the cannabinoids bind with cell receptors in the human endocannabinoid system to create therapeutic effects.
How To Choose The Best Strength
While it may be easy to read the label on the CBD bottle and take the strength listed at face value, this is not the case when determining the strength of each dose. Strength equates to potency. In a 30ml bottle of CBD oil, you could have 3,000mg of CBD or 6,000mg of CBD depending on which you purchase. The stronger bottle will have 6,000mg of CBD per bottle, as you would have to take twice as much of the 3,000mg CBD to equal just one dose of the 6,000mg bottle.
Quality CBD brands test the potency during every stage of oil production. They test hemp plants, then they test the initial crude oil, and they also continually test the oil during every stage of the distillation process. The reason that there is so much testing done to the product is because reputable brands need to ensure that the oils they are creating are of the best quality, consistency, and that their products are falling within the legal guidelines.
Reputable brands, like the ones we've profiled above, bring in independent laboratories to test the overall oil strength by analyzing for 14 minor and major cannabinoids including CBD, THC, CBN, and CBG. Their results show the overall percentages of these compounds that are in the oil. All reputable brands will then make those results easily available on their website or within the product packaging.
Why Strength Matters
The strength of an oil does matter. The more potent a CBD oil is, the stronger effects it will create. To that end, full spectrum oils are the best oils to go with because CBD isolates do not have all of the other vitamins, terpenes, compounds, and phytonutrients that full spectrum oils have. So, not only will you be getting all the positive effects that a strong oil has to offer, you'll also be able to receive the vast therapeutic benefits that the many compounds, terpenes, and phytonutrients bring to the table.
When it comes to receiving the therapeutic benefits of a strong, full spectrum oil, experts advise to hold the oil under your tongue for a few minutes (up to four minutes) in order for the oil to enter into your bloodstream. Otherwise, if you swallow the oil right away, the oil will be quickly broken down by the body's digestive system.
Is It Safe To Take Strong CBD Oil?
This is a common question asked by many who are new to the world of CBD. Regardless of the strength, CBD oil is very safe. In fact, there are very few minor side effects associated with it. To date, a great number of studies have been done on CBD proving it's safety and efficacy.
Some of the most common side effects associated with CBD are:
Dizziness
Nausea
Changes in weight
Diarrhea
Drowsiness
Changes in appetite
When you take into consideration the many dangerous side effects associated with prescription medications, CBD is a very safe alternative. Therefore, it's no surprise that more people are turning to more potent options of CBD to help with tough health issues.
Final Thoughts On The Strongest CBD Oils
There are many different strengths of CBD oil available. And while there are benefits to using CBD oil regardless of the potency, stronger oils are recommended for larger individuals or for people who are trying to get a handle on difficult health conditions such as sleep issues, severe arthritis pain, Crohn's Disease, osteoarthritis, cancer-related nausea, and others.
In selecting a strong oil, you first need to do the research so that you can make sure you are buying a high quality product from a reputable brand. When you find a brand you like, go ahead and look into the brand's hemp sources, oil strengths and purities, verified customer reviews, transparency, and whether or not the brand used a third-party lab to test its products and if those results were made readily available for customers to find.
Less oil needs to be consumed when stronger oils are used. In order to receive the most benefits from the dose, it's advised to hold the oil under your tongue for about four minutes so that it can be properly absorbed into the bloodstream. Simply swallowing the oil means that the digestive system will break it down faster than you can obtain any benefits.
When it comes to selecting a brand to go with, keep in mind that not every brand is created equal. While it's great to have so many options to choose from, you really need to put the work in to make sure you are purchasing the best possible product from the best possible brand.
If you're becoming frustrated or overwhelmed in your research, feel free to use our article as a guide.
Our Choice for Strongest CBD Oils
We've chosen FAB as our number one choice in our strongest CBD oils guide because FAB has a stellar reputation for putting out the best, most potent, cleanest CBD oils on the market today. The brand is also extremely transparent in the way that it operates and in the overall production process of its products. FAB also uses an independent third-party lab, ProVerde Laboratories, to regularly test all of its products. Those results are then made easy for customers to find on FAB's website.
By law, all of the best CBD oils that are sold and purchased within the United States must contain less than 0.3% THC in them. Oils that have over that amount clearly are not following the mandatory legal guidelines. Another fact to keep in mind is that while strong oils are great, the type of oil matters too. CBD isolates, while fantastic in their own way, do not contain any of the vitamins, cannabinoid compounds, terpenes, and phytonutrients that broad spectrum or full-spectrum oils do. The combination of strength and what the oil consists of is what determines its effectiveness and therapeutic value.
In selecting a strength, remember that a 3,000mg oil will be less strong than a 6,000mg oil if they are both sold in a 30ml bottle. However, if you have 2,400mg of CBD in a 30ml bottle and 5,000mg in an 80ml bottle, then the smaller, 30ml bottle with 2,400mg of CBD will be more potent. When selecting a product, you will absolutely need to take your time and choose wisely.
Lastly, if you have any questions or concerns surrounding CBD, potential side effects, strengths, etc., then please do not hesitate to reach out to your primary care physician or specialist to set up an appointment to discuss things more at length.
CBD oil can be a great addition to any natural healthcare routine. Just make sure you are putting in the time and effort to find the product and the brand that is best suited to your own unique needs, condition, and lifestyle.
* These statements have not been evaluated by the Food and Drug Administration. These products are not intended to diagnose, treat, cure or prevent any disease.
We've all seen the CBD craze that's taken off over the past few years, but what about other cannabinoids like CBG? Cannabis plants contain over 100 cannabinoids, and CBD (cannabidiol) is only one of them.
CBG (cannabigerol) is another, and this compound is starting to get a little more notoriety for its own set of wellness benefits, some of which are different than CBD. What is CBG and what are the best CBG oil products?
Our Picks for the Best CBG Oils
Each product featured here has been independently selected by the writer. If you make a purchase using the links included, we may earn commission.
Best CBG Products
While CBG is quickly on the rise, there aren't nearly as many CBG oils as there are CBD products on the market. However, we did some digging to find the best hemp oils on the market that contain high levels of both CBD and CBG so you can reap the benefits of both of these compounds. To determine which products were the best, our team personally tried several CBG oils, read hundreds of customer reviews, and considered lab testing and hemp source as a part of our review process, and determined the top three CBG oils and products, listed below.
What is CBG?

CBG stands for cannabigerol, and it's a very unique cannabinoid because it's essentially the stem cell or "chemical parent" that produces other phytocannabinoids. Within the hemp plant, CBG transforms to create minor cannabinoids like CBN (cannabinol) and CBC (cannabichromene), as well as more well-known compounds like CBD and THC (the latter of which is the primary psychoactive cannabinoid in cannabis).
Exactly how this transformation process takes place is somewhat complicated, so without getting too deep into the science behind it, here's a brief explanation of how it works:
The cannabis plant produces what's known as cannabigerolic acid (CBGA).
Enzymes held within the plant take that CBGA and break it down into different cannabinoid acids, specifically cannabidiolic acid (CBDA) and tetrahydrocannabinolic acid (THCA).
As a result of aging or a heating process called decarboxylation, those acids convert to CBD and THC.
Essentially, without CBG, some of the most popular cannabinoids like CBD and THC would not exist. And with the increased popularity of cannabis products, more people are starting to learn about the many potential benefits of full spectrum hemp extracts that contain CBD, CBG, and various other phytocannabinoids.
What are the Benefits of CBG?
We've all heard story after story about the miraculous benefits of CBD oil, but speaking honestly, there's a lot more research that needs to take place before we can fully understand the impact of CBD on the human body. Now when it comes to CBG, there are even fewer studies and scientific evidence to grasp the full breadth of CBG's benefits. However, there have been studies that illustrate the positive effects it may have in relation to certain health and wellness concerns.
Inflammation
Much like CBD, there are indications that CBG has anti-inflammatory properties, especially when it comes to the treatment of inflammatory bowel disease (IBD). One particular clinical study used mice as part of its experiment, and found that CBG diminished inflammatory markers in the test subjects and may be considered for clinical trials in human patients.
Glaucoma
A unique trait of CBG may be its ability to help treat glaucoma by reducing intra-ocular pressure, according to one study published in 2008. In fact, glaucoma is one of the most common reasons for using prescribed medical marijuana strains that have adequate CBG content, which may be a key reason why cannabis helps treat this condition.
Appetite
Cannabis is known for giving users the "munchies," and CBG is one cannabinoid that may also elicit these effects but without the high. A more recent animal study suggested that CBG may be an appetite stimulant, which can benefit those who struggle to get enough food intake naturally due to underlying health conditions like cancer or hypothyroidism.
Bacteria
CBG has shown to have certain antibacterial effects, particularly when studied on methicillin resistant Staphylococcus aureus (MRSA). This kind of bacteria is responsible for different types of staph or skin infections, and is resistant to traditional drugs and antibiotics. CBG's potential ability to kill existing drug-resistant bacteria and prevent more from forming may prove to be helpful in future treatments of MRSA infections.
How Does CBG Work?
Just like CBD, CBG elicits its beneficial effects through the endocannabinoid system (ECS), which helps us regulate many other systems to help us maintain homeostasis (the state of stability and optimal functioning).
CBG works by interacting with the cannabinoid receptors (also known as CB1 and CB2), endocannabinoids, and metabolic enzymes that form the ECS. Our cannabinoid receptors play a pivotal role in normalizing physiological processes like our mood, pain sensation, and hunger signals. The intense reaction that occurs when CBG meets these receptors is what produces its wellness benefits.
CBG also increases a naturally occurring endocannabinoid in our system called anandamide that helps to regulate functions critical to survival, including sleep and memory. And similar to CBD, CBG also has little to no negative side effects when taken in appropriate dosages.
CBG vs CBD
CBG and CBD are similar cannabinoids found within cannabis plants, but the primary differentiator between the two comes from how they interact with cannabinoid receptors. CBG binds directly to CB1 and CB2 receptors within the nervous system, while CBD interacts indirectly with these same receptors. Because of this, CBG may have a greater potential to impact a person's health.
It's important to add that one trait CBG shares with CBD is that it is non-intoxicating. Unlike THC, those who use CBG (or CBD, for that matter) won't receive a mind-altering high—in fact, it's one of the benefits that users most appreciate about the experience.
Is CBG Better Than CBD?
CBG has yet to achieve the critical acclaim of CBD, but that's not to say it doesn't pack a punch—or that its time isn't coming. CBG products actually supply much of the same benefits that CBD offers, and they allow you to stack the two cannabinoids together for more potential benefits. Therefore, it's not necessarily that "one is better than the other," but that you should look for hemp oil products that feature both compounds and a full spectrum of other phytocannabinoids in order to get the best effects.
Josh Hall has been a professional writer and storyteller for more than 15 years. His work on natural health and cannabis has appeared in Health, Shape, and Remedy Review.
CBD, a relatively new player in the wellness market, is a cannabinoid that has generated considerable buzz. But this newfound interest has yet to surpass the popularity of another cannabis compound, THC. These two phytocannabinoids are different, yet there's still plenty of people who mistake one for the other. Here, we will compare and contrast CBD vs. THC, so you can learn about their similarities, differences, and impact on health.
CBD vs. THC: An overview
CBD and THC are the two most well-known cannabinoids found naturally within the cannabis plant. They even share an identical chemical formula with 21 carbon atoms, 30 hydrogen atoms, and two oxygen atoms (although their molecular structures are unique because of chemical bond differences).
Tetrahydrocannabinol (THC) is best known as the "high" inducing catalyst in marijuana strains. In contrast, CBD, or cannabidiol, is considered to be non-psychotropic. It may even counteract some of the negative psychological effects of THC, although more research is needed to understand those dynamics fully.
CBD and THC both act in the body to impact our health through the vast endocannabinoid system (ECS). The ECS has regulatory functions throughout the body, helping maintain a stable physiological state called "homeostasis." This is why CBD and THC are linked to balancing effects in the body, but it's the way these cannabinoids engage our ECS that reveals differences.
The ECS includes cannabinoid receptors in many organs throughout the body. CB1 receptors are found predominantly in the central nervous system (including the brain), while CB2 receptors are more densely located in the peripheral nervous system and immune system. THC has a strong tendency to bind with brain-based CB1 receptors, which is why it can deliver mind-altering effects. In contrast, CBD interacts with receptors indirectly, with exact mechanisms still being elucidated. Its higher affinity for CB2 receptor interactions is thought to generate a more wide-reaching impact on the body, mediating processes like immune response, inflammation, and pain.
Legally speaking, differences in CBD and THC vary depending on your location and whether the product is marijuana or hemp—different substrains of the Cannabis sativa plant. There are currently 11 US states, plus Washington D.C., that allow recreational use of all cannabis products, including THC-heavy marijauna strains. More than 30 states permit THC use as medical marijuana.
So what about CBD? The passage of the 2018 Farm Bill legalized "industrial hemp" and hemp-derived products (for example, CBD oil) in all 50 states. Industrial hemp encompasses distinct strains of Cannabis sativa in which CBD predominates and THC is very low (less than 0.3% THC by dry weight). This legislative change paved the way for more widespread innovation and use of hemp-derived CBD products with trace levels of THC.
The health benefits of CBD vs. THC
When comparing CBD and THC, most people are curious about the benefits of each compound, and how they stack up against one another. Research on the health effects of THC and CBD is an active area of research. Robust clinical (human) trials on cannabinoids CBD and THC have been conducted for cannabinoid-based prescription drugs:
dronabinol (THC)
nabilone (THC)
nabiximols (THC + CBD)
Epidiolex (CBD)
nabiximols (THC + CBD)
The approved clinical indications for these cannabinoid-based pharmaceuticals provide interesting intel into the health effects of THC alone, CBD alone, and the THC + CBD combination:
Cannabinoid-Based Prescription Drug Health Effects
THC alone: Improves chemotherapy-induced nausea in patients with cancer
THC alone: Stimulates appetite in patients with wasting syndrome due to AIDS
CBD alone: Improves epilepsy in two severe forms of childhood seizures (Dravet and Lennox-Gastaut syndromes)
THC + CBD: Improves muscle spasticity and neuropathic pain in patients with multiple sclerosis
The next set of evidence comes from studies on medical cannabis, which includes THC, CBD, and myriad compounds from the marijuana plant (other cannabinoids, terpenes, flavonoids, etc.). Because of this entourage, THC and CBD effects do not exist in siloes. Here is the science on the potential health benefits of the cannabis plant.
Medical Cannabis (Marijuana) Health Effects
Like medical cannabis, CBD products derived from industrial hemp also contain an array of plant bioactives, but a key difference is that THC levels are very low (< 0.3 %, per law). Therefore, hemp-derived CBD products give us insights into CBD dominant effects. Well-designed clinical trials are few, as these products are relatively new in the market. Here we summarize CBD centric areas of potential health support.
CBD-Specific Health Support
Do CBD products contain THC?
When it comes to CBD products, there are three different types of hemp extracts that go into creating these goods, two that are THC-free, and one with trace levels of THC.
Full-spectrum hemp extracts contain CBD, an array of minor cannabinoids (like CBG, CBN, and CBC), terpenes, flavonoids, and small amounts of THC (by law, the THC potency can not exceed 0.3%). There is potential for the "entourage effect," which describes the synergy of multiple cannabinoids and other hemp plant bioactives (e.g., terpenes) working in tandem.
However, there is a chance that even trace amounts of THC could appear on a drug test. If that's a deal-breaker for you, the good news is that it doesn't mean you have to abandon the idea of CBD. Products like pure CBD isolate have gone through a filtration process to strip out all non-CBD cannabinoids, including THC. An isolate is an attractive option for users who wish to avoid the presence of THC but still want to tap into the benefits of CBD. Broad spectrum hemp extracts also offer CBD with no THC content, and still contain minor cannabinoids and terpenes for those looking for a fuller plant profile, minus the THC.
We have highlighted three hemp derived CBD oil products below, two with THC and one without. All of these high quality, vetted brands use third-party lab testing to ensure the purity and potency of their CBD products.
CBD Oils with THC
Each product featured here has been independently selected by the writer. If you make a purchase using the links included, we may earn commission.
For a full spectrum CBD oil, Spruce offers some of the most potent products on the market. The company's CBD oils are available in a 750 milligram tincture, or a 2,400 milligram option for those who need an extra strength CBD oil. These tinctures are very highly reviewed by customers, and contain no artificial flavors, preservatives, or sweeteners. Spruce CBD oils are made with organic hemp seed oil as the carrier oil, so it's hemp all around. This is a great CBD oil brand for pain.
Another great option for a CBD oil with terpenes and other cannabinoids, including trace levels of THC, comes from CBDistillery. This brand's full spectrum tinctures are available in a variety of strengths, such as 500, 1000, 2,500, or 5,000 milligrams per bottle. These high quality CBD oils are derived from non-GMO hemp, and come at affordable price points. CBDistillery also offers broad spectrum CBD oils if you'd rather avoid THC, but still benefit from other hemp plant compounds. This is a great CBD oil brand for anxiety.
Zero THC CBD Products
If a full spectrum oil with small amounts of THC isn't the route you're hoping to take, then take a look at this product made with pure CBD isolate:

Medterra's makes one of the best THC-free oil. Medterra offers an array of CBD oils, topicals, capsules, and gummies for every type of CBD user, but their traditional CBD isolate oil is our focus today. It's made with 99.6% pure CBD isolate and is blended with organic MCT oil derived from coconut for a smooth, unflavored tincture. You have three strength options, including 500, 1000, or 3,000 milligrams of CBD per bottle.
Is CBD better than THC?
By nature's design, the cannabis plant contains an array of cannabinoids, including the two most famous and well-studied: CBD and THC. While derived from the same plant, their mechanisms and effects are unique. Deciding on the right cannabinoid approach is a personal decision, and you'll need to ponder what benefits you hope to achieve.
One of the practical issues to check is the legality of products containing THC and CBD (i.e., medical cannabis vs. hemp-derived CBD products) in your state. Maybe you live in a state where THC from medical cannabis is legal but prefer a hemp-derived CBD product instead to avoid psychoactive effects of marijuana.
Whether your cannabis-based wellness plan includes CBD oil tinctures, medical cannabis edibles with high amounts of THC, or another delivery form, be sure to partner with your healthcare practitioner to personalize and adjust the product and dosage to your individual needs.
Josh Hall has been a professional writer and storyteller for more than 15 years. His work on natural health and cannabis has appeared in Health, Shape, and Remedy Review. The product featured here has been independently selected by the writer. If you make a purchase using the link included, we may earn commission.
As CBD (Cannabidiol) becomes more popular as a natural remedy, more people are turning to cannabis for relief. But the presence of even trace amounts of THC (tetrahydrocannabinol) in many CBD products concerns some users — either because they don't like its effects or worry about failing a drug test. Below you'll find our favorite THC-free oils along with a quick brand review to help you learn more about who you're buying from.

To make your selection process easier, we vetted more than 100 brands to build our list. Each oil in this article has been tested by a third-party lab with publicly available test results.
Our Top THC-Free CBD Oils
Each product featured here has been independently selected by the writer. If you make a purchase using the links included, we may earn a commission.
How Did We Evaluate THC-Free CBD Oil?
To create our list of the best THC-free CBD oils, we used the same six criteria to evaluate each brand and product:
Value — how is their oil priced compared to other brands?
Strength — how many milligrams of broad spectrum CBD does it contain?
Source — where and how is the company's hemp grown?
Flavor — does the oil come in any flavors, and is it flavored?
Transparency — does the oil have third-party lab test results and information about the extraction process available?
Customer experience — what do customer reviews say about the oil?
Using these six criteria, we chose the THC-free CBD oils that we recommend. Find out more about each one below.
How to Choose the Best THC-Free CBD Oil
CBD oil is different than marijuana since it's derived from industrial hemp plants, but these products may still contain trace amounts of THC. You won't get high from taking CBD, but even inactive levels of THC are enough to deter some people from giving these wellness supplements a fair shot. However, broad spectrum or CBD isolate options are a way that you can reap the benefits of CBD, without any THC present.
To find the highest quality THC-free CBD products you want to:
Check test results: Request batch-specific test results to be sure that you're not buying a full spectrum product that contains THC.
Read online reviews: Make sure the brand that claims to sell THC-free products has never failed independent testing. You also want to read what other consumers have to say. There shouldn't be any doubt that a product contains no THC.
Contact your favorite brand: If there is a brand you trust and they don't carry THC-free products, reach out and ask them if they will in the future. Many brands are diversifying their product lines to meet consumer demand.
Why choose THC free CBD oil?
When it comes to CBD hemp oil, many people are faced with the fear they may test positive for marijuana if given a drug test. The minuscule levels of THC within a CBD tincture are not enough to produce any psychoactive effects, but it's unclear how it may affect a drug screening that tests for THC.
This can be particularly sensitive in the workplace considering more than half of employers require candidates to pass a pre-employment drug screening. And while it's rather unlikely that a CBD oil would contain enough THC to alter a drug test result, this really depends on what product you are using and how often.
In either case, most people want to avoid the risks altogether, especially if your job depends on it.
This is where THC-free CBD oil comes into play.
These products do not have any detectable levels of THC, which is often removed using distillation processes after the initial extraction. However, there are different purification methods which can produce either a broad spectrum CBD oil or a CBD isolate depending on the remaining cannabinoid content.
Understanding the Difference Between Full Spectrum, Broad Spectrum, and Isolate CBD
There are plenty of confusing terms when it comes to purchasing CBD oils, and it's important to know the right terminology when searching for the best product for you.
Full Spectrum CBD Oil
This type of CBD oil tincture contains a full range of beneficial plant extracts, which work together through the entourage effect to produce lasting results when interacting with the endocannabinoid system. These products contain no more than 0.3 percent THC, but for those looking to avoid THC entirely, full spectrum CBD tinctures may not be the best option.
Broad Spectrum CBD Oil
Similar to full spectrum, broad spectrum CBD products contain a wide range of valuable cannabinoids and terpenes in addition to the CBD concentration. The difference between the two refers to the presence of THC, which has been carefully removed to elicit maximum benefit with minimal risk.
CBD Isolate
Any product described as isolated CBD is not only free of any trace amounts of THC, but it also features no other cannabinoids or terpenes that come from hemp plants. Instead, CBD is the only cannabis derived compound within the product, and it works alone on the endocannabinoid system.
How to Avoid a Failed Drug Test
While it is highly unlikely that CBD products would cause you to fail a drug screening, it's always best to stay on the safe side. Using THC-free CBD oil is a great place to start, but it's necessary for you to do your own research as well.
If you know you're going to take a drug test, check the testing standards of the facility to find out what cannabinoids they test for. Most drug tests check only for THC, but some may search for various other cannabinoids and could trigger a positive result regardless of what kind of CBD oil product you use.
It's also important to note that while THC-free CBD products are generally safe to use and shouldn't affect a drug test result, these CBD oils have not been evaluated by the food and drug administration (FDA), and you should check with your doctor before trying CBD if you have a pre-existing medical condition or take any prescription medications.
Melena Gurganus is the Reviews Editor at EcoWatch. She is passionate health and wellness and her writing aims to help others find products they can trust. Her work has been featured in publications such as Health, Shape, Huffington Post, Cannabis Business Times, and Bustle.
Whether you've been gulping down your daily vitamins since childhood or you've decided it's time to supplement your diet with the essential nutrients of a multivitamin, more and more adults are relying on subscription services to deliver their daily nutrition.
From personalized vitamins to adaptogenic mushroom powders, there's probably a vitamin subscription company that meets your needs. With most you can even fill out a questionnaire to make sure you're getting the right supplements for your needs.
But are all of these brands, with their sleek matte pill bottles and transparent capsules, created equally?
Let's break down the differences between some of the leading vitamin subscription companies so you can choose the best brand for you and the environment.
What to Look for in a Vitamin Subscription Service
These days, there are more and more daily vitamin packs available. Dietary supplements are just another industry that has jumped onto the subscription train. As a consumer, it can be hard to cut through the noise around vitamins, supplements, superfood powders, prenatal, and other "good for you" dietary additions.
How can you be sure that a vitamin subscription service is right for you and reach your health goals? There are a few things to look out for.
First, where does the company source its ingredients? Just like with food, where your vitamins come from matters. And because there aren't strict governmental regulations on supplements, it's even more important to investigate how transparent your vitamin brand is.
Look for a brand that promises to include no fillers, additives, or preservatives in their products. Gluten-free and corn-free vitamins is also a good sign, as corn and wheat are often used as fillers to bulk up pills without any nutritional benefit.
Many of the brands below offer full transparency about where their products come from and even the specific suppliers they work with. You should check each ingredient of each vitamin in your subscription box.
The other important question to consider from a sustainability perspective is packaging. If you're having vitamins delivered to your home every 30 days, tiny plastic bottles, lids, cardboard, and bubble wrap can add up quickly.
Several companies listed below offer refillable packaging and use only materials that can be reused, recycled, and often composted. Choose from a brand that wants to deliver a daily dose in as little plastic as possible.
10 Best Vitamin Subscription Brands 2021
Each product featured here has been independently selected by the writer. If you make a purchase using the links included, we may earn commission.

When selecting a vitamin subscription service to commit to, it's important to consider everything from the ingredients to the packaging materials. Some subscriptions use a simple questionnaire and an algorithm to pick your vitamin regimen. Others may ask you to submit to a blood test or DNA test. How personalized you want your program to be is up to you.
We recommend consulting a healthcare professional or registered dietician if you're making any major decisions about your health. Also take into considerations any potential allergens or the availability to supporting health products at your local drugstore to build out your routine.
We think these are the year's 8 best vitamin subscription services to balance your diet and keep you and the planet thriving.
Lizzy Briskin is the founder of Earthen Food Co. She is a chef, food writer, and recipe developer who helps people eat more mindfully for themselves and the environment, without overthinking it.
For decades, Burt's Bees has been one of the leading names in cosmetic and skincare products developed with sustainability in mind. Not only do they create high-quality products from natural ingredients, but they're attentive to the ways in which their production, packaging, and distribution methods impact the world around them. For those who value environmental stewardship and wise corporate citizenship, Burt's Bees is iconic.
Perhaps it was only a matter of time before the company expanded its all-natural skincare and cosmetic line to include products that harness the potent, holistic effects of CBD. In this post, we'll offer a quick guide to the products included in the new Burt's Bees CBD line, as well as some further comments about the company as a whole.
Why CBD?
First, it may be worth asking why all of this matters. What's the big deal about CBD, anyway?
CBD is short for cannabidiol, one of the most prevalent, active ingredients in the cannabis plant (marijuana). CBD has been linked with a number of positive, holistic health effects; in fact, it's been FDA-approved as a treatment for epilepsy and seizures, while much anecdotal evidence positions it as an anti-inflammatory agent.
Crucially, legally-available CBD products have little or no THC, which is the psychoactive ingredient in the marijuana plant; in other words, you can enjoy the therapeutic benefits of CBD without any risk of getting high.
The Burt's Bees Story
With that said, let's get back to Burt's Bees.
The company was founded in the early 1980s by Burt Shavitz and Roxanne Quimby, veterans of the art community who sought refuge and contemplation in the prairies of Maine. Eventually, their interests led them to beekeeping, and into developing lip and skincare products developed from homegrown beeswax.
From the very beginning, their mission was to develop products that drew from the power of nature, while also taking seriously their responsibility to preserve, protect, and respect nature.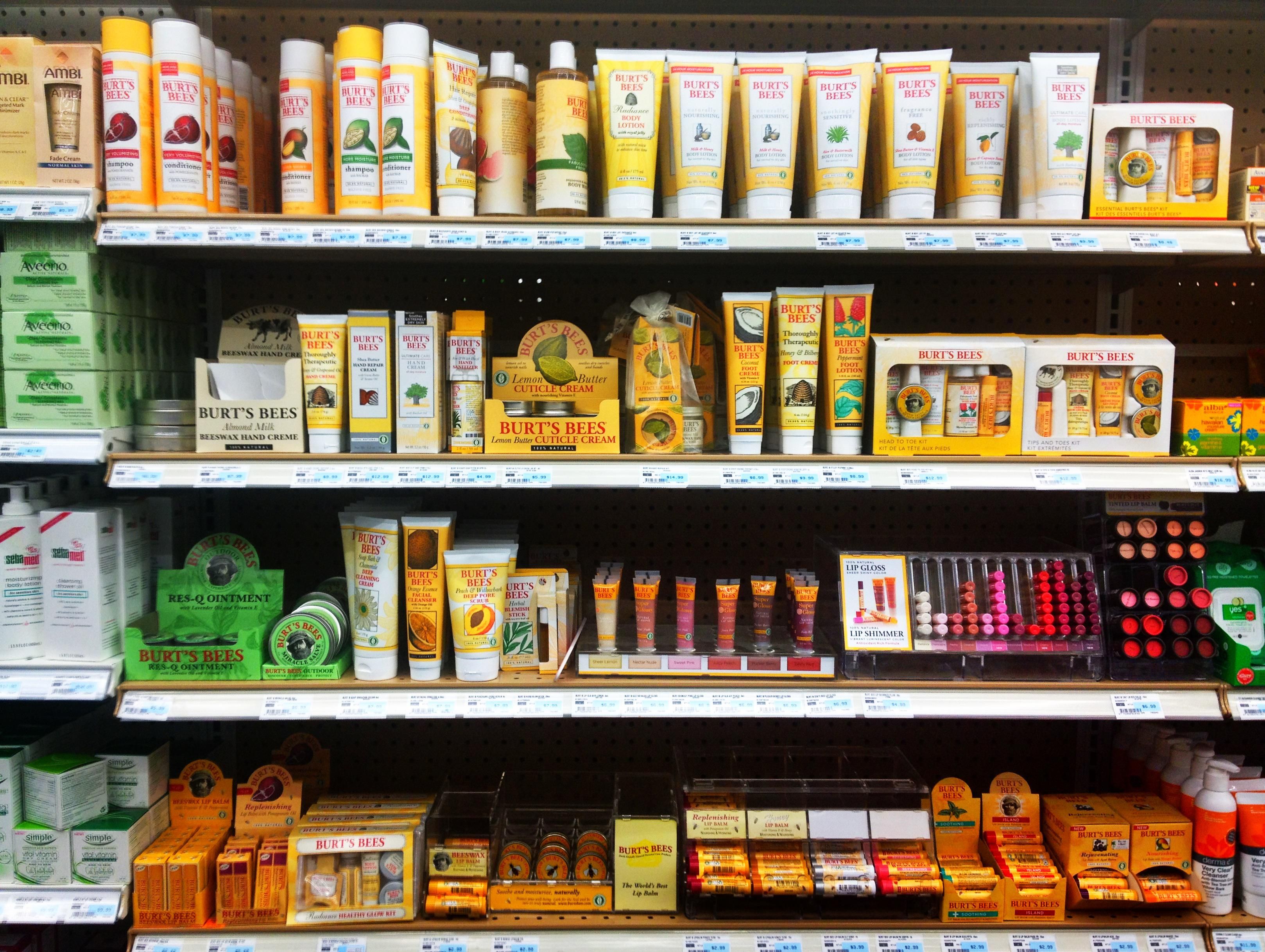 File:Burt's Bees Products, Sep 2012.JPG - Wikipedia
Sustainability at Burt's Bees

There are a number of ways in which Burt's Bees continues to live out its commitment to sustainability to this day.
All Ingredients Come from Nature
The company strives for 100 percent natural ingredients in all of their products, and generally comes pretty close. (Their skincare products are all 95 percent natural, at a bare minimum.) Everything they make is absent parabens and other concerning, artificial chemicals.
No Products are Tested on Animals
Burt's Bees products are all "Leaping Bunny Certified." What this means is that they never test their products on animals, or ask any third parties to conduct animal testing on their behalf.
Eco-Friendly Sourcing
The company also demonstrates a responsible approach to sourcing, visiting all their ingredient harvesting sites to ensure a commitment to stewardship and sustainability.
Environmentally Friendly Packaging
All Burt's Bees products are completely recyclable. They avoid over-packaging, and their plastics are made up largely of recycled materials.
The bottom line: Burt's Bees is a company with serious eco-credentials… and that makes them a logical choice for expansion into the world of natural, sustainably sourced CBD.
About Burt's Bees CBD Products
Currently, Burt's Bees offers five products that are made with full spectrum CBD. What this means is that their CBD includes trace elements of all parts of the plant, including other cannabinoids and terpenes. According to many CBD experts, this provides a more potent and effective product overall.
All of the company's CBD ingredients are sourced from hemp that's grown and harvested in Colorado, using the most sustainable, organic agricultural practices.
Another important note about Burt's Bees CBD products: All of them are rigorously third-party tested. Independent lab results are key whenever you buy CBD, because it allows you to get a good sense of the purity, quality, and potency of what you're buying. You can get batch-specific test results for any Burt's Bees product simply by visiting their website.
So, what about the specific products in the Burt's Bees CBD line?
Each product featured here has been independently selected by the writer. If you make a purchase using the links included, we may earn commission.
Sustainably Sourced CBD Products
It's important to emphasize that all of these products are made with transparently sourced CBD ingredients, as well as the company's usual high standards of eco-friendly packaging. In other words, this is a great opportunity to enjoy some of the benefits of CBD skincare, with all the sustainability and sound environmental stewardship that Burt's Bees is known for.
We're happy to recommend these products as good entry points into CBD skincare. Always remember, when shopping for CBD products, look for third party test results and transparency about sourcing information, all of which Burt's Bees makes readily available.
Josh Hurst is a journalist, critic, and essayist. He lives in Knoxville, TN, with his wife and three sons. His writing on natural health, nutrition, and supplements has appeared in Health, Shape, and Remedy Review.
As dozens of earth-conscious clothing and accessory brands launch, dresses, shirts, pants, and shoes aren't the only products available with an eco-conscious spin—now, earth-friendly bedding is on the rise, too. Below, we've detailed the best organic sheets, pillows, blankets and comforters. Discover all the most sustainable bedding brands the market has to offer, as well as some personal recommendations to consider when shopping.
Each product featured here has been independently selected by the writer. If you make a purchase using the links included, we may earn commission.
Organic Superfine Suvin Cotton SheetsAvocado
Los Angeles bedding brand Avocado might be best known for its mattresses, but let's be clear: Its bedding is equally as comfort-inducing. In addition to being a Certified B Corporation—which means it balances its purposeful devotion to the earth with its profit—Avocado makes all of its products with top-of-the-line sustainable materials.
No matter what you buy from Avocado, customers can expect the highest quality and care. Each product is made with GOLS (Global Organic Latex Standard) organic certified latex, GOTS organic certified wool, GOTS organic certified cotton, and/or GOTS organic certified kapok fiber. Which is to say, the company's offerings are incredibly natural.
But that's not all. Avocado not only focuses on what it put into its bedding, but into the world, too. For that reason, the company fully offsets 100% of its carbon emissions. Avocado donates 90% of returned products to nonprofits as well. And that's just the tip of the iceberg. To learn more about Avocado's mission, check out the company's sustainability page or read our Avocado mattress review.
Author's Pick: Avocado's Organic Superfine Suvin Sheets are made with GOTS Organic certified Indian Suvin Cotton, meaning the sourcing and production of the product have been evaluated by a third-party. Certifications always make it easier to find brands that go the extra mile to source sustainable materials.
"Soft, cool, clean, and green"—that's the motto of bamboo-centric brand Cariloha. While the Utah-based brand offers everything from apparel and bath towels to bed frames and mattresses, today we're here to hone in on its bedding. All Cariloha bedding (and products, for that matter) are made from bamboo from the green hills of the Sichuan Province in China, where the brand's 24,600,000 square-meter, sustainably run bamboo farm is located.
The brand is fully transparent about its farm-to-bed process, ensuring sustainable practices every step of the way. It's because of that and the grade-A quality and standards of the products that Cariloha is certifiably clean and green, with certifications from OEKO-TEX, GOTS, Organic Blended Content Standard, Fair Trade, and CertiPur-US.
As if that's not enough to convince you to check out the supremely-soft bedding, know that Cariloha has earned recognition from the Green Business Awards, winning in 2020 for providing customers top-notch sustainable bedding and lifestyle offerings, and Eco-Excellence Awards, winning the Friendly Fashion category in 2020. In other words, the brand is well worth your attention.
Author's Pick: As someone who has spent her fair share of time snoozing in high-end hotel beds (perks of the job!), I can wholeheartedly say that the Resort Bamboo Bed Sheets are the softest, most luxurious bedding I've ever slept on. Every time I hop into bed, I think to myself just how insanely comfortable they are. I cannot recommend them enough as some of the best organic sheets on the market. Plus, have you seen the blush color? It's gorgeous.
Known for being "the world's best hypoallergenic, earth-friendly" comforter brand, Buffy has made a name for itself in the sustainable bedding marketplace. Since the success of its comforter—which is said to be fluffier than a marshmallow—the brand has delved into organic sheets, duvets and pillows, too, all of which are made with the brand's signature eucalyptus (which is OEKO-Tex certified).
Eucalyptus is known for being an especially sustainable product thanks to the fact that it requires significantly less water to grow. In addition to eucalyptus, Buffy relies on recycled plastic and soft hemp to bring its products to life. The brand also uses GRS (Global Recycling Standard) polyester, again staying true to its earth-friendly mission to #KeepEarthComfy.
While the materials Buffy uses are notable, to say the least, the company's other sustainable practices are just as worthy of our attention. For starters, the brand offsets all its CO2 emissions generated from freight and customer shipments. Additionally, knowing that the return process makes for even more emissions, Buffy allows customers to donate their returns to cut back on the unnecessary emissions.
As inspiring as Buffy's mission is, the brand aims to do even better. On its site, shoppers can find Buffy's plan to become even greener by 2021, 2025, and 2030.
Author's Pick: Fair warning: Buffy's comforters are so soft you may very well struggle to get out of bed in the morning. That said, they make for the perfect cozy companion for a day in bed.
The name alone is noteworthy, no? Silliness aside, Sheets & Giggles knows what's up when it comes to high-quality, eco-conscious sheets. Like Buffy, it uses eucalyptus to bring its super-soft product offerings to life.

Each Sheets & Giggles product is OEKO-TEX 100 certified, FKT Certified (firmly cementing their hypoallergenic nature), and Higg Index Certified (meaning they're fully sustainable from production to the time they wear out). All of the brand's products are vegan, which is another reason they're high on our list of the best organic sheets.
The takeaway? Sheets & Giggles offers quality bedding—including sheets, pillowcases, duvets, throw blankets, and comforters—that customers can rely on, while also adding a touch of entertainment to all of its product copy.
Author's Pick: The Eucalyptus Lyocell Sheets are straight up dreamy. They're softer than any plain cotton sheet I've tried and they're intuitively labeled to show users where each corner actually goes, speeding up the bed-changing process as a result.
BearabyBearaby
Say hello to the weighted blanket brand that, well, made weighted blankets trendy. Part of what led to Bearaby's popularity is not only the stylish chunky weave of its blankets, but also the very materials that go into making them.
While each of Bearaby's blankets is made with sustainable and/or organic materials—and are Oeko-Tex 100 certified, which cements customer confidence in the utmost product safety—the Cotton Napper stands out the most. The smooth blanket—which perpetually feels like the cool side of the pillow—is made with 100% organic, BCI (Better Cotton Initiative)-, GOTS (Global Organic Textile Standard)-, and Fair Trade-certified, sustainably farmed cotton.
Materials aside, Bearaby puts extra focus into sustainability by donating to One Tree Planted every time a Napper is sold. What's more, it donates $1 for every Napper sold to NAMI (The National Alliance of Mental Illness). Given weighted blankets' therapeutic effect on anxiety and depression, Bearaby holds NAMI close to its core.
Author's Pick: While the Bearaby Cotton Napper is a dream for folks who get hot in the middle of the night, the Velvet Napper is nothing short of divine for cold winter nights. The ultra-soft finish gives it a luxe look and cozy feel that you'll want to wrap yourself up in all day long.
Rebecca R. Norris is a full-time freelance writer living in the DC metro area. She writes for a variety of publications, covering everything from beauty and wellness to style and news. She is a graduate of George Mason University. There, she earned her B.A. in Media: Production, Consumption, and Critique, along with a minor in Electronic Journalism. The Virginia native is a lover of lists, Stevie Nicks, dark chocolate Sprinkles cupcakes, and the Oxford comma.
From Your Site Articles
Related Articles Around the Web
These days, CBD products are all the rage and everyone is looking to learn about the best CBD gummies. However, while cannabidiol (CBD) has seemingly skyrocketed in its popularity, many first time consumers still have a wide range of questions about what CBD is, how it can be consumed, as well as the potential impact CBD products can have on health and wellness. In this article, we will specifically examine the best CBD gummies based on quality, potency, flavor variety, and much more.
To begin, one of the first things that you must know about CBD gummies is that they will not get you "high" as the products that we review specifically are very low in THC.
According to the 2018 Farm Bill, CBD products, including CBD gummies, must contain under 0.3% THC in order to be considered legal. So, while cannabidiol is one of over 100 cannabinoids that is present in both hemp and marijuana plants, if you take a CBD edible you will not put yourself in jeopardy with the law.
Instead, realize that CBD gummies have the potential to help you achieve holistic wellness, improve your focus, reduce inflammation, and many other health benefits.
Our Top CBD Gummy Picks
Founded by a team of self-described "plant medicine aficionados," NuLeaf Naturals has long been known as a pioneer in hemp-based health products. But which of the company's products are most worthy of your time? And what are some of the pros and cons of using NuLeaf Naturals, compared with other CBD companies? Read on for our full review.
About NuLeaf Naturals
The company has been around since 2014, and in that time has built a sizable catalog of products that seek to promote mind-body wellness. And as their product line has grown, so has their reputation. Today, NuLeaf Naturals is regarded as one of the best options for high-quality CBD products that are made through all-organic processes, without any unnecessary, artificial additives.
What We Like About NuLeaf Naturals
There are plenty of reasons to get excited about NuLeaf Naturals. Some of the greatest strengths of this product line include:
High-quality, locally-grown hemp. The biggest selling point for NuLeaf is that all of their products are made with an organic hemp extract that's sourced from sustainable farms, all located in Colorado.
Organic extraction process. Thanks to the CO2 extraction process, NuLeaf Naturals is able to boast a 100 percent pure hemp extract, without the need for carrier oils or other artificial chemicals.
Easily obtained lab test results. All NuLeaf Naturals products are rigorously tested for quality in third-party labs, and if you ever want to look up the lab results for your particular batch, it's extremely easy to do so from the NuLeaf website.
Free, fast shipping. Currently, NuLeaf Naturals offers free two-to-three-day shipping to anywhere in the United States.
What We Don't Like
As for downsides, here are a couple of things to be aware of as you shop:
Fairly expensive. NuLeaf Naturals offers high quality, but it will cost you: This is one of the more expensive CBD product lines on the market today.
Only full spectrum products. NuLeaf Naturals has staked its claim on full spectrum CBD, which isn't necessarily a bad thing… unless you prefer broad spectrum, in which case you may want to look elsewhere.
How We Review CBD Brands and Products
Whenever we review a CBD brand or product, we evaluate them on six specific categories.
Value — How is their CBD product priced? How does it compare to other brands?
Strength — How many milligrams of CBD does their product contain? Is it full or broad spectrum, or CBD isolate?
Source — Where and how is the company's hemp grown?
Flavor — Do they offer different flavors? Are they made using only natural ingredients?
Transparency — Are the products tested by third-party independent labs and can you access the results online?
Customer Experience — What do customer reviews say about the product and the buying experience?
We reviewed NuLeaf Naturals on these categories and identified our favorite products. Learn more about our choices below.
Best NuLeaf Naturals CBD Products
Each product featured here has been independently selected by the writer. If you make a purchase using the links included, we may earn a commission.
NuLeaf Naturals FAQs
Does NuLeaf Naturalslab test their products?
Third-party lab testing is a critical way of ensuring the purity and quality of your CBD product. All of NuLeaf's organic CBD oils and capsules are vetted by independent labs, and you can find lab results by entering your batch or lot number on the NuLead Naturals website.
Are there other products available from NuLeaf?
NuLeaf Naturals has a small product line, and they only added softgels within the last year. However, they offer some of the highest quality products on the market, and they are well-known because of it. In other words: Don't expect a broad array of options, but do expect the very best in organic hemp oil.
Do I need to worry about NuLeaf Naturals affecting a drug test?
While the small traces of THC found in NuLeaf Naturals won't produce an intoxicating effect, it is possible that they will interfere with drug screenings. If you're worried about passing a drug test, then this probably isn't the right brand for you.
Is NuLeaf Naturals the right brand for you?
NuLeaf Naturals isn't an especially flashy company, but if you're looking for premium hemp, sourced with sustainable farming practices, you could do much, much worse. With just a couple of minor caveats, we're pleased to recommend NuLeaf Naturals to anyone looking to use CBD to achieve a clear mind and healthy body.
Josh Hurst is a journalist, critic, copywriter, and essayist. He lives in Knoxville, TN, with his wife and three sons. As a writer and independent reviewer of CBD products, Josh covers the relationship between cannabis-based products and the human body. His writing has appeared in Health, Shape, and Remedy Review.