This website uses cookies to ensure you get the best experience while browsing it. By clicking 'Got It' you're accepting these terms.


The best of EcoWatch, right in your inbox. Sign up for our email newsletter!
International Energy Agency
By Greg Muttitt
The release of the World Energy Outlook (WEO) 2018 on Monday marked another missed opportunity for the International Energy Agency (IEA) to provide a roadmap to Paris success.
Governments and investors alike have been calling on the IEA to help guide them towards achievement of the Paris goals. Two years ago, the IEA itself proposed updating its climate scenario to match the ambition of the Paris goals, and also gave its updated scenarios a cameo in the WEO 2017.
glasseyes view / Flickr
Global carbon dioxide emissions from energy increased for the first time in 2017 after three years of remaining flat, the International Energy Agency (IEA) said Thursday, meaning the world remains far off course in curbing planet warming emissions.
Carbon emissions reached a record-high of 32.5 gigatonnes in 2017 due to global economic growth and increased energy demands that was met mostly by fossil fuels. As the Financial Times noted, that growth—an increase of 460 million tonnes—is the equivalent to the emissions of an additional 170 million cars.
EcoWatch Daily Newsletter
iStock
By Simon Evans
The International Energy Agency (IEA) has once again forecast that world coal demand will rise, despite halving its outlook for growth in India.
The IEA's Coal 2017 report, published Monday, sees a small increase in global coal demand from 2016 to 2022, with growth in India and southeast Asian countries outweighing declines in rich nations and China.
iStock
By Ben Jervey
The growth of solar energy continues to outpace forecasts and this growth, according to a report published Wednesday by the International Energy Agency, (IEA) "is a China story."
While China today is far and away the global leader in solar generation, a decade ago, the country had just 100 megawatts of solar photovoltaic (PV) capacity installed. That's nothing. For reference, it's actually less than is currently installed in the city of San Antonio. By the end of 2016, China had increased its solar PV capacity by nearly 800 times, with more than 77 gigawatts currently installed.
The International Energy Agency (IEA) released today a major new report warning that nothing short of an energy sector revolution is required to protect the world from runaway climate change and a global temperature rise beyond two degrees Celsius.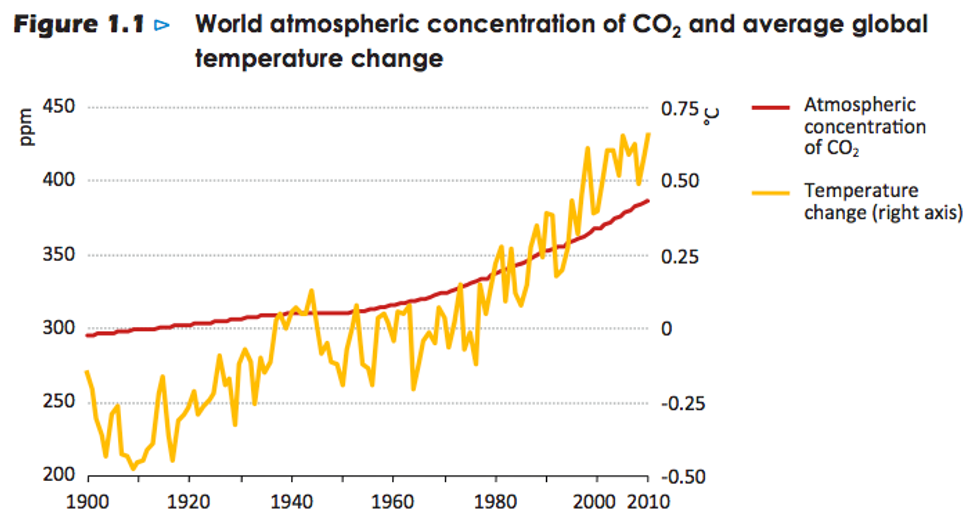 In what is the IEA's most urgent call for climate action yet, the World Energy Outlook Special Report 2013: Redrawing the Energy Climate Map advocates a "reorientation of an energy system currently dominated by fossil fuels," and proposes near-term action to clean up the power sector and halt the increase of global emissions by 2020.
It also calls for "transformational" change in energy generation worldwide in the longer term.
IEA Executive Director Maria van der Hoeven said:
Climate change has quite frankly slipped to the back burner of policy priorities. But the problem is not going away—quite the opposite.

This WEO [World Energy Outlook] Special Report is a timely reminder that climate change must remain a permanent and prominent item on the policy agenda. It seeks to outline the intensive action which we need to start implementing today, without waiting to 2020 or later for a global agreement to take effect.
Compared to 2011, energy-related carbon dioxide emissions in 2012 have increased by 1.4 percent.
A new global agreement aimed at meeting this target will not emerge before 2015 and is not likely to be implemented before 2020.
Meanwhile, the world is drifting further towards dangerous levels of average temperature rise and runaway climate change; the IEA projects an increase of 3.6 to 5.3 degrees Celsius by the end of the century. Scientists warn this level of warming could threaten civilization as we know it.
In its "4-for-2 degrees Celsius" scenario, the report proposes four near-term "pragmatic and achievable" measures to put the world on track to limiting warming to safer levels and could reduce emissions by eight percent on levels otherwise expected by 2020 without harming economic growth.
Targeted energy efficiency measures in buildings, industry and transport would account for nearly half of these savings by 2020 while limiting the construction and use of the least-efficient coal-fired power plants could deliver another 20 percent of these savings—while helping to curb local air pollution.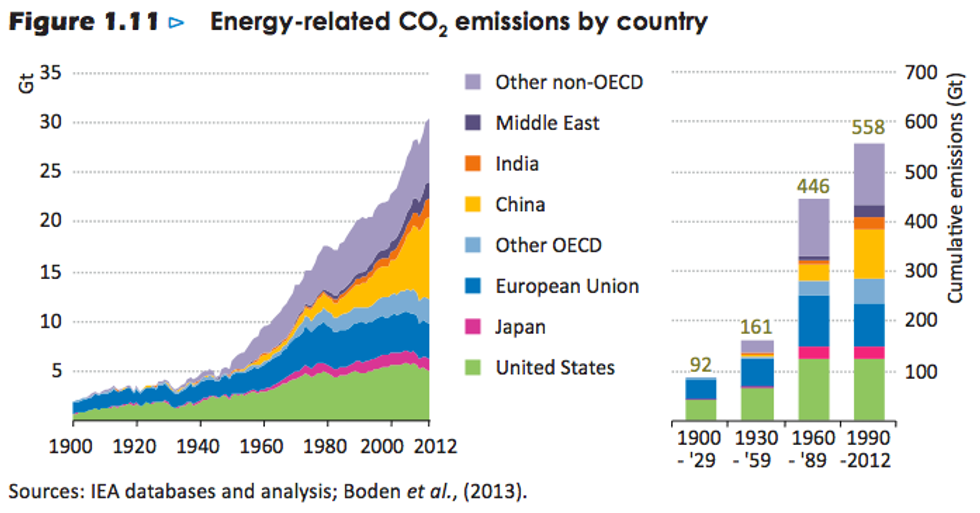 The report estimated renewable energy generation would increase from around 20 percent to 27 percent over the same period to fill the void created.
Halving methane releases from flaring in the oil and gas industry could provide another 18 percent of the savings and implementing a partial phase of out fossil fuel consumption subsidies would account for 12 percent, according to the report.
The IEA also makes the economic case for avoiding a looming 2017 lock-in for long-term warming above 2ºC. While delaying climate action across the entire energy system till 2020 would save $1.5 trillion, the report estimates that an additional $5 trillion will be needed in low-carbon investment after this date.
Fossil fuel power plants have long life cycles and are therefore exposed to serious risks in a carbon-constrained world, facing early and costly retirement or retrofitting, or even becoming "stranded assets."
In a report last year, the IEA warned that—to stay below two degrees Celsius—about two-thirds of proven global fossil fuel reserves have to stay in the ground. Yet companies spend vast amounts not only digging up known fossil fuel reserves but by looking for and developing new fossil fuel reserves.
A recent report from the Carbon Tracker Initiative found that the financial industry invested $674 billion in such projects last year alone, and warned that $6 trillion could be pumped into a "carbon bubble" over the next decade.
In response to this dire outlook for carbon-intensive utilities, the IEA promotes a strong global carbon market and carbon capture and storage (CCS) technologies as possible ways to avoid problems and to create a role for fossil fuels in the future energy mix of a carbon-constrained world.
However, in the same report the IEA also warns that the use of CCS "remains distant" as the technology has yet to be deployed at scale, and it could still be many years before the power sector could rely on it, if full-scale deployment ever becomes a reality.
Greenpeace also warns that power plants fitted with the technology require 11-40 percent more fuel and thus boost dependence on fossil fuels even further.
While generally welcoming the IEA's call to action, environmental groups have upped the stakes.
Samantha Smith, leader of the World Wildlife Fund (WWF) Global Climate & Energy Initiative said:
This is a welcome intervention by the IEA, particularly the focus on energy efficiency standards for lighting, cars and appliances as well as cutting methane losses in oil and gas production. Unfortunately, the other policies are incomplete, not ambitious enough or regionally biased. With the world on track for catastrophic levels of global warming, as the IEA says, these stop-gap proposals simply don't go far enough.
Building on IEA arguments they argue that the IEA should set a target to cut emissions from coal power 20 percent by 2020—targeting all power stations.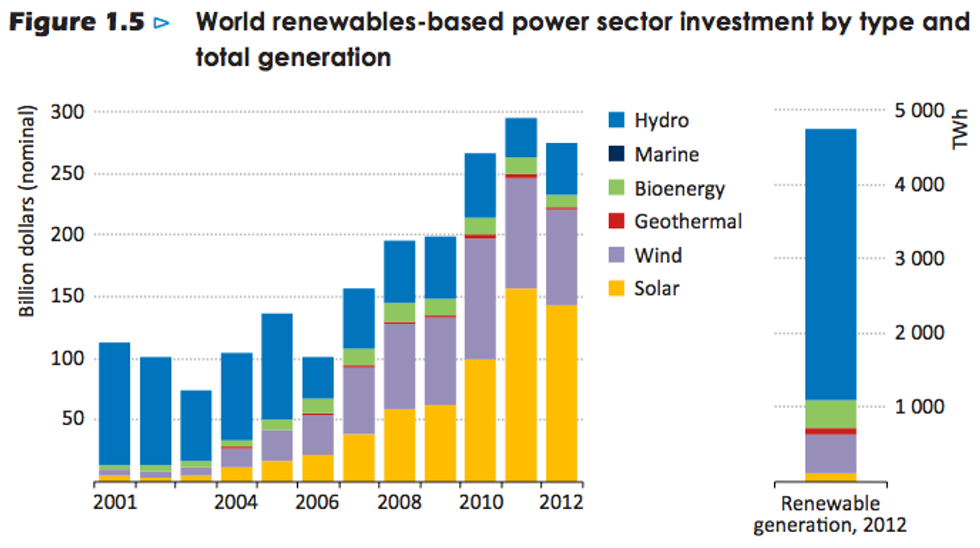 They also call for deeper cuts in fossil fuel subsidies, phasing out both consumption subsidies and production subsidies—those providing incentive for exploring for new reserves—in both developed and developing countries.
According to the IEA, $523 billion was spent globally in 2011—up 30 percent from 2010 and huge in comparison to the $88 billion spent on subsidising clean renewables.
WWF says governments should instead use taxpayer money to boost renewables and fight energy poverty.
Visit EcoWatch's CLIMATE CHANGE page for more related news on this topic.
——–
Click here to tell Congress to Expedite Renewable Energy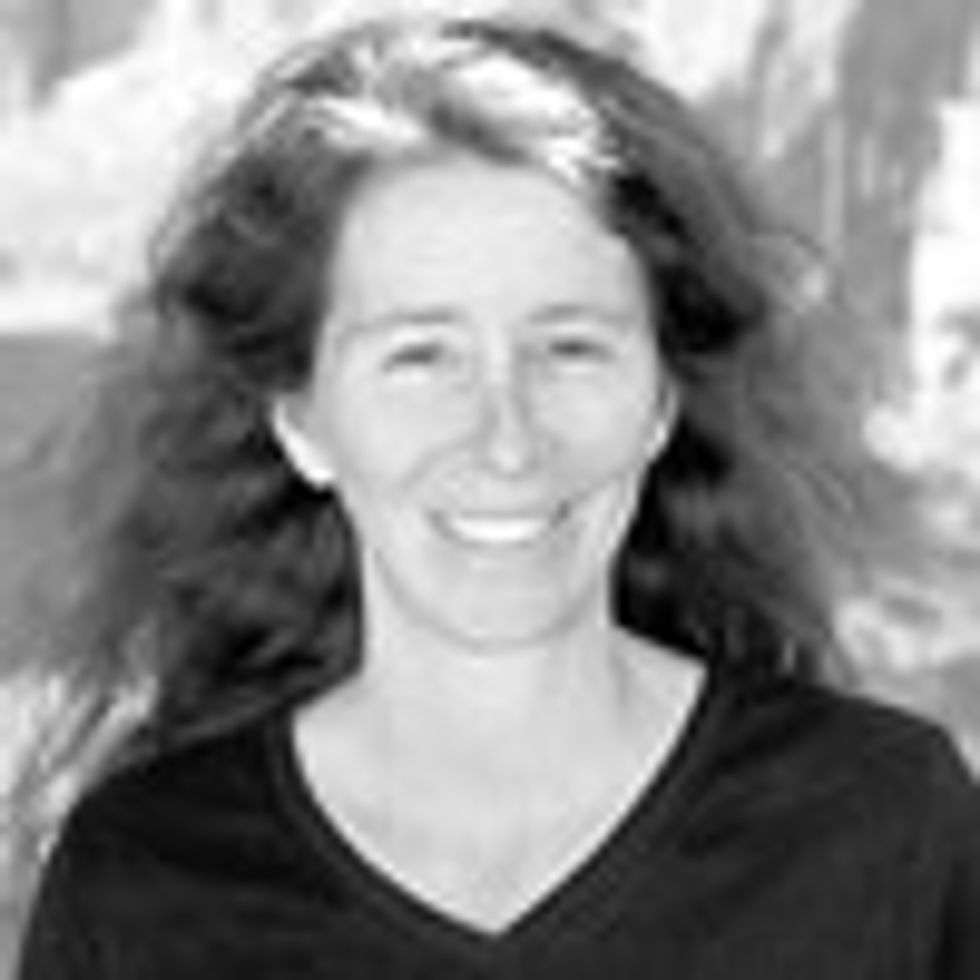 This year certainly had its big eco-news events. From natural disasters that led to one of the worst nuclear meltdowns on record to an unprecedented assault on environmental protections and regulations in Congress, 2011 felt like we took 10 steps backward on the protection of human health and the environment. Personally, I'm still reeling from 2010 events, including the BP oil spill in the Gulf of Mexico and the U.S. Supreme Court decision giving a green light to a new stampede of special interest money in politics, but we need to keep pressing forward and educate more people on the issues impacting the environment and solutions that can help solve the most daunting problems. We need to encourage individuals to become engaged in their community, adopt sustainable practices and support strong environmental policy.
Here's my top five list of eco-events of 2011. Though the list tells some of the story, I need your help to finish it. Help me complete this list by commenting below on what you think are the biggest eco-events of 2011. I'm sure together we can cover them all.
1. Fukushima Meltdown
The 9.0 magnitude earthquake and subsequent tsunami that struck Northern Japan and caused a loss of cooling and the meltdowns of three nuclear reactors on March 11 tops the list of most tragic events of 2011. Beyond the 20,000 fatalities, the event led to the worst nuclear crisis in 25 years since Chernobyl in 1986.
The reactor meltdowns in Fukushima forced 160,000 people to flee radiation and the subsequent damage to fishing, farming and forestry businesses. The Fukushima disaster received the highest possible rating of seven on the International Nuclear and Radiological Event Scale. Japanese officials estimated it may be more than 20 years before residents can safely return to the area. Studies confirm substantial releases of long-lived radioactive materials such as cesium-137, a known carcinogen, into the atmosphere and Pacific Ocean. The long-term ecological and social impacts remain unclear.
Political responses to Fukushima are changing the future of nuclear power globally. German Chancellor Angela Merkel, once a proponent of nuclear power, announced a phase-out of her nation's 17 nuclear plants by 2022. No other nation has gone so far.
President Obama requested safety reviews for existing nuclear facilities but made clear that nuclear power remains in play. Most European Union countries are also focusing on safety reviews and researching new technology. Chinese officials promise rigorous safety standards but still intend to add 40 gigawatts of nuclear power by 2020, enough to power 40 Vermonts.
Here are two of many posts from EcoWatch's coverage on Fukushima:
Fukushima Nuclear Crisis Update
Stopping Fukushima Times 10,000
2. Hydraulic Fracturing or 'Fracking'
The largest domestic natural gas drilling boom in history has swept across the U.S. The Halliburton-developed drilling technology of "fracking" or hydraulic fracturing has unlocked a "Saudia Arabia of natural gas" beneath many cities and towns across the nation. Thanks to the 2010 release of Josh Fox's documentary GASLAND, its hard to find anyone who isn't aware of this issue.
From the U.S. Environmental Protection Agency's draft analysis in December indicating an association between groundwater contamination in a Wyoming aquifer and gas production practices—including hydraulic fracturing—to thousands of people who spoke out against fracking in the Delaware River Basin, leading to a postponement of fracking in that watershed, it's clear that the controversy over the safety of this extraction method will continue for years.
Here are two of many posts from EcoWatch's coverage on fracking:
Environmental Dangers of Fracking Highlighted in Whitepaper
Landowners Say Gas Companies Kept Them in the Dark on Risks
3. Keystone XL Pipeline
Thanks to the work of Bill McKibben and the folks at 350.org, Tar Sands Action and a slew of other organizations, the Keystone XL pipeline is a house-hold term. From the direct action campaign in front of the White House where more than 1,200 people were arrested in August to the more than 10,000 people circling the White House in November to demonstrations in cities across the country where President Obama was visiting to outreach campaigns like Ride for Renewables, in which Tom Weis spent 10-weeks biking the proposed pipeline route and educating people about the impacts the project would have on their communities, people are speaking out against the extreme energy practices of the fossil fuel industry that are destroying the planet, displacing communities and making people sick.

TransCanada's proposed 1,700-mile long pipeline would transport highly corrosive crude oil from Canada's oil sands region in Alberta to refineries in Port Arthur, Texas through Montana, South Dakota, Nebraska, Kansas and Oklahoma, before being exported to China, Latin America or Europe.

Here are two of many posts from EcoWatch's coverage on the Keystone XL pipeline:
The Keystone XL Pipeline Scam
Keystone XL Victory Will Help Stop Tar Sands Oil Extraction
4

. International Energy Agency's Warning
Without a bold change of policy direction, the world will lock itself into an insecure, inefficient and high-carbon energy system, warned the International Energy Agency (IEA) in the 2011 edition of the World Energy Outlook (WEO). The agency's flagship publication, released Nov. 9 in London, said there is still time to act, but the window of opportunity is closing.
"Growth, prosperity and rising population will inevitably push up energy needs over the coming decades. But we cannot continue to rely on insecure and environmentally unsustainable uses of energy," said IEA Executive Director Maria van der Hoeven. "Governments need to introduce stronger measures to drive investment in efficient and low-carbon technologies. The Fukushima nuclear accident, the turmoil in parts of the Middle East and North Africa and a sharp rebound in energy demand in 2010 which pushed CO2 emissions to a record high, highlight the urgency and the scale of the challenge."
With the dismal outcome of the Durban climate talks and lack of energy policies in many countries, including the U.S., it seems the warning from the IEA is not being taken seriously. One example the world should be following is Australia, which passed a new clean energy law in November after more than a decade of effort by countless Australians who have worked tirelessly for action on climate change. The wide ranging plan, entitled Securing a Clean Energy Future, will take effect July 2012.
Here are two of many posts from EcoWatch's coverage on the IEA report:
World's Appetite for Coal Continues to Grow
Door to Achieving Climate Objectives Is Rapidly Closing
5. Ocean Acidification
Each year, the ocean absorbs approximately 25 percent of all the CO2 we emit. Its acidity has increased by 30 percent since the beginning of the industrial revolution and acidification will continue at an unprecedented rate in the coming decades. This can have a negative impact on marine organisms, especially the calcifying ones such as shellfish, molluscs, coral reefs and various types of zooplankton and phytoplankton. Increasing ocean acidity requires them to use more energy to build their shells, which has potentially severe ecological consequences. If the current acidification rate continues, it could lead to the extinction of some species and impact others that feed on them.

"The increasing amounts of carbon dioxide that we emit into the atmosphere every day are changing our oceans, steadily increasing their acidity, and dramatically affecting marine life," says Prof. Dan Laffoley, marine vice chair of International Union for Conservation of Nature's World Commission on Protected Areas and chair of RUG. "This may also have severe impacts on human life in the future. Only by reducing our CO2 emissions and enhancing the protection of oceans to strengthen their ability to recover, can we effectively address this issue."Here are two of many posts from EcoWatch's coverage on ocean acidification:

Experts Urge Action to Limit Ocean Acidification

Feds Must Act to Protect 82 Coral Species from Extinction
There's my list of the top five eco-events of 2011. What are yours? Please share them in the comments below.
Happy new year.