This website uses cookies to ensure you get the best experience while browsing it. By clicking 'Got It' you're accepting these terms.


The best of EcoWatch, right in your inbox. Sign up for our email newsletter!
Beyond Meat
Plant-based meats are touted as the technological solution to the health and environmental problems caused by excessive meat-eating. Venture capital is flooding to what seems like a hot new market.
EcoWatch Daily Newsletter
Mike Mozart / Flickr
A reporter asked:
I was wondering if you could share your thoughts with me about the new study finding phthalates in boxed Mac & Cheese. Should consumers be afraid of just Mac & Cheese, considering phthalates are ubiquitous and found in almost every food we consume? What are your recommendations?

Last week the U.S. Food and Drug Administration (FDA) warned pet owners not to feed specific lot numbers of Evanger's canned Hunk of Beef or Against the Grain Grain Free Pulled Beef with Gravy canned dog food because they might contain enough pentobarbital to sicken or kill their animals.
The FDA began investigating Evanger's Dog & Cat Food Company Inc. when it learned about five dogs in a single household that suffered acute neurological symptoms shortly after eating the product. One dog was euthanized after secondary complications and three others recovered after receiving veterinary care. One of the dogs treated remains on seizure medication and the fifth dog that ate the least amount of food recovered with time.
The stomach contents of the deceased dog and an open can of the product were tested by an FDA Veterinary Laboratory Investigation and Response Network lab and unopened cans of the product from the pet owner and retailer that sold the products (from the same production lot), were tested by FDA's lab. All of the samples tested positive for pentobarbital.

Yikes indeed.
Pentobarbital is a drug used for euthanizing animals. Years ago, the remains of euthanized animals (sometimes pets) went to rendering plants and the resulting mess ended up in pet foods.

But when Mal Nesheim and I were researching our pet food book, Feed Your Pet Right, which came out in 2010, we searched for but could not find evidence that any pet food company was still doing that.
Everyone we asked, from veterinarians, to pet food makers, to government regulators told us that rendered, euthanized animals were no longer in pet foods, not least because the ingredients would have to be disclosed on the labels and no manufacturer wanted to do that.
The U.S. Department of Agriculture (USDA) said it checked and the canned foods really do contain beef.
Since when are cattle treated with pentobarbital?
If they aren't, how did the drug get into the pet food?
Evanger's advertises its ingredients as "human grade." Oops.
Susan Thixton, who runs the blog, TruthAboutPetFood, snagged a screenshot of Evanger's website before they "edited" out the part about how their products are "made with completely human grade" ingredients. Here's her explanation:
The FDA must agree. It said:

In its recent press release announcing a limited product recall, Evanger's Dog & Cat Food Company, Inc. stated that the beef for its Hunk of Beef product came from a "USDA approved" supplier. However, the FDA reviewed a bill of lading from Evanger's supplier of "Inedible Hand Deboned Beef—For Pet Food Use Only. Not Fit For Human Consumption" and determined that the supplier's facility does not have a grant of inspection from the United States Department of Agriculture's Food Safety and Inspection Service. The meat products from this supplier do not bear the USDA inspection mark and would not be considered human grade.

For more information:
iStock
The U.S. Food and Drug Administration (FDA) and the U.S. Environmental Protection Agency (EPA) have just issued advice to pregnant women about eating fish.
Fatty fish have long-chain omega-3 fatty acids which are good for health.
But some have methylmercury, which is toxic to the developing fetus.

And all have PCBs or other organic compounds that are unlikely to promote health.
The advice? Eat 2 to 3 servings of lower-mercury fish per week for a total of 8-12 ounces.
That's fine, but which fish are low in methylmercury?
For this, the agencies have created an reference chart that sorts 62 types of fish into three categories:
FDA
"Best Choices" (eat two to three servings a week)

"Good Choices" (eat one serving a week)
"Fish to Avoid"
Here's where things get tricky.
Choices to avoid include, among others, Bigeye Tuna and Tilefish from the Gulf of Mexico.
Good choices include Albacore and Yellowfin Tuna and Tilefish from the Atlantic Ocean.
Good luck telling the difference.
As I've written before (and also see this post and this one about fish politics), if you want to avoid methylmercury during pregnancy, it's best to avoid tuna. Consumer Reports advises pregnant women not to eat tuna at all.
Center for Science in the Public Interest said:
The best advice for pregnant or nursing women and parents of small children is to choose fish that are low in mercury and high in omega-3 fatty acids, like salmon and sardines. They should avoid albacore tuna altogether and consume tuna labeled as "light tuna" very sparingly—no more than two ounces per week for women and one ounce per week for kids.
And are PCBs a non-issue? Could fish politics have anything to do with this?
Here are the documents: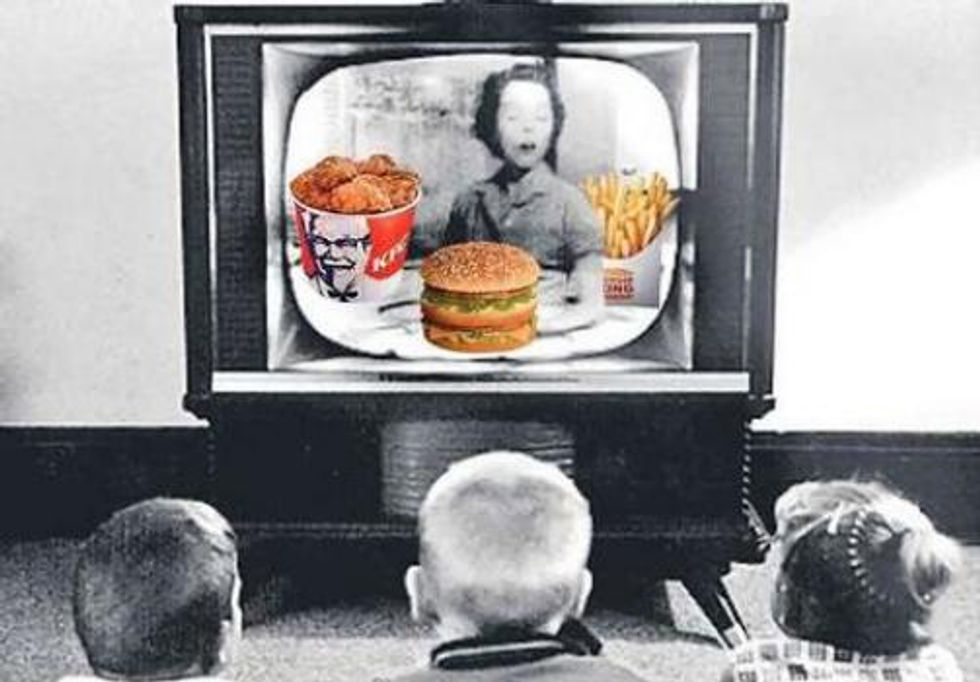 By Marion Nestle
For some time now, I've been arguing that legal scholars ought to be challenging the contention of food corporations that the First Amendment gives them the right to market foods any way they like, even to kids.
I simply cannot believe that the founding fathers of the U.S. intended the First Amendment for this purpose.
In December 2010, I urged public interest lawyers to examine current food marketing practices in the light of the First Amendment. I am pleased to see that they are now doing so.
Samantha Graff of the National Policy & Legal Analysis Network to Prevent Childhood Obesity (NPLAN) forwards two co-authored articles published this month:
Health Affairs: Government Can Regulate Food Advertising to Children Because Cognitive Research Shows It Is Inherently Misleading, by Samantha Graff, Dale Kunkel, and Seth E. Mermin.
The childhood obesity crisis has prompted repeated calls for government action to curb the marketing of unhealthy food to children. Food and entertainment industry groups have asserted that the First Amendment prohibits such regulation.

However, case law establishes that the First Amendment does not protect "inherently misleading" commercial speech. Cognitive research indicates that young children cannot effectively recognize the persuasive intent of advertising or apply the critical evaluation required to comprehend commercial messages.

Given this combination—that government can prohibit "inherently misleading" advertising and that children cannot adequately understand commercial messages—advertising to children younger than age twelve should be considered beyond the scope of constitutional protection.
American Journal of Public Health: Protecting Young People from Junk Food Advertising: Implications of Psychological Research for First Amendment Law, by Jennifer L. Harris and Samantha K. Graff.
In the United States, one third of children and adolescents are overweight or obese, yet food and beverage companies continue to target them with advertising for products that contribute to this obesity crisis.

When government restrictions on such advertising are proposed, the constitutional commercial speech doctrine is often invoked as a barrier to action. We explore incongruities between the legal justifications for the commercial speech doctrine and the psychological research on how food advertising affects young people.
These papers are a great start to the conversation, as was a previous contribution from these authors: A Legal Primer for the Obesity Prevention Movemen, American Journal of Public Health, 2009.
First Amendment scholars—weigh in, please.
And while pondering these questions, take a look at Raj Patel's piece in The Atlantic, Abolish the food industry. In his view, the First Amendment issue is a no brainer:
I side with the American Psychological Association in thinking that advertising to children is unconscionable. Rather than dwell on the First Amendment issue, which strikes me as an easy case to make, I think it's worth addressing a deeper question underlying the San Francisco cigarette-in-pharmacy ban—Why allow an industry that profits from the sale of unhealthy food at all?
For more information, click here.