The pipeline that oozed oil into the Oak Glen Nature Preserve near Cincinnati, OH a week ago leaked more crude oil than originally estimated—about two times more.
Federal investigators now estimate that 20,000 gallons leaked last week, threatening the drinking supply and wildlife in the area, the Associated Press reported.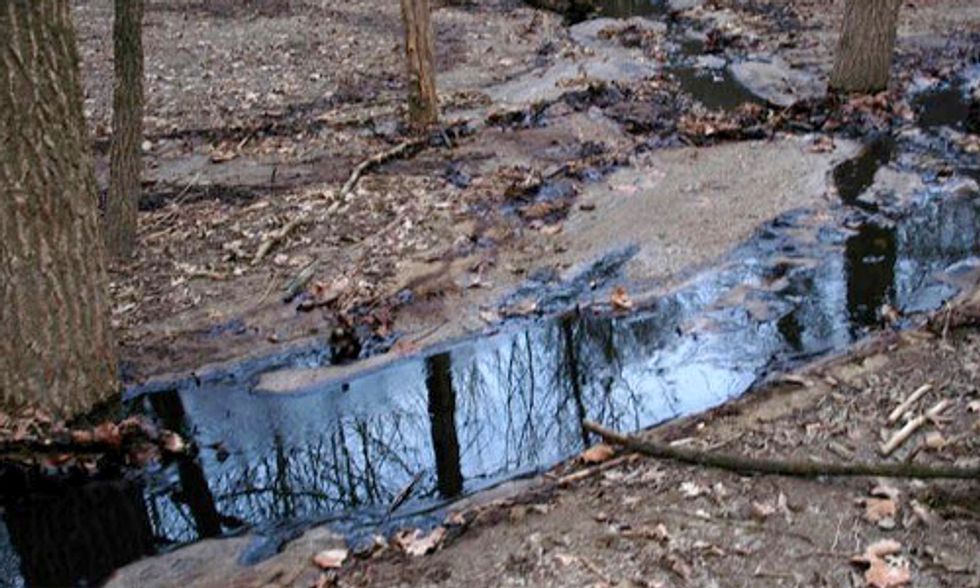 Sunoco spokesman Jeff Shields said a clamp has been engineered just for the 20-inch diameter pipeline as part of a federally approved plan. While Shields said the pipeline had a 5-inch crack, the U.S. Environmental Protection Agency says the matter is still under investigation.
The pipeline has been repaired and reopened on Monday, according to Sunoco Logistics. Sunoco had turned off a stretch of the pipeline from Hebron, KY, to Lima, OH as a result of the leak. The new clamp was tested before oil resumed flowing.
The company owns most of the Mid-Valley Pipeline Co. pipeline, which extends 1,000 miles from Michigan to Texas. 
The pipeline carries crude oil to refineries in Ohio and Oregon. Inspectors last checked it in 2011. A system-wide inspection of the 1,119-mile-long pipeline five years ago resulted in a $48,700 fine for Sunoco, which did not address corrosion problems in the pipeline.
According to the Enquirer, Gary M. Broughton placed the initial 911 call after taking in a "fuel, oily smell." He got out of his car and saw oil spreading across a pond.
"It's absolutely terrible," Broughton told the 911 dispatcher.
"It made me sick when I saw it."
This week, an even larger spill took place in Texas City, TX when a barge carrying more than 900,000 gallons of oil collided with a 585-foot ship on the Houston Ship Channel, one of the world's busiest waterways.
Environmentalists are concerned about the impact the spill could have on the bird population. Thousands of shorebirds are still in the area. The Bolivar Flats Shorebird Sanctuary is just east of the spill site. It is known to attract 50,000 to 70,000 shorebirds to its muddy, flat terrain.
——–
Related Content:
Interstate Pipeline Spills 10,000 Gallons of Crude Oil Into Ohio Nature Preserve
Nearly 170,000 Gallons of Oil Spills Into Busy Houston Ship Channel
Dumping of Toxic Fracking Wastewater Reaffirms Natural Gas Industry Free-for-All in Ohio
By Arin de Hoog
The tiny island of Koh Samet is about 2 km off the coast of the Thai mainland. It has the long pale beaches, forests and beautiful geography. Right now, though, the fine, white sands of the island and clear, blue waters that surround it are being turned sticky and black by crude oil which spurted out of a pipeline operated by PTT Global Chemical.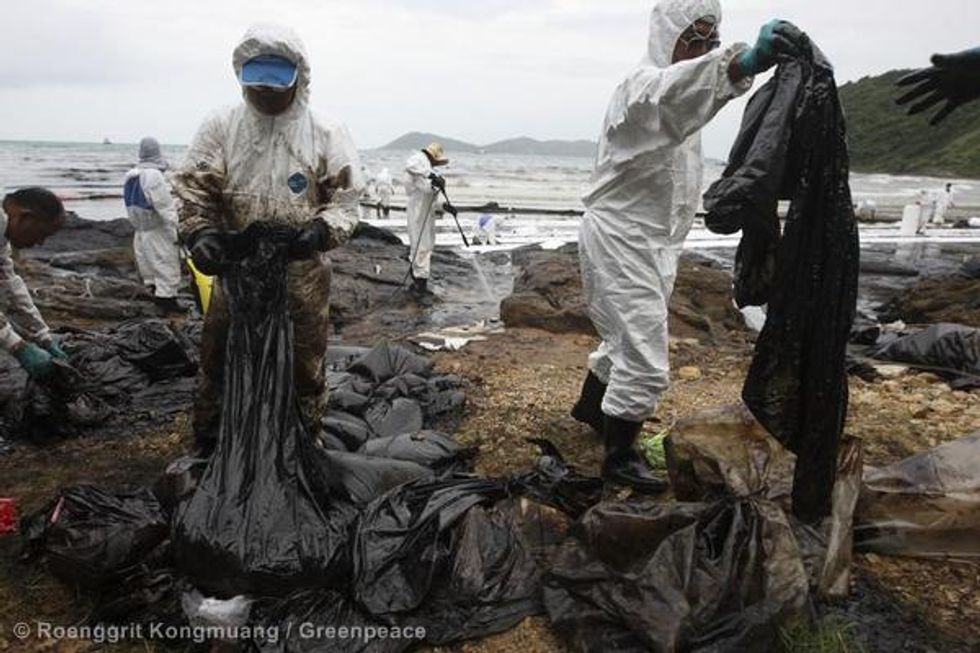 The spill started on Saturday morning, about 20 kilometres southeast of the Map Ta Phut seaport on the southern shore of the mainland. PTT, the state-owned administrator of PTT Global Chemical, tried to downplay the full extent of the leak by claiming that the oil slick had "effectively been dissolved".
This claim proved to be untrue after unrefined crude started blackening the immaculate beaches of Koh Samet as PTT Global Chemical admitted 50,000 litres of unrefined crude had been spilled into the waters of Phrao Bay.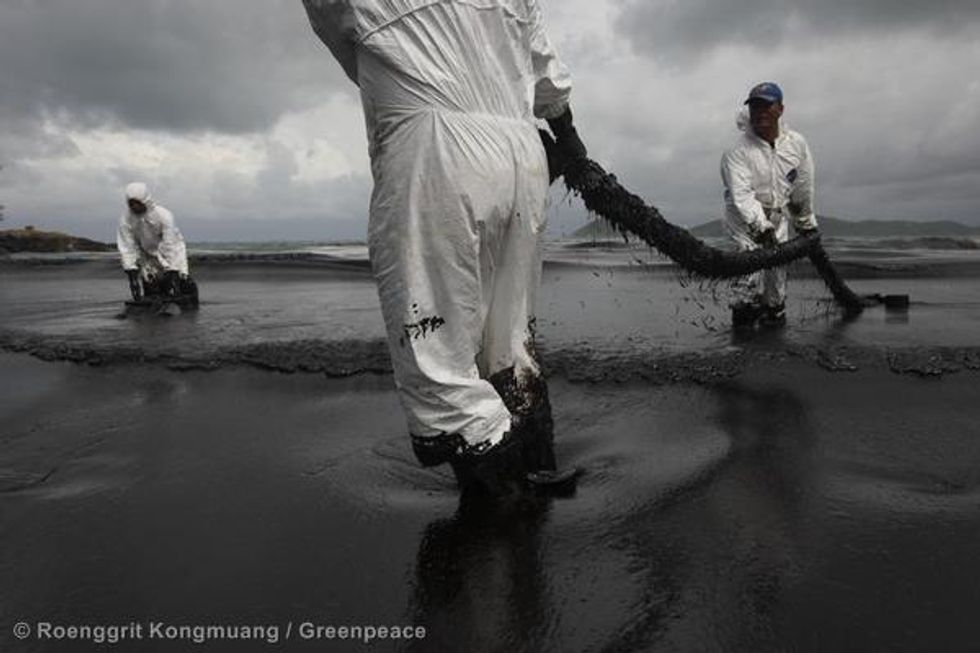 Making matters worse, Thailand is not capable of handling the oil spill, Deputy Premier Plodprasop Suraswadi conceded to the Bangkok Post. Speaking via a government spokesman, he added that authorities should seek help from nearby Singapore.
For a region identified by Greenpeace Southeast Asia Thailand Programme Manager, Ply Pirom, as the "nation's food basket", this news is bleak.
Bleaker still is the realization that this spill is just one of more than 200 spills that have happened in Thai waters in the past three decades, effectively putting the region's ecosystem in the crossfire of big oil companies and meager oil spill mitigation resources.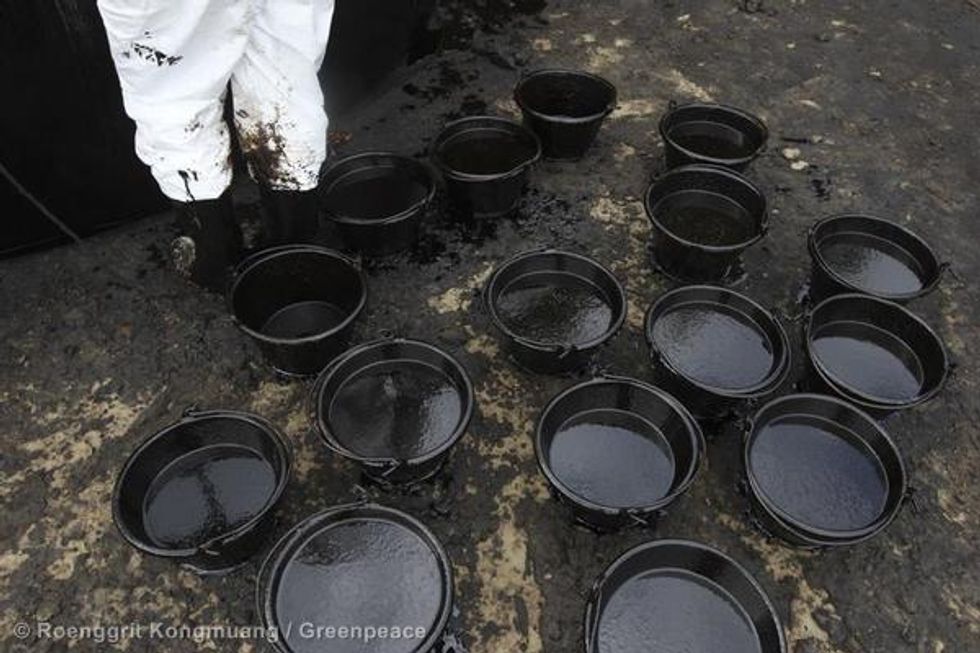 Greenpeace East Asia has been closely monitoring the situation and have deployed a rapid response team to document the impact of the spill, particularly in the National Marine Park area that includes Koh Samet.
The paradox of a country known for its staggering natural beauty but still heavily reliant on fossil fuels in its energy policy is counter-intuitive. Especially when the availability of affordable, clean, renewable energy is taken into consideration. 
Greenpeace is now demanding that PTT Global Chemical be held financially liable for the cost of cleaning and restoring the natural environment and is mobilizing the public through an online petition. It's time for the Thai government to review its energy policy and put an end to oil drilling and exploration in the Gulf of Thailand.
Visit EcoWatch's PIPELINES page for more related news on this topic.
——–
EcoWatch Daily Newsletter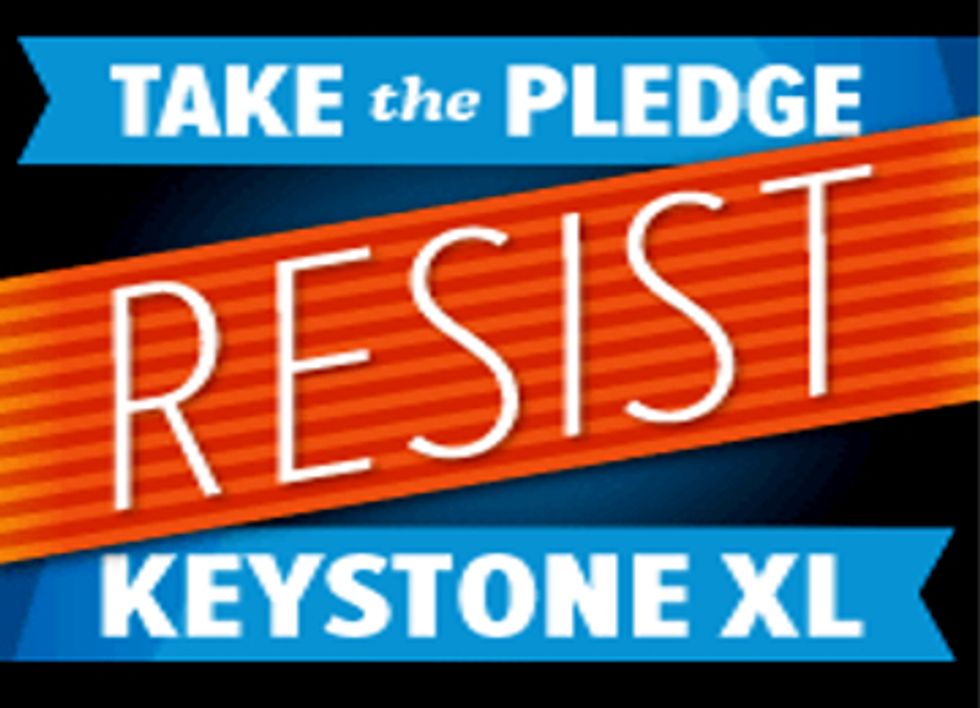 More than 69,000 Americans are pledging to risk arrest to halt the construction of the 1,700-mile Keystone XL pipeline. In a stand of solidarity with those living along the pipeline's path, residents from across the U.S. are vowing to take part in historic acts of civil disobedience aimed directly at shutting down Keystone XL.
The actions are expected to come in many forms, including mass sit-ins at strategic locations along the route and other large-scale actions in major U.S. cities. The protests are expected to be unleashed when—and if—the State Department gives a nod of approval for the pipeline's construction.
If the State Department recommends approval of the TransCanda pipeline, President Obama will have two weeks before a decision will be made.
During that time, those living along the pipeline route—and their supporters throughout the country—are going to let President Obama know they're not going to grin and bear it. It's not the first time anti-Keystone advocates have taken their demonstrations to the next level. In February, roughly 50 demonstrators were arrested outside the White House during a sit-in against Keystone.
Standing up Against the Giant
"Most events will be outside Washington DC, because this decision will affect all of us, where we live," a post by Credo Action regarding the pledge states. "So we want to see the beautiful sight of actions across the nation—including a wide variety of symbolic targets like State Department offices, TransCanada corporate lobbies, Obama Organizing for Action meetings, banks that are financing tar sands oil development, areas ravaged by Superstorm Sandy and along the pipeline route."
In March, the State Department released a report indicating approval of the Keystone pipeline would not contribute to global climate change, using the rationale that the extraction of Alberta tar sands—the source of carbon emissions—will continue with or without America's involvement with Keystone XL.
In June, President Obama delivered a nationwide climate change address, stating that the pipeline could be approved only if it did not result in a net increase in carbon emissions. This wasn't taken as a good sign for anti-Keystone advocates—but for those fighting for their land, the fight isn't over until it's over.
"I am a firm believer in President Obama and his words to the people that we need to stand up and we need to show how a democracy works, and when you don't agree about something and feel strongly about something, you need to stand up and speak out," Abbi Harrington-Kleinschmidt, a Nebraska farmer whose land sits along the proposed Keystone route, told Mint Press News. "I feel it's what President Obama is asking us to do."
The united front against the Keystone pipeline is layered in emotion. The concerns among activists are vast, ranging from issues of climate change to problems that could arise from pipeline spills. There's also the issue of whether a foreign corporation should have eminent domain authority to take Americans' land.
For those living in the midst of the battle, the pledge to keep Keystone out of America is rooted in all these concerns, but protection of their own land takes the struggle to a personal level.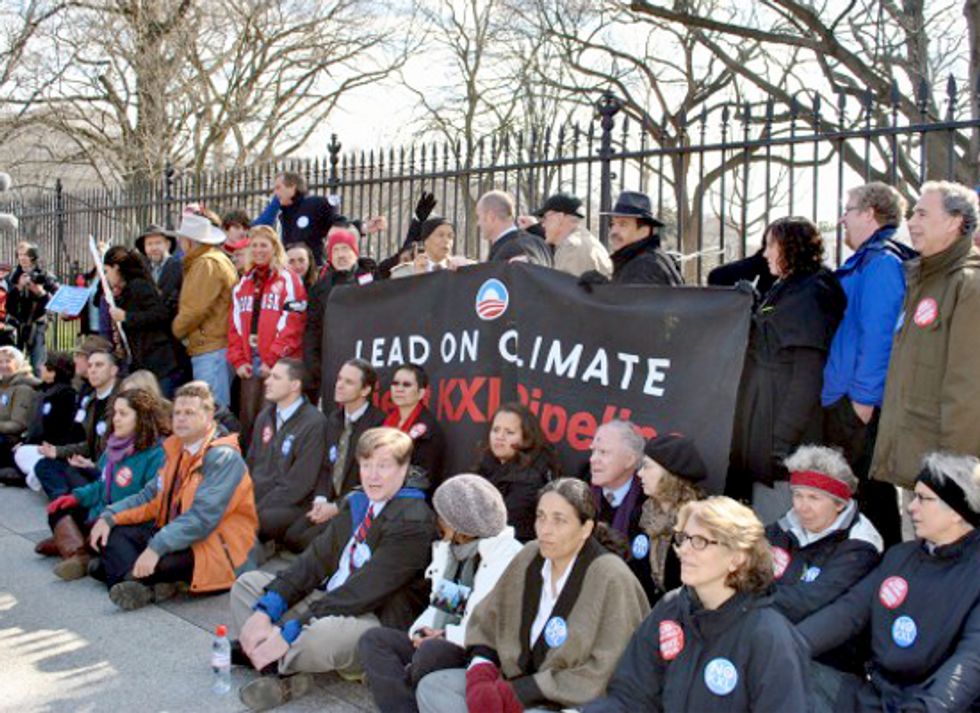 Standing in Solidarity with American farmers
Harrington-Kleinschmidt's farmland in Nebraska's York County dates back five generations. After her father passed away, more than 2,000 acres of farmland was passed down to her and her three sisters, who now manage the farm.
Like other Nebraska farmers, Harrington-Kleinschmidt learned about Keystone XL when TransCanada submitted its first pipeline route proposal. During that time, the map didn't impact her area—but it did impact her brother-in-law's land, located roughly 20 miles north of her property.
"He was wrestling with TransCanada for two or three years," she told Mint Press News. "I was aware that he was having these issues, but I felt like, well, it doesn't affect me, so I didn't learn any more about it at the time."
That all changed when TransCanada changed its proposal, settling on a route that went directly through her farmland. Unlike other farmers in Nebraska, Harrington-Kleinschmidt has refused to sign any agreements with TransCanada. Instead, she's relied on the legal counsel of the Nebraska Easement Action Team, which provides free assistance to farmers battling TransCanada and their lengthy, complicated easement proposals.
From her work with the team, Harrington-Klein learned a thing or two about the easements presented by TransCanada and discovered it wasn't in the best interest of her or her family to sign.
"It's a very dangerous thing," she told Mint Press News. "It's a perpetual easement. TransCanada would own that easement forever. They offer a one-time payment to the landowner to put that dirty thing in the ground, and it's not like they're going to pay you every year."
Harrington-Klein's land hosts corn and soybean crops, which she rotates every year to keep the soil healthy. In her eyes, it's the most valuable farmland in the nation, if not the world, as it's flat, sits in the midst of an area known for its fertile soil, and is near the Ogallala Aquifer, which the Sierra Club considers one of the world's largest supplies of groundwater.
She's concerned about the impact Alberta tar sand extraction has on global climate change, and she doesn't like the idea of more than 800,000 barrels of thick tar sand oil running under her property every single day—not only because of what it represents, but because of the threat it poses to her land.
For Harrington-Klein and her neighbors, it's a not a matter of if a spill will occur, but when. Aside from contaminating farmland and fertile soil, there's concern over contamination of the Ogallala, which provides water to eight states for drinking, irrigation and livestock watering purposes, according to the U.S. Geological Survey, as noted in the Journal Star.
"It just goes right to my core, probably because of the legacy that ties to my family for five generations," she said, "and knowing that my ancestors who worked so hard—and my sisters and I, who have shed a lot of blood, sweat and tears on that farm too. What's so upsetting is that a foreign corporation can threaten to come and take your land from you with such a dangerous pipeline."
Will America Pull Through with Pledge?
The organizations that have paired with Credo Action to initiate the pledge are now attempting to draw the faint of heart into the nationwide campaign of peaceful civil disobedience.
"You shouldn't make this pledge lighty," the Credo post states. "We certainly don't ask lightly. We ask in the belief that there are tens of thousands of people out there who feel as strongly about this as we do; who believe that these circumstances call for extraordinary action, and want to be part of that action in their community."
Credo is joined by Bold Nebraska, the Rainforest Action Network and 350.org, among other environmental advocacy organizations. To prepare residents throughout the country for what's expected to be a two-week campaign, Credo is partnering with Rainforest Action Network and The Other 98% to host local activist training sessions, where those taking part in the pledge will learn how to lead and organize local civil disobedience actions.
As of July 12, more than 750 people throughout the U.S. had signed up to lead local actions and take part in trainings, according to a press release issued by Credo. The trainings aren't geared toward longtime environmental activists. Rather, the people who have taken interest in the pipeline debate are those who have sympathized with their friends, family members and fellow Americans who live along the route.
Harrington-Klein has a second cousin who lives in New York City. While far from the pipeline, the stories of Nebraska's fight remain heightened in her cousin's heart. More than 1,300 miles from York County, a sign opposing the Keystone pipeline sits in her yard.
"After all, we are the conservatives, standing up for a safe and secure future for our families. It is those we protest, those who profit from radically altering the chemical composition of our atmosphere—and the prospects for survival of humanity—they are the radicals," the Credo pledge states.
Visit EcoWatch's KEYSTONE XL page for more related news on this topic.
——–
SHARE YOUR THOUGHTS BELOW: What action will you take to show your opposition to the Keystone XL pipeline?
——–

By Andy Rowell
The inherent risks of transporting crude oil have once again been brutally and painfully exposed after a massive explosion in Quebec, Canada left part of an affected town looking like a war zone.
At least five people died when a crude oil train derailed and blew up on Saturday, causing an explosion that has been compared to an atomic bomb. An estimated 40-50 people are missing, many whom had been enjoying a late night drink in a local bar. An estimated 30 buildings have been completely incinerated.
The fire and explosion was so intense that the local police are warning that some bodies may never be recovered or identified. The explosion happened in the picturesque lakeside town of Lac-Megantic, which is close to the U.S. border with Maine. The train had been bringing shale oil from the Bakken Field in North Dakota to a refinery in Saint John, New Brunswick.
In the aftermath of the disaster the on-going debate as to whether it is safer to transport oil via pipeline or railroad has once again been raging. The disaster may well be used by the proponents of the Keystone XL pipeline to argue that pipelines are safer.
Both transport modes have problems. Edward Whittingham, the executive director of the Canadian research organization, the Pembina Institute, argues there are safety and environmental risks inherent in both pipelines and railroads. We only have to think back to Exxon's recent Arkansas spill to know that pipelines in the U.S. are not that safe either.
But for the moment, even as Canada's tar sands are delivered apace, there is no clear route for them to get to the international markets. That is why they continue to press the U.S. to approve the Keystone XL pipeline.
Despite this on-going uncertainty, Canada is looking to exploit another heavy form of oil too in Northern Alberta. Think of it as "Tar Sands Two"—except this time its called Dolofudge and has the consistency of peanut butter.
This sludgy bitumen like substance is not like the tar sands and found in the region's sands, but it is located in the porous rocks of the region's limestone and dolomite, hence the name Dolofudge. The Canadians are saying the region could contain some 500 billion barrels of Dolofudge—more than the combined recoverable reserves of Saudi Arabia and Venezuela.
Dolofudge is not even included in the traditional oil reserve amounts of Canada, because no one has managed to extract it on a commercial scale. But one pilot study is now up and running in the West Athabascan Grosmont, about 100 kilometres west of the tar sands center of Fort McMurray, Alberta.
How much Dolofudge is recoverable is anyone's guess. What we do know is that with any new oil development there is a huge amount of hype which may not bear any resemblance to reality. One analyst has warned that developing the new fudge reserves is "fraught with blind alleys and unanticipated setbacks."
The trouble is, that is what they used to say about tar sands and it never stopped the oil industry before.
Visit EcoWatch's TAR SANDS page for more related news on this topic.
——–

Otisfield residents voted overwhelmingly at a town meeting Saturday to pass a municipal resolution stating opposition to sending tar sands oil through ExxonMobil's Portland-Montreal Pipeline, making it the seventh Maine town to publicly and officially oppose the proposal. The 63-year-old pipeline, which stretches 236 miles from Montreal to South Portland, is being considered for the transport of tar sands, a form of toxic, thick oil that is associated with higher incidence of pipeline spills and can be nearly impossible to clean up. The pipeline stretches six miles through Otisfield near Pleasant Lake and both Saturday and Moose Ponds.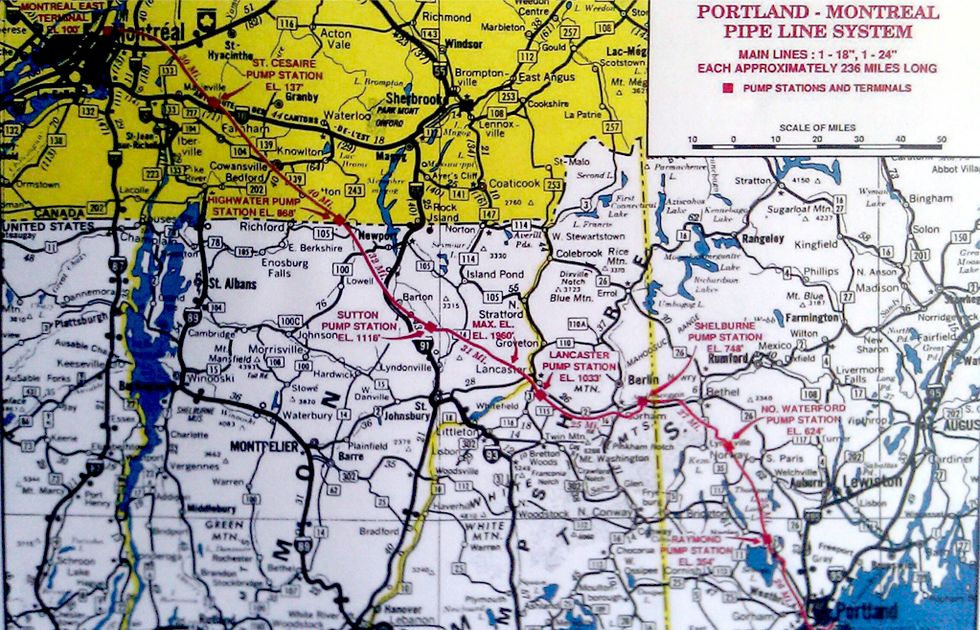 "This is an important stand for Otisfield to take to ensure the health and viability of our community," says Moose Pond residents Scott and Zizi Vlaun. "A tar sands oil spill in the Crooked River would be a complete disaster to our environment and tourism-based economy. As organic farmers, much of our customer base comes from visiting tourists, so it would definitely hurt our business."
The resolution states serious concerns about the environmental and public health hazards of tar sands oil in the context of a town and region heavily dependent on a clean environment for recreation, tourism and the economy at large. Concerns about threats to water quality also motivated the resolution.
"A tar sands oil spill in to the Crooked River would be a disaster for Maine people and wildlife," says Lee Dassler, executive director of the Western Foothills Land Trust. "The Crooked River is a AA water quality river, which is supposed to be the cleanest and most protected in Maine. It also provides critical spawning habitat for Maine Landlocked Salmon. The Crooked River also provides 40 percent of the surface water to Sebago Lake, the drinking water supply for one in seven Maine people."
The resolution was submitted by Otisfield residents who have become increasingly opposed to tar sands oil threatening the local environment and economy. Otisfield residents collected over 100 signatures from registered Otisfield voters and worked with the town selectmen to put the resolution on the warrant for Saturday's annual town meeting.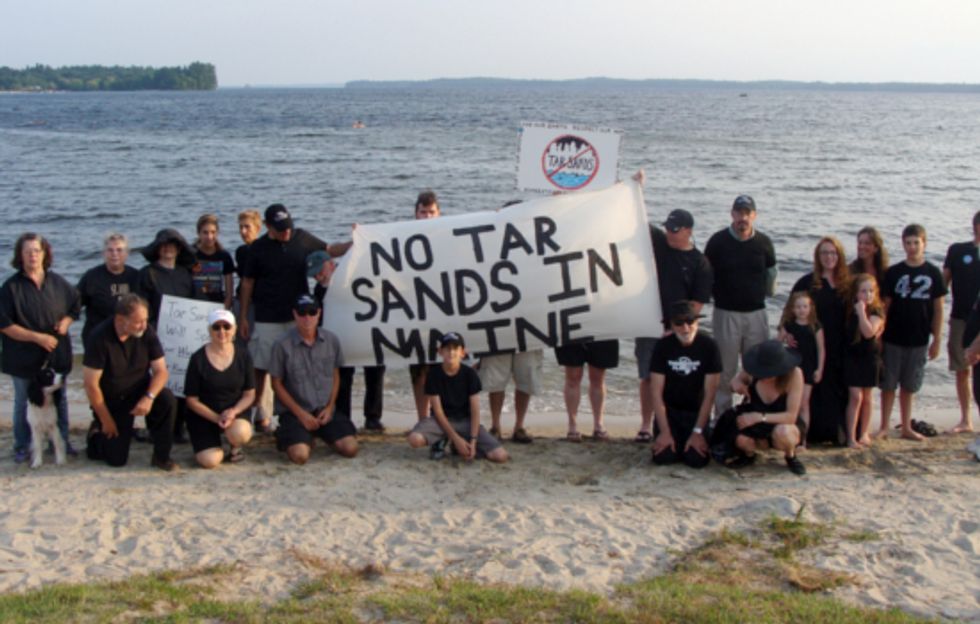 "I am pleased so many Otisfield residents took the time to learn the facts about tar sands oil and were not swayed by unsubstantiated industry claims," says Jeff Stern, chair of the Otisfield Conservation Commission. "Many Otisfield residents attended panel discussions, public presentations and movie showings to learn the facts before today's vote. Today's vote makes it clear that Otisfield does not want to run the risk of transporting this heavy toxic oil through our community."
The resolution calls upon elected leaders to help ensure any tar sands pipeline proposal gets a complete environmental impact review, something that can be required by the U.S. State Department for cross-border pipelines. More than 30 towns along the pipeline have already passed similar resolutions including Raymond, Casco, Waterford, Harrison, Bridgton and Portland.
"As a Canadian citizen and a 30 year resident of Cape Bretton, I've seen the emergence of the tar sands extraction rush in Alberta and the devastation it has caused across a widening expanse of the Boreal forest," says Otisfield resident Pixie Williams. "I've also seen the citizen resistance forming in Canada and the U.S. as people learn the facts about tar sands extraction and transportation. Ultimately our children and grandchildren will need to live with this pipeline in their backyards for years to come. We should not put their future at risk by sending toxic tar sands oil through the pipeline."
"We congratulate the town and citizens of Otisfield on passing this important resolution," says Todd Martin, outreach coordinator for the Natural Resources Council of Maine. "Once you learn about tar sands and pipelines, it's not hard to see that it would be a bad deal for Maine."
Visit EcoWatch's TAR SANDS page for more related news on this topic.

Yesterday, members of 350 Maine attempted to block a Pan Am train as it passed through downtown Fairfield, aiming to prevent roughly 70,000 barrels of crude oil from reaching the Irving Refinery in New Brunswick, Canada. The blockade was staged as part of a nationally coordinated week of action.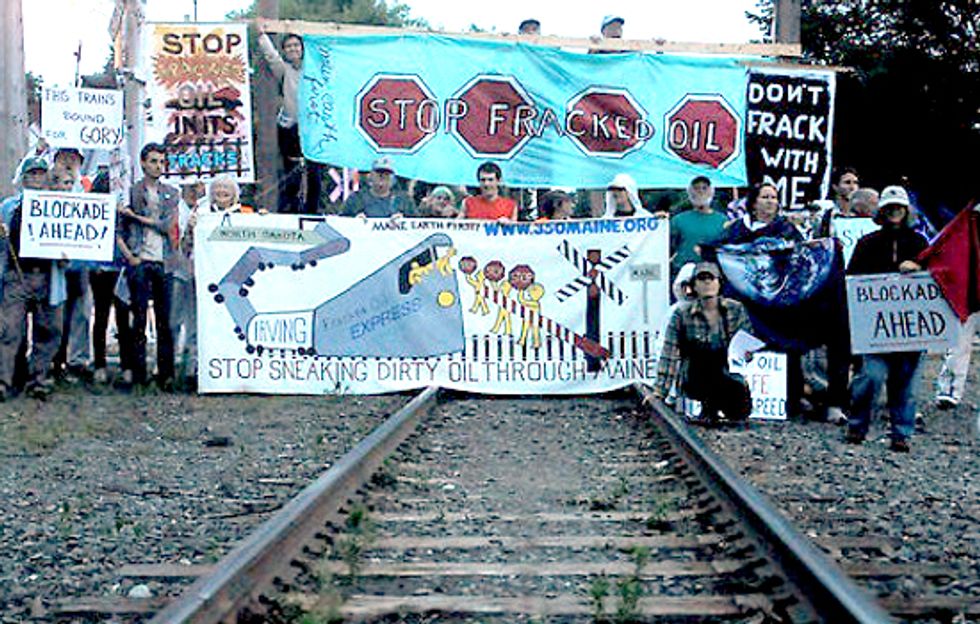 When police arrived last night to break up the peaceful protest, six people who refused to leave the scene were arrested after trying to destroy scaffolding with a chain saw. Local news media reported a surprisingly large number of law enforcement officials who responded to the action, including troopers from the state police.
Trains running through Maine carry crude from the Bakken oil fields of North Dakota, where it is  extracted—fracked—by blasting a high pressure mix of water, silica and toxic chemicals deep into the ground to release the oil from shale rock.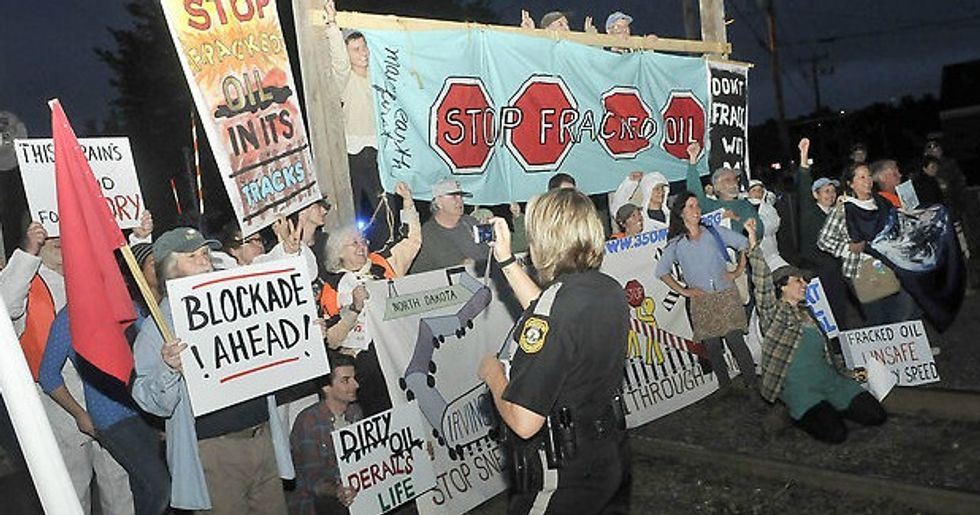 One of those arrested, 63-year-old Read Brugger from the town of Freedom, was clear about his motivations. "We feel there has not been enough awareness about the millions of gallons of crude shell oil that shipped across Maine each month," Brugger told the local Bangor Daily News. "We feel need to move beyond fossil fuels and get away from the poisonous ways oil is being extracted."
With fracking technology, previously un-extractable oil, deep underground, can now be reached and is the source of an explosive oil boom in the Midwest. Without enough pipelines to transport the Midwest crude to distant refineries, there has been a surge in the use of trains. Inspections of tracks are infrequent due to lack of resources to oversee them. Rail and energy industries insist that trains are among the safest ways to transport crude. But Pan Am alone had two train derailments in Maine within a calendar year between 2012 and 2013. When one train carrying crude derailed this March in Mattawamkeag, ME, Department of Environmental Protection spokesperson Samantha Warren called the limited spillage "a miracle."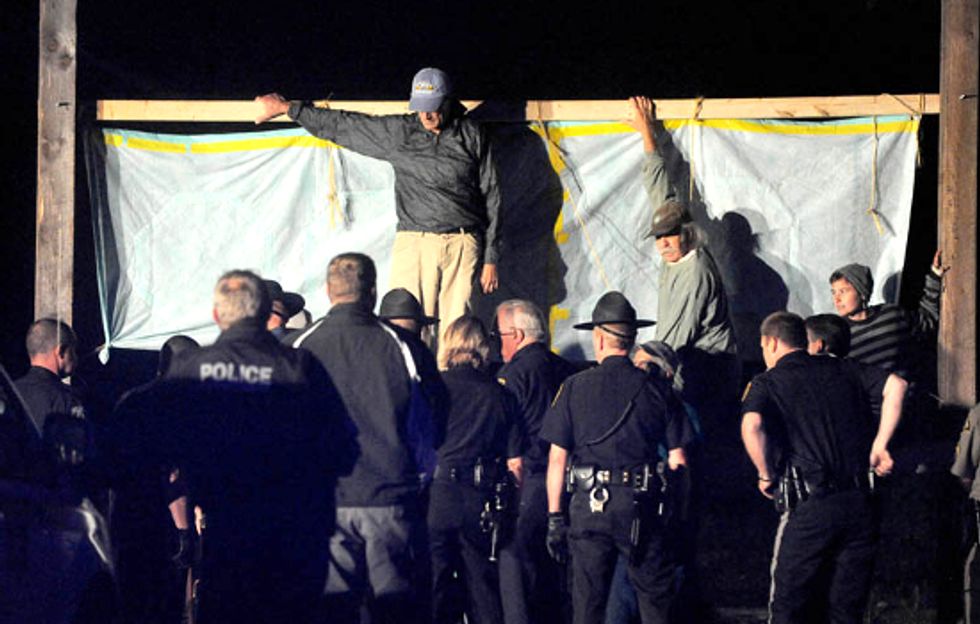 Similar demonstrations are taking place across the nation this week as part of Fearless Summer, a nation-wide grassroots movement of environmental groups, to draw attention to the dangers of fracking and extreme energy extraction.
"We oppose the continued extraction of fossil fuels, but we also oppose its transportation over thousands of miles of environmentally sensitive areas," said Sarah Linnekin of Benton, student at Unity College. "Since my number one job is to protect my children, I feel an obligation to take action," she said.
Visit EcoWatch's FRACKING page for more related news on this topic.
——–
Today the U.S. and the state of Arkansas filed a joint enforcement action against ExxonMobil Pipeline Company and Mobil Pipe Line Company (ExxonMobil) in federal district court in Little Rock, AR. The complaint addresses ExxonMobil's unlawful discharge of heavy crude oil from a 20-inch-diameter interstate pipeline —the Pegasus Pipeline—that ruptured in Mayflower, AR, on March 29.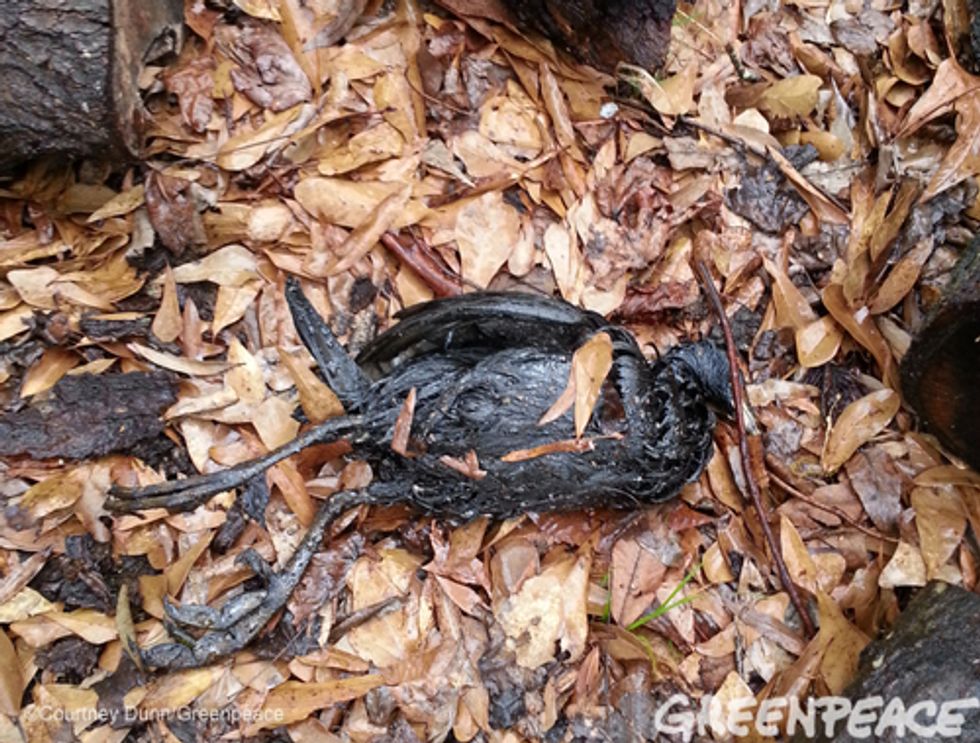 As alleged in the complaint, a segment of the Pegasus Pipeline ruptured in a residential neighborhood in the town of Mayflower. The pipe was buried approximately two feet below the ground at that location. The oil spilled directly into the neighborhood and then into nearby waterways, including a creek, wetlands and Lake Conway. Residents were forced to evacuate their homes due to the hazardous conditions in the neighborhood resulting from the spill. The oil has contaminated land and waterways and impacted human health and welfare, wildlife and habitat. Cleanup efforts are still ongoing, and many residents still have not been able to return home.
The Pegasus Pipeline runs approximately 850 miles from Patoka, IL, to Nederland, TX. The pipeline is used to transport Canadian heavy crude oil. The pipeline originally was constructed in the 1940s.
The complaint alleges six causes of action against the defendants. The U.S., on behalf of the U.S. Environmental Protection Agency, seeks civil penalties and injunctive relief under the federal Clean Water Act for the oil spill. The state of Arkansas, on behalf of the Arkansas Department of Environmental Quality by the authority of the Arkansas Attorney General, seeks civil penalties for violations of the Arkansas Hazardous Waste Management Act and the Arkansas Water and Air Pollution Control Act. The state also seeks a declaratory judgment on ExxonMobil's liability for payment of removal costs and damages related to the spill pursuant to the federal Oil Pollution Act.
Visit EcoWatch's TAR SANDS and PIPELINES pages for more related news on this topic.
——-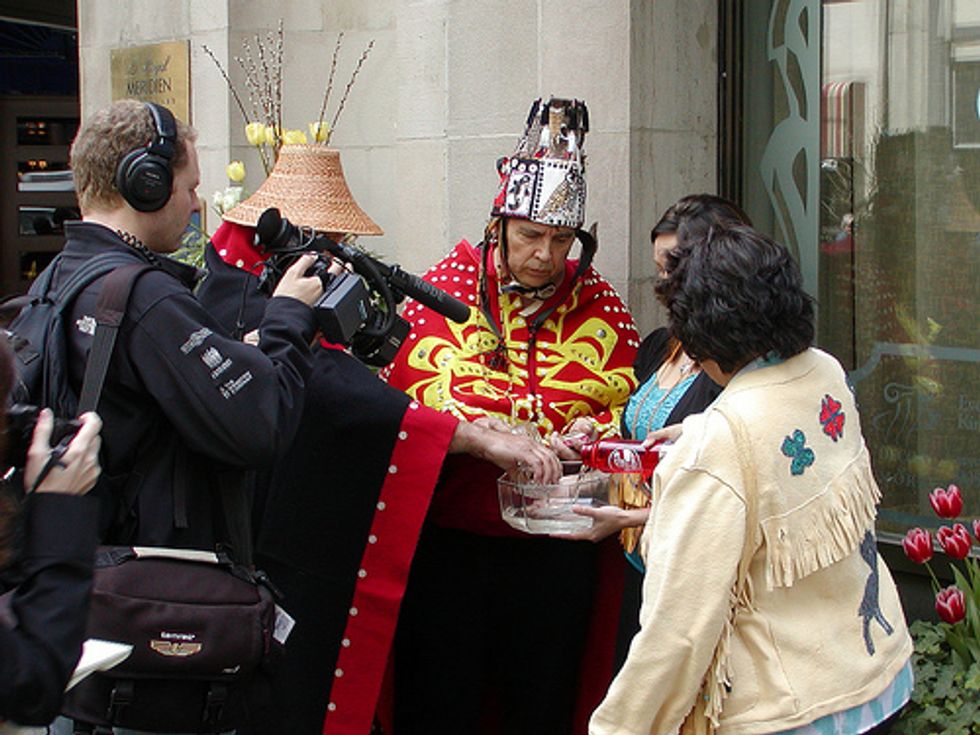 First Nations, whose unceded territory encompasses the entire coastline of British Columbia (B.C.), have formed a united front, banning all exports of tar sands crude oil through their territories, and effectively all of B.C.—whether by Enbridge in the north or Kinder-Morgan in the south.
Several new First Nations signed the Save the Fraser Declaration in a Vancouver, B.C. ceremony, expanding First Nations opposition in western Canada to more than 130 Nations. These First Nations form an unbroken wall of opposition from the U.S. border to the Arctic Ocean. This is the first time that First Nations have come together publicly to declare a ban on oil tankers and pipelines on both the north and south coasts.
"North or south, it makes no difference. First Nations from every corner of B.C. are saying absolutely no tar sands pipelines or tankers in our territories," said Chief Jackie Thomas of Saik'uz First Nation, a member of the Yinka Dene Alliance. "We have banned oil pipelines and tankers using our laws, and we will defend our decision using all the means at our disposal."
It is impossible for oil pipelines to go around opposed First Nations, and their consent to pipelines and tankers in their territories is required by international law. The announcement—on the first anniversary of the Save the Fraser Declaration—comes in response to recent calls from the Harper government and oil executives to push through pipeline and tanker projects against the wishes of British Columbians and First Nations.
"The government can talk all it wants about pushing tar sands oil pipelines and tankers through B.C. There is no way our Nations will allow it," says Chief Art Adolph, representing the St'at'imc Nation. "If they are serious about respecting our rights, the government of Canada must stop pushing the oil companies' line that this is in the public interest, and the government of B.C. should step up to the plate too and begin protecting our rivers and coastlines from further environmental damages that violate our basic human rights. Especially now, when Canada is a global embarrassment for failing to address climate change and systemically ignoring Indigenous rights."
The Save the Fraser Declaration, signed by more than 61 First Nations, bans tar sands oil pipelines throughout the Fraser River watershed. It also prohibits tar sands crude oil tankers in the ocean migration routes of Fraser River salmon. Until now, the declaration has been used to fight Enbridge's northern pipeline plans. Now it's being recognized by First Nations as effectively banning tar sands crude oil exports on the whole coast, including the south. Adding to the chorus last week, the Union of B.C. Indian Chiefs—representing most First Nations in B.C.—passed a resolution endorsing the Save the Fraser Declaration and the Coastal First Nations Declaration, and expressly recognizing that they prohibit the transportation of tar sands crude by pipeline and tanker anywhere in B.C.
The Coastal First Nations declared a ban on crude oil tanker traffic on the north coast of B.C. in 2010. Harold Yeltatzie, president of the Coastal First Nations, stated, "The Coastal First Nations support the First Nations communities along the Fraser, Bulkley and Skeena rivers in their fight to ban crude oil pipelines in their territories." Yeltatzie added that the ban on crude oil tankers on B.C.'s coast must be maintained, saying, "The consequences of a catastrophic oil spill on our people and our culture cannot be calculated or compensated."
"We won't let government and industry play First Nations off one another with their usual divide and conquer strategies. We are drawing the line in B.C. and First Nations are more united than ever before to stop the threat of oil spills," said Chief Na'Moks, on behalf of the Wet'suwet'en hereditary chiefs, who signed the Declaration Dec. 1 on behalf of his people (who are not members of the Yinka Dene Alliance). "We have stood against tar sands pipelines from day one and we join with our brothers and sisters today in a shared commitment to put a stop to them."
For more information, click here.