Ohio Pipeline Spill Leaked Double the Amount of Crude Oil Originally Estimated
The pipeline that oozed oil into the Oak Glen Nature Preserve near Cincinnati, OH a week ago leaked more crude oil than originally estimated—about two times more.
Federal investigators now estimate that 20,000 gallons leaked last week, threatening the drinking supply and wildlife in the area, the Associated Press reported.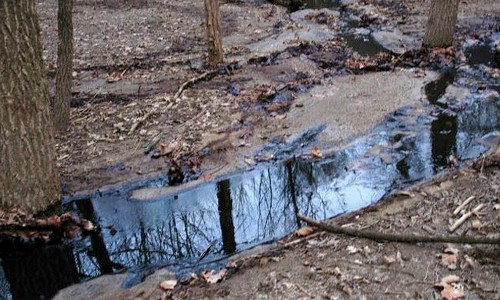 Sunoco spokesman Jeff Shields said a clamp has been engineered just for the 20-inch diameter pipeline as part of a federally approved plan. While Shields said the pipeline had a 5-inch crack, the U.S. Environmental Protection Agency says the matter is still under investigation.
The pipeline has been repaired and reopened on Monday, according to Sunoco Logistics. Sunoco had turned off a stretch of the pipeline from Hebron, KY, to Lima, OH as a result of the leak. The new clamp was tested before oil resumed flowing.
The company owns most of the Mid-Valley Pipeline Co. pipeline, which extends 1,000 miles from Michigan to Texas. 
The pipeline carries crude oil to refineries in Ohio and Oregon. Inspectors last checked it in 2011. A system-wide inspection of the 1,119-mile-long pipeline five years ago resulted in a $48,700 fine for Sunoco, which did not address corrosion problems in the pipeline.
According to the Enquirer, Gary M. Broughton placed the initial 911 call after taking in a "fuel, oily smell." He got out of his car and saw oil spreading across a pond.
"It's absolutely terrible," Broughton told the 911 dispatcher.
"It made me sick when I saw it."
This week, an even larger spill took place in Texas City, TX when a barge carrying more than 900,000 gallons of oil collided with a 585-foot ship on the Houston Ship Channel, one of the world's busiest waterways.
Environmentalists are concerned about the impact the spill could have on the bird population. Thousands of shorebirds are still in the area. The Bolivar Flats Shorebird Sanctuary is just east of the spill site. It is known to attract 50,000 to 70,000 shorebirds to its muddy, flat terrain.
——–
Related Content:
Interstate Pipeline Spills 10,000 Gallons of Crude Oil Into Ohio Nature Preserve
Nearly 170,000 Gallons of Oil Spills Into Busy Houston Ship Channel
Dumping of Toxic Fracking Wastewater Reaffirms Natural Gas Industry Free-for-All in Ohio
Bill Maher is sick of billionaires' obsession with Mars, more like "Mars-a-Lago," he said.
In a new animation produced by ATTN:, the popular talk show host of Real Time, discusses the perils of our planet, including how "climate change is killing us."
Keep reading...
Show less
Dr. Benjamin D. Santer, research scientist
A group of prominent climate scientists have written a study explicitly refuting statements made by the U.S. Environmental Protection Agency Administrator Scott Pruitt on climate data. During his Senate confirmation hearing, Pruitt claimed in a written response that satellite data shows a "leveling off" of warming over the past two decades.
Keep reading...
Show less
By David Pomerantz
The Nevada Assembly passed a bill Wednesday that would dramatically increase the growth of renewable energy in the state, but Sheldon Adelson, the casino magnate and major donor to Donald Trump, is attempting to prevent the bill from becoming law.
Keep reading...
Show less
Matt Crossick
By Yosola Olorunshola
Whether it's through fashion or protest, Vivienne Westwood is not a woman afraid of making a statement.
On May 23, she rocked up to the residence of the Archbishop of Canterbury in London with a special guest—the Grim Reaper—to issue a strong statement on the Church of England's position on fracking.
Keep reading...
Show less
By Paul Brown
The food industry and big agricultural concerns are driving climate change and at the same time threatening to undermine efforts to feed the world's growing population, according to GRAIN, an organization that supports small farmers.
Particularly singled out for criticism are the large chemical fertilizer producers that have gained access to the United Nations talks on climate change. GRAIN accuses them of behaving like the fossil fuel companies did in the 1990s, pushing false information in the hope of delaying real action on climate change.
Keep reading...
Show less
By Sydney Robinson
President Trump has no doubt been given a long list of extravagant, elaborate gifts in his lifetime, but the gift given to him today by Pope Francis may not make it on his most favorite list.
Keep reading...
Show less
By John Rogers
Maybe it's because I first started working on clean energy while serving in the Peace Corps he founded, or maybe it's my years of working on these issues from his home state. But I can't help thinking about the 100th anniversary of John F. Kennedy's birth, and connecting his stirring rhetoric to the energy challenges of our times.
Here's what our 35th president might have said about the challenges of energy transition and the opportunities in clean energy:
"Change is the law of life. And those who look only to the past or present are certain to miss the future."
Keep reading...
Show less
May. 24, 2017 01:47PM EST
Keep reading...
Show less


Get EcoWatch in your inbox