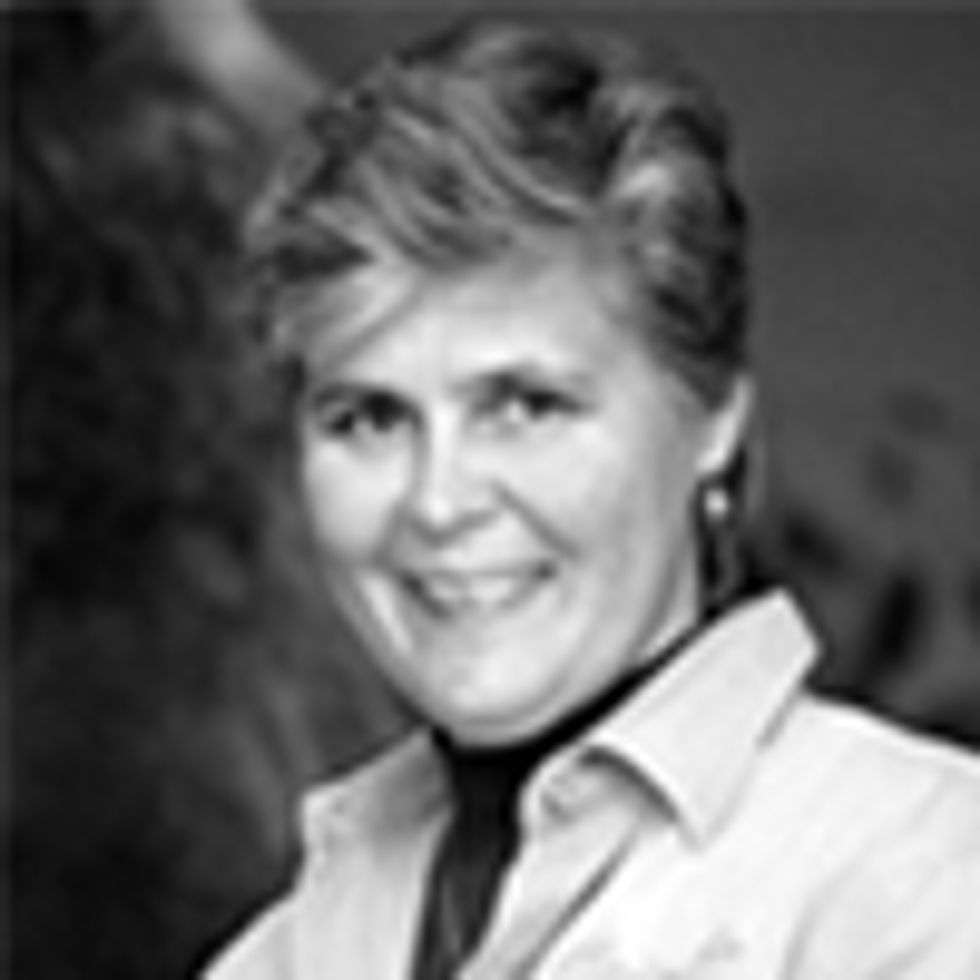 Any kid can tell you when Harry Potter takes off his invisibility cloak, he goes from invisible to visible in seconds. Waterkeeper Alliance President Robert F. Kennedy, Jr., and other environmental leaders came together in Charlotte, NC, Tuesday to pull the cloak of invisibility off of toxic water pollution from coal-fired power plants across the U.S.
Waterkeeper Alliance, Sierra Club, Environmental Integrity Project, Earthjustice and Clean Water Action led the carefully planned, highly coordinated release of a hard hitting national report, Closing the Floodgates: How the Coal Industry Is Poisoning Our Water and How We Can Stop It.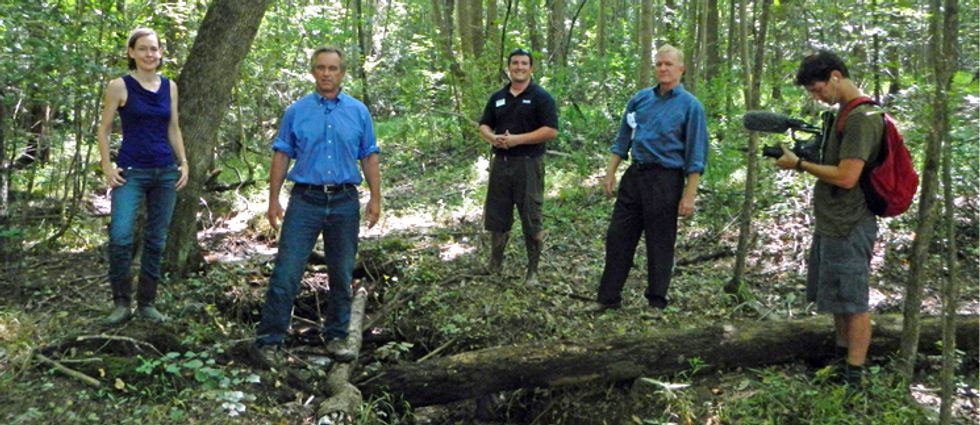 And since seeing is believing, they took five boat loads of reporters and news crews up to a bright orange stream of polluted coal waste flowing into Mountain Island Lake, the drinking water source for more than 800,000 people in Charlotte, Mount Holly and Gastonia.
That one-two punch of a detailed technical report coupled with a trip to see the toxic pollution flowing from a coal-fired power plant into a public drinking water reservoir took the invisibility cloak off this hidden pollution problem.
The story was covered by news media outlets all over the country, from Muskogee, OK, to Florence, AL, to the Charlotte Business Journal to New Bedford, MA. It was was also covered by local news stations in Charlotte who showed a great video of Robert F. Kennedy, Jr. taking on the coal industry with his local Catawba Riverkeeper, Sam Perkins, who demonstrated the high volume of pollution from Duke Energy:
The environmental groups have plans to keep the industry from slinking back under the invisibility cloak they have been hiding under for the past 31 years. To help highlight the report's findings and raise awareness about the U.S. Environmental Protection Agency's (EPA) critical new coal plant water pollution standards, many local events will be held across the country.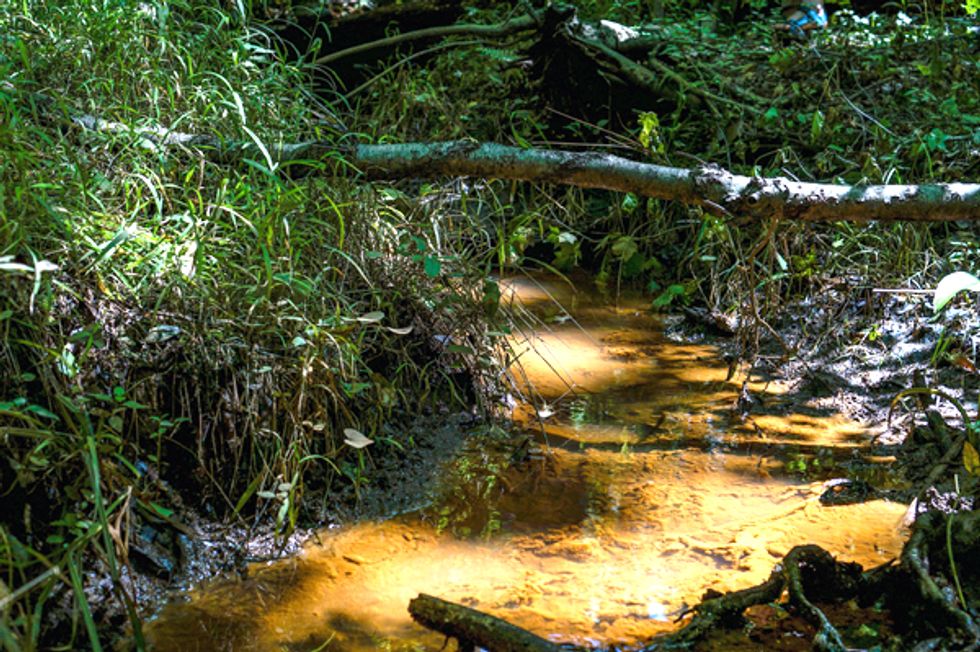 From a "toxic lemonade stand" in Pennsylvania to a "Miss and Mr. Toxic Water Swimsuit Competition" in Missouri, and from a kayaking trip outside a coal plant in Oklahoma to a fish-less fish fry in Illinois, activists from coast to coast will be calling for the EPA to finalize the strongest possible standards to protect American families from dangerous toxic water pollution.
If you think it is past time for the U.S. to stop the unlimited discharge of arsenic and other poisons in our waterways, tell the EPA to choose option five during the public comment period on the proposed new rules. Help us keep the truth of their pollution visible so it can be stopped.
Visit EcoWatch's COAL and WATER pages for more related news on this topic.
——–

EcoWatch Daily Newsletter
A study released today by Rainforest Action Network (RAN) uncovers how energy companies with hazardous coal ash waste disposal facilities could face $100 million per site clean up obligations for contaminated water adjacent to power plants. The report, Dump Now, Pay Later: Coal Ash Disposal Risks Facing U.S. Electric Power Producers, examines how waste from coal plants has been under regulated and how companies will be required to improve coal ash disposal practices in the near future.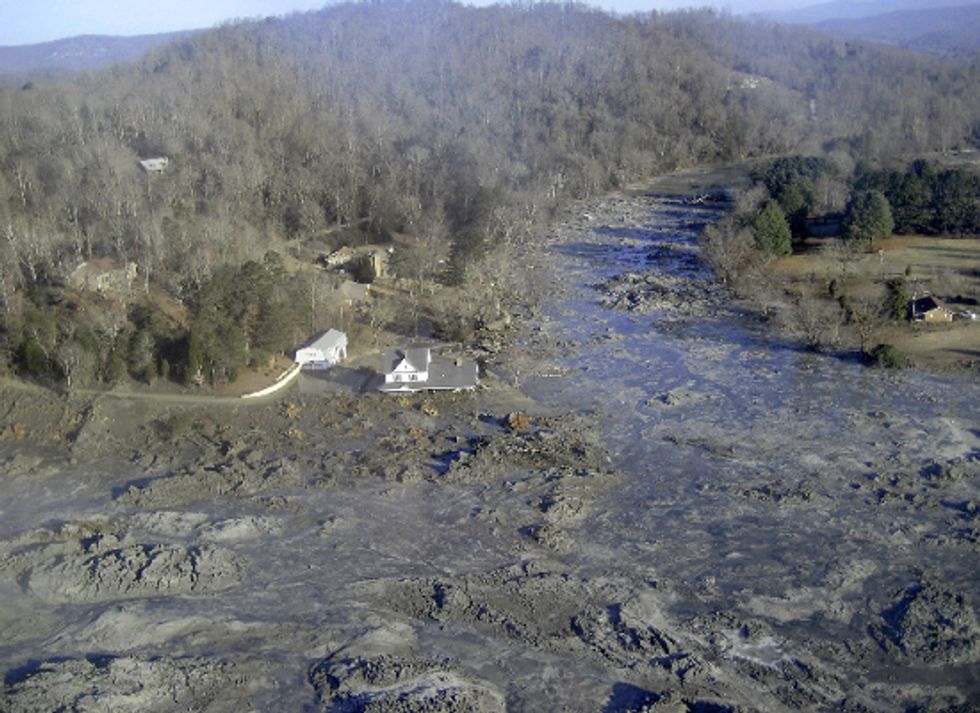 According to the study, power companies dump much of the 130 million tons of coal ash produced at U.S. coal-fired power plants each year into substandard waste disposal sites, including more than 2000 aging coal ash containment ponds and landfills across the country. Coal ash, a residual combustion byproduct created by burning coal, has been known to contain concentrations of heavy metals and other toxic chemicals that cause cancer, respiratory problems and neurological damage to people exposed to contaminated water or air.
"Electric power producers that dump toxic coal waste into poorly built ponds and landfills pose health threats to communities," said Ben Collins, research and policy campaigner at RAN and author of the report. "New regulations and legal challenges will force companies to clean up these disposal sites and are likely to cost investors a bundle in the process."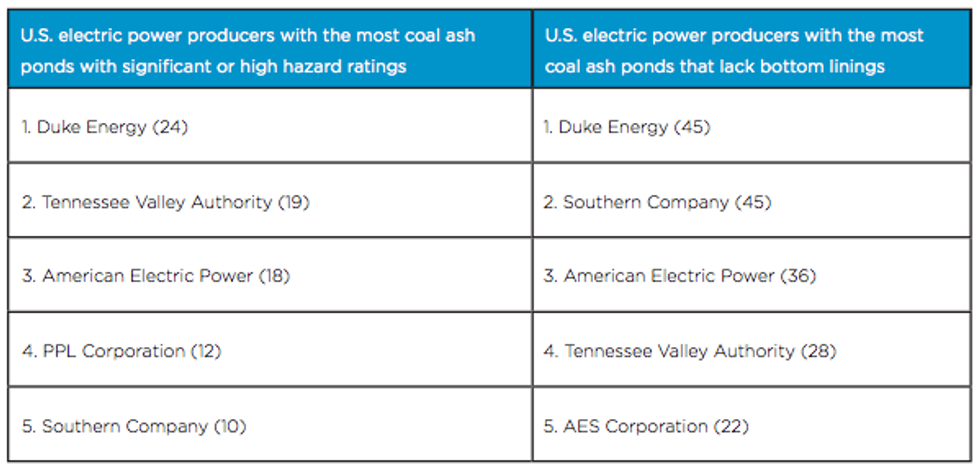 According to the study, several investor-owned electric power producers face growing regulatory and litigation risks related to coal ash disposal because many of the ponds lack a bottom lining, allowing contaminants to leach into groundwater—and depend on aging earthen dams to prevent ruptures. One case includes a sudden failure of an impoundment dam that dumped more than a billion gallons of coal ash slurry into the Emery and Clinch Rivers in Tennessee, and resulted in more than a billion dollars in clean up costs.
The report names the top five companies with the most coal ash ponds the Environmental Protection Agency classified as significant or high hazards in the event of a dam failure as Duke Energy, Tennessee Valley Authority, American Electric Power, PPL Corporation and Southern Company. It also points out that contamination from ponds and landfills has prompted several environmental groups and a major plaintiff firm to file lawsuits on behalf of residents near sites.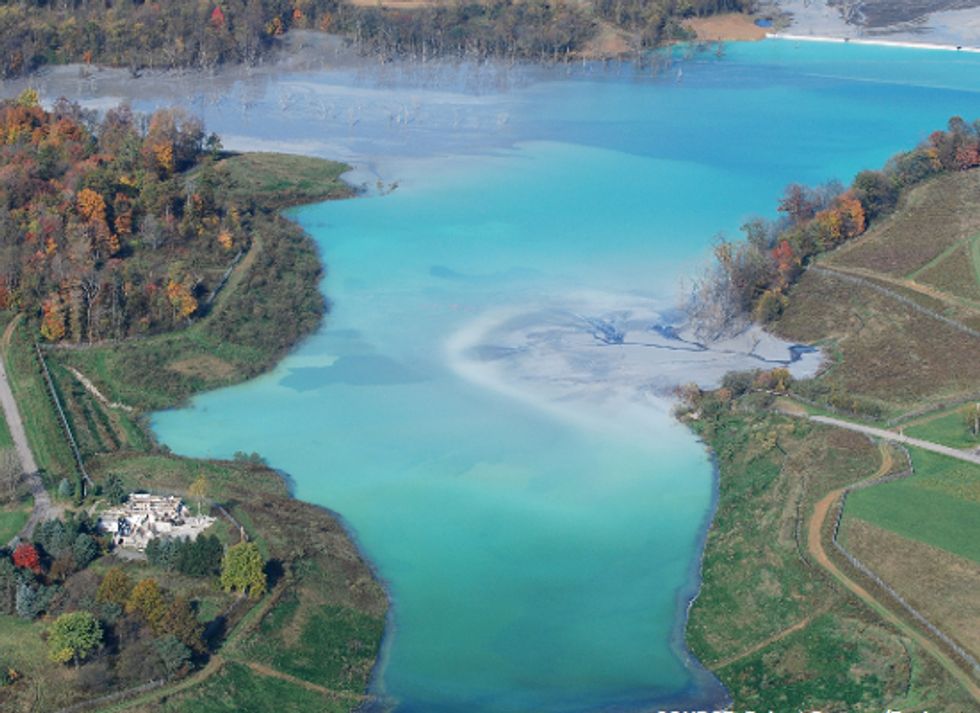 The report also ranks five electric companies based on their ownership of unlined ponds that are most likely to cause contamination of ground water, including four of the five named in the other risk assessment. Duke Energy tops both rankings as the owner of the most unlined ponds and the most ponds that pose a hazard risk from potential dam failures.
Electric power producers currently disclose very little information about either their ownership of waste disposal sites, or any plans to manage closures in the future. The report warns that if the companies fail to clean up the sites, investors will ultimately bear the costs of future clean up and legal battles.
Visit EcoWatch's COAL ASH page for more related news on this topic.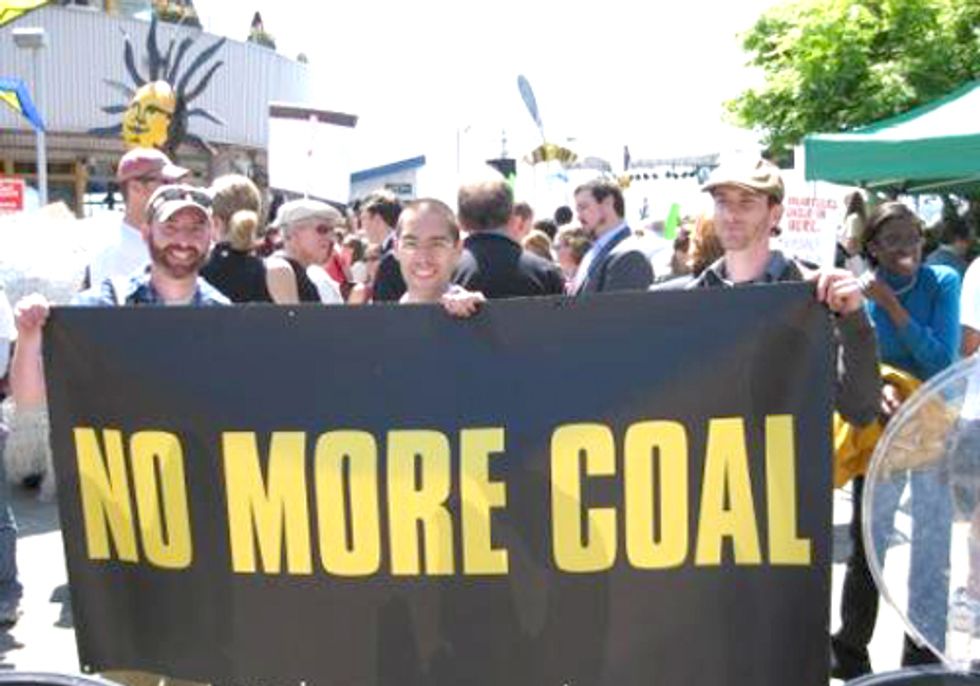 On Feb. 29 the Sierra Club marked a major milestone in the transition to clean energy as the Fisk and Crawford facilities in Chicago became the 99th and 100th coal-fired plants to announce retirement since January 2010. These iconic Midwest Generation owned plants are two of nine coal-fired plants from Chicago to Pennsylvania that announced plans to retire, including the Portland plant in Mt. Bethel, Pennsylvania.
The Sierra Club's goal is to retire one third of America's polluting coal plants by the year 2020 and replace that power with clean energy like wind and solar. Coal industry executives have called the Beyond Coal campaign "unrelenting and dramatic," with "hard hitting messages that put local officials in uncomfortable positions." A powerful grassroots movement has grown dramatically in recent years, made up of dozens of local and national groups and more than a million people taking action around the country.
"We are winning as city by city, communities are standing up and saying no to coal," said Mary Anne Hitt, director of the Beyond Coal campaign. "This latest milestone underscores the movement occurring across the country, and we will not power our future with the outdated energy sources of the 19th century. Now we must ensure that the transition from coal to clean energy happens in a way that protects workers and communities."
Pollution from coal-burning power plants contributes to a host of health problems, including respiratory illnesses and asthma attacks, heart disease and cancer. Retirement of these 100 plants is estimated to prevent more than 2,042 premature deaths, 3,299 heart attacks and 33,053 asthma attacks, according to the Clean Air Task Force.
"The Beyond Coal campaign deserves a big congratulations and thank you from everyone who values clean air," said Michael Bloomberg, philanthropist and mayor of New York City, whose Bloomberg Philanthropies recently donated $50 million to the Beyond Coal effort. "We are clearly witnessing the end of our dependency on coal and the move toward a cleaner energy future."
In addition to securing retirement dates for more than 100 coal plants nationwide and continuing to keep a watch on their progress to ensure they phase out on schedule, the Beyond Coal campaign has prevented 166 new coal plant proposals from being built. Preventing new coal plants and retiring existing coal plants has opened the space for clean energy. The U.S. solar and wind capacity is now over 50,000 megawatts, enough to power 11 million homes, and nearly 180,000 people are now employed by the solar and wind industries.
Many energy companies have decided not to invest in new coal plants due to economic reasons. A recent report by the Energy Information Agency predicts that coal-fired electricity will continue to decline in coming years.
Since the Beyond Coal campaign began:
Proposals for 166 new coal-fired power plants have been abandoned, opening market space for clean energy.
The campaign has helped secure retirement dates for 106 existing plants, meaning nearly 13% of current coal generation is now slated for retirement.
New mountaintop removal mining permits have slowed to a trickle.
19 colleges and universities have won fights to phase out coal plants on their campuses, thanks in large part to the hard hitting campaigns of Sierra Student Coalition.
Hundreds of thousands of people have mobilized in support of strong clean air and water protections.
Sierra Club and its allies signed an agreement with the Tennessee Valley Authority to phase out coal plants, representing the biggest clean air agreement in the history of the Southeast.
 "As America transitions away from coal, we must ensure that the communities, workers and families who have lived with and worked with coal will have opportunities to help lead us into a clean energy future," said Beyond Coal campaign lead volunteer Verena Owen.
For more information, click here.
—————
The Sierra Club's Beyond Coal campaign started as a three-person campaign in 2002 and has quickly grown into a powerhouse effort that is changing the way America produces energy. In 2001, the Bush administration met with coal industry representatives as part of a closed-door energy task force, to craft plans for a new "coal rush" -- the construction of 150 new coal-fired power plants. Had the industry prevailed in building these plants, the nation would have been locked into the use of 19th-century dirty fuels for the foreseeable future. The potential for entrepreneurs to develop wind, solar and other clean technologies would have been crippled. Working with local people in neighborhoods across the country, Sierra Club organizers began fighting Big Coal's efforts to push through these plants. Together, they achieved one victory after another.
The Sierra Club is the largest grassroots environmental organization in the country, with over 1.4 million members and supporters.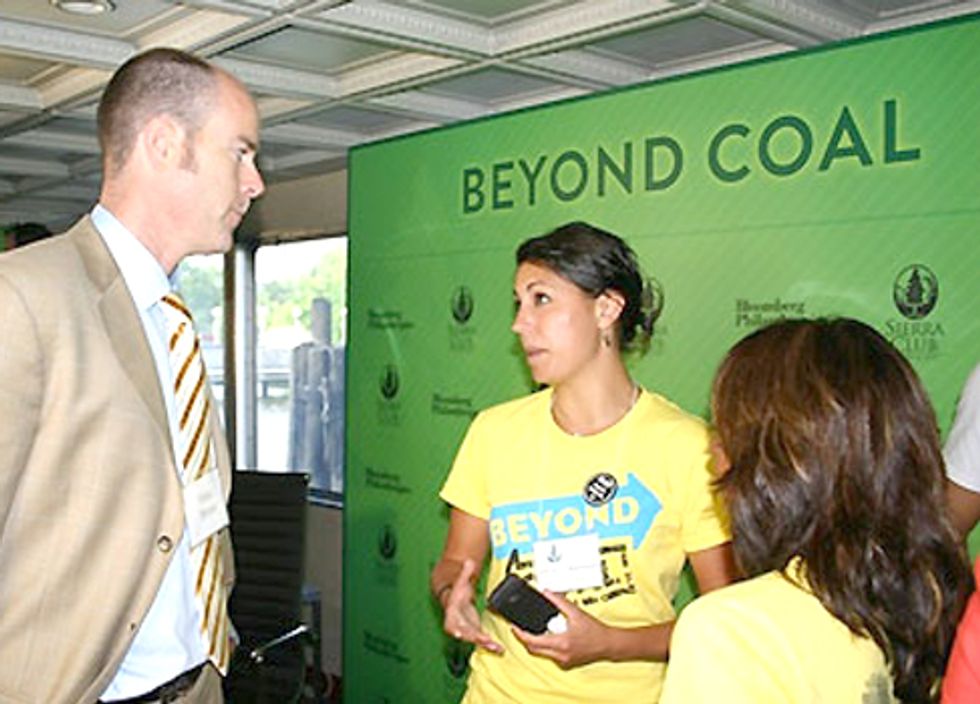 On Feb. 29, Mayor Rahm Emanuel and Midwest Generation announced the planned retirement of the Fisk and Crawford coal plants, two of the oldest and dirtiest coal-fired power plants in the nation located in the heart of Chicago's Southwest side. According to an agreement signed by Midwest Generation, the Clean Power Coalition, and the City of Chicago, the Fisk coal plant in Pilsen will retire in 2012 and the Crawford coal plant in Little Village will retire by 2014. As part of the Chicago Clean Power Coalition, Sierra Club has worked with an incredible group of local community organizations to retire these coal plants due to the dangerous health impacts on the families of Chicago.
"Today's announcement of the retirement of the Fisk and Crawford coal plants is a triumph for Chicago families," said Sierra Club's Executive Director Michael Brune. "These old and dirty plants have been polluting two thriving Chicago neighborhoods for over 100 years. The effort to end pollution from the plants has been an uphill battle for a very long time. This announcement is the culmination of many years of hard work by local families and concerned residents in Pilsen and Little Village, and this victory belongs to them. Pollution from these coal plants has been making local residents sick since 1903, contributing to asthma attacks, respiratory illnesses and other health problems. This is giant leap in our work to move America beyond coal."
Chicago is the only major metropolitan area with not only one, but two polluting coal plants within the city limits, and the Sierra Club, along with the Chicago Clean Power Coalition, has been working with Mayor Emanuel to retire these two Midwest Generation plants. The coal burned in these plants is brought in from Wyoming, the power is sold out of state, and the profits go to a California-based company, leaving Chicago to deal with the pollution. The announcement marks the end of a long and difficult battle led by the Chicago Clean Power Coalition to protect the health of the Pilsen and Little Village residents.
"This is a grassroots victory for environmental justice. Over the past year-and-a-half, hundreds of Chicagoans have logged calls to their Aldermen, to the Mayor, to Midwest Generation, delivered thousands of postcards and petitions, marched in the streets and demanded that every person, regardless of who they are where they live, has the right to breathe clean air," said Tony Fuller, volunteer for the Sierra Club. "This victory proves that when communities and organizations work together, they can stop big polluters in their tracks."
According to a 2011 National Association for the Advancement of Colored People (NAACP) report, Crawford and Fisk were ranked number one and number three respectively on a list of the top environmental justice offenders national wide.
"This is a tremendous victory for our frontline communities who are forced to breathe this air day in and day out," said Rosalie Mancera of Pilsen Alliance. "This is the first of many victories to come in Illinois, as people from all different backgrounds will come together to move coal out of their back yards and bring clean air and clean jobs to their neighborhoods."
While this is a tremendous victory for the health of Chicagoans, Midwest Generation still has four other major coal plants throughout Illinois. Midwest Generation will be making critical decisions in the next several months with whether to make risky investments in retrofitting these old coal plants or choose to set retirement dates and invest in clean energy.
"Chicagoans can breathe easier thanks to Mayor Emanuel's leadership in closing these old, polluting coal plants," said Jack Darin, director of the Sierra Club, Illinois Chapter. "Mayor Emanuel knows that moving Chicago from coal to clean energy works for all of us, and we applaud him for his efforts to bring cleaner air to Pilsen, Little Village, and all of Chicago. Now, as America transitions away from coal, we call on Midwest Generation and other power companies to ensure that communities, workers and families will have a just and stable transition from working with coal to becoming leaders in a clean energy future."
Last Year the Sierra Club joined forces with Michael R. Bloomberg, Mayor of New York City, and his Bloomberg Philanthropies to combat the dangerous health effects coal pollution has on children and families across the nation.
"Mayor Rahm Emanuel and the City of Chicago have taken a big step forward in building a healthier and environmentally sustainable city. Mayor Emanuel is a leader who understands the need for immediate steps to improve public health and make long-term investments in our urban infrastructures," said Michael R. Bloomberg, philanthropist and mayor of New York City. "Today is also a great step forward for the Beyond Coal Campaign that has been working with Mayor Emanuel, residents, and local organizations. With today's development, Chicago joins the legion of cities across America who have committed to putting our country on a new energy path."
Chicago has been a key target for Sierra Club's national Beyond Coal campaign, aimed at replacing dirty, polluting coal-fired power plants with clean energy like wind and solar power.
The Fisk and Crawford plants are the 98th and 99th plants to be retired since the Beyond Coal campaign began. They join the ranks of coal plants like Cane Run in Louisville, Kentucky and GenOn in Alexandria, Va. and a fleet of First Energy Plants in Ohio who announced their historic retirements in recent months. The Beyond Coal Campaign aims to replace dirty, polluting coal-fired power plants with clean energy like wind and solar power. The campaign, in conjunction with allies around the country, have stopped more than 150 coal plants from breaking ground, and the number of planned retirements continues to grow as the nation transitions to a clean energy future.
For more information, click here.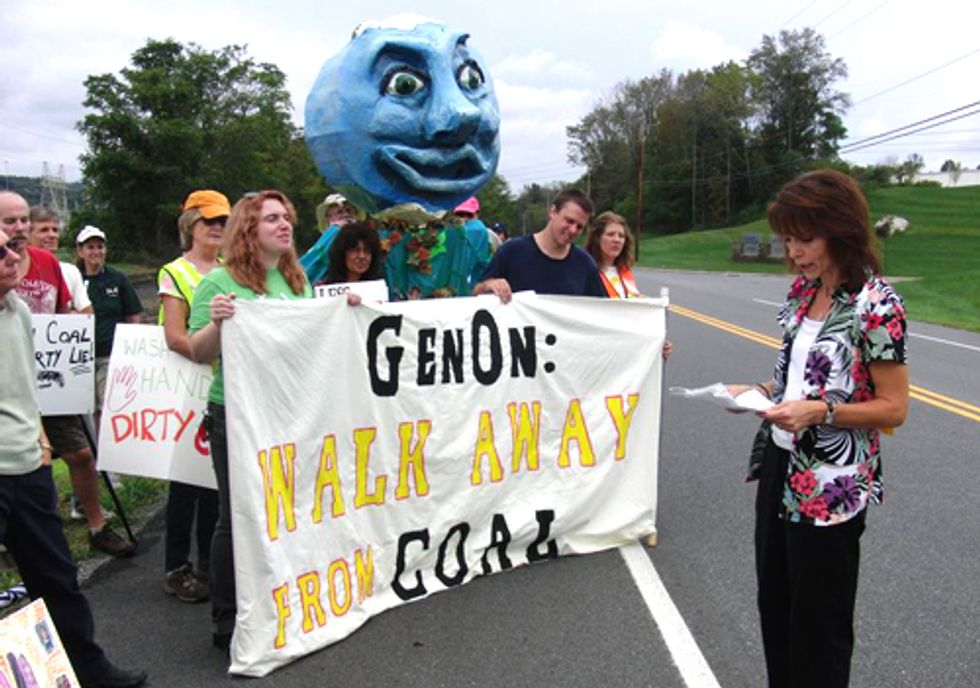 GenOn Energy Inc., a major nationwide energy generator, announced on Feb. 29 that the company will retire seven of its oldest, dirtiest coal-fired power plants.  These plants are located in Pennsylvania and Ohio, two states whose residents are most affected by pollution from coal-fired power plants.
GenOn announced the following retirements during a meeting with investors—Portland, Shawville, Titus, New Castle and Elrama in Pennsylvania and Niles and Avon Lake in Ohio. In total, these retirements will bring 2,980 megawatts of dirty and dangerous coal pollution to an end.
Pollution from coal-fired power plants, including sulfur dioxide, nitrous oxides and mercury, contributes to four of the five leading causes of death in the U.S.—heart attacks, stroke, respiratory illnesses and cancer. Closure of the seven plants will prevent more than 179 premature deaths, 300 heart attacks and 2,800 asthma attacks, according to data from the Clean Air Task Force. That same report estimated the total economic impact of premature deaths and disease from these plants at more than $1.3 billion.
"Above all, this is a win for public health and for families who have been breathing polluted air from these outdated plants," said Bruce Nilles, senior director of the Sierra Club's Beyond Coal campaign. "GenOn has recognized that operating outdated, dirty coal plants just doesn't make economic sense anymore, especially in a time when constructing a wind farm is now cheaper than building a new coal plant. What matters now is ensuring that GenOn does the right thing and transitions these workers into the growing clean energy sector."
One of these coal-fired power plants, the Portland Generating Station, is the subject of a landmark ruling by the U.S. Environmental Protection Agency (EPA) requiring the plant to reduce the pollution it releases and stop it from carrying over from the plant's home state into New Jersey. The plant opposed that ruling, which was the first of its kind on a single-source emitter; the Sierra Club, in a coalition of environmental groups including Clean Air Council and Greenpeace, filed notice to join the lawsuit to defend EPA's ruling.
Activists in Ohio praised the planned plant retirements at Avon Lake and Niles. "For decades, these plants have been polluting our air and water," said Dave Simons, a Cleveland, Ohio resident and Energy Committee Chair for the Ohio chapter of the Sierra Club. "Now we can look forward to a cleaner, brighter future when no one will get sick because of pollution from these plants."
But activists in both states also stressed the need for GenOn to ensure that its workforce will be transitioned into other employment when the plants are retired. "GenOn may have recognized that it just makes good economic sense for them to close these plants, but now they have the responsibility of making sure that their business decision doesn't mean unemployment for their workers," said Rashay Layman, organizing representative with the Sierra Club's Beyond Coal campaign in Ohio.
The retirements, the most recent in a wave of similar announcements from energy providers, come at a time when the nation's share of clean energy is at a record high. "Today's news is part of a national trend of clean energy replacing coal, with states like Iowa and South Dakota that generate 20 percent of their electricity from wind," said Randy Francisco, organizing representative with the Beyond Coal Campaign in Pennsylvania.
Coal plants are major sources of climate disruption and toxic air pollution like mercury, soot and carbon pollution. These seven plants bring the tally of coal plant retirements to 106 since the Sierra Club's Beyond Coal campaign began work to responsibly retire coal-fired power plants and develop clean energy in 2010.
For more information, click here.
Greenpeace USA Executive Director Phil Radford announced a campaign on Feb. 14 to make Duke Energy the clean energy company that North Carolina and the U.S. deserve. The announcement follows a protest and demonstration Feb. 13 in which 16 Greenpeace activists were arrested at a Progress Energy coal plant in Asheville, N.C. after unfurling a huge banner atop a smoke stack that read "Duke Energy: the climate needs real Progress." Duke Energy and Progress Energy are seeking a merger which would create the largest utility company in the U.S.
From Phil Radford's announcement: (For the full announcement, click here.)
"Today, I'm officially announcing our campaign to make Duke Energy the clean energy company that North Carolina and the United States deserve.
"We must shine a light on Duke's activities in 2012 because this is a make or break year for the climate, and Duke is at the center of it. The merger alone is enough to warrant an extra level of scrutiny—and has in fact been delayed this far by FERC (The Federal Energy Regulatory Commission) because of concerns about the company holding an energy monopoly in North Carolina. North Carolina ratepayers don't have a choice about where they get their energy. Despite a committed local movement opposing the most recent rate hike, they're seeing a 7.2 percent increase on their electricity bills in March, not to pay for an investment in renewable energy, but to invest more in new coal projects like the Cliffside plant. Enough is enough—Duke ratepayers have said loudly and clearly that they don't want to pay for more investments in dirty energy.
"And Duke Energy also holds a unique position in energy politics right now. It is currently the third largest emitter of CO2 in the U.S.—and that's before it takes on Progress Energy's dirty fleet. CEO Jim Rogers has spoken openly about the threat of climate change and pollution controls for coal plants, and yet Duke holds a membership in the industry group ERCC (Electric Reliability Coordinating Council), a group that was aggressively lobbying against the recently passed Mercury Rule.  It's no secret that Duke's money and influence—$6.5 million in lobbying dollars in 2010—could have a significant impact in U.S. energy policy. To top it all off, this year, Rogers has been the lead fundraiser for the Democratic National Convention, to be held in Charlotte where Duke Energy is based, lending the Democrats $10 million dollars to pay for the convention.
"On 60 Minutes in 2009, Jim Rogers said, "I remember the first time I took a helicopter to look down at a power plant like this, I was 41 years old, and I said, 'Oh my goodness, I'm responsible for that?'" He is. As long as Rogers guides the decisions of Duke Energy, he's responsible for dozens of polluting plants around the country that compromise our children's health and the health of our climate, and the mountains that are blown up to mine the coal he burns in these plants. He's responsible for the 15,714 asthma attacks, 1,447 heart attack, and 951 premature deaths Duke's coal plants cause every year. And Duke is soon to be responsible for Progress's fleet and the pollution that comes with it.
"We're asking Duke Energy to:
Not renew a single new contract for mountaintop removal coal
Deliver at least a third of Duke's energy from renewable sources by 2020.
Quit coal altogether by 2030.
"Our communities and our climate can't wait any longer for real action on the climate."
For more information, click here.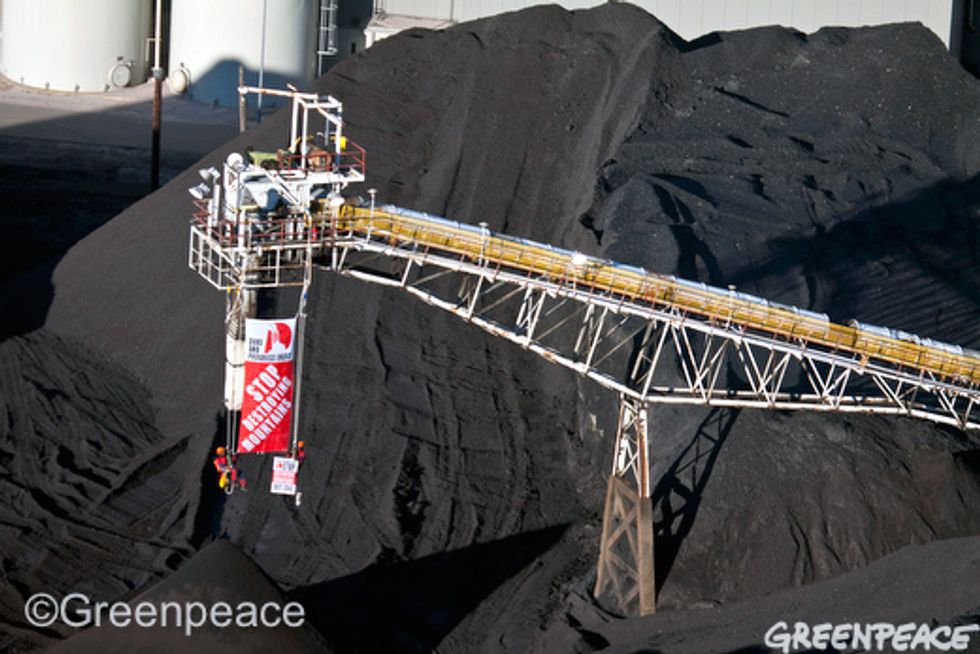 Greenpeace activists are protesting the destruction and pollution caused by coal at the Progress Asheville Power Station this morning. Activists have secured themselves to the coal loader and conveyers, which will prevent coal from entering the facility. They are scaling the 400 foot smoke stack to send a message to both Progress Energy and Duke Energy that communities and the climate can't wait for a renewable energy revolution. Coal plants like the Asheville Power Station damage communities and the climate at every stage of their lifecycle. The destructive mining practices, the burning and the storage of toxic coal ash. Progress Energy is currently in a merger bid with Charlotte based Duke Energy, which would create the largest utility in the U.S.
"This plant runs on destroyed mountains, it spews out air pollution, it causes climate change and it poisons the water and the earth. If Duke merges with Progress, the new owners have a responsibility to the people of North Carolina to move to clean energy," said Greenpeace climate campaigner and activist Robert Gardner.
The Progress Energy owned Asheville Power Station uses the most destructive form of coal mining, mountain top removal, which is flattening mountains across Appalachia. The plant produces 1,994 pounds of sulfur dioxide, 788 pounds of nitrogen oxides and 2,629,243 tons of carbon dioxide. Its coal ash ponds are designated 'high hazard' by the U.S. Environmental Protection Agency, meaning they are likely to kill people if they spill. Like other coal plants across the country, the plant causes death and illness in the community.
"Duke Energy could be playing a leadership role in the energy sector, and CEO Jim Rogers talks a good game on the environment, but the reality is vastly different. With more than $5 billion dollars worth of new coal investment on the books, Duke is clearly committed to dirty fossil fuels that poison our communities and destroy the climate," Mr Gardner said. "If Duke Energy wants to be considered a leader in the industry, they're going to have to get serious about phasing out polluting plants like this one, and make some real investments in renewable energy that will protect America's future.
For more information, click here.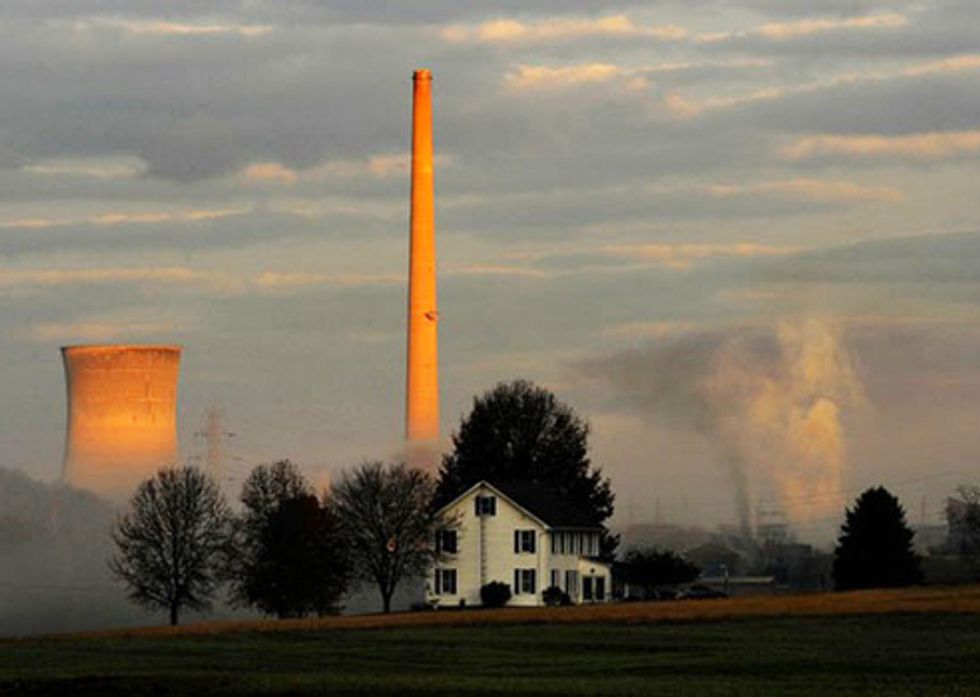 By Daniel J. Weiss, Jackie Weidman, Rebecca Leber
On Monday, Feb. 6, 16 states and numerous power companies that oppose new pollution-reduction rules must file their petitions with the U.S. Court of Appeals in Washington, D.C. In response to their initial suit, the court granted a motion to temporarily "stay," or halt, the implementation of the Cross-State Air Pollution Rule, or smog pollution rule, which the U.S. Environmental Protection Agency (EPA) promulgated last summer. These "good neighbor" pollution-reduction standards will require power plants to slash their sulfur dioxide and nitrogen oxide pollution. These substances are the key ingredients in acid rain and smog, and they can travel hundreds of miles and contaminate other states.
Once implemented the rule will annually save thousands of lives and prevent thousands of illnesses. Not surprisingly, the 16 states that sued EPA to block these rules include 7 of the 10 highest-polluting states in the country. And their governors and attorneys general, who decide whether to file a lawsuit to stop these safeguards, received a combined $5 million in campaign contributions from big utilities and coal companies that benefit from higher-pollution levels.
This column reviews the rule and its benefits as well as the efforts of utilities and coal companies to block it so they can avoid or postpone investments in cleanup technology. EPA analysis demonstrates that the law's benefits to public health and the environment are much greater than its costs. These governors and attorneys general should support EPA's efforts to protect the residents of their states and people downwind from premature death, asthma attacks, and other respiratory ailments instead of bending to the will of dirty-money donors.
These safeguards protect neighboring states
The EPA's new rules will address a major public-health threat, annually curbing millions of pounds of air pollution from power plants that travel downwind and across the country. An interactive EPA map shows that pollution doesn't stop at state borders, which is why the agency is acting to reduce air pollution that drifts across state lines.
EPA's map helps viewers connect the dots. When the cursor is placed over Michigan, for example, one can see that emissions from six different states travel into the state, causing air-pollution readings above the national threshold level for public-health standards. The map also shows that pollution from Michigan travels all the way to Virginia, diminishing the latter's air quality.
The EPA estimates these rules with produce significant air-quality benefits. By 2014 the rules will reduce sulfur dioxide emissions by 73 percent from 2005 levels. Nitrogen oxide emissions will drop by 54 percent.
This improvement in air quality will result in $120 billion to $280 billion in annual benefits, including preventing up to 34,000 premature deaths and avoiding 858,000 other health problems annually that are linked to this pollution, as outlined in the table below.
When final safeguards were first announced in July 2011, EPA Administrator Lisa Jackson commented on how the law helps Americans:
No community should have to bear the burden of another community's polluters, or be powerless to prevent air pollution that leads to asthma, heart attacks and other harmful illnesses. These Clean Air Act safeguards will help protect the health of millions of Americans and save lives by preventing smog and soot pollution from traveling hundreds of miles and contaminating the air they breathe.
Many utilities have already begun to invest in pollution-control technologies, such as scrubbers, to comply with the Clean Air Interstate Rules (CAIR) from 2005. It was struck down by federal court in 2008, so EPA revamped the measures that became the cross-state rules. These CAIR investments were an estimated $1.6 billion per year.
Compliance with the cross-state rules will cost $800 million annually beginning in 2014. Meanwhile, they will generate $120 billion to $280 billion in annual health benefits. According to EPA data the benefits from the improved rule are estimated to outweigh the costs by a ratio of at least 50-to-1, and as much as 115-to-1.
The aforementioned economic benefits are also a very conservative estimate because they do not include qualified estimates of other benefits from pollution reductions. For instance, lower pollution levels will increase agriculture crop and commercial forest yields, improve visibility in state and national parks, and increase protection from acid rain for sensitive ecosystems including Adirondack lakes, Appalachian streams, and coastal waters.
Stay means delay of health protection
The stay of the Cross-State Air Pollution Rule will last until at least April 13 when the states' cases against the rule will be heard, but it could continue much longer. This setback unfortunately hinders vital reductions in air pollution from power plants, prolonging poor air quality for 240 million Americans in 27 eastern states.
A long list of plaintiffs sought this timeout on health protection, including 16 states—Alabama, Florida, Georgia, Indiana, Kansas, Kentucky, Louisiana, Michigan, Mississippi, Nebraska, Ohio, Oklahoma, South Carolina, Texas, Virginia, and Wisconsin. Another 12 states affected by the rule are not trying to stop it. It's no coincidence that the suing states are responsible for more than 90 percent of the nation's total sulfur dioxide and nitrogen oxide air pollution from power plants, which the law aims to reduce.
Big-polluting states are harping on costs associated with pollution-control technology rather than acknowledging the much greater economic benefits from public health that their own residents will enjoy as a result of the EPA rule. Smog and ozone pollution in the suing states—and the 12 other states that will be regulated by the EPA rule—are polluting communities hundreds of miles away as well as directly fouling their own backyards.
Not all 28 affected states oppose this rule, however. Three of the polluting states—Illinois, New York, and North Carolina—joined EPA in support of these safeguards. These three states emit more than a billion pounds of sulfur dioxide and nitrogen oxide into the atmosphere each year, compared to the 8 billion pounds shot into the skies by the recalcitrant states.
These three states, along with the additional nine states uninvolved in the litigation, are not undermining these new health safeguards. Instead, they plan to take responsibility for the pollution imposed on their residents and neighboring states.
Roughly half of the people in the U.S. live in counties that have unhealthful levels of ozone-smog pollution. Based on American Lung Association rankings, 11 of the metropolitan areas with the highest particle pollution, and 12 of the metropolitan areas with the highest ozone-pollution levels reside in suing states.
Texas—the number one state for ozone pollution—had one of the worst air-quality years in its history for 2011, as high levels of pollution combined with record summer heat. Many of the state's major metropolitan areas—including Dallas-Fort Worth, San Antonio, Austin, and even the small city of Waco—exceeded federal limits on ozone pollution last year, inflicting hazards to respiratory health on those who live there.
The Washington-Baltimore metropolitan area is ranked 14th for high levels of ozone pollution and the area houses 7.5 million people. These people, along with 50 percent of the country, live in areas where the air can be dirty enough to send people to the emergency room, and even to kill.
Dirty-money donors demand delays
Many of the utilities and coal companies responsible for this deadly air pollution oppose the cross-state rules because they make more money with uncontrolled pollution than by investing funds in cleanup equipment and practices.
These companies therefore donate campaign contributions to the governors and attorneys general in these states who can decide whether to file a lawsuit to stop these safeguards. A review of donations records by the Center for American Progress Action Fund found that the governors and attorneys general in these 16 plaintiff states received almost $5 million in campaign contributions from these companies during campaigns for their current office. (see table) See attached spreadsheet for CAPAF analysis of state breakdown by government officials.
As the chart shows, high campaign contributions occur in litigating states with high pollution. The top three ozone-polluting states—Indiana, Ohio, and Texas—also had governors and attorneys general with three of the four highest campaign contributions from utilities and coal companies, racking up a little over $3 million. There's little doubt that the leaders in these states support dismantling EPA regulations as money pours in from polluters each election season.
But instead of echoing their dirty donors in opposition to these vital health safeguards, these governors and attorneys general should support EPA's efforts to protect the residents of their states and others from premature death, asthma attacks, and other respiratory ailments.
Pollution safeguards enjoy wide support
Voters from both political parties and in all regions of the country are singing a different tune than these states. They support the EPA's regulatory authority to determine air-pollution standards, a poll from October 2011 reveals.
Ceres and the University of Massachusetts conducted a bipartisan poll to gauge voters' feelings nationwide about EPA's cross-state air-pollution and mercury-toxics rules. Two-thirds of the respondents (67 percent) oppose delayed implementation of the air-pollution rules and trust EPA, not politicians, to get the job done. This includes support from 62 percent of Republicans and 79 percent of independents surveyed.
States need to stand up to dirty utilities and protect public health
Every month of delay in the implementation of the cross-state good neighbor air-pollution rules will allow 2,000 more unnecessary deaths. The judicial stay and lawsuit also prolongs uncertainty about the final rules (login required), which makes it harder and more expensive for power plants to comply with them. The sooner states' legal challenges to these rules are settled, the sooner power plants can invest in pollution control and clean up the air.
States should emerge as leaders in this fight, choosing public health through improved air quality instead of succumbing to the influence from big utility and coal campaign cash. Americans certainly agree.
For more information, click here.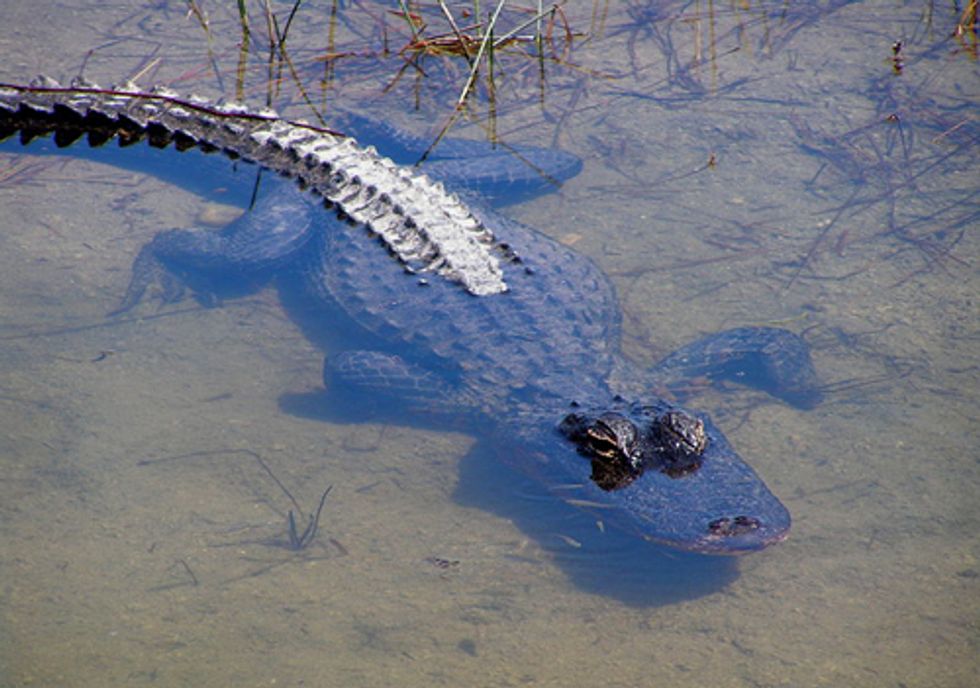 Announced Jan. 26, the Southern Environmental Law Center's (SELC) 4th annual list of the Top 10 Endangered Places of the Southeast targets areas of exceptional ecological, scenic, or cultural value that are facing immediate, possibly irreversible threats—and the important actions needed in 2012 to protect them. Many of the areas on this year's list are endangered by pressure to undercut environmental protections and to lower the hurdles for potentially destructive projects, whether it's fracking in the North Carolina Piedmont, mining uranium in Virginia, or deepwater drilling off the coast of Alabama.
"Under the guise of promoting economic growth, anti-environmental forces are working in Congress, in state legislatures, and in government agencies to gut our most essential safeguards," said Marie Hawthorne, SELC's director of development. "But doing away with effective laws and enforcement will accomplish nothing except sacrifice natural treasures like those on our Top 10 list, and other resources that make the South such a great place to live, work, and raise our families. We owe it to ourselves—and to future generations—to make sure this doesn't happen.
Following is SELC's 4th annual Top 10 Endangered Places of the Southeast: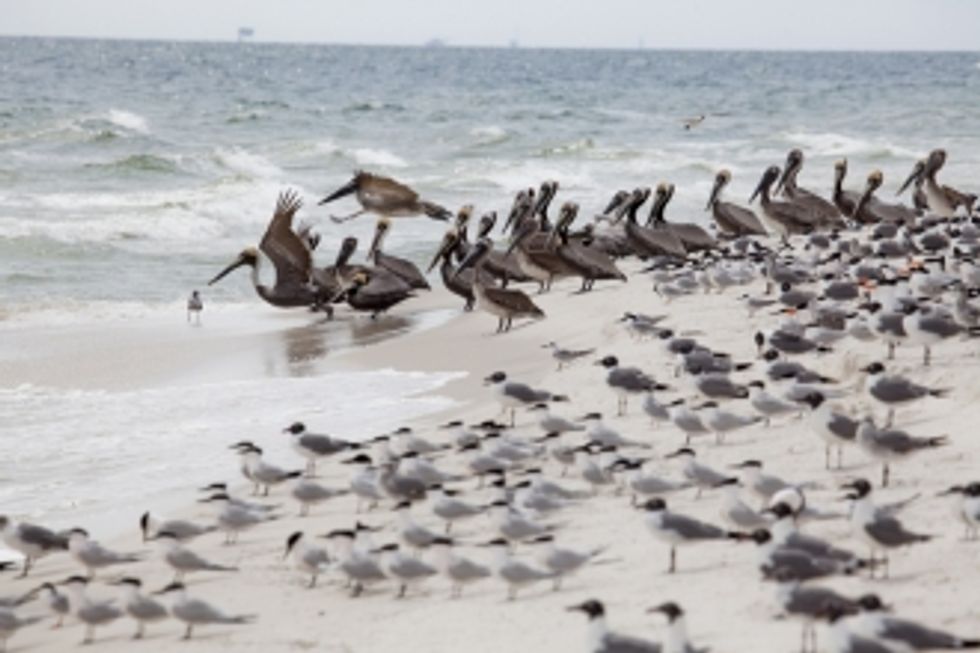 1. Alabama's Coast
What's at Stake?
Miles of white sandy beaches, wetlands, bays, and swamps that support vibrant tourism and fishing industries; habitat for migratory birds, turtles, and rare species; economic health of coastal communities; public health.
The Threat
Future spills on the scale of the Deepwater Horizon disaster due to the absence of meaningful reforms of oil industry practices or government policies.
Alabama's coast is on SELC's endangered list for the second year in a row because a disaster on the scale of the Deepwater Horizon could happen again. The government is back to business as usual, rubber-stamping risky deepwater projects with the same flawed assumptions that led to the BP spill—almost as if it never happened.
In June 2011, for example, the Bureau of Oceans Energy Management (BOEM) gave Shell Oil the green light to drill an exploratory well off of Alabama's coast in waters 2,000 feet deeper than the Horizon well, and without the enhanced environmental review promised immediately after the BP spill. Worse, regulators acknowledge that the operations could result in an oil spill almost ten times bigger than the BP disaster. SELC believes this approach is irresponsible and illegal, and blatantly ignores the devastating impacts to Gulf wildlife, the tourism and fishing industries, and coastal communities caused by the Deepwater Horizon disaster.  
SELC is challenging BOEM's decision as part of our ongoing multi-front offensive, including lawsuits, activity in Congress, and engagement with federal agencies to end industry control of offshore drilling and prevent future disasters.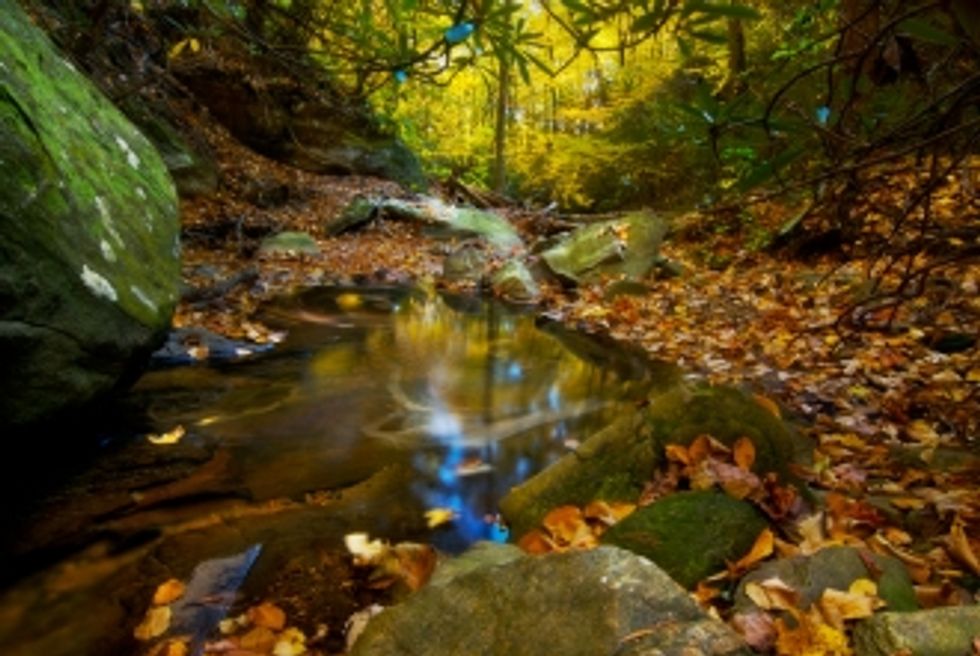 2. Dawson Forest, Georgia
What's at Stake?
Habitat for federally protected fish species found nowhere else in the world; 1,200 acres of forest; a haven for hunters, anglers, horseback riders, hikers, cyclists and paddlers; water supplies for downstream communities.
The Threat
A massive, unnecessary, $650 million proposed reservoir on Shoal Creek that would be filled with 100 million gallons of water per day pumped from the Etowah River.
An hour's drive north of Atlanta, Dawson Forest Wildlife Management Area is a 10,000-acre wooded refuge for hunters, anglers, paddlers, and bikers who enjoy miles of scenic backcountry trails criss-crossed by the Etowah River. Shoal Creek, a major tributary feeding the Etowah, is home to federally protected fish species found nowhere else in the world.
Unfortunately, Dawson Forest is threatened by a massive, unnecessary, expensive proposed reservoir that would drain 100 million gallons per day from the Etowah River to fuel metro Atlanta's ever-growing water supply demand. The Etowah would lose a quarter of its water during high-flow months—and during the low-flow season, withdrawals would drain nearly 100 percent of the river's volume, wiping out aquatic life and diminishing water supplies for downstream communities in Cherokee, Cobb, Bartow, and Floyd counties.
The Dawson Forest project is one of a half-dozen new reservoirs being proposed outside metro Atlanta, illustrating a misguided notion among Georgia leaders that these costly, destructive projects are the first and best solution to meeting Georgia's water supply needs. But SELC and our partners view new reservoirs as a last resort when there are far more cost-effective, less damaging, and readily available options available. First and foremost, we are advocating the full implementation of water conservation and efficiency measures in metro Atlanta, coupled with expanding the city's existing reservoirs to their full capacity. This solution could virtually eliminate the need for new reservoirs at a fraction of the cost to Georgia's environment, taxpayers, and downstream communities.
We are also pushing back against efforts to lower the regulatory hurdles for reservoir proposals, including the use of a new law that eases the way for public-private partnerships to develop reservoirs and recoup costs with user fees.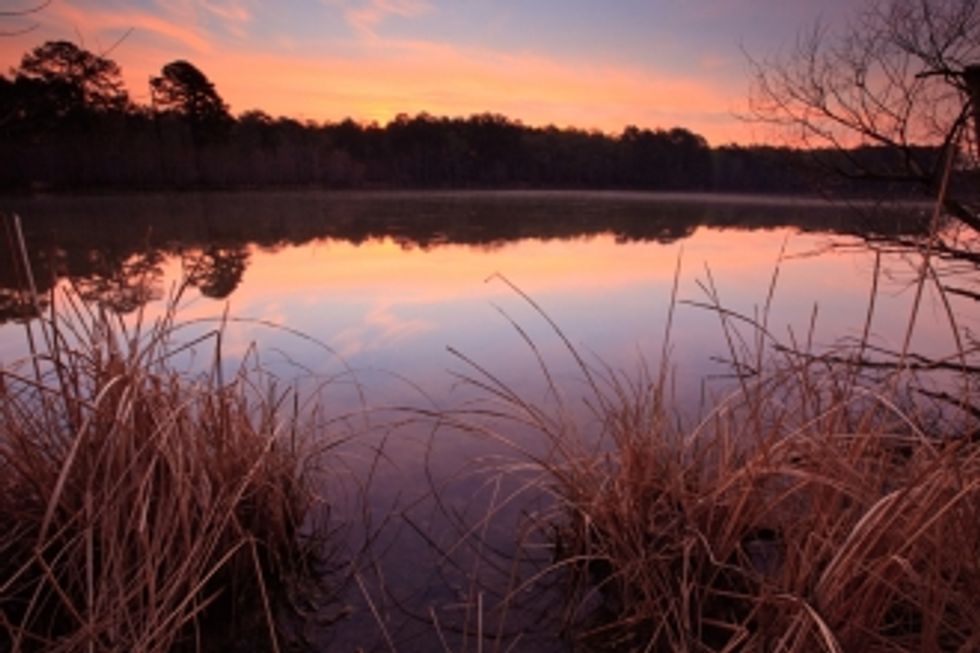 3. Catawba—Wateree River Basin, North Carolina and South Carolina
What's at Stake?
A river system that drains 5,000 miles of waterways and provides drinking water and recreation for hundreds of thousands of people.
The Threat
The impacts of electric power generation and unnecessary reservoir projects.
Comprising 5,000 miles of waterways, the Catawba-Wateree river system originates on the eastern slopes of the Blue Ridge and then winds through the rapidly urbanizing North Carolina Piedmont before entering the lush lowlands of South Carolina. Along its 300-mile route, it provides clean water and recreation for hundreds of thousands of people. Threats endangering the health of this vital resource include:
Pollution from Coal Ash Sites. Coal-fired power plants generate millions of tons of ash, which typically has been dumped into unlined and poorly monitored ponds and landfills. Five of the most hazardous coal ash ponds in the U.S. are on the Catawba-Wateree River and its tributaries, including a site that has discharged arsenic-laden pollution for years. SELC has filed suit to compel South Carolina Electric and Gas to clean it up.
Water Withdrawals by Power Plants. According to a recent study by the Union of Concerned Scientists, the Catawba River ranks among the 25 watersheds nationwide that suffer from the highest levels of water-supply stress due to the water demands of power plants for steam production and cooling purposes.
Hydroelectric Dams. Over the last century, much of the Catawba-Wateree was impounded to generate electricity, and for decades, power companies have been allowed to operate their dams in ways that disrupt healthy stream flows and fish migration. As Duke Energy applies for a new federal license for a series of five hydroelectric plants in South Carolina, it is seeking to trade land and cash for permission to maintain harmfully low flows in the Catawba-Wateree for the next fifty years. Learn more about SELC's legal action to protect the river.
Unnecessary Reservoir Projects. Two counties—one in North Carolina and another in South Carolina—have proposed a 92-acre reservoir off the main channel of the Catawba-Wateree that is sure to fuel more sprawl and pollution in the Charlotte metro area. What's more, water withdrawn from the reservoir would be discharged into another river basin, robbing water from downstream farms and communities that depend on the Catawba-Wateree. If approved, this project would pave the way for other municipalities to build their own new reservoirs before first exhausting less environmentally damaging means to satisfy demand, such as increasing their water systems' efficiency, encouraging their customers to conserve water, and exploring interconnections to other systems with excess capacity. Such reservoirs often needlessly destroy significant wetlands and wildlife habitat.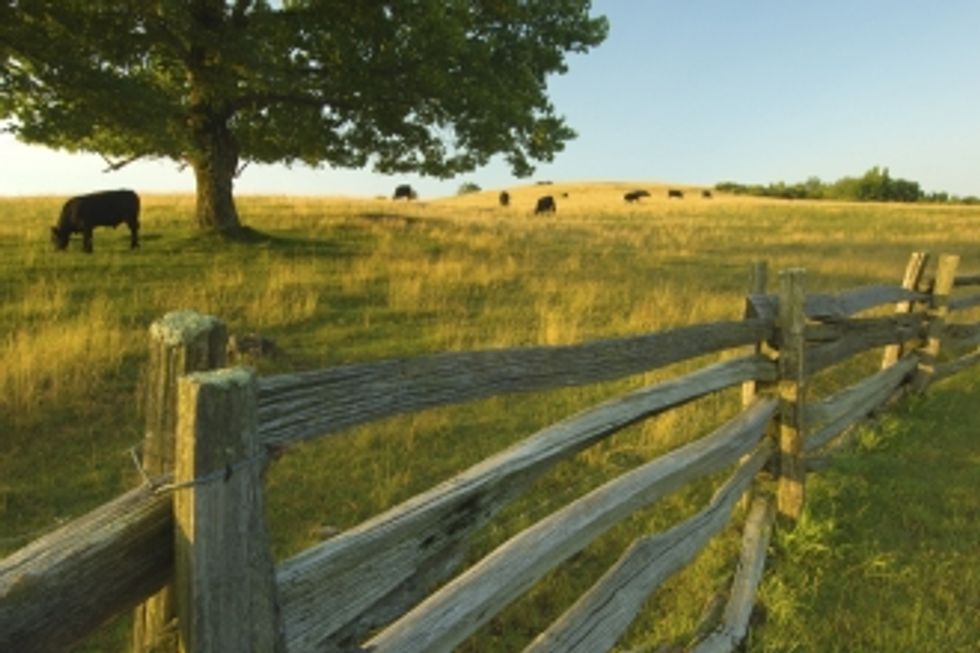 4. North Carolina Piedmont
What's at Stake?
Rural lands in the North Carolina Piedmont and drinking water sources for some 2.4 million people.
The Threat
Pressure to repeal a law that thus far has kept "fracking" wells out of North Carolina.
Requiring the high-pressure injection of water, sand, and a stew of chemicals into shale formations, the use of hydraulic fracturing—a.k.a. "fracking"—to extract natural gas has been linked to groundwater contamination, pollution in lakes and rivers, even earthquakes. A study by Duke University scientists found methane concentrations 17 times above normal, on average, in samples taken from water wells near fracking sites.
The gas drilling industry and its political allies are pushing hard to bring this controversial process to North Carolina's rural Piedmont. The only thing standing in their way is a state law that bans horizontal drilling, which thus far has kept hydraulic fracturing in check. If pro-fracking forces succeed in repealing the ban, state regulators will face enormous new challenges for protecting the Piedmont's land and water.
Even with the ban in place, gas companies have snapped up scores of leases for potential drilling sites in Piedmont counties that overlie the state's Triassic Basins, a shale-rich geologic formation that stretches from the Triangle (Raleigh, Durham, Chapel Hill) to the South Carolina state line. These properties would be transformed into 24-7 industrial operations, with gas flaring, bright lights, and a steady stream of trucks carrying equipment, water, and waste.
An SELC analysis shows that potential gas formations in the Triassic Basins are underneath or upstream from public drinking water supplies for 2.4 million people. Gas drilling could also affect the quantity of water available to the state's citizens. A single fracking well can require as much as 5 million gallons, much of which comes back to the surface as chemical-laden flowback that must be either trucked away to treatment facilities or stored onsite. According to a draft EPA study, fracking chemicals have been detected in groundwater near disposal pits and wells.
Congress has exempted fracking from regulation under the Safe Drinking Water Act, leaving it largely to the states to police this industry. North Carolina, which has slashed the budget of its environmental agency by more than a third, will be hard-pressed to provide adequate protection for the state's waters and rural lands.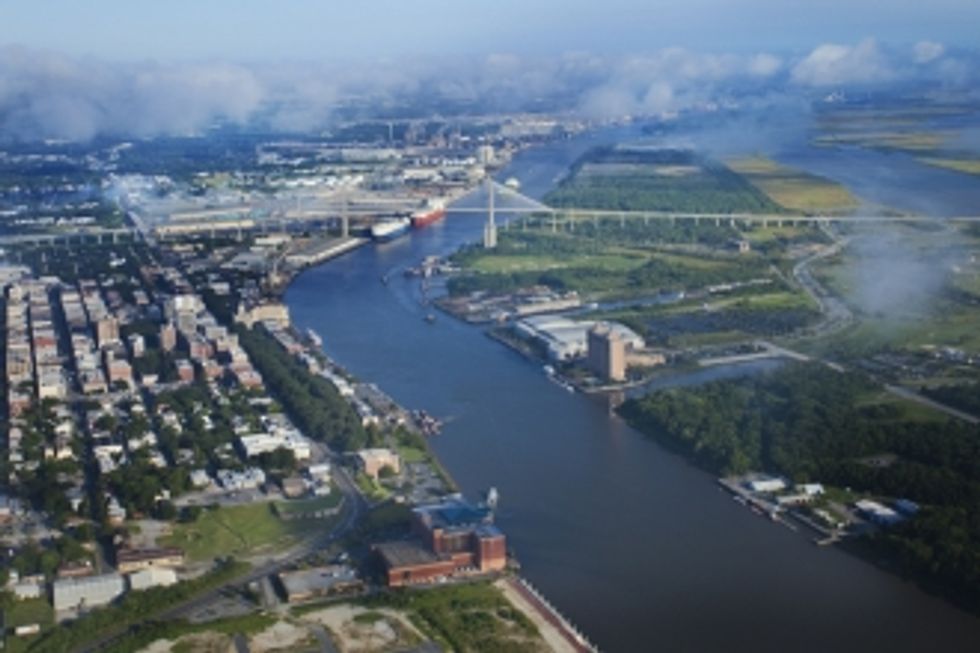 5. Savannah River, South Carolina and Georgia
What's at Stake?
Aquatic wildlife habitat, freshwater marshlands, and drinking water for Savannah and other communities.
The Threat
The Army Corps of Engineers' plan to deepen 38 miles of the Savannah River shipping channel.
A prime spot on the Atlantic Flyway, the marshlands of the Savannah National Wildlife Refuge provide a vital rest stop for thousands of migratory waterfowl, as well as a permanent home for many other species. Over the years, successive dredging of the Savannah River has allowed saltwater from the Atlantic to chip away at the refuge's freshwater marshes. Even more will be lost if the Army Corps of Engineers is allowed to move forward with its plan to deepen 38 miles of the river's shipping channel.
The Savannah Harbor project, which would deepen the river by as much as six feet, is part of a mad scramble by U.S. ports to attract the larger class of container ships that will come through the Panama Canal when its expansion is completed in 2014. In addition to damaging hundreds of acres of the refuge's freshwater wetlands, the dredging would threaten drinking water for Savannah and other communities. It would also require the Corps to install massive "bubbling" devices to maintain sufficient dissolved oxygen levels for aquatic life in the river, including rare and at-risk species and commercially important fish populations. This technology has not been proven effective.
All of this would carry a price tag of at least $650 million, and it may be completely unnecessary. The Panama Canal's chief executive officer has said publicly that only two harbors on the East Coast and one on the Gulf Coast would be needed to service the supersized freighters carrying goods along the East-West trade lane. Rather than pour scarce taxpayer dollars into one of the most environmentally destructive projects currently proposed in the Southeast, the Corps should do what federal law requires—conduct a regional assessment to determine which ports can be expanded at the least expense and with the least damage to precious natural resources.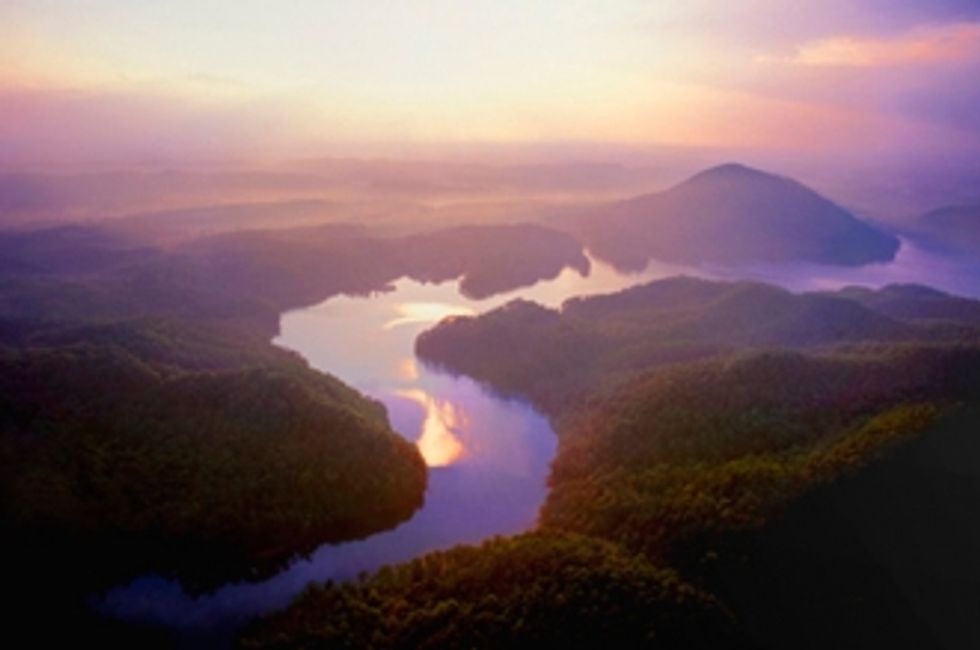 6. Chilhowee Mountain, Tennessee
What's at Stake?
A popular recreation spot and natural area that includes hiking and biking trails and a leg of the first scenic byway ever established in a U.S. national forest.
The Threat
Pressure to complete an outdated highway plan that could push new asphalt across the shoulder of the mountain and through Cherokee National Forest.
Chilhowee Mountain in the southernmost district of Tennessee's Cherokee National Forest is a beloved destination for people who enjoy the outdoors. On its crest is the Chilhowee Recreation Area, a popular spot for picnicking, camping, and swimming. Each weekend finds hikers and bikers on its extensive trail network, which leads to waterfalls, cascading streams, and views of the Ocoee River Gorge below.  
The road leading to the Chilhowie Recreation Area is part of the Ocoee Scenic Byway, the first scenic byway designated in a U.S. national forest. The winding drive to the mountain's ridgeline rewards motorists and cyclists with stunning vistas. Three states—Tennessee, North Carolina, and Georgia—are visible on clear days.
Chilhowie Mountain and the rugged peaks and hollows in its viewshed are in the path of Corridor K, a chain of highways linking Chattanooga, Tennessee, and Asheville, North Carolina. Despite the fact that completion of the interstate system made the project obsolete, the Tennessee Department of Transportation is studying multiple options for finishing the leg of Corridor K running through the Ocoee Region. Among them are proposals for routing a new four-lane, divided highway across the shoulder of Chilhowee Mountain and through largely unspoiled reaches of the Cherokee National Forest.
When it was conceived in 1964 by the Appalachian Regional Commission, Corridor K was seen as a means of lifting this area out of poverty. But since then, local citizens have built a thriving, tourism-based economy that capitalizes on the Ocoee Region's extraordinary natural assets. Pushing new asphalt through national forest lands would jeopardize the intact wildlife habitat, clear-running rivers and streams, and mountain scenery that have made Chilhowee Mountain and the Ocoee Gorge a magnet for outdoor enthusiasts.
Rather than pour a billion dollars or more into a new road, TDOT should focus on targeted upgrades along the existing two-lane highway, U.S. 64—the lifeline of the local economy. This would improve safety, enhance the flow of traffic during the busy tourist season, and preserve the natural and cultural features that are vital to the Ocoee Region and its communities.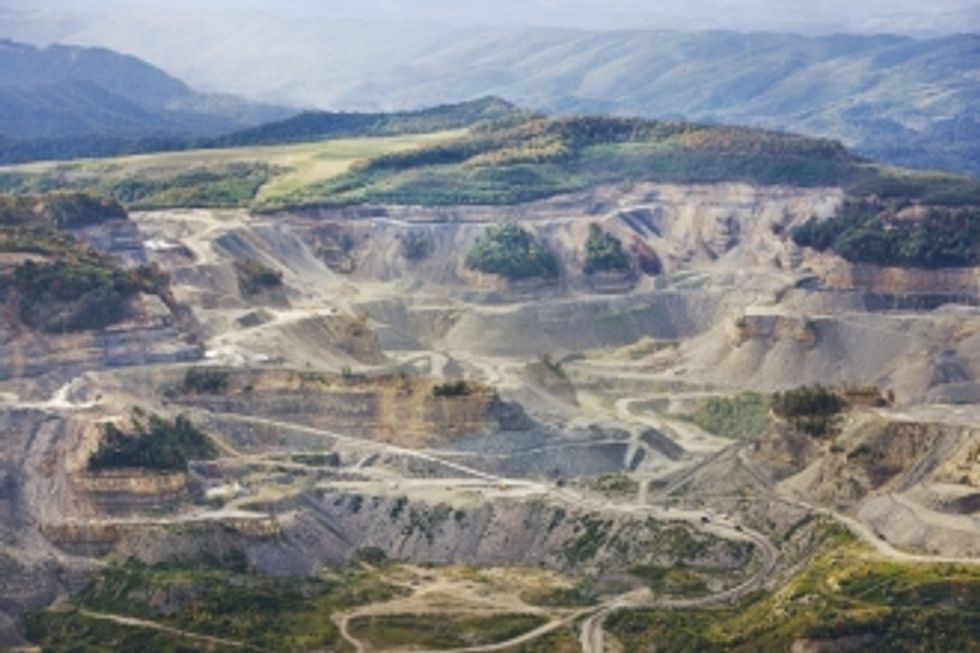 7. Virginia and Tennessee Mountains
What's at Stake?
Scenic beauty of the Southern Appalachians, wildlife habitat, endangered species, headwater streams, clean drinking water for downstream communities, recreation areas, quality of life.
The Threat
Weak laws allow coal companies to blow up mountains and dump rubble into valleys, burying streams, destroying wildlife habitat, and harming communities
Dubbed "the Appalachian Apocalypse," mountaintop removal coal mining has obliterated more than 500 mountains and damaged more than 1,700 miles of streams in central Appalachian states. Forests and topsoil are stripped from mountain ridges, and then, using tons of explosives, coal companies blast the mountaintops off to expose the underlying coal seams. The leftover rock and soil is pushed into nearby valleys, resulting in the loss of critical forest habitat and widespread destruction of mountain streams, many of which are critical headwaters for drinking water sources downstream.
At stake are some of the South's most valued natural treasures, including the species-rich Clinch and Powell watersheds in Virginia and Tennessee, and Tennessee's Cumberland Plateau, an area known for its world-class biodiversity. 2012 could be a landmark year for Tennessee due to the State's groundbreaking petition, which SELC is supporting, that would shield the most ecologically valuable areas in the Cumberlands from destructive mining practices.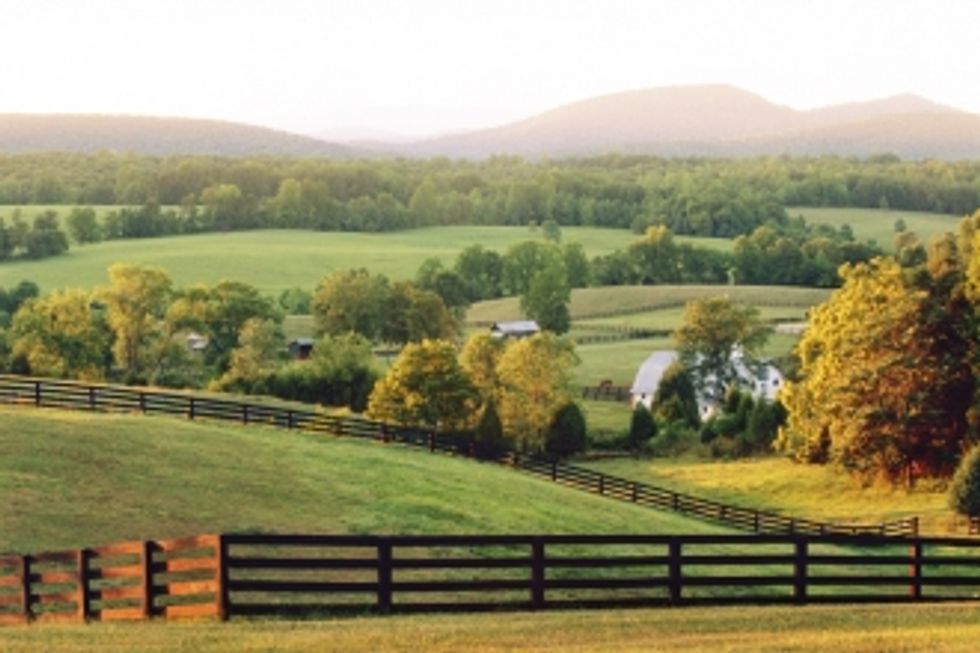 8. Charlottesville, Virginia
What's at Stake?
Taxpayer dollars, rural countryside, public health, natural beauty, community character.
The Threat
A wasteful, destructive bypass would mar landscapes, cost taxpayers hundreds of millions of dollars, endanger public health, and fail to solve traffic problems
Charlottesville is no stranger to Top Ten lists, but it's usually in recognition of the area's exceptional quality of life, unique community character, or beautiful surrounding countryside. Nestled in the foothills of the Blue Ridge Mountains near Shenandoah National Park, it is home to outstanding schools including the University of Virginia, historic sites such as Thomas Jefferson's Monticello, a vibrant arts scene, vineyards and horse farms, and other attractions that draw more than 2 million visitors per year.
This special place would be deeply and irreparably scarred if a long-obsolete plan to build a bypass around U.S. Route 29 goes forward. Described as one of the most wasteful and destructive projects in the country by Taxpayers for Common Sense and Friends of the Earth, the Bypass would leave a permanent gash on the landscape, cost hundreds of millions in a time of fiscal constraints, endanger citizens' health, pave over countryside, and fail to solve traffic problems. The proposal isn't new—in fact it was shelved more than a decade ago by local leaders. But in the summer of 2011, the Bypass was revived in a rushed process that showed little respect for public input, skirted environmental review, and ignored years of efforts by community leaders, SELC, and others to advance more cost-effective, less destructive alternatives.
Before it can be built, the road must be approved at the local, state, and federal levels. Local and state leaders have approved it, but the critical federal decision-making process is far from over. SELC attorneys will ensure that the federal government's review is thorough and that it fully considers updated information on the ineffectiveness of the bypass, the long list of negative community impacts, and the availability of better alternatives before a decision is made.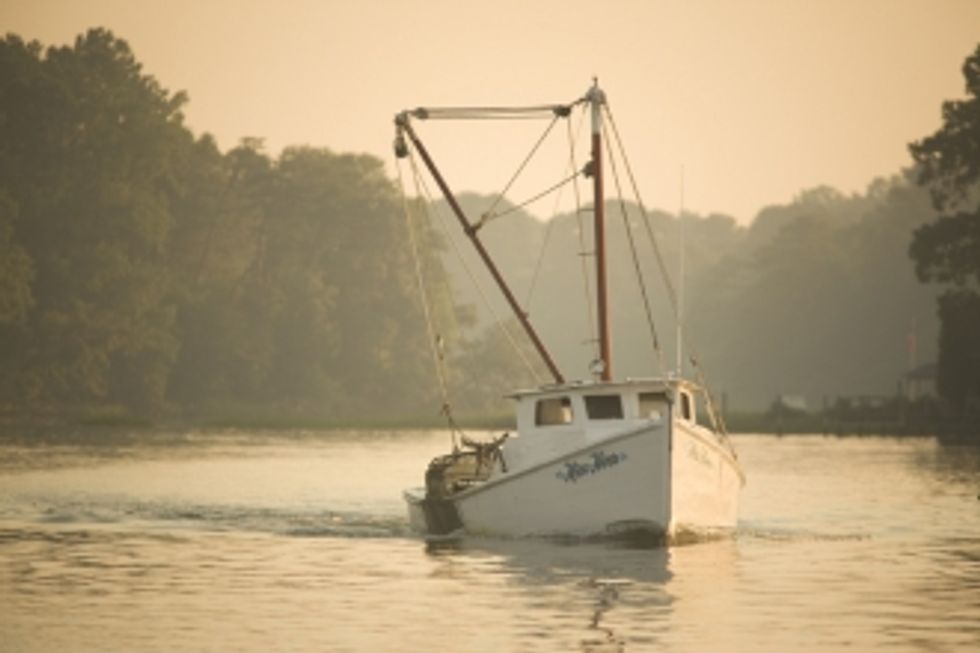 9. Chesapeake Bay, Virginia
What's at Stake?
The nation's largest estuary, which supports populations of oysters, blue crabs, striped bass, and other species vital to the health of commercial and recreational fisheries.
The Threat
Nutrient and sediment pollution flowing into the bay from throughout its 64,000-square-mile watershed, as well as legal challenges to EPA's restoration plan.
The Chesapeake Bay, the nation's largest estuary, is a place where freshwater and seawater come together to form one of the world's most productive ecosystems. The bay supports more than 3,600 species of plants and animals, including populations of oysters, blue crabs, Atlantic menhaden, and striped bass that are vital to the health of commercial and recreational fisheries.
For decades, this extraordinary resource has suffered from pollution pouring in from all sides—by air, land, and water. Effluent from wastewater treatment plants, stormwater from municipal sewer systems, runoff from farms and suburban lawns, mud from bare construction sites, and emissions from tailpipes and smokestacks all contribute to the nutrients and sediment flowing into the bay. These pollutants feed algae that cloud the bay's waters and, when they die off, create oxygen-starved dead zones incapable of supporting aquatic wildlife.
The six states in the bay watershed pledged to stem this destructive tide, but when it became clear that they would fail to meet cleanup deadlines, they turned to the U.S. Environmental Protection Agency to take charge of the process. EPA stepped in and developed the most sophisticated water restoration plan ever crafted for the bay. Released in December 2010, EPA's recovery plan—known as a Total Maximum Daily Load, or TMDL—calculates how much pollution the bay can withstand and how much pollution must be reduced from all sources throughout the bay's 64,000-square-mile watershed.
EPA's goal is to achieve full implementation of this "pollution diet" by 2025, but it will take years more, perhaps even decades, for the bay to recover completely. In the meantime, industry interests and their political allies are doing all they can to impede the cleanup effort. The Farm Bureau and the National Association of Home Builders have both filed suit to challenge the TMDL. Anti-environmental forces in Congress also have piled on, attempting to pass legislation that would prevent EPA from moving forward with its restoration plan.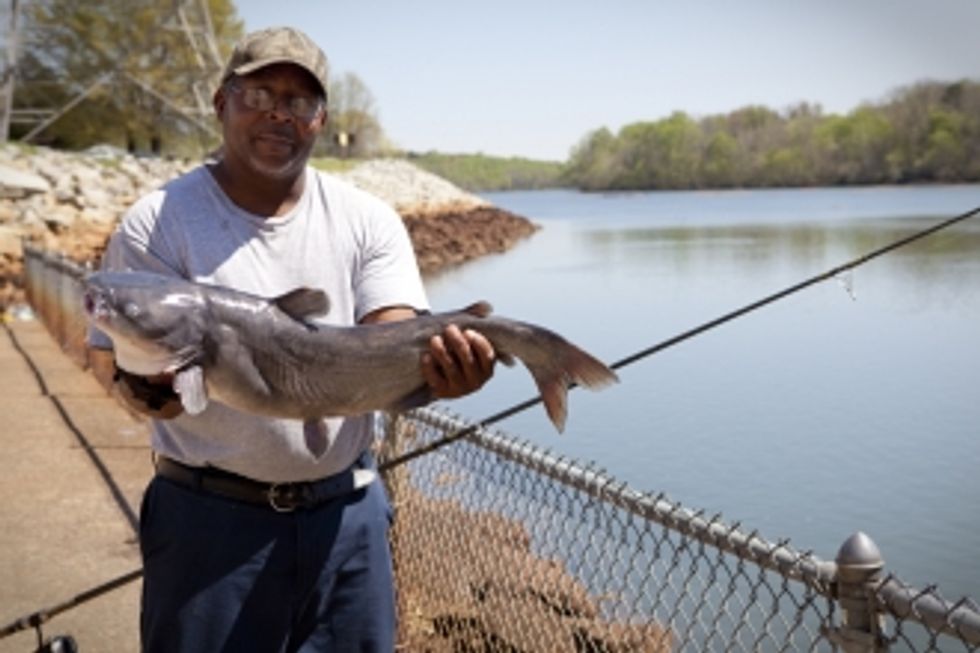 10. Southside, Virginia
What's at Stake?
Clean drinking water for more than 1 million people in Southside Virginia and North Carolina.
The Threat
Intense pressure to lift Virginia's 30-year ban on uranium mining; radioactive waste leaking into streams and groundwater; risk of cancer, birth defects, and other health problems from exposure to uranium or mining chemicals
In 2012 or 2013, Virginia's General Assembly may be asked to lift the state's 30-year ban on uranium mining, largely due to pressure from a Canadian-backed company that wants to mine a deposit near Danville. The proposed mining and waste disposal operation would be in the Roanoke River watershed and threatens drinking water supplies for more than a million people in Southside Virginia and North Carolina, including residents of Virginia Beach and Norfolk.
Extracting uranium ore requires intensive use of water and chemicals, and leaves behind massive amounts of radioactive and contaminated waste. There is no precedent for underground or open-pit uranium mining in the East, where the population density and a wet climate increase the chance of toxic and radioactive materials leaking into streams groundwater, and drinking water supplies. The potential health impacts of exposure to uranium and mining chemicals are well-documented and include several types of cancer, birth defects, and vital organ damage.
In December 2011, the National Academy of Sciences (NAS) released a study that validates many of SELC's core concerns about uranium mining and the water quality risks associated with uranium tailings, which can be a potential source of radioactive contamination for thousands of years. The NAS study also confirmed that Virginia state agencies have no experience with uranium mining, and that current federal regulations are far from sufficient to ensure public health and safety.   
SELC is at the forefront of a statewide citizen effort, the Keep the Ban Coalition, to ensure the statewide freeze stays in place. We are also educating key decision makers about the dangers of uranium mining, and making certain that the state keeps its promise to seek public input before any legislation to lift the ban is put before the General Assembly.
Note: In May 2011, American Rivers named the Roanoke one of the 10 most endangered rivers due to the threat of uranium mining.
For more information, click here.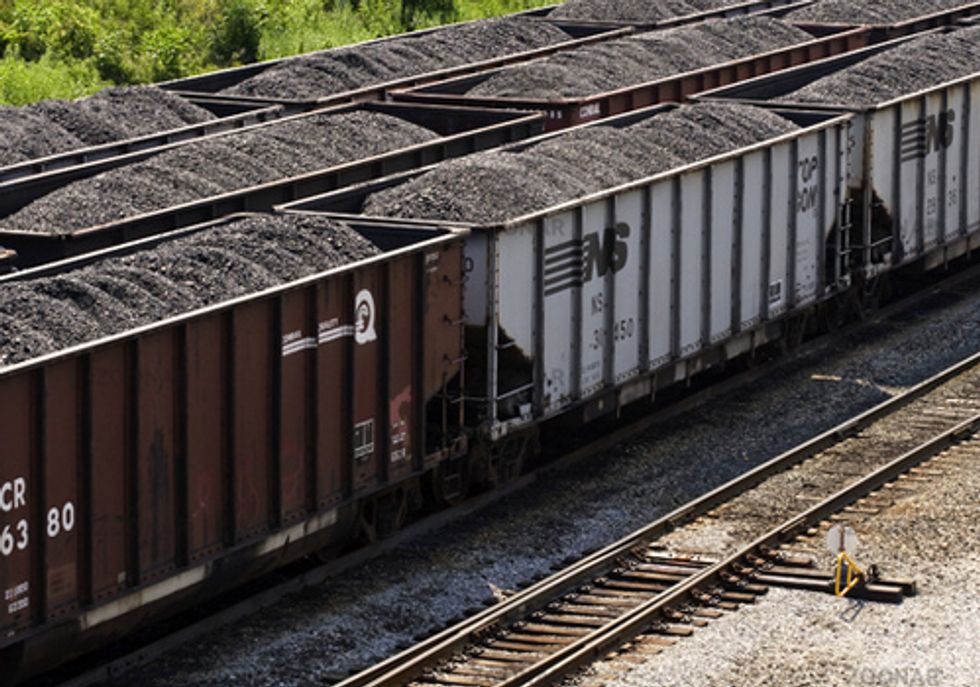 In another strike against coal, a local utility near Atlanta, Ga. voted late Jan. 24 to cancel funding for two proposed new coal-fired power plant projects. Over the past decade three coal plants have been proposed in Georgia. With the Jan. 24 announcement, the remaining two projects have lost their primary source of funding and will likely be abandoned. The third project, the LS Power Longleaf project, was abandoned late last year as part of a nationwide settlement with the Sierra Club.  
In a closed meeting, the Cobb Electric Membership Corporation (EMC) board of directors voted to stop funding the Power4Georgians proposed coal plant projects, Plant Washington and Plant Ben Hill, in Central Georgia. Each 850 megawatt coal plant would have cost more than $2 billion to build and would have added deadly new sources of toxic mercury and carbon pollution in Georgia and downwind states.
"Coal's dominance is coming to an end," said Bruce Nilles, senior director of Sierra Club's Beyond Coal campaign. "Today's news from Georgia fits into a strong national trend of clean energy displacing coal. For the past decade we have successfully blocked the construction of now 164 proposed coal-fired power plants. With the cost of coal rising and clean energy prices plummeting, coal's market share is shrinking and shrinking fast. At the same time, over the past three years the United States has installed records amount of wind and solar, and in the process has created thousands of new jobs. "
For the past four years Sierra Club and the Georgians for Smart Energy Coalition have been campaigning to persuade Cobb EMC and its partners to abandon the coal plants and instead to invest in clean, home-grown  energy sources like wind and solar. The proposed coal plants would have required Georgians to ship millions of dollars out of Georgia annually to buy imported coal.
"I am proud that since 2008, the Sierra Club and our partner organizations have been actively organizing and challenging these coal plant proposals, and working with cooperative members to highlight the risky nature of coal-fired power plants," said Seth Gunning, Georgia organizer with the Beyond Coal Campaign and Cobb EMC member.
A report released this week by the U.S. Energy Information Administration (EIA) highlighted a predicted drop in coal's market share, from 44 to 39 percent, between 2010 and 2035. The EIA reports traditionally underestimate coal's decline, and the Georgia board vote seems to suggest an even steeper drop for coal power in the U.S. The EIA report also predicted that no new coal plants would be constructed in this period, aside from those already under construction. Bruce Nilles's recent writing on the EIA report can be found by clicking here.
No new coal plants have broken ground since 2008, except for a highly-subsidized Department of Energy demonstration project in Kemper County, Mississippi. Even with federal and state subsidies, the project is expected to increase consumers' electric bills by more than 40 percent, according to the Mississippi Business Journal. The Great River Energy Spiritwood Plant in North Dakota, which came online in 2010, now sits idle because it is too expensive to run. The plant cost $400,000,000 to build.
New federal health protections finalized in 2011 will require existing coal plants to reduce their pollution, including toxic mercury pollution, and new plants will have to plan for scrubber technology, which will increase the projected price of construction.
The Sierra Club's Beyond Coal campaign works in partnership with Bloomberg Philanthropies and a nationwide coalition of allies to retire one-third of the nation's aging coal plants by 2020, replacing them with clean energy like wind and solar by 2030. Coal plants are the largest sources of climate disruption and toxic air pollution like mercury, soot and carbon pollution. Once finalized, Plant Washington and Plant Ben Hill would be the 163rd and 164th plants defeated or abandoned since the Sierra Club began its Beyond Coal campaign in 2002.
Background:
Cobb EMC, an electrical membership corporation based in Marietta, Ga., serves 200,000 members in the Northwest Metro Atlanta area. The nonprofit corporation has been embroiled in legal controversy for years, resulting in a legal settlement forcing CEO Dwight Brown to step down in February 2011. He was then indicted on 35 felony charges, including racketeering and conspiracy to commit fraud related to Brown's establishment of a for-profit arm of the company, illegal under Georgia law. The coal plant proposals were tied into the controversy.
For more information, click here.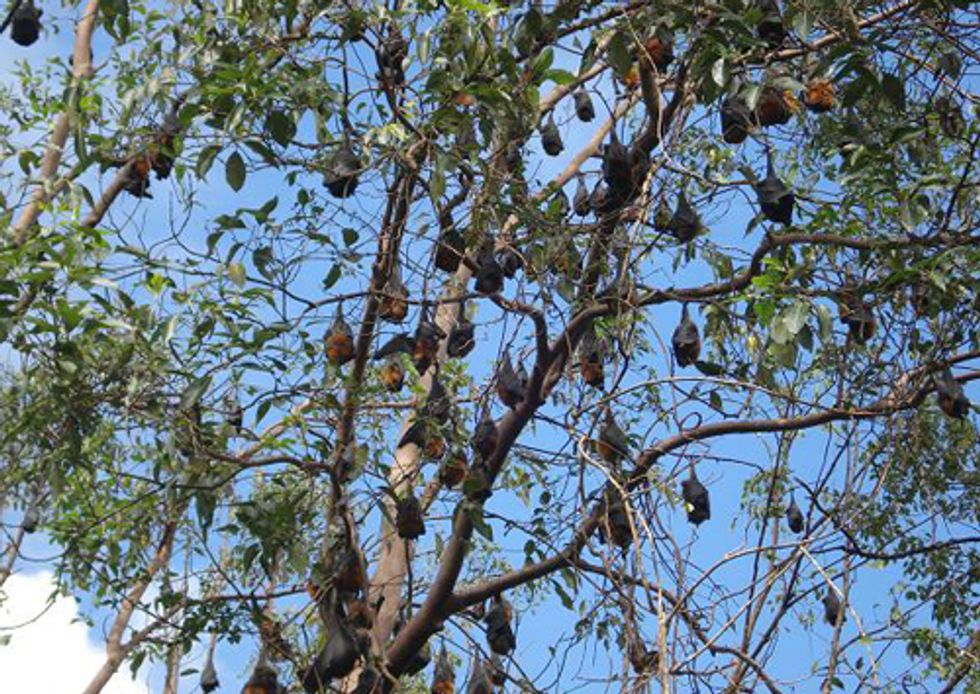 Mercury accumulation, previously considered a risk for aquatic ecosystems, is also found in many wildlife species living on the land, according to a new report published by the Biodiversity Research Institute (BRI) in partnership with The Nature Conservancy. Hidden Risk: Mercury in Terrestrial Systems of the Northeast highlights the BRI's scientific findings on high levels of mercury contamination in songbirds and bats throughout 11 northeastern states.
"While the risk of mercury to people is well known—there are more than 3,700 fish consumption advisories issued in the U.S.—we are still learning about mercury's effects on wildlife," says David C. Evers, Ph.D., BRI's executive director and chief scientist. "Mercury accumulation has many implications for the health and survival of wildlife species across habitats, not just those that live and feed in aquatic habitats. Our research has found that mercury concentrations in animals that live in terrestrial environments are significant enough to cause physiological and reproductive harm. This knowledge is creating a major paradigm shift in ecotoxicological research, assessment, monitoring, management, and policy."
Hidden Risk is the most complete synthesis of songbird and bat mercury data in the Northeast published to date. This report documents, for the first time, elevated levels of mercury in a wide range of songbirds and bats living in a variety of terrestrial ecosystems in northeastern states from Maine to Virginia. Among the findings:
Current environmental mercury loads have the ability to significantly reduce reproductive success in several songbird species of conservation concern in the northeastern U.S., including the saltmarsh sparrow and rusty blackbird
Bats also build up significant body burdens of mercury. Individuals from multiple species from all 10 areas sampled in the northeastern U.S. exceeded the subclinical threshold for changes to neurochemistry
Mercury loading in songbirds is not only restricted during the breeding season. For some species, such as the northern waterthrush, high levels of mercury accumulate during migration and in tropical wintering grounds.
Songbirds and bats, often referred to as insect eaters, are more accurately called invertivores because they eat a wide variety of invertebrate species such as spiders, snails, and worms, in addition to insects. "The role of invertivores in the ecosystem has until now been largely ignored in mercury investigations," says Evers. "However, these species are more common, widespread, and sensitive to mercury contamination than previously known; studying the terrestrial food web can serve as an effective biological network of important indicators for people and wildlife."
Hidden Risk presents findings from at-risk habitats, and associated indicator species are identified based on the species' level of conservation concern, relative abundance, and ability to build up mercury in the body. The report demonstrates the significant costs of mercury to wildlife that were not factored into previous cost/benefit analyses.
In the U.S., mercury becomes an air pollutant largely through emissions from coal-fired power plants. In some areas, cement plants and mining related industries also add to mercury pollution. Airborne mercury eventually returns to the earth in rain, snow, and fog droplets, as well as in dry form. Under the right conditions, mercury is transformed into methylmercury, an organic toxin that becomes magnified as it is ingested up the food chain. The toxic effects of methylmercury may include both neurological and reproductive harm to wildlife, and to people who consume contaminated wildlife.
"While air pollution impacts people and nature on public and private lands, the good news is that when action has been taken to reduce mercury emissions, the results are very promising," says Dr. Timothy Tear, New York director of science for the Nature Conservancy. "Research has shown that reduction in mercury levels do make a difference to dramatically and quickly reverse mercury contamination trends in fish and wildlife. Reducing this neurotoxin from the environment will benefit wildlife and people."
Hidden Risk outlines a number of management actions that can be taken to reduce the mercury risk in various terrestrial ecosystems, ranging from cleaning up legacy dump sites to reducing atmospheric deposition. The U.S. Environmental Protection Agency (EPA) has recently finalized the Mercury and Air Toxics Standards (MATS) Rule that requires coal-fired power plants to update their mercury pollution control technologies, and this report highlights the importance of tracking the biological implications of this rule through better national and international monitoring programs. The report also calls for the establishment of critical loads for air-borne contaminants that are based upon preserving healthy ecosystems. Critical loads identify the maximum level of pollutant deposition that ecosystems can handle before harmful effects occur.
Air pollution continues to be an important area of environmental concern. The recent U.S. EPA MATS ruling and release of the National Acid Precipitation Assessment Program Report to Congress: An Integrated Assessment underscore the fact that although efforts to reduce air pollution in the U.S. are working, there is still much more work to be done.
More than 50 researchers contributed to the information in this report, which illustrates the continued interest in advancing our understanding of the impacts of air pollution—in particular mercury—on nature and people. Hidden Risk: Mercury in Terrestrial Systems of the Northeast and related materials are available online at by clicking here.
The mission of the Biodiversity Research Institute is to assess emerging threats to wildlife and ecosystems through collaborative research, and to use scientific findings to advance environmental awareness and inform decision makers. BRI's science programs include wetlands, mammal, raptor, waterfowl, migratory bird, marine bird, coastal bird, wildlife and renewable energy, and tropical programs. BRI's research efforts stretch throughout most of North and Central America, as well as across sites in South America, Russia, South Africa and Europe. For more information about BRI's work, click here.
For more information, click here.
—————
The Nature Conservancy is a leading conservation organization working around the world to protect ecologically important lands and waters for nature and people. The Conservancy and its more than 1 million members have protected nearly 120 million acres worldwide.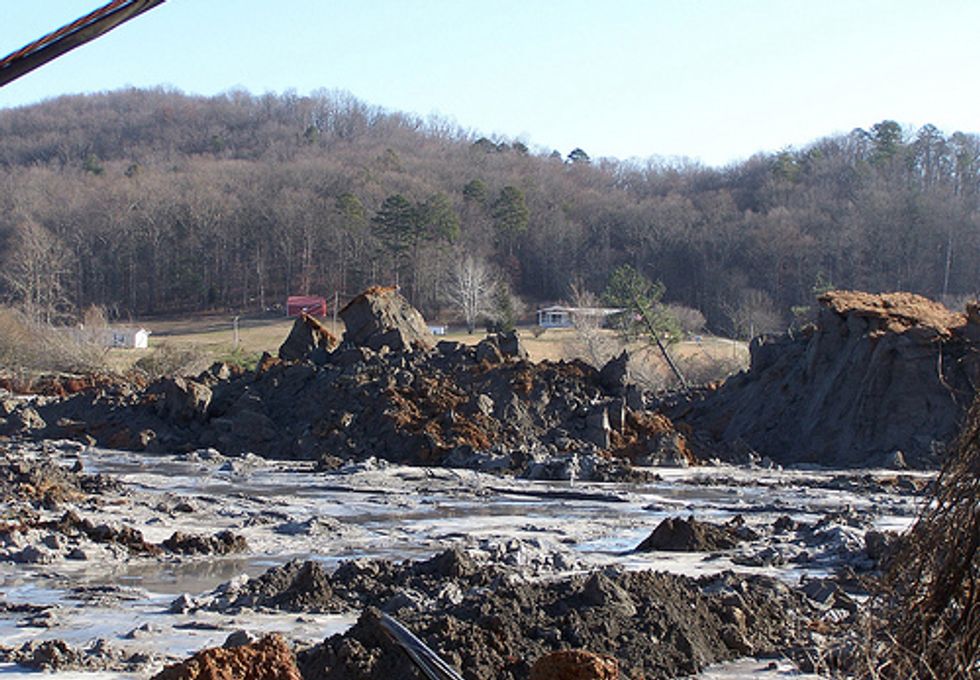 Environmental and public health groups announced their intent to sue the U.S. Environmental Protection Agency (EPA) in federal court Jan. 18 to force the release of long awaited public health safeguards against toxic coal ash. The EPA has delayed the first-ever federal protections for coal ash for nearly two years despite more evidence of leaking ponds, poisoned groundwater supplies and threats to public health.
Earthjustice, on behalf of Appalachian Voices (N.C.), Chesapeake Climate Action Network (Md.), Environmental Integrity Project, French Broad Riverkeeper (N.C.), Kentuckians For The Commonwealth (Ky.), Moapa band of Paiutes (Nev.), Montana Environmental Information Center (Mont.), Physicians for Social Responsibility, Prairie Rivers Network (Ill.), Sierra Club and Southern Alliance for Clean Energy (Tenn.), sent the EPA a notice of intent to sue the agency under the Resource Conservation and Recovery Act (RCRA). The law requires the EPA to ensure that safeguards are regularly updated to address threats posed by wastes. However, the EPA has never undertaken any action to ensure safeguards address the known threats posed by coal ash, a toxic mix of arsenic, lead, hexavalent chromium, mercury, selenium, cadmium and other dangerous pollutants that result from burning coal at coal-fired power plants.
A copy of the Notice of Intent to Sue letter sent to the EPA is available here.
Following a spill of more than a billion gallons of coal ash at a disposal pond in Harriman, Tenn., in December 2008, EPA Administrator Lisa Jackson announced in 2009 plans to set federal coal ash regulations by year's end. In May 2010, the EPA proposed a hybrid regulation to classify coal ash either as hazardous or non-hazardous waste. After eight public hearings across the country and more than 450,000 public comments, the agency decided to delay finalizing the rule amid intense pressure from the coal and power industries.
The following video shows the devastating results of the Harriman, Tennessee coal ash spill:
Despite numerous studies showing the inadequacy of current federal coal ash safeguards to protect public health and the environment as well as documented evidence by the EPA and environmental groups showing coal ash poisoned aquifers and surface waters at 150 sites in 36 states, the EPA continues to fail to adopt federal safeguards. The Jan. 18 lawsuit would force the EPA to set deadlines for review and revision of relevant solid and hazardous waste regulations to address coal ash, as well as the much needed and overdue changes to the test that determines whether a waste is hazardous under RCRA.
"Politics and pressure from corporate lobbyists are delaying much needed health protections from coal ash," said Earthjustice attorney Lisa Evans. "The law states that the EPA should protect citizens who are exposed to cancer-causing chemicals in their drinking water from coal ash. As we clean up the smokestacks of power plants, we can't just shift the pollution from air to water and think the problem is solved. The EPA must set strong, federally enforceable safeguards against this toxic menace."
"It's well past time for the EPA to do something about this hazardous waste," said Anne Hedges, program director of the Montana Environmental Information Center. "Our biggest coal ash ponds in Montana are leaking and have been leaking for decades."
"For far too long the Tennessee Valley Authority has been allowed to ignore the dangers of coal ash, resulting in the 2008 Kingston disaster, one of the worst environmental catastrophes of our time," said Josh Galperin, policy analyst and research attorney for Southern Alliance for Clean Energy. "Despite the lessons of Kingston and an explicit congressional mandate, coal ash continues to be unregulated by the EPA. We are taking action today to drive EPA to follow-through on its legal duty to protect Americans from this toxic waste."
"Data on groundwater at coal ash disposal sites is now available, and the results in Illinois and many other states are grim," said Traci Barkley, water resources scientist with Prairie Rivers Network. "State regulators found high levels of coal ash pollutants in groundwater at all 22 sites in our state. Seeing that our state's rules have not protected our residents and our clean water, we need to know that the EPA will get the job done."
"Right now our organization is involved in several lawsuits against old, leaking coal ash landfills in Maryland," said Diana Dascalu-Joffe, staff attorney with Chesapeake Climate Action Network. "Dangerous coal ash is leaching into waterways that hurt the Chesapeake Bay and could be threatening the health of Maryland citizens. The EPA has a responsibility to issue a uniform, strong rule to address coal ash so groups like ours don't have to fight to clean them up, facility by facility, at the state level."
"With a state legislature bent on weakening the ability to protect public health, North Carolinians are calling on the EPA to demonstrate political leadership by providing strong and consistent federal guidelines for coal ash disposal and storage," said Sandra Diaz, North Carolina campaign coordinator for Appalachian Voices.
"With many coal ash dumps located in populated areas, the public depends on the EPA to do everything possible to protect our health and keep our communities safe," said Mary Love, member of Kentuckians For The Commonwealth. "We need strong standards so we can not only clean up communities that have already been poisoned but make sure these toxic chemicals never again leak into our homes and communities."
"The EPA promised to set standards for coal ash disposal sites more than a decade ago," said Eric Schaeffer, executive director at Environmental Integrity Project. "Are we going to have to wait for another disaster before EPA finally keeps that promise?"
"The toxic threat that coal ash poses to human health is severe," said Dr. Maureen McCue, MD, PhD, of Physicians for Social Responsibility. "Coal ash contains contaminants that can cause cancer and can damage the intestines, liver, kidney, lungs, heart, peripheral nervous system and brain. It's unthinkable that the EPA allows this toxic stew to get into drinking water. It doesn't get much dirtier than this."
"Our children are losing more than their health because of the power plants; they're losing their culture, too," said William Anderson, chairman of the Moapa Band of Paiutes in southeastern Nevada. "We used to hunt ducks and geese on our land—but no longer. The birds land in the coal wastewater ponds. We used to harvest medicinal plants, but not anymore. The plants have been contaminated over the years by the plant's coal ash dust, soot and other pollutants."
"Two of the nation's 49 high hazard coal ash dams sit on the banks of the French Broad River. These ponds pose a looming threat to the health and safety of the surrounding community, as well as the French Broad River," said Hartwell Carson, French Broad Riverkeeper. "The dams also hold back toxic coal ash that pollutes the groundwater and surface water every day. It is time for the EPA to act to protect the French Broad River and the hundreds of similarly impacted rivers and communities around the country."
"The EPA must act and they must act soon," said Bruce Nilles, senior campaign director for the Sierra Club's Beyond Coal Campaign. "Millions of tons of toxic waste from coal plants—coal ash containing arsenic, lead, mercury and other dangerous pollution—are dumped across the country each year, often without basic safety protections. Even though the EPA has identified more than four dozen highly dangerous coal ash sites around the country they have still failed to safeguard the health and well being of those living near the dumping grounds. We urge the EPA to take definitive action to protect American families and communities."
For more information, click here.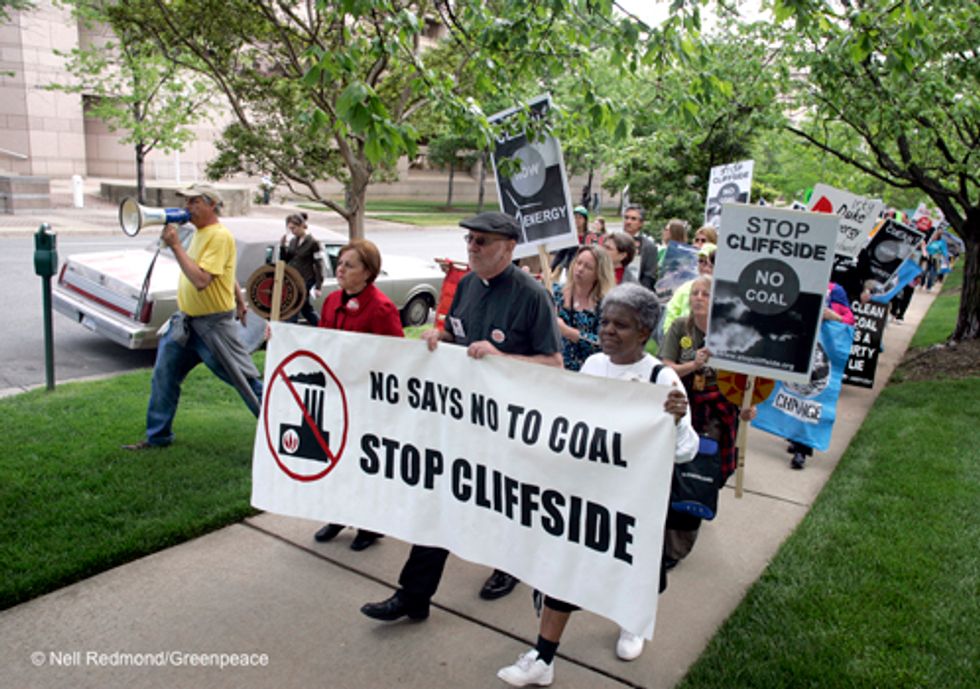 Conservation groups announced a settlement Jan. 17 with Duke Energy that will cut pollution by phasing out more than 1600 mega watts of dirty, old coal-fired power while still meeting customers' energy needs.
The groups reached the settlement in an administrative challenge to the state-issued air pollution permit for construction and operation of a new coal-fired unit at Duke Energy's Cliffside power plant near Shelby, N.C. The Southern Environmental Law Center negotiated the settlement on behalf of Environmental Defense Fund, National Parks Conservation Association, Sierra Club and Southern Alliance for Clean Energy.
Under the settlement terms, Duke Energy will retire old coal-fired units that lack modern pollution control technology, totaling about 1667 megawatts or more than twice the capacity of the new unit at the Cliffside facility. Duke had previously included these coal-plant retirements in its non-binding, long-range plan submitted each year to the state utilities commission. The settlement agreement makes the planned retirements enforceable, thereby locking in reductions in air and water pollution that harms the health of children and families in the Carolinas.
As a result of advocacy by the conservation groups and other clean energy advocates, the new Cliffside unit will operate under the most stringent acid gas controls in the U.S., with a 99.9 percent reduction in such pollution. Acid gases, such as sulfur dioxide and hydrochloric acid, from coal-fired power plants can cause eye, nose, and respiratory tract irritation and inflammation, chest pain, coughing, nausea, impaired lung function, asthma attacks, and chronic bronchitis.
The settlement also tightens a permit provision that Duke Energy must demonstrate best practices to decrease toxic air pollution emitted during malfunction, shut down and start up situations.
Many old power plants operate today without modern pollution controls that are overdue since the Clean Air Act Amendments of 1990. More than 400 coal- and oil-fired power plants nationwide release in excess of 386,000 tons of hazardous air pollutants into the atmosphere each year that are linked to cancer, heart disease, birth defects, asthma attacks and even premature death.
Statements from the attorney and groups involved follow:
"This settlement phases out some of the oldest, dirtiest, and most inefficient coal plants in the Carolinas," said John Suttles, a senior attorney at the Southern Environmental Law Center who represented the groups in court. "In addition to protecting people's health and saving lives, it also will save ratepayers' money by paving the way for a more efficient and sustainable energy future."
"This settlement ends another chapter in the history of polluting coal generation that jeopardizes our health, air and water," said Michael Regan, director of energy efficiency for Environmental Defense Fund. "In the future, energy conservation and new technologies will provide North Carolina with reliable energy while protecting our families and economy."
"The air quality improvements that will result from this settlement will provide present and future generations with substantially cleaner air in the region," said Don Barger, National Parks Conservation Association's Southeast regional director. "The health of our people and parks, including Great Smoky Mountains National Park in particular, will long bear witness to the benefits realized from transitioning away from coal."
"North Carolina has long been a clean air leader, and today's settlement is another important step forward for the Tarheel State. This settlement is critical for the health of North Carolina's families. Coal-fired electricity is the primary source of toxic mercury pollution and is a leading trigger of asthma attacks. These retirements will allow North Carolina to move beyond coal, and focus on clean energy solutions like solar and offshore wind," said Mary Anne Hitt, director of Sierra Club's Beyond Coal campaign.
"We are pleased to finally have a settlement agreement with Duke Energy to offset the enormous amount of carbon dioxide that the Cliffside coal plant will emit over its lifespan," stated Stephen Smith, executive director of Southern Alliance for Clean Energy. "Duke's old coal plants need to come offline to reduce the company's contribution to climate change while making room for cleaner, more sustainable energy sources."
For more information, click here.
—————

Environmental Defense Fund, a leading national nonprofit organization, creates transformational solutions to the most serious environmental problems. EDF links science, economics, law and innovative private-sector partnerships. See twitter.com/EnvDefenseFund and facebook.com/EnvDefenseFund 

Since 1919, the nonpartisan, non-profit National Parks Conservation Association has been the leading voice of the American people in protecting and enhancing our National Park System. NPCA, its 340,000 members, and partners work together to protect the park system and preserve our nation's natural, historical, and cultural heritage for our children and grandchildren.

Sierra Club is the nation's largest grassroots environmental organization with over 17,000 members in North Carolina and more than 1.4 million members and supporters nationwide. Since 2002, Sierra Club's Beyond Coal campaign has successfully stopped 161 new coal plant proposals from moving forward, and is working to move our nation beyond coal to a clean, safe energy economy.

Southern Alliance for Clean Energy is a nonprofit organization that promotes responsible energy choices that create global warming solutions and ensure clean, safe, and healthy communities throughout the Southeast.

The Southern Environmental Law Center is a regional nonprofit using the power of the law to protect the health and environment of the Southeast (Virginia, Tennessee, North and South Carolina, Georgia, and Alabama). Founded in 1986, SELC's team of more than 40 legal and policy experts represent more than 100 partner groups on issues of climate change and energy, air and water quality, forests, the coast and wetlands, transportation, and land use.