World's Largest Organic Rooftop Farm Powered 100% by Renewables Opens in Chicago
Nov. 24, 2015 09:39AM EST
Food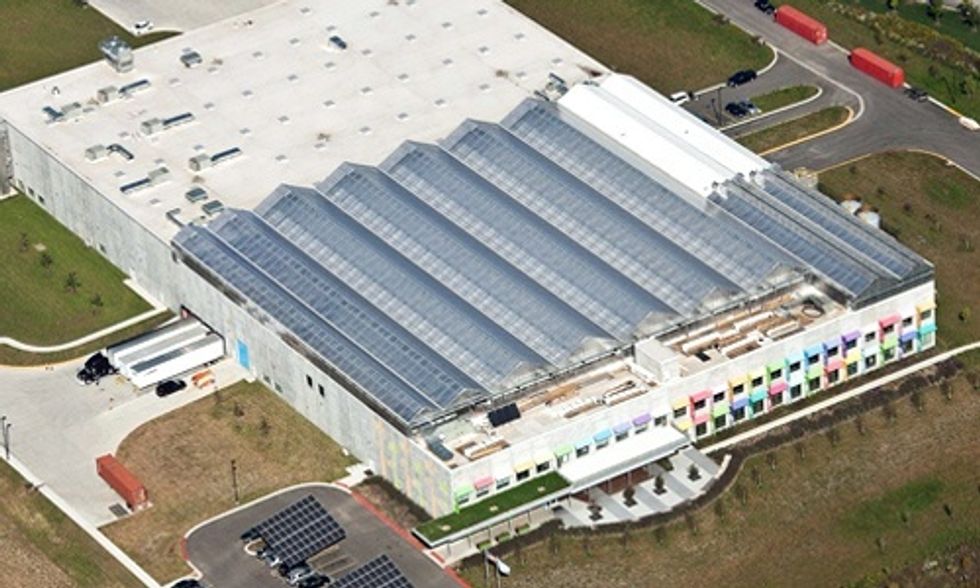 Brooklyn-based urban farming company Gotham Greens opened the world's largest rooftop farm in Chicago, the company announced Thursday.
#Chicago is now home to the World's Largest Rooftop Farm! Check out our largest project yet https://t.co/75uzIrmWtv https://t.co/L0SoQFc5qZ

— Gotham Greens (@Gotham Greens)1448032592.0
Located in the historic Pullman area on Chicago's South Side, the farm is the company's fourth greenhouse facility and its first outside of New York. The 75,000-square-foot farm is located on top of a Method manufacturing facility, and is powered completely by renewable energy. The farm employs more than 50 people and "will produce nearly 10 million annual crops of local, premium-quality, pesticide-free, leafy greens and herbs," according to the company.
"With more than $1 billion in venture capital invested in the city in 2014, Chicago continues to emerge as the country's newest hot spot for innovation and growing companies," Chicago Mayor Rahm Emanuel said. "Gotham Greens' expansion means even more jobs and investment in the Pullman neighborhood and through cutting-edge agricultural innovation, they will provide fresh, healthy and locally-grown foods to residents across Chicago."
The produce will be available in select markets around the Chicago area, including Whole Foods Market, Peapod, Treasure Island, Sunset Foods, Plum Market, Target and others. The company has also partnered with local institutions such as the Greater Chicago Food Depository, Greater Roseland West Pullman Food Network, Pilot Light, Chicago Botanical Garden's Windy City Harvest and more.
Thanks to "sophisticated computer control systems" that "continually adjust the greenhouse environment to ensure optimal growing conditions all year round," the farm is able to produce despite even the coldest of temperatures. "For Chicagoans, this means premium-quality, hyper-local produce that often hits store shelves and restaurant plates the very same day it's harvested, 365 days a year," Gotham Greens said in their press release.
There are numerous benefits to growing food this way in addition to year-round production. According to the company, their "proprietary growing methods" produce up to 30 times more crop per acre than field production. They claim their two-acre facility can produce yields equivalent to more than 50 acres of conventional field production.
And because Gotham Greens recycles all of its irrigation water, the company says, "it uses 10 times less water than conventional agriculture (while also eliminating all agricultural runoff—one of the leading causes of global water pollution)." Additionally, by growing and selling their food in Chicago, they drastically reduce the food waste and environmental footprint inherent in long-distance food transport.
At EcoWatch, we featured Gotham Greens when they announced that they were building the Chicago facility last year. We also featured them as one of six urban farms revolutionizing how food is grown. Its flagship facility in Brooklyn, built in 2010, was the first commercial scale rooftop greenhouse in the U.S., according to the company.
YOU MIGHT ALSO LIKE
100% Clean Energy is 100% Possible
EcoWatch Daily Newsletter
Related Articles from EcoWatch
Recent Stories from EcoWatch