World's First Solar Road Already Generating More Power Than Expected
May. 15, 2015 09:18AM EST
Business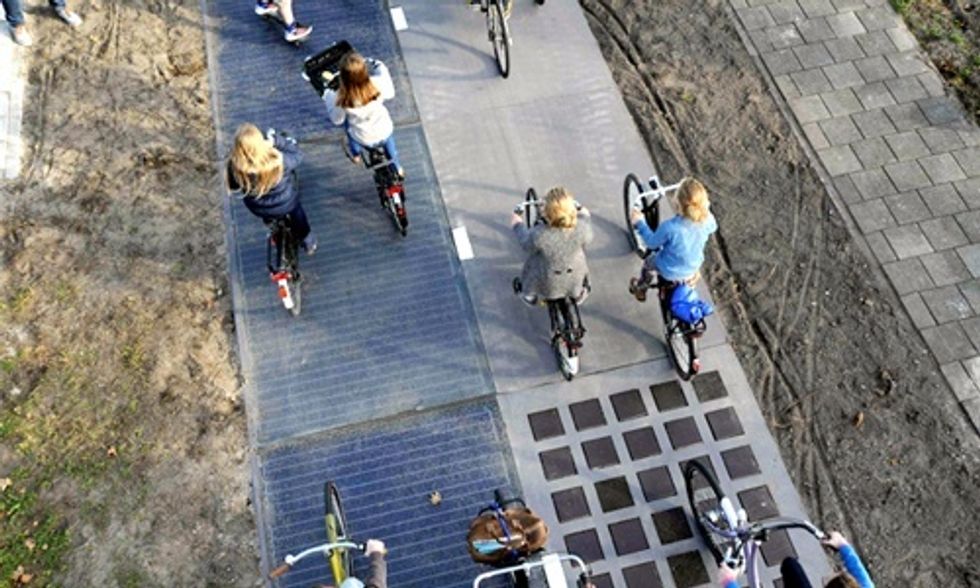 SolaRoad, the world's first "solar road," has only been in operation since November, but it's already generating more power than expected. SolaRoad is a bike path in Krommenie, a village northwest of Amsterdam in the Netherlands, that also functions as a massive solar array. The project was developed by TNO, the Province of Noord-Holland, Ooms Civiel and Imtech.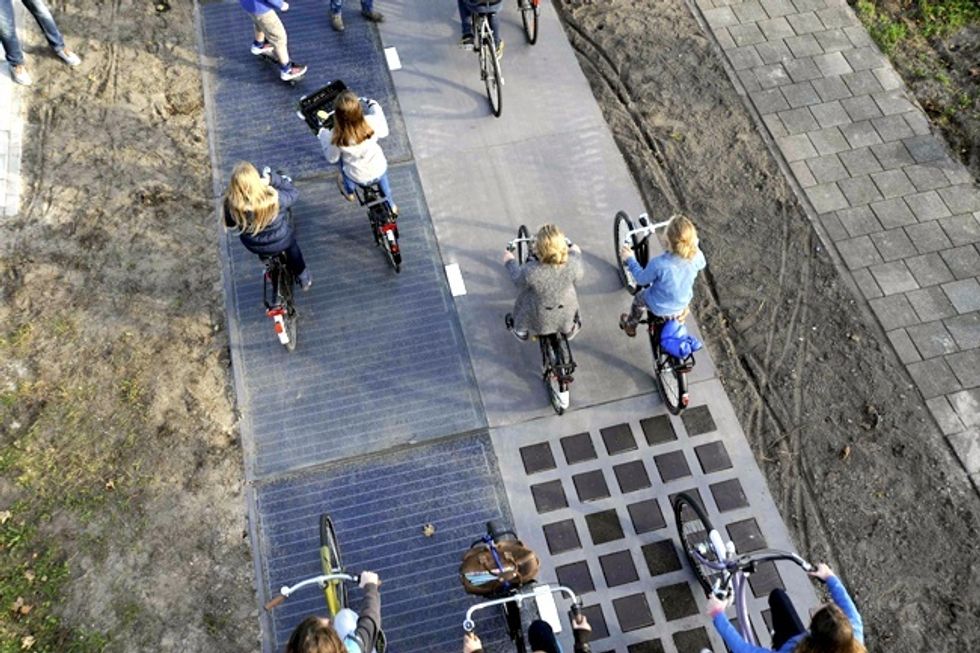 "We did not expect a yield as high as this so quickly," said Sten de Wit, spokesman for SolaRoad. "The bike road opened half a year ago and already generated over 3,000 kWh. This can provide a single-person household with electricity for a year, or power an electric scooter to drive 2.5 times around the world."
The pilot period will run for another two and half years to see how well the panels hold up and how much electricity they generate. Since opening six months ago, more than 150,000 bicyclists have used the road. At the end of December and in early spring of this year, a small section of the panels needed repair, but otherwise the panels are holding up very well, according to the project developers. The solar cells are protected by a thin layer of transparent, skid-resistant tempered glass that is able to support bicycles and vehicles.
Where does this electricity go you ask? "The solar electricity from the road is fed into the electricity grid and can be used, for example, for street lighting, traffic systems, households and (eventually) electric cars that drive over it," the project developers said.
The road is only 70 meters, or about 230 feet, so imagine the potential of this technology if adopted on a wider scale. We featured a similar Idaho-based project, Solar Roadways, whose Indiegogo campaign became extremely successful when their video went viral last year.
The project does have its detractors though. ZME Science points out the three-year project costs 3.5 million euros and the solar panels could need regular repair from winter weather and normal wear and tear. ZME Science said, "Maybe we should first cover every available inch on our rooftops first."
Watch the video from SolaRoad to see how it could be the road of the future:
YOU MIGHT ALSO LIKE
7 Senators Push for Federal Energy Standard of 30% Renewables by 2020
20-Mile Bike Lane Is Also Massive Solar Array
EcoWatch Daily Newsletter
Related Articles from EcoWatch