An article in Sunday's New York Times has struck a blow to the argument that genetically modified (GMO) crops will help "feed the world."
A New York Times report concluded that, compared to Western Europe, the United States and Canada have "no discernible advantage" in yields after embracing GMOs.Flickr
Investigative reporter Danny Hakim's piece argues that in the last two decades GMO crops have been a mainstay in conventional agriculture and the technology has not led to larger yields nor reduced pesticide use, despite the biotech industry's promises of both. He also notes that the fear that GMOs are unsafe to eat are "largely unsubstantiated."
Using United Nations data, Hakim compared the yields of GMO corn and sugar beets in the U.S. and Canada with their non-GMO counterparts in Europe, which is largely suspicious of GMOs and strictly regulates its cultivation.

"The United States and Canada have gained no discernible advantage in yields—food per acre—when measured against Western Europe, a region with comparably modernized agricultural producers like France and Germany," he wrote.

Hakim's conclusion, he points out, is similar to a report from the National Academy of Sciences that found GMO crops have not, to date, increased actual yields and should not be exclusively relied upon to meet long-term food security needs.
Academies of Science Finds GMOs 'Safe,' But 'More Research Needed' https://t.co/Bfz9pkKd5D @justlabelit @TrueFoodNow

— EcoWatch (@EcoWatch)1463606120.0
The widespread adoption of GMOs has also increased the use of herbicides, even though top GMO seed supplier/ Roundup maker Monsanto claims its products would "decrease the overall use of herbicides."
As per the New York Times article:
"One measure, contained in data from the United States Geological Survey, shows the stark difference in the use of pesticides. Since genetically modified crops were introduced in the United States two decades ago for crops like corn, cotton and soybeans, the use of toxins that kill insects and fungi has fallen by a third, but the spraying of herbicides, which are used in much higher volumes, has risen by 21 percent.

"By contrast, in France, use of insecticides and fungicides has fallen by a far greater percentage—65 percent—and herbicide use has decreased as well, by 36 percent."
The article also highlighted the tragic cycle of ever-stronger herbicides to combat herbicide-resistant superweeds. For instance, 10 states have reported devastating crop damage after farmers illegally sprayed their GMO soybeans and cotton with drift-prone dicamba in order to beat back weeds that have evolved against Monsanto's flagship product, Roundup.
"The NYT has finally admitted what a number of us have been saying for 20 years," Ronnie Cummins, founder and director of the Organic Consumers Association, told EcoWatch via email. "GMOs are designed to increase the sales of the proprietary toxic pesticides and patented seeds of Monsanto and the other gene giants, and offer nothing in the way of increased nutrition, yield, adaptation to climate change, nor reduction of pesticide and chemical inputs."

10 States Report Crop Damage From Illegal Dicamba Use on Monsanto's GMO Seeds https://t.co/KcqhwWoSq3 @GMOTruth @GMWatch

— EcoWatch (@EcoWatch)1472867707.0
In September, Bayer CEO Werner Baumann and Monsanto Chairman and CEO Hugh Grant appeared in a joint appearance of their proposed $66 billion merger which would create the world's largest seed and pesticide company.

Both chiefs echoed Big Ag's mantra that GMOs increase crop yields in an environmentally friendly way and is one solution to feed a global population that will reach 10 billion by 2050.
"We are fully committed to helping solve one of the biggest challenges of society, and that is how to feed a massively growing world population in an environmentally sustainable manner," Baumann said. "What we do is good for consumers. We help produce efficient, safe, healthy and affordable food. It is also good for our growers because they have better choices to increase yields in a sustainable way."
The New York Times report, however, makes it clear that this narrative needs much further scrutiny.
1/Lots of reaction to my story on GMO crops & whether they increase yields and reduce pesticide use, as promised. https://t.co/vkQOYu1Vto

— Danny Hakim (@Danny Hakim)1477823032.0
14/Overall, most persistent claim I hear from industry is GMOs are critical to feed the world. That's why yield issue is relevant.

— Danny Hakim (@Danny Hakim)1477915221.0
EcoWatch Daily Newsletter
Greenpeace was targeted Wednesday by more than 100 Nobel laureates who have signed a letter calling on the environmental group to end its campaign against genetically modified organisms (GMOs).
In the letter, Greenpeace is accused of leading "the fact-challenged propaganda campaign against innovations in agricultural biotechnology." The NGO's opposition on a particularly controversial GMO crop, golden rice, was put on blast.
Golden Rice, compared to conventional rice, has been genetically engineered to produce and accumulate provitamin A (β-carotene) in the grain.Golden Rice Project
In a separate post Why Greenpeace is Wrong about GMOs and Golden Rice, the campaign accuses Greenpeace of spearheading "opposition to golden rice, which has the potential to reduce or eliminate much of the death and disease caused by a vitamin A deficiency (VAD), which has the greatest impact on the poorest people in Africa and Southeast Asia."

The laureates' letter argues that scientific and regulatory agencies around the world have "repeatedly and consistently" found GMO crops as safe for humans and animals for consumption as well as for the safety of the environment.
Organizers of the campaign held a press conference this morning at the National Press Conference in Washington to defend the letter.
"We're scientists. We understand the logic of science. It's easy to see what Greenpeace is doing is damaging and is anti-science," Richard Roberts, campaign organizer and the 1993 winner of the Nobel Prize in physiology or medicine with Phillip Sharp, told The Washington Post."Greenpeace initially, and then some of their allies, deliberately went out of their way to scare people. It was a way for them to raise money for their cause."
The golden rice project started roughly 20 years ago by German researchers. The GMO crop is developed to produce pro-vitamin A (beta-carotene) and is touted by proponents as a solution to vitamin A deficiencies prevalent in developing countries. The deficiency increases risk for infection, diseases and blindness.
Greenpeace, however, has deemed the golden rice project as "environmentally irresponsible, poses risks to human health, and could compromise food, nutrition and financial security." Because of this stance, proponents of golden rice have long attacked the organization for being "anti-science" and prolonging the suffering of children with VAD.
In response to the letter, Wilhelmina Pelegrina, a campaigner for Greenpeace Southeast Asia told The Post that the organization was not blocking golden rice, as the initiative "has failed as a solution and isn't currently available for sale, even after more than 20 years of research."
"As admitted by the International Rice Research Institute, it has not been proven to actually address vitamin A deficiency. So to be clear, we are talking about something that doesn't even exist," she continued. "Corporations are overhyping golden rice to pave the way for global approval of other more profitable genetically engineered crops. Rather than invest in this overpriced public relations exercise, we need to address malnutrition through a more diverse diet, equitable access to food and eco-agriculture."
She argues that the "only guaranteed solution" to fix malnutrition is a diverse, healthy diet: "Providing people with real food based on ecological agriculture not only addresses malnutrition, but is also a scaleable solution to adapt to climate change."
Pelegrina said that Greenpeace has documented communities across the Philippines that continue to express concerns about using golden rice as a solution. In the video below produced by the organization in 2014, Filipino community members speak about solutions to nutrient deficiencies that are already available in their country.
The use of genetically modified technology is highly contentious in the Philippines. In 2013, a group of about 400 protesters, which included local farmers and members of two anti-GMO groups—the Kilusang Magbubukid ng Bikol (KMB) and the Sararong Inisyatiba nin Kahinwanmaan sa Wasakon ang Agrokemikals na Lasong-GMO (Sikwal-GMO)—destroyed an 800 square meter trial plot of golden rice that was weeks away from being sent to the authorities for a safety evaluation. The protesters said they uprooted and trampled the rice plants because they wanted to protect the health of the people and their environment.

"Greenpeace Philippines is already working with NGO partners and farmers in the Philippines to boost climate resiliency," Pelegrina said. "There's a real chance here for governments and the philanthropic community to support these endeavours by investing in climate-resilient ecological agriculture and empowering farmers to access a balanced and nutritious diet, rather than pouring money down the drain for GE 'golden' rice."
Incidentally, a Washington University study published last month in the journal Agriculture & Human Values argues that the benefits of biotechnology, particularly golden rice, may be overhyped.
Washington University anthropologist Glenn Stone and Dominic Glover, a rice researcher at the Institute for Development Studies at the University of Sussex, argue in their paper that GMO activists should not be blamed for the slow introduction of golden rice.
This is why the renewed attack on Greenpeace is so misguided - it's not their fault Golden Rice doesn't work https://t.co/tOnfxdpTDV #gmo

— GMWatch (@GMWatch)1467230311.0
"The rice simply has not been successful in test plots of the rice breeding institutes in the Philippines, where the leading research is being done," Stone told the university publication. "It has not even been submitted for approval to the regulatory agency, the Philippine Bureau of Plant Industry (BPI)."
Stone argues that the golden rice 2013 protest did not have any significant impact on the approval of the crop.
"Destroying test plots is a dubious way to express opposition, but this was only one small plot out of many plots in multiple locations over many years," he said. "Moreover, they have been calling golden rice critics 'murderers' for over a decade."
Although the Philippine Supreme Court recently issued a temporary suspension of GMO crop trials, which could definitely impact GMO crop development, Stone pointed out that "it's hard to blame the lack of success with golden rice on this recent action."
"Golden rice was a promising idea backed by good intentions," Stone said. "In contrast to anti-GMO activists, I argued that it deserved a chance to succeed. But if we are actually interested in the welfare of poor children—instead of just fighting over GMOs—then we have to make unbiased assessments of possible solutions. The simple fact is that after 24 years of research and breeding, Golden Rice is still years away from being ready for release."
Stone also said the Philippines has managed to slash the incidence of vitamin A deficiency by non-GMO methods.
Ken Roseboro, the editor and publisher of The Organic & Non-GMO Report and The Non-GMO Sourcebook, agrees that the failure of golden rice is not due to anti-GMO campaigns and that conventional agriculture presents viable solutions to VAD.
"As Glenn Davis Stone of Washington University recently documented, golden rice is failing, not because of activists attempts to block it, but to poor performance in field trials," Roseboro explained to EcoWatch via email. "Meanwhile, corn varieties with higher levels of vitamin A developed using non-GMO breeding methods are being grown in Africa and helping to address vitamin A deficiency there. But the press ignores this solution in favor of the failed techno-fix of golden rice."
He continued, "to say that GM crops are extensively tested is also not true since the FDA doesn't require safety testing of new GM crops and allows crop developers to voluntarily submit such safety data."
Ronnie Cummins, founder and international director of the Organic Consumers Association, has spoken out against the Nobel laureates' letter as well.
"What this letter shows is that even Nobel Prize scientists don't know, or don't want to know, since they take money from Monsanto and their minions, anything about the obvious human health, environmental and climate damage inflicted by GMOs, and the toxic pesticides and chemical fertilizers that always accompany them," Cummins told EcoWatch via email. "This is a perfect example of why the global grassroots have lost all faith in the bought and sold scientific, corporate and political establishment."
#GMO Golden Rice is no silver bullet: https://t.co/LAkbip7sTd @mercola #GEcrop technology is not safe! RT! https://t.co/mJDPhNk4z6

— Organic Consumers (@Organic Consumers)1467295527.0
YOU MIGHT ALSO LIKE
Glyphosate Given Last-Minute Approval Despite Failure to Secure Majority Support
Monsanto vs. People Power: EU Glyphosate License Set to Expire June 30
DARK Act Compromise Could Preempt Vermont's GMO Label Law
Monsanto Issued Two GMO Permits Despite Objection From 5 Million Nigerians
waterlust.com / @tulasendlesssummer_sierra .
Each product featured here has been independently selected by the writer. If you make a purchase using the links included, we may earn commission.
The bright patterns and recognizable designs of Waterlust's activewear aren't just for show. In fact, they're meant to promote the conversation around sustainability and give back to the ocean science and conservation community.
Each design is paired with a research lab, nonprofit, or education organization that has high intellectual merit and the potential to move the needle in its respective field. For each product sold, Waterlust donates 10% of profits to these conservation partners.
Eye-Catching Designs Made from Recycled Plastic Bottles
waterlust.com / @abamabam
The company sells a range of eco-friendly items like leggings, rash guards, and board shorts that are made using recycled post-consumer plastic bottles. There are currently 16 causes represented by distinct marine-life patterns, from whale shark research and invasive lionfish removal to sockeye salmon monitoring and abalone restoration.

One such organization is Get Inspired, a nonprofit that specializes in ocean restoration and environmental education. Get Inspired founder, marine biologist Nancy Caruso, says supporting on-the-ground efforts is one thing that sets Waterlust apart, like their apparel line that supports Get Inspired abalone restoration programs.
"All of us [conservation partners] are doing something," Caruso said. "We're not putting up exhibits and talking about it — although that is important — we're in the field."
Waterlust not only helps its conservation partners financially so they can continue their important work. It also helps them get the word out about what they're doing, whether that's through social media spotlights, photo and video projects, or the informative note card that comes with each piece of apparel.
"They're doing their part for sure, pushing the information out across all of their channels, and I think that's what makes them so interesting," Caruso said.
And then there are the clothes, which speak for themselves.
Advocate Apparel to Start Conversations About Conservation
waterlust.com / @oceanraysphotography
Waterlust's concept of "advocate apparel" encourages people to see getting dressed every day as an opportunity to not only express their individuality and style, but also to advance the conversation around marine science. By infusing science into clothing, people can visually represent species and ecosystems in need of advocacy — something that, more often than not, leads to a teaching moment.

"When people wear Waterlust gear, it's just a matter of time before somebody asks them about the bright, funky designs," said Waterlust's CEO, Patrick Rynne. "That moment is incredibly special, because it creates an intimate opportunity for the wearer to share what they've learned with another."
The idea for the company came to Rynne when he was a Ph.D. student in marine science.
"I was surrounded by incredible people that were discovering fascinating things but noticed that often their work wasn't reaching the general public in creative and engaging ways," he said. "That seemed like a missed opportunity with big implications."
Waterlust initially focused on conventional media, like film and photography, to promote ocean science, but the team quickly realized engagement on social media didn't translate to action or even knowledge sharing offscreen.
Rynne also saw the "in one ear, out the other" issue in the classroom — if students didn't repeatedly engage with the topics they learned, they'd quickly forget them.
"We decided that if we truly wanted to achieve our goal of bringing science into people's lives and have it stick, it would need to be through a process that is frequently repeated, fun, and functional," Rynne said. "That's when we thought about clothing."
Support Marine Research and Sustainability in Style
To date, Waterlust has sold tens of thousands of pieces of apparel in over 100 countries, and the interactions its products have sparked have had clear implications for furthering science communication.
For Caruso alone, it's led to opportunities to share her abalone restoration methods with communities far and wide.
"It moves my small little world of what I'm doing here in Orange County, California, across the entire globe," she said. "That's one of the beautiful things about our partnership."
Check out all of the different eco-conscious apparel options available from Waterlust to help promote ocean conservation.
Melissa Smith is an avid writer, scuba diver, backpacker, and all-around outdoor enthusiast. She graduated from the University of Florida with degrees in journalism and sustainable studies. Before joining EcoWatch, Melissa worked as the managing editor of Scuba Diving magazine and the communications manager of The Ocean Agency, a non-profit that's featured in the Emmy award-winning documentary Chasing Coral.
The U.S. Environmental Protection Agency (U.S. EPA) has issued a new rule raising the allowed residue levels of Monsanto's glyphosate herbicide, Roundup, on food.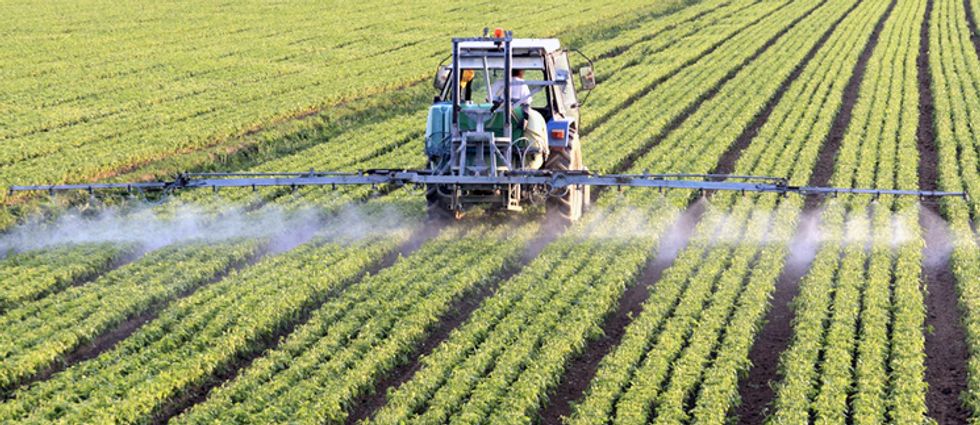 Glyphosate is an herbicide produced and marketed by Monsanto Corporation, the agrochemical and biotechnology giant. Monsanto claims that glyphosate is safe and has successfully lobbied the U.S. EPA to raise the residue limits of this toxic chemical.
But independent scientists disagree with Monsanto: several recently published peer-reviewed studies point to serious health impacts from exposure to this toxic herbicide.
Glyphosate has been shown in several recent studies to be an endocrine disruptor. According to the National Institutes of Health, endocrine disruptors could have long-term effects on public health, especially reproductive health. And the "dose makes the poison" rule does not apply to endocrine disruptors, which wreak havoc on our bodies at low doses.
The U.S. EPA must consider independent and recent science rather than depending on industry-funded, outdated studies supplied by Monsanto. A June study concluded that glyphosate "exerted proliferative effects in human hormone-dependent breast cancer." An April study by a Massachusetts Institute of Technology scientist concluded that "glyphosate enhances the damaging effects of other food borne chemical residues and environmental toxins," and pointed out that glyphosate's "negative impact on the body is insidious and manifests slowly over time as inflammation damages cellular systems throughout the body."
Instructions for Submitting Comments
Click here to submit your comment electronically.
If you are submitting on your own behalf, for the required field "Organization Name," please enter "Citizen."
The deadline for submitting comments is Monday, July 1.
Sample Letter
You may cut and paste, but you are encouraged to personalize:
The EPA's final rule raising the residue limits of glyphosate is unacceptable and based on outdated science.
The toxicology profile for glyphosate is not "complete," as the EPA claims. Ongoing research shows glyphosate may promote breast cancer, induce inflammation, and act as an endocrine disruptor.
I urge you to perform a careful review of independent science to determine the health impacts of raising the residue limit for glyphosate.
Comment today to let the U.S. EPA know that their decision to cater to Monsanto's interests is unacceptable given the recent science pointing to serious harm from this toxic herbicide.
Visit EcoWatch's BIODIVERSITY and GE FOOD pages for more related news on this topic.

By Janet Cotter
There's been a lot of "noise" recently about how genetically engineered (GE) crops can help "feed the world" and that they can help agriculture in a climate-affected world. But are these promises real or just hype?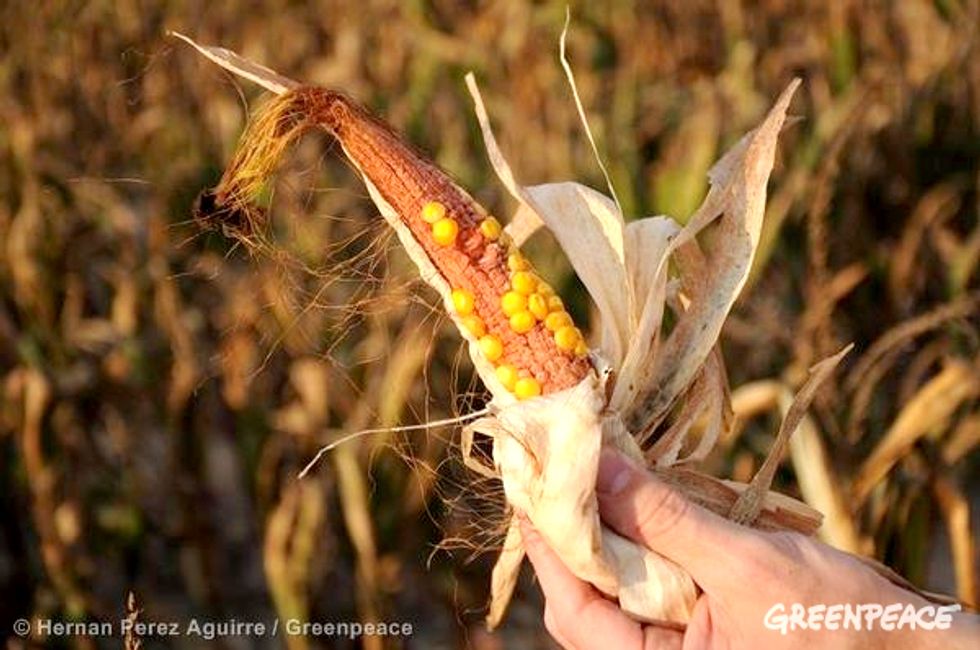 If we look at recent studies, they actually highlight the failures of GE technology to deliver on its promises, and the mounting evidence that agricultural productivity is better served by a focus on ecological agriculture1. For instance, the latest study by the University of Canterbury, New Zealand found that:
Despite the claims that GE might be needed to feed the world, we found no yield benefit when the United States was compared to West Europe, other economically developed countries of the same latitude which do not grow GE crops.
This is not altogether surprising as there simply are no GE crops designed to increase yield. They do not exist.
The majority of currently existing GE crops—for example Monsanto's "Roundup Ready" GE soya—are herbicide tolerant, which allow herbicides to be sprayed liberally, killing all plants apart from the GE crop. This is not good for biodiversity because it affects animals such as birds2 and insects3 by reducing the abundance of plants that they feed on. This might also include bees, adding pressure to already declining populations.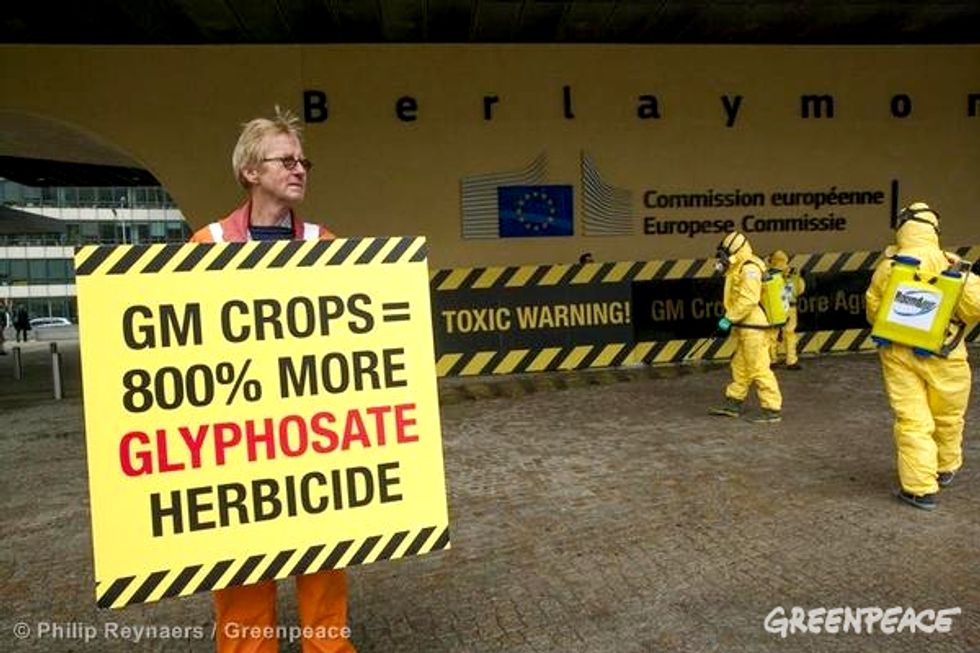 The remainder of GE crops are mostly insect resistant and produce their own pesticide (for example GE Bt corn). These are also not good for biodiversity as these GE crops can kill other insects such as butterflies4. Problems of insect resistance5 and other, secondary6 insect pests, mean that farmers have to continue spraying pesticides with GE Bt crops. With GE crops, farmers are still on the pesticide treadmill.
The reality is that the promised "beneficial" GE crops are stuck at the development stage in the lab. The reason is that scientists are finding that the traits we need to help crops to cope with climate change (e.g. heat tolerance) or increased nutrition (e.g. enhanced vitamins) are actually quite complex and controlled by several genes. Genetic engineering is a crude technology and is no match the tightly controlled network regulating gene expression in cells. For example, "Golden" rice, a GE rice variety, is still in development after 20 years, largely because of the complexity of the genetic engineering.
Meanwhile, advances in conventional breeding mean that several of the crops promised by genetic engineering are already in farmer's fields. For example, both flood and drought tolerant rice are already in farmer's fields and drought resistant maize is available in many parts of Africa where it's needed. Nutrient enhanced crops also exist already—without using genetic engineering but a more sustainable solution is to improve access to a healthy and diverse diet.
It's clear that GE crops are not capable of producing the crops that farmers and consumers need, whilst the quiet revolution in conventional breeding techniques is already producing these crops.
GE crops are stuck with two simple traits: herbicide tolerance and insect resistance. These do not help to "feed the world", but pose threats to human and animal health, as well as biodiversity.
Visit EcoWatch's GE FOOD page for more related news on this topic.
1 Heinemann, JA et al. 2013. Sustainability and innovation in staple crop production in the US Midwest, International Journal of Agricultural Sustainability: DOI:10.1080/14735903.2013.806408
1 Jacobsen SE et al.2013. Feeding the world: genetically modified crops versus agricultural biodiversity. Agronomy for Sustainable Development: DOI 10.1007/s13593-013-0138-9
1 Quist DA et al. 2013. Hungry for Innovation: pathways from GM crops to agroecology. Ch. 19 in: European Environmental Agency (EEA) Late lessons from early warnings: science, precaution, innovation. Vol. 2. EEA Report no 1/2013 pp. 490-517
2 Heard MS et al. 2003a. Weeds in fields with contrasting conventional and genetically modifies herbicide-tolerant crop – I. Effects on abundance and diversity. Philosophical Transactions of The Royal Society London B 358: 1819-1832; Heard MS et al. 2003b. Weeds in fields with contrasting conventional and genetically modified herbicide-tolerant crops. II. Effects on individual species. Philosophical Transactions of The Royal Society London B 358: 1833-1846
3 Pleasants JM & Oberhauser KS 2012. Milkweed loss in agricultural fields because of herbicide use: effect on the monarch butterfly population. Insect Conservation and Diversity doi: 10.1111/j.1752-4598.2012.00196.x
4 Dively GP et al. 2004. Effects on monarch Butterfly larvae (Lepidoptera: Danaidae) after continuous exposure to Cry1Ab expressing corn during anthesis. Environmental Entomology 33: 1116-1125
5 Tabashnik B et al. 2013. Insect resistance to Bt crops: lessons from the first billion acres. Nature Biotechnology 31: 510-521
6 Catangui MA & Berg RK 2006.Western bean cutworm, Striacosta albicosta (Smith) (Lepidoptera : Noctuidae), as a potential pest of transgenic Cry1Ab Bacillus thuringiensis corn hybrids in South Dakota Environmental Entomology 35 1439-1452

By Genna Reed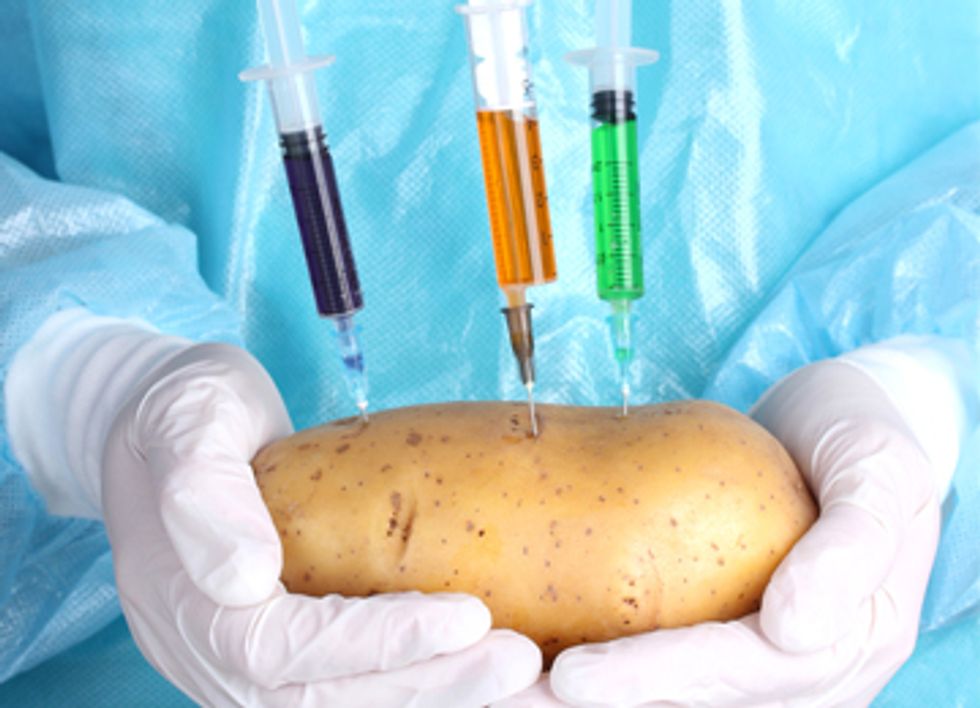 Photo courtesy of Shutterstock
The J.R. Simplot Company, giant potato supplier for McDonald's, has spent years working on the perfect potato. Its new genetically engineered (GE) traits—which will be offered in five different varieties of potatoes—up for approval by the U.S. Department of Agriculture (USDA) has lower levels of a carbohydrate called acrylamide, which may cause cancer, and also has reduced black spot bruising. These potatoes will be used as frozen fries, potato chips and shoestrings, which make up approximately 50 percent of the potato market in the U.S., according to Simplot.
Both of the desired traits are achieved through the reduced expression of enzymes, affecting the amino acid asparagine for the low acrylamide trait and the enzyme polyphenol oxidase (PPO) for reduced bruising (the same way GE apples have been engineered not to brown). The problem is that an alteration in just one enzyme can unintentionally affect other plant characteristics as well as the plant's health.
These GE potatoes will likely be fried using Monsanto's new-and-improved omega-3 soybean oil, which will probably be marketed to lead consumers to believe that the bio-engineered combination is "healthy" fried food. A low-acrylamide potato may reduce levels of just one of the harmful chemicals brought out by frying foods but there are other dangerous compounds that are produced when food is heated to very high temperatures, including advanced glycation endproducts, or AGEs, which can lead to "chronic inflammation and oxidative stress," (also linked to cancer). And of course this new fried "goodness" doesn't address the high-calorie and low-nutrient content that make fried potatoes unhealthy in the first place.
Historically, GE potatoes have not fared so well in the marketplace. Monsanto's NewLeaf GE potatoes were approved in 1995, but the company pulled its potatoes from the market in 2001. If approved, these potatoes may face the same fate and never make it into happy meals across America. But these potatoes could also be exported, since Simplot has submitted its petition for approval to Canada, Mexico, Japan and South Korea.
The USDA will be seeking comments until July 2 and we intend to tell them to further review the potential health effects of these GE potatoes.
Visit EcoWatch's GE FOOD page for more related news on this topic.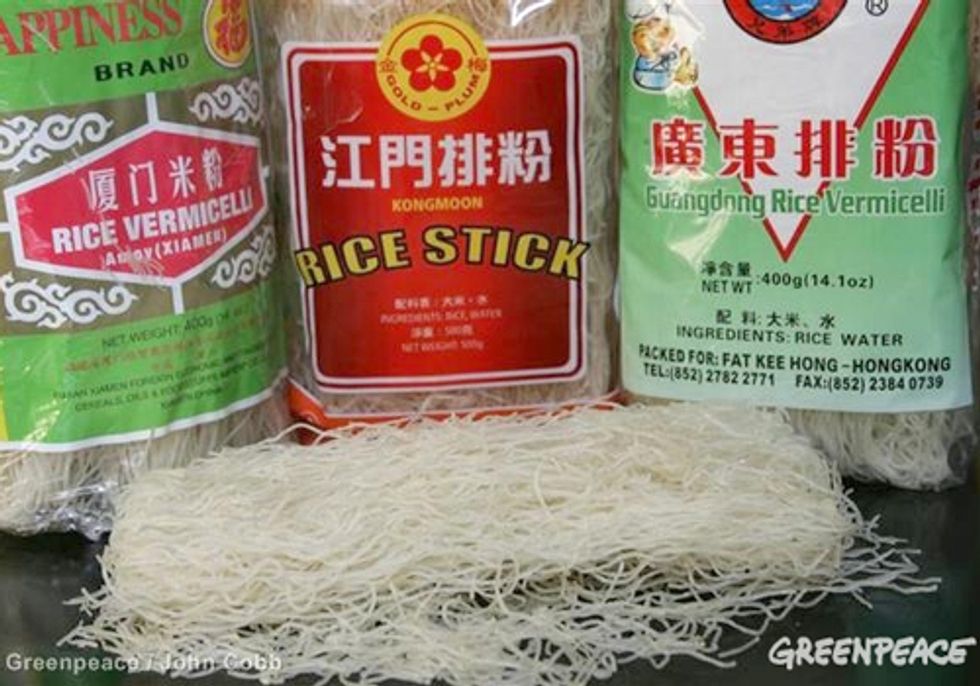 Recently, China proposed to legislate against genetically engineered (GE) grains. This means that staple foods such as rice cannot be researched, planted or sold on the Chinese market, nor can it be exported.
Greenpeace China has campaigned against GE rice since 2004, and in September 2011, the Chinese government announced the suspension of GE rice and wheat commercialisation. That was the first nail in the GE coffin. This time the Chinese have gone a step further and put a legislative proposal on the table.
In the past few years other Asian countries have said no to GE foods as well. India made a ground-breaking decision by putting a moratorium on the approval of Bt Brinjal (eggplant) in 2010 and in 2011 the Thai government decided to keep its rice GE-free.
Other Asian countries, such as the Philippines and Bangladesh are currently in the process of developing and commercializing GE grains so the proposed grain law in China should send a message to decision-makers globally that GE is not welcome in Asia, which companies such as Monsanto and Bayer, regard as a key future market for their GE seeds.
Europe voiced a loud no to GE in 2009 after 1 million Europeans signed a Greenpeace petition. Annual industry figures that were recently released by the International Service for the Acquisition of Agri-biotech Applications (ISAAA), a group funded by the biotech industry to promote GM crops, confirmed the commercial failure of GE food in Europe. Only around 0.06 percent of the EU's farmland was used in 2011 to grow GE food.
While we await the legislative proposal to be passed into law, China should focus its future investments on sustainable agriculture that has the capacity of providing rice to all Chinese, just as it has in the past 7,000 years. We believe that ecological farming should be adopted as the national policy framework for food and agriculture in China and in all countries around the globe to form a solution that provides food for all.
For more information, click here.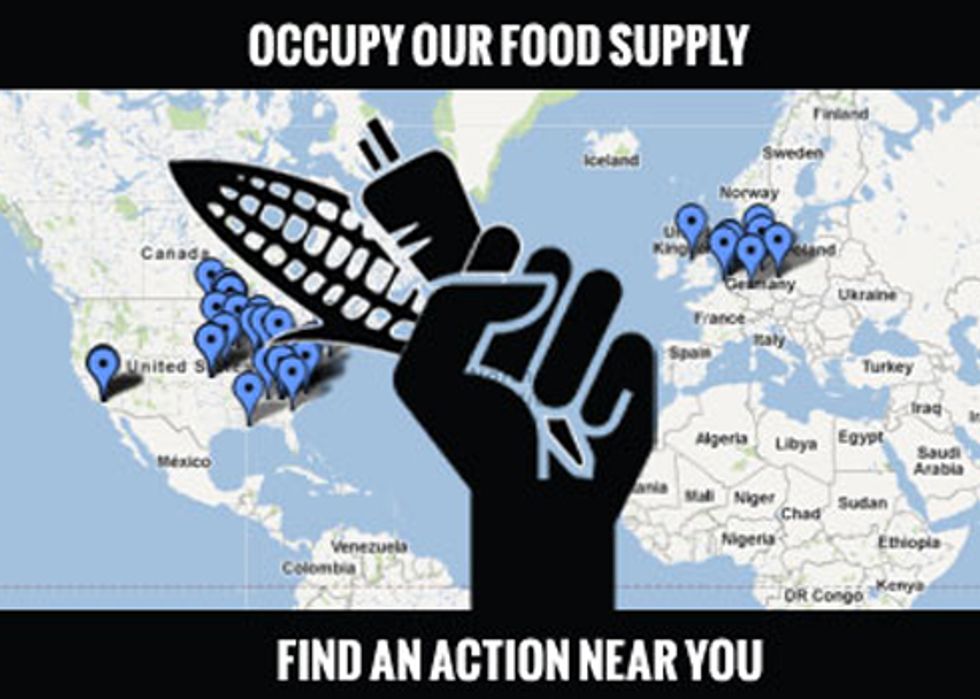 On Feb. 27, an unprecedented alliance of more than 60 Occupy groups and 30 environmental, food and corporate accountability organizations will join together for Occupy our Food Supply, a global day of action resisting the corporate control of food systems.
The call to Occupy our Food Supply, facilitated by Rainforest Action Network, is being echoed by prominent thought leaders, authors, farmers and activists including the Indian environmentalist Vandana Shiva, Food Inc.'s Robert Kenner, music legend Willie Nelson, actor Woody Harrelson, and authors Michael Pollan, Raj Patel, Anna Lappe, Gary Paul Nabhan, and Marion Nestle, among others. (See quotes in release below). The central theme uniting this diverse coalition is a shared sense of urgency to resist the corporate consolidation of food systems and create socially and environmentally just local solutions.
"Nothing is more important than the food we eat and the family farmers who grow it," said Willie Nelson, founder and president of Farm Aid. "Corporate control of our food system has led to the loss of millions of family farmers, destruction of our soil, pollution of our water and health epidemics of obesity and diabetes. We simply cannot afford it. Our food system belongs in the hands of many family farmers, not under the control of a handful of corporations."
From Brazil, Hungary, Ireland, and Argentina to dozens of states in the U.S., thousands of people will be participating in the Feb. 27 global day of action.  Participants will be reclaiming unused bank-owned lots to create community gardens; hosting seed exchanges in front of stock exchanges; labeling products on grocery store shelves that have genetically engineered ingredients; building community alliances to support locally owned grocery stores and resist Walmart megastores; and protesting food giants Monsanto and Cargill.
"Occupy our Food Supply is a day to reclaim our most basic life support system—our food—from corporate control. It is an unprecedented day of solidarity to create local, just solutions that steer our society away from the stranglehold of industrial food giants like Cargill and Monsanto," said Ashley Schaeffer, Rainforest Agribusiness campaigner with Rainforest Action Network (RAN).
Never have so few corporations been responsible for more of our food chain. Of the 40,000 food items in a typical U.S. grocery store, more than half are now brought to us by just 10 corporations. Today, three companies process more than 70 percent of all U.S. beef—Tyson, Cargill and JBS. More than 90 percent of soybean seeds and 80 percent of corn seeds used in the U.S. are sold by just one company—Monsanto. Four companies are responsible for up to 90 percent of the global trade in grain. And one in four food dollars is spent at Walmart.
The overwhelming support for Occupy our Food Supply underscores the unity between farmers, parents, health care professionals, human rights activists, food justice advocates and food lovers around the world who are increasingly viewing their concerns as different manifestations of the same underlying problem—a food system structured for short term profit instead of the long term health of people and the planet.
Supporting groups include—Bay Localize, Berkeley Association for Animal Advocacy, Biosafety Alliance, California Food and Justice Coalition, Chiapas Support Committee, Family Farm Defenders, Food Democracy Now, Food First, National Family Farms Coalition, PAN (Pesticide Action Network), Pesticide Watch, Planting Justice, Organic Consumers Association, Occupy Big Food, Occupy Claremont, Occupy Cargill, Occupy DC, Occupy Delaware, Occupy Denver, Occupy Farms, Occupy for Animal Rights, Occupy Fort Lauderdale, Occupy Food, Occupy Gardens Toronto, Occupy Jacksonville, Occupy Maine, Occupy MN/Seeds of Change, Occupy Monsanto, Occupy Philly (Occupy Vacant Lots), Occupy Portland, OWS-Food Justice, OWS Puppets, OWS Sustainability, Occupy Santa Cruz, Occupy SF Environmental Justice Working Group, and Occupy the Food System- Oakland, among many others.
For the full list of supporters and more information on the events planned for Occupy our Food Supply, click here.
Vandana Shiva, Indian physicist and internationally renowned activist, adds—"Our food system has been hijacked by corporate giants from the seed to the table. Seeds controlled by Monsanto, agribusiness trade controlled by Cargill, processing controlled by Pepsi and Philip Morris, retail controlled by Walmart—is a recipe for Food Dictatorship. We must Occupy the Food system to create Food Democracy."
Raj Patel, activist, academic and author of The Value of Nothing, reflects—"It's hard for us to imagine life without food corporations because they've made our world theirs. Although we think food companies make food for us, in almost every way that matters, we—and our planet—are being transformed to suit food companies. From their marketing to children and exploitation of workers to environmental destruction in search of profit, the food industry represents one of the most profound threats to sustainability we face today."
Occupy Wall Street's Sustainability and Food Justice Committees issued this statement in support of #F27—"On Monday, February 27th, 2012, OWS Food Justice, OWS Sustainability, Oakland Food Justice & the worldwide Occupy Movement invite you to join the Global Day of Action to Occupy the Food Supply. We challenge the corporate food regime that has prioritized profit over health and sustainability. We seek to create healthy local food systems. We stand in Solidarity with Indigenous communities, and communities around the world, that are struggling with hunger, exploitation, and unfair labor practices." 
"On this day, in New York City, community gardeners, activists, labor unions, farmers, food workers, and citizens of the NYC metro area, will gather at Zuccotti Park at noon, for a Seed Exchange, to raise awareness about the corporate control of our food system and celebrate the local food communities in the metro area." 
Marion Nestle, professor and author of What to Eat and Food Politics: How the Food Industry Influences Nutrition and Health, said—"While the food industry digs in to fight public health regulations, the food movement will continue to attract support from those willing to promote a healthier and more sustainable food system. Watch for more young people going into farming and more farmers' markets, farm-to-school programs, school meal initiatives, and grassroots community efforts to implement food programs and legislate local reforms. There is plenty of hope for the future in local efforts to improve school meals, reduce childhood obesity, and make healthier food more available and affordable for all."
Rukaiya Rofiq, director of the human rights organization Yayasan SETARA Jambi in Indonesia, said—"It is encouraging to see Americans connecting the dots between the food choices they make at a grocery store and the serious impacts those choices have here in Southeast Asia. When an additive like palm oil is used to make cheap crackers and cookies it gives companies a green light to expand palm plantations at all costs which is why we see community member homes bulldozed when they fight expansion, Indigenous land rights ignored, and natural rainforests completely decimated. Invisible companies like Cargill, who are profiting off the backs of Indonesians, must be held accountable in the countries they call home." 
Michael Ableman, farmer and founder of the Center for Urban Agriculture in Goleta, California, said—"We are focusing on what we are for, as much as what we are against. We are re-occupying our soils with life and fertility and our communities with good food. We are working to rebuild the real economy, one based on soil and seeds and sunlight and individuals and communities growing together."
For more information, click here.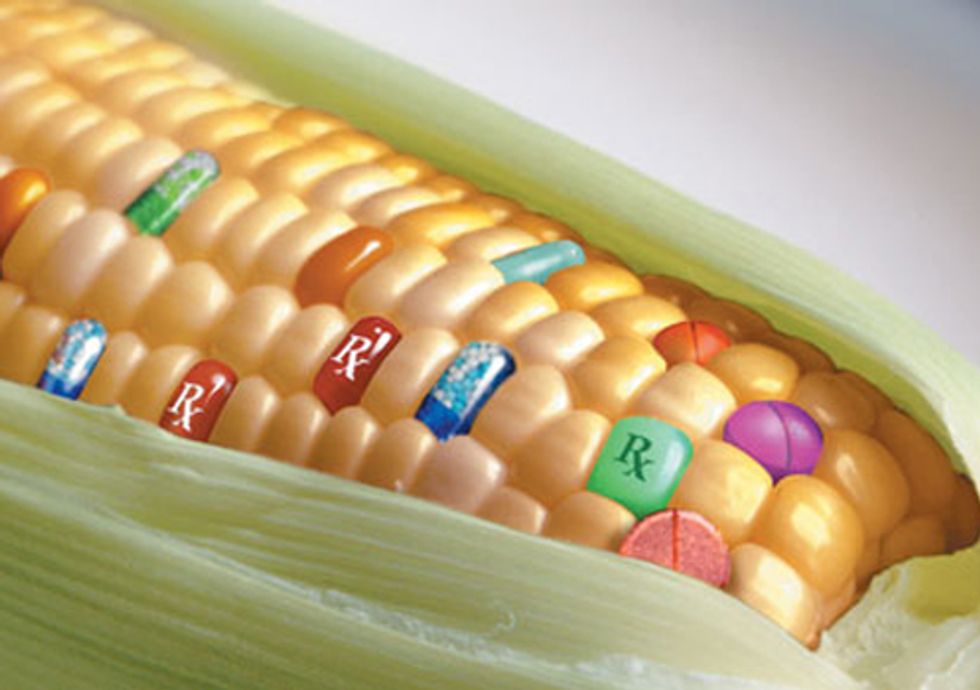 Monsanto's marketing efforts would have you believe that its product line—centered around genetically engineered (GE) seeds and the chemicals used to grow them—is a silver bullet to addressing the world's food and agricultural challenges. And this sales pitch has been extremely effective—so effective, in fact, that even well-educated elected officials, anti-hunger advocates, and everyday people often assume that such an approach is the only option to prevent hunger, reduce pollution, and adapt to climate change. These misconceptions in turn drive important policy decisions, including research priorities and allocation of taxpayer dollars.
The Union of Concerned Scientists' Eight Ways Monsanto Fails at Sustainable Agriculture rebuts these myths and demonstrates that the company's practices are actually holding back the development and expansion of better, cheaper, science-based ways of achieving results for farmers, consumers, and the environment.
But we don't have $120 million to spend on lobbying and PR efforts like Monsanto does to help us get attention to this critical issue—and that's where you come in. We need your help to set the record straight on Monsanto and its products' shortcomings, and give sustainable agriculture a fighting chance. Help change the conventional wisdom, one tweet or Facebook post at a time. And if you're not on Twitter or Facebook, you can help spread the word here.
Eight ways Monsanto fails at sustainable agriculture—What's your "favorite"?
1. Promoting Resistance
Monsanto's RoundupReady and Bt technologies lead to resistant weeds and insects that can make farming harder and reduce sustainability.
2. Increasing Herbicide Use
Roundup resistance has led to greater use of herbicides, with troubling implications for biodiversity, sustainability and human health.
3. Spreading Gene Contamination
Engineered genes have a bad habit of turning up in non-GE crops. And when this happens, sustainable farmers—and their customers—pay a high price.
4. Expanding Monoculture
Monsanto's emphasis on limited varieties of a few commodity crops contributes to reduced biodiversity and, as a consequence, to increased pesticide use and fertilizer pollution.
5. Marginalizing Alternatives
Monsanto's single-minded emphasis on GE fixes for farming challenges may come at the expense of cheaper, more effective solutions.
6. Lobbying and Advertising
Monsanto outspends all other agribusinesses on efforts to persuade Congress and the public to maintain the industrial agriculture status quo.
7. Suppressing Research
By creating obstacles to independent research on its products, Monsanto makes it harder for farmers and policy makers to make informed decisions that can lead to more sustainable agriculture.
8. Falling Short on Feeding the World
Monsanto contributes little to helping the world feed itself, and has failed to endorse science-backed solutions that don't give its products a central role.
Got other ideas for how Monsanto fails at sustainable agriculture? Tweet your response with the hashtag #MonsantoFail.
For more information, click here.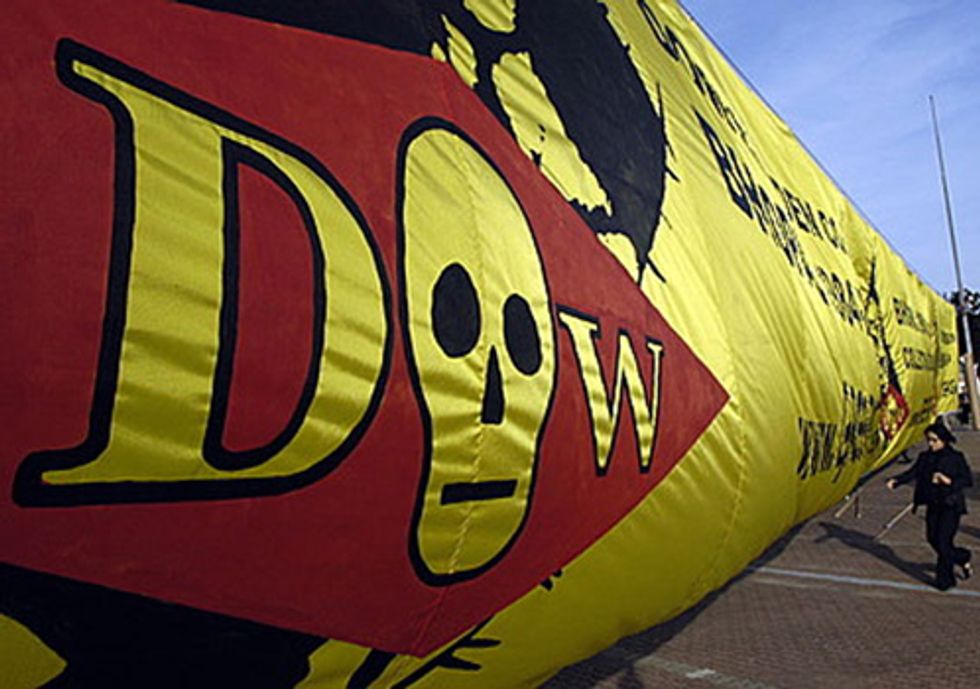 Dow Chemical is currently requesting unprecedented approval from the U.S. Department of Agriculture (USDA) to market a genetically engineered (GE) version of corn that is resistant to 2,4-D, a major component of the highly toxic Agent Orange. Agent Orange was the chemical defoliant used by the U.S. in Vietnam, and it caused lasting ecological damage as well as many serious medical conditions in both Vietnam veterans and the Vietnamese.
Exposure to 2,4-D has been linked to major health problems that include cancer (especially non-Hodgkin's lymphoma), lowered sperm counts, liver disease and Parkinson's disease. A growing body of evidence from laboratory studies shows that 2,4-D causes endocrine disruption, reproductive problems, neurotoxicity and immunosuppression. Furthermore, tests within the industry show that 2,4-D is contaminated with dioxins, a group of highly toxic chemical compounds that bioaccumulate, so even a minute amount can accumulate as it goes up the food chain, causing dangerous levels of exposure. Dioxins in Agent Orange have been linked to many diseases, including birth defects in children of exposed parents—and, according to the U.S. Environmental Protection Agency (EPA), 2,4-D is the seventh largest source of dioxins in the U.S.
USDA approval of Dow's GE corn will trigger a big increase in 2,4-D use—and our exposure to this toxic herbicide. Yet the USDA has not assessed how much exposure will increase, nor analyzed the resulting impacts on public health, the environment or neighboring farmers (2,4-D is prone to drift and cause damage to nearby crops). Instead, the agency has once again bowed to the pesticide industry by giving preliminary approval to still another pesticide-promoting crop that will likely harm people and their children, including farmers, and the environment. The USDA claims to be adhering to a scientific process, yet they are blatantly ignoring the science on 2,4-D.
Tell the USDA to reject 2,4-D resistant GE corn—Sign the petition today.
For more information, click here.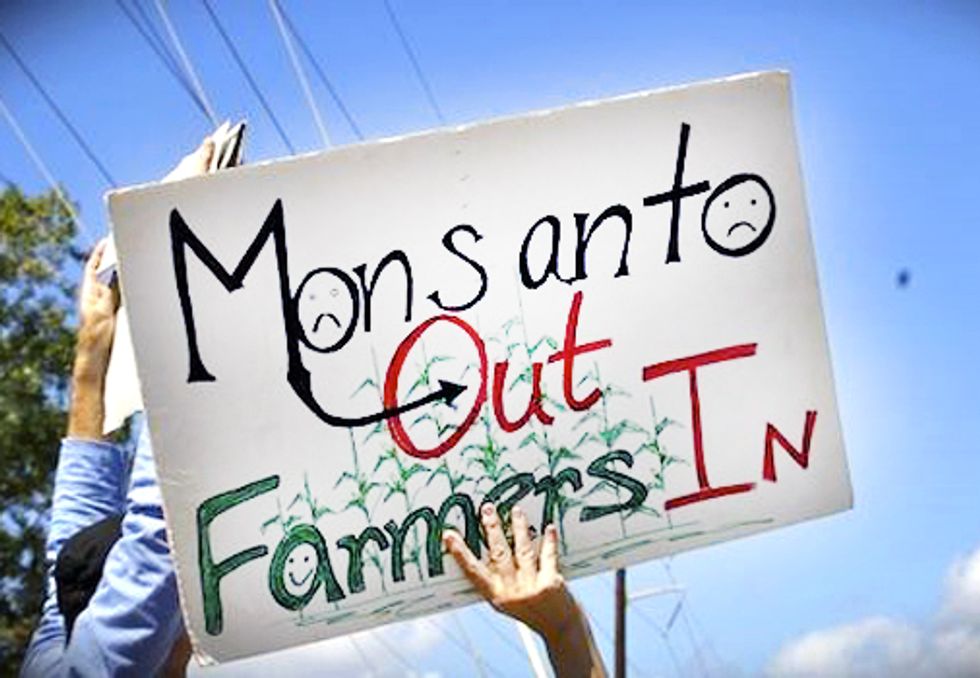 On Jan. 31 family farmers from across the country took part in the first phase of the Organic Seed Growers and Trade Association (OSGATA) et al. v. Monsanto court case. The case was filed to protect farmers from genetic trespass by Monsanto's genetically modified (GMO) seed, which can contaminate organic and non-GMO farmers' crops and open farmers up to abusive lawsuits.
About 200 supporters met at Foley Square in Manhattan the morning of Jan. 31. In total, more than 300,000 people are represented by 83 plaintiffs from 36 organizations in the case against Monsanto.
As a result of aggressive lawsuits against farmers with contaminated crops, Monsanto has created an atmosphere of fear in rural America and driven dozens of farmers into bankruptcy. Farmers now have the opportunity to fight back and have their voices heard in a court of law.
The Federal District Court judge has agreed to hear oral arguments in this landmark case to decide whether or not the case will move forward. The judge has until March 31st to make a decision.
Occupy Wall Street Food Justice, Occupy Big Food and Food Democracy Now! assembled at Foley Square in solidarity with farmers on the front lines of the struggle against corporate domination of the nation's food system.
To learn more about the details of the case, click here.
For more information, click here.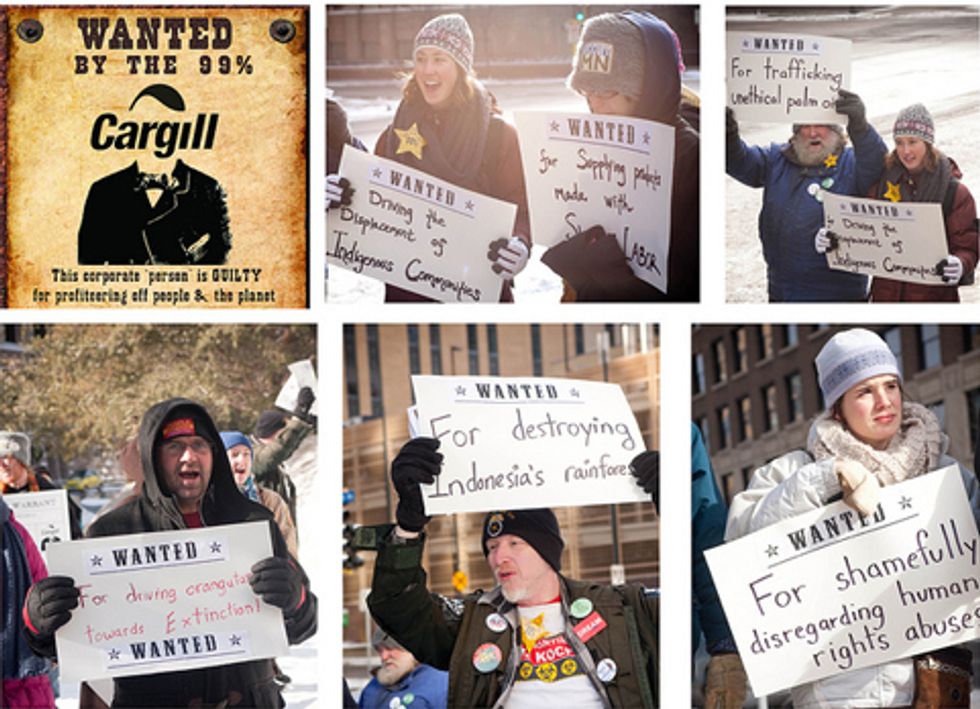 As part of a nationwide day of action protesting the legal doctrine of 'corporate personhood' enshrined by the controversial Citizens United vs. FEC Supreme Court ruling two years ago, a diverse crowd of more than forty Occupy activists and allies staged a rally and march with the Rainforest Action Network (RAN) through downtown Minneapolis on Saturday, Jan. 21. The demonstration began with a rally at the site of the former Occupy Minneapolis encampment, then marched to the Minneapolis Grain Exchange, where Cargill has an office, to post a mock "Citizen's Arrest Warrant" for Cargill Inc.
The colorful group, led by a large banner that read, "WANTED: Cargill Inc., For Profiteering Off People and Planet," then took to the streets waving placards that outlined their grievances with the agribusiness giant. The crowd included environmentalists upset that Cargill, the largest U.S. importer of palm oil, is connected to the destruction of Indonesian rainforests, as well as food justice advocates who say Cargill's support of free trade policies comes at a high price for farmers and food security. Occupy activists pointed out that the family that controls Cargill is the wealthiest in America and uses Cargill's corporate status as a 'person' to exercise political influence in Washington, D.C., where the company spent $1.3 million on lobbying last year alone.
Rainforest Action Network's Agribusiness Campaigner Ashley Schaeffer was among the protesters. She said, "Cargill is an enormously powerful agricultural company that has a dangerous stranglehold on our food supply. This is unhealthy to both people and the planet because Cargill continues to operate with the profits-above-all business mentality of a cutthroat trader." Schaeffer continued, "Cargill has known for many years that its practices are contributing to abuses that include slave labor and rainforest destruction but the company stubbornly continues to operate without basic safeguards that could prevent these violations."
Mark Muller, director of the Food and Justice Program at the Institute for Agriculture and Trade Policy (IATP), said, "We at the Institute for Agriculture and Trade Policy are thrilled by the local food movement. And yet we also recognize that we can only go so far given how far our political and legal system tilts in favor of corporations. Reclaiming our democracy from corporate control is crucial, and we salute all the activists that are working for a better food system and a better democracy."
Hillary Lehr, also with Rainforest Action Network, commented, "Corporations aren't people, everyone knows that. But the infamous Jan. 21, 2010 ruling on the Citizens United vs. FEC Supreme Court case allows corporations unlimited political spending during elections, under a constitutional right equating money with free speech. If corporations have rights like people, shouldn't that mean they can be arrested for their crimes like people, too?"
Cargill is the largest privately held company in the world and is owned by the richest family in America. Cargill's annual revenue ($119 billion) is bigger than 70 percent of the world's countries. Cargill is responsible for 25 percent of all U.S. grain exports, handles 25 percent of global palm oil trade (the world's most used vegetable oil) and supplies about 22 percent of the U.S. domestic meat market.
Paul Sobocinski, a Land Stewardship Project organizer and family farm livestock producer from Wabasso, Minn. said, "Cargill wants to control the livestock industry, they'd like to turn family farmers into modern day serfs who do their bidding while Cargill walks away with the lion's share of the profits. Cargill is fully integrated and one of the largest meatpackers and factory farm hog producers in the country. It's time to hold them accountable. It's time to take back our food and farming system from corporate agribusiness."
The event in Minneapolis was part of a week of coordinated protests nationwide that included Occupy Congress in Washington, D.C., Occupy the Courts and mass demonstrations across the country on Jan. 20.
For more information on Cargill, see RAN's Cargill fact sheet by clicking here.
For more information, click here.
—————
Rainforest Action Network runs hard-hitting campaigns to break North America's fossil fuels addiction, protect endangered forests and Indigenous rights, and stop destructive investments around the world through education, grassroots organizing, and non-violent direct action. For more information, visit www.ran.org.
Check out this latest video from the Just Label It! campaign to encourage the U.S. Food and Drug Administration to label genetically engineered food. Labels Matter, part of a new project by director of Food, Inc., Robert Kenner, tells the story of three consumers who share a belief in the right to know the truth about the production of their food.
Take action against unlabeled genetically engineered foods by clicking here to sign the Just Label It! petition.
For a teaser of Robert Kenner's new project, check out the video below.
For more information, click here.