Brazilian farmers say their GMO corn is no longer resistant to pests, Reuters reported Monday.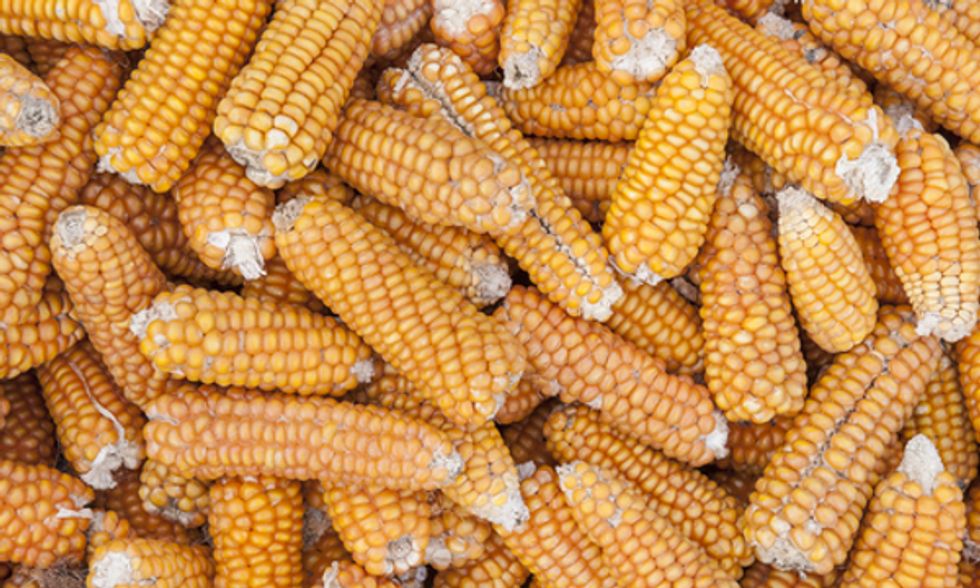 An unintended outcome is almost certainly an increased use of pesticides. Photo courtesy of Shutterstock
The Association of Soybean and Corn Producers of the Mato Grosso region said farmers first noticed in March that their genetically modified (GMO) corn crops were less resistant to the destructive caterpillars that "Bt corn"—which has been genetically modified to produce a toxin that repels certain pests—is supposed to protect against. In turn, farmers have been forced to apply extra coats of insecticides, racking up additional environmental and financial costs.
The association, which goes by the name Aprosoja-MT, is calling on Monsanto, DuPont, Syngenta and Dow companies to offer solutions as well as compensate the farmers for their losses. In a release posted to the Aprosoja-MT website, spokesman Ricardo Tomcyzk said farmers spent the equivalent of $54 per hectare to spray extra pesticides, and that the biotech companies promised something they didn't deliver, "i.e. deceptive advertising." (via Google Translate)
But Monsanto, et al are unlikely to accommodate the farmers. According to Reuters, "seed companies say they warned Brazilian farmers to plant part of their corn fields with conventional seeds to prevent bugs from mutating and developing resistance to GMO seeds."
Earlier this year, a similar problem arose in the U.S., when scientists confirmed that corn-destroying rootworms had evolved to be resistant to the GMO corn engineered to kill them.
The industry response to such loss of efficacy is not to encourage biodiversity, but to further modify the organisms, according to the nonprofit GM Watch.
The case of Brazil is an example for an overall trend showing that nearly twenty years after the start of commercialization of Bt crops, there are problems in several countries growing this kind of genetically engineered crop. Industry tries to tackle this issue by commercialization of so called "stacked events" that produce several different Bt toxins. The best known example is Monsanto's SmartStax maize that produces six different Bt toxins.
Another unintended outcome is almost certainly an increased use of pesticides, as has already happened in Mato Grosso.
You Might Also Like
New Study Shows Glaring Differences Between GMO and Non-GMO Foods
Chinese Army Bans All GMO Grains and Oils
French Parliament Bans GMO Corn
EcoWatch Daily Newsletter
Kaye Spector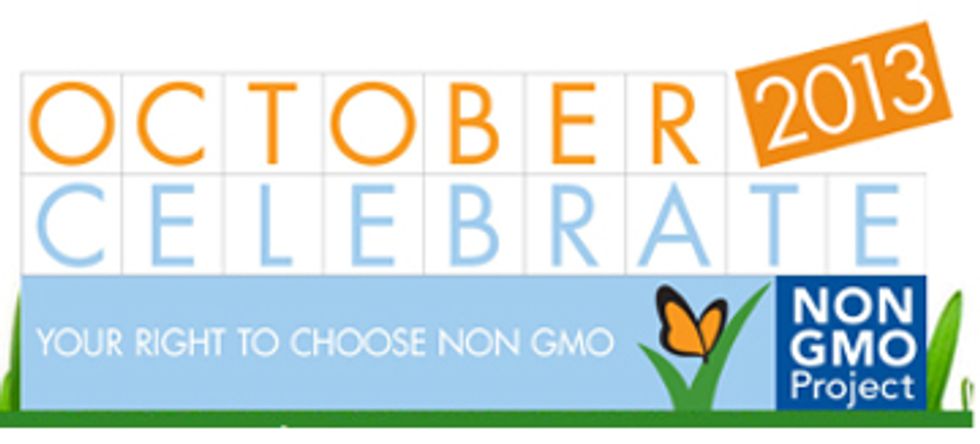 The Non-GMO Project is celebrating the third annual Non-GMO Month during October against a backdrop of rising consumer and manufacturer demand for non-GMO product labeling.
Demand for the label has gotten so high that the board overseeing the certification program recently decided to expand it. Sales of non-GMO labeled products have reached more than $3.5 billion in the three years since the launch of the label.
At the same time, U.S. retail sales of non-GMO foods and beverages are projected to increase at a compound annual growth rate of 12.9 percent in the next five years, Packaged Facts predicted in a recent report. Non-GMO sales could represent 30 percent of the U.S. market with a value of $264 billion in 2017, the report said. 
GMOS are plants or animals that have been genetically engineered with DNA from bacteria, viruses or other plants and animals. These experimental combinations of genes from different species cannot occur in nature or in traditional crossbreeding. In the U.S., GMOs are in up to 80 percent of conventionally processed food.
More than 80 percent of GMOs grown worldwide are engineered to tolerate herbicides. As a result, use of toxic herbicides like Roundup has increased 15 times since GMOs were introduced. GMO crops are also responsible for the emergence of super weeds and super bugs that can only be killed with more toxic poisons like 2,4-D (a major ingredient in Agent Orange). Scientists have linked these poisons to an often-fatal immune system cancer in farmers, among other adverse effects.
The long-term impact of GMOs are unknown, and they cannot be recalled once released into the environment.
The Non-GMO Project confers the labeling for non-GMO food and products. The group is North America's only third-party verification organization. 
The organization was formed in the absence of mandatory labeling by the government. But in 2013, 26 states proposed measures that would mandate clear labeling of genetically engineered ingredients on food packages. The hottest battle ground right now is in Washington state, where on Nov. 5, voters will decide on Proposition I-522, a citizen initiative that would mandate GMO labeling. The measure has pitted consumer and farmers' advocates against the multibillion-dollar agribusiness corporations.
Non-GMO Month was created to raise awareness about genetically modified organisms. Last year, more than 1,500 stores participated in Non-GMO Month in communities across the U.S. and Canada.
How to celebrate Non-GMO Month? Read up on the topic, choose food and products that are Non-GMO Verified or check out some events and activities.

waterlust.com / @tulasendlesssummer_sierra .
Each product featured here has been independently selected by the writer. If you make a purchase using the links included, we may earn commission.
The bright patterns and recognizable designs of Waterlust's activewear aren't just for show. In fact, they're meant to promote the conversation around sustainability and give back to the ocean science and conservation community.
Each design is paired with a research lab, nonprofit, or education organization that has high intellectual merit and the potential to move the needle in its respective field. For each product sold, Waterlust donates 10% of profits to these conservation partners.
Eye-Catching Designs Made from Recycled Plastic Bottles
waterlust.com / @abamabam
The company sells a range of eco-friendly items like leggings, rash guards, and board shorts that are made using recycled post-consumer plastic bottles. There are currently 16 causes represented by distinct marine-life patterns, from whale shark research and invasive lionfish removal to sockeye salmon monitoring and abalone restoration.

One such organization is Get Inspired, a nonprofit that specializes in ocean restoration and environmental education. Get Inspired founder, marine biologist Nancy Caruso, says supporting on-the-ground efforts is one thing that sets Waterlust apart, like their apparel line that supports Get Inspired abalone restoration programs.
"All of us [conservation partners] are doing something," Caruso said. "We're not putting up exhibits and talking about it — although that is important — we're in the field."
Waterlust not only helps its conservation partners financially so they can continue their important work. It also helps them get the word out about what they're doing, whether that's through social media spotlights, photo and video projects, or the informative note card that comes with each piece of apparel.
"They're doing their part for sure, pushing the information out across all of their channels, and I think that's what makes them so interesting," Caruso said.
And then there are the clothes, which speak for themselves.
Advocate Apparel to Start Conversations About Conservation
waterlust.com / @oceanraysphotography
Waterlust's concept of "advocate apparel" encourages people to see getting dressed every day as an opportunity to not only express their individuality and style, but also to advance the conversation around marine science. By infusing science into clothing, people can visually represent species and ecosystems in need of advocacy — something that, more often than not, leads to a teaching moment.

"When people wear Waterlust gear, it's just a matter of time before somebody asks them about the bright, funky designs," said Waterlust's CEO, Patrick Rynne. "That moment is incredibly special, because it creates an intimate opportunity for the wearer to share what they've learned with another."
The idea for the company came to Rynne when he was a Ph.D. student in marine science.
"I was surrounded by incredible people that were discovering fascinating things but noticed that often their work wasn't reaching the general public in creative and engaging ways," he said. "That seemed like a missed opportunity with big implications."
Waterlust initially focused on conventional media, like film and photography, to promote ocean science, but the team quickly realized engagement on social media didn't translate to action or even knowledge sharing offscreen.
Rynne also saw the "in one ear, out the other" issue in the classroom — if students didn't repeatedly engage with the topics they learned, they'd quickly forget them.
"We decided that if we truly wanted to achieve our goal of bringing science into people's lives and have it stick, it would need to be through a process that is frequently repeated, fun, and functional," Rynne said. "That's when we thought about clothing."
Support Marine Research and Sustainability in Style
To date, Waterlust has sold tens of thousands of pieces of apparel in over 100 countries, and the interactions its products have sparked have had clear implications for furthering science communication.
For Caruso alone, it's led to opportunities to share her abalone restoration methods with communities far and wide.
"It moves my small little world of what I'm doing here in Orange County, California, across the entire globe," she said. "That's one of the beautiful things about our partnership."
Check out all of the different eco-conscious apparel options available from Waterlust to help promote ocean conservation.
Melissa Smith is an avid writer, scuba diver, backpacker, and all-around outdoor enthusiast. She graduated from the University of Florida with degrees in journalism and sustainable studies. Before joining EcoWatch, Melissa worked as the managing editor of Scuba Diving magazine and the communications manager of The Ocean Agency, a non-profit that's featured in the Emmy award-winning documentary Chasing Coral.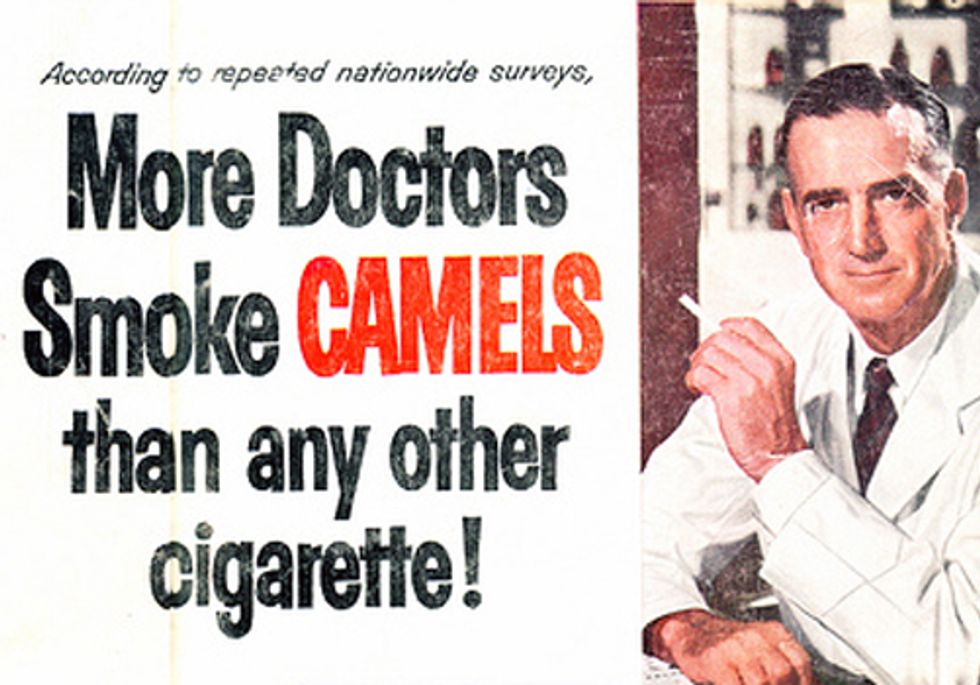 The food industry really hates it when you compare them to Big Tobacco. They try to deny the negative association by claiming that food is different than tobacco. Of course that's true, but why are the same consultants that have worked for the tobacco industry now shilling for Big Food, opposing the ballot initiative that would require labeling of all foods containing genetically modified organism (GMO) ingredients?
Hiring Secret Consultants for the Dirty Work
The latest financial filings in California for the "No on 37: Coalition Against the Deceptive Food Labeling Scheme" reveal a $7,500 payment to the Sacramento-based political consulting firm, MB Public Affairs. Here is how the Los Angeles Times described the firm last year:
MB Public Affairs is headed by Mark Bogetich, a garrulous operative known to his friends as "Bogey," who has helped a number of Republican candidates neutralize their opponents. In recent years, MB Public Affairs has worked for Altria, once known as the Phillip Morris Cos. …
Bogetich has also been called "the go-to guy for [the Republican] party," and "the only game in town." The Los Angeles Times article explains how last year MB Public Affairs filed more than 50 public record act requests to dig up dirt on a small but effective group called the Los Angeles Alliance for a New Economy. No wonder, since the organization has scored such important victories as a living wage for workers, which would threaten plenty of businesses.
But which ones? Who knows, because by hiring MB Public Affairs to do its dirty work, industry gets to keep its nose clean—a classic Big Tobacco tactic. Well-known brands such as PepsiCo (which I wrote about last week) and Kraft don't want to be associated with negative campaigning, so they farm out the job to consulting firms. In this case, they went right to the top, or the bottom. Things are likely to get ugly.
Creating Front Groups for the Dirty Work
Another tactic honed by Big Tobacco is to form a front group, which appears to be made up of small businesses and others designed to give the impression of a grassroots campaign, but in reality is funded by large corporations. This tactic, known as an astroturfing, is alive and well with "No on 37," which describes itself as, "A broad coalition of family farmers, scientists, doctors, taxpayers, small businesses, labor, food companies, biotechnology companies and grocers.
Small farmers and small businesses? I don't see any listed on the "Who We Are" page. I do see many not-so-small trade groups representing numerous not-so-small corporations, some of them from outside California, including CropLife America, which is a trade group for the biotech and pesticide industry.
Also, the "No on 37" campaign is represented by the law firm, Bell, McAndrews & Hiltachk, which has a sordid history of stealth tactics such as astroturfing. And no wonder, with former Phillip Morris outside council Tom Hiltachk as the campaign's treasurer. (His firm's address is listed on the webpage for where to send donations.)
Hiltachk had this disingenuous quote about the GMO labeling initiative back in February: "Farmers and food producers strongly oppose this costly, ill-conceived labeling proposition." There are those invisible farmers again.
No stranger to California politics, Hiltachk's firm represents the California Republican Party and helped make Arnold Schwarzenegger governor by orchestrating the statewide recall campaign of former Gov. Gray Davis.
According to PolluterWatch, Tom Hiltachk and his firm are well known for creating front groups that promote or attack ballot initiatives at the behest of the firm's wealthy corporate clients: "In the past Hiltachk has attacked anti-smoking initiatives while being paid by major tobacco corporations."
And this scathing article at ThinkProgress from 2010 describes Hiltachk's attempt to repeal California's clean energy policy and says his "under-the-radar tactics of shifting money around and using phony groups are nothing new." Specifically:
During the eighties and nineties, Hiltachk and his law partners helped the tobacco industry, with funding from Philip Morris and R.J. Reynolds, coordinate a variety of stealth front groups. While his law firm received over a million from tobacco interests, Hiltachk helped organize "Californians for Smokers' Rights," a supposedly "grassroots" group that relied on tobacco industry consumer lists to mobilize opposition to anti-smoking initiatives.
Another Big Tobacco front group Hiltachk's firm managed was "Californians for Fair Business Policy," which fought local efforts to enact smoke-free bans in California in the early 1990s.
This is going to be a busy election season for Hiltachk, as he is also the mastermind behind the deceptive union-busting Proposition 32, about which a local California paper writes: "if you liked Citizens United, you will love Prop 32." As the New Yorker sums it up in an article describing the firm's shady operations, "They specialize in initiatives that are the opposite of what they sound like."
Another group with Big Tobacco origins now spreading lies about the GMO labeling initiative is the unsubtle front group, "California Citizens Against Lawsuit Abuse," whose executive director recently warned us to "beware of trial lawyers lurking in your food." (It seems lawyers are scarier than altering the genetic code of the food supply.) According to the Center for Media and Democracy's Sourcewatch, Philip Morris is a primary funder of various "Citizens Against Lawsuit Abuse" groups, which under the guise of tort reform aim to make it harder to bring lawsuits for problems caused by hazardous products.
Doubt is Their Product
In sum, the food industry, to oppose a simple labeling law, is hiring lawyers and consultants with ties to the tobacco industry, to deploy stealth tactics such as creating front groups, digging up dirt on opponents, and spreading outright lies.
For decades the tobacco industry and its shills hid the truth by deploying its most effective weapon: manufacturing doubt about the health hazards of smoking. How many millions of Americans died as a result of Big Tobacco's deceptive and cynical campaign? Why would we trust these same operators now?
You can hardly blame industry for calling on such shady characters. Big Food has seen the polling data showing that more than 90 percent of consumers want to see GMO foods labeled. When you don't have the people or the truth on your side, all you have left is playing dirty.
Visit EcoWatch's GENETICALLY MODIFIED ORGANISM page for more related news on this topic.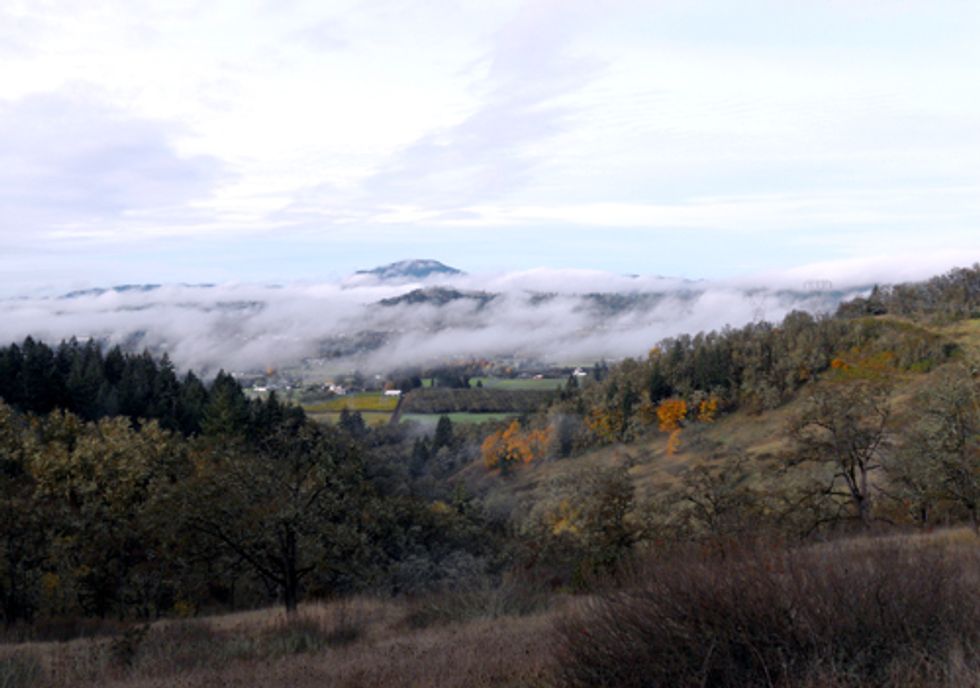 Until Aug. 10, Willamette Valley's organic farmers and seed producers were protected from the planting and cross-pollination of their crops by genetically engineered (GE) canola. However, new rules, fast-tracked without public comment by the Oregon Department of Agriculture (ODA)—announced Aug. 3 and effective only one week later—now allow for the planting of GE canola in areas previously deemed off-limits.
ODA Director Katy Coba states in the department's press release, "Since canola has been deregulated by USDA, ODA does not differentiate between conventional and GM canola or treat them differently." Given that 93 percent of U.S planted canola crops are genetically modified, this move represents a large threat to the integrity of Oregon's internationally recognized organic seed industry. The new rules are temporary for 180 days, but ODA plans to propose and implement permanent rules before the temporary ones expire. The department will begin accepting public input once the permanent rules are proposed, but by then the canola will already be in the ground.
ODA's decision is a dramatic shift from its previous policy on canola planting in the valley. The previous regulation, ORS 603-052-0880(2) stated, "Production of rapeseed for oil or seed is incompatible with production of crops of the same or related species grown for seed or vegetables." An Oregon State University report, Outcrossing Potential for Brassica Species and Implications for Vegetable Crucifer Seed Crops of Growing Oilseed Brassicas in the Willamette Valley, endorses this point. The study confirms that canola has the ability to hybridize with radish, cabbage, broccoli, cauliflower, brussels sprouts, kohlrabi, collards and kale crops.
Moreover, the report states, "Genetically modified canola presents the greatest risk to vegetable crucifer seed crops. Although it is very unlikely that transgenes would persist once transferred to the seed crop, the presence of the gene would make the seed crop unsuitable for markets that have strict tolerances on GMO contamination."
Many organic seed crops are grown in the fertile alluvial plains of the Willamette Valley. Since organic standards do not permit the production of genetically modified crops, organic seed farmers may be imperiled by ODAs decision. Frank Morton of Wild Garden Seed, an organic seed production company located in Philomath, Ore., said in an article in the Eugene Weekly, "If we are to continue to exist, we have to resist the introduction of canola in the valley."
ODA argues that their authority does not extend to protecting agriculture from market-based threats or concerns. The new rules would "refine" the boundaries of restricted planting areas and require an electronic pinning system for planted canola crops. ODA's Director Coba states, "Producers are encouraged to communicate with each other and work together to provide the necessary isolation to protect specialty seed crops while allowing canola production." To this assessment Frank Morton of Wild Garden Seed responds, "That's sort of like asking someone for permission to have a camel sleep in your bed," he says. "It's not collaboration if you have a gun held to your head."
Oregon State University's report indicates that a 1.2 mile distance between canola crops and seed fields is needed to minimize cross-pollination. While the pinning maps should make it easier to maintain that distance, they cannot account for other variables. The report explains, "The two greatest threats are canola seed blown from vehicles onto road shoulders and volunteers in fields previously planted to canola. Detecting and eliminating volunteers from a 2-kilometer [1.2 mile] radius around a seed field would be onerous and perhaps impossible." This is very disconcerting news for the seed capital of the U.S.
Beyond Pesticides has long-documented the negative effects of genetic cross- contamination. In July of this year, we joined with farmers and environmental groups across the country to appeal a February court ruling dismissing Organic Seed Growers and Trade Association et al v. Monsanto. The plaintiffs in this case are suing preemptively to protect themselves from being accused of patent infringement should their crop ever become contaminated by Monsanto's genetically engineered seed, something Monsanto has done to others in the past.
Genetic contamination of organic crops by pollen that originates from genetically engineered crops and drifts onto neighboring fields has been incontrovertibly confirmed by scientific research. Such contamination has proven extremely costly to farmers raising organic and non-genetically engineered crops whose loads are rejected by buyers when trace levels of contamination are detected. Farmers in these circumstances lose any potential price premium for the extra effort and expense taken to preserve their crop's integrity and they typically have no recourse but to dump the load on generic markets. Under the current interpretation of relevant law, genetic seed producers bear no legal or financial responsibility for such contamination.
In an effort to get the U.S. Department of Agriculture (USDA) to act on this issue, in its spring 2012 meeting, the National Organic Standards Board, with a unanimous vote, sent a letter to Secretary of Agriculture Tom Vilsack saying, "We see the potential of contamination by genetically engineered crops as a critical issue for organic agricultural producers and the consumers of their products. There are significant costs to organic producers and handlers associated with preventing this contamination and market loss arising from it."
USDA is still accepting public comment on twelve petitions for new genetically engineered crops until Sept. 11.
Visit EcoWatch's GENETICALLY MODIFIED ORGANISM page for more related news on this topic.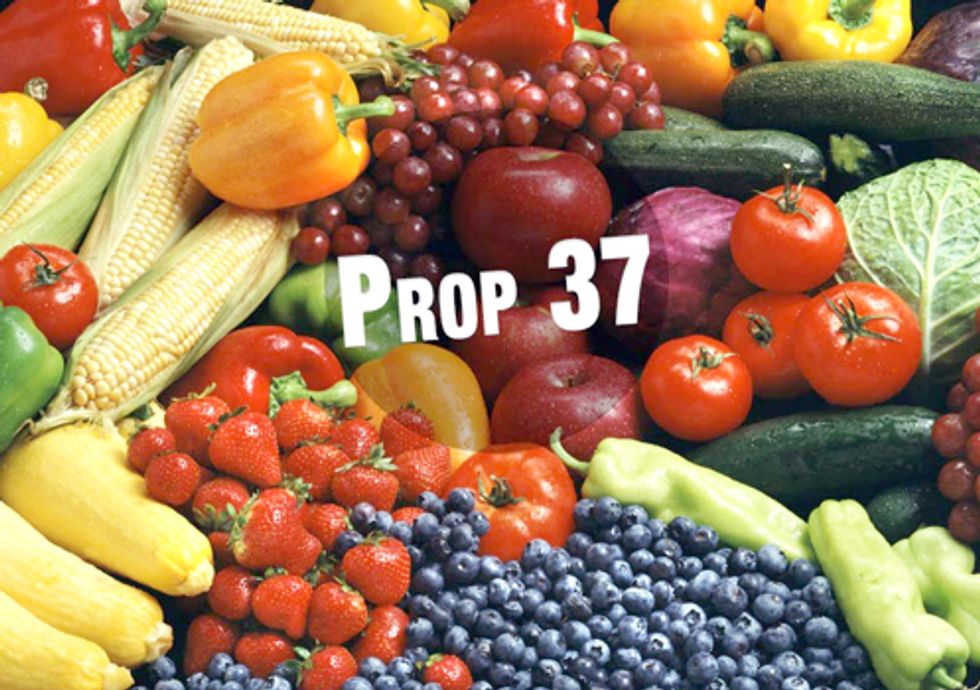 Californians deserve the right to know whether their food contains genetically engineered ingredients, just as consumers do in 40 other countries around the world, including China. But the only way they'll win that right is by voting yes on Proposition 37 on November 6, and today Environmental Working Group, (EWG) a national research and advocacy organization, announced that it will join the fight to pass the measure.
Proposition 37, a relatively straightforward proposal, would require a simple label on any food product that contains ingredients that have been genetically modified, commonly called GMOs. More than 1 million Californians have signed petitions to get the measure on the November ballot.
Until now, GMO foods—primarily soy, corn or beet sugar—have mostly been used in processed food and animal feed, but the U.S. Department of Agriculture is considering approving the sale of genetically modified versions of widely eaten foods such as apples and salmon. Currently, 90 percent of sugar beets and 94 percent of soybeans grown in the U.S., and 88 percent of corn grown for animal feed, are genetically modified.
"Surveys show that more than 90 percent of Californians believe it's their right to know if genetically engineered ingredients are in the food they eat and feed their kids, and for years now they've had no way to find out," said EWG President Ken Cook. "Who will honor that right? Certainly not the global pesticide companies that produce the genetically engineered ingredients that ends up in our food, and definitely not big multinational food companies. In this instance, they're saying the customer is not always right. In fact, Big Food has already announced that defeating California's Proposition 37 is their top priority," Cook said.
"I'm very sorry to say that President Obama has not acted to respect this basic right either, despite promising to do so on the campaign trail in 2008. A President Romney? Forget it. The current majority in Congress certainly won't recognize this right, and as for Sacramento … we have our doubts," added Cook, a California resident. "The only way Californians will win the right to know about genetically modified ingredients in our food is to claim it in the voting booth, and that's why EWG is in this fight."
EWG has joined with a large and diverse coalition—including environmental, public health, food safety and agricultural organizations along with food producers, labor federations and Tea Party-affiliated groups—that believe consumers have a right to know what is in their food.
Cook and other EWG staff will be traveling throughout the state speaking out in favor of Proposition 37 in the run-up to election day and will be calling on the 150,000 EWG supporters in the state to join the fight and bring some friends.
"It is absolutely unacceptable to keep consumers in the dark," said EWG Senior Analyst Kari Hamerschlag in EWG's Oakland office. "Passage of Proposition 37 is essential for not only the people in California but for all eaters across the country who'd like to know what's in the food they and their families eat."
"The fact that in just a few months nearly a million people in California signed a petition asking to put their right to know on the ballot is a sign of the overwhelming public support for this issue in the state," Hamerschlag added.
Visit EcoWatch's GENETICALLY MODIFIED ORGANISM page for more related news on this topic.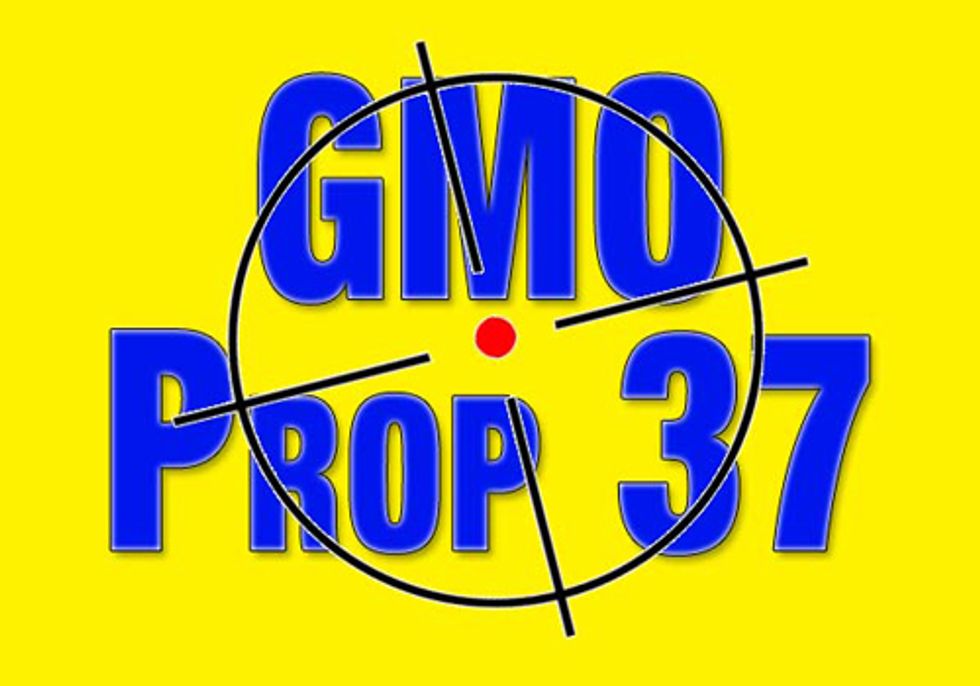 Most people just think of soda when they hear the name Pepsi. But in fact, PepsiCo is the nation's largest food company and second largest in the world. Its annual earnings top $60 billion, from a dizzying array of brands. Walk down almost any supermarket aisle (soda, snacks, cereal, juice) and you're likely to bump into a PepsiCo-owned product.
This explains why the company is the top contributor among food makers to the "No on 37" campaign in California—a ballot initiative that would require labeling of foods containing GMO ingredients. Also, as I wrote about recently, PepsiCo is a member of the Grocery Manufacturers Association, a powerful trade group that has so far contributed $375,000 to the No on 37 campaign.
Why would PepsiCo pony up more than $90,000 just to keep Californians in the dark about what they are eating? A closer look at its "portfolio of products" (in corporate speak) reveals exactly what's at stake for the food giant.
PepsiCo brands span five divisions: Pepsi-Cola, Frito-Lay, Gatorade, Tropicana and Quaker. While most consumers probably think of processed snacks and cereal-type products when trying to avoid foods containing GMOs, beverages are also a major culprit (which explains why Coca-Cola has donated more than $61,000 to the No on 37 campaign).
Estimates are that up to 85 percent of corn grown in the U.S. in genetically engineered, and a significant number of PepsiCo brands contain some form of corn. For example, among PepsiCo beverages sweetened with high-fructose corn syrup are brands such as Pepsi, Mountain Dew and Sierra Mist, as well as the AMP Energy and Lipton iced tea lines, each of which contain numerous flavor varieties. Even some products within the company's Tropicana line of "juice drinks" contain HFCS.
Then there's Naked Juice, which last year became the target of a consumer deception lawsuit over the brand's "non-GMO" claim on the label, among other issues. (Gatorade reformulated its products to replace HFCS in 2010, but is not exactly a health drink either, as recent research has revealed.)
Speaking of GMO-related lawsuits against PepsiCo, I wrote last December about how the company is being sued over several Frito-Lay snack products labeled "natural," despite containing genetically-modified corn and vegetable oils, including corn, soybean and canola oils. (That case was re-filed earlier this year.) In 2010, Frito-Lay announced that half of its products would be made of "all-natural ingredients," but of course non-GMO isn't part of the company's definition of natural. As I have explained, the Food and Drug Administration unfortunately has so far refused to create a workable definition, which is why companies like PepsiCo are able to deceive customers so easily.
The scope of Frito-Lay products potentially impacted by GMO labeling is vast. Among the brands under this $13 billion division that contain corn include Fritos, Doritos, Tostitos and Cheetos. And that's not counting the vegetable oils, which are almost all made with GMO ingredients. Even allegedly healthier brands like SunChips contain GMO corn, which is why that product is named in the deceptive labeling lawsuit against Frito-Lay.
Even PepsiCo's relatively healthy division Quaker would be impacted if GMO foods must be labeled. In addition to plain old oats, the Quaker brand makes heavily processed granola bars. I counted six sources of corn—including HFCS and "corn syrup solids"—in this new "yogurt" variety (which contains no actual yogurt, but rather "yogurt flavored powder"—don't even ask). It's one thing for junk foods to bear a GMO label; I can't imagine hard-core Cheetos fans caring too much about GMOs, but Quaker consumers probably would.
Another PepsiCo brand sure to make HQ nervous over GMO labeling is Mother's, which claims its products are "all natural." The Cornucopia Institute tested Mother's cereal and found that it contains GMO ingredients, which is expected since some of the varieties contain corn. Imagine how many mothers would be upset to learn that the cereal named after them is genetically engineered.
PepsiCo's official policy regarding using GMO ingredients is rather bland:
Approval of genetically-modified foods differs from country to country regarding both use and labeling. For this reason, PepsiCo adheres to all relevant regulatory requirements regarding the use of genetically-modified food crops and food ingredients within the countries it operates.
Translation: We follow the law, very impressive. But the statement also points to how the company has different standards around the world depending on what the law requires. More than 40 other nations'including the entire European Union—require some form of disclosure for foods made with GMOs.
What a shame that here in its home country, PepsiCo wants to ignore what 90 percent of American consumers say they want: to know which foods contain GMOs. PepsiCo would rather fight to maintain the status quo because it means a continued cheap supply of ingredients for its highly-processed, unhealthy beverages and junk food.
Visit EcoWatch's GENETICALLY MODIFIED ORGANISM page for more related news on this topic.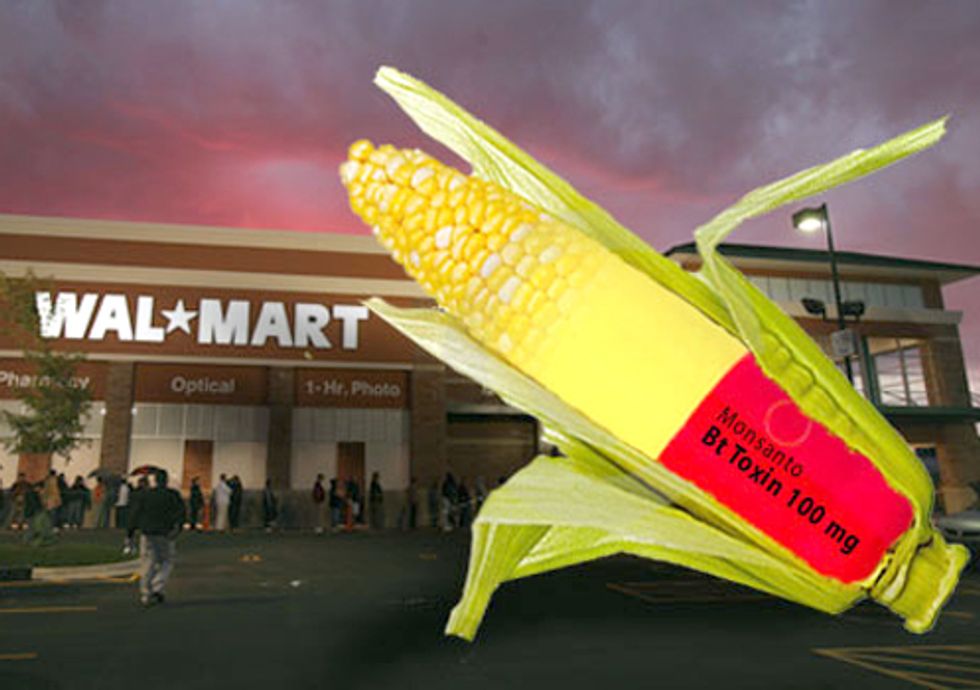 Like it or not, Monsanto's genetically modified sweet corn will soon be arriving on grocery store shelves of the world's largest retailer, Walmart Stores, Inc., and will not be labeled as such. Despite an onslaught of consumer pressure, the company confirmed late last week with the Chicago Tribune that it has no objection to selling the new crop of Monsanto's genetically modified (GE) sweet corn.
Other retailers, including the grocery chains Safeway and Kroger, have not responded on the issue, however Whole Foods, Trader Joes and General Mills have all vowed to not carry or use the GE sweet corn. As the country's largest grocery retailer, Walmart sells $129 billion worth of food a year, giving it unmatched power in shaping the food supply chain.
The GE sweet corn is the first consumer product developed by Monsanto that will go straight from the farm to the consumer's plate, rather than first being processed into animal feed, sugars, oils, fibers and other ingredients found in a wide variety of conventional food. It is engineered to be resistant to Monsanto's Roundup herbicide, the active ingredient of which is glyphosate. The product is also designed to produce a Bt toxin that will kill insects that feed on the plant. Monsanto's new sweet corn is being harvested in the Midwest, Northwest, Southeast and Texas.
"After closely looking at both sides of the debate and collaborating with a number of respected food safety experts, we see no scientifically validated safety reasons to implement restrictions on this product," Walmart officials told the Tribune.
However, there has been growing concern over the increasing prevalence of insect resistance to Bt crops. Earlier this year, a group of prominent entomologists sent a letter to the U.S. Environmental Protection Agency (EPA) urging caution in the agency's approach to Bt crops. Additionally, in April researchers at Portland State University found that GE corn modified to express Bt negatively impacts beneficial soil life. Their results reveal a decreased presence of beneficial mycorrhizal fungi, which are important for nutrient and water uptake, in the roots of Bt corn when compared to non-Bt corn. Experts have recently warned EPA that "rufuges" of non-GE crops should be increased due to the growing threat of insect resistance to Bt corn.
Furthermore, GE crops present a unique risk to organic growers. Wind-pollinated and bee-pollinated crops, such as corn and alfalfa, have higher risks of cross pollination between GE crops and unmodified varieties. Pollen from GE crops can potentially drift and wreak havoc on both the surrounding ecosystem and for organic and non-GE farms. If organic farmers' crops become polluted with GE pollen, they may be subject to loss of their organic certification and financial losses. Unfortunately, the burden to protect against genetic drift falls on organic farmers and conventional farmers who do not use GE products.
Labeling GE products is a crucial way to identify products containing GE ingredients in an effort to sway consumer demand. The European Union, Japan, Australia, Brazil, Russia and China, require labeling for GE foods. Earlier this year, the German corporation BASF announced that it would stop developing genetically engineered products targeting the European market, in part due to low consumer demand. Given that 93 percent of Americans support mandatory labeling of genetically engineered (GE) foods, Beyond Pesticides believes that we can have the same impact here as in Europe. Enough signatures have been collected to put on the California ballot Prop 37—Genetically Engineered Foods. Mandatory Labeling. Initiative Statute—to require labeling of food produced with GE ingredients, and the industry is now fighting back with a well-funded campaign campaign. More information on the campaign for PROP 37 can be found at the California Right-to-Know website.
However, the only sure-fire way you can avoid the genetically modified food is to buy and support organic. Genetically modified crops are not permitted in organic food production. Researchers are continuing to discover the environmental and health benefits of eating and growing organic food.
For more information about why organic is the right choice, see our Organic Food: Eating with a Conscience guide and the Organic Program page.
Visit EcoWatch's GENETICALLY MODIFIED ORGANISM page for more related news on this topic.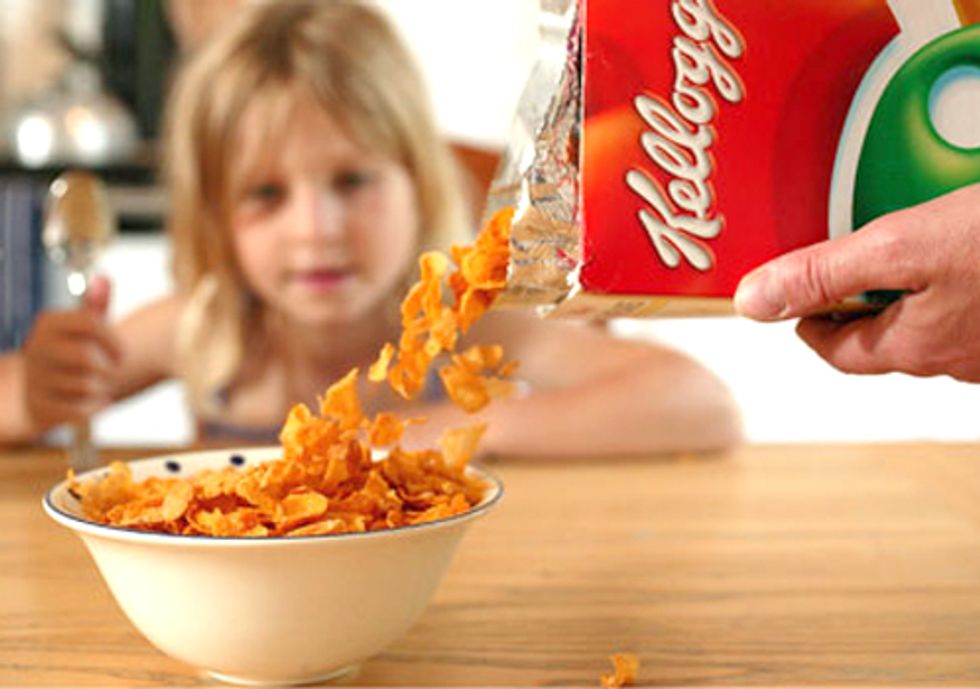 Grocery Manufacturers Association Long-time Obstructionist of Public Health
In case you had any doubt that California's Prop 37—which would require labeling of food containing genetically-modified organisms (GMOs)—is a significant threat to industry, a top food lobby has now made it perfectly clear.
In a recent speech to the American Soybean Association (most soy grown in the U.S. is genetically modified), Grocery Manufacturers Association (GMA) President Pamela Bailey said that defeating the initiative "is the single-highest priority for GMA this year."
You may not know the Grocery Manufacturers Association, but its members represent the nation's largest food makers—those with the most at stake in the battle over GMO labeling. For example, soft drink and snack giant PepsiCo, cereal makers Kellogg and General Mills, and of course, biotech behemoth Monsanto.
According to state filing reports, so far GMA has spent $375,000 on its efforts to oppose the labeling measure, with its members adding additional out-of-state lobbying power in the tens of thousands of dollars.
Never mind polling demonstrating that a whopping 90 percent of Californians think they deserve the right to know what they are eating. GMA also won't bother to mention the more than 40 other nations (including the European Union, Brazil and China) that already require food makers to disclose GMOs.
Big Food Lobbying to Undermine Health
This is hardly the first time the nation's most powerful trade association of food manufacturers has marshaled its resources to oppose common-sense food and nutrition policy—at both the national and state levels.
As I documented in my book, Appetite for Profit, for years GMA flexed its lobbying muscle in state legislatures all over the country fighting bills that were simply trying to remove junk food and soda from school vending machines.
Big Food lobbyists have also banded together to vociferously fight any attempt to restrict out of control junk food marketing to children on TV and other media.
For example, in 2005, GMA was a founding member of the Alliance for American Advertising, whose stated purpose was to defend the food industry's alleged First Amendment right to advertise to children and to promote voluntary self-regulation as an alternative to government action.
More recently, the Grocery Manufacturers Association was among leading trade groups and corporations opposing the federal government's attempt to improve industry's own voluntary guidelines for food marketing to children. As this Reuters special report from April explains, GMA's chief lobbyist visited the White House last July along with several top food industry representatives (including from Nestle, Kellogg and General Mills) to scuttle an effort by four federal agencies that would have protected children from predatory junk food marketing.
But Food Makers Love Labels Don't They?
It seems rather ironic that the same food makers taking advantage of every inch of food packaging space to convince shoppers to purchase its products would object so strongly to labeling for something they claim is not harmful.
Indeed in recent years, the federal government, in recognizing that food companies' so-called "front of package" labeling is so out of control that it commissioned not one but two Institute of Medicine reports to make recommendations to fix the problem and un-confuse consumers.
Unwilling to tolerate government intervention designed to help Americans, the Grocery Manufacturers Association has been aggressively promoting its own new nutrition labeling scheme it calls "Facts Up Front." But as Food Politics author Marion Nestle has explained, this is an obvious end-run around the feds. Here is how the food industry describes its own voluntary program:
Facts Up Front is a nutrient-based labeling system that summarizes important information from the Nutrition Facts Panel in a simple and easy-to-use format on the front of food and beverage packages.
Translation: We are repeating information already required on the back of the package, now placing it in a format we like better on the front.
See how that works? The food industry is always in charge. That's why the nation's largest packaged food lobby and its members are shaking in its boots over 90 percent of Californians wanting to see GMO labeling on food.
And no wonder, because as GMA President Bailey correctly warned her audience: "If California wins, you need to be worried the campaign will come to your state."
Very worried.
Visit EcoWatch's GENETICALLY MODIFIED ORGANISM page for more related news on this topic.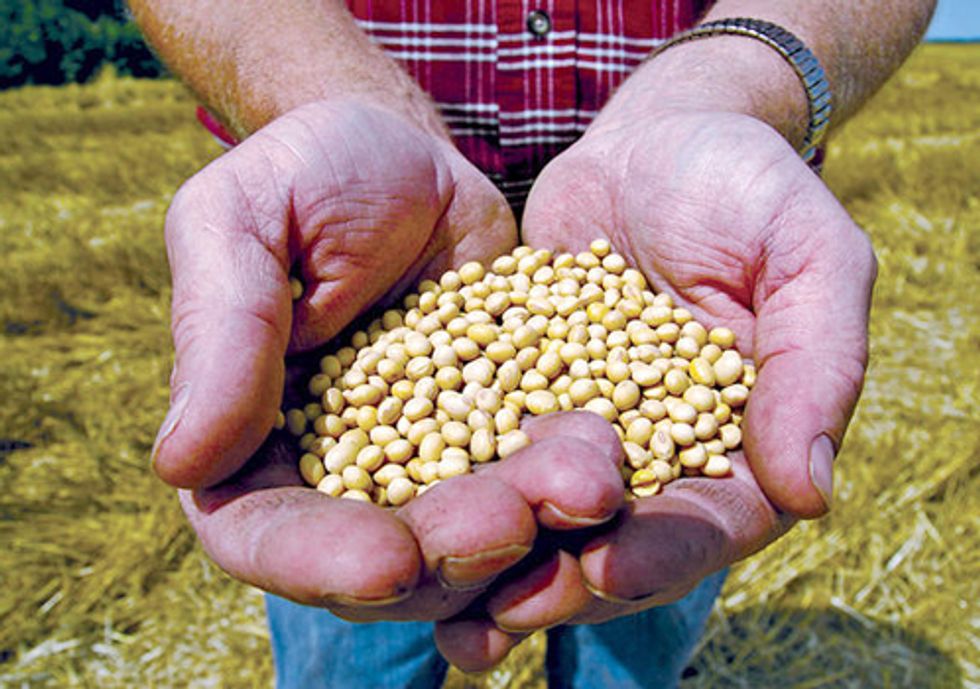 Eleven prominent law professors and 14 renowned organic, Biodynamic, food safety and consumer nonprofit organizations have filed separate briefs with the Court of Appeals for the Federal Circuit arguing farmers have the right to protect themselves from being accused of patent infringement by agricultural giant Monsanto.
The brief by the law professors and the brief by the nonprofit organizations were filed in support of the 75 family farmers, seed businesses and agricultural organizations representing more than 300,000 individuals and 4,500 farms that last year brought a protective legal action seeking a ruling that Monsanto could never sue them for patent infringement if they became contaminated by Monsanto's genetically modified seed. The case was dismissed by the district court in February and that dismissal is now pending review by the Court of Appeals. The plaintiffs recently filed their opening appeal brief with the appeals court.
"Monsanto continues to claim that plaintiffs' concerns about being accused of patent infringement after being contaminated by Monsanto's transgenic seed are unsubstantiated and unjustified," said Attorney Dan Ravicher of the not-for-profit legal services organization Public Patent Foundation (PUBPAT), which represents the plaintiffs in the suit against Monsanto known as Organic Seed Growers and Trade Association (OSGATA) et al. v Monsanto. "But now two impeccable groups have joined with plaintiffs in explaining to the Court of Appeals how real and legitimate their concerns really are, especially since Monsanto continues to refuse to simply promise never to sue contaminated farmers for patent infringement."
The first group filing a brief in support of the OSGATA plaintiffs includes eleven prominent law professors from throughout the U.S., including Professor Margo Bagley of the University of Virginia School of Law, Professor Michael Burstein of the Benjamin N. Cardozo School of Law, Professor Rochelle C. Dreyfuss of the New York University School of Law, Professor Brett Frischmann of the Benjamin N. Cardozo School of Law, Professor Erika George of University of Utah S.J. Quinney College of Law, Professor Shubha Ghosh of the University of Wisconsin Law School, Professor Megan M. La Belle of the Catholic University of America Columbus School of Law, Professor Kali Murray of Marquette University Law School, Professor Ted Sichelman of the University of San Diego School of Law, Katherine J. Strandburg of the New York University School of Law and Melissa Wasserman of the University of Illinois College of Law.
In their amicus brief, the law professors point out that "broad standing to challenge the validity of patents ensures that the courts can effectively play their critical role in screening out invalid patents." They add, "In actions challenging the validity of a patent, the alleged injury is not only the risk of an infringement suit, but a present restraint on economic activity due to the presence of a potentially invalid exclusive right."
The law professors went on to note, "But the validity of issued patents is uncertain until they are tested in court. This uncertainty creates real and present risks for persons wishing to engage in economic activity that might be the subject of an issued patent ... When a person is deterred from undertaking valuable activity by the risk that the activity may encroach on another's exclusive rights, that person has incurred an actual, concrete and particularized injury."
"We are grateful for the brilliant and powerful amici briefs submitted to the appeals court by these two stellar groups, supporting our family farmers' quest for justice," said Maine organic seed farmer Jim Gerritsen, president and lead plaintiff, Organic Seed Growers and Trade Association. "An erroneous interpretation of law by a single judge is not going to cause our farmers to abandon our rights to farm the way we choose, to grow good food and good seed for our families and for our customers, free from Monsanto's trespass and contamination. Denial of the property rights of American farmers is an attack on the property rights of every American. We will fight until family farmers receive justice."
The second group filing a brief in support of the OSGATA plaintiffs, made up of fourteen nonprofit agricultural and consumer organizations, includes the Farm and Ranch Freedom Alliance, Biodynamic Farming and Gardening Association, Carolina Farm Stewardship Association, Food and Water Watch, International Organic Inspectors Association, Maine Alternative Agriculture Association, Michigan Land Trustees, Natural Environmental Ecological Management, Nebraska Sustainable Agriculture Society, Organic Consumers Association, Slow Food USA, Virginia Association for Biological Farming, Virginia Independent Consumers and Farmers Association and Wisconsin Natural Food Associates.
In their amicus brief, the nonprofit agricultural and consumer organizations point out, "The plaintiff and amici organizations, farmers and seed businesses have suffered significant harm due to the threat of patent infringement suits by Monsanto." They also noted, "Defendants have chosen to patent products that, by their very nature, will inevitably end up on the private property of people who have no desire to use them. Plaintiffs' uncontroverted allegations show that, for the first time in history, they can be sued for something as natural as pollen drift, while simultaneously being forced to take expensive and burdensome steps in order to continue their normal businesses. The quandary of this type of liability is precisely the sort of situation that the Declaratory Judgment Act was intended to address."
The amicus brief further explained, "The Supreme court has stated that the plaintiff 'need not 'bet the farm,' yet in this case, that is precisely what the district court effectively required plaintiffs to do in order to get their day in court—continue farming the disputed crops until they are unquestionably liable to defendants for potentially crippling levels of damage before being able to seek a declaratory judgment as to their rights ... The district court noted that 'unlicensed—and unintended—use of transgenic seeds is inevitable...' but then failed to address the fact that such unlicensed use is actionable and places plaintiffs at risk of enforcement actions by defendants."
"It's time to end Monsanto's scorched-earth campaign of frivolous lawsuits against America's family farmers," said Dave Murphy, founder and executive director of Food Democracy Now!, a grassroots community of more than 300,000 farmers and citizens dedicated to reforming food and agriculture. "Monsanto's claims against farmers for patent infringement are exceedingly weak, violating Americans' most basic sense of fairness and decency. Our founding fathers would be outraged," said Murphy.
Visit EcoWatch's GENETICALLY MODIFIED ORGANISM page for more related news on this topic.
By Eric Hoffman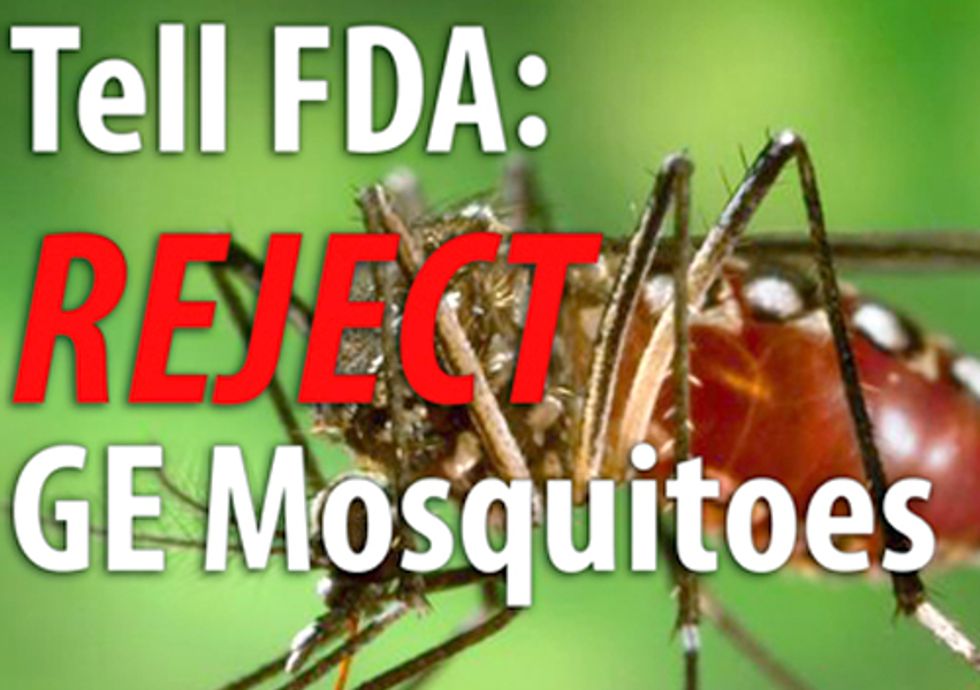 Activist opposition to the proposed plan to release genetically engineered mosquitoes in the Florida Keys is starting to heat up—and the media is increasingly taking notice.
Last month, I sent an email encouraging Friends of the Earth activists to call on the Food and Drug Administration (FDA) to reject the plan to release these GE mosquitoes in Key West. Our members and supporters sent more than 17,200 messages asking the FDA to reject the release of genetically engineered mosquitoes and any genetically engineered animals in the U.S. until we have laws on the books to ensure public health and safety are protected.
Meanwhile, a Key West resident and mother of three had created her own petition at Change.org  with a similar request: that the FDA "stop the experimental release of (GM) mosquitoes in the Florida Keys." The petition has started taking off, garnering more than 95,600 signatures as of July 11.
That means that, combined, the FDA has received more than 112,000 comments from Florida residents and people across the country who do not want potentially harmful genetically engineered mosquitoes released into their communities or anywhere in the U.S.
According to the Guardian in the UK:
Mila de Mier, the author of the petition, began the campaign because she said she was worried about the lack of scientific understanding of what the insects could do to the delicate ecosystem of the Florida Keys. She accused Oxitec, the UK-based biotech firm that has developed the mosquito, of failing to listen to local wishes.

"We need more data. If something goes wrong the consequences could be catastrophic not only for humans but also the whole ecosystem, and I don't want my family being used as laboratory rats for this," de Mier told the Guardian.
Local papers have taken notice as well. "The Florida Keys is a beautiful place, and it's my home," de Mier told ClickOrlando, a local CBS News affiliate. "We won't be lab rats just so this company can make money. Oxitec says we have to do this to control mosquitoes, but it's just not true. Other methods of mosquito control are working. We don't need to gamble with mutant mosquitoes."
For more information on why these mosquitoes have been genetically engineered and what they are supposed to do, check out our blog post and issue brief. For more on why the FDA is reviewing this application—and why this is a big problem—check out our recent blog post here.
And, if you haven't already, be sure to send your own message to the FDA in solidarity with Mila and other Keys residents speaking out for the health and safety of their community. You can use Friends of the Earth's form to personalize a sample message to the FDA or head over to Mila's petition, which is also copied to Florida regulators.
Visit EcoWatch's GENETICALLY MODIFIED ORGANISM and BIODIVERSITY pages for more related news on these topics.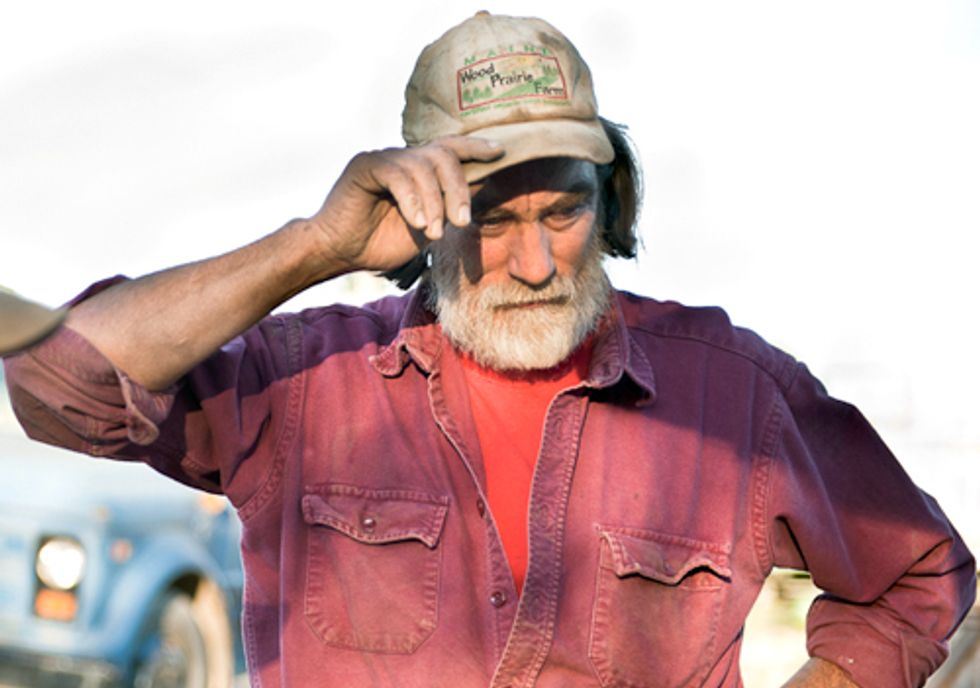 Seventy-five family farmers, seed businesses and agricultural organizations representing more than 300,000 individuals and 4,500 farms filed a brief on July 5 with the U.S. Court of Appeals for the Federal Circuit in Washington, D.C. asking the appellate court to reverse a lower court's decision from February dismissing their protective legal action against agricultural giant Monsanto's patents on genetically engineered seed.
The plaintiffs brought the preemptive case against Monsanto in March 2011 in the Southern District of New York and specifically seek to defend themselves from nearly two dozen of Monsanto's most aggressively asserted patents on genetically modified organism (GMO) seed. They were forced to act preemptively to protect themselves from Monsanto's abusive lawsuits, fearing that if GMO seed contaminated their property despite their efforts to prevent such contamination, Monsanto would sue them for patent infringement.
"It's time to end Monsanto's scorched earth legal campaign of threats and intimidation against America's farmers. Family farmers should be protected by the courts against the unwanted genetic contamination of their crops," said Dave Murphy, founder and executive director of Food Democracy Now!, a grassroots community of more than 300,000 farmers and citizens dedicated to reforming food and agriculture, that is co-plaintiff in the suit.
In an attempt to sidestep the challenge, Monsanto moved to have the case dismissed, saying that the plaintiffs' concerns were unrealistic. In February 2012, the district court took Monsanto's side and dismissed the case, ridiculing the farmers in the process. Despite the fact that the plaintiffs are at risk for being contaminated by genetically modified seed and then sued for patent infringement by Monsanto, Judge Naomi Buchwald of the Southern District of New York dismissed the case because she didn't find a case worthy of adjudication, saying "it is clear that these circumstances do not amount to a substantial controversy and that there has been no injury traceable to defendants."
Every year Monsanto investigates more than 500 farmers for patent infringement with their now notorious "seed police." To date, 144 farmers have had lawsuits brought against them by Monsanto without a binding contract with the multinational corporation, while another 700 farmers have been forced to settle out of court for undisclosed sums.
"Monsanto is known for bullying farmers by making baseless accusations of patent infringement," said attorney Dan Ravicher of the not-for-profit legal services organization Public Patent Foundation (PUBPAT), which represents the plaintiffs in the suit against Monsanto known as Organic Seed Growers and Trade Association et al. v Monsanto.  "They've sued and harassed many other farmers who wanted nothing to do with their genetically modified seed and now that organic and conventional farmers are fighting back, they claim they would never do such a thing without backing up their words with an enforceable promise."
Nature has determined that seed and pollen can drift great distances, in some cases as far as 10-15 miles, increasing the likelihood of contamination of organic crops with genetics from Monsanto's laboratories. These seeds and crops are referred to as "transgenic" seed that has had DNA of foreign organisms inserted into its DNA through human engineered processes. Plaintiffs use and sell non­transgenic seed, more commonly referred to as heirloom, organic or conventional seed.
"We have a right to farm the way we choose," said Maine organic seed farmer Jim Gerritsen, president of lead plaintiff Organic Seed Growers and Trade Association (OSGATA). "Yet Monsanto is unwilling to control their GMO pollution and they refuse to sign a binding covenant not-to-sue our family farmers for patent infringement should their seed contaminate our crops. Monsanto's publicized 'Commitment' promising that they would not sue farmers was described by Monsanto's own lawyers as being 'vague.' The law says we deserve protection under the Declaratory Judgment Act. We will continue to pursue our right to farm, and the right of our customers to have access to good clean food and seed."
Some plaintiffs have simply stopped growing certain types of crops due to the threat of contamination. Bryce Stephens, a certified organic farmer from northwest Kansas, had to give up on trying to grow organic corn and soy once his neighbors started using Monsanto's genetically modified seed because it could easily spread onto his property and contaminate his organic crops, which would put him at risk of being sued for patent infringement by Monsanto.
In the brief filed on July 5, the plaintiffs point out numerous errors in the district court decision that warrant reversal.
Murphy went on to state, "No company should be allowed to violate the property rights of America's farmers or threaten their livelihoods through the use of frivolous patent infringement lawsuits designed to control farmers and the food supply, while protecting Monsanto's flawed seed technology and corporate profits."
The brief filed by the plaintiffs with the Court of Appeals is available by clicking here.
Visit EcoWatch's GENETICALLY MODIFIED ORGANISM page for more related news on this topic.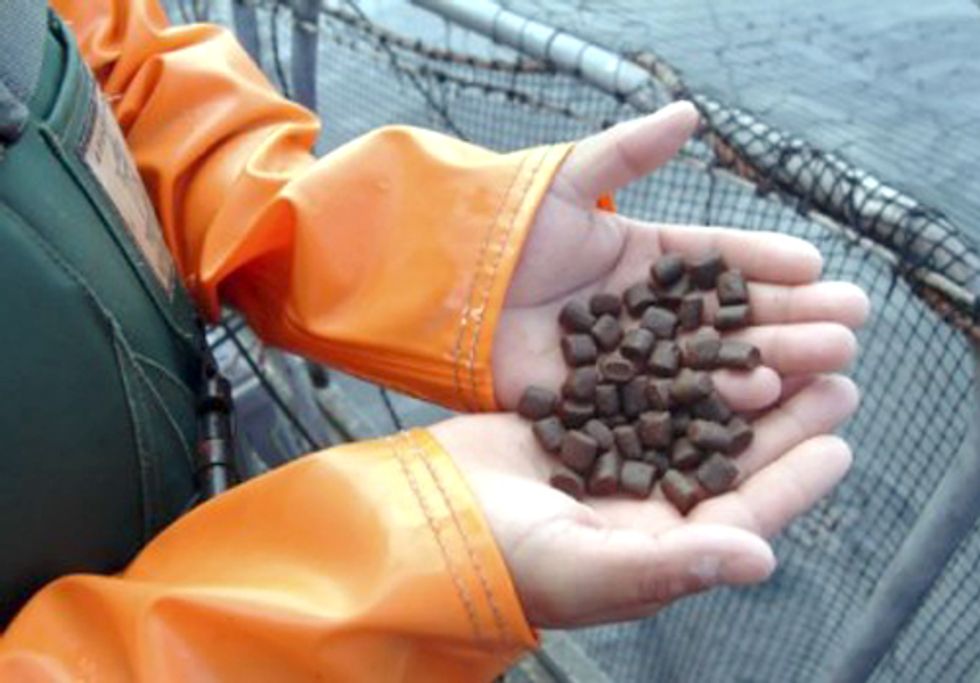 If proponents of soy in aquaculture have it their way, soy will be used to feed fish in open ocean pens in federal waters, a move that would negatively impact the marine environment as well as the diets of both fish and consumers.
Food & Water Watch and Food & Water Europe's new report, Factory-Fed Fish: How the Soy Industry is Expanding Into the Sea, shows how a collaboration between two of the most environmentally damaging industries on land and sea—the soy and open ocean aquaculture industries, respectively—could be devastating to ocean life and consumer health. And since much of the soy produced in the U.S. is genetically engineered (GE), consuming farmed fish would likely mean eating fish that are fed GE soy.
"Our seas are not Roundup ready," said Wenonah Hauter, executive director of Food & Water Watch. "Soy is being promoted as a better alternative to feed made from wild fish, but this model will not help the environment, and it will transfer massive industrial farming models into our oceans and further exacerbate the havoc wreaked by the soy industry on land—including massive amounts of dangerous herbicide use and massive deforestation."
The powerful soy industry, which is well represented in Washington, D.C. and Brussels, stands to gain more than $200 million (€160 million) each year by aggressively promoting the use of soy to feed farmed fish at a time when more and more consumers are eating seafood sourced from aquaculture or fish farms. Close to half of the seafood we consume globally comes from these factory fish farms.
Unfortunately, increased use of soy in fish feed could do greater harm to the health of fisheries by increasing the amount of soybeans grown. Like other monoculture crops, soybeans require large amounts of fertilizer for their production. Much of this fertilizer gets washed off the fields and into waterways that eventually lead to important fisheries such as the Gulf of Mexico or the Chesapeake Bay. The nitrogen and phosphorus from this fertilizer contributes to the dead zones in these fisheries, reducing the number of fish that live there and the ability of fishermen to catch them.
Relying on soy to feed farmed fish could also have devastating affects on consumer choice. In 2007, there were total of 279,110 soybean farms. A 2008 report indicated that only 1,336 soybean farms were certified organic, which do not allow the use of GE crops. This leaves a lot of room for non-organic soybean farms to produce crops from GE seeds. GE soy-fed fish would probably not need to be labeled, so consumers wouldn't know that they were eating fish fed with GE soy. Considering that Monsanto and Cargill would be big players—two agribusinesses that use GE seeds—this scenario seems likely.
While the soy industry is busy promoting soy as an environmentally friendly alternative to fish feed from wild fish, it is clear that soy is not a natural food for fish to eat, and that its use can be destructive to ocean ecosystems. Fish have a difficult time digesting it, and it causes nutrient deficiency. As a result, fish tend to produce excessive amounts of waste, which attracts disease and bacteria, and disrupts the normal ecology of the immediate marine environment.
Visit EcoWatch's GENETICALLY MODIFIED ORGANISM and FACTORY FARMING pages for more related news on these topics.