The number of public electric vehicle (EV) charging stations in the United Kingdom will overtake gas stations by the summer of 2020 or even sooner, according to a new analysis by Nissan Motors.
More than 75 percent of gas stations have closed in the last 40 years, while EV charging stations have risen from a few hundred to more than 4,100 since 2011. Given the current trend, Nissan expects public EV charging stations to reach 8,200 by the end of 2020—surpassing around 7,900 fuel stations that are projected to be around by then.

Nissan's report does not account for electric vehicle charging done at home. Japan recently passed the same milestone as EV charging stations overtook gas stations earlier this year.
For a deeper dive:
News: Bloomberg, BusinessGreen
Commentary: Clean Technica, Zachary Shahan column
For more climate change and clean energy news, you can follow Climate Nexus on Twitter and Facebook, and sign up for daily Hot News.
Mercedes-Benz has unveiled the world's first big rig that drives without a drop of fuel.
The Mercedes-Benz Urban eTruckMercedes Benz
The new Mercedes-Benz Urban eTruck has an electrically driven rear axle and is powered by three lithium-ion battery modules. The zero-emission vehicle has an admissible total weight of up to 26 tonnes with a range of 200 kilometers (124 miles).
Although the range is on the low side, the model here is still a prototype. And, as Engadget pointed out, the "Urban" prefix implies that it's meant for use in the cities instead of, say, cross-country hauls.

As for noise pollution? Hardly a whisper, the German carmaker says.

"In the future, it will be necessary to transport goods in urban environments for increasing numbers of people—and with the lowest possible emissions and noise," Mercedes said in a press release. "By now large cities such as London or Paris are considering a ban on internal combustion engines in city centers in the future. That means: there will be fully electric trucks ensuring the supply of humans with food or other goods of daily needs."

Daimler, the company tasked with creating the vehicles, said their eTruck will be ready for the market by the beginning of the next decade. At that point, Daimler believes battery technology will be vastly improved and estimated that the cost of batteries will lowered by a factor of 2.5.
"We push the boundaries of what is technically feasible, very widely to the front," Wolfgang Bernhard, the CEO of Daimler Trucks and Buses, said.

Watch here as the eTruck whizzes down Germany's streets:
"To date the use of electric drives in trucks has been extremely limited," Bernhard added. "Meanwhile, cost, performance and charging time evolve so rapidly that we now see a turnaround for distribution: It's time for the electric truck."
He's right—this is a much-needed upgrade as heavy duty vehicles are some of the biggest polluters on the road. According to Slate:
Transportation is responsible for 28 percent of the nation's carbon emissions, second only to power plants at 31 percent. By nearly any measure, trucks play an outsize role in contributing greenhouse gas. They comprise just 4.3 percent of vehicles in the U.S., drive 9.3 percent of all miles driven each year, yet consume more than 25 percent of the fuel burned annually.

The Obama administration has made major efforts to slash truck emissions. Last year, in an effort to slash emissions and fight climate change, the U.S. Environmental Protection Agency and National Highway Traffic Safety Administration proposed new fuel-efficiency and carbon-cutting standards for trucks and other large vehicles. The proposal is meant to cut emissions by 1 billion metric tons, trim fuel costs by $170 billion and reduce oil consumption by 1.8 billion barrels, U.S. News reported.

120 years ago #Daimler built the worlds first truck, now we see the birth of the worlds first 26 ton electric #truck https://t.co/jx1GpPjpof

— Mercedes-Benz Trucks (@Mercedes-Benz Trucks)1469707745.0
Mercedes might have beat him to it, but Elon Musk also has a vision of all-electric trucks. As the Tesla CEO wrote in his now-famous Master Plan, producing electric buses and heavy duty trucks are part of his vision of transitioning to a sustainable transportation future.

"In addition to consumer vehicles, there are two other types of electric vehicle needed: heavy-duty trucks and high passenger-density urban transport," he wrote. "Both are in the early stages of development at Tesla and should be ready for unveiling next year."
"We believe the Tesla Semi will deliver a substantial reduction in the cost of cargo transport, while increasing safety and making it really fun to operate," Musk continued.
Incidentally, Musk even has some Daimler talent on his team to bring his vision to life. Jerome Guillen, a longtime Daimler engineer who helped develop the Cascadia truck, is in charge of the Tesla Semi program, Electrek reported.
@danahull Jerome is driving Tesla Semi & doing a great job with his team. At Daimler, he led their most successful semi truck program ever.

— Elon Musk (@Elon Musk)1469077120.0
Mercedes and Daimler also has the world's first autonomous bus to its name, so Musk and his Tesla team definitely have some friendly competition in this arena.

SUPER COOL! World's First Self-Driving Bus Drives Flawlessly Through Amsterdam https://t.co/YPa1dnz1d9 @MercedesBenz @mzjacobson @edbegleyjr

— EcoWatch (@EcoWatch)1469026544.0
EcoWatch Daily Newsletter
If there is one thing that works in the world of advocacy, it is a ratings table that shows how one state, metropolitan area or utility compares to its peers. The latest report, U.S. Clean Tech Leadership Index, from Clean Edge does just that.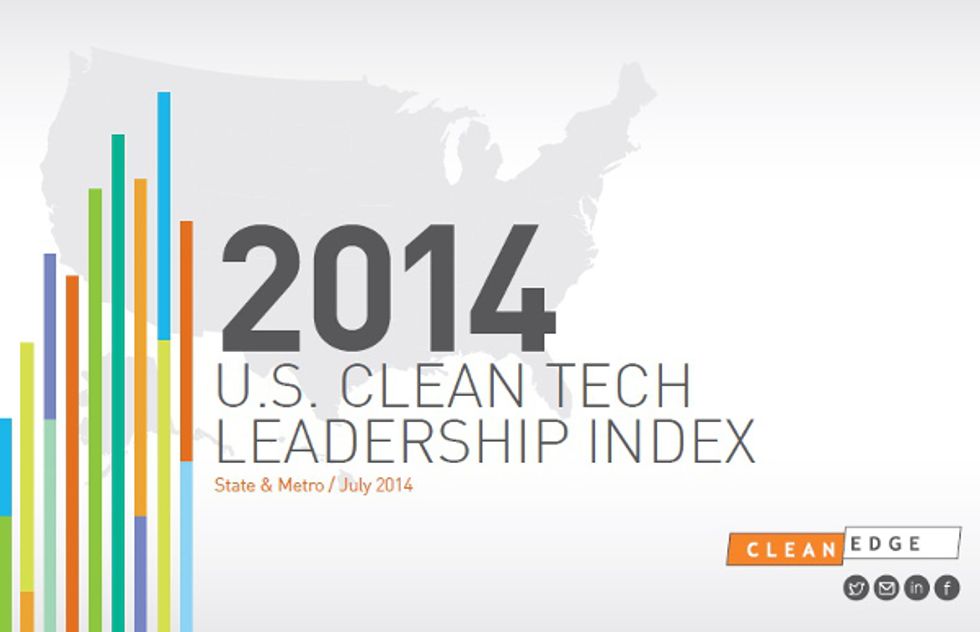 The fifth annual U.S. Clean Tech Leadership Index finds that California, Massachusetts, Oregon, Colorado and New York lead the way among states in solar and electric vehicle adoption, with smart climate policies and clean energy financing driving the clean tech leadership index growth.
Clean energy is becoming a popular choice for mainstream America with 11 states now generating more than 10 percent of their electricity from non-hydro renewable sources, according to the Clean Edge report. As seen in the graph below, Iowa leads the way in utility-scale wind, solar and geothermal electricity generation.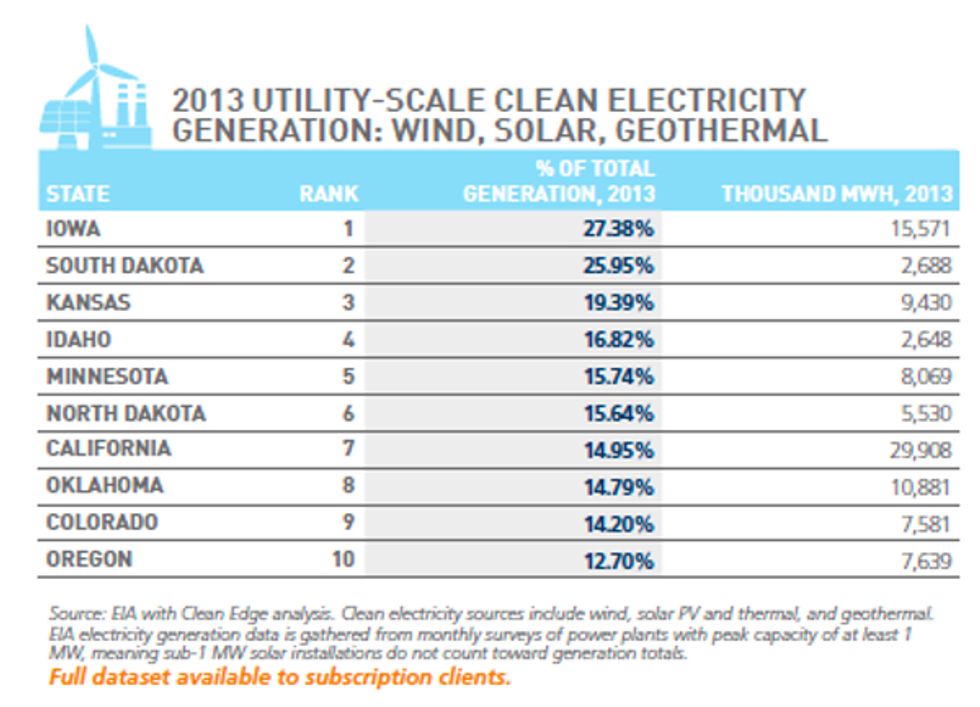 Meanwhile, California is leading the way on the uptake of electric vehicles.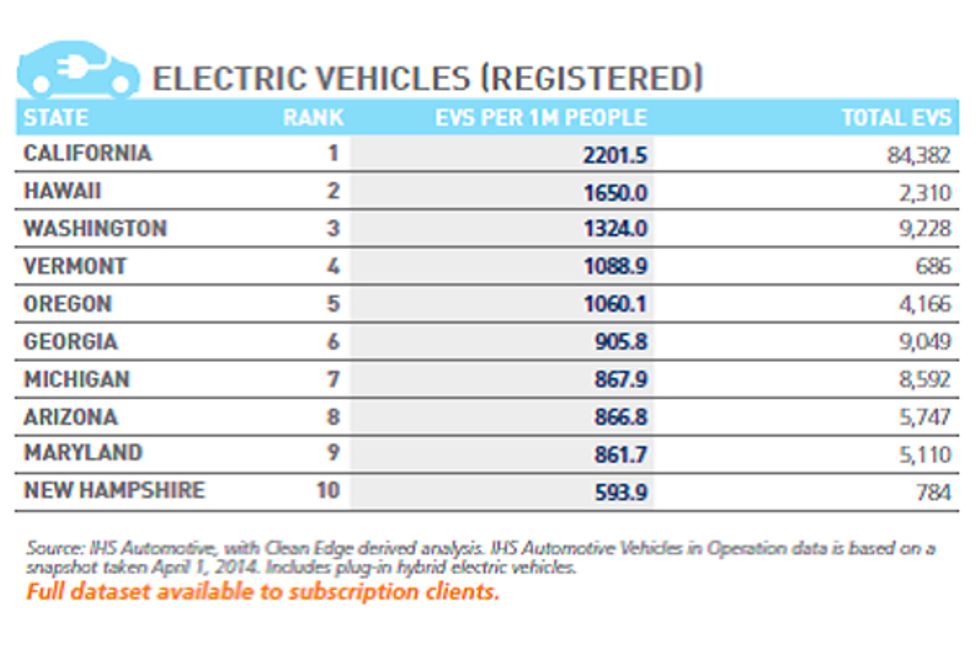 Taking these factors into account, combined with metrics around green financing, Clean Edge has developed the chart below which shows that for the fifth year now, California has ranked number one out of all 50 states in the deployment of clean tech, with San Francisco taking the top spot by metropolitan area.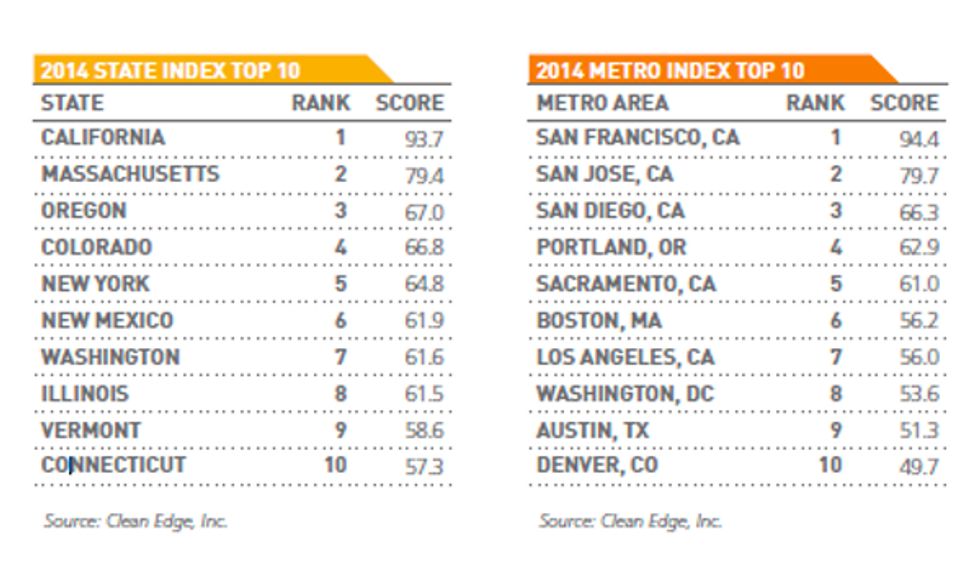 Electric buses have been rolled out at trade shows in recent years, but a suburb of São Paulo, Brazil began picking up riders earlier this month in what officials say is the world's first battery-powered public transit bus.
 In its first 10 days, more than 135,000 passengers used the bus in the suburb of Diadema, Fox News Latino reported.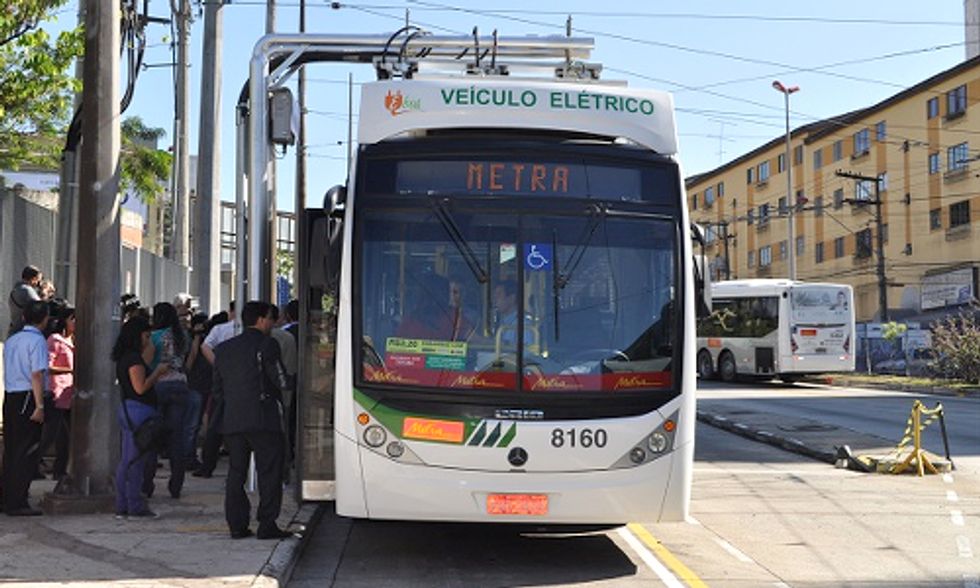 "The bus is super-healthy for the planet and can do its job almost like diesel-fueled models, thanks to its recharge technology and use of energy," Ivan Regina, manager of the Transport Planning, Technological Development and Environment unit within the state government, told Efe.
There are no doubts in the area regarding the fuel savings potential and noise reduction of the bus, compared to others in its fleet, which include diesel, ethanol, biodiesel and hydrogen. Electra Industrial assembled the bus almost entirely in Brazil, with the exception of the battery itself, which was developed in Japan by Mitsubishi. Electric bus manufacturer BYD tested two 40-foot buses for the government in late 2013. BYD buses have performed trial runs in Europe, North America, Central America, the Caribbean and Asia, according to the company.
The 124-passenger bus is under a six-month period, which is also considered a trial phase, only this one involves actual customers. According to the Metropolitan Urban Transportation Company, the plan allows for four, four-minute quick recharges throughout the day. Slow charges, which last two or three hours, are conducted in the garage during the evening, the Brazil-Arab News Agency reported.
The batteries contain rechargeable lithium ions, similar to those electronic devices and the ones Tesla is planning to manufacture in a massive "gigafactory."
Regina said São Paulo-based automotive engineering company Netz will analyze results before officials say just how much they will save in fuel costs. Still, the city's diesel buses consume the equivalent of 925 gallons of fuel per month, emitting 9 tons of carbon dioxide.
According to ThinkProgress, the state has plans to replace 70,000 or so buses with renewable models by 2020. Having battery-powered buses on the roads is important for Brazil, as sports enthusiasts will travel to Sao Paulo in June and July for the 2014 World Cup.
"The battery-powered bus is more silent than others and provides just as much comfort," Regina said. "There is no difference to the users, only to the environment."
In the U.S., the nation's first electric school bus picked up California students about a month ago.
Visit EcoWatch's TRANSPORTATION page for more related news on this topic.