This website uses cookies to ensure you get the best experience while browsing it. By clicking 'Got It' you're accepting these terms.


The best of EcoWatch, right in your inbox. Sign up for our email newsletter!
Ray Kemble of Dimock, Pa., displays a jug of what he identifies as his contaminated well water. (AP/Matt Rourke)
Ever since the dangerous consequences of natural gas extraction via hydraulic fracturing—popularly known as "fracking"—entered the national consciousness, the small town of Dimock, Pennsylvania has arguably been "ground zero" for water contamination caused by the controversial practice.
Now Cabot Oil & Gas, the massive energy company responsible for numerous fracking wells near Dimock, is suing one of the town's residents for $5 million, claiming that his efforts to "attract media attention" to the pollution of his water well have "harmed" the company. According to the lawsuit, Dimock resident Ray Kemble's actions breached an earlier 2012 settlement that was part of an ongoing federal class action lawsuit over the town's water quality. Kemble has stated that Cabot's fracking turned his groundwater "black, like mud, [with] a strong chemical odor."
A federal judge has reversed last year's unanimous jury decision that awarded $4.2 million to two Dimock, Pennsylvania families who claimed that Cabot Oil & Gas Corp contaminated their water supply during fracking operations near their homes.
EcoWatch Daily Newsletter
Some homeowners living near shale gas wells appear to be at higher risk of drinking water contamination from stray gases, according to a new Duke University-led study, Increased Stray Gas Abundance in a Subset of Drinking Water Wells Near Marcellus Shale Gas Extraction.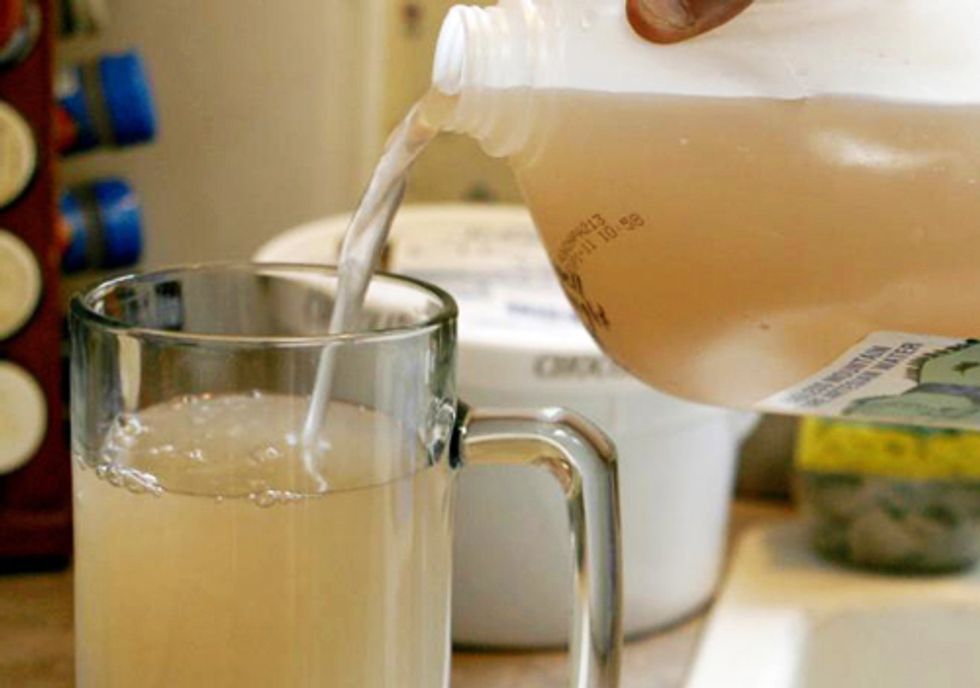 The scientists analyzed 141 drinking water samples from private water wells across northeastern Pennsylvania's gas-rich Marcellus Shale basin.
They found that, on average, methane concentrations were six times higher and ethane concentrations were 23 times higher at homes within a kilometer of a shale gas well. Propane was detected in 10 samples, all of them from homes within a kilometer of drilling.
"The methane, ethane and propane data, and new evidence from hydrocarbon and helium content, all suggest that drilling has affected some homeowners' water," said Robert B. Jackson, a professor of environmental sciences at Duke's Nicholas School of the Environment. "In a minority of cases the gas even looks Marcellus-like, probably caused by poor well construction."
The ethane and propane data are "particularly interesting," he noted, "since there is no biological source of ethane and propane in the region and Marcellus gas is high in both, and higher in concentration than Upper Devonian gases" found in formations overlying the Marcellus shale.
The scientists examined which factors might explain their results, including topography, distance to gas wells and distance to geologic features. "Distance to gas wells was, by far, the most significant factor influencing gases in the drinking water we sampled," said Jackson.
The team published its peer-reviewed findings this week in the online Early Edition of the Proceedings of the National Academy of Sciences.
Shale gas extraction—a process that includes horizontal drilling and hydraulic fracturing—has fueled concerns in recent years about contamination of nearby drinking water supplies.
Two previous Duke-led studies found direct evidence of methane contamination in water wells near shale-gas drilling in northeastern Pennsylvania, as well as possible hydraulic connectivity between deep brines and shallow aquifers. A third study, conducted with U.S. Geological Survey scientists, found no evidence of drinking water contamination from shale gas production in Arkansas. None of the studies found evidence of current contamination by hydraulic fracturing fluids.
The new study is the first to offer direct evidence of ethane and propane contamination.
"Our studies demonstrate that the integrity of gas wells, as well as variations in local and regional geology, play major roles in determining the possible risk of groundwater impacts from shale gas development. As such, they must be taken into consideration before drilling begins," said Avner Vengosh, professor of geochemistry and water quality at Duke's Nicholas School.
"The new data reinforces our earlier observations that stray gases contaminate drinking water wells in some areas of the Marcellus shale. The question is what is happening in other shale gas basins," Vengosh said.
"The helium data in this study are the first in a new tool kit we've developed for identifying contamination using noble gas geochemistry," said Thomas H. Darrah, a research scientist in geology, also at Duke's Nicholas School. "These new tools allow us to identify and trace contaminants with a high degree of certainty through multiple lines of evidence."
Co-authors of the new study are Nathaniel Warner, Adrian Down, Kaiguang Zhao and Jonathan Karr, all of Duke; Robert Poreda of the University of Rochester; and Stephen Osborn of California State Polytechnic University. Duke's Nicholas School of the Environment and the Duke Center on Global Change funded the research.
Visit EcoWatch's FRACKING page for more related news on this topic.
——–
Sign the petition today, telling President Obama to enact an immediate fracking moratorium: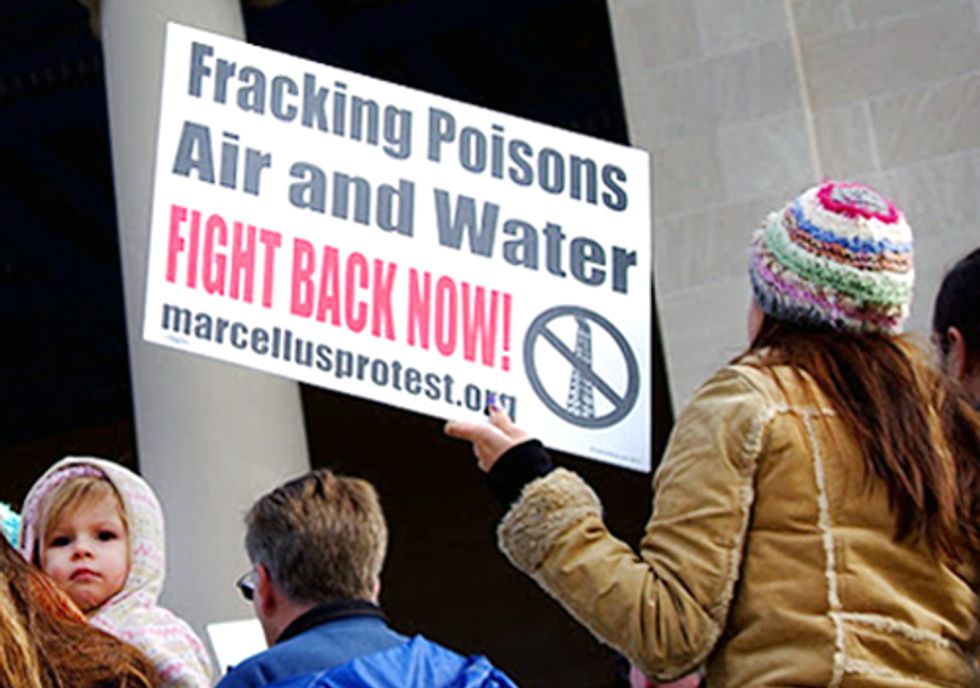 Yesterday, Pennsylvania legislators passed a hydraulic fracturing (fracking) bill that will further limit environmental protections, lower drilling fees, handcuff local governments' zoning power for gas development and undermine public health.
Today, SB 246—a bill to ban hydraulic fracturing in New Jersey—goes before the New Jersey Senate Environment and Energy Committee.
Estimates peg the value of natural gas reserves buried within the Marcellus Shale underneath Pennsylvania and some of the state's immediate neighbors as high as one trillion dollars. With that kind of money at stake, the mostly unregulated extraction process called fracking that's necessary to unleash the gas has become the nation's most polarizing environmental and energy issue.
Look no further than the neighboring states of Pennsylvania and New Jersey.
Fracking was brought to national attention back in 2008 through a sequence of mishaps involving gas wells set up by Cabot Oil and Gas in the small town of Dimock, Pa. In the winter of 2008, metals and methane linked to Cabot's wells were found in many area homes' drinking water. In 2009, the Pennsylvania Department of Environmental Protection (DEP) released a document citing dozens of infractions, including well-construction problems, diesel spills and fracking fluid spills. In September 2009, an estimated 8,000 gallons of fracturing fluid—manufactured by Halliburton—discharged into Stevens Creek and nearby wetlands.
Three years later, residents of Dimock are still fighting for their right to clean water and still reliant upon organizations such as the EPA to deliver fresh drinking water—a responsibility Cabot Oil and Gas is now absolved from. By now, most people are familiar with the infamous images of flammable water pouring from their taps. To see a video, click here.
And that is only the beginning.
Even so, in a move that blatantly disregards the health and welfare of Pennsylvania citizens, Feb. 8 was a landmark day in Pennsylvania as the Pennsylvania Legislature—led by Republican Gov. Tom Corbett—passed a bill to institute an impact fee on Marcellus gas wells and limit the ability of municipalities to restrict gas drilling. In a mostly party-line split, the Republican-led House pushed the bill through on a vote of 101-90.
Next door, New Jersey citizens stand on the brink of banning fracking within state lines entirely as consideration of Senate Bill 246 goes before the New Jersey Senate Environment and Energy Committee on Feb. 9. New Jersey currently has placed a moratorium on fracking until January 2013.
Despite opposition from Republican Gov. Chris Christie and the American Petroleum Institute, SB 246 has garnered overwhelming public support with the help of Sens. Robert Gordon (D-38th District), Linda Greenstein (D-14th District)  and Christopher Bateman (R-16th District).
While citizens of New Jersey are poised to celebrate, residents of Pennsylvania are witnessing just how powerful the oil and gas industry's lobbying arm really is.
According to MarcellusMoney.org, the drilling industry has contributed more than $3 million in political contributions to Pennsylvania lawmakers since 2001 and spent an additional $5 million in the capitol of Harrisburg in the past three years. Unfortunately, the money spent was vindicated yesterday.
The fight isn't over in New Jersey. Click here for more information on how you can reach out to New Jersey lawmakers today.
To learn more about fracking, visit EcoWatch's Fracking page for all the latest information—nationally and internationally.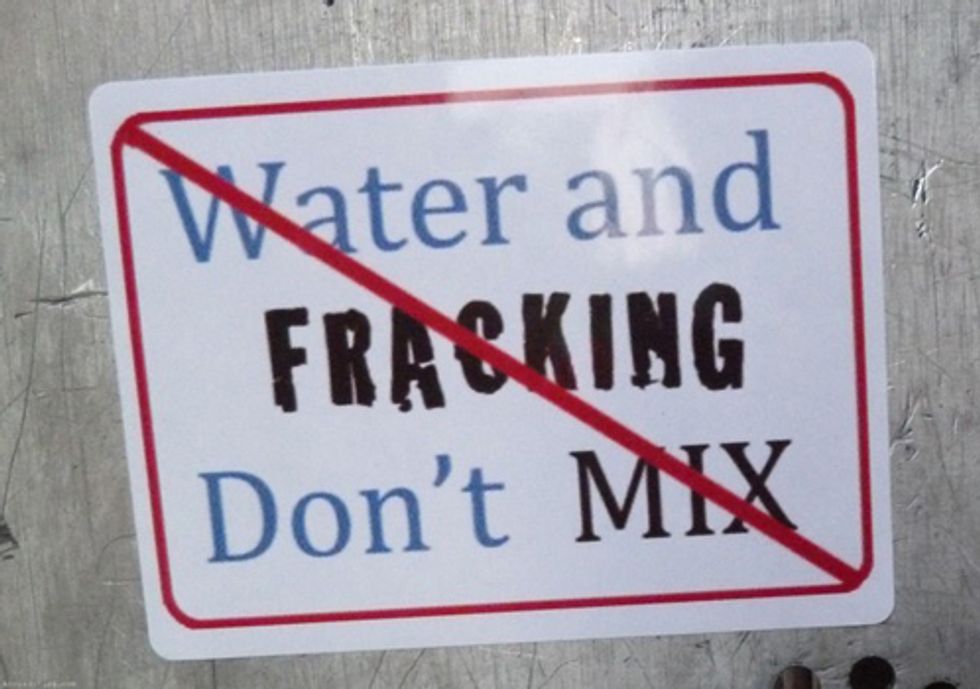 The U.S. Environmental Protection Agency's (EPA) detection of arsenic, a known human carcinogen, barium and other contaminants in the well water of homes near natural gas drilling operations in Dimock Township, Pa., should prompt a nationwide investigation of drilling-linked water pollution.
"EPA and other officials must move quickly to ensure these families have an adequate source of clean water," said Dusty Horwitt, senior counsel with Environmental Working Group (EWG). "This finding confirms what Dimock residents have said for months—that the Pennsylvania Department of Environmental Protection should have never allowed Cabot to end deliveries of clean water."
Last month, EWG published a report called Gas Drilling Doublespeak that found that Dimock residents, among other people in gas-rich areas, were not warned of risks to their water supplies when they were approached to lease their land for drilling.
EPA officials in Philadelphia announced they would deliver clean water to the four affected households and conduct broader testing at about 60 more homes in south-central area Susquehanna County. Cabot Oil & Gas Corp., the Houston-based company that began drilling for gas in the area in 2008, delivered water to the households under a 2010 consent agreement but stopped Nov. 30 after state regulators determined that Cabot had met its obligations.
According to an EPA action memo, agency scientists found the four households' well water contaminated with arsenic and other hazardous substances "at levels that present a public health concern." Some of these "are not naturally found in the environment," EPA officials said, and may have been released by drilling activities. Among the toxic substances found in the well water, according to the EPA:
Arsenic, classified by the US government and World Health Organization as a known human carcinogen, an element sometimes found in "elevated concentrations" in groundwater because of drilling;
Barium, a common constituent of drilling fluids; long-term ingestion at high levels can cause kidney damage
Phthalates, a synthetic plastic chemical and probable human carcinogen, according to EPA
Glycol compounds common in drilling fluids and associated with damage to kidneys, the nervous system, lungs, heart, testicular damage and anemia
Manganese, an naturally occurring element that can damage the nervous system at high levels
Phenol, found in some drilling fluids; at high levels can cause irregular heartbeat, liver damage and skin burns
Sodium, compounds found in some drilling fluids, at high levels can cause high blood pressure
Federal officials said that although the investigation has not been completed, they have concluded, based on samplings to date, that a "chronic health risk exists" for the wells in question.
"These results also show that the families ultimately need a permanent source of healthy water, which the state has so far failed to deliver," Horwitt said. "Cabot should bear the cost of providing this, not the taxpayers."
For more information, click here.
—————
Environmental Working Group is a nonprofit research organization based in Washington, D.C. that uses the power of information to protect human health and the environment.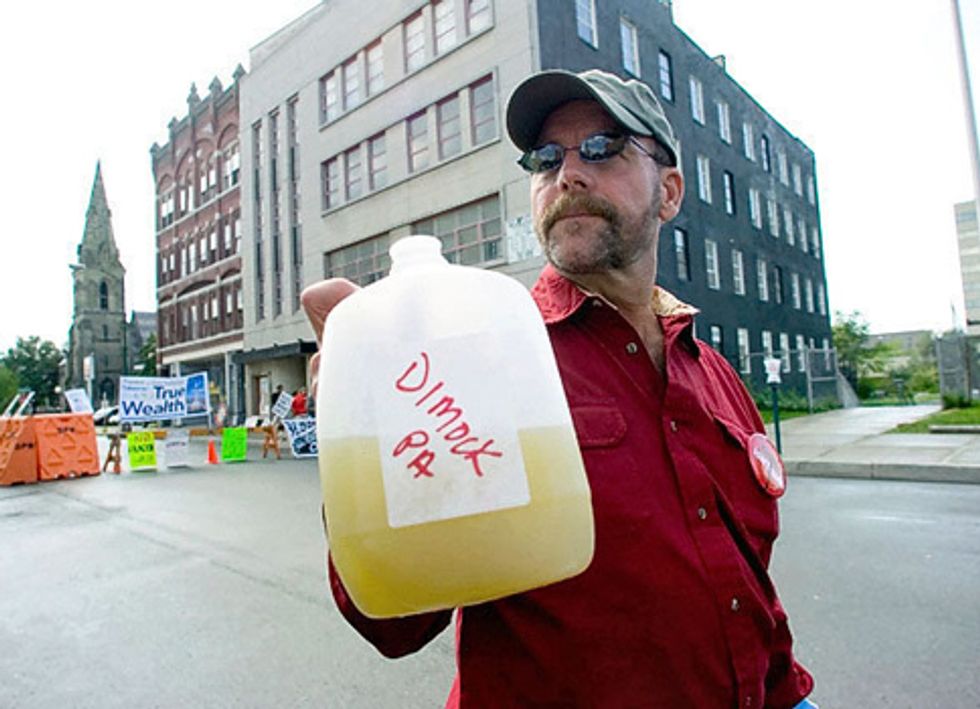 Eleven families in the tiny rural town of Dimock, Pa., 30 miles south of Binghamton, N.Y., have received the most basic of holiday gifts—clean drinking water.
Four pallet-loads of bottled water will provide some relief from the bleach-treated pond water the families have been using for drinking, cooking and bathing since natural gas leached into their wells and poisoned them—a result of hydrofracking.
The bottled water is from Keeper Springs Natural Spring Water, in partnership with Riverkeeper, the watchdog organization that protects the Hudson River and its tributaries.
"Dimock has become the template for the cataclysmic costs of hydrofracking to America's communities, our water supplies and our environment," said Robert F. Kennedy, Jr., founder of Riverkeeper and of Keeper Springs, which donates 100 percent of its profits to protecting America's waterways.
"Imagine turning on your faucet to find water so contaminated that you can light it on fire. This is the condition that the people of Dimock face every day," Kennedy said. "Their plight underscores the costs of hydraulic fracturing operations in communities across our country."
Paul Gallay, president and Hudson Riverkeeper, who appealed for help to Keeper Springs, said, "The balance between public good and private gain here is so out of whack as to be ludicrous. How can you deprive an entire community of what should be a basic right? We are grateful to the Keeper Springs people for their generosity, in making life a little better in Dimock, at least for the time being."
The water supply in Dimock was destroyed in 2008 when Cabot Oil & Gas began hydrofracking in search of natural gas. The water is now a toxic brew of methane gas, heavy metals, radioactive material and chemicals such as ethylene glycol, known as antifreeze.
Cabot, which the Pennsylvania Department of Environmental Protection had found at fault for the contamination, had been delivering clean water to the families but abruptly stopped on Nov. 30, with the department's approval.
For more information, click here.
—————

Riverkeeper is a member-supported, watchdog organization dedicated to defending the Hudson River and its tributaries and protecting the drinking water supply of nine million New York City and Hudson Valley residents. For more information, please visit www.riverkeeper.org.
Founded in 1999, Keeper Springs Natural Spring Water was launched by environmental lawyer and advocate, Robert F. Kennedy Jr., and two friends, John Hoving and Chris Bartle, with one mission: to help support, protect and restore our nation's waterways by donating 100 percent of profits to this cause. The brand Keeper Springs is named to honor the keepers of the Waterkeeper® Alliance, environmental heroes who fight to protect waterways all over the world from polluters and degradation. To date, Keeper Springs is proud to have raised more than $1 million to support America's waterways.
Keeper Springs uses only 100 percent natural and sustainable spring water, sourced and bottled locally, and keeps our carbon footprint to a minimum by using LEED-certified bottling plants and shipping our water no more than 500 miles from our springs. In addition, Keeper Springs uses bottles made from 50 percent recycled PET…and is working towards a 100 percent recycled PET bottle. Keeper Springs also supports the most comprehensive recycling legislation and has spent over a decade helping to fight for better regulation, tough penalties and solutions. Keeper Springs is available at beverage retailers in many of the Eastern states, and is expanding distribution on the West Coast. For more information, visit www.KeeperSprings.com.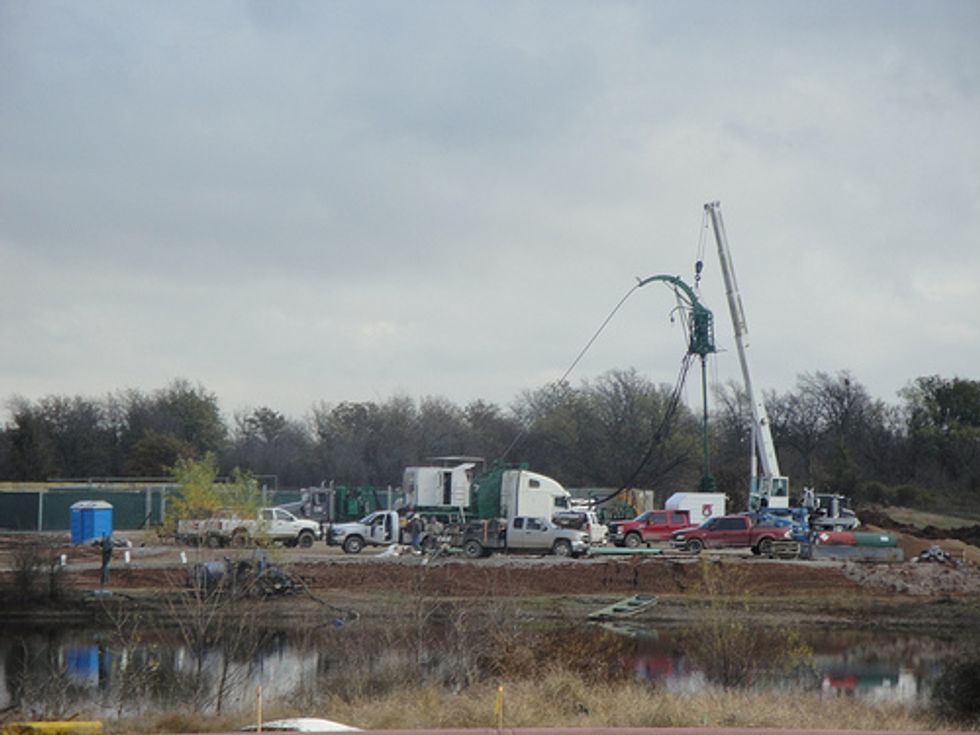 Gas drilling companies routinely warn their investors of a litany of possible disasters—such as leaks, spills, explosions, bodily injury and even death—but regularly fail to mention these risks when persuading landowners to sign leases for drilling rights, an Environmental Working Group (EWG) investigation found.
EWG researchers compared federal Securities and Exchange Commission (SEC) filings and natural gas drilling leases used by major companies engaged in hydraulic fracturing (fracking) and horizontal drilling and found that, at best, the leases offered only vague mentions of risks that are explicitly listed in the legally required SEC reports. Twenty-three landowners in five states who had signed or been asked to sign drilling leases also told EWG that company representatives who offered the leases made no mention of possible risks.
"These landowners who were left in the dark about drilling risks are likely just the tip of the iceberg," said EWG senior counsel Dusty Horwitt, J.D. "Industry documents, regulators and lawyers all indicate that there may be thousands of landowners who unknowingly put their water, homes and health at risk by signing natural gas leases. It's time to level the playing field so that landowners know the facts about drilling before they sign a lease."
Federal law designed to protect investors against fraud requires companies to disclose "the most significant factors that make the offering speculative or risky." But in the midst of perhaps the largest natural gas rush in U.S. history, there has been little or no regulation of the transactions that give drilling companies access to private lands atop gas and oil reserves.
"We were never told about any kind of risks whatsoever," Craig Sautner of Dimock, Penn., told an EWG researcher. Craig and his wife Julie leased about 3½ acres to Houston-based Cabot Oil and Gas Corp. in 2008.
Water wells serving the Sautners and 18 other nearby families were contaminated and became unusable after Cabot began drilling in 2009, according to Pennsylvania officials. Cabot, which has publicly disputed the finding, did not respond to EWG's request for comment. The state recently lifted an order requiring Cabot to provide replacement water to the families over the objection of the Sautners, who say their well water is still contaminated. Several affected residents in Dimock, including the Sautners, have sued Cabot for damages.
The company's 2008 10-K form filed with the Securities and Exchange Commission contains explicit warnings that appear nowhere in the Sautners' lease agreement and that the couple says never came up in their discussions with company representatives:
"Our business involves a variety of operating risks, including—well site blowouts, cratering and explosions; equipment failures; uncontrolled flows of natural gas, oil or well fluids; fires; formations with abnormal pressures; pollution and other environmental risks; and natural disasters.
"Any of these events could result in injury or loss of human life."
The pollution in Dimock is not an isolated incident. State officials in Wyoming, Ohio and Colorado have documented recent cases of water contamination linked to natural gas drilling, and the U.S. Environmental Protection Agency has documented serious problems associated with drilling as far back as 1987. On Thursday, Dec. 8, the EPA also concluded that fracking could be responsible for a case of groundwater contamination in Wyoming.
EWG's report calls on states to require that companies disclose drilling risks to landowners in the same way the SEC requires it for shareholders.
For more information, click here.
—————
Environmental Working Group is a nonprofit research organization based in Washington, D.C. that uses the power of information to protect human health and the environment. Click here to visit our website.