A new map released by the Australian Research Council shows unprecedented coral bleaching in the last nine months in Australia's Great Barrier Reef, resulting in the largest coral die-off ever recorded.
ARC Centre of Excellence for Coral Reef Studies
About two-thirds of reefs have died in the most-impacted northern region stretching 435 miles and researchers estimate the damage could take up to 15 years to recover. Global warming, combined with a strong El Niño, caused disastrous coral bleaching across the world this year.
Staghorn corals killed by bleaching on the northern Great Barrier Reef.Greg Torda / ARC Centre of Excellence for Coral Reef Studies
"Most of the losses in 2016 have occurred in the northern, most-pristine part of the Great Barrier Reef," said Professor Terry Hughes, director of the Australian Research Council (ARC) Centre of Excellence for Coral Reef Studies based at James Cook University, who undertook extensive aerial surveys at the height of the bleaching. "This region escaped with minor damage in two earlier bleaching events in 1998 and 2002, but this time around it has been badly affected."
Researcher Grace Frank completes bleaching surveys.ARC Centre of Excellence for Coral Reef Studies
For a deeper dive:

New York Times, Washington Post, US News & World Report, Guardian, Mashable, USA Today, Foreign Policy, AP, Reuters, Bloomberg, Financial Times, Buzzfeed
For more climate change and clean energy news, you can follow Climate Nexus on Twitter and Facebook, and sign up for daily Hot News.
EcoWatch Daily Newsletter
By Neela Eyunni
The Earth's oceans are under siege. Human activity is wiping out coral reefs and marine life at a faster rate than ever before. As conservationists try to restore the health of our seas, one place may be key to turning the tide.
The Verde Island Passage has the highest concentration of marine species in the world. Spanning 4,400 square miles, it sits between the province of Batangas and the island of Mindoro in the Philippines. Just more than a decade ago, Prof. Kent Carpenter of the Biological Sciences Department at Old Dominion University labeled the Verde Island Passage "the center of the center" of marine biodiversity.
Hard corals in Anilao, part of the Verde Island Passage. Boogs Rosales
Today, Carpenter sees the passage as a litmus test for global conservation. He said it holds valuable insight into what needs to be done in order to protect the planet's aquatic life.
"Being able to study the Verde Island Passage gives us the opportunity to understand how to preserve global biodiversity," said Carpenter.
In 2005, he and marine scientist Victor Springer recorded 1,736 overlapping marine species in a mere 10-square kilometer area of the passage. Everything from giant clams and hawksbill turtles to unique sea slugs and rare corals call the Verde Island Passage home.
But like many hotspots of marine biodiversity, it too is being threatened by unsustainable fishing and pollution. While dynamite fishing plagued the area in the 1980s and 1990s, the major threat today is overfishing. Carpenter points to the reduction of herbivores in the corridor as a major cause for concern. Herbivorous fish play a key role in ensuring the survival of coal reefs by keeping algae growth in check.
Garbage from coastal communities and ships floating off Tingloy municipality in the province of Batangas, Philippines. Boogs Rosales
Adding to the environmental pressure is the fact that the Verde Island Passage is a major shipping lane, transporting goods and passengers between the Philippine capital of Manila and the rest of the country. Carpenter said that ships traveling through the passage often dump their garbage in the ocean to avoid paying the offloading fee when they arrive in Manila.

With the challenges, however, has come hope, thanks to the Verde Island Passage's resilience and conservationists who are dedicated to protecting it. Robert Suntay is president of the SEA-VIP Institute, a nonprofit organization which promotes conservation in the Verde Island Passage through science, education and advocacy.
The Verde Island Passage is home to a high concentration of shrimp species, including this Coleman Shrimp. Boogs Rosales
"In the more than two decades that I have been diving in the Verde Island Passage, I have seen her suffer from terrible bouts with coral bleaching and algal blooms, and from indiscriminate cyanide and dynamite fishing," Suntay said. "It has also been my privilege to see her recover, seemingly miraculously, with amazing resilience and in record time."

One hypothesis is that the corridor's resilience is because of its extreme biodiversity. Greater diversity means a different species can fill the ecological role of another in case of decline. While it requires further research, the Verde Island Passage's ability to bounce back from destructive human activities makes it an even more valuable tool in the fight to save the planet's seas. Suntay said the passage should be studied by scientists in other parts of the world that are suffering from environmental degradation.
But while the potential is high, so are the stakes.
"This is a winning model that we have shown could work," Carpenter said. "To have it fail would be devastating in terms of what we want to do in conservation."
Divers from coastal communities around the world wrapped crime-scene tape around dead coral reefs during a series of underwater dives to highlight the catastrophic damage to this valuable ecosystem and the culpability of the fossil fuel industry for its loss. A series of underwater photographs collected from Samoa, the Australian Great Barrier Reef and the Andaman Islands was released Wednesday to showcase the impacts of the worst mass coral bleaching in recorded history and how it is one of the consequences of the reckless behavior of Exxon and fossil fuel companies hindering global climate action.
Recent research confirms that the above-average sea temperatures causing this bleaching across 38 countries are the result of human-induced global climate change, rather than from local pollution as was previously argued and the fossil-fuel industry is the main culprit behind these impacts. Since the past century, companies like Exxon chose to ignore the warnings of their own scientists and instead have been pouring resources to actively deceive the public by funding climate denial groups, recommending against climate shareholder resolutions and obstructing climate action.
What were once bright colorful coral reefs full of life have turned bleached white then murky brown as they've died and become covered in algae. In places like the Great Barrier Reef up to 50 percent of previously healthy reef has been bleached and killed. In North America, the National Oceanic and Atmospheric Administration (NOAA) is forecasting that Guam, the Commonwealth of the Northern Mariana Islands, eastern Micronesia and Hainan Island (China) are likely to have the worst bleaching in the coming months, as well as some bleaching going on in Hawaii and various parts of the Caribbean.
The event started in 2014 with bleaching from the western Pacific to Florida. In 2015 the event went fully global but mostly through the impacts of global warming as much of the bleaching occurred before the 2015-16 El Niño developed. Reefs support approximately 25 percent of all marine species, so a massive coral die-off may risk the livelihoods of 500 million people and goods and services worth $375 billion each year.
Watch here:
Another of Australia's treasured coastal ecosystems, the kelp-dominated Great Southern Reef, experienced a massive die-off from 2010-2013 due to a marine heat wave.
Before and after the 2011 heat wave which saw the virtual extinction of some of Western Australia's vast temperate kelp forest ecosystems.J. Costa
According to a study in the journal Science, 90 percent of the kelp forests that make up the northwestern portion of the reef disappeared over the three-year period and were replaced by seaweed turfs, corals and coral fish usually found in tropical and subtropical waters.
The Great Southern Reef (GSR) straddles five states across the southern coastline of the Australian continent. Kelp forests (middle) are a defining feature of the GSR.T. Wernberg
The Great Southern Reef is a system of rocky reefs covered by kelp forests that supports most of Australia's fisheries and is worth about $10 billion to the Australian economy. The authors of the study state that another big heat wave could prove extremely disastrous for the reef and will have environmental and economic consequences.

For a deeper dive: Atlantic, Guardian, Washington Post
For more climate change and clean energy news, you can follow Climate Nexus on Twitter andFacebook, and sign up for daily Hot News.

Without deep cuts in carbon dioxide emissions, the planet's coral reefs could be in serious trouble. In a world in which humans continue to burn fossil fuels unchecked, ocean conditions will become ultimately inhospitable, according to U.S. scientists.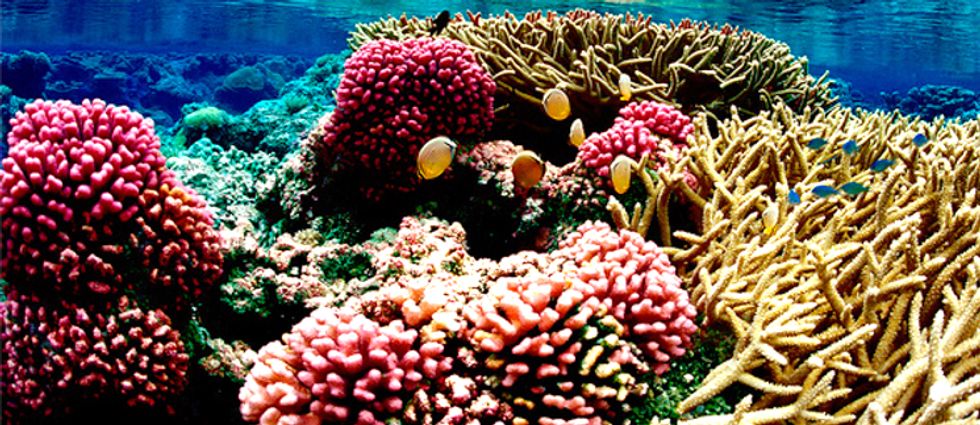 Katharine Ricke and Ken Caldeira of the Carnegie Institution in Washington and colleagues make their sombre prediction in Environmental Research Letters. Their argument on the face of it seems inconsistent with other recent research on reef response to climate change, which in one case suggests that some corals could vanish, and in another that some corals might adapt, very slowly.
But the debate in all three cases is about the rate of warming, the levels of carbon dioxide in the atmosphere and the ultimate impact of changes in the pH levels of the seas.
Ricke and Caldeira looked not so much at the warming of the seas–tropical corals are very sensitive to temperature–nor at the levels of acidification as such (because rain dissolves carbon dioxide to form a weak carbonic acid and inevitably affects the ocean's pH levels), but at the chemical circumstances in which crystals of aragonite can form.
All fossil reefs and shell and bone sediments are ultimately calcium carbonate in the form of limestone or chalk. However, calcium carbonate, or CaCO3, exists in two crystal structures, calcite and aragonite, and these fossilized sediments must once have been mostly aragonite.
That is because marine life, in the form of corals, fish and mollusc shells, mainly begins with aragonite. The biochemical availability of aragonite depends on the pH values of the water.
An End to Dumping
Ricke and Caldeira used computer models to calculate ocean chemical conditions under a range of carbon dioxide scenarios, looking for the necessary conditions to support aragonite formation and shell and bone growth, and set a potential aragonite saturation threshold.
In pre-industrial times, 99.9 percent of the oceans that washed over coral reefs were comfortably above this threshold. Under the notorious business-as-usual threshold, in which fossil fuel use continues to grow, ultimately the water surrounding the 6,000 coral reefs they used as a database for their research would be significantly below the threshold.
There would be a point at which the resilience and capacity to adapt that must be inherent in corals would be overwhelmed. The conclusion is a bleak one.
"Our results show that if we continue on our current emissions path, by the end of the century there will be no water left in the ocean with the chemical properties that have supported coral reef growth in the past. We can't say with 100 percent certainty that all shallow water coral reefs will die, but it is a pretty good bet," said Ricke.
"To save coral reefs, we need to transform our energy system into one that does not use the atmosphere and ocean as waste dumps for carbon dioxide pollution," Caldeira added.
Visit EcoWatch's WATER and BIODIVERSITY pages for more related news on this topic.
———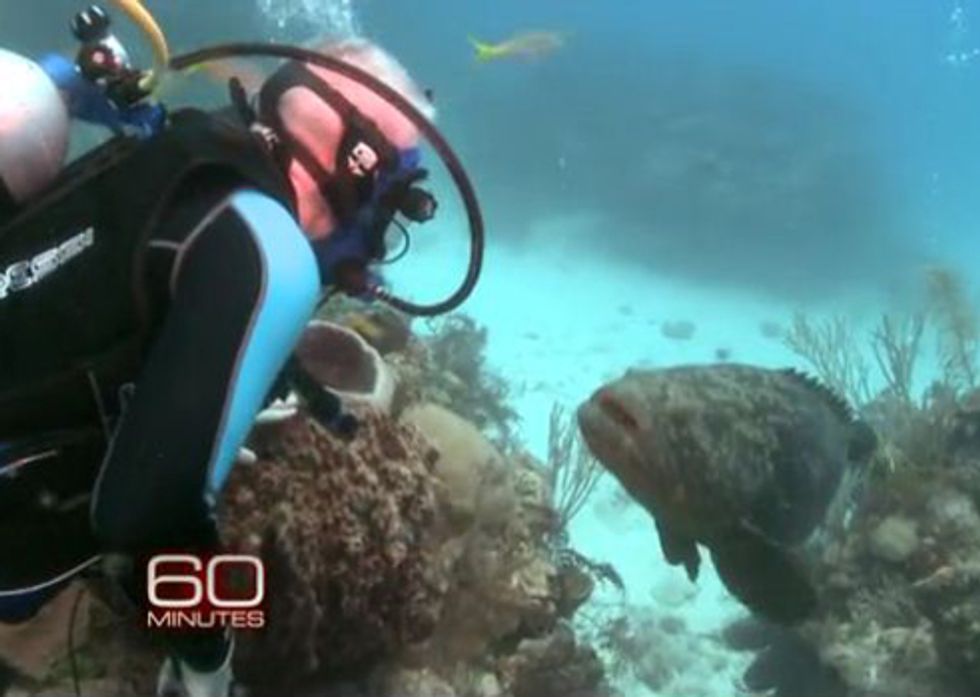 By Jay Ferrari
If you saw 60 Minutes last night, you were likely amazed yet alarmed by Anderson Cooper's piece on marine reserves. You can find it here, in case you missed it.
The footage from his dive of a massive coral reef off the Cuban coast was stunning. In stark contrast was Cooper's description of the environmental assault on our planet's reefs—a perfect storm of unsustainable fishing, global warming, pollution and other factors. As explained in the story:
"Scientists say coral is succumbing to a complex combination of environmental factors including pollution, agricultural run-off, coastal development, over-fishing, and rising ocean temperatures, which researchers believe is causing a phenomenon called 'bleaching,' that causes the coral to turn white and sometimes die."
But you can help turn the tide.
We're working to designate 40 percent of the world's oceans as marine reserves—protecting the reefs and the incomprehensibly rich variety of aquatic life they sustain.
Sign the Hands Off! ocean-protection petition today.
For more information, click here.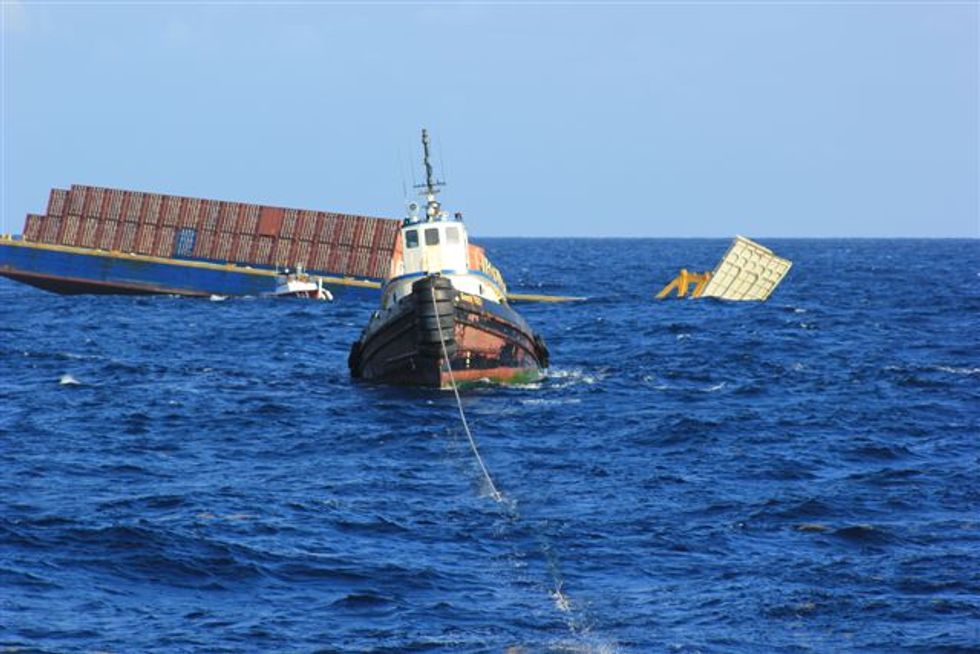 Oceana, the largest international advocacy group working solely to protect the world's oceans, expressed deep concern Nov. 10 about a sinking barge as long as a city block, Sante Pax, offshore of Miami, Fla. While Oceana is thankful that the entire crew is now safely on land, it is questioning what can be done to minimize the impacts it will have on a recently protected deep sea coral reef.
"It is horrifying to think about this giant barge and the dozens of shipping containers it was carrying crushing these century-old corals," said Margot Stiles, a marine scientist at Oceana who has been working for several years to protect these sensitive corals. "The U.S. government must do everything it can to limit the damage and require the responsible parties to pay for the clean-up."
In June of 2010, the South Atlantic Fishery Management Council, which is responsible for ocean management throughout the Southeast, approved a measure to protect more than 23,000 square miles of known deep sea corals ranging from North Carolina to Florida, including hundreds of pinnacles up to 500 feet tall. The protection closed this area to bottom trawls and other destructive fishing gear, which threatened the reef. Although current regulations prevent any anchor, net or dredge from touching the coral, the Sante Pax is likely to land directly on top of the largest known continuous deep sea coral reef in the country.
"We urge the involved parties to salvage all materials possible," said Stiles. "Now that the crew is rescued, we must begin to worry about the long-term impacts this event will have."
Containers weighing at least 5,000 lbs. each have been falling off the ship since it lost power and began drifting through the area more than a week ago.
This reef is built by several species of coral that have been documented by scientists since the 1970s using submarines and undersea robots. Fishermen catch plentiful golden crabs and royal red shrimp in the area, animals that use the reef as a nursery and feeding ground. Recent reports suggest the ship is currently sinking near two of the most important sites within the protected area, where commercially valuable wreckfish gather in large numbers to spawn.
For more information, click here.