This website uses cookies to ensure you get the best experience while browsing it. By clicking 'Got It' you're accepting these terms.
Solar Hot Spots and Clean Energy Potential Pinpointed in New Maps
Jul. 29, 2014 11:14AM EST
Renewable Energy
How will Los Angeles County prepare for a warmer future? And what role could clean energy investments play?
A joint project of Environmental Defense Fund (EDF) and UCLA Luskin Center for Innovation—Los Angeles Solar and Efficiency Report (LASER)—provides new data designed to help the public and policymakers prepare for the effects of climate change, from current environmental health risks to estimated temperature increases and climate change vulnerability throughout the region. It can also be used by communities to help identify opportunities to invest in projects that will create renewable energy jobs and cut electricity bills.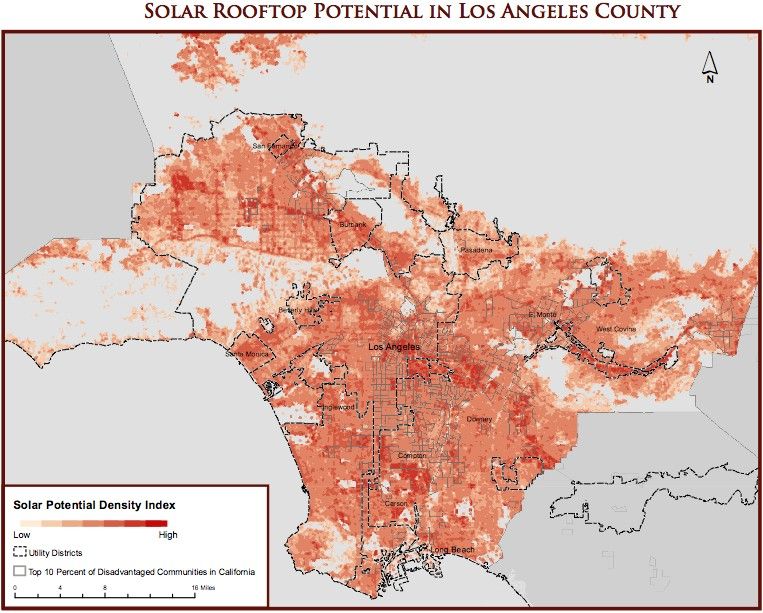 Solar Atlas" (2011). UCLA used and modified data from the Los Angeles County Chief Information Office, the
Los Angeles County Solar Map. http://solarmap.lacounty.gov. Disadvantaged communities are outlined in grey lines and identified per California Environmental Protection Agency and the Office of Environmental Health Hazard Assessment, "California Communities Environmental Health Screening Tool Version 2.0" (2014). http://oehha.ca.gov/ej/ces2.html.
"The project is timely because with new state funding sources becoming available, LASER can help inform how the region invests resources to address pressing environmental challenges while providing job opportunities in its most impacted communities," said Colleen Callahan, lead author of the study and deputy director of the UCLA Luskin Center for Innovation.
The data-driven mapping tool, by parcel-level analysis, illustrates the area's renewable energy potential through rooftop solar energy generation and energy efficiency measures. L.A. County presently has about 98 percent of its solar capacity untapped. The tool points out that if the county achieved only 10 percent of its rooftop solar potential, it would generate 47,000 jobs and cut almost 2.5 million tons of CO2 emissions each year.
The release today of the newest version of LASER is part of UCLA's "Thriving in a Hotter Los Angeles" project, which sets a goal for the region to use solely renewable energy and local water by 2050, and a response to President Obama's Climate Data Initiative, which calls for leveraging public data to stimulate collaboration and innovation in support of national climate change preparedness.
LASER was highlighted in a White House announcement emphasizing ongoing efforts to broadly advance the initiative. "Through his Climate Data Initiative, President Obama is calling for all hands on deck to unleash data and technology in ways that will make businesses and communities more resilient to climate change," said John P. Holdren, President Obama's science advisor. "The commitments being announced today answer that call."
You Might Also Like
Big Polluters Cry Wolf Over EPA Plan to Fight Climate Change and Protect Human Health
Survey Shows Americans Lead the World in Climate Denial
EcoWatch Daily Newsletter
Artist's conception of solar islands in the open ocean. PNAS
Millions of solar panels clustered together to form an island could convert carbon dioxide in seawater into methanol, which can fuel airplanes and trucks, according to new research from Norway and Switzerland and published in the Proceedings of the National Academy of Sciences journal, PNAS, as NBC News reported. The floating islands could drastically reduce greenhouse gas emissions and dependence on fossil fuels.
Marcos Alves / Moment Open / Getty Images
More than 40 percent of insects could go extinct globally in the next few decades. So why did the U.S. Environmental Protection Agency (EPA) last week ok the 'emergency' use of the bee-killing pesticide sulfoxaflor on 13.9 million acres?
EcoWatch teamed up with Center for Biological Diversity via EcoWatch Live on Facebook to find out why. Environmental Health Director and Senior Attorney Lori Ann Burd explained how there is a loophole in the The Federal Insecticide, Fungicide, and Rodenticide Act under section 18, "that allows for entities and states to request emergency exemptions to spraying pesticides where they otherwise wouldn't be allowed to spray."
Simple swaps that cut down on kitchen trash.
Sponsored
By Kayla Robbins
Along with the bathroom, the kitchen is one of the most daunting areas to try and make zero waste.
View of downtown Miami, Florida from Hobie Island on Feb. 2, 2019.
Michael Muraz / Flickr
The Democratic candidates for president descended upon Miami for a two-night debate on Wednesday and Thursday. Any candidate hoping to carry the state will have to make the climate crisis central to their campaign, as The New York Times reported.
By Sharon Kelly
On Monday, the Wall Street Journal featured a profile of Scott Sheffield, CEO of Pioneer Natural Resources, whose company is known among investors for its emphasis on drawing oil and gas from the Permian basin in Texas using horizontal drilling and hydraulic fracturing, or fracking.
Pexels
By Craig K. Chandler
The federal government has available to it, should it choose to use them, a wide range of potential climate change management tools, going well beyond the traditional pollution control regulatory options. And, in some cases (not all), without new legislative authorization.
Denis Poroy / Getty Images
By Dan Gray
Processed foods, in their many delicious forms, are an American favorite.
But new research shows that despite increasing evidence on just how unhealthy processed foods are, Americans have continued to eat the products at the same rate.
By Sarah Steffen
With a profound understanding of their environmental surroundings, indigenous communities around the world are often cited as being pivotal to tackling climate change.