This website uses cookies to ensure you get the best experience while browsing it. By clicking 'Got It' you're accepting these terms.
Solar Hot Spots and Clean Energy Potential Pinpointed in New Maps
Jul. 29, 2014 11:14AM EST
Renewable Energy
How will Los Angeles County prepare for a warmer future? And what role could clean energy investments play?
A joint project of Environmental Defense Fund (EDF) and UCLA Luskin Center for Innovation—Los Angeles Solar and Efficiency Report (LASER)—provides new data designed to help the public and policymakers prepare for the effects of climate change, from current environmental health risks to estimated temperature increases and climate change vulnerability throughout the region. It can also be used by communities to help identify opportunities to invest in projects that will create renewable energy jobs and cut electricity bills.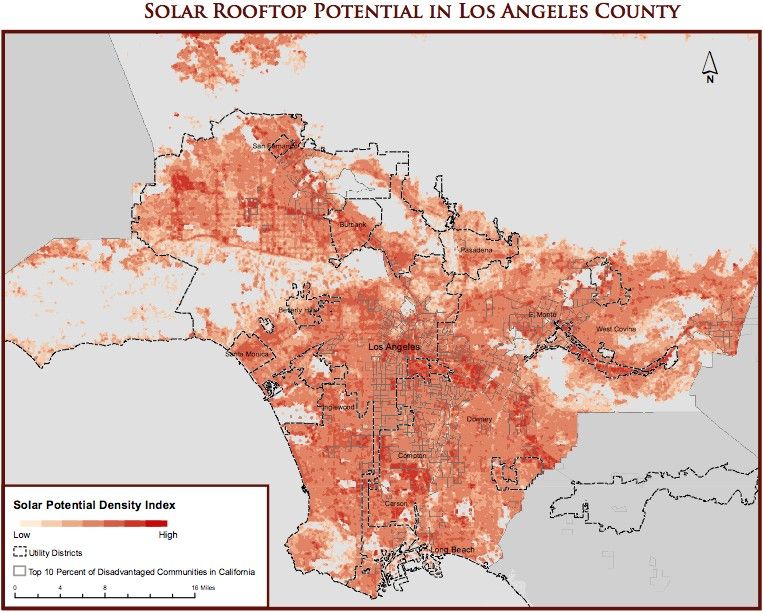 Solar Atlas" (2011). UCLA used and modified data from the Los Angeles County Chief Information Office, the
Los Angeles County Solar Map. http://solarmap.lacounty.gov. Disadvantaged communities are outlined in grey lines and identified per California Environmental Protection Agency and the Office of Environmental Health Hazard Assessment, "California Communities Environmental Health Screening Tool Version 2.0" (2014). http://oehha.ca.gov/ej/ces2.html.
"The project is timely because with new state funding sources becoming available, LASER can help inform how the region invests resources to address pressing environmental challenges while providing job opportunities in its most impacted communities," said Colleen Callahan, lead author of the study and deputy director of the UCLA Luskin Center for Innovation.
The data-driven mapping tool, by parcel-level analysis, illustrates the area's renewable energy potential through rooftop solar energy generation and energy efficiency measures. L.A. County presently has about 98 percent of its solar capacity untapped. The tool points out that if the county achieved only 10 percent of its rooftop solar potential, it would generate 47,000 jobs and cut almost 2.5 million tons of CO2 emissions each year.
The release today of the newest version of LASER is part of UCLA's "Thriving in a Hotter Los Angeles" project, which sets a goal for the region to use solely renewable energy and local water by 2050, and a response to President Obama's Climate Data Initiative, which calls for leveraging public data to stimulate collaboration and innovation in support of national climate change preparedness.
LASER was highlighted in a White House announcement emphasizing ongoing efforts to broadly advance the initiative. "Through his Climate Data Initiative, President Obama is calling for all hands on deck to unleash data and technology in ways that will make businesses and communities more resilient to climate change," said John P. Holdren, President Obama's science advisor. "The commitments being announced today answer that call."
You Might Also Like
Big Polluters Cry Wolf Over EPA Plan to Fight Climate Change and Protect Human Health
Survey Shows Americans Lead the World in Climate Denial
EcoWatch Daily Newsletter
Fabian Krause / EyeEm / Getty Images
Water protectors of all persuasions gathered in talking circles at Borderland Ranch in Pe'Sla, the heart of the sacred Black Hills, during the first Sovereign Sisters Gathering. At the center are Cheryl Angel in red and white and on her left, Lyla June. Tracy Barnett
By Tracy L. Barnett
Sources reviewed this article for accuracy.
For Sicangu Lakota water protector Cheryl Angel, Standing Rock helped her define what she stands against: an economy rooted in extraction of resources and exploitation of people and planet. It wasn't until she'd had some distance that the vision of what she stands for came into focus.
Hedges, 2019 © Hugh Hayden. All photos courtesy of Lisson Gallery
By Patrick Rogers
"I'm really into trees," said the sculptor Hugh Hayden. "I'm drawn to plants."
BruceBlock / iStock / Getty Images
Thanks to their high concentration of powerful plant compounds, foods with a natural purple hue offer a wide array of health benefits.
Environmental Investigation Agency
Last week, the Peruvian Palm Oil Producers' Association (JUNPALMA) promised to enter into an agreement for sustainable and deforestation-free palm oil production. The promise was secured by the U.S. based National Wildlife Federation (NWF) in collaboration with the local government, growers and the independent conservation organization Sociedad Peruana de Ecodesarrollo.
Pixabay
Leaked documents show that Jair Bolsonaro's government intends to use the Brazilian president's hate speech to isolate minorities living in the Amazon region. The PowerPoint slides, which democraciaAbierta has seen, also reveal plans to implement predatory projects that could have a devastating environmental impact.
XL CATLIN SEAVIEW SURVEY / THE OCEAN AGENCY
Hope may be on the horizon for the world's depleted coral reefs thanks to scientists who successfully reproduced endangered corals in a laboratory setting for the first time, according to Reuters.