Senate Democrats Unveil Energy Bill to Signal 'Full-Throated Support' of Obama's 'Aggressive' Climate Plan
Sep. 22, 2015 02:29PM EST
Climate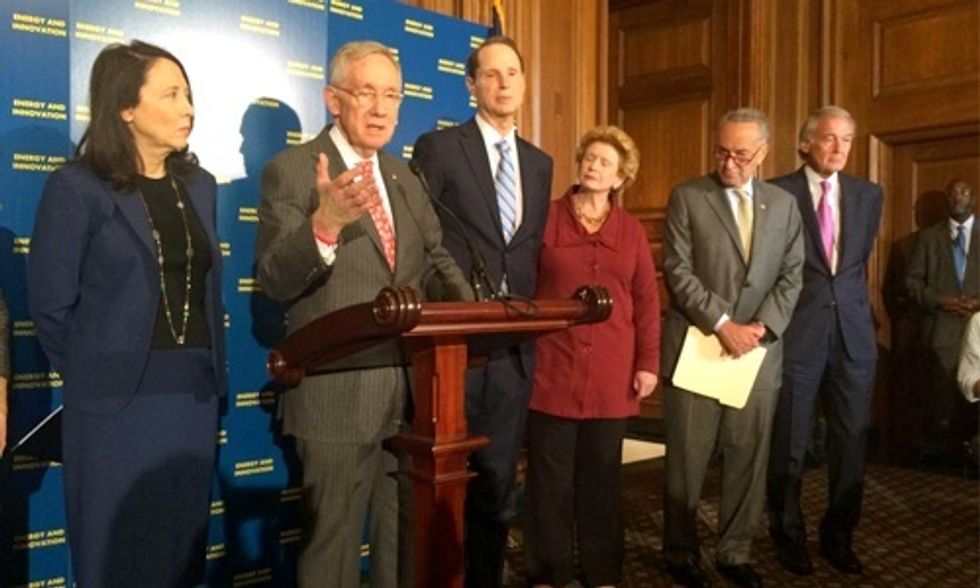 A group of Senate Democrats unveiled an energy bill today, which follows a proposal that came out of the House Energy and Commerce Committee in July. The bill aims to end some subsidies for fossil fuels and close some oil and gas tax loopholes, incentivize renewable energy such as solar and wind through grant programs and tax incentives, and encourage carbon capture and sequestration, nuclear and biofuels, according to the nonprofit Friends of the Earth.
Senate Democrats unveil climate-focused #energy bill http://t.co/5Aop5qcSmS #climatechange http://t.co/poBaLoFmRt

— Reuters Legal (@Reuters Legal)1442941394.0
The New York Times reports, though the bill "has no chance of passage in the Republican-controlled Congress," it's "intended to signal [Democrat's] full-throated support of President Obama's aggressive climate change agenda to 2016 voters and to the rest of the world." The bill, announced by Senate Democratic party leaders and the energy committee's top Democrat, Sen. Maria Cantwell, "laid out the party's vision for cutting emissions at least 34 percent by 2025," according to Reuters. That's a cut even larger than the target set by the Obama administration.
"Congress must put forward a vision for how we can transition to a clean energy economy," said Friends of the Earth Climate and Energy Director Ben Schreiber. "Our country must lead the world in the fight against climate change. Unfortunately, the time has passed for half-measures. Extending subsidies for renewables and ending Big Oil giveaways are important steps, but we cannot afford to throw our tax dollars after false solutions."
The bill was introduced today in the Senate just hours before the Pope is expected to arrive in Washington, DC. Pope Francis has become an outspoken advocate for strong action on climate change and media reports indicate that he plans to use his first-ever visit to the U.S. to hone in on his climate message. He will deliver an address to Congress on Thursday before heading to New York on Friday to speak to the UN General Assembly.
While many prominent conservatives have attacked the Pope for his views on climate change, 11 Republican members of Congress called for climate action last week, introducing a resolution that put the climate challenge in the broader context of conservation, stewardship, innovation and conservatism.
[email protected]

are unveiling an energy bill this morning! #DemEnergy #ActOnClimate http://t.co/3twgt7vOt3 http://t.co/sM1Inc5aYi

— Sierra Club (@Sierra Club)1442934384.0
"If Congress is interested in a responsible energy plan for American families that cuts carbon pollution, invests in the booming clean energy economy and finally tackles the challenge posed by global climate disruption, they should start with this bill," said Sierra Club legislative director Melinda Pierce.
"This legislation offers a bold, ambitious vision for growing our clean energy economy and tackling the climate crisis, and the Sierra Club commends Senator Cantwell and Senate Democratic leadership for their dedication to bringing this legislation to the American people. While there is much left to do, this bill constitutes a powerful step toward an America powered by safer energy choices that will create jobs, keep our air and water clean and take action to help curb the climate crisis."
YOU MIGHT ALSO LIKE
Climate Deniers Attack 'Rock Star' Pope as 'Nature-Worshipping Pagan' Amid U.S. Visit
Stephen Colbert Explains Why Bernie Sanders Is Rocking Rallies All Over the Country
Koch Brothers: Apocalyptical Forces of Ignorance and Greed, Says RFK Jr.
EcoWatch Daily Newsletter