San Diego Passes Strongest City-Wide 100% Clean Energy Law in America
Dec. 15, 2015 09:33PM EST
Business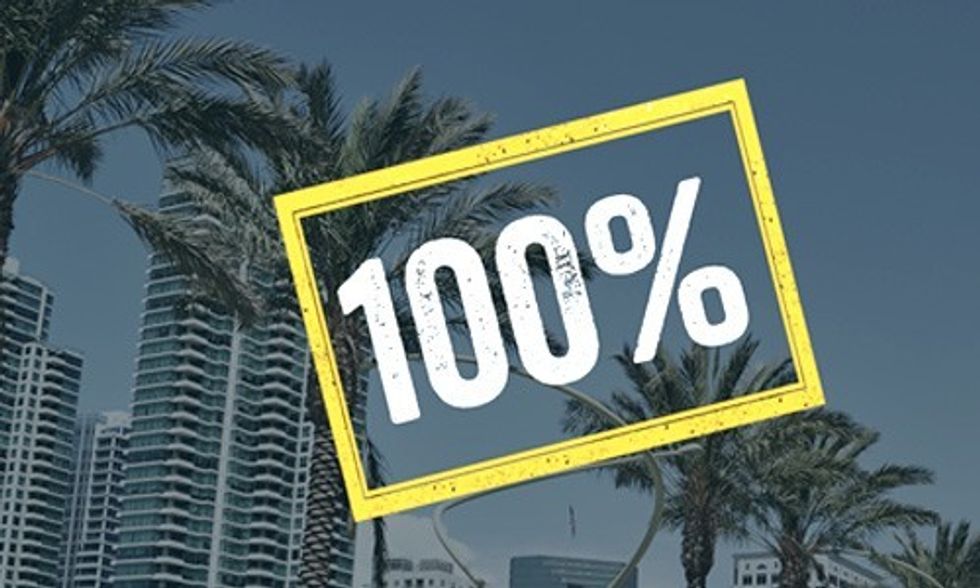 As world leaders return from an historic universal climate agreement in Paris, San Diego has pledged to make major strides in cutting carbon pollution by going all-in on clean energy. Today the city announced it is pledging to get 100 percent of its energy from clean and renewable power with a Climate Action Plan that sets the boldest city-wide clean energy law in the U.S.
With this announcement, San Diego is the largest U.S. city to join the growing trend of cities choosing clean energy. Already, at least 13 U.S. cities, including San Francisco, California; Burlington, Vermont; and Aspen, Colorado, have committed to 100 percent clean energy.
And once again showing that clean energy and climate action isn't just a push from the left: San Diego is led by a Republican Mayor.
"100 percent clean energy is the new standard for climate leadership," said Sierra Club Executive Director Michael Brune. "Local leaders know that going all-in on clean energy will create jobs, boost their economies, and protect clean air, water and our climate."
It's true—clean energy has hit its stride—just look at the stats: Solar prices have fallen 80 percent in recent years, and the solar industry now employing nearly twice as many people as the coal mining industry. And it's easy on your wallet: Stanford scientists say the transition to 100 percent renewable energy will save the average American family $260 dollars per year in energy costs and another $1,500 per year in health care costs.
For locals, the decision is a step in the right direction on climate action. "Passing the Climate Action Plan is a historic marker in San Diego's history," said Lindsey Kang, a 17-year-old high schooler in San Diego. "The CAP matters to me and my generation because after so many years of procrastination, it's about time we take initiative to better the world for me and the future generations. The Climate Action Plan will put us on the right track to improving our air and water quality making it possible for us to keep going to our favorite hangout spots around the area."
Kang is active with the local Sierra Club and her high school's environmental club. "My generation cares enough about the changing climate to take their own action," Kang added. "At my school and schools all over San Diego, we have our own environment clubs dedicated to do what we can do to help make the Earth a better place to live in. Passing the CAP will show students that they're not the only ones in this fight and that the future is changing for the better."
Meanwhile, international leaders are committing to clean energy too. Paris, Sydney and Vancouver have all pledged to power their cities with 100 percent clean energy. At the recent Climate Summit for Local Leaders, held in Paris to coincide with the international climate negotiations, 1,000 mayors signed a declaration to "commit collectively to support ambitious long-term climate goals such as a transition to 100 percent renewable energy in our communities."
During that summit, Paris Mayor Anne Hidalgo stated, "Mayors of the world are ready for 100 percent renewable energy by 2050."
As 100 percent clean energy becomes the new international standard for climate action, San Diego has become the first city in America to take this ambitious and achievable step with a legally-binding commitment. I can't wait to see all the other U.S. cities who decide to go 100 percent in the coming months and years.
EcoWatch Daily Newsletter